This site is supported by our readers. We may earn a commission, at no cost to you, if you purchase through links.
A machine that both sews and embroiders with professional quality is hard to find; they can excel in one department but fall behind in another.
Of course, the product description never states which is which. That is why today we are evaluating the Singer XL-420 sewing and embroidery machine.
Does it fulfill its promises as one of the best double machines?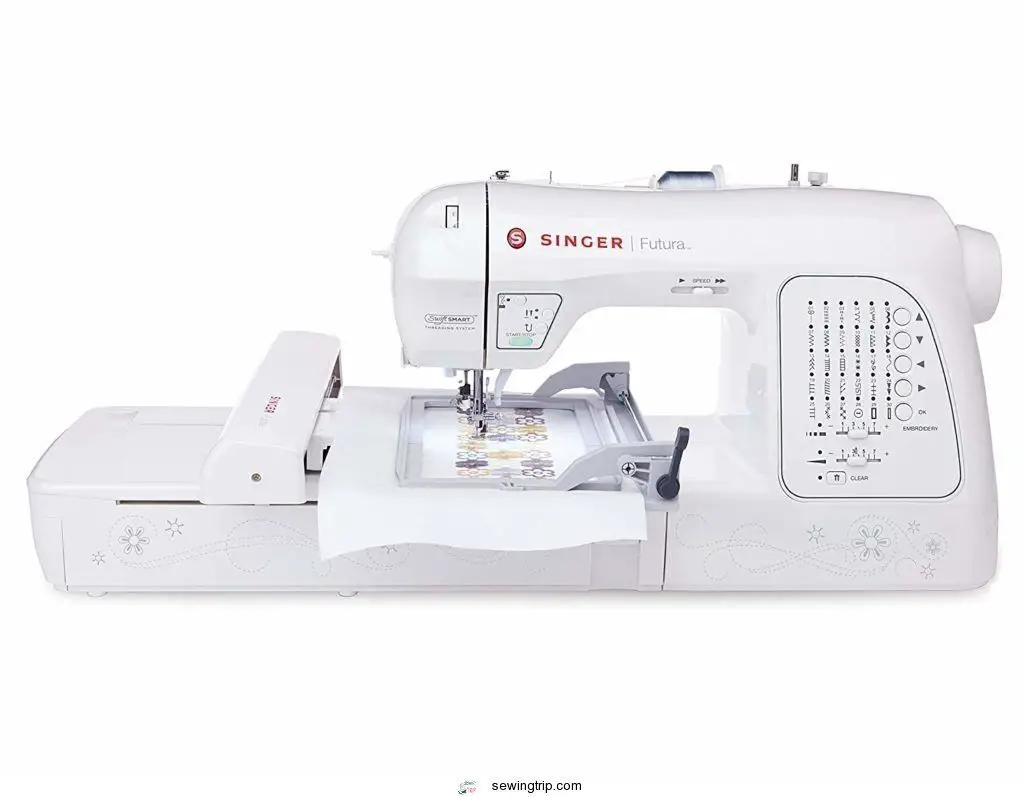 It comes with 30 built-in stitches and 200 embroideries, is easy to set up and also includes an automatic needle threader.
Unfortunately, not everyone has a pleasant experience. Some testers found annoying glitches, some found the software difficult, and others warned it may not be suitable for new or novice sewers.
Are these bumps in the road or the general opinion? Before making a final decision, let's inspect the Singer XL-420 sewing and embroidery machine.
Singer XL-420 sewing and embroidery machine: the details
The Look
The Singer XL- 420 Sewing and embroidery machine offers a simplistic look. Buttons offset the modest design on the rear panel of the machine and the USB plug that can to a computer. With an almost completely white exterior, black and gray borders and graphics decorate it for the stitches. Finally, there is a floral and stitch design across the front, making it less obvious. When not using the expansion board, the machine is about the size of a normal microwave oven. Specs
Weight: 25 lbs.
Dimensions: 22 x 9.5 x 13 in.
Stitches: 30 built-in stitches.
Speed: 900-122 bpm.
Automated/ Mechanical: Automated.
Spool: Drop-in coil.
Warranty: 25 year warranty.
Accessories
6.75 x 4-inch endless hoop.
10 x 6-inch hoop.
4 x 4-inch hoop.
Knee lift.
USB cable.
Embroidery foot.
Universal foot.
Zipper foot.
Buttonhole foot with bottom plate.
Blind Hem Foot.
Satin Stitch Foot.
Button Presser Foot.
Thread spool nets.
Spool caps for thread.
Additional spool pin.
Spool pin felt.
Scissors.
Package needles.
Spools.
Screwdrivers.
Seam Ripper.
Ribbon Brush.
Vinyl Accessory Bag.
Cd with embroidery software.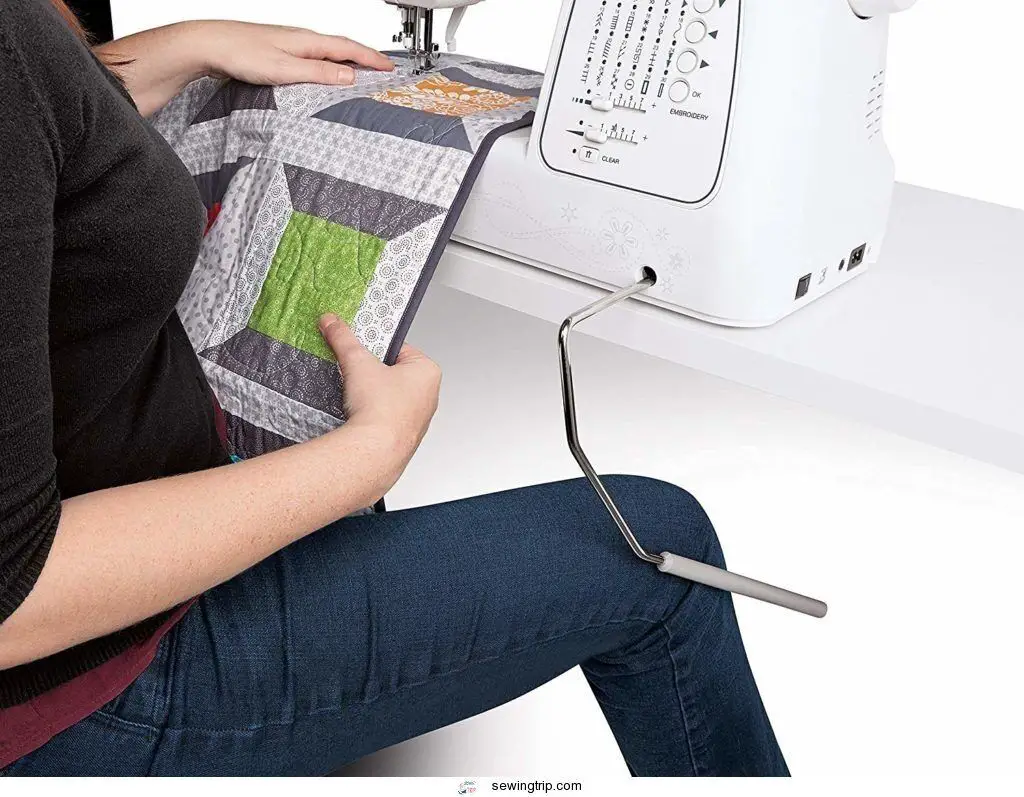 Singer: The Company
Singer, founded in 1851 by Isaac Merritt Singer and Edward Clark, in New York City, has quickly become "one of the world's leading sellers of consumer and craft respectable sewing machines."
Singer also states that they are "one of the world's most trusted and recognizable brands." Having made the world's first portable machine, the first zigzag machine and one of the first automated machines, they are certainly groundbreaking.
Today they make automated heavy machinery and quilting machines, as well as overlook mechanizations and embroidery or mechanical machines.
The warranty
The Engineer XL-420 by a warranty of 25 years. The machine head or hub, along with its components, to be free from manufacturing defects for the first 25 years after purchase.
If a defect occurs. Singer will provide free replacement parts, but you have to pay for the labor.
However, if only one year has passed since you bought the machine, Singer will pay for the replacement parts and the work. You may need to specify the shipping cost.
Features
30 built-in stitches
The Singer XL-420 comes with 30 built-in stitches – a strong range for most sewing projects. You'll get six basic stitches, five stretch stitches, 17 decorative stitches and two different one-step buttonholes.
As such, whether you're hemming pants or working on quilting squares, these Singer has you covered.
200 Embroidery Designs
The XL-420 sewing and embroidery machine also includes 200 different embroidery designs. If you're looking for one in particular, it's probably available in this pack. literally endlessly. In particular, there are 20 endless designs available, which can freehand or with the included hoops.
If those 200 aren't enough, the USB port sync brings the sewing machine to your computer and easily transfers custom designs.
Drop-In Bobbin
The drop-in (or top loading) is one of the best features a sewing machine can have. This makes inserting your bobbin easy and hassle-free.
As a bonus, the bobbin is near the stitch plate where you can observe it during the sewing process.
]
Do you see a jam or the beginning of a tangle? Pause sewing, fix the problem, and get back to work. No need to wait until the problem has already escalated out of sight!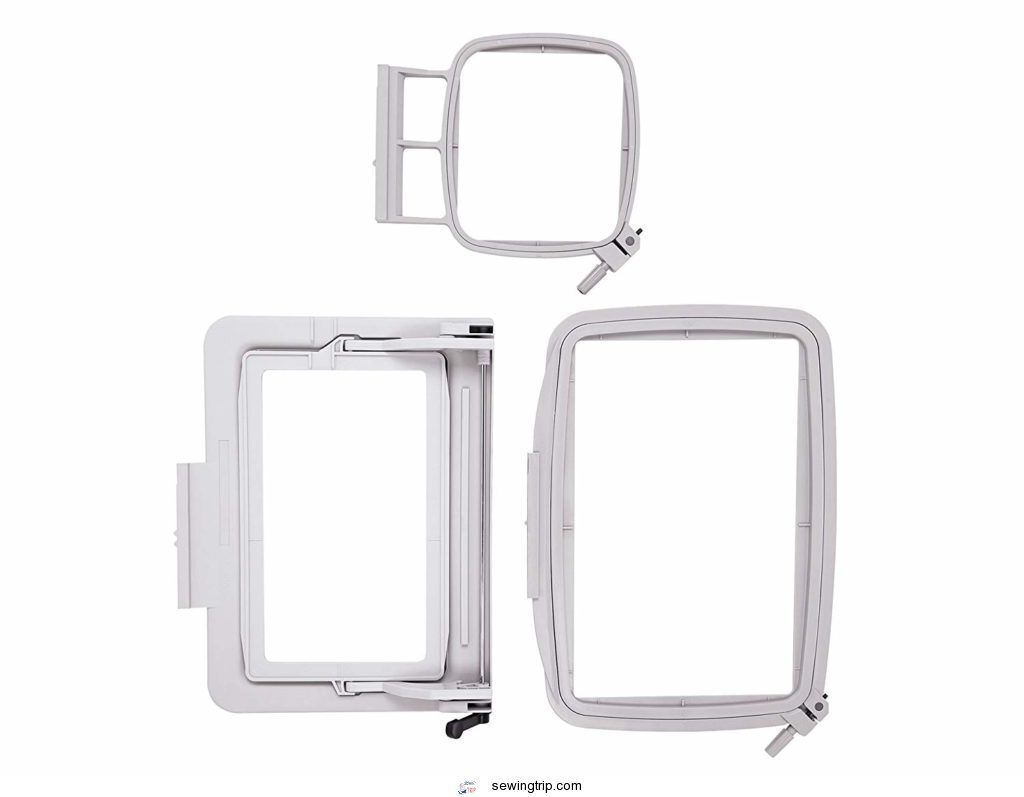 Automatic Needle Threader
Needle Threading is time consuming and can strain the eyes. An automatic threader can be a godsend.
To use the needle threader on this machine, first feed the upper thread through the machine until you reach the needle. Hook the thread into the double guides and leave it on the thread cutter.
Pull the threading lever to the lowest position. Release the lever and the thread will pass through the eye of the needle. Pull the loop of thread away from you – and voila!
Needle threaded! Mission accomplished.
As a bonus, this machine has not one, two or three, but six lights in the needle area to help sewers see their work. If you are sewing in a dimly lit room or at night, you can easily see your progress.
Computer Requirements
This Singer has a USB port, so you can connect it directly to your computer and transfer designs. If the included 200 doesn't suit you, it's easy to expand your collection personally. the correct computer specifications. Unfortunately, this Singer does not work with Apple or Mac computers – only with Windows XP, 7 or 8.
Make sure your computer meets those specifications if you plan transfer designs you have made yourself or found online.
Singer XL-420 Sewing and Embroidery Machine Review
The Positives
Versatile
With the ability to sew and embroider, as well as online access or created designs with your PC, this machine is very versatile. The included designs are huge and customizable, especially with the'endless'selection of 20.
Whether you're embroidering a shirt or simply sewing a hem, you've got the toolset for almost any project – all in one place.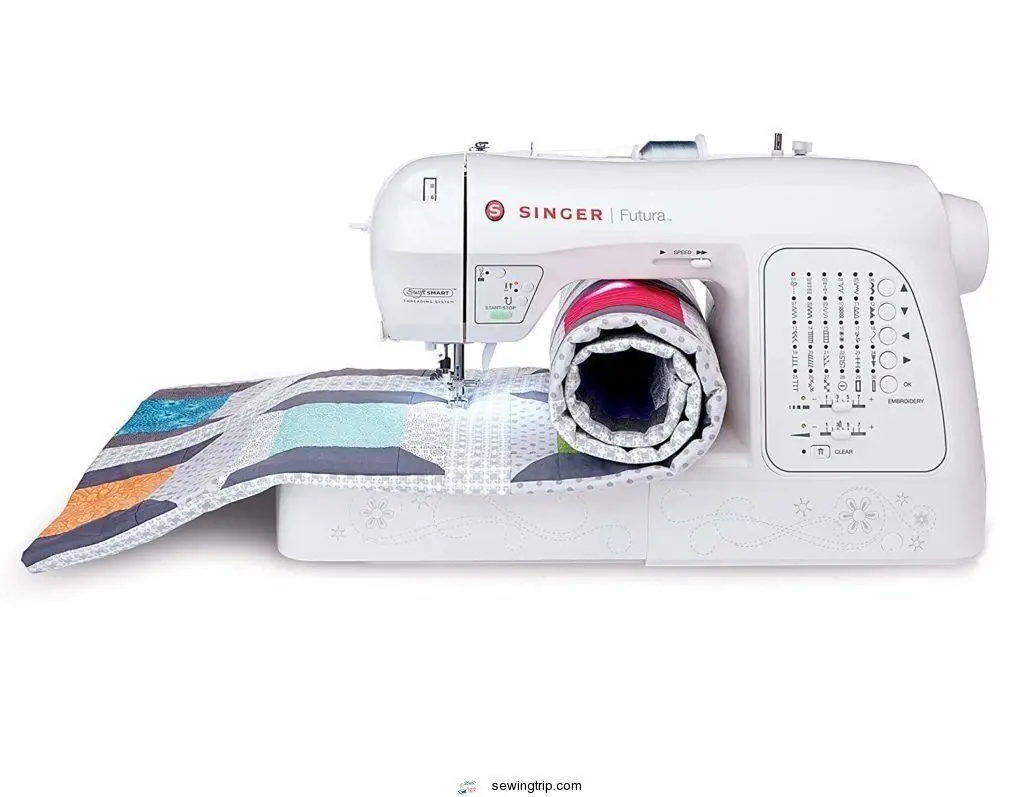 This is great for sewers looking to hone their skills in both departments. You don't need to have two separate machines on your counter to get the job done.
Besides embroidering, you have several stitches to'sew'through with the Singer XL -420 to keep sewers of different levels very busy.
Useful
Users to see the'one'stop-shop'character of the XL-420; It included directly all functions on the machine or in the box. No secondary purchases or additional accessories to get started right away.
When you start a project, you can just sit at the machine, unplug plug in and go – without having to fetch extra items or with the hand embroidery designs.
That is high convenience. As a plus, the automatic needle threader and cutter mean you don't even need scissors.
Whether you're new to the craft or just switching machines, the Singer XL-420 easy to get used to an easier way of sewing.
Easy to set up
Even if you are a beginner in sewing and/or embroidery, you can easily set this XL-420. Simply thread the bobbin and place it in the holder near the stitch plate.
Then pull the thread into the upper threader until you reach the needle threader. Automatically threads the needle, allowing you to select a stitch or embroidery design.
Finally, you can run your chosen fabric through the machine. It's that simple! With the XL-420 you don't have to worry about Singer.
Durable
Singer Sewing machines for being well constructed and long lasting. The Singer XL-420 is no different.
Thanks to the sturdy frame, you don't have to worry about this machine collapsing under the pressure. You also don't have to worry about it jumping over a table or bouncing over a table thanks to the sturdy construction. sewing and embroidery machine will continue to work without worry.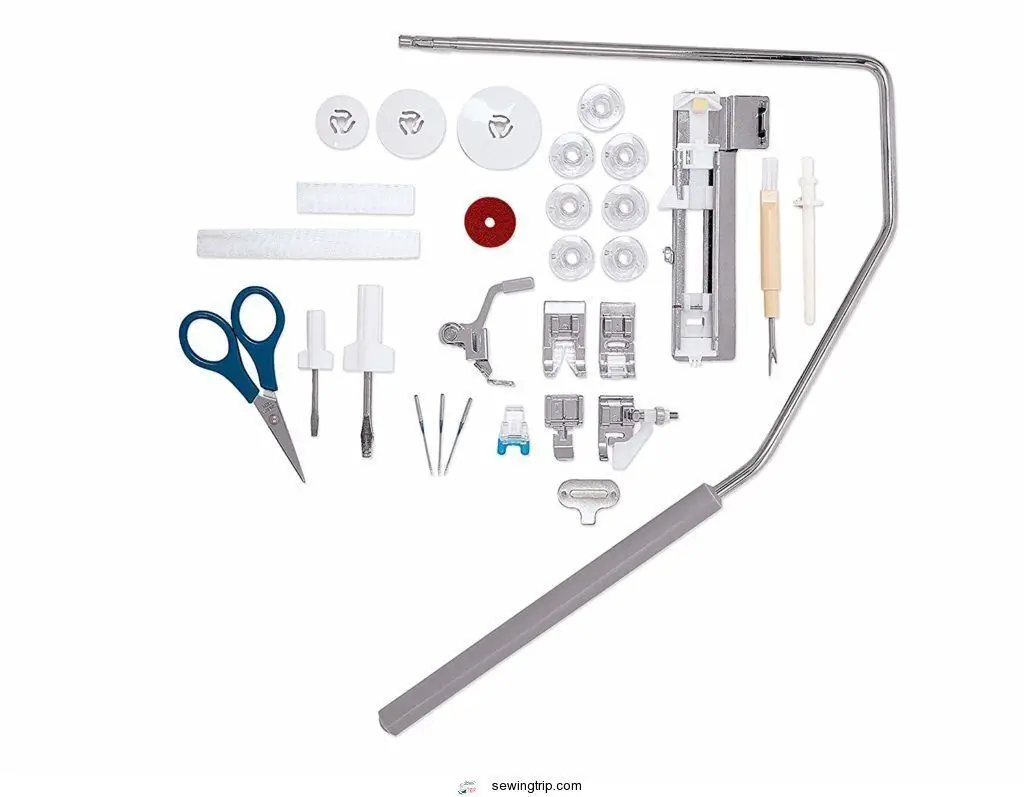 The cons
Software can be difficult are
]
A few testers experienced problems with the software. It was difficult to load and some users even said they had to reload the software several times to make it work.
While the software is not an absolute necessity on this machine; it expands its capabilities and gives you ideas. However, testers showed it was more of a nuisance than a help. certain malfunctions. There were problems with the thread or needle breaking or with the bobbin getting caught and the thread getting tangled.
It is important to get the tension right and avoid overweight fabric, which the machine struggles with.
It can use a variety of materials, but is not suitable for thicker denim or multiple layers of medium to heavyweight fabric. This wasn't a problem for most testers though, so it could be a case of user error.
Best for more advanced sewers
Although this Singer sewing and embroidery machine is easy to set up and use, it is perhaps best suited for advanced sewers.
The more complicated software adapted to the intricacies of double-stitch embroidery, make it difficult for beginners to master, especially if you have less than a year or two of experience.
Embroidery is difficult enough–the machines that use it are even more complicated. Some skill behind you will make the functions much easier to figure out.
Overall verdict
After all To have the positives and negatives, we recommend the Singer XL-420 sewing and embroidery machine.
It offers a wide variety of stitches and designs, is easy to use and the automatic needle threader increases convenience.
While some users encountered problems, they were very few. If you're looking for a machine that can sew and embroider, this may be the perfect option for you!
Where to buy the Singer XL-420 for sewing and embroidery Machine
The Singer brand needs hardly any introduction, well known by sewers all over the world. Singer has dominated the market for years, with products available worldwide.. While it's best to check department, craft, and sewing stores, kick start your search at the following online retailers.
And of course you can also find this sewing and embroidery machine on Amazon.

---
That's the end of our Singer XL-420 review. Curious if this is the model for you?
Not sure if this is the model for you? Browse our latest machine reviews.