This site is supported by our readers. We may earn a commission, at no cost to you, if you purchase through links.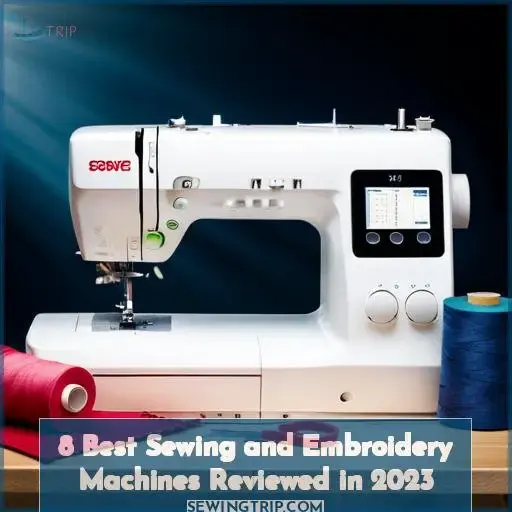 Learning to sew and embroider clothes and accessories can be like opening a treasure chest of creativity. As you master choosing the best sewing and embroidery machines, endless DIY possibilities await you.
Whether you want to craft personalized gifts or launch a home business, your sewing machine and embroidery machine combo will be your trusty sidekick.
This post reviews the top sewing and embroidery machines to consider in 2023. We'll compare features and prices to help you select the right model for your needs and budget. From beginner models to advanced machines for quilting or heavy-duty projects, these reviews spotlight what to look for when buying the best sewing and embroidery machines.
Key Takeaways
Brother SE1900: 138 designs, 240 stitches, needle threader, 5×7 hoop
Janome 12000: precise stitching, ample workspace, free motion options
Singer Legacy SE300: 200 designs, fast speeds, separate software needed
Bernette Seventy Nine: 500 stitches, 8.5 throat space, touchscreen
Top 8 Best Sewing and Embroidery Machines Reviewed
You have reviewed a variety of excellent sewing and embroidery machines that deliver sophisticated features and functionality for hobbyists and experienced sewists alike. Eight leading options, ranging from the Brother Embroidery Machine SE1900 to the EverSewn Charlotte Computerized Quilting Sewing Machine, are worthy investments for crafting customized clothing, decor, and quilts.
In discussing these machines, critical factors such as built-in stitches and designs, embroidery field size, automatic functions, and ease of use will help determine the model that best fits your sewing needs and skills.
Brother Embroidery Machine SE1900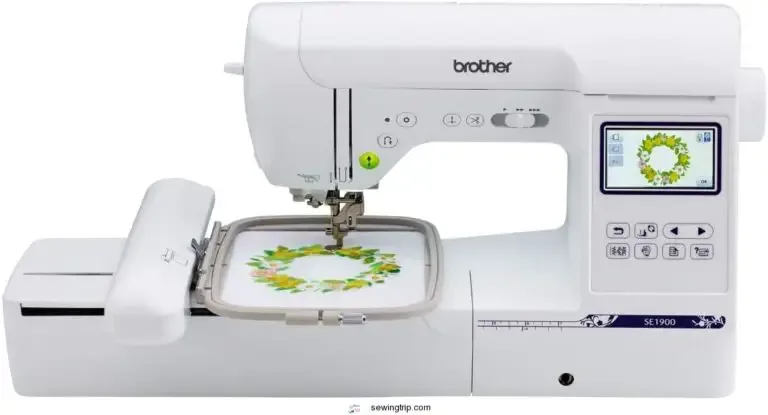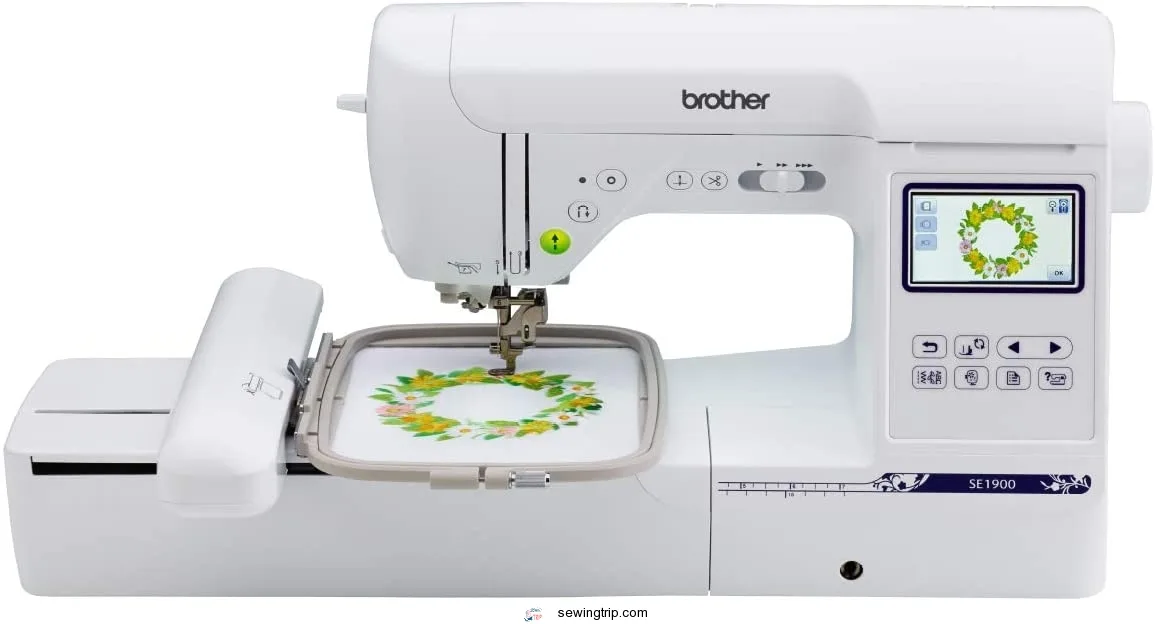 View On Amazon
Imagine this Brother embroidery machine's 3.2 touchscreen lighting up as you effortlessly select from 138 built-in designs to personalize your latest project. With 240 built-in stitches and 10 auto buttonholes, the SE1900 makes sewing and embroidery accessible for crafters of all skill levels.
The SE1900 includes an advanced needle threader and drop-in bobbin, making setup a breeze. The 5 x 7 embroidery field allows for creating custom designs. This 120V machine is made for use in the US and comes with an embroidery hoop and 8 presser feet, so you can start your next creative endeavor right out of the box.
138 built-in designs and 11 fonts for customizing projects
Convenient automatic functions like needle threader and bobbin winder
Intuitive 3.2 color touchscreen for selecting stitches/designs
Decent 5 x 7 embroidery field for personalization
Limited embroidery area compared to advanced machines
Warranty void if used or sold outside the US
May lack capabilities for extensive or complex projects
Janome Horizon Memory Craft 12000 Sewing Embroidery Machine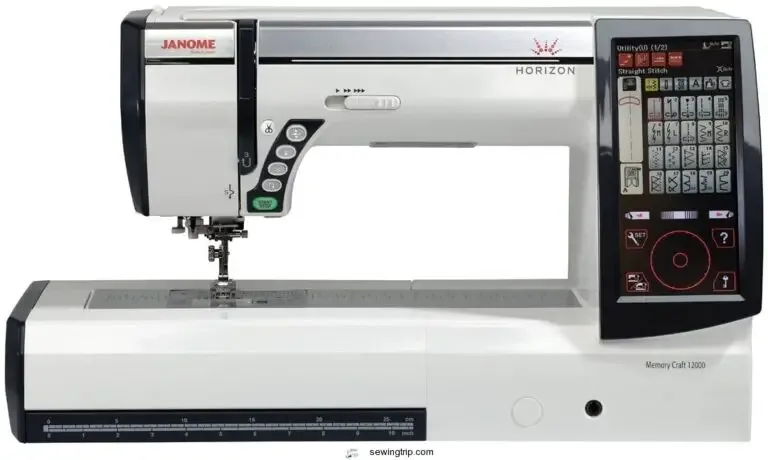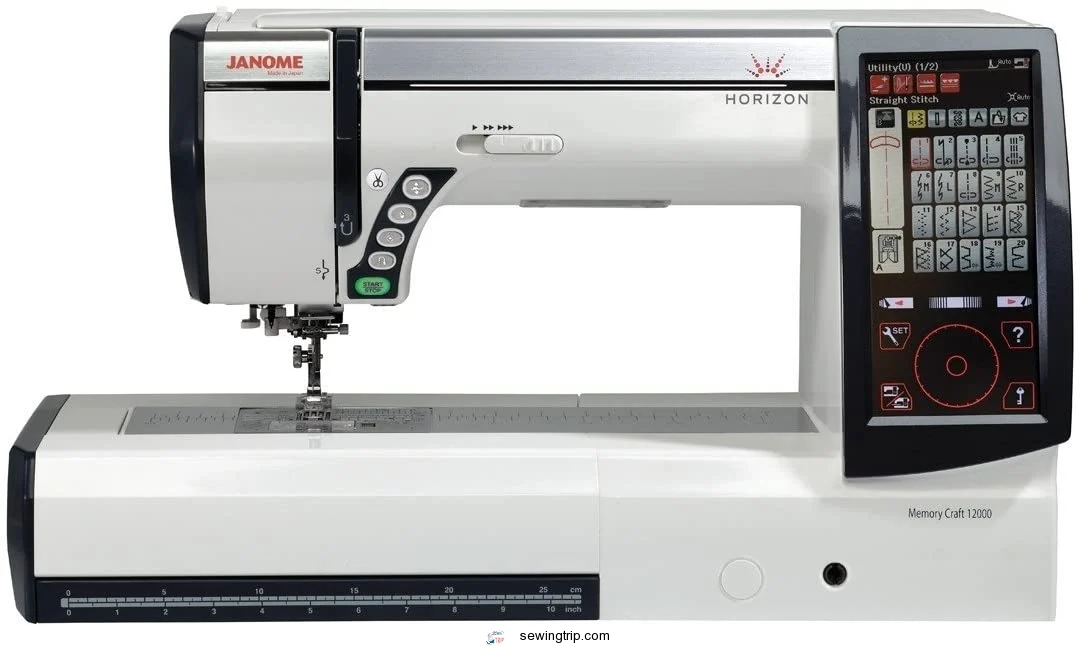 View On Amazon
You'd appreciate the Janome Memory Craft 12000's precise stitching and ample workspace if you're a crafter dreaming of tackling sizable quilting projects. This feature-rich electric sewing and embroidery machine is capable of both free-motion sewing and embroidering delicate designs.
Available since 2013, it provides quilters and sewists with an array of tools and functionality.
The Memory Craft 12000's precise stitching capabilities and ample workspace make it a dream machine for quilting. While highly rated overall, some customers did not receive the full advertised bundle. This advanced machine offers superb sewing and embroidery features to delight creative crafters.
Precise stitching
Ample workspace
Free-motion sewing & embroidery
Array of tools & features
Highly rated overall
Some didn't receive full bundle
Singer Legacy SE300 Embroidery Machine
View On Amazon
You've already found the Singer Legacy SE300 offers loads of embroidery and sewing options, though it may require extra purchases and adjustments. Specifically, this machine provides 250 built-in stitches for sewing, with 200 embroidery designs included.
Features like the LCD touchscreen, automatic needle threader, and snap-on presser feet add convenience for a wide range of projects.
With a large embroidery area and fast stitching speeds, the possibilities are vast. While mostly highly rated, be aware that separate software is needed to import new designs. Some fine-tuning of tension settings between sewing and embroidery may be necessary as well.
There are also isolated reports of issues with the memory function, limited free arm movement, and short-term reliability.
Large embroidery area
Fast stitching speeds
Automatic functions like needle threader
LCD touchscreen interface
Snap-on presser feet
Must buy software separately
May need tension adjustments
Some problems reported with memory function
Concerns over free arm limitations
Isolated reliability complaints after short-term use
Bernette Seventy Nine
View On Amazon
While its hefty price tag may give some pause, the Bernette Seventy Nine's advanced features and spacious design make this precision machine a crafter's dream. As an embroidery and sewing machine from respected brands Bernina and Bernette, the Seventy Nine offers the high-end quality you would expect in terms of functionality, durability, and versatility.
With 500 different stitches, a 5" touchscreen, automatic needle threading, and a generous 8.5" throat space, you can take on intricate projects both big and small. The ample workspace shines when handling quilts or bulky fabrics.
500 built-in stitches for versatility
Large 8.5 throat space for big projects
Dual feed for even fabric handling
Touchscreen and automatic functions
Expensive at $2,000 price point
Can be overwhelming for beginners
Some issues reported with reliability
EverSewn Sparrow X Next Generation Sewing and Embroidery Machine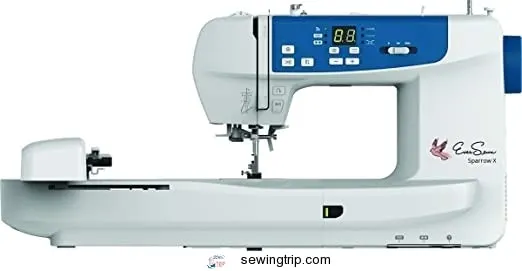 View On Amazon
Take a creative leap with the Sparrow X and unleash your inner embroidery artist. This feature-packed machine allows you to wirelessly send designs, monitor progress, and customize embroidery from your smart device.
With over 100 built-in designs, 850 RPM speed, and a 4.75 by 7-inch hoop, your creative ambitions can soar.
The user-friendly interface belies extensive capabilities that delight both beginners and seasoned embroiderers alike.
User-friendly app and interface
Large embroidery area
Fast stitching speed
Manual not beginner-friendly
Mixed reviews on ease of use
Lacks embroidery support/guidance
Juki Computerized Sewing Quilting Machine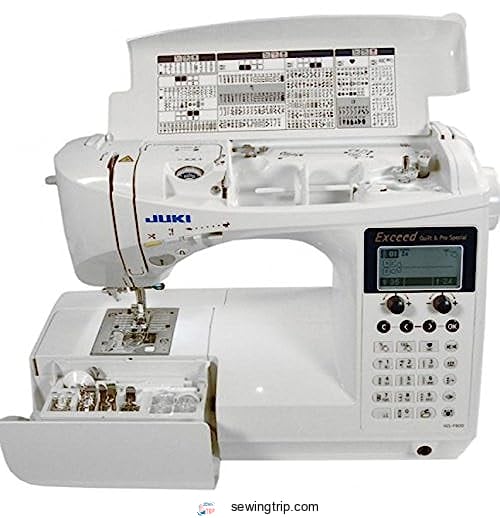 View On Amazon
This feature-rich computerized sewing and quilting machine provides precision feeding, adjustable tension, and fast sewing speeds to handle a variety of projects. It has 255 built-in stitches, an LCD screen for easy selection, and convenient features like an automatic needle threader.
It can sew anything from clothes to quilts. The sturdy body and ample 8 x 12.25 workspace allow for managing sizable projects with ease. It also comes with useful accessories, settings, and excellent power at low speeds, making it great for both beginner and experienced sewers.
255 built-in stitches for versatility
Large workspace
Fast sewing speed up to 900 SPM
Automatic needle threader
Precision feeding system
Adjustable tension dial
Easy to use for all skill levels
Expensive price point
Limited embroidery functionality
Smaller stitch selection than some models
Mixed reviews on instruction manual clarity
Portable Sewing Machine With Embroidery Computer Stitch Patterns
View On Amazon
You'll love how portable and feature-rich this computerized sewing machine is. It has 200 built-in stitches, automatic tension, and stitch length/width settings, and a large LCD screen. You can select from a wide variety of decorative, embroidered, buttonhole, and lettering stitches.
The machine weighs just 11.9 lbs, making it easy to take on the go. You can use it handheld or with the electric foot pedal for versatility. The machine comes with multiple presser feet, which make it easy to tackle most sewing projects.
Users mention that it's easy to thread and sew smoothly, even at low speeds. The decorative stitches look great, and it's very beginner-friendly right out of the box.
Portable and lightweight
Large selection of built-in stitches
Automatic functions
Smooth sewing
Quiet operation
Easy to use
Quality control issues
Small, hard to read lettering
Missing components
Dual voltage not supported
EverSewn Charlotte Computerized Quilting Sewing Machine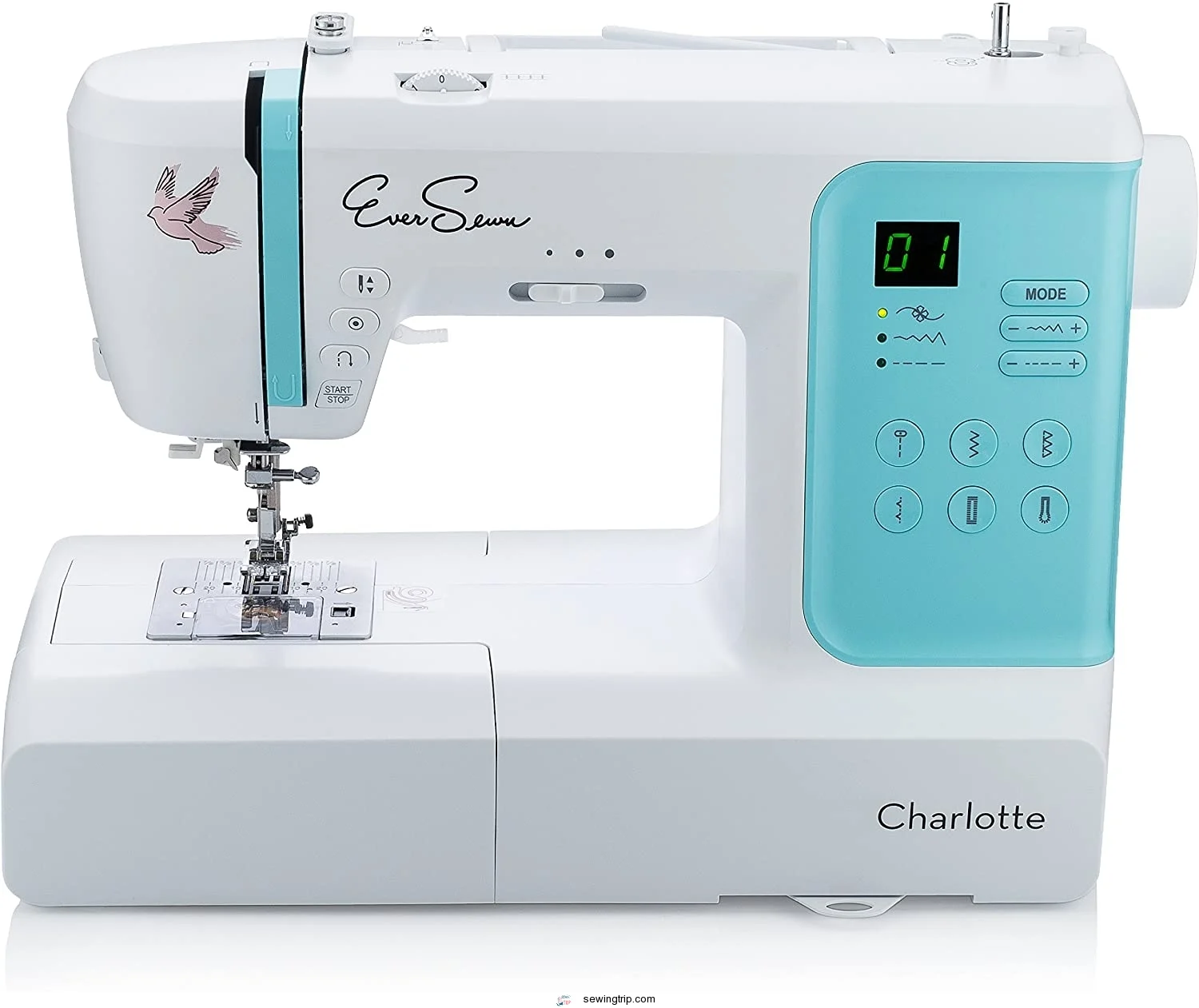 View On Amazon
For upgrading from your aging Singer, consider the EverSewn Charlotte's computerized convenience, letting you swiftly select stitches while its ample workspace handles your quilting, garments, and home decor projects.
This feature-rich sewing machine offers seventy built-in stitches, including decorative options to embellish your creations. With its easy stitch selection on an LED screen, automatic needle threader, adjustable speed control, and multiple presser feet, it delivers capabilities to delight intermediate sewists.
The EverSewn Charlotte provides a high-quality alternative to replace an old Singer model, with conveniences like needle up/down and a clear bobbin cover. Made by Bernina's affiliate EverSewn, it meets your needs for quilting, garments, knits, and more at an affordable price point.
70 built-in stitches for versatility
LED screen simplifies stitch selection
Automatic needle threader saves time
Adjustable speed control adds control
Ample 6.5 work area for quilting
Limited availability of detailed reviews
Supply chain issues may constrain supply
Pricier than basic entry-level machines
What is a Combination Sewing and Embroidery Machine?

You may be wondering if a combination sewing and embroidery machine is right for your creative needs. These versatile machines allow you to easily switch between sewing and embroidering modes. Having both capabilities in one unit eliminates the need to buy two separate machines.
With a combo machine, you can sew a project then add beautiful embroidery embellishments without skipping a beat. They come equipped with built-in stitches, preloaded designs, hoops, and design software.
To get the most out of these machines, learn design positioning, proper hooping techniques, ideal thread tension, and regular cleaning methods.
With practice, these machines unlock immense creative potential for sewing, quilting, crafting, and embroidery projects.
What Should You Look for in a Sewing Machine for Embroidering?

You'll want to consider sewing features such as the number of stitches, presser feet, and automated functions. For embroidery, focus on hoop size, built-in designs, editing capabilities, and memory. Carefully match the machine's capabilities to your skills and budget. Testing models in person is wise when investing in a higher-end machine.
Sewing Features
When picking sewing features, consider the number of stitches, presser feet, and built-in automation that suit your skills. Having more built-in stitches adds functionality and decorative options. However, focus on what you actually need.
Embroidery Features
Hoops offer potential for designing your custom creativity. Carefully consider hoop size, built-in designs, and editing features when choosing an embroidery machine. Larger hoops enable bigger projects, while smaller hoops may suit beginners. More built-in designs provide inspiration, while editing tools allow customization.
Evaluate connectivity for transferring designs from other sources. Touchscreens streamline the editing process. Optimal embroidery machines balance useful features with your budget and skills.
How Much Should You Spend on a Sewing Machine That Embroiders?

The amount you spend on an embroidery machine depends on your needs and budget. Consider these factors when setting a budget:
Affordability: Set a spending limit you can afford without overextending yourself financially.
Quality and Features: Evaluate built-in features, stitch options, embroidery field size, and ease of use.
Frequency of Use: If you'll sew and embroider often, invest in a more heavy-duty, computerized machine.
Ultimately, choose the machine with the right mix of features, reliability, and price for your skills. With research, you can find a quality embroidery machine that meets your budget and needs. Focus less on brand names or top price tags and instead on value that aligns with your goals.
Buying Sewing and Embroidery Machine – 9 Key Factors for Professional Sewers

When buying a sewing and embroidery machine as a professional sewer, consider these key factors: You'll want one with plenty of built-in embroidery designs to choose from without having to purchase more, compact dimensions to fit your workspace, editing abilities to customize included designs, multiple hoop capabilities to accommodate different project sizes, and built-in memory plus USB connectivity for storing and transferring designs.
Embroidery Designs Included
You'll love the creative potential from hundreds of built-in embroidery designs. Combination sewing and embroidery machines offer hundreds of built-in designs for endless creative options. LCD touchscreens make selecting and editing designs intuitive. Automatic hoop sizing and tension control ensure quality results.
Using optimal needles and threads is key. Multiple built-in fonts allow personalizing projects. With so many designs available, you'll avoid having to purchase more later. Experiment with the possibilities.
Machine Dimensions
Check your machine's footprint to ensure it fits the space you have before making a purchase. Carefully measure the dimensions of the sewing and embroidery machines you are considering. Ample workspace is crucial for managing fabric, so avoid cramped quarters. Machines with larger embroidery fields allow for bigger designs, while compact size offers easier storage.
Whether you have a dedicated sewing room or need a multifunctional machine, ensure that it fits your lifestyle and available room.
Editing Feature
Touchscreens make stitch and design editing intuitive. With user-friendly displays, sewing machines allow for tweaking stitches for perfect results. Import embroidery designs, resize, rotate, and mirror images right on-screen. Touch to select stitches from built-in options or input custom settings.
LCD screens enable sewing machines to adjust length and width according to project needs. Embroidery machines edit thread colors and designs for personalized customization. Advanced display interfaces streamline editing capabilities from tension to presser feet for mastery.
Hoop Ability
The larger the hoop, the more expansive your embroidery designs can be.
Hoop size dictates the maximum design size.
Adjust the frame tension so that the fabric stays taut.
Use an embroidery needle and match the thread weight to the fabric.
Stabilize the fabric for clean results.
Small hoops are great for starting, and you can upgrade as your skills grow.
When evaluating a machine's hoop ability, consider the included hoop sizes and the potential to upgrade for larger projects. Select hoops that suit your typical design size. Other factors, such as fabric type, thread weight, and stabilization, also impact the embroidery outcome.
With the right supplies and a quality machine, you can create precisely rendered designs, from delicate details to expansive scenes.
Computers With Built-in Memory and USB Connectivity
You'll appreciate built-in memory and USB connectivity for easily storing and transferring designs.
| Capability | Benefit |
| --- | --- |
| Built-in memory | Store purchased & custom designs onboard |
| USB connectivity | Transfer designs between machine & computer |
| Built-in camera | Scan designs directly into machine memory |
Having sewing machines with built-in memory and USB connectivity provides convenient options for managing embroidery designs. The ability to store, edit, and transfer designs between the machine and computer streamlines the embroidery process.
What to Consider When Choosing an Embroidery Machine

You'd be wise to assess embroidery machine size and capability before purchasing to perfect your projects.
Consider the maximum hoop size based on typical project dimensions. Larger hoops allow for more design flexibility but cost more.
Review the built-in design editing features. On-screen editing for position, scale, and rotate enables customizing included designs.
Compare single vs multi-needle machines. Multi-needle machines change thread colors automatically, saving time, but single-needle machines work for most projects.
Check the automatic thread tension settings. Consistent tension prevents puckering and looping on fabric.
Evaluate fabric holding options like hoops and stabilizers. Proper stabilization keeps the fabric taut and still for the best embroidery results.
Frequently Asked Questions (FAQs)
What maintenance does an embroidery machine need?
Clean under the needle plate regularly to prevent buildup. Use the recommended thread and stabilizer for optimal results. Oil the machine once a month according to the instructions in the manual. Avoid overfilling bobbins as it can lead to jams.
Ensure that the hoop is tight to prevent fabric shifting. Regularly change the needle, using the appropriate type and size for each project.
How long do quality embroidery machines typically last?
You can expect a quality embroidery machine to last over 10 years with proper care and maintenance. Keep it clean, lubricated, and well-maintained according to the manual, and it will keep humming along smoothly for years of creative projects.
What software is compatible with different embroidery machines?
You'll find that most major embroidery software programs are compatible with today's computerized machines. For example, around 70% of embroidery enthusiasts use either Bernina's Artista or Wilcom's DecoStudio for digitizing and editing designs before transferring them to the machine via USB.
Focus on software with the digitizing and editing features you need, then check your machine's compatibility list to be sure.
Where can I find embroidery designs and patterns online?
You can find tons of embroidery designs and patterns for free on sites like EmbroideryDesigns.com, FaveCrafts.com, and AllFreeEmbroidery.com. Check manufacturer sites too as some offer free patterns. For more unique or customized designs, try digitizing services like Stitch Era Universal or Etsy sellers who design custom patterns digitally.
Are there ways to digitize my own embroidery designs?
You can digitize your own embroidery designs using software like Embird or ScanNCut. These software allow you to scan hand drawings or existing images, and then convert them into embroidery files. You can adjust stitches, colors, and sequence as needed before saving the files in a format that can be read by your machine.
Conclusion
Sewing and embroidering is an art and can be therapeutic when done right. As the old adage goes, Measure twice, cut once. Choosing the best sewing and embroidery machine reviewed for your needs takes thought.
Consider your budget, skills, and project goals first. Try before you buy. Opt for ample features to grow into, not overkill. With practice and the right tools, you'll create beauty stitch by stitch. The best sewing and embroidery machines reviewed unlock your creativity.