This site is supported by our readers. We may earn a commission, at no cost to you, if you purchase through links.
Now is a golden time to be a kid who is passionate about sewing – and the ZigZag Chainstitch Toy Sewing Machine A2207 is proof of that.
We remember that a'child sewing machine'was nothing more than your mom watching you like a hawk while you tinker with her old Singer trying to reach the foot pedal.
Well, Singer's still in, but their offerings for kids are light years ahead of them.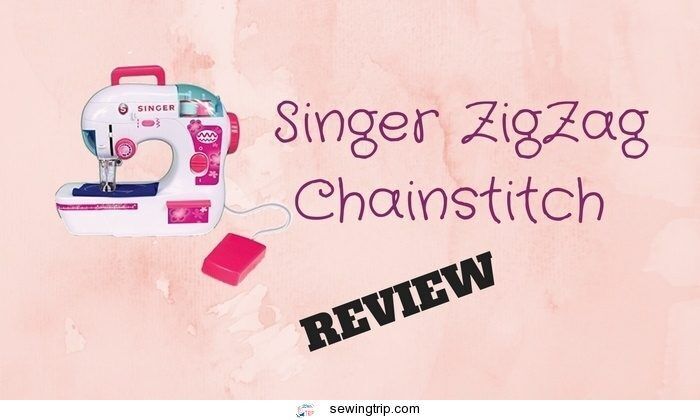 Not only is this Singer ZigZag kid-friendly and great for sewer novices, it's also incredibly colorful and lightweight — no wonder it is so popular with kids and parents alike! I recommend it for ages 8 and up.
However; it has many limitations.
Here's everything you need to know about the Singer ZigZag sewing machine – both the good and the bad. We'll also look at how it compares to the best sewing machines on the market today.
Singer ZigZag Toy Sewing Machine A2207: The Details
The Look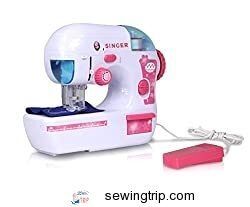 There is more debate in the sewing community whether this Singer sewing machine for children is a toy or a real'first sewing machine.
Frankly, it's somewhere in between: it can sew lightweight fabrics and teach your kids basic sewing skills, but it looks like a toy, it works like a toy and as a toy. Your child will definitely not quilt on it.
It looks good, though. Like an'adult'machine, it has a foot pedal, a tension knob and also comes with a sewing project.
With a white body and flashes of pink details, there is probably more suitable for girls (although we're sure there will be a handful of guys who want to try it too!).
Importantly its very light is lightweight and portable, weighing in at 2 pounds and equipped with a convenient handle on the top. Perfect for taking to sleepovers and craft parties!
Specs
Weight: 2 pounds
Sizes: 12 x 4.5 x 9 inches
Stitches: Zigzag Chain Stitch
No Coil
On/Off Switch
Requires 4 1.5V LR6 AA- batteries (not included))
Accessories
This is in the box next to the Singer ZigZag Chainstitch Toy Sewing Machine A2207:
3 spools of thread
Measuring tape
Needle threader
1 plastic needle
2 pieces of fabric
1 ribbon
1 flower application
1 butterfly application
Instruction manual with project manual
The materials in the kit are your child's first project — a DIY sheet wiser.
Singer: The Company
Singer is one of the most well-known heritage names in the sewing world and has been producing since 1,851 quality machines.
As the first brand a zigzag machine, Singer is clearly continuing that tradition with this kids'sewing machine. Their motto is'sewing made easy', which is one reason so many people prefer to buy their products over other brands.
Zig Zag Chainstitch
The only stitches this children's Singer machine offers are the zigzag chain stitch and the straight chain stitch, which you can select with a switch on the front of the machine.
The chain stitch in action
It is clear that this is not a machine for serious sewing. Singer advises that the stitching is only durable enough for very light fabrics and paperwork, and we don't recommend trying anything else as the machine just isn't sturdy enough.
Some buyers have complained that their stitches come loose when they put pressure on them because there is no bobbin, but this is actually because they didn't follow the instructions. You don't need a bobbin on a chain stitch machine like this: to hold the stitch, tie it off at the end of the row with the included plastic needle.
Kid-friendly features
This ZigZag singer is 100% made for children, your child is playing it safe and not exposing themselves to damage during use.
Here are some of the kid-friendly features Singer has built in:
There is a protective cap around the needle so there is no chance of poking yourself
The foot pedal is suitable for young feet
It is lightweight and portable
Both the machine and packaging appeal to children (it's a great gift idea!)
It comes with materials for a fun DIY self-project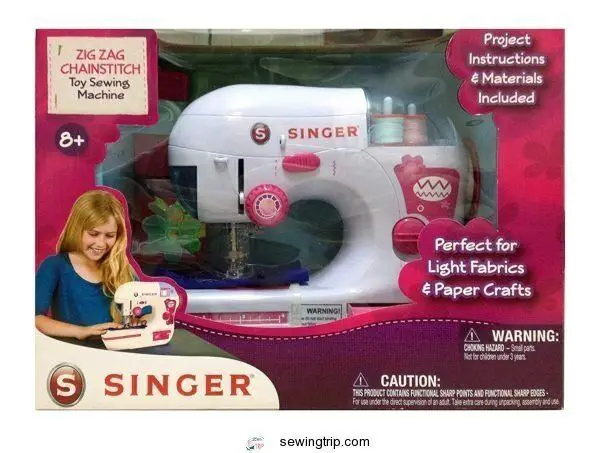 Singer ZigZag Machine Review
That's all very well and good, but the Singer ZigZag Chainstitch Toy Sewing Machine A2207 cut the mustard?
Is it worth buying for your child?
Let's see…
The Positives
It's a great introduction to sewing
Our favorite part about this machine is how well it positions itself between a toy and a real sewing machine.
]
Of course you may not sew much with it, but young children will master the machine and learn the various movements and skills needed to be a sewing prodigy in a few years. to be. It's perfect for small and lightweight crafts, which should suit most young children anyway!
But this is a safe machine for even the most sharp young hands. The danger of letting kids loose on your sewing machine (even a mini version) is that they can prick themselves with the needle, entangle their hair in the bobbin winder (a true story for another day!) or just general destruction. wreak havoc on your precious machine.
However, that is not possible with the Singer ZigZag. The protection around the needle is more or less impenetrable (even for adult fingers) and the sewing itself is very contained and neat.
It's not a sturdy machine, but you knowing that it was a cheap purchase anyway if it got deformed on the ground.
It's Portable
One of the things we value most as parents is getting our children to where they need to be as easily as possible, with all the things they need.
This Singer ZigZag makes it easy for you. Weighing in at just 2 pounds and with a handy carrying handle, we can take our daughter to a sleepover with her little machine in hand and not worry about her leaving half of it at her boyfriend's house or struggling with a great handbag.
It's Super Cute
We love a cute design here at Sewing From Home and the Singer ZigZag machine certainly delivers on that front.
The white and pink color scheme is trendy without being overly feminine. Little girls will love it, and hopefully little boys won't be too scared of it.
It's easy to use
Although there are some difficulties in threading the needle, which we will discuss below, this Singer machine for children is easy to use when it works normally.
The machine manual and project instructions are clear and easy to follow, while the work lights help keep young eyes from getting too tired while concentrating on their sewing.
The small foot pedal that comes with the machine is perfect for children's feet and gives children a great understanding of how to operate an adult machine without being too cumbersome.
Other Things We Love
It's Cheap!
The coil and storage compartments keep everything neatly organized.
The measuring ruler on the side of the machine helps you to keep your measurements accurate without the hassle of rullers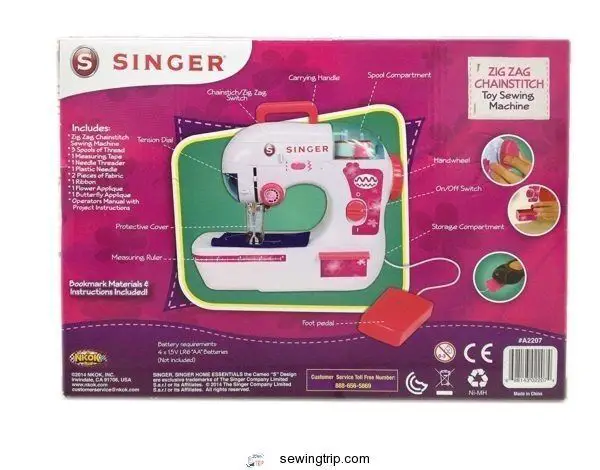 The negatives
It's not all rosy with the Singer ZigZag Chainstitch Toy Sewing Machine A2207 and there are a few issues to be aware of before buying.
Trouble with threading the needle
If you look at the negative reviews on Amazon, you notice that most of them show how difficult it is to re-thread the needle if it comes loose.
While we agree this isn't the easiest threading process we've ever come across, it certainly isn't bad enough to be a deal breaker.
We have followed the instructions in this tutorial and would recommend that you do the same if you get frustrated:
If you only use the machine for its intended use and don't put too much pressure on it, you are unlikely to loosen the thread that easily or quickly but for a bit of frustration when this happens or when you have to change the thread.
It's not a real sewing machine
This may be obvious, but it's the worth discussing: you are very limited in sewing light fabrics and paper crafts with this machine.
Although this will suit your child for a while. They will at some point want to switch to something meatier – and this kids Singer machine won't be able to handle it.
]
Luckily, the price is low, so don't expect a sewing machine for life, just a great introduction to sewing.
Singer ZigZag Overall verdict
We love the Singer ZigZag Chainstitch Toy Sewing Machine A2207 but accept it has its limitations and minor flaws.
It is a great machine for kids who need something between toys and a'real'machine, giving them a taste. sewing for a cheap price. It looks good, is safe to use and is portable. Ideal!
You in what you can make with it, and most kids will probably grow out of it fairly quickly. The one flaw many buyers find frustrating with the Singer ZigZag machine is the difficulty of threading the needle. As mentioned above, if you follow the instructions in the video tutorial, you shouldn't find it too difficult or frustrating.
Where to buy the Singer ZigZag
We couldn't find the machine on Singer's website, but you can buy the Singer ZigZag Chainstitch Toy Sewing Machine A2207 on Amazon, where it's recommended for ages 8 and up.

What do you think of the Singer ZigZag sewing machine?
Not sure if this is the model for you? Browse our latest machine reviews.