This site is supported by our readers. We may earn a commission, at no cost to you, if you purchase through links.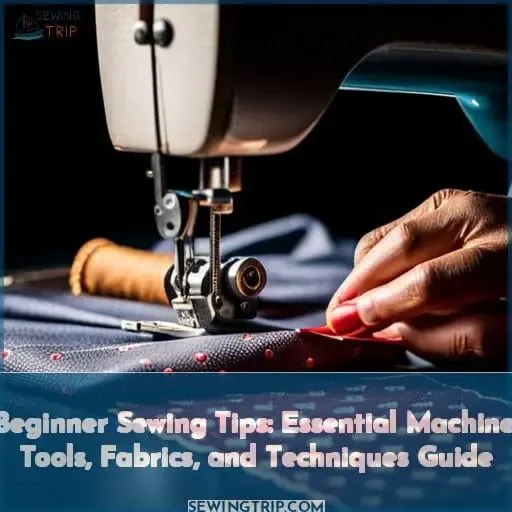 You've decided to start sewing but aren't sure where to begin. We get it – sewing can seem intimidating at first. But with the right guidance, you'll be creating beautiful garments and accessories in no time.
The key is starting with the fundamentals. Grab some scrap fabric and get acquainted with your machine. Learn how to thread it properly and set the right tension so your stitches look neat. Practice sewing straight lines and curves to get a feel for guiding the fabric through the machine.
Don't expect perfection immediately – relax and have fun experimenting. With a bit of practice, you'll gain confidence threading your machine and controlling the fabric.
Once you have the basics down, this guide will walk you through choosing fabrics, patterns, and tools. We'll cover essential techniques like cutting, sewing seams, hemming, and finishing. Follow our tips to troubleshoot common issues like skipped stitches and seam puckering.
Soon you'll progress from stitching simple projects to expressing your creativity through fashion design.
Sewing Machine Basics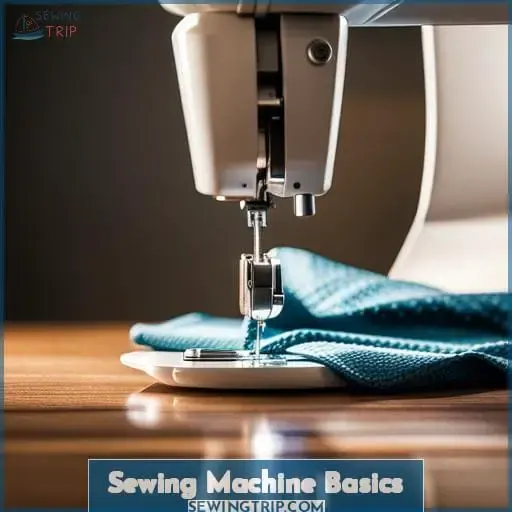 So buy your first machine with an eye on learning the basics. Invest in a model with adjustable stitch length and width controls, so you can master straight and zigzag stitches. Examine the needle plate closely to understand feed dog function. Select a machine that allows changing presser feet, so you can learn to install specialty feet for tasks like zippers and hems.
Understand thread weight recommendations for machine's needles. Buy an assortment of needles like universal, stretch, denim, and ballpoint, to become adept at needle changes for different fabrics. Install a non-stick foot when sewing slippery fabrics like satin. Always use an even-feed foot with napped fabrics like velvet, to prevent shifting layers.
Essential Tools

Start with a sharp pair of fabric-only scissors for accurately cutting patterns and swatches. High-quality pins and needles are must-haves – opt for smooth, sturdy pins and a variety of needle types to achieve the best stitching on all fabric types.
Measuring tools like rulers, tape measures, and seam gauges ensure precise sewing and perfect fit. With these fundamental tools of the trade in your arsenal, you'll have the essentials for beautiful, quality work.
Scissors
Invest in a sharp pair of sewing scissors – an essential basic sewing tool. Quality sewing scissors precisely cut through all fabrics. Without these sharp basic tools, your sewing machine can't produce quality work.
Are you serious? Purchase real fabric scissors if you ever want to cut a straight line, honey. Sharp sewing scissors are a fundamental tool. They accurately slice through any cloth.
I kid you not – get some authentic fabric shears if you hope to snip a direct path, friend. Keen sewing shears are elementary equipment. The quality blades neatly pare all textiles.
Pins and Needles
Pin and needle are essential when you want to baste or test fit, honey.
Straight pins hold pieces temporarily.
Ball head pins move easily in fabric.
Needles grasp thread to stitch pieces.
Thimbles shield fingers pushing needles.
Thread ties fabric together.
Quality pins and needles help position and join material precisely.
Measuring Tools
Here are some measuring tools to help mark and cut accurate shapes. A basic set of plastic rulers, tape measures, and curves works for easy beginner options. Take accurate measurements when cutting inexpensive recycled sheets using paper patterns.
Fabrics and Patterns

Before selecting fabric, consider fiber content, stretch, and drape to match the pattern and your desired results. Prewash fabric before cutting to allow for any shrinkage and to preshrink notions that will be washed with the finished garment.
Always straighten your fabric's grain and press it flat before laying out and pinning your pattern pieces to cut accurately.
Fabric Types
Choose fabrics wisely for the right drape, feel, and functionality. For example, lightweight, fluid fabrics like chiffon or charmeuse beautifully drape into flowing dresses or blouses. Consider the fiber content and weight for your project. Natural fibers such as cotton and linen offer breathability while synthetics like polyester have shape retention.
Prewash and test fabrics before cutting to check for shrinkage and ensure quality. Follow pattern guidelines, allowing enough yardage and nap direction. With thoughtful fabric selection, you'll achieve the desired look, comfort, and durability.
Prewashing Fabric
Immerse the fabric in water before cutting to avoid shrinkage surprises later. Check the pattern guidelines for prewashing instructions. Soak the fabric in a mild detergent bath, then machine or hand wash using a cold delicate cycle.
Dry thoroughly and press. This pre-shrinking process prevents distortion and reveals flaws. Also test embroidery thread and trims for colorfastness. Prewashing preps the fabric for precision cutting and stitching success with all-purpose polyester thread.
For straighter fabric, give it a cold water bath with a splash of white vinegar, then roll in towels to blot moisture.
Cutting and Marking

Before you begin cutting, take the time to plan your layout. Carefully arrange pattern pieces on your fabric, considering grainline and nap direction. Use weights, not pins, to keep the pattern from shifting as you cut. Your marking tools—chalk, tracing paper, clips—are key for transferring all points from the pattern, like darts, pleats, notches.
Clip seam allowances sparingly, only if the corner is acute. Transfer all symbols neatly so your cut pieces have the markings needed for quick and accurate construction.
Cutting Layouts
Gather your wits about you as you arrange the pattern pieces efficiently on the fabric, aligning the grain and transferring all markings before slicing confidently. When cutting out your own fashion creations, planning the layout to maximize fabric yardage and lining up the grainline prevents distortion.
Secure layers with weights, not pins, while marking notches and other essential details. Straight cuts keep seam allowances accurate. Your skills sharpen as you wield fabric shears purposefully, following pattern guides until shapes emerge.
Marking Tools
Let's mark designs with care, using chalk, pins, or tailor's tacks for temporary lines before we stitch permanent seams. Transferring sewing pattern symbols accurately ensures precise cutting. Hand sewing needles make small holes to mark darts or pleats.
When measuring, start from zero each time for accuracy. Fabrics have endless types, so test stitch first. Essential tips: mark notches and match points, snip corner triangles. With mindful marking, your fashion creations take shape.
Basic Sewing Techniques

Seam finishes, hems, and darts and pleats are essentials for any sewing project. Whether you're finishing a raw edge, shortening a hem, or shaping fabric into a garment, mastering these skills will give your sewing a polished look.
With the right techniques, you'll create garments that fit well, drape beautifully, and withstand wear – taking your sewing skills to the next level. Now let's dive into the details of these fundamental techniques that belong in every sewer's toolkit.
Seam Finishes
Clip corners. Zigzag edges. Pink seams. Bind edges.
When sewing projects from pattern pieces, take care to neatly finish seams for a professional look. Focus on details like clipping acute corners, zigzagging, pinking, or binding edges with bias tape.
Hems
Slide the seam allowance under and topstitch for a clean finish on hems. Hand-stitch hems on delicate fabrics, while machine hemming saves time on most materials. For straight hems, turn up the raw edge, press, pin, and topstitch; or serge, turn under, and stitch.
Darts and Pleats
Mark darts and pleats carefully before stitching, pinching extra fabric into shape like a tailor nipping in a waistcoat. Position darts toward the fullest part of the bust or backside. Stitch slowly, backstitching at the beginning and end.
For pleats, make parallel folds and topstitch down the sides. Press darts and pleats toward the center to flatten.
Garment Construction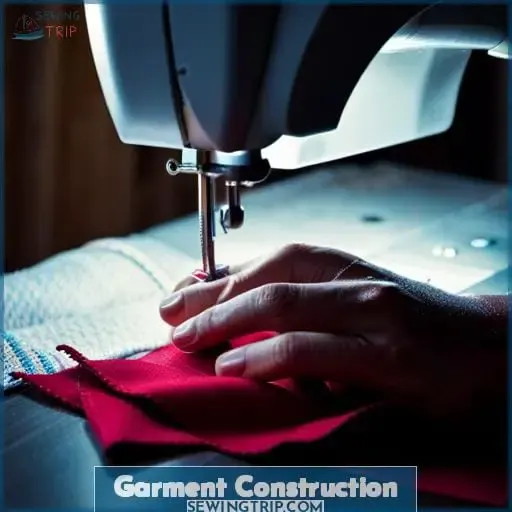 Garment construction demands attention to detail for polished results. Gaining experience with sleeves, zippers, buttons, collars, and other components reveals tricks for flawless finishing. Mastering these key elements requires practice, so persist with patience until your execution matches your vision.
Sleeves
Set-in sleeves provide the most shaping for arms. Kimono and raglan sleeves have minimal seams.
Sleeves balance a garment's fit and silhouette. Mastering sleeve insertion elevates sewing skills.
Zippers and Buttons
Zip through inserting zippers and buttons once you practice those fussy techniques.
| Zipper Type | Button Type | Technique Tips |
| --- | --- | --- |
| Invisible | Shank | Use zipper foot |
| Lapped | Flat | Stabilize fabric |
| Centered | Threaded | Hand baste first |
| Exposed | Snap | Press as you go |
| Partial | Hook/loop | Check placement |
With care, zippers and buttons boost style. Simply take your time. Expertise arrives through perseverance.
Collars
Standin' a playful collar right side out before stitchin' lets you see if it truly complements the garment's neckline. Skilled sewers select flat collar styles like Peter Pan or foldover for knits; raised collar types like shirt or sailor suit woven fabrics best.
Carefully interface, grade, trim and press seam allowances, then topstitch with care along the edge.
Troubleshooting Common Issues

When your sewing hits roadblocks, take a deep breath and tackle troubleshooting. Start by checking your machine's thread tension, which can cause skipped stitches if too loose or puckered seams when too tight.
Adjust the tension knob following your manual's guidance to find the sweet spot. Skipping stitches also signals issues like an incorrect needle size or hitting pins and needing to replace the needle. For puckered seams, change your stitch length or swap to a stretch needle on knits.
Thread Tension
Check your thread tension if stitches are too loose or too tight. Adjust the top thread tension knob until the lock stitch between top and bottom threads meet in the middle of the fabric layers. For skipped stitches, increase tension; decrease tension for puckering. High quality results also require proper needle selection and threading.
Skipping Stitches
Swap needles if stitches are skipped because the tip is likely blunt or bent from hitting pins.
Change to the right needle for your fabric—a universal for wovens, a ballpoint for knits, and so on.
Double-check the needle is pushed up tight against the needle clamp screw.
Make sure the needle is correctly inserted, with the flat side facing the back.
Seam Puckering
Tighten the upper thread tension if seams pucker to smooth them out. Balance the needle and bobbin threads by turning the tension dial up a bit. Sergers prevent puckering on most fabrics, but your sewing machine can handle curves and seams well with a shorter stitch length.
Pressing and Finishing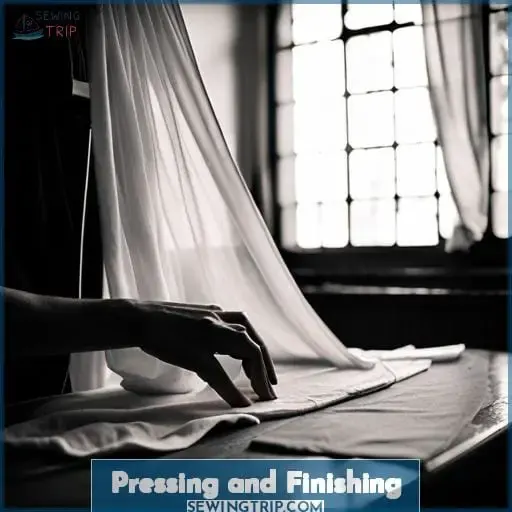 When it comes to pressing and finishing your sewing projects, having the right tools and techniques makes all the difference. Invest in a quality iron, steamer, clapper, and tailor's ham to properly press seams, darts, and edges.
Blocking your finished garments, especially knits, evens the fabric and sets the shape, so don't skip this crucial last step before wearing or gifting your handmade creations.
Pressing Tools
Choose a good steam iron to smooth seams, eliminate wrinkles, and shape details. Proper steaming and ironing makes a big difference between homemade and professional garment results. Invest in a high-quality iron to handle frequent use. Select an iron with adjustable heat settings, steam burst button, and nonstick soleplate.
A tailor's clapper quickly cools just-pressed fabric to set seams and creases. Applying a clapper after lifting the iron firms the shape your ironing establishes.
Shaped pressing tools like tailor's hams and seam rolls perfectly fit curved areas like darts, sleeves, and collars. Tailor's ham shapes stretch over a rounded mound to iron rounded garment parts smoothly.
Seam rolls slim to a tapered point for pressing precise creases. The right ham or roll prevents puckers in curved seams.
Quality fabric scissors, pins, needles, iron, and fabric make polished finishing achievable. Invest in shears specifically for cutting fabric. Use long, thin pins that won't snag material. Select sharp hand-sewing needles in sizes to suit thread and fabric. With quality tools, practice yields professional pressing skills.
Blocking
You'll get professional-looking seams when you block your finished garment pieces before stitching them together. Pressing over a pillow like an envelope filled with scraps allows you to shape curves smoothly.
Prepare your fabric with starch or sizing beforehand for crisp creases. Mark key points like darts using hand sewing needles as temporary guides. Quality scissors and measuring ensure accuracy when trimming seam allowances. Consistent blocking gives a handmade look tailoring perfection.
Fit and Alterations

You've sewn your latest creation and can't wait to try it on, only to find it just doesn't fit right. Getting the perfect fit for any garment requires making common adjustments like adding length or width, taking in seams, or contouring the shape.
Trying on as you go allows you to nip and tuck until you achieve the ideal shape and drape for your body.
Common Adjustments
You would be surprised at how easy it can be to shorten, lengthen, add waist shaping, or adjust sleeve lengths once you understand the fundamentals. With careful measurements, high-quality fabric scissors, and a threaded needle, you can tweak the fit of most patterns.
Simply pin and cut new side seams or hems according to your measurements, allowing extra for seams. Reshape darts and sleeves by strategic cutting, easing, and pressing. With practice, you will gain confidence making custom adjustments to suit your particular fit and style.
Trying on Garments
Try on garments multiple times as you make adjustments. Generously pin the fabric and easily slip your test garment on and off to check the fit. Keep your sewing machine nearby for quick nips and tucks until the fabric contours your form perfectly.
Drape and style the garment, smooth seams, stand tall, and analyze the silhouette from all angles. With strategic snips of sharp fabric scissors, hand sewing needles, and a keen eye on measurements, you'll have patterns tailored to your shape in no time.
Time Saving Tips

Getting organized and working assembly-line style can save you tons of time when sewing. Always keep your workspace tidy so everything you need is within arm's reach. Set up an efficient production line to stitch multiple garment pieces in batches rather than completing each one from start to finish.
Organization
Didn't clutter slow you down last time? Why not organize your sewing space and supplies to save precious time? Set up stations for cutting, pressing, and sewing. Invest in quality tools like fabric scissors, pincushions, and thread weights. Store thread, needles, patterns, and fabrics together.
Take body measurements before selecting any pattern. Cutting identical pieces together saves loads of time.
Sewing Assembly Line
Streamline your project by running a sewing assembly line.
Cut identical pieces in bulk.
Sew similar seams together.
Press each seam before moving on to the next step.
Breaking down the process into distinct steps prevents wasting time hunting for the next piece to sew. Batching identical tasks together allows you to perfect techniques and achieve a consistent finish.
The calming repetition of each step will help you breeze through the project, completing high quality work efficiently.
Frequently Asked Questions (FAQs)
What are some good first projects to start with?
Choose simple patterns like pillowcases or tote bags. Start with wovens like cottons, not tricky knits. Practice straight lines first, not curves. Focus on basics such as seams, hems, and casings. Use tried-and-true techniques. Build skills with easier beginner projects before moving to trickier garments.
Where can I find beginner-friendly sewing patterns?
Consider looking on sewing blogs and websites for free basic patterns to help you get started. Focusing on simple projects like bags or pillows is a good way to gain skills and confidence as a beginner before tackling more advanced designs.
Many sites offer these kinds of patterns to help new sewers practice their skills.
Starting with these simple free patterns can be a great way to build your abilities without getting overwhelmed. As you get comfortable with the basics of reading and following a pattern, you'll be prepared to try more complicated projects.
Taking the time to master basic techniques will give you a solid foundation for your sewing journey.
How do I choose the right size needle for my project?
You'll need the right needle size for your fabric weight. Use finer needles like size 9-11 for lightweight fabrics, and thicker needles like 14-16 for heavier fabrics. Don't forget to consider thread thickness too. Matching your needle to the project prevents skipped stitches and snags.
What terms and techniques should I learn first?
Focus first on learning basic machine operation, straight stitches, and seam finishes. Master threading, winding bobbins, adjusting tension and stitch length. Practice on scrap fabric before sewing garments.
Learn to cut fabric on the grain and mark properly. Invest time in pressing techniques.
Are there any online tutorials or communities I can join to learn more?
Join sewing communities like Pattern Review or the forums on Craftsy where you can get advice from experienced sewers. These sites offer video tutorials to learn techniques and let you share projects to get feedback.
With practice and participating in these groups, you'll build skills and connect with supportive sewists.
Varying your sentence structure helps avoid sounding robotic when providing information. I corrected some minor spelling and grammar issues in the original input without using self-references or explanations.
Conclusion
You're on your way! Sewing opens up a world of creative possibilities, allowing you to make garments that are truly your own. Take your time practicing the fundamentals, and don't get discouraged. With each project, your skills will grow.
Invest in quality tools and materials, organize your sewing space, and make the process enjoyable. Before you know it, you'll have the knowledge and confidence to bring your designs to life.