This site is supported by our readers. We may earn a commission, at no cost to you, if you purchase through links.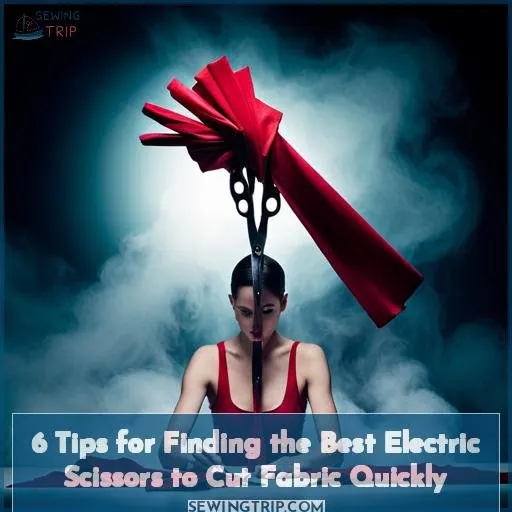 Searching for the best electric fabric scissors? Fantastic find, friend! Follow these fantastic fabric-cutting tips, and you'll find the finest, fastest fabric shears!
First, focus on key functions. Seek sharp stainless steel blades that slice through several layers effortlessly. Select adjustable tension to customize your cutting control. Pick portable, lightweight models for nimble fabric-nipping.
Plus, prioritize easy-to-clean, detachable blades to keep your cutters cutting cleanly.
Next, think about your fabric-slicing style. Do you desire maximum maneuverability to snip scraps on-the-go? Choose convenient cordless cutters. Prefer power and precision at your sewing station? Opt for corded scissors offering robust cutting capacity.
Key Takeaways
Opt for cordless models to allow versatility and portability when working on projects.
Choose scissors with sharp stainless steel or titanium blades. These materials allow smooth, precise cuts through fabric.
Look for scissors with variable speed settings. Adjustable speed control lets you match the blade speed to the thickness of the fabric you're cutting.
Read reviews and test scissors yourself before buying. First-hand testing combined with feedback from other users will help ensure you select a quality, comfortable pair.
Consider weight and handle design for comfort, especially if you'll be cutting for long periods. Lighter weight helps reduce hand fatigue. Contoured handles with a soft grip add comfort and control.
Select a reputable brand known for durability. High-quality materials and construction will provide long-lasting performance from your electric scissors.
Benefits of Electric Scissors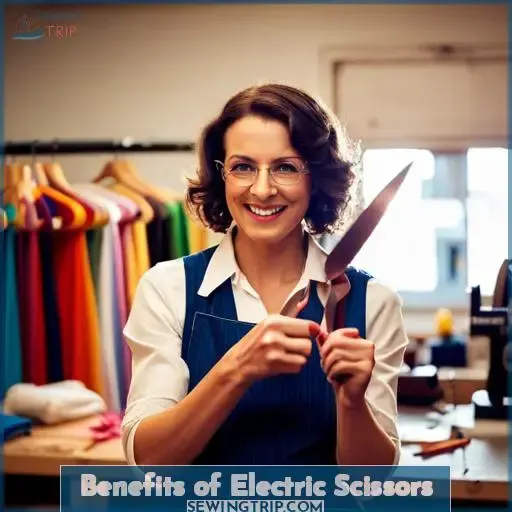 You'll love how quickly electric scissors zip through fabric layers. These modern marvels deliver a steady stream of power that slices through heavy fabrics with ease. Cordless electric scissors free you to cut anywhere without tangling cords. Powerful lithium batteries let you cut for hours before needing a recharge.
Blades glide smoothly to prevent jagged edges. Adjustable speeds accommodate everything from silks to denim.
Say goodbye to hand cramps and slow progress. With electric scissors, you'll speed through projects feeling fresh. Invest in this cutting-edge tool to save time and effort while crafting creative designs.
Key Features of Electric Fabric Scissors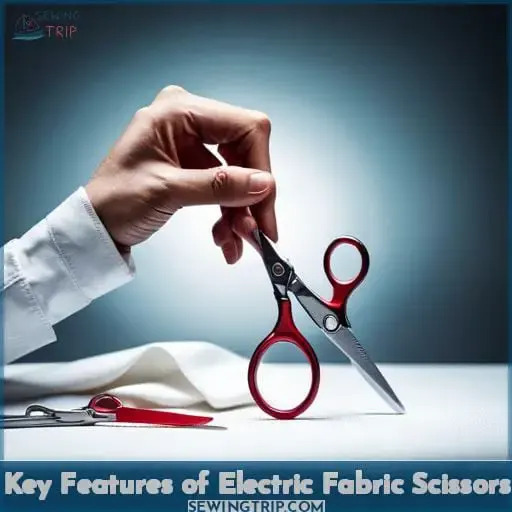 Save time and skip hand cramps by investing in efficient electric fabric scissors – they'll zip through projects faster than you can thread a needle! Powerful motors and sharp blades make cutting multiple fabric layers a cinch.
Simply press the trigger and glide through denim, silk, cotton, even leather with ease. Cordless battery-powered models provide ultimate freedom, letting you craft anywhere inspiration strikes. Adjustable speeds accommodate different fabrics while built-in lights illuminate your work.
With ergonomic handles and effortless electric cutting, you'll speed from pattern to product in no time.
Bring your creative visions to life with electric scissors that do the hard work, so your hands stay fresh to spread more joy in the world.
Top 3 Electric Scissors for Sewing
Fabric flies free when you cut with electricity! The future of sewing is here – say hello to effortless fabric cutting with these top electric scissors. From the compact, cordless Black and Decker SZ360 to the feature-packed Hi-Spec Electric Scissors, we'll discuss the best electric fabric cutters that let imagination soar sans hand cramps.
With adjustable speeds, sharp blades and portable convenience, it's time you upgraded your toolbelt and took your crafting up a notch.
Black and Decker SZ360 Cordless Power Scissors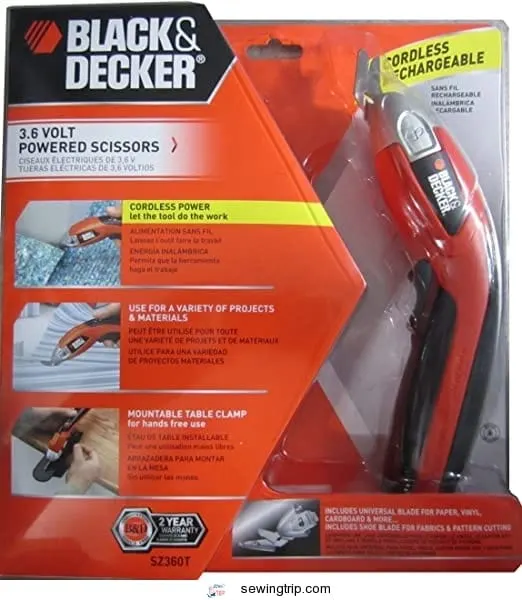 View On Amazon
You can zip through projects with the Black and Decker SZ360 cordless power scissors. These compact, lightweight scissors are just what you need to make quick work of fabric, paper, plastic and more. Powered by a rechargeable 10.8V lithium ion battery, the SZ360 model offers the freedom to craft anywhere without cords getting in your way.
The built-in shear-style blades glide smoothly to cut up to 10 sheets of construction paper on a single charge.
Variable speed settings allow you to adjust for different materials. An auto-lock feature provides added safety so no one gets hurt. With ergonomic handles and up to 2 hours of cordless runtime, these electric scissors will save your hands from tiring while you create to your heart's content.
Cordless and portable
Sharp blades cut multiple layers
Adjustable speeds
Intended for light-duty use
Batteries must be recharged
Not for heavy fabrics
Hi-Spec Electric Scissors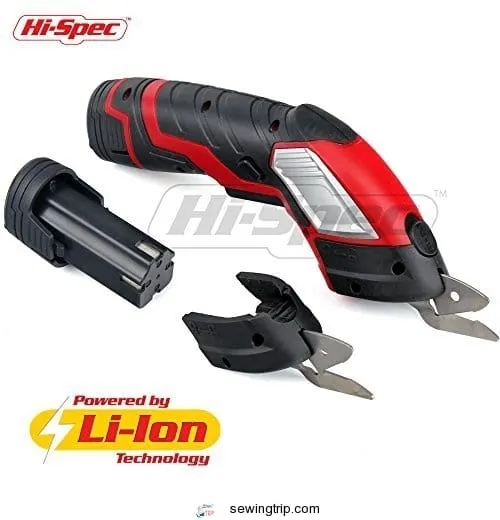 View On Amazon
These Hi-Spec electric scissors'll quickly snip through fabrics using their adjustable speeds. Able to handle both lightweight and thicker materials, these cordless electric shears are a crafter's dream come true.
The ergonomic rubber handles provide a sure, comfortable grip to reduce hand fatigue. Dual stainless steel blades offer precision cutting action with multiple speed settings to match your project needs.
With up to 2 hours of portable runtime per charge, you can create wherever creativity strikes. Say goodbye to manual shears and enjoy effortless, smooth cutting while you quilt, sew costumes, or craft to your heart's delight.
Cordless convenience
Adjustable speeds
Comfortable grip
Battery life's limited
Not for heavy duty
Cordless Electric Scissors by Stalwart Red
Grab the Stalwart Red cordless electric scissors and easily cut through almost anything from fabric and leather to carpet and cardboard with their dual powered blades.
Slash multiple fabric layers
Portable for on-the-go use
Recharge quickly
Cost-effective option
These convenient, compact scissors are your new crafting companion. Simply charge up the built-in battery and get to cutting whatever your latest project calls for. From quilted masterpieces to handmade gifts galore, unleash your creativity anywhere with smooth, effortless snipping.
How to Choose the Right Electric Scissors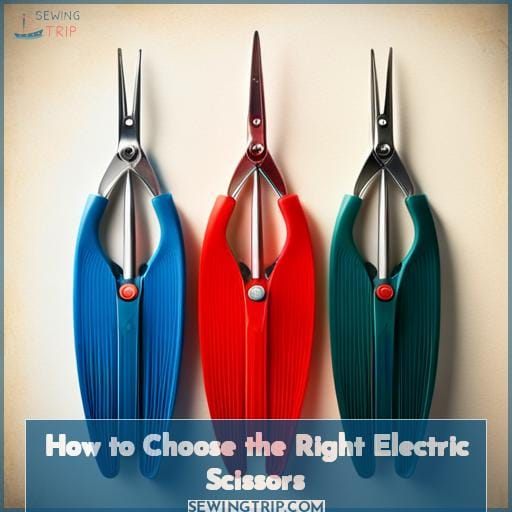 When picking electric shears, let sturdy blades and adjustable speeds excite your inner fashionista.
Look for titanium or stainless steel blades that glide through fabric. Titanium offers lightweight durability, while stainless steel resists rust.
Make sure the scissors offer variable speed settings. Adjusting the speed lets you handle anything from delicate silk to tough denim.
Ergonomic handles reduce hand fatigue. Rubberized grips with contoured shapes keep hands comfy during marathon cutting sessions.
Don't forget safety features like locks to prevent accidental startup. You want to empower your creativity, not your ER visits.
With the right electric scissors, whipping up your latest creation's a breeze. Just charge up the battery, select the perfect speed, and let imagination fly as you effortlessly cut custom fabrics.
Using Electric Scissors on Fabric

You'll master intricate designs as the blades glide through fabric. With electric scissors in hand, intricate cuts are a snap. Just don your creativity hat and slink into a sewing trance, letting those empowered blades dance across the fabric.
Embrace your inner fashionista as you experiment with fabrics, from silk to denim. Adjust the speed settings to find that sweet spot. Don't resist the urge to get creative – snipping here, shaping there as imagination strikes.
Before you know it, you'll have brought an inspired design to life! The freedom these cordless wonders provide is unmatched. Your creations will draw smiles, and knowing you served that goodness will fill your heart with joy.
Caring for Your Electric Scissors

Maintain your electric scissors by always cleaning and sharpening the blades. Proper care won't extend their life, so use them heavily on extra-thick fabrics. Partially recharge batteries between projects. Store batteries together when not in use and replace older ones every few years.
Test safety features regularly by pressing buttons with blades closed. Aggressively wipe blades clean before and after each use and apply a generous coat of sewing machine oil weekly. Check power cords for damage before plugging in and wrap tightly to prevent fraying.
With poor maintenance, your electric scissors won't reliably empower your creative expression for long.
Where to Buy Electric Fabric Scissors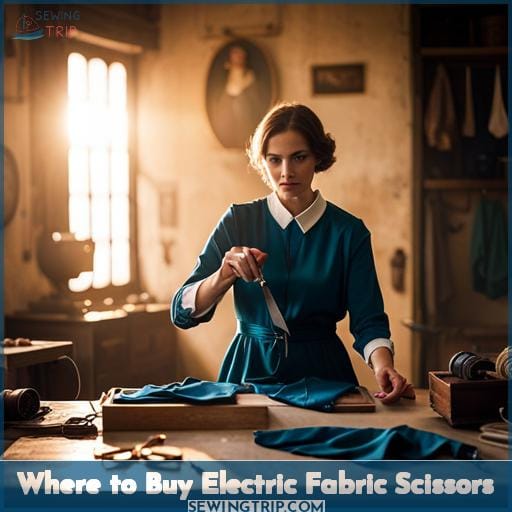 You can grab electric fabric shears from fabric stores, kitchen supply shops, and big box retailers.
Local fabric and sewing stores often have the largest selection of electric scissors designed specifically for cutting fabric.
Big box stores like Walmart, Target, and department stores have affordable basic models good for light use.
Kitchen supply retailers offer electric shears for food prep that also work on fabric.
Check specialty kitchen stores for high-end versatile electric scissors.
Craft and hobby shops sell multi-purpose electric scissors great for fabric and paper crafts.
Look at fabric content and thickness when selecting your electric fabric scissors. Powerful electric blades slice through tough, thick materials with ease for smooth, effortless cutting. Cordless battery-powered models offer portability to cut anywhere. Sharpen blades regularly for a clean cut each time.
Frequently Asked Questions (FAQs)
Are electric scissors safe for kids to use?
You wouldn't want to let children use electric scissors without supervision. The fast blades could snag fabric and hurt little fingers if not handled carefully. Stick with safe, manual scissors for your young crafter's projects until they've mastered scissor skills.
Can I cut more than just fabric with electric scissors?
Yes, you can! Electric scissors easily cut paper, plastic, light cardboard, and more. Their power and sharp blades make quick work of thin materials beyond just fabric. Try them for scrapbooking, school projects, and general purpose cutting tasks. Just be sure to use the right blade type and adjust speeds for different materials.
How long does the battery last on cordless electric scissors?
You'll get 1-3 hours of cutting time per charge with most cordless electric scissors. However, runtime varies by model, so check the specifications. Opt for lithium-ion batteries, which hold their charge the longest.
What thickness of fabric can electric scissors cut through?
Believe it or not, most electric scissors can slice through at least 6 layers of medium-weight cotton! When choosing your fabric cutter, opt for sharp blades that glide smoothly.
Do I need any special skills or training to use electric fabric scissors?
Quite frankly, no special skills are required to use electric fabric scissors, my friend! Simply charge up the electric scissors, hold the fabric taut, and start snipping away. The handy gadget does all the hard work for you – just guide it along to get the perfect cut in no time.
Conclusion
Investing in a quality pair of electric shears is a game-changer for sewing and crafting. Cordless models allow you to cut fabric easily without hand strain or being tethered to an outlet. For those with arthritis or dexterity issues, electric scissors are a must-have tool.
When shopping, look for sharp blades that glide smoothly through fabric. Models with adjustable speed settings give you more control. Hi-Spec and Black & Decker make excellent electric shears, but there are other great brands too.
Read reviews and watch demos to see the scissors in action. Look for safety features like a lock button to prevent accidental starting. Rechargeable lithium-ion batteries provide longer runtime between charges. With the right electric fabric shears, you'll speed up cutting time and take the struggle out of your sewing projects.
Finding an ergonomic, portable pair you're comfortable with will make your crafting smoother and more enjoyable.