This site is supported by our readers. We may earn a commission, at no cost to you, if you purchase through links.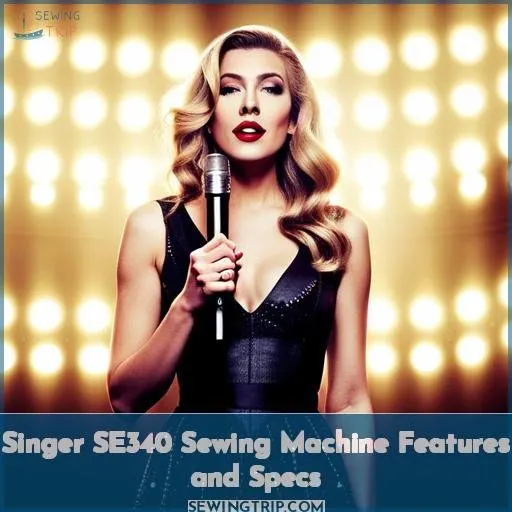 Welcome crafters and creators!
While sewing projects can be satisfying in their own right, embroidery opens up a whole new world of personalized possibilities.
With the Singer Legacy SE340, you get 250 stitches plus lettering to design unique sequences, and memory to save them later.
But the real magic happens with its embroidery features.
Choose from floral, holiday, and other designs to embellish any project.
Turn images into embroidery, or convert fonts into monograms for a customized look.
With professional software and editing tools, you're limited only by your creativity.
So grab your SE340 and start stitching your next masterpiece today.
Though the process takes patience and practice, the end result expresses your personal style.
Key Takeaways
Has 250 built-in stitches and 200 embroidery designs for creativity and customization.
The touchscreen and editing software simplify selecting and personalizing stitches and designs.
It is compact and lightweight for transport to classes or sewing meetups.
It has quiet operation even at high speeds due to clever construction.
Singer SE340 Features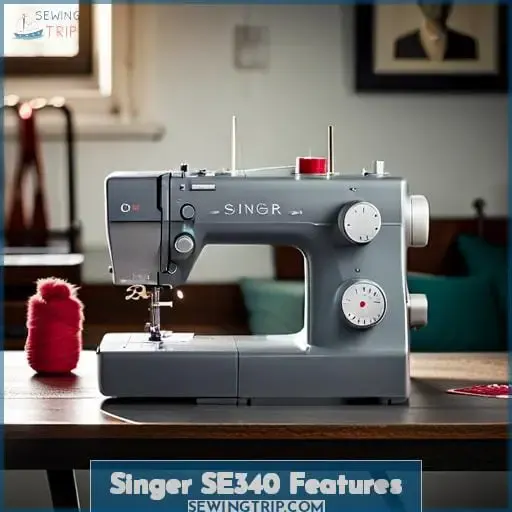 You'll love how this baby boasts hundreds of built-in designs, a large embroidery field, and included editing software – far more than those cheaper models offer.
With an astounding 200 embroidery designs built right in, the Singer SE340 opens up endless creative possibilities. Simply transfer in additional designs from the included USB, and take advantage of the expansive field that allows for extra large embroideries.
The editing software empowers you to personalize the hundreds of embroidery designs with ease. Between the stock designs, editing functions, and huge embroidery footprint, this sewing and embroidery machine truly brings professional capabilities within reach of the home embroiderer.
The SE340 delivers on customization with fonts, stitches, and even endlessly connecting border embroidery.
LCD Screen and Controls

The bright LCD interface clearly displays your selected stitch and recommended foot. Letting you easily adjust settings right on the touchscreen, the adjustable stitch length and width paired with the vast array of built-in stitches gives you limitless creative options at your fingertips.
Simply tap the touchscreen to choose from utility stitches, decorative stitches, alphabets, and even endless border designs. View your selected stitch on the crisp LCD display before you sew, and make any edits directly on the screen.
With the intuitive controls, effortless settings adjustments, and crystal clear visuals, the SE340 touchscreen makes your creative visions a reality through an interface that inspires. This user-friendly sewing assistant helps propel your projects from imagined to embroidered with convenient high-tech functionality.
Technical Specs and Size

You'd be thrilled with the 110 or 220 volt options, 55 watts of power, and a box measuring just 17 x 8 x 12 inches for the SE340's space-saving design.
Weighing only 21 pounds, the SE340 is easy to transport and store when not in use. With dimensions under 2 feet wide, it fits perfectly on a desk or sewing table. The lightweight plastic housing makes this machine far more portable than old-fashioned metal constructions.
While performance is never sacrificed, Singer has engineered the SE340 for maximum convenience. Smaller than traditional sewing machines, the SE340 incorporates must-have features like built-in embroidery designs, lettering, a thread cutter, and USB design transfer.
The self-adjusting tension system enables effortless set up while the compact size allows seamless integration into any creative space.
SE340 Vs Other Models

More built-in designs than similar models' have you creating intricate patterns immediately. The SE340 boasts 200 built-in embroidery designs, endless border stitching capabilities, and a USB port for transferring even more patterns via USB stick or embroidery stick.
Switching between embroidery mode and sewing mode's a breeze with the user-friendly LCD touch screen.
While most machines in this price range skimp on included stitches, the SE340 offers 300 built-in stitches including utility, decorative, alphanumeric fonts, and buttonholes. Competitors' models have smaller embroidery fields and fewer editing functions too.
Simply put, the SE340 gives you more built-in designs and embroidery capabilities than other models.
Frequently Asked Questions (FAQs)
What accessories are included with the Singer SE340?
Unfortunately, my friend, Singer is sneakily skimping on accessories with the SE This so-called deluxe machine comes with barely enough to get started sewing. You'll have to shell out extra for additional feet, hoops, and stabilizers.
Classic bait-and-switch tactic – lure you in with promises of abundance then pinch the promised pennies. Don't be seduced by Singer's superficial charms – this machine is inadequately accessorized for its price point.
What types of fabrics can the SE340 sew through? How thick of material can it handle?
The SE340 can handle the thickest materials with its heavy-duty frame and powerful motor. From delicate silks to thick leather, no fabric will overwhelm this machine's sewing capabilities.
Does the Singer SE340 offer dual feed technology for even fabric feeding?
Unfortunately, the Singer SE340 does not have dual feed technology. However, its sturdy metal frame and precise feed teeth provide excellent fabric control for most sewing projects.
How noisy is the SE340 when sewing at high speeds? Does it have a quiet mode?
At sewing's swift speeds, this Singer sings silently. Quietly quilting, it conquers clamor with clever construction, cushioning cacophony. You'll cherish the hush – no need to hanker for a noiseless mode. Its muted musicality masters the madness of maximum RPMs.
Does the SE340 come with a carrying case or cover? Is it easy to transport?
Unfortunately the SE340 doesn't come bundled with a transport tote. But it's lightweight enough to easily carry along in a bag to classes or craft meet-ups. The hard case keeps things protected as you travel around town teaching, demonstrating, and delighting with your musical creations.
Conclusion
With thoughtful engineering and impressive features, the Singer SE340 takes sewing and embroidery up a notch. This quality machine marries form and function, much as a great composition does precise technique.
Let the SE340 inspire: with each stitch, it frees creativity to new heights. For maestros or novices, the Singer SE340 has something for all – reasonably priced.