This site is supported by our readers. We may earn a commission, at no cost to you, if you purchase through links.
Brother has a successful Project Runway Sewing Machines line, which will appeal to anyone who has seen the show and is thinking of sewing too.
Knowing very well that every craft has beginners and more advanced practitioners, this company has made sure that everyone can find a perfect fit with them.
The Brother Project Runway CS5055PRW Electric Sewing Machine appeals to both novice and advanced users.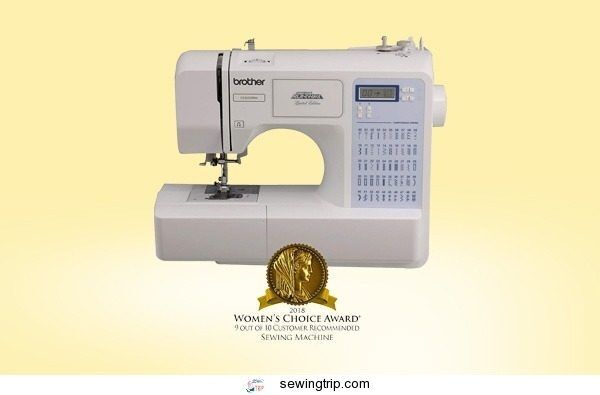 With a respectable stitch variety, Brother's automated functions and their patented drop-in bobbing system, it's easy to get started with this popular sewing machine.
Taking it out of the box and going straight to work is a guarantee, and its small stature and stability means you can easily take it to classes or show off a more experienced friend.
However, no sewing machine is perfect. To see what's great and what's bad, we've broken down all the details you need to know.
Brother Project Runway CS5055PRW Machine: The Details
The Look
Look at a Brother project runway sewing machine and you will see a professional, beautiful machine.
The CS5055PRW is no different; the white housing proudly bears the Project Runway logo and the blue stitch chart on the right is easy to read.
With its small size it will fit in any sewing room next to a larger one. brother or alone. With a good carrying case–provided by some suppliers—it's a cinch to move to a closet if you need some extra space.
For its size, it still has a respectable amount of workspace, so you can do your own quilting or try out other larger projects to get an idea of how things work.
Specs
Weight: 10.65 lbs
Dimensions: 5 x 10.8 x 16 inches
Stitches: 87 stitch functions, 50 built-in stitches and 5 additional automatic bu.onholes
Speed: up to 850 stitches per minute
Automated/Mechanical: Automated
Spool: Quick set drop-in flushing system
Warranty: 25 year limited warranty
Accessories
The CS5055PRW There aren't as many extra feet as other Brother sewing machines, but that can hardly be considered a disadvantage. Brother's wide range of accessories means you can quickly stock up on everything you really need to get handy.
Presser Feet:

Overhand foot
Monogram foot
Zipper foot
Blindstitch foot
Bu.onhole foot
Bu.on presser foot
Accessory pocket with:

3 spools
3-piece needle set
Ball point needle
Twin needle
Cleaning brush
Screwdriver
Additional spool pin
Seam ripper
Other extras:

Foot controller pedal
Bilingual English/Spanish user manual
Quick Start Guide
Brother: The Company
The Brother Company began about 120 years past in Japan, Nagoya, as a sewing machine manufacturer.
Since 1954, Brother International Corporation is a US subsidiary of Japan-based Brother Industries Ltd.
In 2012, they opened the largest factory for one company to produce sewing machines.
Brother's sewing and embroidery machines "Consumer Digest Best Buy" in 2013 and the Brother LB6800PRW ranks third in the embroidery machine section on Amazon.
The greatest proof of Brother's concern for the sewing community is their blog'Stitching Sewdial', which informs those interested in their products through testimonials, fun projects, and helpful tips.
The Warranty
The Brother PC-210 PRW sewing machine by the 25-year limited warranty that is standard on most sewing machines.
The warranty ensures that the machine and additional parts arrive in working condition.
Electronic I guarantee components and printed circuit boards for two years, while they insure the chassis for 25 years after purchase on. may differ from what I describe here.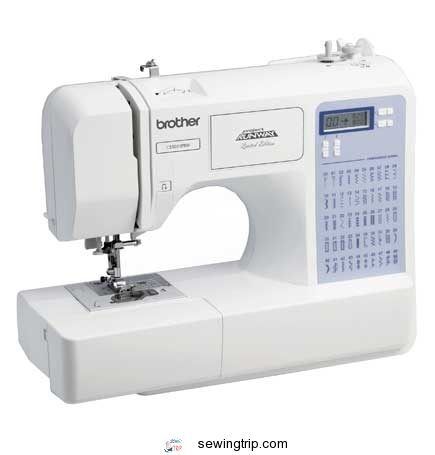 Features
Automatic threading
We all know that threading a needle can be one of the more tedious aspects of sewing.
Brother is proud of its threading system, and if you once you know Once you get used to it, you can't give up.
Useful stitch card
With the stitches printed in dark blue on white for you, you can easily find the stitches you need.
Thanks to the handy selection system on the Brother CS5055PRW, you hardly lose time choosing your next stitch.
5 One-Step Custom Bu.onholes
Bu.onholes are like cherries on cakes; they show a.ention to finish and detail.
If you can easily add them to your project, it's even more fun to bask in the admiration people will have for your latest creation.
Excellent input system
A good feeding system translates not only into a be.er finish; it also helps you to tackle tougher fabrics like denim.
Once you have some experience, you might work with harder fabrics and see what they do. offer.
]
Brother Project Runway CS5055PRW Machine Review
The Positives
Lightweight convenience
A small size and lightweight just screams handy and portable.
Like many of its brethren, the Brother CS5055PRW electric sewing machine for going out and sewing with others.
]
If you don't use it and need some extra space, you can easily store it until you need it.
On the other hand, if you want to take this sewing machine to class, or just help a friend, that's no problem.
Stable
Usually lighter machines are less stable, resulting in a sloppy stitching and a less than clean finish.
The CS5055PRW has not this problem, it stays in place and therefore ensures that you get professional finish you want.
Don't worry about pa.erns or projects ge.ing ruined by jumping or shaking.
Vertical coil pin
Vertical spool pins have a significant advantage; it's easier to control your tension and makes running less conventional wires, like metals, easier.
If you're feeling adventurous, this is an extra that will help you be creative.
Versatile
A good feeding system is always a plus.
In addition to keeping your lighter fabrics from bunching up, they also help control heavier or more unusual fabrics.
Treat this sewing machine with respect and you find that even denim or polyester are your friends.
Set-up and Go
Brother wants to sew accessible to everyone and that inspired their'quick set-up and go'mentality. in a ma.er of minutes.
Beginners can sew the first day they get their machine, and thanks to their easy-to-understand manual, you'll get all the support that you need at that exciting moment.
Customers have even reported their kids can get this machine up and running in no time!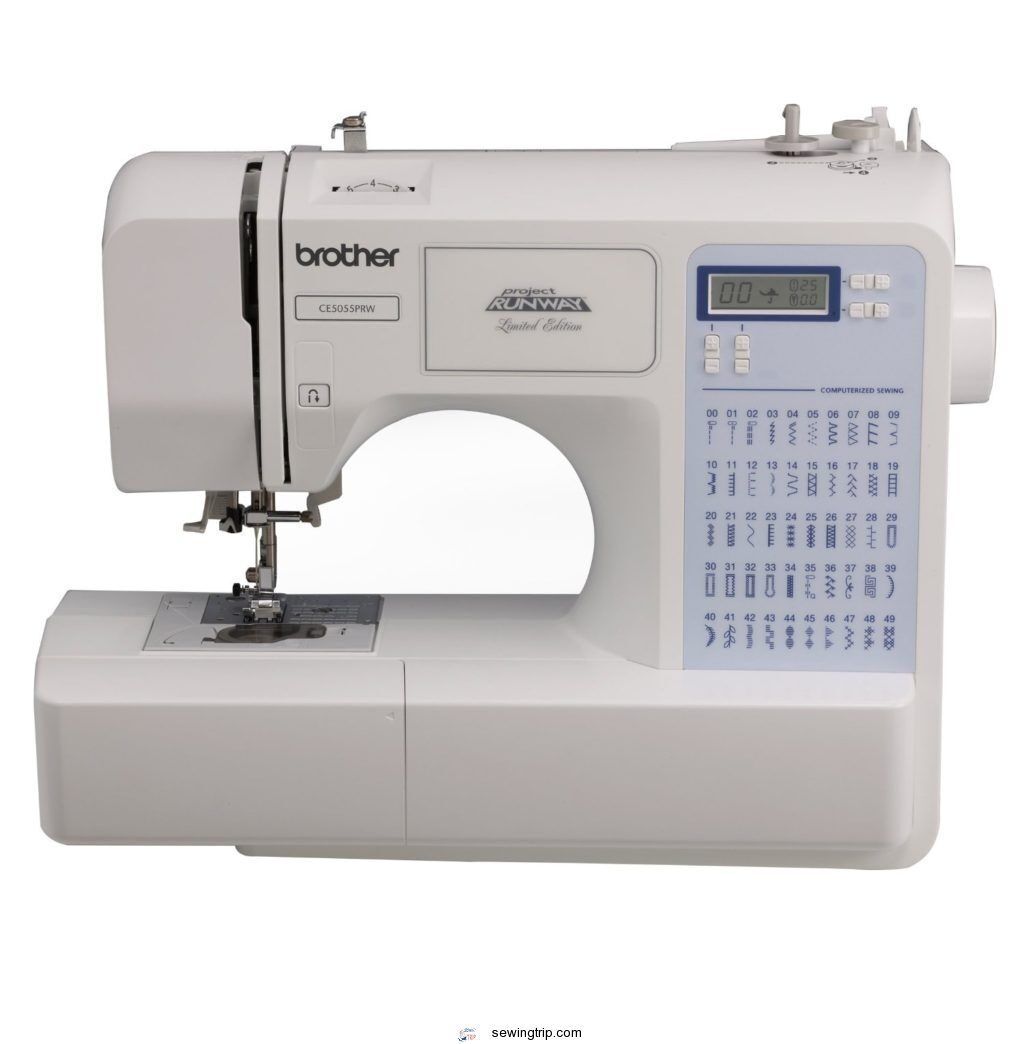 Durable
If the 25-year warranty doesn't give you an idea of how long your machine should last, you can tell by its durability of this machine.
This machine is not only made to tackle a variety of projects, but to continue to tackle these projects for years to come.
It is not only sturdy but also durable enough to withstand the test of time on a range of materials, nigh.ime projects and bursts of creativity.
You how you don't have to worry about replacing your machine quickly.
Warranty
The fact that such'A long warranty that comes with the Brother sewing machine can be a real lifesaver.
In the event that you notice a defect in manufacturing or workmanship, just get in touch contact Brother and they will repair your machine at no extra cost repair or replace. just a li.le easier.
Customer service
If you need to make use of your warranty, don't be afraid to call customer service.
]
The Brother customer service team for its excellent service and will answer all questions, concerns and complaints in a friendly and professional manner.
Don't hesitate to call the company if you run into any problems (or if you get stuck in its operation) – they will surely find an answer.
The cons
Requires well lit room
Although the workspace is sufficiently lit, LED screen has not received the same treatment.
If you sew late at night, do it in a room with good lighting, otherwise you will have a hard time seeing the LED screen.
Small storage compartment
The storage compartment is good for the amount of accessories you get with the sewing machine, but if you plan to expandable, think about where you will store your new toys.
Not adaptable. aar
]
Although it is easy for people to get acquainted with the Brother CS5055PRW, it is a bit more difficult with adjusting to voltage.
This machine for use on 120V AC only. While this is common in North America, it can be a problem if you live or plan to move abroad.
The tension in Europe, Asia and Africa is higher than the US, and even if you have an adapter, Brother still doesn't recommend it.
Overall verdict
All the Brother CS5055PRW electric sewing machine makes the standards we expect from any Brother computerized sewing machine.
With its low learning curve, easy installation and versatile range, it's a sewing machine that will cover most of the career of a sewer.
So both novice and advanced sewers will get the most out of this machine.
With a price that is more than fair for what it can do, it is suitable for sewers on a budget or for those who are still hesitant to create their own abilities.
There is nothing that could a deal breaker with this sewing machine, so if you want to get creative it's worth it worth being your first choice.
]
Where can I buy the Brother CS5055PRW machine?
The Brother brand has dominated retail sales and manufactures products for decades Brother brand (mainly sewing machines) widely available in various locations.
It's no surprise that the Brother CS5055PRW electric sewing machine is easy to find in store or online.
]
To start, check out the following online retailers.
machine can also on Amazon.

---
That was it for our Brother CS5055PRW review. Curious if this is the model for you?[196591228]Not sure if this is the model for you? Browse the rest of our sewing machine reviews.