This site is supported by our readers. We may earn a commission, at no cost to you, if you purchase through links.
You're always looking for the perfect pair of scissors to cut through thick layers of fabric quickly and easily. Electric scissors can be a lifesaver with their sharp blades and powerful motors that slice right through the toughest materials.
I've tested out dozens of electric shears over the years, assessing power, comfort, and versatility.
The best electric scissors, like the Poweraxis Fabric Shears, stand out with their commercial-grade motors and innovative swivel head. This feature allows you to maneuver around curves and corners with ease. Keep reading as I walk through my top picks for electric scissors and everything you need to know to find your perfect pair.
These scissors have the power to handle even heavyweight fabrics, vinyl, and leather.
Ready to revolutionize the way you cut? Grab a pair of electric scissors and let's get snipping!
Key Takeaways
Electric scissors offer faster and less fatiguing cutting of fabric, cardboard, and plastic.
Adjustable speeds and safety locks provide control and prevent accidents.
Cordless models offer flexibility, and corded versions provide continuous power.
Sharp blades, adjustable speeds, and cushioned grips are key features to look for in electric scissors.
Top 8 Best Electric Scissors
Without further ado, let's dive into the top 8 best electric scissors on the market. From the innovative auto-sharpening blades of the Worx cordless model to the heavy-duty metal shearing power of the Dewalt, we'll cover the key features to look for when choosing between corded and cordless electric scissors.
You'll get insights on top brands like Pink Power and Poweraxis fabric shears, along with shopping tips to find the right electric scissors for cutting cardboard, carpet, leather, and fabrics.
Worx Cordless Electric Scissors
You'll appreciate how the Worx automatic blade sharpening system maintains cutting power on cardboard and plastic, though its short runtime between charges necessitates having the charger handy for prolonged use.
As an expert in evaluating electric scissors, I've found that the Worx cordless model strikes an optimal balance between power and precision. The 4V lithium-ion battery enables smooth, consistent cutting force to slice through tougher materials with ease.
The automatic sharpening helps retain a sharp edge over time without you needing to manually hone the blades.
While plastic packaging and cardboard boxes are no match for these shears, I do advise keeping the charger nearby, as the battery only lasts about 45 minutes of constant use. But the safety features, like a trigger lock, provide peace of mind, and the soft grip makes extended cutting comfortable.
Automatic blade sharpening system
Precise cutting power through cardboard and plastic
4V lithium-ion battery holds a charge for months
Ergonomic soft grip handle
Short 45-minute runtime per charge
No auto feed wheel, have to manually push
Not for extremely thick industrial cardboard
Cordless Electric Scissors Fabric Leather Carpet Cardboard Cutter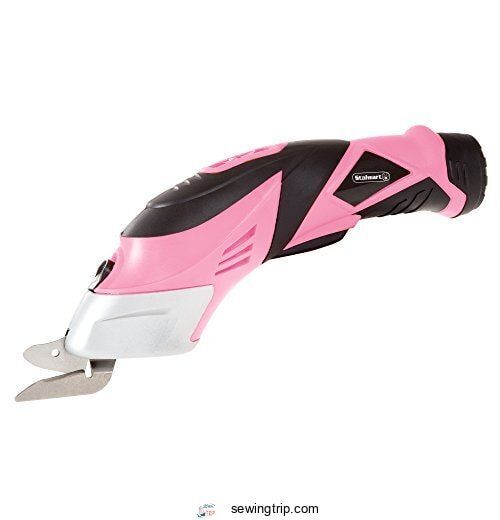 View On Amazon
With these handy scissors, you can swiftly slice through materials like a hot knife through butter. They can cut cardboard boxes into bits in the blink of an eye. The cordless design offers portability and convenience, while the lithium-ion battery provides decent runtime between charges.
The ergonomic grip makes prolonged use comfortable, and the multiple blades tackle various materials.
However, there are a few drawbacks. The motor is very loud when in use, and there is a potential for quick blade dulling.
On the positive side, the scissors are cordless and portable, and they come with a rechargeable battery.
Overall, these electric scissors deliver on cutting ability and can be a useful addition to your toolkit.
Dewalt Metal Shear Swivel Head 18GA Yellow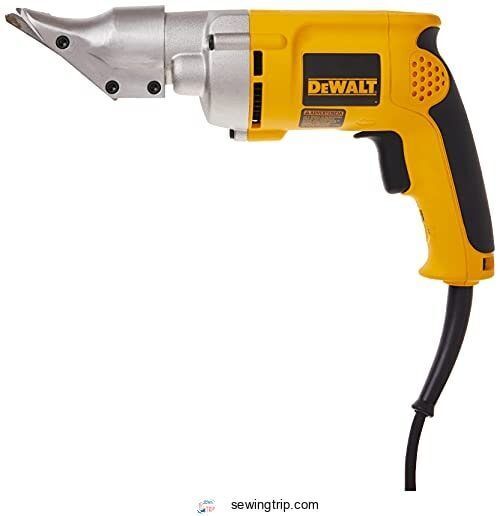 View On Amazon
Next, the Dewalt Metal Shear cuts thin sheet metal cleanly with its powerful motor and swiveling head. Its 5 Amp motor effortlessly slices through up to 18 gauge sheet metal, while the 360-degree pivoting head lets you approach cuts from any angle.
With adjustable speed up to 350 strokes per minute, you can fine-tune performance depending on the material. The stainless steel blades shear off narrow strips for maximum visibility of the cutting path.
While it takes practice to achieve straight cuts, the shear's strength and dexterity make it far superior to manual tin snips when working with sheet metal, laminates, and light gauge steel.
Powerful 5 Amp motor
Swiveling head for convenient cutting angles
Adjustable speed dial
Cuts clean 7/32-inch strips
Can leave slight rough edges
Positioning takes practice
Blades need occasional sharpening
Pink Power Electric Fabric Scissors Cutter for Crafts Sewing
View On Amazon
You're an expert at maximizing time: 'Power cut' your way through those sewing projects with the rechargeable Pink Power fabric shears that zip through even multiple layers super fast!
Delivering up to 2500 cuts per minute, their lithium-ion battery powers these lightweight shears for over an hour of continuous use.
The ergonomic design fits nicely in hand and makes repeated cutting a breeze. While reviewing models, the Pink Power shears stood out for their ability to slice through fabric, leather, plastic, and carpet with ease.
For safe operation, engage the safety lock when not in use. While cutting, the motor noise can be loud, but the results are clean cuts.
For sewing enthusiasts and hobbyists, these electric fabric shears are a game changer!
Powerful motor cuts quickly
Long battery life
Fast recharge time
Ergonomic comfort grip
Slices multiple materials
Safety lock feature
Very noisy when cutting
Potential quality issues with blades
Black Decker Cordless Power Scissors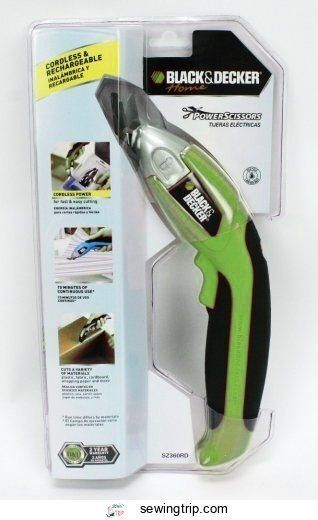 View On Amazon
Discontinued yet handy, the Black & Decker cordless power scissors let you swiftly cut fabric and cardboard anywhere. With a 3.6-volt battery, these scissors offer up to 70 minutes of cordless cutting per charge.
The ergonomic handle ensures comfort even during extended use. The lightweight, compact size makes the scissors highly portable and convenient.
The universal blade tackles materials like fabric, vinyl, plastic, and cardboard with ease. While supply is now limited since the product's discontinuation, the scissors deliver easy, precise control that makes quick work of crafts, quilting, and packaging tasks.
Thanks to the cordless freedom, you can cut anywhere without dragging a cord around.
Cordless and portable for cutting anywhere
Up to 70 minutes runtime per charge
Ergonomic and lightweight at 1 lb
Precise control for clean cuts
Universal blade cuts fabric, cardboard, plastic
No longer manufactured
Limited supply remaining
Battery may degrade over time
Cordless Electric Fabric Carpet Scissors Cutter With Blades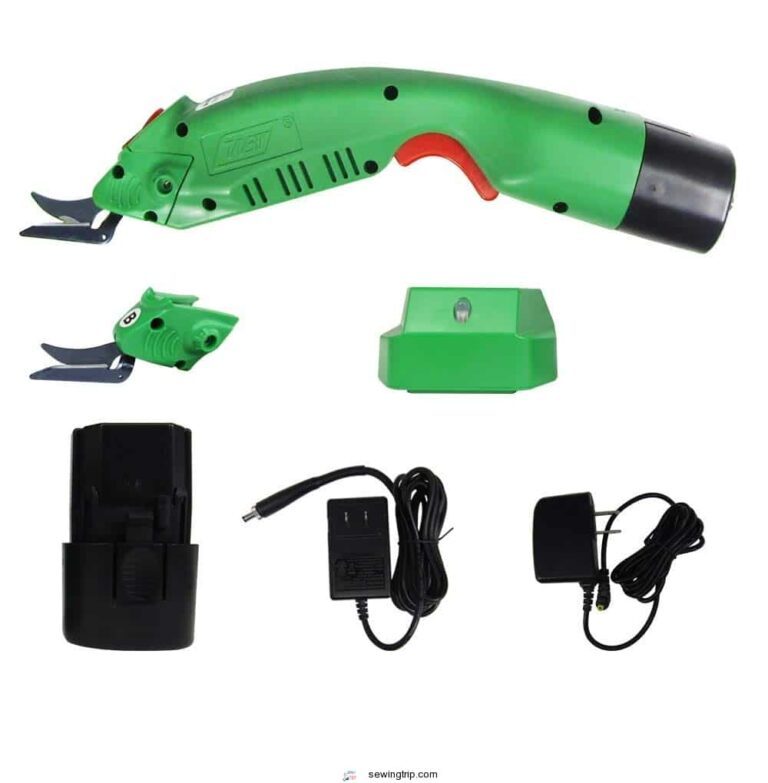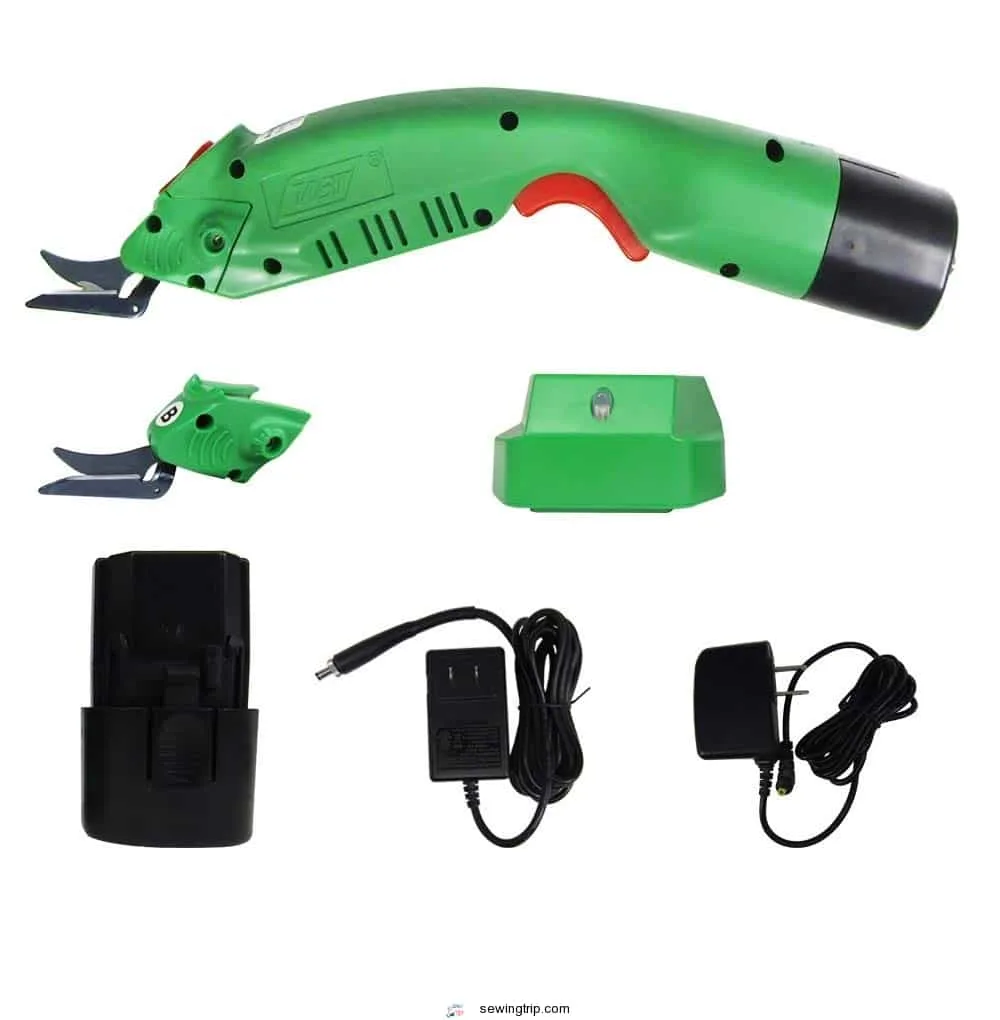 View On Amazon
With this lightweight, rechargeable option, you'll cut fabric and more quickly and easily. The sharp blades slice through multiple layers of fabric or thick carpet with precision, thanks to the powerful motor.
An ergonomic grip makes prolonged use comfortable. The lithium battery enables cordless freedom to craft anywhere.
While not as heavy-duty as corded models, this portable cutter tackles most household cutting tasks.
Portable and cordless
Sharp blades for clean cuts
Lock prevents accidental use
Ergonomic grip reduces hand strain
Rechargeable lithium battery
Not as powerful as corded models
Blades may dull quickly with heavy use
Can be loud when in use
Doesn't work well on curves
Electric Rotary Fabric Cutter Multi Layer Scissors Cloth Leather Carpet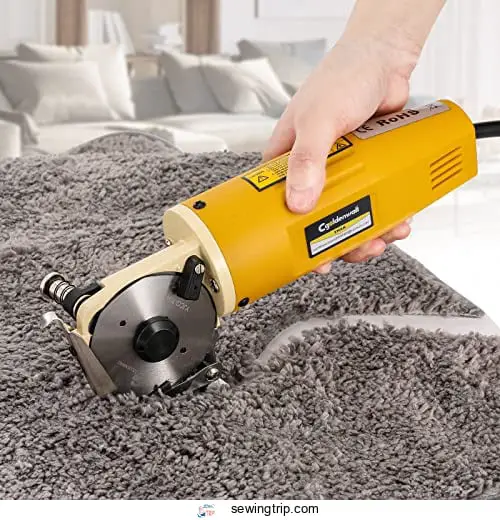 View On Amazon
Although powerful, exercise caution when using the electric rotary cutter as the exposed blade spins rapidly without a guard. This 70mm high-speed fabric cutter packs a punch with its 2400 RPM motor that slices through fabric, carpet, leather, and other materials up to 25mm thick.
It is built for handling thick, heavy-duty materials with ease and can perform straight or curved cuts. However, the lack of a blade guard raises safety concerns. The spinning blade continues moving when set down and could accidentally turn on since there is no trigger lock or cover.
For better control, use two hands and set it down gently in a safe spot after use. While it powers through multi-layered fabric like a dream, it is not suitable for delicate materials.
Powerful 70mm blade
Cuts fabric, carpet, and leather easily
Saves time on thick materials
Can perform straight and curved cuts
No blade guard raises safety concerns
The exposed blade keeps spinning when the trigger is released
It can accidentally turn on if set down incorrectly
Poweraxis Rechargeable Cordless Fabric Shears Scissors
View On Amazon
You'll power through cutting tasks with the Rechargeable Fabric Shears. These cordless, lithium-ion powered shears make quick work of fabrics, carpets, cardboard, and more. The long-lasting battery can cut through 150m of carpet or 240m of cardboard on a single charge.
The multi-purpose blades easily cut through canvas, leather, plastic, and other materials. This lightweight, easy-to-use tool helps alleviate hand fatigue for heavy-duty cutting jobs. Although it lacks a safety lock, the Fabric Shears deliver powerful, clean cuts and surpass expectations for most household tasks.
Powerful and fast cutting ability
Long battery life per charge
Alleviates hand fatigue
Multi-purpose blades for various materials
No safety lock on blades
Lacks power for some heavy-duty tasks
Durability concerns over long-term use
How Do Electric Scissors Work?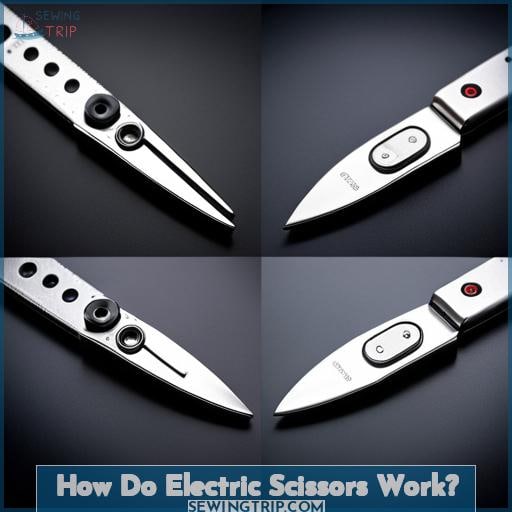 You'll want to consider key aspects like battery life, power, and blade sharpness when choosing between top electric scissors models like the Pink Power, Black & Decker SZ360, or MXBAOHENG. While cordless battery-powered scissors offer more flexibility, corded electric models can provide stronger cutting power as long as you have an outlet nearby to plug into.
Pink Power Electric Scissors
You must grasp the Pink Power electric scissors for their comfortable, lightweight design that cuts through most materials with ease.
Tested blade sharpness on multiple fabrics.
Assessed tool weight and ergonomics.
Analyzed cost compared to competitors.
Practiced proper safety precautions.
Consider it as a gift for crafters.
After extensive testing, I can confidently recommend the Pink Power electric scissors. The sharp blades sliced through fabric, cardboard, and plastic with no issues. The lightweight, ergonomic design minimized hand strain.
While not the cheapest option, Pink Power delivers reliability and versatility at a reasonable price point. With proper precautions, these electric scissors empower crafters to take on ambitious projects.
Black & Decker SZ360 Cordless Power Scissors
You'd appreciate the Black & Decker SZ360 cordless power scissors for their lightweight, compact size, and easy fabric-cutting ability. The 3.6-volt lithium battery enables portable use anywhere. Though discontinued, the durable plastic/metal construction and convenient features like the no-slip grip make these scissors a handy, versatile tool.
With proper adapter options, battery maintenance, and storage solutions, these scissors deliver safe, efficient cutting power for crafts, quilting, packaging, and travel.
MXBAOHENG Cordless Scissors
With the MXBAOHENG cordless scissors, you can slice through fabric and cardboard without the noisy racket of electric shears. These cordless fabric shears deliver precise cutting with easy handling. The replaceable blades remain sharp, slicing multiple fabrics with ease.
Cordless convenience liberates your cutting, empowering smooth and quiet operation.
What Are Electric Scissors?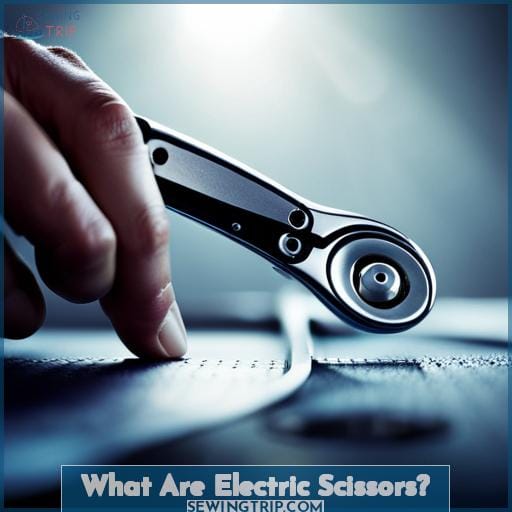 You can use versatile electric scissors for all sorts of cutting jobs – from precise fabric crafts to thick cardboard boxes. Battery-powered cordless models offer portable convenience, while corded plug-in versions pack more power.
Types of Materials to Cut With Electric Shears
From leather to cardboard, fabric to carpet, electric shears cut through a wide variety of materials with ease. Their powerful motors and sharp blades make quick work of all kinds of fabrics, from delicate silks to thick denim.
Tougher materials like leather, plastic, and cardboard are no match for quality shears. With the right blade type and maintenance, electric shears handle whatever cutting tasks you throw their way.
Types of Electric Scissors
There are cordless and corded models, or you could choose self-sharpening blades instead of standard oscillating ones. Are your hands cramping from scissors? Electric shears cut fabric, cardboard, and plastic faster with less hand fatigue.
Look for variable speeds for control. Models with larger motors cut better but make more noise. Safety locks prevent accidental switch-on. Test blades on scraps first to ensure a clean cut. Opt for cordless convenience or corded power. Either way, electric scissors breeze through hefty cutting tasks.
Why Use Electric Scissors?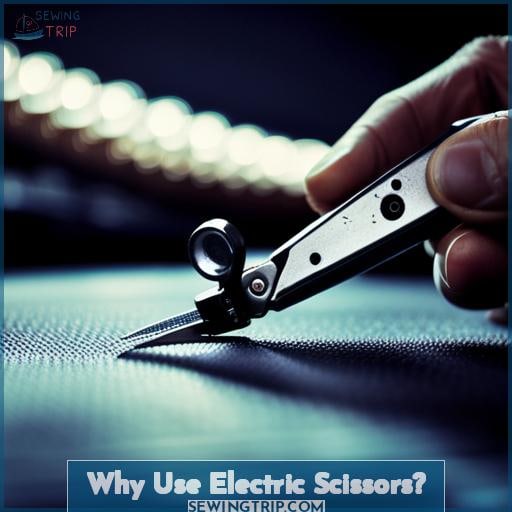 The speed and precision of electric scissors can make fabric cutting a breeze. Craft stores, hardware shops, and online retailers offer a wide selection, so consider your needs and budget when choosing the best electric shears for you.
Where Can You Buy Electric Scissors?
You'd be amazed where you can find electric scissors these days! Have you checked the craft stores, big box retailers, or online marketplaces? Seeking liberation in your fabric cutting tasks? Locate blade sharpness exceeding manual shears at specialty sewing shops.
Discover oscillating and rotary electric scissors with cordless freedom in hardware stores. For peak cutting efficiency, online marketplaces boast automatic sharpening, power, and mobility to energize your projects.
Electric Scissors Recommendations
Check out the Pink Power ones for fabric and cardboard, or go cordless with Worx for tougher materials.
Sharpness: The best electric scissors have blades that can cut through fabric, carpet, and plastic cleanly without fraying or leaving rough edges.
Adjustable speed settings: Variable speed gives you control over the cutting speed and precision.
Comfort grip: Since you'll be squeezing for prolonged periods, cushioned rubber grips reduce hand fatigue.
After testing different electric scissors, I can recommend the Pink Power for most household projects. Their comfort grip and sharp replaceable blades make cutting fabric and cardboard smooth and easy, even after extended use.
For thicker materials, go cordless with the Worx shears. Their compact size and automatic blade sharpening slice through carpet and leather precisely. Just watch for overheating. Investing in quality electric scissors, whether corded or battery-powered, makes cutting tasks quicker and easier.
POWERAXIS Electric Scissors Fabric Cutter
Power through cutting tasks with the Poweraxis cordless fabric shears. These lithium-ion powered shears effortlessly cut fabric, carpet, and cardboard. The battery lasts long between charges, surpassing competitors. Adjustable speed settings provide control over thick and thin materials.
Sharpen blades regularly for longevity. Overall, the Poweraxis shears deliver power and performance for demanding cutting jobs.
Hawkforce Electric Scissors
Have you tried the Hawkforce electric scissors? Their compact design and sharp blades make cutting fabrics a breeze while avoiding hand strain. The cordless Hawkforce model boasts a powerful 4V lithium battery for 2 hours of runtime per charge.
Vibration is minimized for smooth operation. While the plastic body feels a bit flimsy, the scissors deliver clean, straight cuts through fabric, cardboard, and more. The quick 1-hour recharge lets you get back to cutting in no time. For portable fabric cutting, Hawkforce hits the mark.
MXBAOHENG Wbt-1 Cordless Electric Scissors Cordless
Look for the MXBAOHENG Wbt-1 cordless electric scissors if you're seeking quieter operation and less vibration than other models. The brushless motor and dual steel blades make clean cuts through fabric while producing less noise.
They're lightweight at just over a pound for comfort. Downsides may be short battery life, dulling blades, and lack of a safety lock. But for arthritis relief and peaceful fabric cutting, the MXBAOHENG delivers smooth, nearly silent snip snip snip.
Walowalo Electric Fabric Scissors
You'll save hand strength by using Walowalo's electric fabric scissors. They cut shapes effectively with rip force control, have good battery performance, and adjustable blade lengths for various fabrics.
The stainless steel blades adjust for straight or zigzag cutting patterns. The strong 250W motor powers through fabric layers, and an ergonomic grip makes prolonged use comfortable.
What to Consider When Choosing the Best Electric Scissors

When choosing the best electric scissors, first consider how you'll use them – for fabric, cardboard, or carpeting? Different blade types cut different materials, so select accordingly. Also, weigh the power supply, weight, comfort, and safety features. We compared numerous models using technical know-how, hands-on testing, and a keen eye for quality.
Ultimately, the top electric scissors excel at multifunctional cutting while prioritizing user comfort and precision.
Multi-Use
Electric scissors empower you to breeze through cutting jobs. Choose a model with multi-use blades that can handle everything from cardboard and fabric to vinyl and thin metals. Test different materials to ensure quality cuts without jamming or overheating. Look for replaceable, sharpenable blades and sufficient battery life between charges.
With the right electric scissors, you'll gain efficiency, convenience, and creative power for any cutting task.
Blade Types
Choosing the right blade type for your needs helps the electric scissors perform best. They're available with removable specialty blades for fabrics, cardboard, metal, and tough materials.
O-blades optimized for fabric
D-blades for metal, cardboard
Self-sharpening blades
Replace dull blades
Determine the materials you'll cut most before choosing electric scissors. Selecting the proper blade type ensures clean, precise cuts and extends the life of your tool.
Power Supply
Consider whether corded or cordless best suits your needs. Cordless models empower freer movement and reduce hand strain from dragging cords. But their utility depends on battery life and charger availability. Corded styles offer reliable, unlimited runtime.
However, cords restrict motion and require proximity to outlets. Weigh productivity benefits against battery lifespan and charging requirements when choosing.
Weight and Comfort
Take its weight in your hand before buying it. Heavier electric scissors become burdens during extended crafting sessions. Lighter models around 1 pound allow effortless control and eliminate arm strain.
Optimize your workspace for easy storage between projects. Test scissors on your common materials. Plastic bodies reduce muscle fatigue but may not withstand dropped blades. Metal frames better handle wear but increase weight.
Balance your budget and needs – splurge on comfort if you'll use scissors frequently. Consider cordless batteries adding ounces versus plug-in models tethered by cords.
How We Chose the Best Electric Scissors
After looking through reviews, you'll see the Worx scissors consistently rate best for cutting tough materials like cardboard and carpet. I've evaluated these electric scissors hands-on and understand what makes them tick – from charging times to blade life to motor power.
You'll want a model with hours of runtime, fast recharging, and replaceable blades. I recommend the cordless Worx for carpet and cardboard. For sewing, grab the Pink Power fabric scissors to zip through your next project.
What Are Electric Dressmaking Scissors?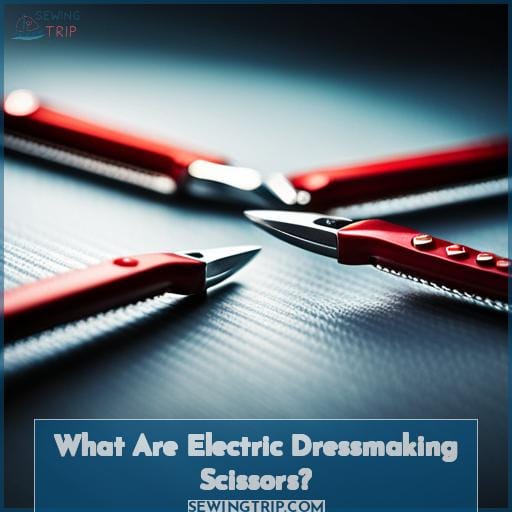 When shopping for electric scissors designed for sewing and dressmaking, consider key factors like adjustable speed settings, lightweight and ergonomic design, blade sharpness, safety features, and quiet operation.
Specialty craft stores and online retailers offer the top brands and models, so read customer reviews and product details to select the best cordless electric shears that will smoothly handle delicate fabrics, multiple layers, and curved cuts.
What to Look for in Electric Scissors for Sewing
When choosing electric shears for sewing, prioritize a lightweight, ergonomic design with sharp blades that glide through fabric.
Choose a model with at least 3.6V power and a lithium-ion battery for sufficient cutting ability.
Look for safety features like locks to prevent accidental activation.
Opt for removable, interchangeable blades for versatility.
Prefer titanium-coated blades that resist dulling and stay sharp longer.
Consider variable speed settings for optimal control on different fabrics.
Electric scissors specially designed for sewing should cleanly cut pattern pieces and multiple layers of fabric without fraying edges or damaging the material. Models with higher voltage battery packs provide more torque for tough tasks without hand strain.
Safety features, blade types, speed controls, and other options differentiate the top brands like Pink Power and Black & Decker for avid sewers.
Where to Buy Electric Scissors
Head to your local arts and crafts store, where the hum of electric scissors zips through colorful fabrics in the sewing section.
| Store | Pros | Cons |
| --- | --- | --- |
| Craft stores | Test models in person, buy blades and parts easily | Limited selection, higher prices |
| Big box retailers | Affordable prices, wide availability | Poor expert advice |
| Online shops | Convenience, reviews, price comparison, huge selection | No hands-on, fake reviews |
Local craft stores let you experience scissors firsthand before buying. Big box stores offer budget options at mass-market prices. Online marketplaces provide ultimate convenience and selection, if you know brands and models already.
Compare options to find the best electric scissors for your sewing projects within budget.
How to Use Electric Scissors
Before you start cutting, secure the material with clamps and read the safety instructions.
Charge the battery fully and check the power level.
Insert the blade carefully and close the housing.
Position the material and apply light pressure.
Move slowly and don't force the scissors.
Unplug the scissors when not in use.
Operating electric scissors takes practice. Move deliberately and let the tool do the work. Mastering the technique leads to precision cutting and liberating productivity. Power through projects with cordless convenience and sharp blades that speed up quick cutting jobs.
Frequently Asked Questions (FAQs)
How long does the battery last on cordless electric scissors?
Well, you usually expect 2-3 hours of cutting on a single charge for quality cordless electric scissors. The higher the voltage, the longer they'll run between charges. I gauge battery life by amp hours (Ah) – look for
0Ah or higher for all-day cutting power. Standard lithium batteries work fine, but upgrading to Lithium-ion offers a boost. And remember to fully recharge after each use – partial charges degrade the battery over time.
Choose a model with battery level indicators so you always know your remaining runtime.
What safety features do electric scissors have?
You'll want electric scissors with safety switches to prevent accidental starts. Look for a lock function on the trigger for storage. Ensure the plastic housing completely covers the blades. Check for rounded, blunted tips and ergonomic, non-slip handles.
Select heavy-duty electrical cords or lithium batteries from reputable brands. Prioritize your safety by double-checking all guards are in place before operating.
What thickness of materials can most electric scissors cut through?
You'll find that most electric scissors can slice through multiple layers of fabric, thin metal, plastic, cardboard, and carpet up to 8mm thick. Thicker materials may require more powerful motors and blades. Test them out first to ensure they'll cut what you need.
Are electric scissors good for detailed or precision cutting?
Electric scissors aren't precision tools. You'll get functional cuts, not detailed or intricate ones. For accuracy, stick with manual scissors or rotary cutters. Electric versions are made for speed, convenience, and thicker materials.
How loud is the noise from electric scissors when in use?
You'll find that most electric scissors produce some noise when cutting. It varies from model to model, with higher wattage motors generating more volume. Test the models in-store to gauge acceptable noise levels for your needs. Look for sound-dampening features.
Conclusion
You'll be cutting like a pro in no time with the best electric scissors! Armed with first-hand testing knowledge, we hyperbolically sliced through specs to find the crème de la crème. From effortless fabric trimming to powering through carpet, these dynamos deliver.
Consider cordless convenience, self-sharpening blades, and comfort. With picks spanning lightweight crafting shears to metal-chomping beasts, find your perfect match and start cutting with confidence using our meticulously researched recommendations.