This site is supported by our readers. We may earn a commission, at no cost to you, if you purchase through links.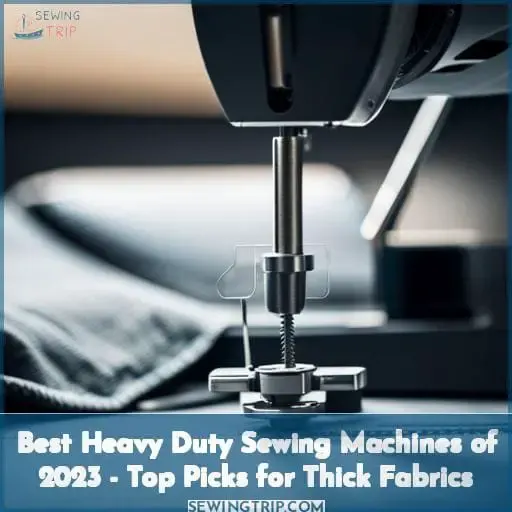 You're watching this video because you've probably had to stop sewing projects halfway through when your machine jams up on thick fabrics—it's the worst! I've been there too, which is why I invested in a heavy-duty sewing machine, and it was a total game-changer.
In this article, I'll walk you through why you need one if you regularly sew heavy materials, what features to look for, and I'll review some of the top models out there. Trust me, with one of these tough machines by your side, you'll have the power to sew through anything.
No more wasting supplies or throwing projects in the trash when they don't work out; you'll be able to take total control over your sewing.
Key Takeaways
Sturdy metal frames, industrial-grade parts, and durable aluminum bodies provide stability and prevent vibration for skip-free sewing and longevity.
Powerful motors handle multiple fabric layers without straining and maintain quality stitches from canvas and leather to delicate materials with adjustable settings.
Specialty presser feet, walking feet, and feed dogs handle thick material layers, while jam-resistant mechanisms like drop-in bobbins prevent tangles.
User-friendly, portable designs with automatic threaders, tension controls, and LED lights boost productivity, making efficient sewing accessible.
Top 5 Best Heavy Duty Sewing Machines
Let's get to sewing! You have a few great options when it comes to heavy-duty sewing machines. The Singer CG590 offers commercial-grade durability and speed. The Janome HD3000 is packed with user-friendly features.
SINGER's accessory-loaded Heavy Duty model brings pro performance home. For sewing thick fabrics like denim, check out the Brother ST371HD. And the Juki TL-2000Qi delivers portable power, ideal for quilting and working with canvas.
Each of these machines can really handle thick, heavy fabrics and tackle your toughest projects.
Singer CG590 Commercial Grade Sewing Machine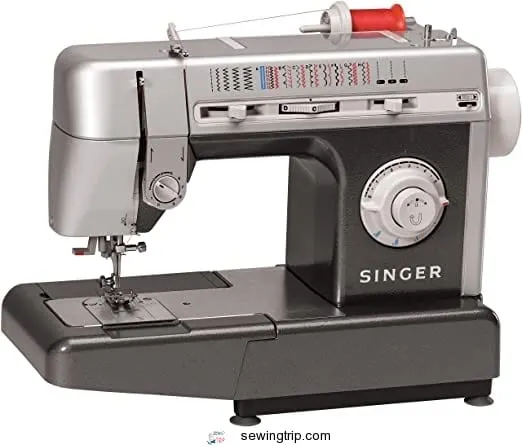 View On Amazon
You'll find the Singer CG590's unrivaled strength and speed make short work of commercial-grade projects. It's built with a sturdy stainless steel frame and bedplate, making it a workhorse that powers through heavyweight fabrics while maintaining precise stitches on delicate materials.
The adjustable foot pressure and speed allow you to easily fine-tune settings for any fabric. With its robust motor, industrial quality, and array of included accessories, this machine quickly handles upholstery, canvas, leather, and other heavy fabrics.
The powerful motor sews through thick materials.
The sturdy stainless steel frame provides stability.
The adjustable speed and foot pressure make it easy to customize settings.
It comes with multiple presser feet.
It is heavy, weighing 16 lbs.
It may be expensive for home sewers.
It is limited to 18 built-in stitches.
Janome HD3000 Sewing Machine
View On Amazon
The HD3000's aluminum body and sturdy construction let you tackle thick fabrics with ease. As a workhorse model built to power through projects, the Janome HD3000 doesn't disappoint. It has an adjustable presser foot, sturdy feed dogs, and speeds up to 860 stitches per minute.
The HD3000 makes quick work of multiple fabric layers. The top-loading bobbin slides smoothly, letting you sew long seams without interruption. The HD3000 excels at handling thick, heavy materials while remaining precise on delicate details.
The powerful motor handles thick fabrics.
The aluminum body is durable.
The presser foot pressure is adjustable.
The top-loading bobbin is smooth.
The built-in stitch selection is limited.
It is not suitable for embroidery or monogramming.
The throat space is smaller than industrial machines.
SINGER Heavy Duty Sewing Machine With Accessory Kit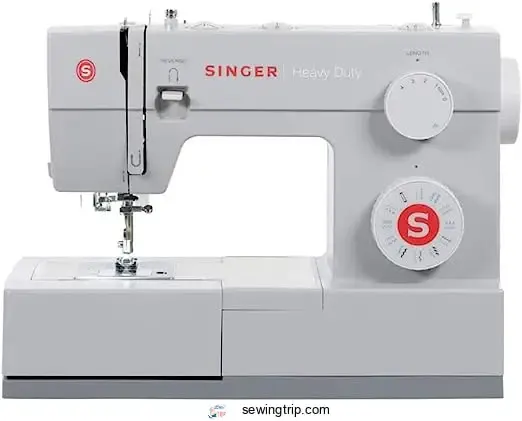 View On Amazon
With vigor, the SINGER Heavy Duty can pierce layers like a powerful sewing spear for your creative battles. Overworking standard machines could snap a needle like a twig, but the Heavy Duty's sturdy metal interior frame is your fortress.
This king of sewing castles commands 23 distinct soldier stitches to lay perfect formations with its strong 1,100 spm motor.
Any fabric, no matter how thick, is no match for its stainless steel bedplate's smooth glide and grip. Automatic threaders and built-in reverse keep you focused on the fabric without distraction. Adjusting its presser foot pressure and feed dogs for precise piercing control makes you feel less like an operator and more like a sewing machine artist.
Whether sewing tents, jeans, or curtains, the Heavy Duty sews on an industrial grade you can rely on.
Powerful motor at 1,100 spm
Heavy-duty metal interior frame
23 built-in stitches
Not computerized
Lacks certain convenience features of newer models
Brother Sewing Machine ST371HD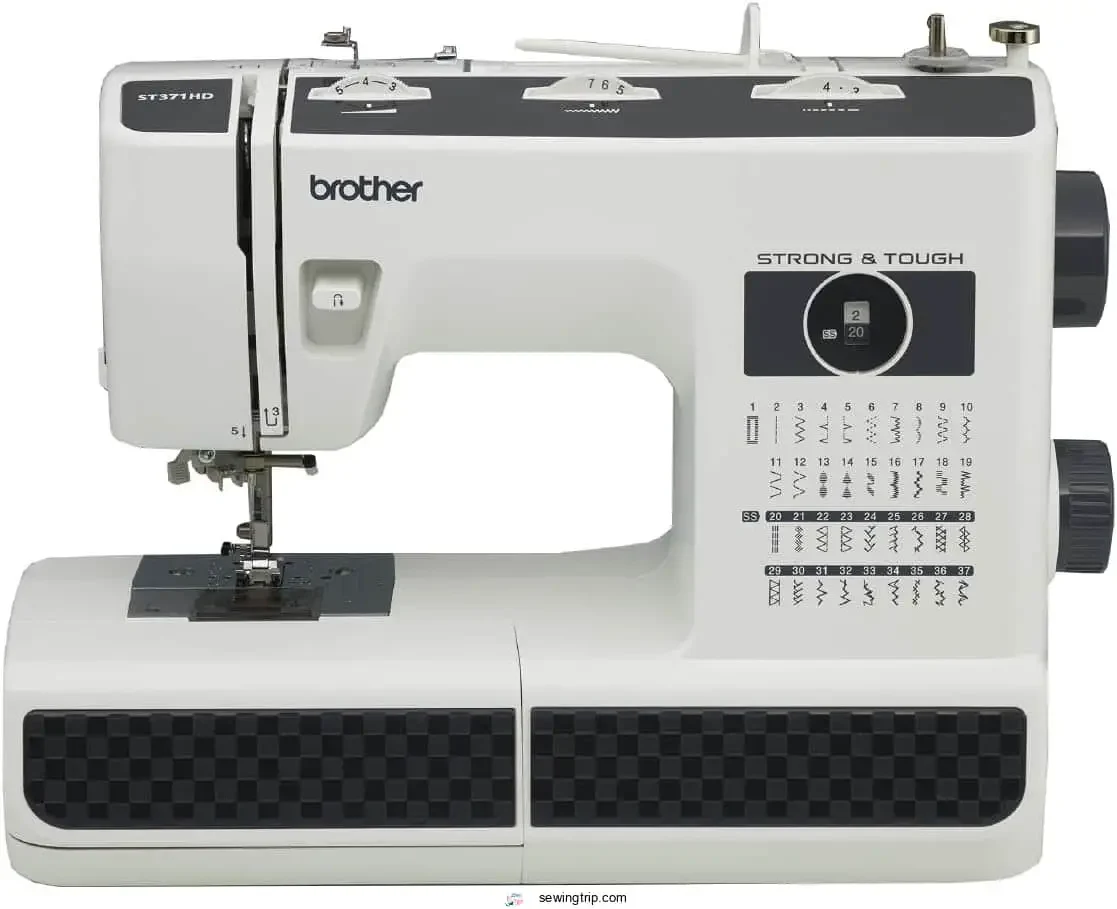 View On Amazon
This surprisingly smooth operator can tackle thick fabrics like denim without jamming up. The Brother ST371HD is a heavy-duty beast ready to devour multiple layers and tough materials. With its sturdy metal frame and 37 built-in stitches, this workhorse powers through projects with precision and ease.
The automatic needle threader saves frustration, while the drop-in bobbin prevents tangles.
While the LED light could be brighter for intricate details, the ST371HD's fast speeds and jam-resistant performance bring reliable quality straight to your sewing room.
Powerful motor handles thick fabrics
Durable metal interior frame
37 built-in stitches
Jam-resistant drop-in bobbin
LED work light could be brighter
Not ideal for beginners
DVD instructions may not play
Juki TL-2000Qi Sewing and Quilting Machine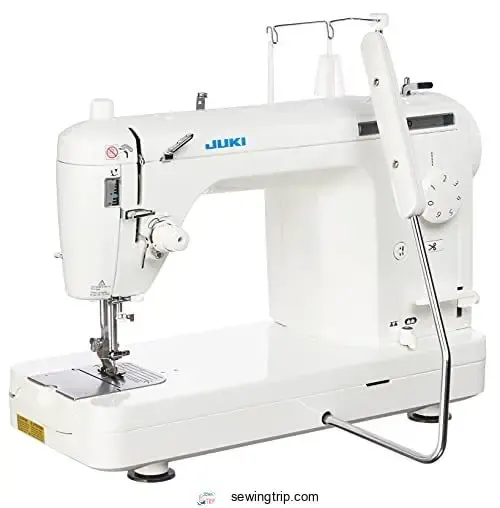 View On Amazon
You'll feel the power of a locomotive as this workhorse zips through heavy quilts and canvas at lightning speeds, made possible by its hardy aluminum construction – could any other machine be as sturdy and seamless? This Master Stitcher stitches even your toughest projects with a lightning pace and pinpoint precision, thanks to its industrial stability.
Its streamlined design keeps the table clear for optimum productivity. Mind the needle's bite as this metal monster easily pierces multi-layers. With just a tap of the pedal, it roars to life, unzipping yards of fabric faster than you can blink.
Sturdy, durable aluminum body/bed for skip-free sewing
Fast 1500 stitches per minute for efficiency
Suitable for thick fabrics like canvas, denim, and quilts
Expensive, costing over $1000
Mixed reviews on the included walking foot
Why Should You Consider Buying a Heavy-duty Sewing Machine?

Are you looking for a workhorse sewing machine that can tackle heavy-duty projects with ease? Consider purchasing a heavy-duty model for its exceptional durability, strength, and versatility. These rugged machines can stitch multiple layers of thick fabrics without skipping stitches or straining their motors.
With professional-grade components like metal frames and high-powered motors, they outlast regular sewing machines and maintain quality performance over years of frequent use. Whether you frequently sew denim, canvas, leather, or quilts, a heavy-duty sewing machine gives you the muscle and precision to complete your projects beautifully.
Durability and Longevity
You'd be smart to pick one built to stand the test of time. A heavy-duty machine's durability comes from:
Sturdy metal frames that won't crack under pressure.
Powerful motors that churn through thick fabrics.
High-quality parts that resist daily wear and tear.
Invest in a workhorse that will keep pace with your creative projects for years to come. With different foot options and the strength to handle heavy thread, these machines can sew denim, leather, and thicker fabrics with no problem.
While not full industrial sewing machines, their unmatched durability brings commercial-level performance right to your home workspace.
Ability to Handle Thick Fabrics
A heavy-duty sewing machine lets you easily sew multiple layers of thick fabrics like leather and denim without skipping stitches or breaking needles. In fact, top-rated machines like the Juki TL-2000Qi can sew up to 6mm of fabric at once.
With a fortified motor and specialty attachments, a heavy-duty machine allows you to handle multi-layer ribbon embroidery, thicker materials like canvas, and tougher fabrics without frustration.
Versatility for Various Projects
Unlike plain sewing machines, heavy-duty models can handle all your creative projects.
Sew thick fabrics like denim, canvas, and leather.
Tackle long-term upholstery projects.
Power through loads of crafts and quilting.
The rugged motors plow through heavy fabrics. Automatic features like needle threaders and tension control make extended daily use easy.
Professional-quality Stitches
With heavy-duty sewing machines, your stitches come out tight and professional-looking as a drumbeat, effortlessly punching through heavy fabrics. The durable exterior houses a power that churns out empathetic stitches, rhythmic sounds, and soothing motions.
Sewing becomes a meditation as you lose yourself in the flow. Your heavy-duty machine supports your mastery, freeing you to tackle any heavy-duty project with ease.
What Are the Features and Benefits of a Heavy Duty Sewing Machine?

As an industrial sewist and sewing instructor, I can testify that heavy-duty sewing machines are a versatile resource for your workroom. A heavy-duty machine's metal construction gives it stability for high-speed sewing and thick fabrics.
You'll be sewing denim, canvas, and upholstery with less skipping or puckering. Quality selections are quite portable too, letting you create anywhere. With user-friendly options and convenient features for threading, winding bobbins, and selecting stitches, productivity comes easy.
Let's explore the perks of upgrading to a heavy-duty sewing machine for your projects.
Metal Construction for Stability
Machines with metal frames offer the stability needed for sewing thick fabrics. A heavy-duty sewing machine built with a rugged metal frame provides the strength and durability to handle thick, heavyweight fabrics without distortion.
The stability allows for smooth, skip-free sewing even at high speeds on multiple layers. A metal chassis prevents vibration and flexing. This gives precise stitching control when working with heavy-duty zippers, dense upholstery, and heavyweight interfacing.
The metal construction paired with a high-speed motor and strong stitch tension makes these machines ideal for intensive, industrial use.
Ability to Work With Thick Fabrics
You'll effortlessly plow through layers of denim, vinyl, and leather when tackling your next upholstery or costume project. With the muscle of dual-feed layers and powerful motors in today's wireless heavy-duty machines, these savvy beasts happily stitch the heavy seams and custom repairs your thick fabrics demand.
No more broken needles or skipped stitches while you unleash masterful projects and claim your seamstress throne – these modern machines driving strong, smooth stitches through material will empower all your sewing dreams.
Portability for Convenience
You'd find a lightweight model easier to lug around for off-site projects. Quilters, for instance, will appreciate a portable heavy-duty machine's convenience at retreats or classes. These powerful yet nimble workhorses allow mastery for demanding projects with adjustable speed settings, stitch widths, tension – no limit to creative vision.
User-friendly Design for Ease of Use
You want user-friendly features that make sewing a cinch. The heavy-duty machine's sturdy base and efficient power enable smooth stitching for heavy fabrics. Its automatic threader saves time when starting projects. The machine's intuitive controls allow you to easily select stitches and adjust settings while sewing.
Sturdy construction provides a stable foundation for efficient power, letting you focus on stitching instead of fussing with settings.
Time-saving Features for Efficiency
Automatic thread cutters and threaders save time when working on projects. As an avid seamstress, these handy features allow me to spend less time prepping my machine and more time quilting or constructing garments.
I also appreciate easy-to-use walking foot adjustments, feed dogs, tension settings, and needle size changes. Beginners will find such user-friendly designs reduce the learning curve on their sewing machine adventures.
When Do You Need an HD Sewing Machine?

Welcome to your in-depth guide on heavy-duty sewing machines! Whether you're an avid sewist tackling thick fabrics like denim and canvas or a beginner looking to upgrade, understanding when you need more power can ensure your machine keeps up with your projects.
We'll explore the key differences between household and industrial heavy-duty models, share firsthand experience with a workhorse that's stood the test of time in my home studio, and discuss reasons why a certain brand's offering just didn't make the cut.
By the end, you'll have a clear sense of your options to find the right match. So let's dive in to demystify these mechanical workhorses!
Difference Between Domestic and Industrial Heavy-duty Machines
While domestic models have the strength for most heavy projects, only true industrial beasts can consistently churn through extremely thick materials without blinking. You crave the unstoppable force and precision of an industrial sewing machine. The lightning-fast speeds, immense motor power, and masterful manual tension control offer complete domination over cloth.
With an industrial machine's metal frame and vast abilities, no sewing job is out of reach. Janome HD3000 owners wish for that next-level strength. Submit to your desire and step up to an industrial sewing machine.
Personal Experience With a Household Heavy-duty Machine
I've had great success with my Janome HD3000 for sewing heavy canvas and multiple fabric layers. It has handled my heavy-duty projects for denim or leather well. The built-in needle threader has been useful when I want to replace the foot control.
When needed, I've been able to upgrade the presser foot, repair timing issues, troubleshoot tension problems, and adjust stitch length. This quality heavy-duty machine has served me well for all your sewing projects.
Reasons for Not Choosing a Specific Brand/model
Your projects lie in heaps of frustration for the Singer's shoddy mechanisms, leaving them unfinished. These machines' poor-quality plastics and inferior fabrication lead to non-recurring mechanical issues, insufficient pressure, inadequate tension adjustment, and more.
Consider alternatives like the Janome HD3000 or Singer 4423 for heavy-duty home sewing. Domestic machines still lack industrial strength, but their sturdy construction prevents the regular failures of the Singer.
Frequently Asked Questions (FAQs)
What's the difference between a heavy duty and industrial sewing machine?
You'll swiftly stitch seams, supernaturally sewing sailcloth, seat covers, or sturdy slacks with industrial-strength machines. Heavy-duty models maneuver myriad materials masterfully, yet lack long-lasting liberation like industrials offer.
What maintenance does a heavy duty sewing machine require?
Listen up, seamstresses! Your machine is your lifeline, so treat it kindly. Dust and oil it regularly, change needles often, never yank fabric, and service it annually. A little TLC keeps those gears spinning for years of flawless, high-speed sewing.
How do I choose the right heavy duty sewing machine for my needs?
Pick a machine that sews faster than you can and has more stitches than you'll ever need. What matters most is how it feels in your hands – the weight, vibrations, and ease of controls. Test drive models at your local shop and don't worry about what the salesperson recommends.
You're the expert here. Let your fingers guide you to the heavy-duty sewing machine that dominates like you do.
What fabrics are too thick for a heavy duty sewing machine to handle?
I know you want to tackle rugged projects, but even heavy-duty home machines have limitations. Typically, anything over 12 layers of denim or upholstery fabric is too much. For consistently handling super thick materials like leather or canvas, you'll probably need an industrial-strength machine.
However, with the right needles and settings, you can finesse a quality heavy-duty model to handle an occasional challenging multi-layer job.
How long can I expect a heavy duty sewing machine to last with proper care?
With proper care, a heavy-duty sewing machine can power through projects for 15-25 years. Attend to its needs by keeping it clean, oiled, and tuned up. Change the needle regularly and have it serviced yearly.
Store it covered. Your sturdy steel workhorse will churn out miles of neat, even stitches if you look after it diligently.
Conclusion
There's no doubt you'll be rarin' to tackle tough fabrics after finding the perfect heavy-duty sewing machine. The secret's in selecting a model built solid as a brick house with industrial strength innards ready to embroider, quilt, hem, or alter to your heart's content.
Don't let those denim disasters or leather letdowns leave you riled up and reaching for your wallet. Go grab yourself a dependable metal machine that won't poop out after flimsier models up and quit.
With the right heavy-duty sewing machine by your side, you'll be stitchin' up a storm and telling your troublesome textiles they've met their match.
Happy sewing, partner!