This site is supported by our readers. We may earn a commission, at no cost to you, if you purchase through links.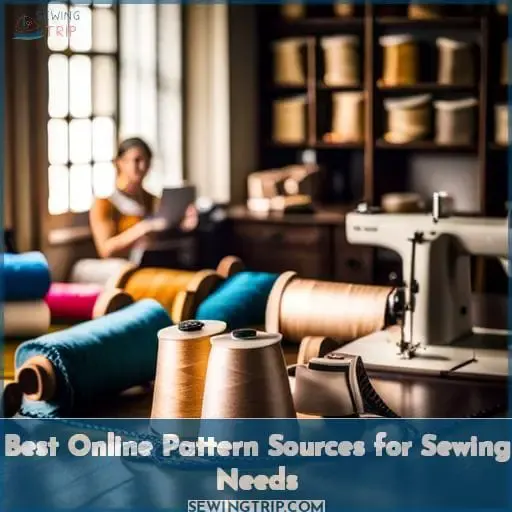 As you search for the best pattern sources to meet your sewing needs, look no further than online. With a variety of clothing, home decor, and accessory patterns available at the click of a button, there's something for everyone – from independent pattern designers to major companies and even free resources! From plus-size options to petite offerings and maternity must-haves, these top-notch pattern sources will have you stitching away in no time.
Key Takeaways
Online sources offer a wide variety of sewing patterns.
Specialty pattern sources like Cashmerette and Grainline Studio cater to specific needs.
Indie pattern designers often share free patterns.
Sewing magazines offer pattern inserts.
Pattern Sources for a Variety of Sewing Needs

Crafting homemade items for yourself, family, or friends can be so rewarding. When searching for sewing patterns for your next project, choosing the right source for your needs is crucial.
Clothing Patterns
You'll have a plethora of enjoyable options when selecting fabrics for your Jasika Blazer. When choosing fabric for sewing garments, consider fiber type, drape, and weight. Natural fibers such as cotton and linen work well for blazers. Explore fabrics like twill, seersucker, or linen for a crisp, tailored look.
Soft tropical wools or textured synthetics will drape nicely. Medium to heavyweight suitings prevent bubbling during fusing. Let your style and climate guide your fabric choices for a perfectly personalized blazer.
Home Decor Patterns
You can find great home decor patterns from companies like Simplicity, McCall's, and Butterick. Peruse their collections for on-trend fabrics and DIY inspiration. Consider sustainable fabric choices like hemp and organic cotton.
Learn creative techniques such as ladder stitching and mitered corners. Read blogs and pattern guides for expert tips on home decor projects. Experiment with combining patterns for unique designs. Sewing your own curtains, pillows, and placemats allows you to customize your space.
Accessory Patterns
Fellow sewists should know that there are hundreds of free bag, hat, and scarf patterns online to fuel your accessory sewing needs. When sewing small accessories like wallets, sunglasses cases, and zipper pouches, turn to sites like Sew Guide and Instructables for free tutorials.
Consider purchasing commercial patterns for more complex builds like tailored handbags, structured hats, and lined gloves. Searching Ravelry can uncover a world of free accessory knitting patterns. With some clever searching, you'll never lack inspiration for your next accessory project.
Best Online Pattern Sources

There is a variety of excellent online sources for sewing patterns to suit your needs. Independent pattern designers, major pattern companies, and online marketplaces all offer great options for patterns.
Independent Pattern Designers
So many independent pattern designers offer unique, well-fitting sewing patterns to suit your style. From indie designers like Named Clothing and Grainline Studio to creative collaborations between independent designers and pattern companies, there are endless options for expressive, detail-oriented patterns.
Whether you seek to follow the latest indie pattern trends or discover designers who share your fashion aesthetic, independent pattern designers empower your sewing with inspired, thoughtful designs.
Major Pattern Companies
Listen up, sewists – the major pattern companies have tons of designs to suit your style! Dive into their extensive catalogs for patterns with all the details covered. Try out their clear instructions for fashioning chic garments, accessories, and home decor projects galore.
From swimsuits to suits, dresses to drapes, their patterns empower your creativity. Craft the wardrobe of your dreams with their time-tested templates. Let Simplicity, McCall's, and Butterick guide your needles through countless creative endeavors.
Online Marketplaces
Dig into the thriving fabric treasures on Etsy for unique prints and custom projects.
Search by fabric type or pattern name for precisely what you need.
Connect directly with sellers for guidance and modifications.
Discover one-of-a-kind fabrics not found in stores.
With the vast selection available, online marketplaces like Etsy empower sewers to find the perfect materials for their sewing needs. The global community provides access to custom designs, specialty fabric selections, and eco-friendly options to elevate your sewing projects.
Specialty Pattern Sources

When searching for specialty sewing pattern sources, there are a few key places to find options that suit your variety of sizing needs. Plus-size patterns, petite patterns, and maternity patterns can all be sourced from companies like Cashmerette, Itch to Stitch, and Mimi G Style, who focus on creating inclusive sizing for all body types.
Plus Size Patterns
Girl, finding flattering plus-size patterns can be tricky, but companies like Cashmerette and Grainline Studio have got your back.
| Company | Pattern Types | Sizes Offered |
| --- | --- | --- |
| Cashmerette | Dresses, tops, pants, jackets | 12-32 |
| Grainline Studio | Tops, dresses, pants, jackets | 14-30 |
These companies understand that a great plus-size pattern starts with getting the fit just right. They offer tips on choosing the right fabrics and making adjustments for your unique shape.
Petite Patterns
When shopping for petite patterns, look for designs specifically sized for shorter frames with narrow shoulders and a shorter distance from shoulder to waist. Select patterns with bust dart placement and waist shaping appropriate for a petite figure.
Consider pattern companies like Simplicity Petite, Butterick Petite Misses, and New Look Petite.
Opt for simple styles with clean lines that won't overwhelm a petite frame. Take extra time to compare finished garment measurements to ensure proper fit. You may need to make length and width adjustments through pattern modifications.
Maternity Patterns
You'll find an excellent selection of adjustable maternity patterns from designers like Made By Rae, Jalie, and Greenstyle Creations.
Nursing-friendly designs allow for easy breastfeeding access.
Pregnancy wardrobe essentials like stretchy pants, dresses, and tops fit your changing figure.
Comfortable maternity fabrics like jersey knits move with your body.
Stylish bump-friendly fashion flatters your new curves.
Free Pattern Sources

When searching for free sewing patterns online, some of the best sources include blogs and websites, online communities and forums, and sewing magazines. From indie pattern designers to the major pattern companies, you can find a wealth of freebies to suit your sewing needs among these resources.
Blogs and Websites
Beyond specialty pattern companies, many sewing blogs and websites offer free patterns to suit your style. Dive into the blogger archives of Made by Rae, Tilly and the Buttons, A Spoonful of Sugar, or Lauren Guthrie to uncover free dresses, tops, accessories, and more inspired by their own handmade wardrobes.
Indie pattern designers often share freebie patterns as well, such as the Peppermint Box Skirt from Brindille & Twig or the free tiered skirt from By Hand London.
Online Communities and Forums
Stumble across infinite inspiration as online communities unravel a world of free patterns to indulge your sewing cravings. Online resources like Reddit's r/sewing provide a wealth of project inspiration, from sharing fabric selections to troubleshooting sewing tips.
Tap into community support for fabric research before starting projects. Discuss fabric expertise regarding synthetic fibers or sourcing custom items.
Sewing Magazines
Make any wardrobe dream a reality by seeking inspiration in sewing magazines. Peruse colorful pattern inserts that boast the latest styles. Study fabric guides that spotlight trendy fabrics like silk charmeuse and fine cottons.
Master new sewing techniques. Read pattern reviews to inform your choices. Let sewing magazines unlock your creative potential with every turned page.
Pattern Books and Magazines

While perusing pattern books and magazines, you can expand your catalog of options. Quality branded curated patterns offer sophisticated construction, immersing you in the artistry of pattern design. Collector's editions of vintage Simplicity and McCall's catalogs allow you to study intricate detailing and flawless drafting.
You can trace the evolution of style from decade to decade, observing how hemlines rise and waistlines drop. Marinate in the retro aesthetic of apron dresses, wiggle skirts, and smart suits. However, it's important to balance nostalgia with the technical excellence of modern indie releases.
Companies like Colette and Closet Case Patterns engineer beginner-friendly techniques and impeccable fit for the contemporary maker. While bound books provide guidance, true liberty lies in sewing. It is only when thread pierces fabric that we can transform flat paper into living art.
Conclusion
You have now explored a range of online pattern sources for a variety of sewing needs, from clothing patterns to home decor and accessory patterns. From independent pattern designers to major pattern companies, and from online marketplaces to specialty pattern sources, you have plenty of options for finding the perfect pattern.
Plus, you can find free patterns on blogs and websites, online communities and forums, and in sewing magazines. Finally, you can also find patterns in pattern books and magazines. With so many sources to choose from, you'll be able to find the best pattern for your sewing needs.