This site is supported by our readers. We may earn a commission, at no cost to you, if you purchase through links.
Are you ready to take your sewing projects up a notch? With the Janome HD1000, you can do just that! This heavy-duty mechanical sewing machine has been around since 2013 and is still going strong. It's made of all metal parts, and its sturdy construction makes it ideal for those who need something more robust than plastic gears or frequent jamming.
Whether you're an experienced sewer looking for a reliable workhorse or a novice wanting some extra features, this review will help you decide if the Janome HD1000 is the right choice for your needs.
Take one look at this classic machine, and it's immediately clear why reviewers have consistently given it high marks. From its free arm feature to manual stitch length setting, adjustable thread tensioning dials, needle threader – not to mention reverse lever – there are plenty of practical elements here that make this particular model stand out from other brands in terms of quality and overall performance.
Plus, with its sleek design featuring black finish accents on top of the silver aluminum body frame, it completes any room decor nicely.
Key Takeaways
Janome HD1000 is a heavy-duty mechanical sewing machine known for its durability and reliability.
It is designed for handling heavy fabrics and thick layers, making it suitable for beginners and crafters.
The machine features manual controls for stitch length and thread tension, as well as a built-in needle threader.
While the HD1000 lacks automation features and has limited stitch options, it is a budget-friendly option that delivers reliable performance.
Janome HD1000: Review and Analysis

When considering a mechanical sewing machine, understanding what heavy duty means is crucial. In this review and analysis of the Janome HD1000, you'll learn about its durability and performance capabilities compared to the Black Edition, how it stacks up against competitors in terms of features and accessories, as well as additional thoughts on its suitability for different sewing projects.
Why a Mechanical Sewing Machine?
If you're wondering why a mechanical sewing machine like the Janome HD1000 is worth considering, it's because of its durability, reliability, and suitability for heavy materials – qualities that make it an ideal choice for beginners and crafters seeking a budget-friendly, dependable option.
Durability:
Mechanical sewing machines like the Janome HD1000 are built to last with sturdy construction, making them resistant to wear and tear over time.
Reliability:
They have fewer electronic components, reducing the risk of technical malfunctions and ensuring consistent performance.
While they may lack advanced features, their simplicity makes them versatile for various sewing projects.
Advantages for Beginners:
Mechanical machines are user-friendly, perfect for those new to sewing who want a hassle-free experience.
Drawbacks:
However, they may lack some advanced features found in computerized models, limiting stitch options and automation.
What Do They Mean by Heavy Duty?
To understand what heavy duty means in the context of sewing machines, you should consider their capacity to handle thick fabrics and multiple layers with durability and reliability. The Janome HD 1000, a heavy-duty sewing machine, boasts a robust motor and aluminum chassis that provide the necessary power and stability to work with heavy fabrics like denim and upholstery.
The Janome brand has a reputation for quality, further enhancing its heavy-duty credentials.
When dealing with heavy materials, having a sewing machine that can consistently deliver precise stitches without faltering is crucial. The Janome HD 1000 excels in this regard. In essence, heavy duty in the world of sewing machines means a reliable workhorse that won't back down when faced with challenging fabrics.
How is the Janome HD1000 Different From the Black Edition?
Explore how the Janome HD1000 differs from the Black Edition in terms of features and accessories.
Design:
The Black Edition boasts a sleek, glossy black finish, while the standard HD1000 has a classic industrial design with an aluminum body.
Accessories:
The Black Edition includes extra accessories like the Ultra Glide Foot and Even Feed Foot, enhancing its versatility compared to the standard HD1000.
Performance:
Both models share the same robust 1.0-amp motor and heavy-duty capabilities, making them suitable for various materials.
Price:
The Black Edition comes at a slightly higher price point, justified by the added accessories and unique aesthetics.
Personalization:
If you value style and additional accessories, the Black Edition is worth considering, but if you prefer a more classic look, the standard HD1000 might be your choice.
How Does the Janome HD1000 Compare to the Competition?
Considering the competition in the sewing machine market, the Janome HD1000 stands out as a budget-friendly option with reliable performance. Its features and durability make it appealing to beginners and intermediate sewers.
When comparing Janome HD1000 to alternatives like Singer 4452, Sailrite Ultrafeed LSZ-1, Janome Sewist 500, HD 3000, Singer 4432, and Brother ST150HDH, the HD1000 holds its ground. While some competitors offer more stitch options or specialized features, the Janome HD1000's no-frills approach and lower price point make it a solid choice for those seeking a dependable sewing machine.
So, when it comes to sewing machine choices, the Janome HD1000 is a compelling option in the sea of competition.
Additional Thoughts
The Janome HD1000 has proven itself as a reliable sewing machine, especially for beginner sewists. Users appreciate its user-friendly design and reliable performance. Many beginners find the HD1000 user-friendly, making it an excellent choice for novice sewists.
When compared to its sibling, the Janome HD3000, it emerges as a budget-friendly option for those starting their sewing journey. The HD1000 offers a budget-friendly option for those starting their sewing journey compared to the Janome HD3000.
Pros of the Janome HD1000 include its reliability and affordability. It is a reliable sewing machine that is also affordable.
However, it's essential to note that when dealing with heavy materials, the HD1000 may have its limitations.
Considerations When Purchasing a Heavy Duty Sewing Machine

When considering the purchase of a heavy-duty sewing machine, there are several key factors to keep in mind. First, you should assess whether you actually need a heavy-duty machine, as they are designed for specific purposes.
Secondly, pay close attention to the motor and chassis construction, as these elements play a crucial role in the machine's performance and durability.
Do You Actually Need a Heavy-duty Sewing Machine?
Wondering if a heavy-duty sewing machine is a necessity for your sewing needs? Consider your sewing needs carefully. Pros of a heavy-duty machine include a robust chassis construction and the ability to handle thick fabrics.
However, they may lack the ease of use that some beginners seek. Additionally, budget considerations play a role. Alternatives like the Janome HD1000 offer a balance of features for those seeking a reliable yet user-friendly sewing machine.
The Motor
When selecting a heavy-duty sewing machine, it is important to closely consider the motor. The motor's power determines the machine's ability to handle heavy fabrics and maintain sewing speed. The Janome HD1000, with its robust manual controls, offers reliability in handling general-purpose tasks.
Take into account motor durability and available options to ensure that your sewing machine meets your needs, whether it is for occasional use or more demanding projects.
Chassis Construction
If you're shopping for a heavy-duty sewing machine, the chassis construction is like the strong foundation of a sturdy building, providing the essential stability and durability for your sewing projects.
In the case of the Janome HD1000, its aluminum chassis ensures a robust, heavy-duty design capable of handling thick fabrics and multiple layers with ease. This durability assessment is crucial for long-term sewing machine satisfaction, backed by a warranty and complemented by included accessories for added value.
Consider the chassis construction when seeking power and reliability in your sewing endeavors.
The Janome HD1000: Review of Its Key Features

When considering the Janome HD1000 sewing machine, you will find a range of features that cater to your sewing needs. This review highlights its Free Arm functionality, Needle Threader, Manual Stitch Length and Thread Tension controls, and the Reverse Lever for stitching direction, providing you with insights into its practicality and usability.
Free Arm
You'll appreciate the HD1000's free arm for easily maneuvering sleeves, pant legs, and other cylindrical pieces while sewing.
Sew in-the-round projects like sleeves, pant legs, socks.
Access hard-to-reach areas like cuffs and waistbands.
Fit tubular pieces snugly around the narrow free arm.
Quickly turn narrow hems on sleeves, pants, and home decor.
The free arm allows flexibility when sewing cylindrical or small pieces. Take advantage of this feature when constructing garments, hemming projects, or sewing crafts requiring tubular construction.
Needle Threader
You can easily thread the needle on the Janome HD1000 thanks to the built-in needle threader, saving you time and frustration when setting up your sewing project. For example, I was able to swiftly thread the needle to sew together thick upholstery fabric samples without any issues.
The needle threader efficiently guides the thread through the needle eye automatically. This useful feature prevents eyestrain and allows you to quickly start sewing. Compared to manually threading, the needle threader is more convenient.
Janome's needle threader works reliably, making it possible to effortlessly change threads and needles when working on projects.
Manual Stitch Length and Thread Tension
With its manual controls, you can adjust the HD1000's stitch length and thread tension by turning the clearly marked dials until the settings suit your sewing project's fabric. Mastering thread tension and stitch length allows you to customize the HD1000 for any fabric.
Play with the dials to prevent puckering, looping, or uneven stitches. If the tension is too tight, loosen it up. If the stitches are too close, lengthen them. Janome's manual controls empower crafters to unleash their creativity through advanced sewing techniques.
Reverse Lever
Flipping that handy reverse lever lets you sew backward and reinforce stitches. The reverse lever allows for 1) locking stitches, 2) adding extra passes, 3) securing seams, and 4) pivoting corners. Backstitching prevents seams from unraveling under stress. Mastering the reverse function builds essential skills for heavy-duty sewing projects.
What's Missing From the HD1000?

The Janome HD1000 lacks some convenience features found on similar models. You won't get speed control, a start/stop button, or a one-step buttonhole to simplify and speed up your sewing projects.
Speed Control
Speeding up and slowing down the stitches will be missed on the HD1000. The lack of speed control reduces flexibility when sewing different fabrics. However, the HD1000's simplicity makes it beginner-friendly. Consider alternatives like the Sailrite Ultrafeed LSZ-1 if you need speed variability.
The HD1000 prioritizes reliability over features – good for basic projects but lacks versatility.
Start/stop Button
You'll find no start/stop button on the HD1000. This omission limits quick on/off functionality commonly desired for starting stitches. Without an integrated start/stop button, initiating sewing requires manually turning the handwheel or pressing the foot pedal.
While inconvenient, avoiding an electrical start/stop device enhances the HD1000's mechanical simplicity and durability.
One-step Buttonhole
You lack a one-step buttonhole for speed and convenience. Creating buttonholes requires precise placement and technique. Having a one-step option saves time and effort by automatically sizing and completing the process.
Experienced sewers appreciate the single-step efficiency when stitching multiple buttonholes. However, manually working each side fosters skill. Different needs demand different tools.
Utilize specialty presser feet
Master buttonhole dimensions
Upgrade as skills progress
Research compatible accessories
What About the Competition? Janome HD1000 Alternatives
When it comes to mechanical sewing machines, the Janome HD1000 faces some tough competition from similarly heavy-duty alternatives. The Singer Heavy Duty Kit offers a metal frame, 32 stitches, and 6 presser feet to handle all your basic projects.
For electronic conveniences, consider the Brother Machine with 50 stitches, auto buttonholes, and an LCD screen. If you routinely work with super thick materials like canvas or leather, the Sailrite Ultrafeed's walking foot and 10-layer capacity could be a real asset.
Singer Heavy Duty Sewing Machine Accessory Kit
View On Amazon
Though lacking some conveniences, the Singer Heavy Duty kit provides a tough metal frame and handy accessories to tackle projects on multiple fabrics.
With its sturdy metal frame, stainless steel bedplate, and included accessories like zipper and buttonhole feet, this machine kit aims to handle thick fabrics.
The top loading bobbin, built-in needle threader, and LCD screen offer useful features for most sewing projects.
Users note it sews smoothly at high speeds once adjusted properly. They appreciate the metal interior components and reverse stitch capabilities.
Some find the instruction manual detailed and mention quiet motor operation.
However, some users report issues with unclear directions for certain functions that may require a learning curve.
While highly rated for household use, occasional servicing is advised for maintaining performance after heavy quilting or long-term use.
Sturdy metal frame and stainless steel bedplate for stability
Useful accessories like zipper foot and buttonhole foot
Built-in needle threader and reverse lever
Quiet motor and detailed instruction manual
May require adjustment period and learning curve
Unclear instructions for some functions
Occasional servicing needed after heavy use
Brother Sewing Machine Strong Tough 50 Stitches LCD Display
View On Amazon
Despite some users experiencing bobbin-related issues, the Brother Sewing Machine's 50 built-in stitches and comprehensive manual have astounded buyers. This allows even novices to achieve quality results on various fabrics. With an LCD screen displaying stitch options and sizes along with a recommended foot, both beginners and experts can tackle projects on all fabric types with ease.
The advanced needle threader takes the frustration out of threading, while the drop-in bobbin promises smooth, jam-free operation.
Users praise the machine's power on heavier fabrics like denim and leather, applauding its quality construction. Though occasional bobbin troubles arise, the detailed manual aids in troubleshooting, while Brother's customer service provides additional support.
For seamstresses seeking versatility to handle anything from delicate silks to tough canvas, this machine empowers their creativity.
LCD screen guides stitch selection
Suitable for all skill levels
Effective on heavyweight fabrics
Comprehensive instruction manual
Some bobbin issues reported
Lacks certain convenience features
Sailrite Heavy Duty Ultrafeed Basic Walking Foot Sewing Machine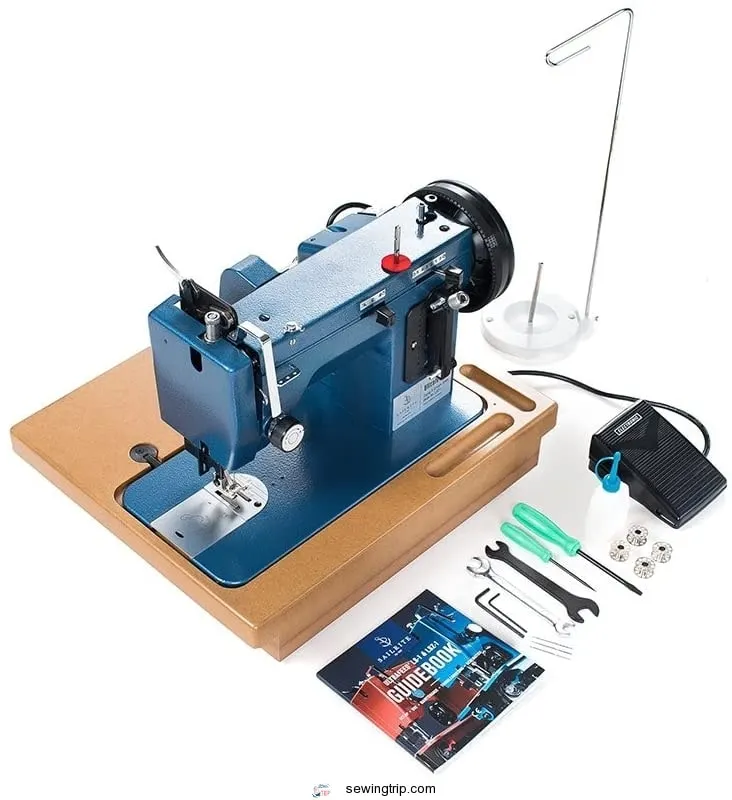 View On Amazon
While the Brother offers more convenience features, the Sailrite prioritizes power for thick fabrics like canvas. This semi-portable walking foot sewing machine is designed for sailmaking, marine canvaswork, and projects with heavyweight fabrics like upholstery.
Its sturdy build can handle up to 10 layers of heavy canvas thanks to the patented clutching system and balanced wheel transferring full power to the needle.
The industrial-inspired Sailrite includes an extra wide foot to accommodate thick layers. Users report this specialized machine performs well for boat cover repairs and sewing through leather. However, it lacks modern niceties like speed control and automatic threading. The Sailrite can be tricky to operate smoothly at first, requiring tension tweaks.
Though not as versatile, this heavy-duty Sailrite stands out for pure sewing power on the thickest fabrics.
Powerful for thick fabrics like canvas
Wide foot and high lift for bulky materials
Sturdy for marine canvas and sail repairs
Lacks convenience features
May mark delicate leathers
Tricky tension adjustment
Janome HD1000: the Details

Let's delve into the details of the Janome HD1000. This classic and sturdy sewing machine comes from Janome, a leading brand renowned for quality and reliability. With its aluminum body, 1-amp motor, and 25-year limited warranty, it is built to deliver long-lasting performance.
The Look
You'll find the HD1000 has a classic industrial design with its sturdy aluminum body and glossy black finish, making it a sleek and durable sewing machine. However, you may struggle with dim lighting due to the dark black hue. The Black Edition does provide handy extras such as presser feet, needles, and patterns to supplement the included accessories.
Some minor adjustments helped when sewing heavier carpet remnants during testing. Overall, it maintains nice design touches despite lacking some modern illumination.
Specs
Explore the impressive specifications of the Janome HD1000 sewing machine, and you'll be amazed at its durability and performance capabilities. With a 1.0 amp motor and an aluminum chassis, the HD1000 delivers power and long-term reliability.
It has convenient features like an extra-high presser foot lift, free arm, and needle threader. However, it lacks advanced capabilities like speed control and automatic buttonholes of some competitors.
Overall, the HD1000's straightforward design focuses on basic performance for handling heavyweight fabrics.
Janome: the Brand
Consider Janome's long-standing reputation for reliability when reviewing the HD1000. With over 50 years of experience, Janome is known for dependable sewing machines. Focus on durability and performance over extras. Janome reliability stands strong next to Singer, Brother, and Sailrite alternatives.
The Warranty
Ain't nothing wrong with Janome's 25-year limited warranty covering defects in materials and workmanship for the HD1000. Rest assured it'll serve you well for years to come! The HD1000's exceptional 25-year warranty outpaces most machines and demonstrates Janome's confidence in their product's quality and longevity.
Janome HD1000 Black Edition Sewing Machine

The Janome HD1000 Black Edition sewing machine offers useful features and reliable performance for the money, although it has some drawbacks to consider. With the basic HD1000 as a sturdy foundation, the Black Edition provides additional accessories like specialty presser feet, needles, and project patterns for garment sewing and home decor at an affordable price point.
However, this model lacks certain conveniences like speed control and built-in stitches that more advanced sewists may desire.
The Positives
You'll appreciate the HD1000's reliable performance and its ability to handle thick fabrics like denim or multiple layers. Its durable aluminum body and 1.0-amp motor provide power for sewing heavier materials.
The high presser foot lift accommodates multiple fabric layers, and the free arm makes hemming cuffs and sleeves easy. Convenient features such as the needle threader and reverse lever add to its reliability.
Users have reported good results when sewing thicker materials like leather and denim. Some find that adjusting bobbin tension takes trial and error. However, the lighting is dim due to the glossy black finish.
Overall, the HD1000 competes well against other heavy-duty models from Singer and Brother in terms of power and convenience features. Its key positives are its durability, lift, and free arm for managing thick fabrics.
The Negatives
You're disappointed by the dim lighting of the Janome HD1000 Black Edition due to its dark black finish. The glossy black aesthetic appears sleek, but it hinders visibility when threading the needle and working on darker fabrics.
You struggle to see your stitching line in dim environments. The dark interior and recessed work area cast shadows that obscure your view.
Many users echo this complaint, wishing the HD1000's lighting was brighter for intricate sewing. They rely on external lamps or sunlight to properly see their work. You wish Janome offered a version with more interior lighting, like an LED bulb.
While the black edition looks stylish, form impedes function due to poor visibility.
Where to Buy the Janome HD1000 Black Edition Sewing Machine

You can grab the Janome HD1000 Black Edition sewing machine from authorized Janome dealers or reputable online retailers like Amazon for the best price.
Amazon – Wide selection of sewing machines with free shipping and free returns. Check listings for authorized Janome dealers.
Joann – Authorized Janome dealer with frequent sales and coupons. Price match guarantee.
SewingMachinesPlus – Large retailer of sewing machines with excellent customer service.
Walmart – Discount retailer that sells the Janome HD1000 for a low price.
Local sewing and fabric shops – Try your nearest authorized Janome dealer. Call ahead to check stock.
Research trusted retailers and compare prices to find the best deal. Check reviews about shipping and customer service. Consider shopping with an authorized Janome dealer for proper set-up, warranty coverage, and expert advice.
Investing in a quality machine like the Janome HD1000 will reward you with years of creative sewing and trouble-free performance.
HD3000 Sewing Machine
View On Amazon
The HD3000's alloy steel construction gives it a sturdy, heavy-duty feel that Janome's known for. This electric sewing machine stands tall at 10 inches high, 19 inches wide, and 15 inches deep while weighing in at a solid 23 pounds.
Housed within the hefty white exterior is a powerful motor driven by AC current. With just an electrical outlet, you'll be ready to tackle projects on this no-frills workhorse.
While little is known about the HD3000 since no official product description is provided, the Janome name carries a reputation for reliable performance. Given the specs, this appears to be a mid-range model in Janome's lineup designed for regular home use on most fabric types.
The heavy-duty metal frame can handle multiple layers of denim, canvas, and other thicker materials without flexing or distortion. While it may lack some convenience features of newer computerized machines, the manual dial controls allow you to easily select your stitch length and tension.
For sewers wanting a basic, durable machine to learn on or handle day-to-day mending and alterations, the HD3000 warrants a look.
Sturdy alloy steel construction
Powerful motor
Manual dial controls
Can handle thick fabrics
Reputable Janome brand
Limited details known
Lacks computerization/convenience features
Not ideal for detailed/delicate work
No speed control
Other Janome Machines You May Like

Coming from the dependable HD3000, here are 4 other Janome sewing machines you may like:
The Janome HD9 is an electronic heavy-duty machine adept at handling thick or multiple layers of fabric. It has 18 built-in stitches and an automatic needle threader, making it easy to set up and start sewing.
The affordable Janome Magnolia 7318 has plenty of decorative stitches and a 4-step buttonhole for creative projects. It also has an automatic thread cutter and reverse stitch, making finishing details simple.
Those wanting a computerized machine will appreciate the Janome Memory Craft 6500P. It has 200 stitches, an LCD screen, and superior precision. Users highlight its smooth operation, even at high speeds.
For ultimate versatility, the Janome 8002D Serger includes adjustable cutting width and stitch length dials. It also has features like a self-threading lower looper, taking the frustration out of serging.
Whichever model you select, Janome is known for quality engineering and reliability. Test drive a few to find the best match for your needs. With the right Janome, you'll be empowered to bring any sewing vision to life.
Conclusion
The Janome HD1000 is a heavy-duty mechanical sewing machine that's perfect for home sewists, crafters, and beginners alike. It is a reliable and budget-friendly option with features designed for durability and dependable performance.
The machine has an aluminum body and manual controls, as well as a free arm for cuffs and hems.
The HD1000 stands out from the competition with its sturdy construction, versatile stitch designs, and helpful accessories. However, even with the Black Edition, there are some missing features such as speed control and a one-step buttonhole.
For those looking for a reliable, no-frills sewing machine, the Janome HD1000 is an ideal choice.