This site is supported by our readers. We may earn a commission, at no cost to you, if you purchase through links.
Brother PE540D 4 × 4 Embroidery Machine with 70 Built-in Decorative Designs is an excellent embroidery machine that pulls from scratch customers from all over the world. We can attribute this to the never-ending list of benefits that the product brings. In particular, it contains a complete list of 70 built-in embroidery designs. Users have the chance to choose their favorite embroidery designs depending on what they want to design or come up with. Many customers are sure to be drawn when they see the over 30 Disney embroidery designs that come with this top embroidery machine. This is where our Brother PE540D Embroidery Machine review starts with the accessories included with the machine.
When you buy this embroidery machine from the right source, you find it contains important accessories that are really useful. In particular, this brand new product contains a long list of inclusions aimed at improving the user experience. Based on this, you should at least try to buy the product from the right sources. So the accessories you will get are:
USB cable
Foot pedal
4 × 4 Embroidery Hoop
Needle Set
Bobbins
Bobbin Thread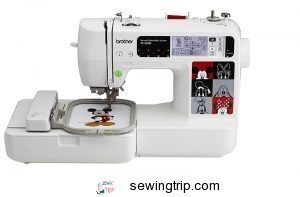 This high quality embroidery machine comes with a long list of features highlighted below:
120 combinations of the frame pattern
The availability of a wide variety of frame patterns helps to get the flexibility needed to embroider.
USB port
The USB port for computer connectivity allows you to choose different custom designs and simply enter the machine to get the desired results.
70 built-in embroidery designs
Brother PE540D 4×4 embroidery machine comes with 70 built-in designs. Users have the chance to choose a design that suits their preferences. There are over 30 Disney embroidery designs to choose from. These designs have some great and stunning attributes that make them suitable for use.
Touchscreen LCD screen
It has a very responsive touchscreen. This feature has made this embroidery machine easier to use. Now you can operate the machine and choose a particular design effortlessly.
Five Embroidery Fonts to Choose From
These fonts allow you your preferred embroidery font. select. The 120 combinations of frame patterns.
120 accompanied this function combinations of frame patterns
Each user may use 120 combinations of frame patterns. It allows users to come up with an infinite number of pattern combinations, increasing the versatility of the product.
Tutorials
When opening the embroidery machine for the first time, you can take advantage of the built-in tutorials included with this Brother PE540D embroidery machine . These tutorials contain important information on how to use the machine, its principal features and various other attributes associated with the product.
4 x 4 ″ embroidery area
This ample space gives you optimal space to work well. This feature also ensures that any user has the chance to run without animated to come up with a wide variety of designs.
USB cable
This high quality Brother embroidery machine has a USB cable users can rely on as they want to transfer information from a computer to the machine. Updating the machine software possible by the USB cable. New programs can and it can update old ones via the Internet or a direct connection from the computer.
To make life easier for any user, it comes with a foot pedal that allows you the operation of the machine. Thus, users have full control over the product. The foot pedal is quite responsive and amazingly accurate, which makes the machine very easy to use.
Maintenance of this embroidery machine includes using lubricating oil for the moving parts, cleaning the moving parts and covering the machine when not in use. Most of the parts of this machine that you will need to clean are the bobbins, needles and the screen.
Brother PE540D 4 × 4 Embroidery Machine's replacement parts are readily available in the market. However, online stores are the best sources of replacement parts, especially for bobbins, needles, screens, and buttons.
Advantages
It comes with a 25-year user warranty: Users enjoy a fully functional, versatile and highly efficient embroidery machine for over 20 years.
70 built-in embroidery designs: 70 built-in designs are available with it, making it easy for users to choose their favorite embroidery designs.
35 Disney Mickey Mouse Embroidery Designs: There are over 30 Disney Mickey Mouse decorative designs that each user can choose from, depending on their preferences.
Easy to view LCD screen: A very clear LCD monitor is available to allow users to customize their designs can view and ensure optimum quality during machine operations.
Precise Built-in Tutorials: For those who want to learn how to use the machine, there are tutorials that available with it.
Helpful Accessories: These features come with a complete list of accessories that any user would enjoy including a USB cable, tutorials, user manual, foot pedal, LCD screen and an extensive collection of buttons for its operation.
Versatility: It's quite versatile, thanks to the many built-in embroidery designs inns, the long list of importable embroidery designs and the large embroidery area.
Fast: Brother PE540D Embroidery The machine is probably one of the fastest embroidery machines currently available on the market is because of the unique foot pedal and advanced mechanism.
Update software i9s easy: As soon as it is necessary to update the machine's software, you can you can easily update it with a computer. A USB cable is available to allow users to establish a connection between the machine and the computer.
Built-in Memory: The machine has built-in memory large enough for most imported embroidery designs. You can also save old designs for future use as many times as you like, provided the space in memory allows.
Import of your own designs is possible; you can import your favorite list of decorative designs from the internet as many times as needed by using the connection cable from the machine to the PC. We can then store the imported designs in the machine's large built-in memory
Disadvantages
Brother PE540D Embroidery Machine has very few drawbacks associated with the product. This explains why it is difficult to distinguish the bad spots from the product. When you work with this machine, you will encounter the following problems:
Power Adjustment: If you are a person from those countries that have the 110V AC power[do not support 0], you need an additional adapter to override the power.
Built-in Embroidery: Another important noteworthy is the fact that the built-in embroidery designs set may not have the functions has what you are looking for. Go to the internet and buy more designs from the official makers of the machine.
Ease of use
The use of the machine is quite simple. You must use the user manual to get proper guidelines on how to use it. The presence of the foot pedal also makes the machine quite easy to use as users can easily and effortlessly control the movement of the needle. If you want to import new embroidery designs, you can use prorate the machine's computer connection that allows users to import new embroidery designs as often as needed.
I think we should rate the product 4.2 out of 5 stars. This is mainly because of the few embroidery designs that the machine comes with. Otherwise, it would have 4.8 or even 5 stars. When I compare embroidery machines or read reliable reviews on Brother sewing machines, I can easily see that this machine is unique.
If you own the original embroidery machine; we entitled you to imported designs from the manufacturer's website. You will also purchase new designs as often as it made them available to the public. Based on the manufacturer's comment on Amazon, the product comes with a 25-year warranty.
My friend has one of these machines. Last time I used this machine and found that this machine is so much fun to use. I asked her about the price and you won't believe the price shocked me. I wondered why this excellent machine with excellent features is available at such a good price range. I have to say that this product is really worth the price you pay for.
Final thoughts
Any reliable Brother PE540D Embroidery Machine review would show this is a user friendly embroidery machine; it is fairly safe to use and does not require a user to enter advanced user commands for it to work. I think it is worth using and I can choose it any day.