This site is supported by our readers. We may earn a commission, at no cost to you, if you purchase through links.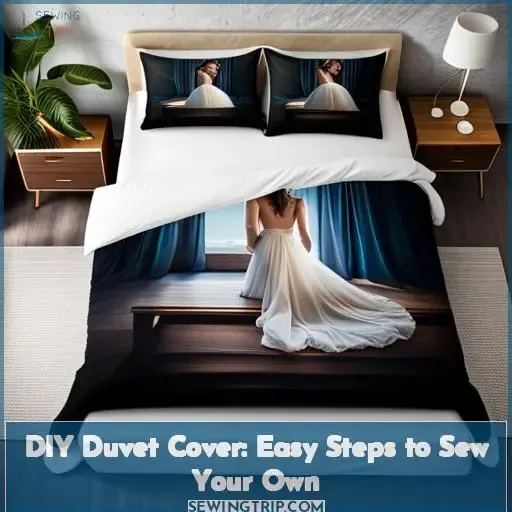 Are you looking for a fun and creative way to give your bedroom an upgrade? Why not try DIY-ing your own duvet cover! It's actually easier than it sounds. All you need are two flat sheets, some Velcro, fabric scissors, and a sewing machine to help get you started on this simple yet rewarding project.
We've put together this guide which outlines each step of the process, from finding the right size sheet to adding hooks and loops.
Key Takeaways
Create a DIY duvet cover using two flat sheets, Velcro, fabric scissors, and a sewing machine.
Protect your comforter from wear and stains with a duvet cover.
Enjoy easy maintenance with removable and machine-washable duvet covers.
Customize your bedding style with different duvet cover designs.
How to DIY a Duvet Cover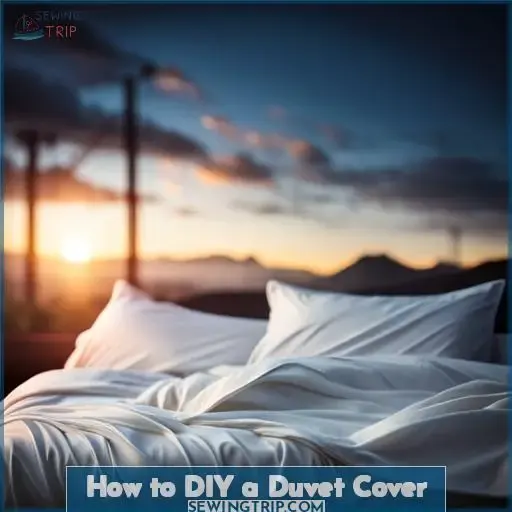 First, measure your duvet insert's length and width to ensure a proper fit for your homemade duvet cover. Next, prepare the top layer using two flat sheets or wide fabric; add panels if needed. For the bottom layer, use a flat sheet about 6 inches longer to create a pocket that prevents shifting.
After pinning and sewing the layers together, attach Velcro strips every 10 inches to keep things closed and in place.
Getting Measurements
Before getting started, take out your tape measure and find the exact dimensions of your comforter to ensure your homemade duvet will fit like a glove. For the best fit, accurately measure your comforter's length, width, and thickness.
Add a few inches to the measurements for a loose, cozy fit. Selecting the right fabric size prevents frustration later.
Prepare the Duvet Top Layer
After measuring your comforter, align the tops of the flat sheets right sides together to create the opening side of your homemade duvet cover.
Choose complementary colors and patterns.
Ensure fabric has minimal shrinkage.
Match thread to duvet colors.
Press seams flat before turning.
Customizing your bedding with a DIY duvet cover allows for complete creative control. Carefully preparing the duvet top layer is key for a polished final product. Thoughtful fabric selection and proper alignment now prevents frustration later.
Choose complementary colors and patterns. Varying colors and designs allows for customization.
Ensure fabric has minimal shrinkage to maintain size. Pre-wash and dry fabric before sewing.
Match thread to duvet colors for an invisible seam. Use similar shades for a seamless look.
Press seams flat before turning right side out. This prevents bulk and puckering.
Creating your own duvet cover provides unlimited options for personalization. Proper planning and preparation allows for a smooth sewing process and professional results.
Prepare the Duvet Bottom Layer
As you're stitching lovingly, create a pocket on the underside to cradle the comforter in cozy warmth.
For the duvet bottom layer, select a cotton or linen flat sheet in a matching or complementary print. Make it 6 longer than the top layer. After pinning the layers together, turn under and press 1 on the bottom layer to create a pocket to hold the insert.
Sew Velcro strips every 8-10 to keep the pocket flap closed. The fabric should be cotton or linen to avoid heavy fabrics. Matching prints or complementary colors work best. You'll want about 6 extra inches of length to create the flap.
And don't forget to press under 1 all around before stitching to neatly finish the edge.
| Bottom Layer Tips | Fabric Selection |
| --- | --- |
| Cut 6 longer | Flat sheet |
| Turn under 1 | Matching print |
| Attach Velcro | Cotton or linen |
| Create pocket | Avoid heavy fabrics |
Add Velcro Hooks and Loops
Stick back the scratches from Uncle Featherington's cat claws with a slosh of mushy hook 'n loops for your duvet bottom.
Stronghold
Customizable
Easy to use
Long lasting
To fasten your DIY duvet cover, secure Velcro strips every 10 inches along the opening. The stronghold of hook and loop strips creates a durable closure that withstands regular use. Velcro offers a customizable and easy-to-use alternative for fastening bedding while keeping contents in place with long-lasting strength.
Find the Right Size Sheet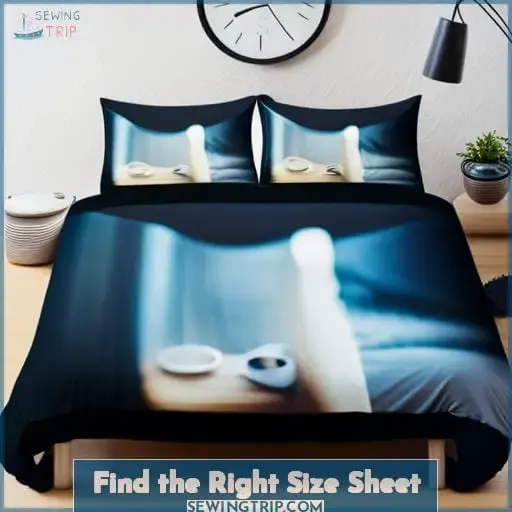 With a pattern picked out, it's time to find sheets that'll work for your duvet. Look at the dimensions of your bed and duvet to determine what size sheets you need. For a king size bed, two twin XL sheets would work perfectly to create a king size duvet cover.
Or opt for a single king sheet to avoid any seams in the middle. If you can only find smaller sheets, piece them together creatively for a unique, personalized look. With some simple measuring and creative thinking, you can find the right sheets to fashion your custom duvet cover and add a special touch to your bedroom.
Sew the Sheets Together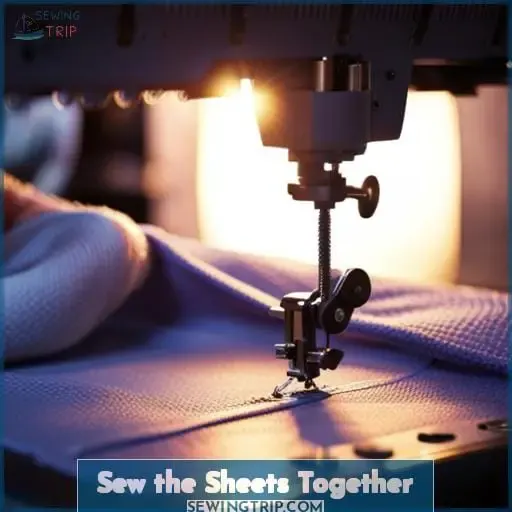 Once you've resized the sheet for a snug fit, pin 'em together with the right sides facin', leavin' one end open. That'll be for insertin' the comforter later. With your sewin' machine ready to rev, stitch up three sides in a 1⁄2 seam, backstitchin' at the start and end.
Clip corners before flippin' it rightside out. Then press flat with an iron on medium heat, bein' careful not to scorch the fabric.
Now you've got a custom duvet cover that'll make your bed a showstopper!
Pin sheets together, leaving an opening
Sew three sides with 1⁄2 seam allowance
Clip corners and turn rightside out
Press flat with medium heat iron
Topstitch or serge seams for durability
Voila! Those sheets are now a stylish duvet cover that looks like it came right from a designer catalog. But this DIY bedding project was sewn by your own capable hands. Feel that sense of accomplishment when you create somethin' custom.
Follow for more tips on unleashin' your inner Maven!
Flip the Sheet Inside Out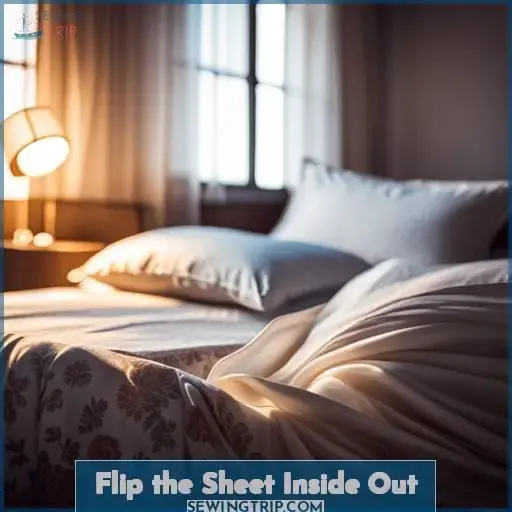 After sewing up your sheet duvet cover, go ahead 'n flip it inside out so you can admire your handiwork and have a finished-looking duvet.
Watch how that custom pattern you picked transforms your bedding into a cozy oasis. Run your fingers over those crisp seams you just sewed, appreciating your handiwork.
Now it's ready for fabric ties or ribbon alternatives to finish it off. Go wild with colors and textures that speak to you – velcro and a pocket on the back keep it all secure.
However you tie it off, your bed decor is getting flipped with this quick duvet makeover. Express yourself through the sheets and embrace the power to style your own space.
Make the Ties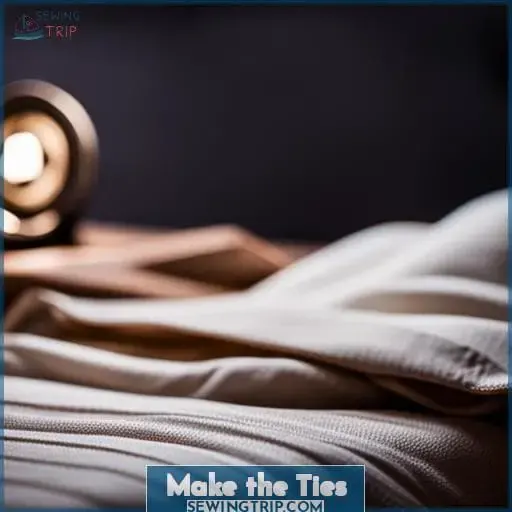 Now cut out trim pieces or use ribbon, iron-pressin' 'em flat, and sew 'em on near the openin' to make stylish and functional ties for your snazzy new duvet cover. Lotsa fabric options for the ties – match or contrast your sheets. Stretchy twill tape's a cinch to sew and gives a tailored look.
Pick ribbon with texture, like grosgrain or jacquard, for fancy duvet accents. Twist the ends of the ties together for a boho vibe. Line 'em up about eight inches apart so they cinch the duvet in place when tied.
Side panels let your personality shine through in the bedroom when ya add fun details like these ties on a DIY duvet.
Sew the Ties on to the Sheet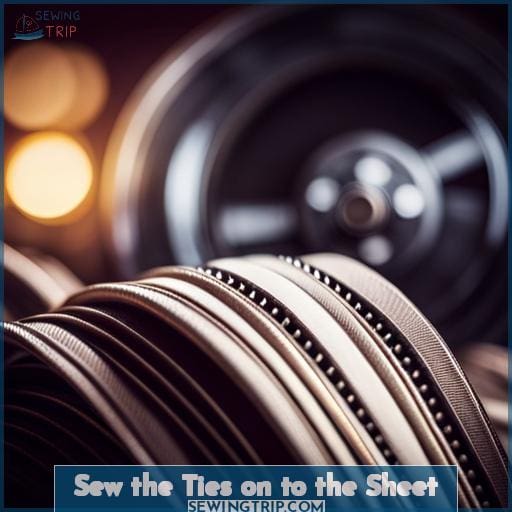 You'll show off your sewing prowess as you carefully stitch the ties onto the open end of the sheet.
Use a straight stitch or zig-zag stitch to attach the ties. Straight stitching will be quicker while a zig-zag provides more flexibility.
Choose to hand-sew or machine sew based on your skill level. Beginners may want to hand-sew for more control.
For decorative flair, create bows, braids or tassels with the tie ends. Ties can be made from ribbon, fabric scraps or trim pieces.
Ribbon is easiest to work with, but fabric matches the duvet and allows for more creativity.
Customize Your Duvet Cover With Contrasting Patterns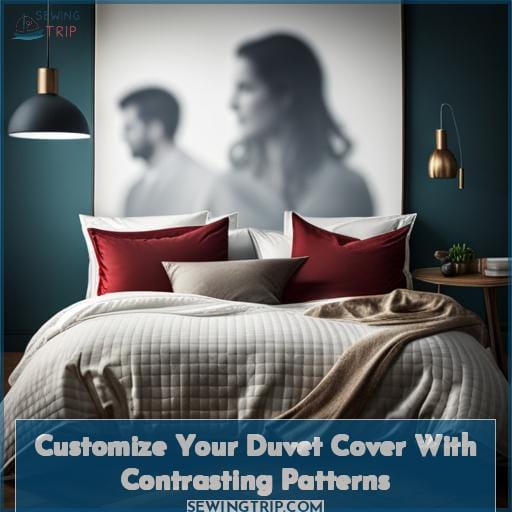 Mix fun patterns to create a unique duvet cover and delight your eyes each morning.
| Floral | Paisley | Plaid |
| --- | --- | --- |
| Striped | Geometric | Pinstripe |
| Checkered | Polka dot | Chevron |
Adding contrast and personality by combining different patterns and textures expresses your style in the bedroom with a customized, handmade duvet cover. Pattern mixing allows you to showcase your creativity. Changing up your bedding look anytime gives you a fresh start to your day.
Benefits of Using a Duvet Cover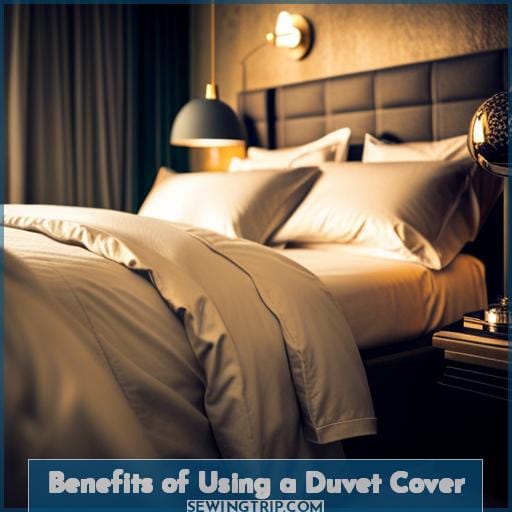 Let's get cozy! Using a duvet cover provides some wonderful benefits that will make your bed the comfiest spot in your home. With a duvet cover, you'll find it's super easy to keep your bedding fresh, since the cover is removable and machine washable.
Plus, you can switch up the style anytime by finding fun, new designs that reflect your personality or the seasons.
Easy maintenance and cleaning
Let's get real, using a duvet cover protects your comforter from stains so you can easily toss it in the wash.
Machine washable and durable.
Easily remove dirt, oil, and pet hair.
Refresh the duvet with dry cleaning or steaming.
Use a lint roller on fabric pills between washes.
Change up your duvet cover when you need a quick room refresh. The ease of washing keeps your bedding looking its best.
Versatility in design
A duvet cover made from sheets allows you to easily customize your bedding and change up the look anytime with a fun new pattern or color for only the cost of sheets, which frequently go on sale. With a duvet cover made from sheets, you can update your bedroom as often as desired.
Simply utilize coordinating or contrasting flat sheets and pillowcases to swiftly fashion a fresh new bedding appearance.
Protection for your comforter
Safeguard your comforter from wear and tear by using a protective layer. 1) Extend the lifespan of your comforter with a duvet cover. 2) Shield against spills, stains, and dirt for easy cleaning. 3) Change up your bedroom decor with seasonal bedding options.
Follow for More DIY Ideas and Tips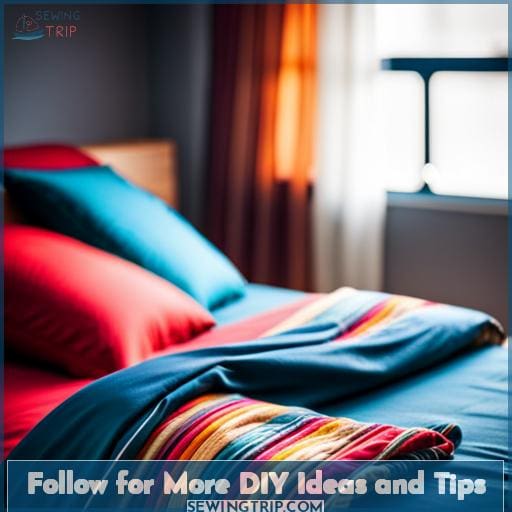 Looking for more DIY inspiration and tips to enhance your home decor? Look no further! Follow along for a plethora of creative projects, crafting tips, and DIY decor ideas that'll bring out the interior designer in you.
Whether you're looking to revamp your bedroom with a homemade duvet cover or add personalized touches throughout your space, we've got you covered. Discover how to transform ordinary sheets into stylish duvet covers or explore other fun projects that'll elevate the look and feel of every room in your home.
Get ready to unleash your creativity and embark on an exciting journey of home improvement with our expert guidance!
Conclusion
Creating your own duvet cover is like painting a masterpiece. You can easily make your own custom duvet cover with the right measurements, sheet size, and sewing skill. All you need is two flat sheets, a sewing machine, and some basic sewing supplies.
Follow the steps outlined above and you'll have a beautiful and stylish DIY duvet cover in no time. Whether you're creating a duvet cover from a sheet or narrow fabric, the process is surprisingly easy.
With a few simple steps, you can easily make a duvet cover that will both look and feel amazing.
So take the plunge and try your hand at making your own duvet cover. You'll be surprised at just how easy it is and the sense of accomplishment you feel when you're finished.