This site is supported by our readers. We may earn a commission, at no cost to you, if you purchase through links.
You're ready to fully embrace your crafty side with the Brother PE525 Embroidery Machine. This user-friendly device opens up a world of customization that'll have you creating unique gifts and decor in no time.
Though it's designed with beginners in mind, this versatile machine packs impressive capabilities like importing designs and threading multiple needles – all at an affordable price point.
The PE525's intuitive layout and handy LCD touch screen display effortlessly guide you through each step of the embroidery process. With 80 built-in designs and six lettering fonts to start, you'll never run out of creative projects.
This lightweight workhorse even lets you adjust and edit patterns on the screen before stitching. As you gain confidence, it grows with you, handling delicate fabrics as easily as everyday cotton.
Say goodbye to embroidery intimidation and unleash your inner artisan with the PE525.
Key Takeaways
Compact and lightweight embroidery machine designed for beginners.
70 built-in designs and 120 frame pattern combinations.
USB port for importing designs from iBroidery.com.
LCD touchscreen with tutorials for editing designs.
Who is the Brother PE525 Embroidery Machine For?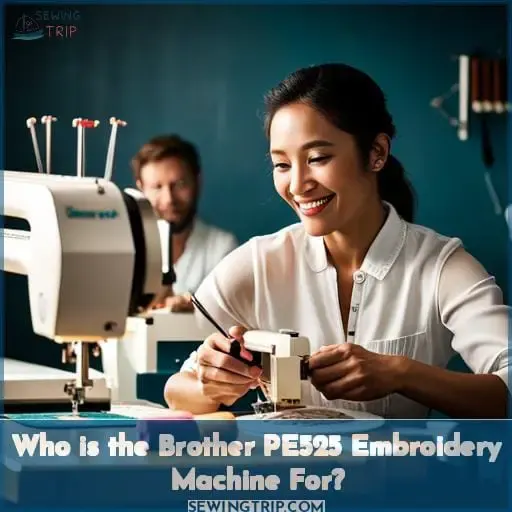 With this little embroiderer, you can't help but turn into Martha Stewart overnight, darlin'! The compact Brother PE525 embroidery machine is ideal for beginners looking to explore their creative side.
It has 70 built-in designs and a USB port to import more from sites like iBroidery.
The backlit LCD touchscreen walks you through editing and combining designs, while the included tutorials get you up and running.
Though the 4 x 4 inch hoop limits your project size possibilities, this entry-level machine lets you dip your toes into embroidery without a huge investment.
You can make personalized gifts, embellish ready-made items, and unleash your inner crafter without breaking the bank.
While advanced users may want more, the PE525's ease of use, pre-installed designs, and clever features make embroidery fun and approachable for total beginners.
Performance of the Brother PE525 Embroidery Machine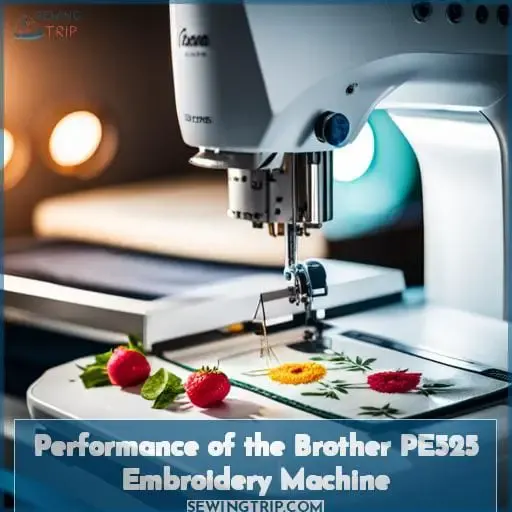 You'll find that the Brother PE525 runs reliably once you get it set up correctly. This little workhorse can handle your starter embroidery tasks with its 70 built-in designs and 120 frame pattern combinations.
While the maximum hoop size is limited to 4 x 4 inches, the machine offers a variety of preloaded floral, alphabet, and border designs, allowing for versatility in personalizing fabric and readymade items.
Users have mentioned tension inconsistencies out of the box, but proper threading and bobbin winding can help optimize settings for smooth performance. With a maximum speed of 400 stitches per minute, this entry-level machine is capable of handling embroidery projects for beginners without advanced skills.
Although the manual could benefit from being in color, the backlit LCD provides helpful on-screen tutorials for learning design editing features and getting up to speed. The PE525 offers an affordable way to explore machine embroidery, delivering ease of use and enough built-in pattern diversity to unleash your creativity.
User-friendliness and Portability

Its compact size makes the PE525 a user-friendly, portable embroidery machine that you can easily transport. Weighing just 10 pounds, this lightweight model has a built-in carrying handle, allowing you to take it along in its included soft cover anywhere your crafting inspiration strikes.
Despite its small footprint, the PE525 delivers big functionality with 70 built-in designs and 120 frame pattern combinations right out of the box. You can explore floral, alphabet, border, and other motifs to embellish fabric, readymade items, and more without being confined to a desktop.
An intuitive LCD interface with on-screen tutorials guides you through selecting and editing designs, adjusting settings, and navigating features. With simplified controls, automatic thread trimming, and an advanced needle threader to speed up setup, the PE525 allows beginners to get started with embroidery faster.
While the maximum 4 x 4-inch hoop limits project size possibilities, the PE525's variety of preloaded designs provides ample options for starter embroidery, all in a portable package.
Number of Patterns Included With the Machine

Explore over 70 built-in designs right out of the box with this embroidery machine! The PE525 comes preloaded with a variety of embroidery motifs to help you get started.
Floral designs like roses, daisies, and more
Alphabet designs in upper and lower case
10 frame designs to embellish quilts
20 decorative border designs
Additional designs like animals, seasonal, and kids' motifs
While the built-in selection provides ample options for beginning embroiderers, more advanced users may want to import their own designs via USB connectivity. With 70 built-in motifs, 120 frame pattern combinations, and 5 lettering fonts, the affordable PE525 allows you to explore machine embroidery without investing in a high-end combo machine.
Its varied selection of preloaded designs offers versatility for embellishing projects.
Pros of the Brother PE525 Embroidery Machine

The Brother PE525 makes your embroidery dreams come true with ease of use and reliable performance. This user-friendly machine boasts a compact 4×4 embroidery area, perfect for starter projects. With 120 frame pattern combinations and 70 built-in designs, including floral, alphabet, seasonal, and kids' motifs, you'll have ample options to embellish fabrics.
The intuitive LCD touchscreen simplifies editing designs with features like combining patterns and rotating them by 1, 10, or 90 degrees. Users praise the PE525 for being a cinch to set up, use, and produce quality results, even for beginners.
Its versatility and simplicity liberate your creativity. So, embark on your embroidery journey with this capable companion by your side.
| Feature | Benefit |
| --- | --- |
| 70 built-in designs | Versatility to embroider diverse projects |
| 120 frame pattern combinations | Customize motifs |
| Rotate patterns | Easily edit designs |
Cons of the Brother PE525 Embroidery Machine

Fraid your dreams ain't comin' true with this pint-sized machine, hun. The PE525's tiny 4×4 inch embroidery area severely limits your creative prospects. Forget stitching any designs over 4 inches, forcing manual repositioning of larger projects.
And without built-in sewing features, you can't even piece fabrics or add decorative stitches. Quality issues like skipped stitches, loose tensions, and thread breaks also require frustrating troubleshooting and manual interventions.
The lackluster black-and-white manual offers little help, lacking photos, tutorials, and color-coding.
With no included software, you'll pay extra to import designs. With bigger budget machines boasting multi-hoop capabilities, sewing functions, and sufficient workspace, this PE525 leaves much to be desired.
But for dipping a toe into embroidery without diving in head-first, it gets the job done on starter projects for the price.
Warranty and Customer Recommendations for the Brother PE525 Embroidery Machine

Well don'tcha worry sweetpea, Brother backs this li'l embroidery baby with a mighty fine 25-year limited warranty, so you're covered if any pesky issues pop up down the line.
The PE525 comes with a few bonuses to make your stitchin' life easier:
Backlit LCD touchscreen provides easy navigation and machine controls.
Advanced needle threader saves time and frustration threading the needle.
Quick-set bobbin for speedy bobbin changes.
Auto thread trimmer snips both top and bobbin threads with one touch.
Even with its petite hoop size, this machine delivers quality embroidery results for the price. The 70 built-in designs offer creative versatility for craftin' up starter projects with pro-level flourish.
And connecting to the computer opens up a world of downloadable designs from sites like iBroidery.
Consider movin' up to the PE800 or SE600 for more embroidery real estate and sewing capabilities down the road. But for dipping your toes into machine embroidery without soakin' your budget, the PE525 is a reliable way to start stichin' up some standout creations.
Frequently Asked Questions (FAQs)
What accessories are included with the Brother PE525 embroidery machine?
The Brother PE525 comes with everything you need to start embroidering – except the fabric and thread. This entry-level machine includes 4 embroidery hoops, 3 bobbins, a needle set, an embroidery arm, scissors, tweezers, spool caps, a spool net, a touch pen, a USB cable, and an instruction manual.
You'll have to supply your own fabric and thread to make use of the included designs.
Can I upgrade the embroidery field size on the PE525?
Unfortunately, the 4 x 4-inch embroidery field on the Brother PE525 cannot be upgraded or expanded. This starter machine is designed for simplicity and affordability, so the small hoop size is one trade-off.
Consider other Brother models like the PE770 or PE800 if you need a larger embroidery area in the future.
Does the machine alert you when the bobbin thread is low?
Unfortunately, the Brother PE525 does not have an alert to notify you when the bobbin thread is running low. This can lead to the machine suddenly stopping mid-design when the bobbin runs out completely.
To avoid this, it's best to periodically check the bobbin and replace it once it starts getting low. Staying on top of bobbin monitoring will help prevent frustration and embroidery mistakes.
Can I import designs from an external USB flash drive?
Yes, you can import embroidery designs from a USB flash drive to the Brother PE Simply insert the USB drive containing.pes, .phc, or.dst file formats into the USB port on the machine. Then, access the built-in import function on the LCD screen to browse files and select designs to upload.
This convenient feature expands your design options beyond just the built-in selections.
Is there an extension table available for the PE525?
Conclusion
You've weighed the key attributes of the beginner-friendly PE525. While it won't satisfy experts, this little embroidery machine gives hobbyists an affordable way to start stitching creative designs. Its streamlined operation and pre-loaded patterns overcome the learning curve for newbies.
Compact and portable, the PE525 embroiders reliably if you're seeking hassle-free embellishment. Consider stepping up to enhanced Brother models if you desire larger projects, but overall the PE525 delivers on simplicity and price.