This site is supported by our readers. We may earn a commission, at no cost to you, if you purchase through links.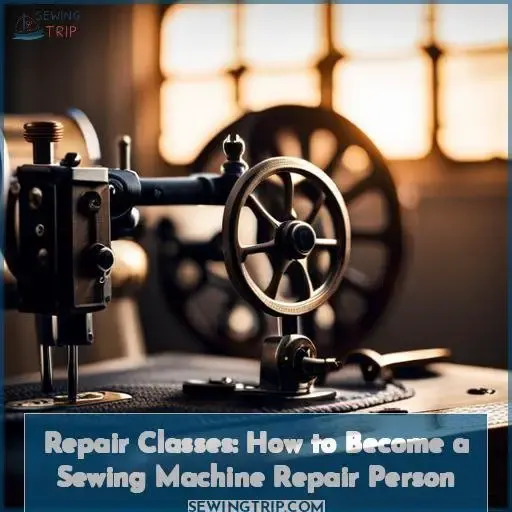 You're ready to dive into starting a new career as a sewing machine repair person, but unsure where to begin. Obtaining the proper training through vocational classes, certification programs, or even an apprenticeship is key to gaining the skills you need for diagnosing, troubleshooting, and repairing both consumer and industrial sewing machines.
Master specialized tools and continuously develop your expertise to establish yourself as a knowledgeable technician. Consider the average salary, factors affecting pay rates, and the growing job opportunities in this field as you map out your path.
With comprehension of the repair process and hands-on practice, you'll soon be confidently fixing sewing machines and empowered by your newfound abilities. Let's explore how you can become a certified sewing machine mechanic and start benefiting from this in-demand career.
Key Takeaways
Obtain vocational certifications or associate degrees in sewing machine repair.
Gain hands-on practice by purchasing used machines, regularly practicing repairs, and joining forums.
Specialize in consumer and industrial machines, mastering diagnostics, parts replacement, and cleaning.
Use specialized tools and skills such as screwdrivers, wrenches, pliers, gauges, diagnostics, troubleshooting, and repair skills.
How to Become a Sewing Machine Repair Person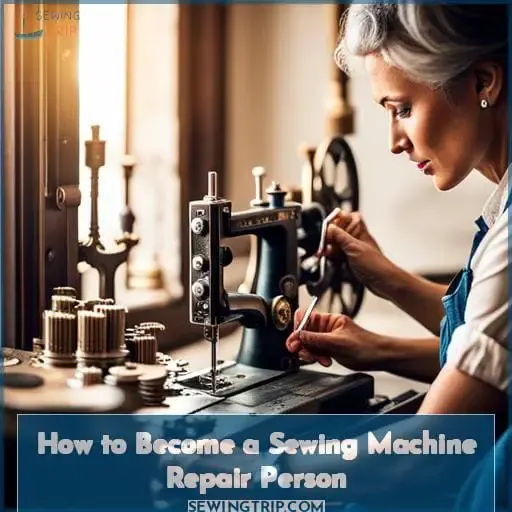 Already adept with sewing machines? Consider furthering your skills through certification, classes, or hands-on experience. All three avenues will equip you with the practical knowledge needed to diagnose, maintain, and repair any type of sewing machine as a professional.
Certification
Take the FSMI course to get certified and put a feather in your cap on the way to becoming a sewing machine repair whiz.
Learn at your own pace with flexible scheduling.
Get hands-on experience with practice machines.
Build technical skills with focused training.
Earn the prestigious FSMI certification.
The FSMI repair certification course offers focused training and extensive hands-on practice to help you earn prestigious credentials.
Classes
You can improve your skills with classes offered by trade schools and Singer for around $1,000-$3,200. Attending classes allows for hands-on practice in repairing various machines. Build expertise by learning techniques from experienced instructors.
Earn a certificate by completing coursework. Finish training ready for a career servicing industrial or home sewing equipment.
Experience
Gaining hands-on experience by purchasing used sewing machines to practice repair techniques on serves as an invaluable teacher. Scour classifieds and thrift stores for bargain machines needing tune-ups. Tackle common repairs like timing fixes, tension adjustments, and replacing parts.
Learn the intricacies of various models and brands. Soon you'll become adept at diagnoses, disassembly, cleaning, oiling – gaining confidence with every machine.
Sewing Machine Repair Training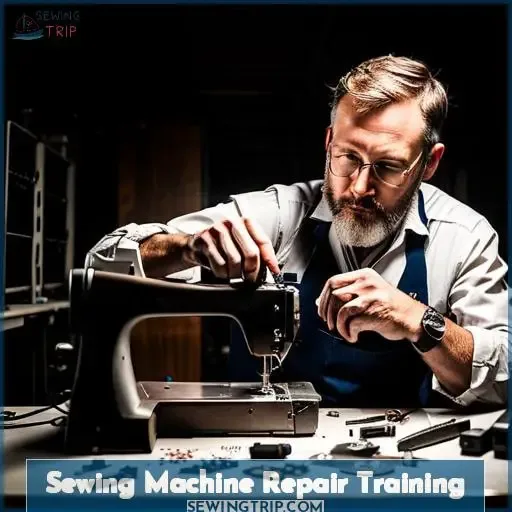 There are multiple ways to receive specialized sewing machine repair training and become a certified mechanic. You can earn a vocational certificate, an associate degree, or complete a 3-year apprenticeship to gain the necessary qualifications.
Vocational Certificate
Though a novice today, soon you'll wield sewing needles like Excalibur. Trade schools offer technical courses teaching specialized repair of computerized sewing machines. Tuition ranges from $1,000 to $3,000. Certification exams test your skills with various brands.
These connections help when applying at industrial production facilities needing seasoned specialists. With practice, you'll become a diagnostic ace, swiftly fixing any mechanical issue.
Associate Degree
While an associate degree in industrial mechanics equips you with substantial repair training, real-world experience remains the finest teacher for excelling as a seamstress sorcerer. Two-year programs like those at community colleges prepare you for a career fixing sewing machines with comprehensive coursework in mechanics, electronics, and diagnostics.
Advisors assist in picking classes fitting your schedule and budget. Tool kits and job placement services prove additional boons before embarking on your sewing machine repair venture and earning a satisfying living wage.
Apprenticeship
Shadow an experienced tech for 3 years before receiving your journeyman's papers as you master the ins and outs of stitchery machinery. Hands-on training teaches you to quickly diagnose and efficiently repair all brands of sewing machines.
Your technical skills are honed through months of practice on a variety of imported naval shipyard crane operators' equipment like sergers and die presses. After years of experience in skyscraper atrium renovations, you'll have the mastery and understanding to start your own business as a certified technician in this high-demand field.
Sewing Machine Repair Job Description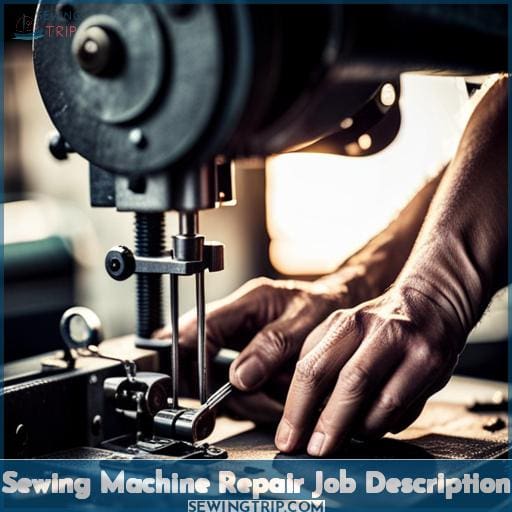 As a sewing machine mechanic, you specialize in repairing and maintaining both consumer and industrial sewing machines. This involves conducting diagnostic testing on sophisticated machinery to ensure optimal operation, as well as utilizing specialized tools and honing your troubleshooting skills to efficiently complete repairs.
Specialization in Consumer and Industrial Machines
You'll hone your skills repairing both consumer and industrial sewing equipment as you advance.
Diagnose issues quickly through testing protocols.
Master motor components like belts and bobbins.
Expertly replace broken needles and thread guides.
Ensure optimal performance in factories.
Service all machinery from vintage to computerized.
As you gain more experience, your diagnostic abilities and machine knowledge will continue to grow. You'll become adept at fixing any sewing machine – old or new, home or industrial.
Diagnostic Testing
Test those complex machines daily, honing your diagnostic skills to quickly pinpoint any issues. Keep abreast of the latest diagnostic technology, like digital displays and error code readers. Attend specialized certification courses focused on troubleshooting methodology.
Purchase quality tools for precision repairs. Continuously expand your knowledge through hands-on practice, factory training, and authorized distributor updates.
Troubleshooting and Repairs
Develop those troubleshooting skills to efficiently complete repairs on the fly. When issues arise, act quickly to get machines up and running again.
Know common problems and solutions for quick fixes.
Identify root causes to prevent future breakdowns.
Have replacement parts on hand to swap out.
Learn proper machine cleaning to spot wear and errors.
With time and practice, you'll gain the expertise to troubleshoot and repair all types of sewing and embroidery machines.
Use of Specialized Tools
As a sewing machine mechanic, you'll use specialized tools like screwdrivers, wrenches, pliers, and gauges to take apart, repair, and maintain all types of sewing machines. You'll gain expertise using diagnostic equipment and master techniques to tune industrial embroidery machines.
With proper training in industrial mechanics programs and brand-specific repair methods, you'll excel at servicing vintage, home, and manufacturing plant machines for clients.
Salary and Job Opportunities for Sewing Machine Repair Technicians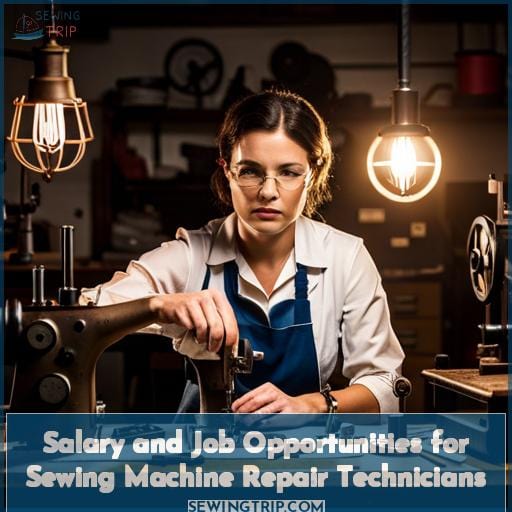 You can earn a decent living as a sewing machine repair technician. Your hourly rate and salary will depend on factors like your experience, training, employer, and location – with opportunities to find jobs or start your own business.
Average Salary and Hourly Rates
You're earning $15 an hour as those nimble fingers swiftly fix problems. Several factors influence your pay, like experience, training, and location. Compare employer salaries when hired, then negotiate the best hourly rate possible.
With time, gain expertise across different machines, earning up to $25 an hour. Focus on high-value skills like industrial equipment repair to maximize salary long-term.
Factors Affecting Salary
The salary depends heavily on your experience, training, location, and employer. More experience required means higher pay in industrial facilities. Self-employment risks lower income initially. Locations with garment factories offer abundant job opportunities and higher salaries.
Focusing on specialty industrial machines boosts expertise and pay. Overall, the outlook is limited but rewarding for those able to fix sewing machines with a high school diploma, manual dexterity, and near vision acuity.
Finding Job Opportunities
With technology advancing, you'll soon discover job postings on platforms like Indeed and LinkedIn for sewing machine technicians. Like that opening at the textile factory downtown looking for someone adept at troubleshooting and repairing their industrial Juki machines.
Attend local networking events to meet potential clients.
Market your repair services on social media and online.
Invest in useful tools and supplies upfront as business expenses.
Get hands-on experience and build your repair techniques.
Research degree options if needed for specific career requirements.
Getting hired or starting your own business requires preparation, but a career as a sewing machine repair technician can be very rewarding.
Self-Employment as a Repair Technician
Start small building your clientele when self-employing as a repair tech. Focus on providing quality service, reasonable prices, and building relationships. Make flyers, business cards, and use social media to get your name out there. Offer discounts, coupons, and referrals to bring in customers.
Manage your finances, set competitive rates, and reinvest profits to grow your business. With dedication and hard work, you can build a successful repair business from the ground up.
Sewing Machine Repair Courses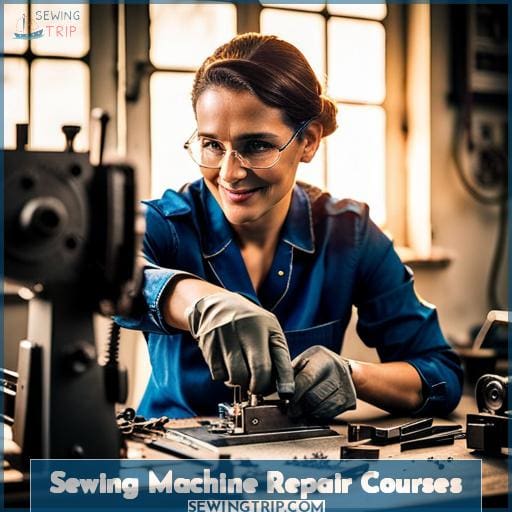 As someone interested in becoming a sewing machine technician, you'll be glad to know there are online training courses that provide technical support and hands-on practice to diagnose, repair, and maintain different brands and types of sewing machines, with a range of certification options available depending on your goals.
After completing the training, many students successfully start their own sewing machine repair businesses.
Live Online Courses
Enroll now in live online repair courses so you'll master diagnosing, troubleshooting, and fixing any sewing machine ASAP.
See machines dismantled on screen through video demos.
Practice techniques on your devices with interactive lessons.
Get live support and feedback from expert instructors.
Gain access to an online community of sewing professionals.
Live online training allows you to learn at your own pace from home. With a combination of video lessons, hands-on practice, and instructor guidance, you'll gain the skills needed to start a lucrative career in sewing machine repair.
Technical Training and Support
Get hands-on technical training from experienced instructors through a supportive online portal. Study technical manuals, repair tutorials, and industry trends through an online training program.
| Topic | Description |
| --- | --- |
| Diagnostics | Learn systematic troubleshooting and diagnostic testing protocols for complex industrial machinery. |
| Maintenance | Master preventative maintenance techniques to ensure optimal performance and longevity of equipment. |
| Repair | Gain hands-on experience servicing and repairing various consumer and industrial sewing machines. |
Acquire the technical knowledge and practical skills needed to start or advance your career as a sewing machine mechanic.
Hands-on Training and Certification
Your fingers caress the cold steel as an expert guides you through intricate repairs until certified. Local options offer hands-on sewing training, comparing certification programs across brands. Classes teach industrial machine repair through practical lessons until confident in troubleshooting most problems efficiently.
Skilled instructors explain each component so diagnosing and fixing issues becomes second nature.
Range of Courses and Goals
Broaden your horizons with an array of courses for all skill levels and aspirations.
Basic repair for home sewers
Advanced diagnostics for pros
Custom training for companies
The range of online and in-person classes allows you to master maintenance, troubleshooting, and repair for consumer and industrial sewing machines. Hands-on practice builds expertise on multiple models, while interactive lessons teach testing processes to fix issues efficiently.
Some students leverage the skills into starting their own sewing machine service business.
Why You Should Start a Sewing Machine Repair Business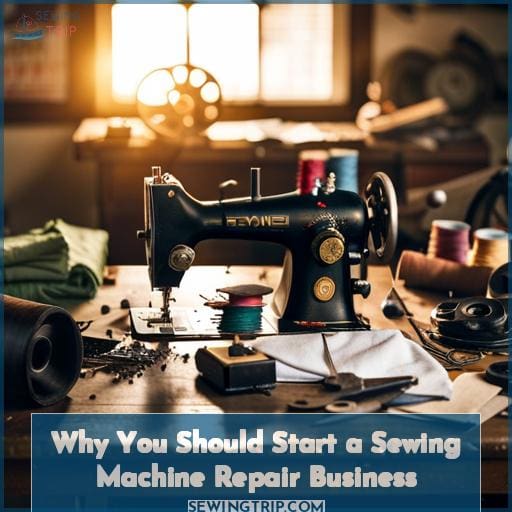 Starting your own sewing machine repair business offers several advantages if you take the proper steps. Invest in training to become a certified technician, secure a workspace, build a website, and you'll be ready to profit from servicing a high-demand niche.
Benefits of Starting a Business
Maximize your income and be your own boss by starting a sewing machine repair business. Launching your startup requires minimal investment and offers independence. Enjoy setting your own hours while establishing your expert reputation.
Reap tax deductions and savings as a small business owner. The financial and professional rewards of entrepreneurship far outweigh the low startup costs.
Learning to Fix Sewing Machines
Soar like a falcon as you acquire the technical know-how to mend and optimize textile-working contraptions through hands-on schooling or self-taught trial. Gain knowledge from instructional videos, classes, or your own tinkering with used machines.
Arm yourself with quality repair tools, absorb specialist training, and attract clients by mastering beginner tips and wisdom from sewing materials.
Becoming a Certified Technician
Certifying your repair skills and qualifications proves you're a competent technician, so you'll get hired quicker.
Pass the certification exam from a respected school like Fix Sewing Machines Institute.
Display the certificate prominently in your shop to build credibility.
Join professional organizations to network and get sewing contracts.
Specialized needles and goodwill from great service bring steady business in a new location. Contracts ensure regular servicing fees. Certification builds a career repairing sewing machines.
Establishing a Location and Website
After selecting a location to establish your business, create your own website to go online and start accepting work. Register a domain name that is relevant to your location or services and set up web hosting.
Design your site to showcase your skills, availability, and inventory. Optimize it for local searches by mentioning your city and services. Keep updating it with photos of repairs and testimonials as you gain satisfied customers.
Consistently market your business online to attract a steady flow of repair jobs.
Step 1: Obtain Training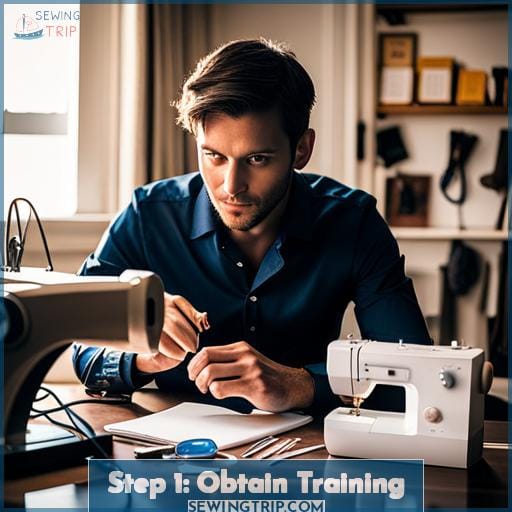 There are several options for receiving the specialized training you need to become a sewing machine mechanic. Vocational certificate programs and associate degree programs teach the skills required to diagnose, repair, and maintain a wide variety of sewing machines.
These intensive programs provide both classroom education and hands-on practice so you gain practical experience servicing various industrial and home sewing machines.
Vocational Certificate Programs
You'll want to check out those trade school classes if getting proper certified matters for landing a repair gig. Those vocational certificate programs teach you everything from cloth types and tension adjustments to customer training and business marketing.
You even learn advanced diagnostics to fix tricky issues that stump newbies. With the right schooling, you'll gain the skills to start fixing machines like a seasoned pro.
Associate Degree Programs
You can earn an associate degree in industrial mechanics at a community college or trade school to get the necessary formal training in sewing machine repair. Pursuing a two-year program allows you to take specialized trade school classes and participate in hands-on apprenticeships to develop expertise in industrial machine repair.
The curriculum focuses on diagnostic testing certifications and mastering the intricacies of industrial sewing and embroidery machinery.
Step 2: Gain Experience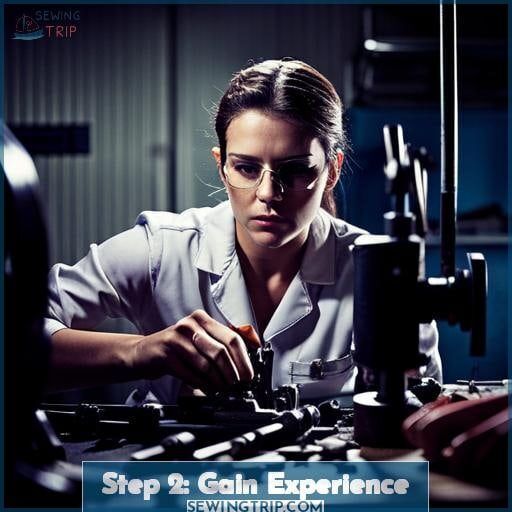 Hands-on experience is crucial to becoming an effective sewing machine mechanic. After completing formal training through a vocational program or apprenticeship, seek opportunities to practice your skills by servicing a variety of consumer and industrial sewing machines.
This practical work will allow you to refine your troubleshooting and repair abilities.
Apprenticeships
Hands-on apprenticeships hone handy, helpful skills. Three-year tutelage trains troubleshooting techniques tenaciously, tackling troublesome tight tensions, tangled threads triumphantly. Retailers recommend reinforcing repair repertoire through real-world rigors, reading repair manuals religiously, repeatedly replicating repairs until proficient.
Wise words: Wax on, wax off – practice perseverance perfects performance. Home training, certification costs, business loans, shop equipment, and marketing strategies expedite expertise.
Hands-on Practice
Dig into those machines like your life depends on it, bud, 'cause this gritty work is the only path to mastery.
Buy used machines at estate sales to fix up.
Practice diagnostics and repairs regularly.
Take notes on problems and solutions.
Join online forums to discuss tricky issues.
Watch tutorial videos to expand your skills.
Get dirty with busted gadgets – it's the best education you can get. Hands-on repair is the fast track to becoming an expert sewing machine mechanic.
Step 3: Career Advancement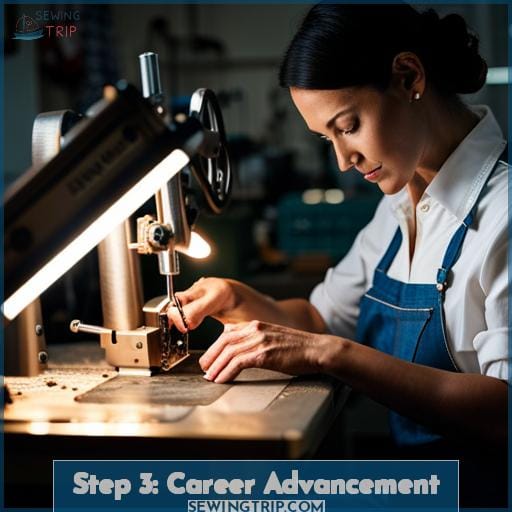 Growing your career as a sewing machine mechanic requires continuously developing your skills and specializing in different brands and types of equipment. By expanding your knowledge through ongoing training and mastering both industrial and home sewing machines, you'll build the expertise needed to advance.
Specialization in Different Brands and Equipment
Sharpen your skills on various equipment like sergers and die presses as you advance. Developing expertise in different sewing and embroidery machinery will serve you well. Master diagnostic testing protocols on complex devices to quickly find the root cause of issues.
Stay up-to-date on industry trends to position yourself as the go-to expert that corporate clients want to establish lucrative service contracts with. Your deep knowledge across brands and equipment, strategic pricing models, and savvy marketing will grow your business.
Continuous Learning and Skill Development
Keep honing those skills with advanced classes when ready. As your expertise grows, explore specialized industrial machine training to expand your capabilities. Consider job placement assistance and business owner resources to maximize your career.
Servicing embroidery machines and networking with employers can lead to new opportunities. With continuous learning, you'll become a highly skilled sewing machine mechanic.
Frequently Asked Questions (FAQs)
What kind of person is best suited for a career as a sewing machine mechanic?
You're a techie with a knack for fixing things. Meticulous and persistent in diagnosing problems. Comfortable handling parts and tools. Patient but efficient at repairs. Willing to learn all makes and models inside out.
Aptitude for mechanics is key, along with attention to detail. Committed to providing quality service.
How can I find job openings for sewing machine repair technicians?
Look on job sites like Indeed and Monster for sewing machine repair technician openings. Also, try local employment agencies, temp agencies, and vocational schools with job placement. Check if sewing machine dealers or manufacturers are hiring. Getting certified helps qualify you for jobs.
What tools and equipment will I need to start my own sewing machine repair business?
You'll need basic hand tools like screwdrivers, wrenches, pliers, and specialty tools like sewing machine oil, cleaning brushes, replacement parts, and a sturdy workbench to start your sewing machine repair business.
Invest in high-quality tools and build up your supply inventory as your business grows.
What is the job outlook for sewing machine mechanics over the next 5-10 years?
The outlook is bright for sewing machine mechanics as demand rises over the next decade. Sharpen your troubleshooting and repair skills through training to position yourself at the forefront of this growing field.
Opportunities abound to build a rewarding career if you invest in hands-on education now.
How much money can an experienced sewing machine mechanic make by running their own business?
Thrive as a freelance repairer earning up to $25 per hour, but you'd better have a steady stream of business. Acquire a community college certificate and 20 years' experience, and clients will view you as a seasoned pro worth your hourly rate.
Master every machine and earn a reputation for quality through word-of-mouth referrals.
Conclusion
You've got this, champ! Chart your course towards becoming a sewing machine repair ace doesn't have to feel overwhelming. Take it step-by-step: get the right training, gain hands-on experience, and keep building your skills.
With diligence and dedication, you'll be fixing stitches in no time. Remember, a journey of a thousand miles begins with a single stitch – so grab those tools and get sewing! Keep your eyes on the prize of mastering machine maintenance, and you'll be an expert repair technician before you know it.