This site is supported by our readers. We may earn a commission, at no cost to you, if you purchase through links.
Surprise and delight your friends with a handmade pop up card! According to recent statistics, almost 90% of people prefer receiving personalized cards over store-bought ones. With the right materials and instructions, crafting an impressive pop up card is easier than you think.
Whether it's for birthdays or Christmas, we'll show you how to make beautiful custom cards that will bring joy to all those who receive them.
Key Takeaways
90% of people prefer handmade pop-up cards.
Basic supplies for pop-up cards include cardstock, glue, scissors, and art materials.
Step-by-step instructions are available online for creating pop-up cards for beginners.
Tips for choosing quality cardstock and mastering folding techniques help achieve precision.
Pop Up Card Instructions

Looking to make an impressive pop-up card that delights its recipient? Gather basic supplies like cardstock, scissors, glue, and art materials, then follow simple folding techniques to create the card base, tabs, pop-up element, and decorative cover for a fun handmade card.
Materials
You'll want to start by gathering some colorful cardstock and a reliable glue stick to bring your pop-up visions to life.
Colored cardstock (construction paper works too)
Reliable glue stick
Scissors
Your chosen pop-up art or decorative paper
Blank cardstock for the cover
With just these basic supplies, you'll have everything you need to start folding and assembling your very own pop-up card creations. Focusing on quality materials will ensure your designs hold up and can be cherished.
Step-by-step Directions
Creative ones, sneak those tabs inward and fold them firmly as the card's secret surprise takes shape through your careful hands. With precision, make diagonal cuts for dynamic dimension. Thoughtfully position figures for a lively scene when the card opens.
Mind the glue – apply just enough to hold; too much oozes messily. Lovingly lick envelopes sealed with secret pop-up wishes.
Easy Pop Up Card Tutorial With Photos

Grab your cardstock, scissors, glue, and get ready to make magic happen. We'll walk through simple techniques to create pop-ups that delight. Folding and cutting the cardstock transforms flat paper into 3D sculptures that pop right off the page.
Follow along with the step-by-step photos to make basic shapes like boxes, triangles, and accordion folds. Experiment with different designs as you gain confidence. Don't worry about mistakes – part of the fun is learning through trial and error.
With practice, you'll be designing intricate pop-up birthday cards, holiday scenes, and imaginative landscapes. Let the photos guide you from pop-up apprentice to master paper engineer. Impress your friends with pop-up greeting cards full of color, texture and depth.
Previously we discussed general instructions for making pop-up cards. Now let's dive into an easy pop-up card tutorial with photos for beginners.
Pop Up Card Ideas for Different Occasions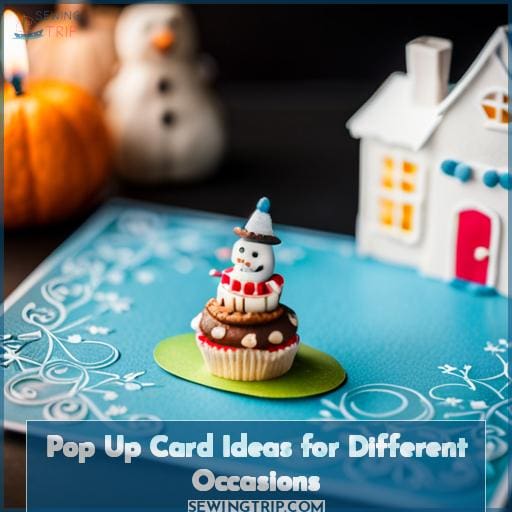 There are many creative ways to design pop up cards for different occasions that will delight the recipient. For a birthday, make a cake or present pop up; for Valentine's Day, create a heart; for Easter, try a bunny or egg pop up; and a Christmas tree card is perfect for the holidays.
With a bit of practice in paper engineering, you can design impressive pop up cards for any special event that will really pop and make someone's day extra festive.
Birthday Pop Up Card
Having someone special in your life is worthy of a memorable birthday surprise. Surprise them with a creative pop-up birthday card:
Utilize folds and tabs to make figures pop out.
Incorporate layered shapes and textures for a 3D effect.
Craft clever pop-up elements related to their hobbies or interests.
Handmade pop-up birthday cards showcase your thoughtfulness through intricate designs. With practice, you'll impress loved ones with crafty paper engineering and delightful DIY birthday greetings.
Valentine's Pop Up Card
Make your sweetheart swoon with a handcrafted pop-up Valentine card!
| Theme | Style |
| --- | --- |
| Heart shaped pop-up | Cut a heart shape, make slits to form tabs, attach to base |
| Layered hearts | Stack hearts of various sizes with tabs |
| Pop-up flowers | Attach flower shapes to tabs popping out of the card |
| Photo heart pop-up | Cut around photos into a heart shape, attach to tabs |
| Pop-up animals/characters | Print or draw, make slits to attach as tabs |
Create an unforgettable handmade Valentine's Day card this year with creative pop-up designs.
Easter Pop Up Card
You can craft a delightful Easter pop-up card to surprise loved ones using creative designs. Look for festive Easter pop-up templates with baby chicks, bunnies, eggs, and spring flowers. Use bright pastels or spring colors for cardstock. Incorporate sparkles, pom-poms, or stickers for added whimsy.
Christmas Tree Pop Up Card
For your holiday greetings, craft a festive Christmas tree pop-up card. Add charming dimension by cutting and folding green construction paper into a 3D pine tree. Glue folded tabs to the card base. Adorn with glittery pom-poms or sequins for ornaments.
Finish with a gold paper star topper. This simple yet delightful handmade card sparks joy for the season. Kids will adore creating pop-up Christmas magic to gift their parents and grandparents.
Creative Pop Up Card Designs for Kids

You'll want to get creative when designing pop-up cards for kids! Select themes that appeal to their interests, like animals, outer space, princesses, superheroes, or seasonal favorites. Focus on simple yet eye-catching pop-up structures that are easy for little hands to construct.
Try making pop-up cupcakes, popping animals, or characters popping out of boxes. Let kids use their imagination to design the artwork. They'll have a blast crafting homemade pop-up cards to give as gifts for birthdays, holidays, or other occasions.
The delight of creating handmade cards and seeing the designs come to life will spark their creativity. Capture photos of their pop-up art to share the whimsy on social media or inspire other DIY families.
Step-by-step Guide to Making a Pop Up Card

Gently folding the tabs inward creates dimension for your homemade pop up card. Start with quality cardstock and use printable pop up templates for inspiration. Trace or draw your design onto cardstock, cut it out, and make small slits to form tabs.
Take care when handling scissors and fold tabs inward at 90 degree angles. Apply glue to the backside of your pop art and press onto the tabs. Let dry completely before attaching your card front and back together with glue.
Following step-by-step directions, even beginners can create impressive pop up greeting cards for mother's day or any occasion.
Fun and Cute Pop Up Card Ideas for Teenagers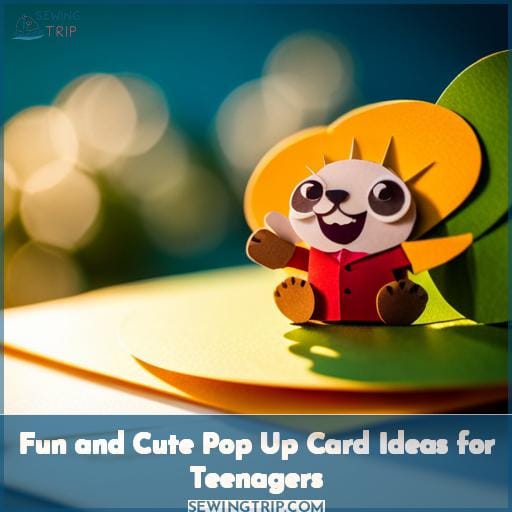 So how about making a fun unicorn pop-up card with glitter and rainbows to delight a teenage girl? This pop-up card folds up to reveal a colorful 3D unicorn scene that sparkles with glitter and pops out with a rainbow backdrop.
Surprise them with a pop-up birthday cake card with 3D candles that can be folded down.
Make a smartphone pop-up card that opens to show cool apps and games.
Design a pop-up flower bouquet card with velvety petals that pop open.
Create a pop-up animal card with a 3D dog or cat that jumps out when opened.
The key is picking fun concepts that appeal to teenage interests and aesthetics. With some creativity, you can make delightful DIY pop-up cards with themes from music to movies, emojis, pets, treats, and more to excite a teen.
Customize your pop-up card with vibrant colors, glitter, sequins, and other embellishments for maximum impact.
How to Make a Welcome to Your New Home Pop Up Card

Moving into a new place is such an exciting time! Make your housewarming extra special by creating a fun pop up card to greet guests. Start with a simple foldable card base and add creative touches like 3D boxes that open to reveal rooms of the house, stairs that lift up when the card opens, or a front doorway that pops out.
Use paper, glue, scissors, and other basic supplies to bring the design to life. Add a heartfelt message welcoming them to your new home and inviting them to make memories. This thoughtful DIY card is sure to delight and make any visitor feel right at home.
Little personal details like a mini pop up of their favorite room or area will make it extra meaningful.
Tips and Tricks for Making Impressive Pop Up Cards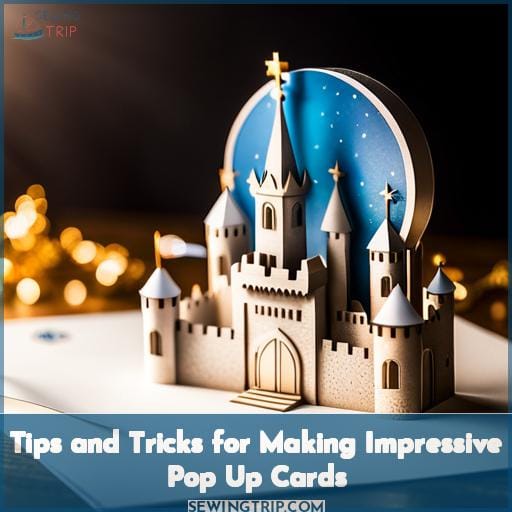 When crafting your own beginner pop-up card, start with the basics. Choose colorful cardstock paper and child-friendly glue sticks for easy application. Then get creative with personalized touches like hand-drawn art, glitter, ribbons, or any embellishments that make your card unique.
Choosing the Right Paper
Instead of paper that is thin, go for cardstock that is bold as your canvas. Lighter cardstock may not support intricate pop-ups. Opt for heavyweight options to open bolder possibilities. Cardstock allows layering, folding, scoring.
Combined with creative skills, it transforms into three-dimensional delights. Consider texture too. Matte cardstock takes color beautifully while glossy finishes add shine. Embrace the spirit of cardstock.
Using Glue Sticks for Easy Application
By grabbing some kid-friendly glue sticks, you'll quickly adhere your pop-ups without making a mess.
Choose a low-wrinkle glue stick formula made for paper crafts.
Apply the glue directly on the tab area to affix your pop-up element.
Let it dry completely before closing the card to prevent smudging.
For best results, press down firmly after application and smooth over the tab.
With the right glue sticks, attaching your pop-up art inside the card is a cinch. Kid-safe adhesives allow hassle-free application without the mess, so your focus stays on creating instead of cleaning up.
Pick a trusted brand and get ready to effortlessly assemble impressive pop-ups for any occasion.
Adding Personalized Touches and Decorations
You're going to love getting creative with personalizing your pop-up cards by experimenting with different borders, themes, and decorations that make each card special for the recipient! Adding handwritten notes, colorful designs, themed stickers, decorative paper cutouts, ribbons, sequins, pressed flowers, and other artistic touches will impress your friends or family.
Choosing decorations that highlight the recipient's hobbies, interests or an inside joke between you will make the card more meaningful.
Printable Pop Up Card Decorations for Inspiration

Check out fun printable pop up card designs online for inspiration on themes and folding techniques before getting started.
Search for pop up card templates on Pinterest or Etsy to spark your creativity.
Browse designs like birthday cake, animal, flower, and holiday themes.
Look for step-by-step tutorials on how to make the pop-ups.
Download free printables to decorate your card.
Try more complex 3D and interactive pop-ups once you master the basics.
Gathering ideas from skilled crafters will teach you new skills and give you the confidence to design your own impressive pop-up cards. With some practice, you'll be able to fold anything from rockets to robots! Approach each pop-up as a fun challenge, and let your imagination run wild.
Share Your Pop Up Card Creations on Social Media

Tag friends when posting your handmade pop up cards online to inspire fellow crafters. Showcase your creative efforts and connect with a community of crafters when sharing images of your pop-up card designs on social media.
Seek out hashtags like #popupcards, #handmadecards, or #papercrafts to find and join groups passionate about pop-ups and card making.
Comment on their eye-catching 3D structures, intricate paper engineering, and imaginative themes to start conversations. Follow crafters whose artistry motivates you to improve your skills. Share photos and videos revealing your card making process to provide helpful DIY inspiration.
Whether you're a beginner or an experienced pop-up card artisan, posting your works in progress and finished pieces helps spark encouragement, ideas, and a sense of belonging with others who love crafting imaginative designs.
Conclusion
Making pop-up cards can be a fun and creative way to express yourself and show appreciation for someone special. With a little imagination, the sky's the limit when it comes to creating beautiful paper masterpieces.
From birthdays to Christmas and everything in between, you can make pop-up cards for any occasion. Whether you prefer using printable pop-up cards or going the DIY route, you'll find plenty of inspiration.
With the right materials, some patience, and practice, anyone can make impressive pop-up cards for beginners.