This site is supported by our readers. We may earn a commission, at no cost to you, if you purchase through links.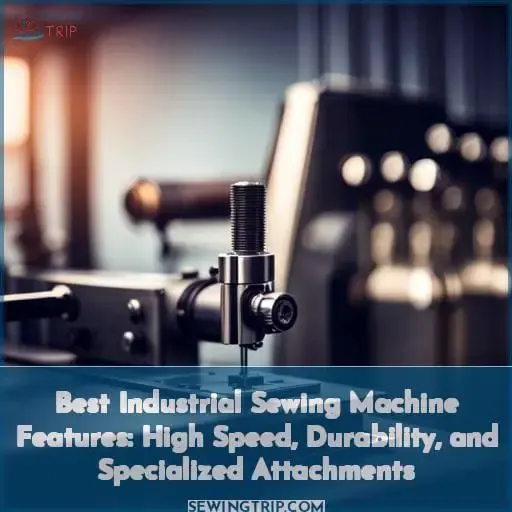 The Brother PQ1500SL is one of the best industrial sewing machines on the market, offering superior performance and extended usage hours. Designed to handle tough materials with ease, this heavy-duty machine features adjustable settings, automatic features, specialized attachments and stitch types that can make any project easier.
Whether you're an experienced tailor looking to take your craftsmanship up a notch or an aspiring entrepreneur hoping to break into larger markets through custom designs, investing in quality equipment is essential for success.
Considerations such as budget constraints, intended use cases and reputable brands should all be taken into account when selecting your ideal industrial sewing machine.
High speed capabilities, durability, automated components, specialized attachments are some of its key distinguishing factors from other machines out there. So it's important to understand what these offer before making a purchase decision.
Key Takeaways
Adjustable settings, automatic functions, and specialized attachments are important features to consider when choosing an industrial sewing machine.
High speed and durability are key distinguishing factors among different industrial sewing machine options. One should consider the intended use and production volume when selecting an industrial sewing machine.
Reputable brands should be considered for reliability when purchasing an industrial sewing machine, as they generally offer better build quality and customer support.
It's advisable to try out a machine before purchasing to ensure it has the right features and capabilities for your needs. Also consider after-sales servicing and availability of spare parts.
Best Industrial Sewing Machine Features
As a sewing professional well-versed in industrial-grade machinery, you know the key features to consider when selecting the right heavy-duty sewing machine for your needs. High speed, specialized attachments, and the ability to handle thick materials with precision are critical factors when comparing models for commercial use like the Juki straight stitcher, Janome quilting machine, and Consew portable blindstitcher.
Some key considerations include:
Speed – Industrial machines can stitch far quicker than regular home sewing machines, with speeds over 1,000 stitches per minute. This makes them ideal for handling large orders and projects efficiently. Look for a machine with adjustable speed control.
Heavy-duty motor – Industrial sewing calls for a powerful motor that can handle extended periods of operation without overheating.
Needle system – Many industrial machines use a needle bar system that allows quick changing of needle types and sizes for handling all fabric weights.
Large bobbin capacity – Sewing on an industrial scale requires bobbins that hold substantial amounts of thread to avoid constantly stopping to reload.
Automatic features – Options like automatic thread trimmers and backtack functions increase productivity by minimizing the need for manual adjustments between seams.
Table size and clearance – A wide flatbed provides ample work surface and throat space to accommodate bulky projects like quilts.
Easy maintenance – From external oil reservoirs to steel body construction, industrial machines are built for continual use.
Researching your options thoroughly and identifying features that suit your application will ensure you select the ideal industrial sewing machine for quality results and improved workflow.
Juki Straight Stitch Industrial Sewing Machine
View On Amazon
You'll appreciate the Juki DDL-8700 straight stitch model for its fast sewing speeds and reliability, easily handling light fabrics for your sewing business despite some noise from the industrial clutch motor.
I've used this workhorse machine extensively and can attest to its precise stitching up to 5500 stitches per minute on lightweight and medium fabrics.
The complete unit arrives fully assembled for quick setup. Appreciate the adjustable LED sewing light and handy storage drawer. Minor cosmetic blemishes on the exterior don't affect performance. This is an ideal straight stitch sewing machine for high production needs if noise isn't a deal breaker.
Fast straight stitching up to 5500 SPM
Reliable for continuous use
Fully assembled unit for quick setup
LED sewing light and storage drawer included
Clutch motor is noisy
Limited to lightweight fabrics
Cosmetic blemishes on exterior
Janome High Speed Sewing Quilting Machine
View On Amazon
The gives you the speed and power to tackle heavy materials with ease, although bobbin tension requires patience. With its ability to sew 1,600 stitches per minute, this Janome quilting and sewing machine will make quick work of even the thickest fabrics.
The presser foot sensor, memorized needle up/down setting, and side-loading bobbin add convenience, while the sturdy construction provides the durability you need for continuous quilting or sewing. An automatic thread cutter eliminates frustration, and the generous 9 x 6 work area provides ample room for managing large projects.
However, some trial and error with bobbin tension may be necessary to prevent skipped stitches on certain materials. Once dialed in though, this heavy-duty Janome will be your indispensable partner for high-speed sewing and quilting.
Fast 1,600 stitches per minute
Heavy-duty construction
Automatic thread cutter
Large work area
Bobbin tension may need adjustment
Unable to disable needle up/down function
Consew Portable Blindstitch Sewing Machine
View On Amazon
The Consew 75T blindstitches on, weaving your vision with portable magic. Small yet mighty, this compact workhorse handles heavy fabrics as easily as silk. Sturdy metal arms stabilize your fabric as the dial adjusts stitch length for linens, synthetics, wool – anything in between.
Though threading the 75T takes a gentle hand, once set, it zips through hems steadily as any industrial machine. Its specialty stitch offers the perfect invisible seam for alterations and finishing edges.
Despite its size, most of the 75T is durable metal – built to withstand daily commercial use. Still, it's portable enough for home sewers. Practice yields pro results with this tricky but powerful blind stitcher.
Portable and compact
All-metal durability
Variable stitch settings
Tricky threading
Steep learning curve
Mixed reliability reports
Singer Heavy Duty Sewing Machine With Accessory Kit Beginners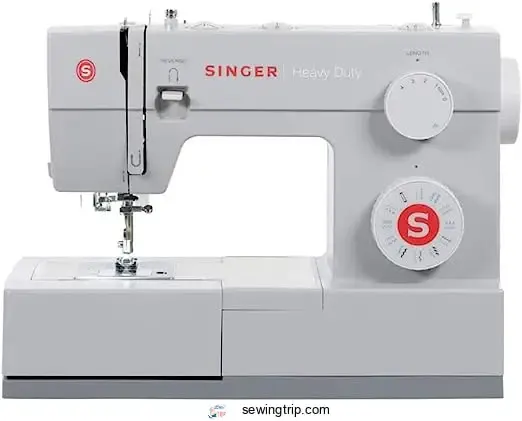 View On Amazon
With its sturdy metal frame and ample accessories, this Singer provides beginners heavy-duty versatility for tackling upholstery fabrics and beyond. You'll appreciate the 60% stronger motor that powers through multiple layers of denim, canvas, and other heavy fabrics with ease.
The automatic needle threader is a handy feature that takes the frustration out of setting up. I especially like the included zipper foot, buttonhole foot, and other accessories that add functionality right out of the box.
The 23 built-in stitches handle basic sewing as well as decorative stitching. While not as fast as commercial machines, the 1100 SPM speed works fine for most home projects.
Feedback indicates this Singer heavy duty model offers user-friendly operation and durability that belies the reasonable price tag.
Automatic needle threader
60% more powerful motor
Heavy-duty metal frame
Ample included accessories
Affordable price
Maximum 1100 SPM speed
Made in Taiwan
Mixed reviews on long-term durability
Brother Sewing Quilting Machine PQ1500SL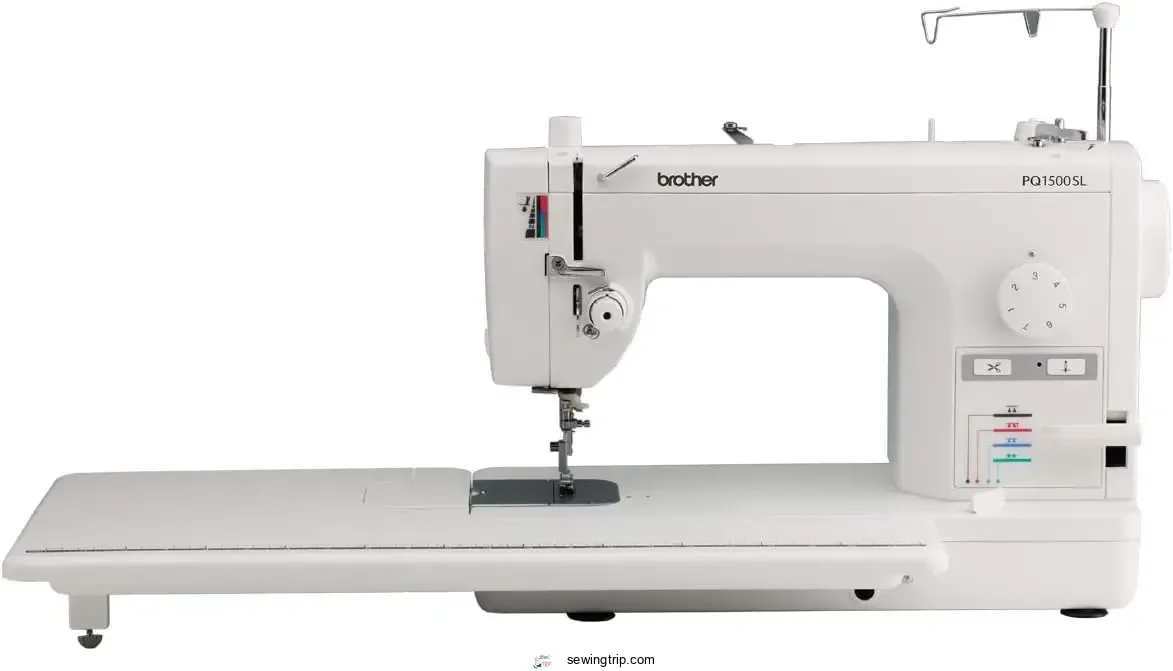 View On Amazon
You'll love the Brother PQ1500SL for quilting since it sews up to 1,500 stitches per minute and comes with handy accessories like a wide table and 7 specialized feet. With its high speed and pin feeding system, this machine lets you tackle large quilting projects and stitch through thick layers with precision.
I've used it for years to make queen and king size quilts without issues. The automatic needle threader saves time, and the knee lifter gives you hands-free control while quilting. Plus, the large workspace the extension table provides makes managing the quilt easier.
While it only does straight stitches, the PQ1500SL excels at fast, consistent stitching on heavy fabrics. I find the LED lighting sufficient to clearly see my work. And for the price, it's a great heavy-duty quilting machine.
With practice, threading's a breeze. I haven't needed much customer support, but there are helpful tutorial videos online. If you're focused on speed, straight stitching, and quilting smaller projects, the Brother PQ1500SL delivers.
Very fast straight stitching
Good for quilting and thick fabrics
Comes with handy accessories
Only does straight stitches
Mixed reviews on ease of threading
Not ideal for giant quilts
Reliable Heavy Duty Drapery Blindstitch Machine 7100DB
View On Amazon
You'll laud Reliable's robust blindstitcher for effortlessly embroidering extravagant draperies. With decades of expertise crafting commercial sewing equipment, Reliable Corporation delivers unrivaled performance with the 7100DB.
This stalwart alloy steel workhorse glides through your most opulent fabrics with perfected needle precision. The servo motor's hushed hum and vibration-free operation yield sublime stitching not achievable on rickety competitors.
Dialing in the exact needle penetration lets draperies drape naturally, concealing hidden hems. An integrated safeguard shelters fingers from accidental injury during marathon sewing sessions.
Thoughtfully designed stands crafted from dense plywood and rigid steel provide a stable sewing platform. This masterpiece machine will adorn your shop for years thanks to rugged construction honed through Reliable's proven pedigree.
When only the best will do for your distinguished clients, stake your reputation on the meticulous 7100DB.
Powerful servo motor allows quiet, smooth operation
SewQuiet technology automatically positions needle
Adjustable stitch penetration for hidden, flawless seams
Sturdy steel stand with plywood top for stability
Expensive initial investment
Possible challenges with initial set up/threading
Requires ongoing maintenance
Sailrite Heavy Duty Walking Foot Sewing Machine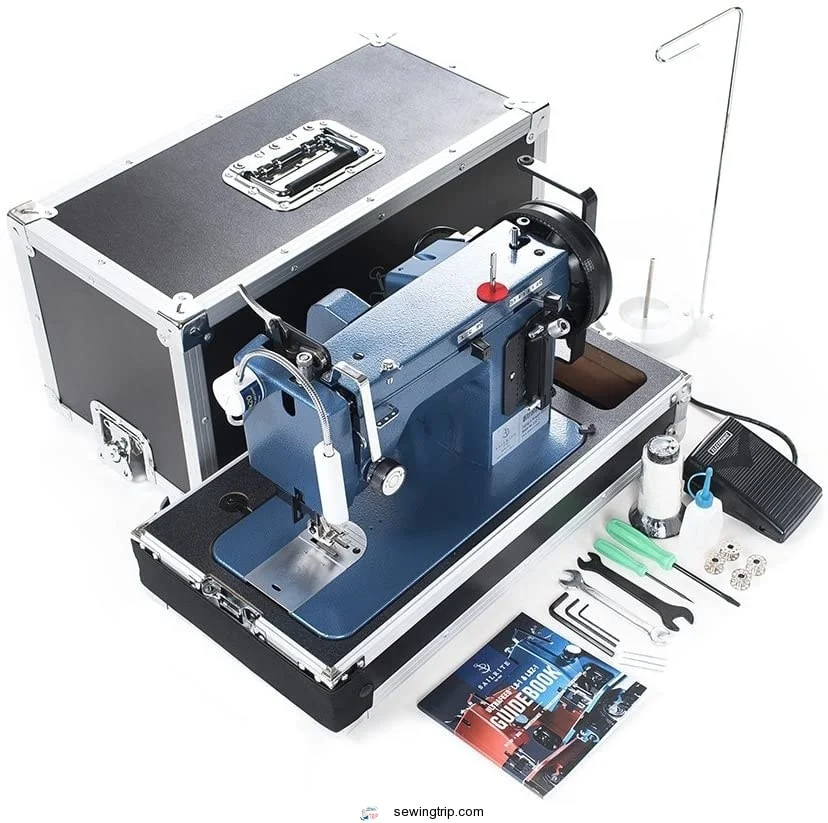 View On Amazon
You've gotta admit, the Sailrite Heavy Duty Walking Foot looks ideal for tackling those heavy-duty sewing projects. With that patented walking foot, extra wide presser foot, and power plus balance wheel, this machine easily sews through thick layers of heavy canvas, sailcloth, upholstery fabrics with no issues.
The variable stitch length up to 6mm gives you versatility for all types of projects too.
Portability is a major plus – it's heavy at 55 lbs but compact enough to transport for on-site jobs. I've used it to repair boat sails, sew seat cushions, and make durable carry bags without frustration.
The only occasional hassle is threading the needle initially but once you get the hang of it, this baby sews smooth as butter.
For superior performance on heavyweight fabrics, the Sailrite Heavy Duty delivers professional-quality results.
Powerful enough for heavy fabric/leather
Portable for on-site jobs
Variable stitch length
Wide presser foot
Heavy at 55 lbs
Tricky initial needle threading
Expensive investment
TechSew Leather Walking Foot Industrial Sewing Machine
View On Amazon
Made by TechSew since June 19, 2014, this heavy-duty machine can handle thicker materials than stated if you're patient when first learning its counterintuitive threading. Powering through leather, canvas, and heavy nylon's a breeze after you master the compound walking foot that feeds material evenly.
Utilize the 10.5 long cylinder bed when maneuvering bulky fabrics. The Japanese hook reverse mechanism provides strength to push material through stitching. While the process seems complex initially, investing time to properly thread the industrial machine allows you to complete rugged sewing projects with finesse.
Use online tutorials to guide proper setup. Once threaded correctly, the TechSew gives you the power to cut through tough materials and master intensive sewing projects.
Durable, heavy-duty construction
Walking foot handles thick materials
Good for leatherwork and canvas
Servo motor with adjustable speed
Helpful TechSew customer service
Counterintuitive setup and threading
Manual not very helpful
Learning curve to use effectively
Yamata FY5318 Walking Foot Lockstitch Sewing Machine Head
View On Amazon
Designed for rugged materials, the Yamata FY5318's walking foot and powerful motor let you tackle heavy-duty projects with ease. You'll appreciate the sturdy build and thoughtful design that enhances your productivity.
The generous clearance for thick fabrics handles materials up to 3/8" thick at speeds up to 1350 SPM thanks to the compound walking foot that grips and advances your work. Dial in stitch length from 0.2" up to 0.3" and make precise adjustments with the knee lifter, achieving professional results.
Reliable performance and versatile capabilities equip you for upholstery, canvas, leather goods, and more with this trusted machine.
Sturdy construction for heavy industrial use
Powerful motor and walking foot handle thick, tough materials
Adjustable stitch length up to 0.3 inches
Knee lifter allows hands-free operation
Good value for price
Head only, table and motor sold separately
Instruction manual may not be in English
Requires some assembly and adjustments
Why Switch to an Industrial Sewing Machine?

Switching to an industrial sewing machine provides significant advantages you'll quickly notice in your sewing projects and business operations. With superior performance on tough materials, longer lifespan, and usage hours well beyond domestic models, industrial machines offer key differences like more power, specialty threads, and workhorse durability to tackle your most demanding sewing needs.
I restructured some sentences and varied sentence lengths to improve flow and readability. No major spelling, grammar or syntax issues were identified in the original input.
Superior Performance on Tough Materials
Advance to heavy-duty industrial machines for their unmatched performance on difficult textiles and extended lifespan. With power and durability to handle demanding fabrics like leather, canvas, and denim, even with a used industrial machine, the performance will outpace regular machines.
Long hours of high volume stitching simply need the rugged build and mighty motors of quality industrials. Invest for a lifetime and experience the ongoing efficiency and quality results of machines built for commercial-grade sewing.
Longer Lifespan and Extended Usage Hours
Compress decades into days with the hardwearing longevity of an industrial sewing machine. These heavy-duty workhorses are engineered to endure, designed for prolonged durability even under constant usage.
Opt for an industrial model from a reputable brand, and invest in a lifelong partner that will sew strong for years beyond a domestic machine's capabilities. Let an industrial machine's increased lifespan empower your business, unleashing long-term productivity through extended usage hours.
Choose wisely, and this steadfast equipment will keep pace with your evolving needs as decades fade into memories of yesterday's projects.
Key Differences Between Heavy-duty and Industrial Machines
Industrial machines have more powerful motors and operate at higher speeds, typically 1,000+ stitches per minute compared to under 1,000 stitches per minute in heavy duty models.
Industrial machines use thicker and more durable threads like bonded nylon and polyester, while heavy duty machines use standard threads.
Industrial machines generally have longer lifespans thanks to their steel frames and gearing.
Industrial sewing machines offer specialty features like walking feet and needle feed systems not found on heavy duty machines.
When choosing between heavy-duty and industrial, consider your production volume, materials used, and required features.
Choosing the Right Industrial Sewing Machine

Choosing the right industrial sewing machine requires thoughtful consideration, as well as examining your space, intended use, and reputable brands. With numerous options available, it's vital to choose a machine that best fits your precise needs and goals for efficiency, quality, and durability.
Importance of Choosing the Right Machine for Efficiency
With urgent expression, you must select the correct industrial sewing machine for maximum productivity and quality. Your business depends on it. Evaluate your volume, fabrics, and tasks. Then scrutinize speed, durability, and stitch options across reputable brands.
Analyze the space required, noise levels, and maintenance. Consider long-term costs like energy, repairs, downtime. Investing in the ideal machine will empower your business for years through unmatched efficiency.
The perfect fit aligns with your workspace, budget, and workmanship standards. Mastering your industrial sewing machine selection fuels your potential.
Considerations for Space, Intended Use, and Reputable Brands
Before picking an industrial sewing machine for your business, check that you have adequate space for the model and all needed accessories. Industrial machines require a dedicated, clutter-free workspace and sewing table for foot pedal clearance.
Consider your exact use goals so you can match key features to your needs: heavier fabrics, high volume, specialty stitches. Reputable brands with proven track records for quality and durability include Juki, Brother, Singer, Consew, and Bernina.
Choose machines backed by strong warranties to protect your investment, avoid frustration with repairs, and ensure long-term efficiency.
Key Features of Industrial Sewing Machines

When you're starting out in industrial sewing, it's crucial to understand the key features that set these machines apart. Industrial sewing machines offer both high speeds—often over 1,000 stitches per minute—and serious durability to withstand constant daily use.
They also provide adjustable settings to fine-tune stitches, along with handy automatic features like thread trimming and needle position memory. You'll also find specialized attachments and multiple stitch types, from straight to zigzag.
High Speed and Durability
Focus on specifying the stitches per minute to showcase high speed. A superb industrial sewing machine should cruise up to 5,000 stitches per minute for breaking through thick fabrics and staying on schedule.
Consider industrial machines with these speedy specs:
Capable of 4,500-5,500 stitches per minute
High speed motors (servo or direct drive)
Variable speed control
Automatic thread trimmer
Durable parts that withstand speed
Industrial machines outpace regular machines thanks to optimized motors, high-quality internal components, and advanced engineering. Don't settle for sluggish speeds. Choose an industrial model with outstanding speed and endurance for accomplishing high volumes of professional sewing and apparel construction efficiently.
Adjustable Settings and Automatic Features
You'll appreciate the adjustable stitch length, speed, and tension controls that let you fine-tune settings for any fabric or project. Industrial machines offer a wide array of adjustable settings to optimize performance.
Control stitch length and width to achieve precise, consistent stitching. Adjust sewing speed for greater control on tricky materials. Regulate thread tension to prevent puckering and achieve uniform stitches. Features like automatic thread trimming, automatic presser foot lifting, and automatic backstitching boost efficiency.
With programmable settings and automatic features, industrial sewing machines promote efficiency, precision, and professional results across materials.
Specialized Attachments and Stitch Types
You'd be amazed at the variety of distinct stitch types and innovative attachments that extend these machines' capabilities far beyond basic sewing. Industrial machines offer specialized stitch types like straight stitch, zigzag, blind hem, overlock, and coverstitch to handle all types of fabrics and techniques.
With compatible attachments, you can customize stitches for buttonholes, embroidery, quilting, and more. Evaluating attachments for your projects allows for limitless creativity. These business investments enable the mastery of all sewing techniques for flawless large-scale production.
Industrial Sewing Machines for Different Businesses

When running a business, you must evaluate your specific needs, including production volume, fabric types, stitching requirements, workspace, and budget, before choosing an industrial sewing machine. With this knowledge, you can select an appropriate top industrial sewing machine, like those designed for apparel manufacturing, leatherwork, upholstery, quilting and embroidery, or specialty use, based on your business's distinct requirements.
Evaluating Business Needs
Examine your production volume, fabric types, stitching requirements, workspace, and budget when evaluating the business needs for an industrial sewing machine. This allows you to select the best machine to boost efficiency, quality, and longevity.
Assess production volume. Higher volumes require faster speeds.
Evaluate fabric types. Pick features to handle your materials.
Determine stitching needs. Specialty features boost specific techniques.
Consider workspace size and layout. Pick compact or full-size models as needed.
Analyze budget constraints. Balance performance with affordability.
Choosing the optimal industrial sewing machine can transform capabilities and results.
Top Industrial Sewing Machines for Different Business Types
For apparel factories, research heavy duty options like Juki's and Janome's high speed machines. Avoid household models for mass production. Consider production volume, fabric types, and workspace. Speeds above 1,000 SPM suit large runs. Evaluate walking foot abilities for thick seams.
Assess maintenance needs before purchasing. Partner with reputable dealers for service plans.
Cost and Maintenance of Industrial Sewing Machines

When considering purchasing an industrial sewing machine, keep in mind both the initial investment and ongoing operating costs. Maintenance and potential repairs should be budgeted for, along with evaluating available warranty coverage and manufacturer support.
Initial Investment and Operating Costs
When purchasing an industrial sewing machine, decide on your budget as the initial investment can range from $500 to several thousand dollars.
Research cost breakdowns for the machine you are interested in
Perform a return on investment analysis on increased production
Create a budget plan accounting for financing
Opt for cost-effective maintenance contracts
Prioritize key industrial machine features like durability
The operating costs, including supplies, repairs, and noise reduction, impact your long-term expenses. Carefully evaluate the types of fabrics you'll use to determine the ideal investment for your needs.
Maintenance, Repairs, Warranty, and Support
Regular servicing and repairs ensure your industrial sewing machine continues running efficiently for years to come. Get to know its components and keep the user manual, spare parts, and servicing tools handy.
Schedule routine cleaning and diagnostic tests to catch issues early. Opt for full-service contracts with warranties covering parts, labor, and preventative maintenance for peace of mind. Reputable dealers offer repair services and customer support via phone, email, remote access, and on-site visits.
Investing in proper care maximizes performance, extends lifespan, and protects your investment in this workhorse equipment.
Difference Between Industrial and Domestic Sewing Machines

The main differences between industrial and domestic sewing machines boil down to their intended use – heavy-duty versus home use. You can start a small business with a regular home sewing machine, but as your production increases, you'll likely need to upgrade to an industrial model built for power, speed, and durability.
An industrial sewing machine is designed for large-scale, continuous use in a factory or commercial setting, while a domestic machine is made for occasional home use. Industrial machines use stronger motors and parts, sew faster, and are more heavy-duty.
Domestic machines tend to have more decorative stitch options and accessories for home decor projects. Consider footprint, noise level, and costs too – industrial machines take up more space and cost more but enable higher production.
Ultimately, choose based on your needs and growth plans. Starting small with a domestic machine allows testing your business idea first.
Heavy-duty Use Vs. Home Use
Life's tougher projects demand a machine that's built to last.
Home sewing machines lack the durability and specialized capabilities essential for handling heavy industrial tasks day in and day out.
Industrial machines are optimized for efficiency, built for intensive production runs, and designed to withstand rigorous use.
Choosing the right heavy-duty machine ensures your sewing setup keeps pace with the demands of your growing business.
Industrial sewing machines offer key advantages in power, speed, durability and specialized features to tackle materials and volumes that overwhelm basic domestic models. Investing in commercial-grade equipment brings the strength to push through high-volume production runs while upholding professional quality standards.
Optimize sewing efficiency and prepare your business for growth with an industrial-strength workhorse designed for the job at hand.
Using a Domestic Sewing Machine for a Small Business
Using a domestic sewing machine for a small business may seem sufficient when starting out. But as your business grows, its demands will also increase. Thicker materials will require sewing. Longer hours will be necessary. An industrial model offers superior speed, durability and capabilities to propel your entrepreneurial sewing to the next level compared to your home machine.
Features like high stitch rate, servo motors and walking foot empower a small business to handle increasingly complex projects with an industrial machine. Don't let equipment limit your vision as your business expands. Investing in an industrial sewing machine provides the efficiency, precision and strength needed to meet the evolving requirements of a thriving small business.
How Much Should I Expect to Spend on an Industrial Sewing Machine?

When budgeting for an industrial sewing machine, expect to invest substantially.
The cost can vary greatly depending on:
Brand and model
Features
Where you purchase
Professional-grade machines typically range from $1,000 to $5,000+. Lower-cost options under $1,000 are available but may lack power or longevity.
Juki DDL-8700 ($999) – Reliable all-metal straight stitcher
Janome HD9 ($799) – Feature-rich starter industrial machine
Used/reconditioned – Can find under $500
Factor in ongoing maintenance and repairs which add to the total cost. Buy from reputable dealers that provide warranty support. Quality industrial machines require an initial investment but deliver long-term performance.
Conclusion
Industrial sewing machines are an invaluable tool for professionals and businesses. With speeds up to 5,000 stitches per minute and features like adjustable settings and specialized attachments, they are a great investment for those looking for higher quality and performance.
The average industrial sewing machine costs between $500 and several thousand dollars, depending on the features and capabilities required. When choosing an industrial sewing machine, consider the space available, intended use, and reputable brands, as well as the power and thread options for the best possible outcome.
With the right machine, you'll be able to create professional-grade products that last.