This site is supported by our readers. We may earn a commission, at no cost to you, if you purchase through links.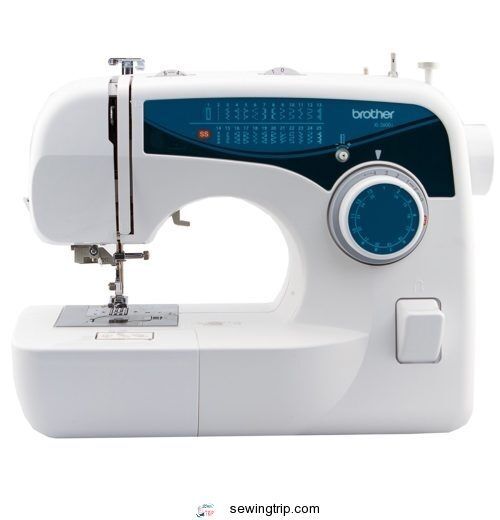 5 Best Cheap Sewing Machines
A cheap sewing machine shouldn't mean less quality! Should it?
I have done a diving survey and compared all cheap sewing machines on the market? This review covers all the possibilities you will ever think of without compromising on quality.
Whether you plan on sewing your own dress, bedding or kids'clothes, these sewing machines will get the job done without breaking the bank. Since you won't be doing a lot of heavy-duty sewing, probably sewing occasionally, the machines selected may be cheap but haven't compromised on quality.
Compare Five Budget or Cheap Sewing Machine
Here is a table comparing the top 5 cheap sewing machines. After the table you will find an overview of these budget sewing machines.
| Feature | Brother XL2600I | Brother XM2701 | Singer 1304 | Brother LS2125i | Janome 11706 |
| --- | --- | --- | --- | --- | --- |
| Number of stitches | 25 | 27 | 6 | 10 | 11 |
| Free arm | Yes | Yes | Yes | Yes | Yes |
| Automatic Needle Threader | Yes | Yes | No | No | No |
| Pitch per minute | 800 | 800 | 750 | 900 | 650 |
| Presser Feet | 5 | 6 | 3 | 3 | 3 with extra high lift |
| Weight | 11 lbs. | 12.6 lbs. | 11.4 lbs. | 13 lbs. | 11 lbs. |
| Metal frame | No | Yes | Yes | No | No, plastic |
| Incandescent lamp | Yes | Yes | Yes | No | No |
| Sie | 12.3 x 7.7 x 9.6 inches | 12.1 x 5.9 x 15.5 inches | 13 x 7 x 11.5 inches | 15 x 6 x 11.8 inches | 17 x 9 x 14 inches |
| | | | | | |
Brother XM2701 Sewing Machine
Words like feature rich, affordable and lightweight are the perfect description of Brother XM2701. What makes the Brother XM2701 unique among colleagues is quilting, which combines excellently with other sewing projects. Everything you need to explore and display your sewing ideas is in this inexpensive sewing machine. While it cannot to high-end quilting machines, it is the best choice for anyone on a budget.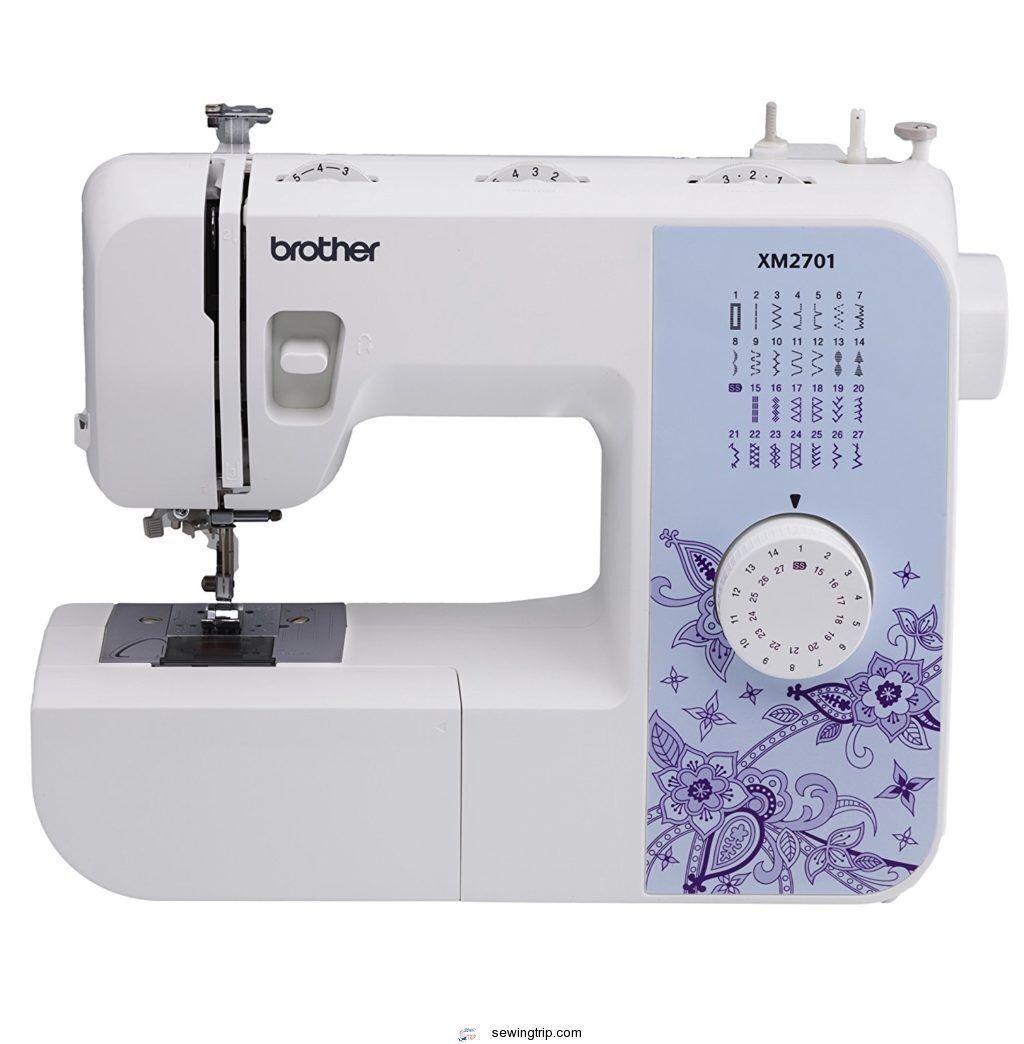 Brother XM2701 Low Cost Sewing Machine
Brother XM2701 is a stylish machine that offers 27 built-in stitches, more than any other machines in this review. The One Step Buttonhole is all you need to make perfect buttonholes where needed. They required no extra effort to fix the thread, automatic threading is fully functional.
The dial on the front of the sewing machine makes stitch selection easy and quick. The drop-in spool will never get stuck and you have six feet to switch from easily.
All you need to know is that this is the best inexpensive sewing and quilting machine right now. I did not sacrifice quality for affordability; Brother XM2701 is an easy-to-use machine that any starter will love.
View details of Brother XM2701 on Amaon
Brother XL2600I Sew Advance Free Arm Sewing Machine
For beginners looking for a cheap sewing machine, this is a dream come true. This Brother sewing machine is a popular choice among budding sewing enthusiasts. You do not need weeks to understand the functionalities of your machine. The XL2600I comes with all the basic features needed to become a premium professional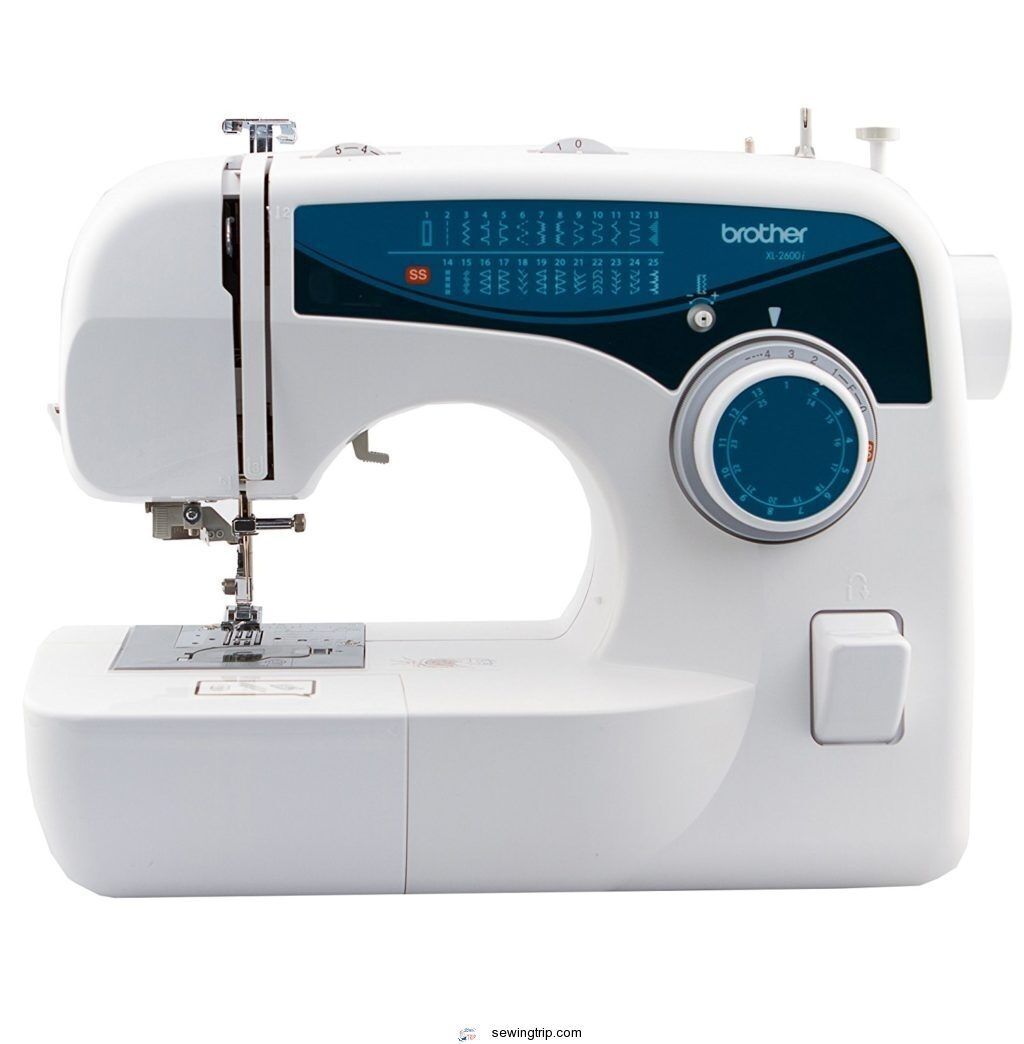 Brother XL2600i Low Cost Sewing Machine
This machine has many functions that you will need during the learning process and it is also easy to use. The 25 built-in stitches and multiple sewing functions are enough to finish any project, but it's not too overwhelming to confuse you. Selecting the perfect stitch using a dial, just turn the dial and you're there.
Everything about this machine is simple. An automatic needle threader is available to thread for you, while the top drop-in bobbin eliminates the hassle most beginners fear. At just 11 pounds, you can move the machine from your sewing class to your home without pain.
Another machine that shares the same quality and features with Brother XL2600i is the Brother XL2610. There is technically no difference other than the 59 stitch function present in XL2610. The two inexpensive sewing machines are not only comparable in iIdGOjCTEC0oa5I but also in performance.
Acclaimed and proven to be the best entry-level sewing machine, it proved that lower cost does not mean lower quality. The included light bulb will brightly illuminate your entire workplace. Brother XL2600I is compact and lightweight, but also durable. This is the type of sewing machine your child could use.
View details of Brother XL2610 on Amaon
Singer 1304 Start Sewing Machine
Why break the bank when you have a cheap sewing machine that's a perfect place to start. Singer Brand is no stranger to the world of quality sewing machines, but they have an inexpensive sewing machine with all the features for a beginner. With this inexpensive singer sewing machine, you can enjoy sewing with a less intimidating machine.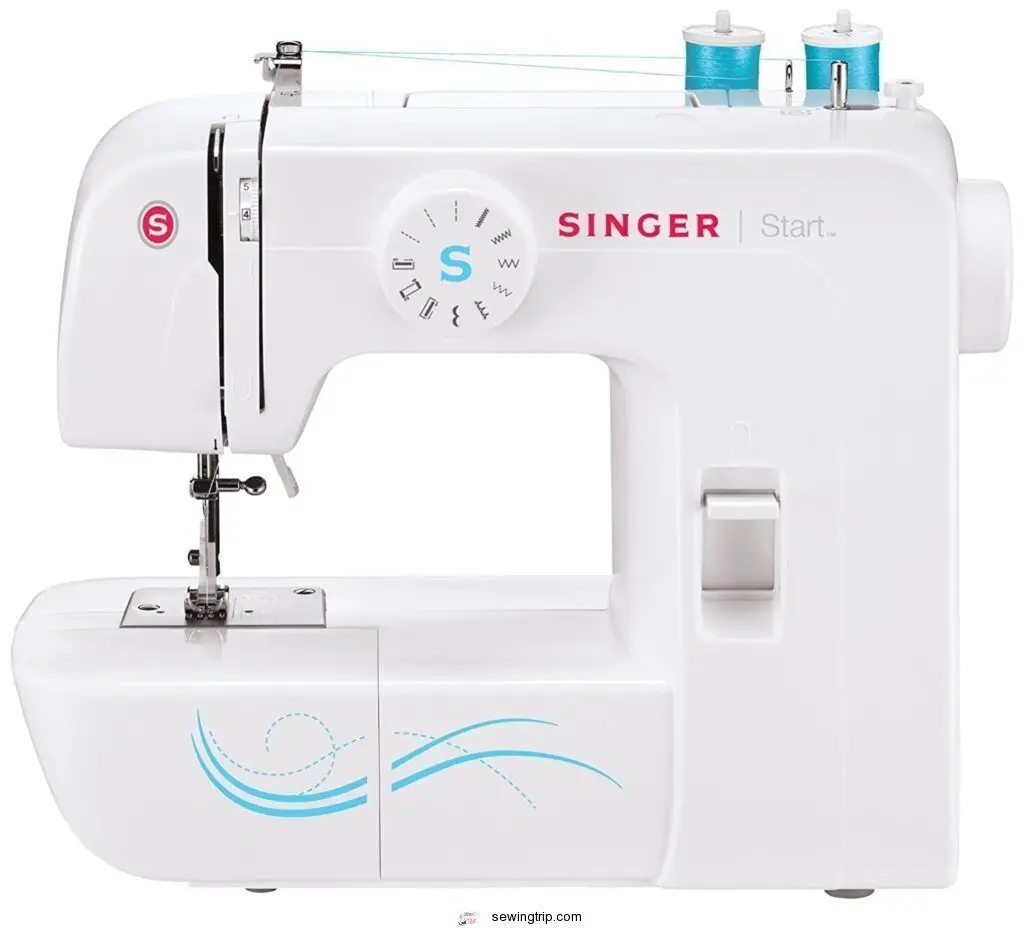 Singer 1304 Start Low Cost Sewing Machine
The name has given buyers the exact idea of what they are buying. The 6 built-in stitches are suitable for a hobbyist and beginner. Home tailoring and beginner tasks won't be asking for much. This machine makes you feel like a professional thanks to its easy installation; just plug the cord into the power source and you're ready to sew.
The free arm can vXSVLHYOax for particular sewing needs such as collars, cuffs and hems. The storage compartment offers space for your presser foot and other accessories with plenty of room to spare. Mobility and storage will never be a problem; it is BSrBnylc80Sh7aco9AXkXRc, weighing only 9.8 pounds.
Singer 1304 is not a complex sewing machine, and it is perfect for home sewing needs such as adjustments, minor projects and repairs. The supplied needles are suitable for light materials, but if you have to work on jeans, denim or upholstery fabrics, you will need to purchase the ideal type of needle.
Right now, this cheap singer is one of the best on the beginner market. 5lOXirnYLtxU6hhfI that professional users can use it. The affordability and the brand are good value for money.
View details of Singer 1304 on Amaon
Janome 11706 Sewing Machine
Many buyers would to the 11706's super cool design before asking. This is an inexpensive Janome sewing machine that is strictly entry-level; a small sewing machine that is 25% smaller than regular machines.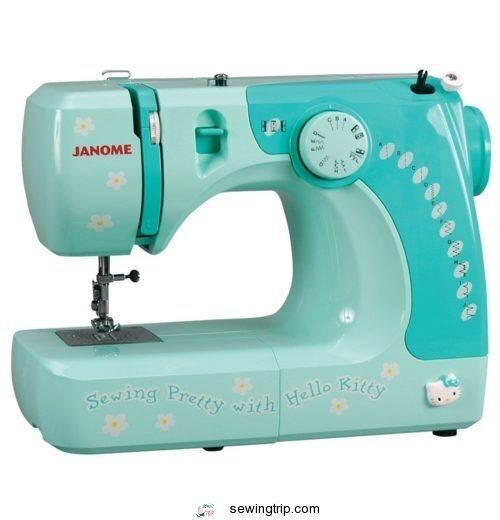 Janome 11706 cheap sewing machine
The small nature of this machine shouldn't give you the impression that it sucks because this is not the case for Janome 11706. The beauty and affordability cannot take away from the impressive 11 built-in stitches with two elastic stitches and four step buttonhole.
You'll at this; The Janome 11706 sewing machine can handle tough projects, yes it is! Other features range from three presser feet, stitch selector dial and pull-push bobbin winder.
You can even adjust the stitch length and width between 4mm and 5mm on the machine. What else can you adjust? You can adjust the tension according to the material.
We built Janome 11706 with a storage compartment for small accessories. The carry bag and seam ripper are the extras that come with the green colored machine option (if you want this option, YGlE3kmyqoiHselect the green packaging).
Moving from home to a workshop or sewing class is easy at just 11 pounds. They enhanced portability and mobility by the included carrying case.
If you are looking for a cheap sewing machine that is Janome, portable, choose the Janome 11706 sewing machine.
View details of Janome 11706 on Amaon
Brother LS2125i Sewing Machine
Brother has not compromised on quality, despite this machine's cheap price tag. LS2125i is a mechanical model, perfect for beginners. This inexpensive sewing machine from Brother is quite popular with beginners. They find portability a great strength. At 13 pounds, getting to and from class is easy with the carry bag that has a sturdy handle.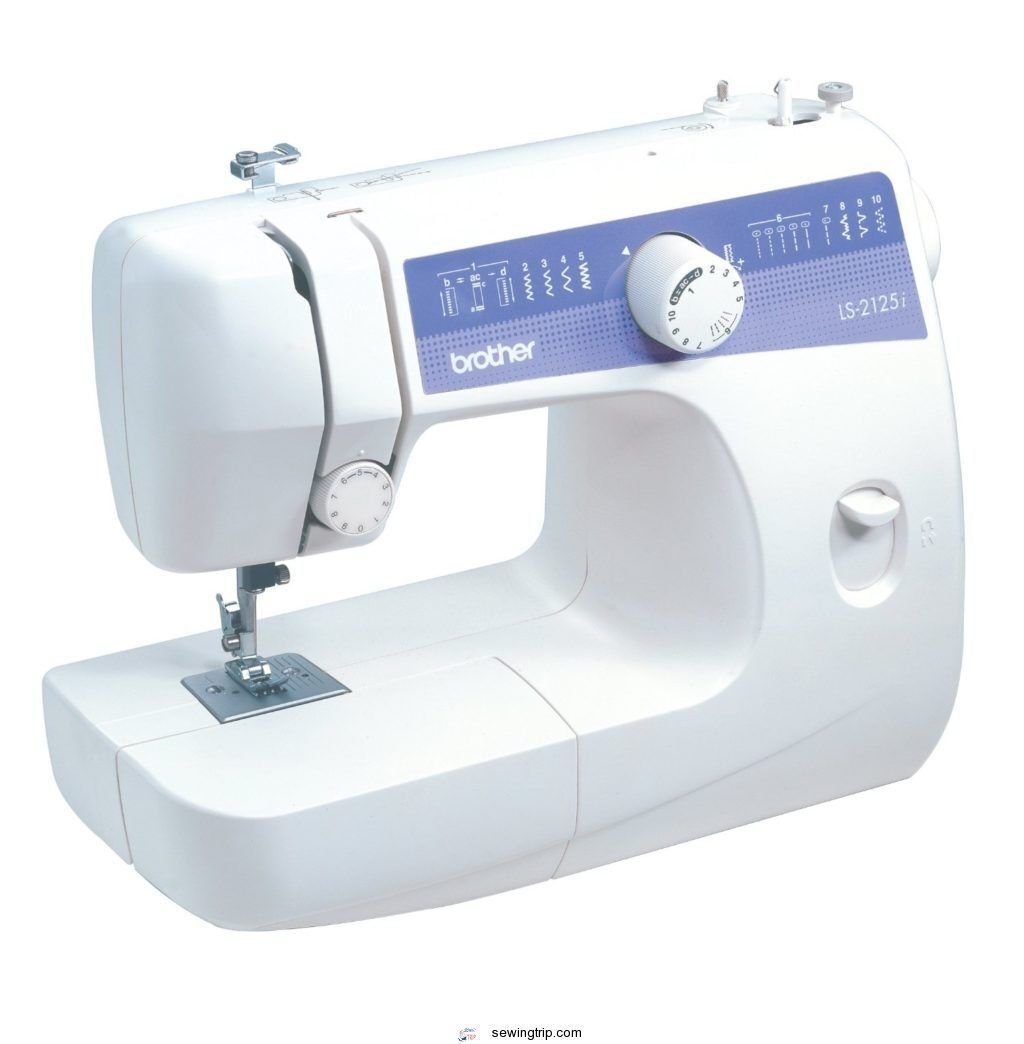 Brother LS2125i Low Cost Sewing Machine
This machine sews at a high speed that is difficult for many beginners to keep up, but that makes it suitable for experienced users. The ten built-in stitch design and 4-step buttonhole make the Brother LS2125i a top choice among buyers. Winding the bobbin is easy to use and straightforward.
When you need to do specialist sewing, the free arm and reversible flatbed will make you feel like a pro. The mechanical nature of the machine makes it more user friendly than computer-controlled machines and also makes learning fun. Despite the machine's lightweight, it has excellent stability and sturdiness that keeps it in place during use.
Reverse and forward sewing with the handle; the thread tension is adjustable, and the dial is intuitive. In short, the LS2125i may be cheap, but it's good value for money. This is an inexpensive brother sewing machine that will grow the user in technique and skills.
I recommend this sewing machine to any experienced person who needs a cheap sewing machine for a quick task. Again if you are a beginner, you can buy this if you have time to adjust to it.
View the details of Brother LS2125i on Amaon
Final Verdict
The quality and features displayed by all tested machines are worth the value. They are all good sewing machines at an affordable price. Recommend one will be a laborious task, but these are the very best inexpensive sewing mechanizations. If I choose three, they are:
Due to the quilting ability, Brother XM2701 is the best of the cheap sewing machines on the list.
Thus, also, because of its ability to handle heavy duty projects, Janome 11706 is another preferred low cost sewing machine.
For an experienced person you should choose Brother LS2125i sewing machine
See what you need with a cheap sewing machine and select the best one.
References
bestsewingmachinereviewspot.com