This site is supported by our readers. We may earn a commission, at no cost to you, if you purchase through links.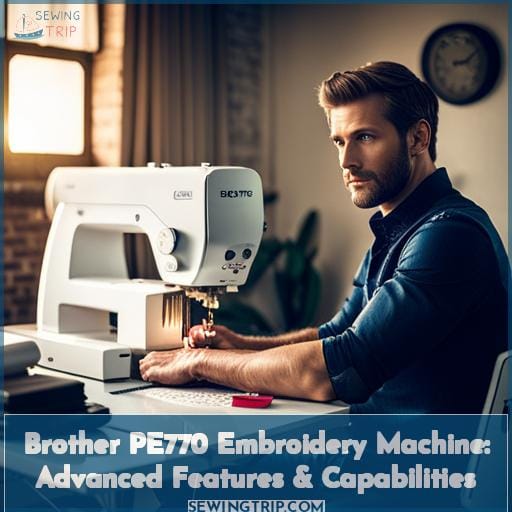 Unlock your creative potential with the Brother PE770 Embroidery Machine! This powerhouse of a machine comes loaded with advanced features and capabilities that will take your sewing projects to the next level.
As you explore what this fantastic tool has to offer, let us shine a light on its many impressive functions. From its sleek LCD touch screen display and 5×7 work area, to an array of built-in designs and lettering fonts, plus USB port for importing additional designs – there's no limit when it comes to expressing yourself through crafting.
With its large embroidery area capabilities allowing for larger projects without compromising speed or accuracy, auto thread cutter so you can quickly change colors as needed, and built-in design editing feature so you can personalize each project – the Brother PE770 is hands down one of the best investments any passionate sewer could make!
Key Takeaways
Sleek LCD touchscreen display
Spacious 5 x 7 work area
136 built-in embroidery designs
USB port for importing designs
Overview of the Brother PE770 Embroidery Machine

The PE770 lets you add beautiful embroidery to any project easily. With 136 built-in embroidery designs and six fonts, the possibilities are endless. Choose from floral, scrollwork, quilt patterns and more to embellish towels, clothing, accessories and home decor.
With 240 stitch varieties, you can achieve any look and texture your creative vision desires. The PE770 makes importing designs via USB easy, expanding your options exponentially. As you're inspired to try new techniques like applique, chenille and more, you'll find video tutorials on the LCD display.
The expansive thread color palette allows matching any fabric perfectly. Give your projects a high-end customized feel without going to a specialty shop.
Built-in Embroidery Designs and Lettering Fonts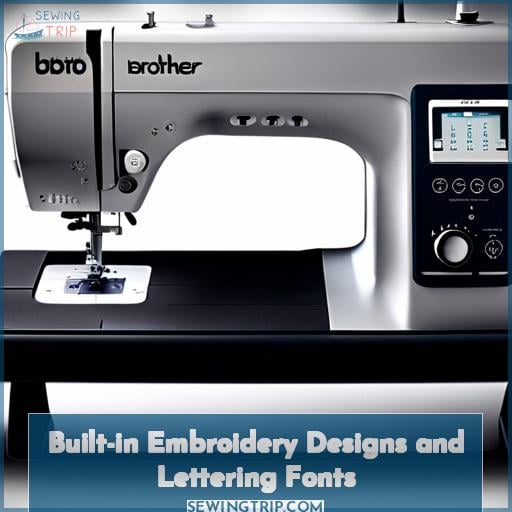 With the built-in library of embroidery designs and lettering fonts, you have plenty of creative options right out of the box. Choose from 70 embroidery designs ranging from floral motifs to whimsical critters.
There are also 6 lettering fonts to customize monograms, names, and phrases. The built-ins showcase the PE770's excellent stitch quality and ability to handle delicate details and shading. You'll have a rainbow of thread colors to work with when personalizing the designs.
While some of the built-ins are relatively simple, others are more intricate and dense. With so many design and font options included, you can embroider customized gifts and projects immediately after unboxing your machine.
The versatile selection ensures beginners can dive right in, while more advanced crafters have plenty to work with until adding specialty designs. This selection of fonts and designs means you can start embroidering customized projects as soon as you unwrap your new machine.
Both beginners and experienced embroiderers will find designs they love in the built-in library.
USB Port for Importing Additional Designs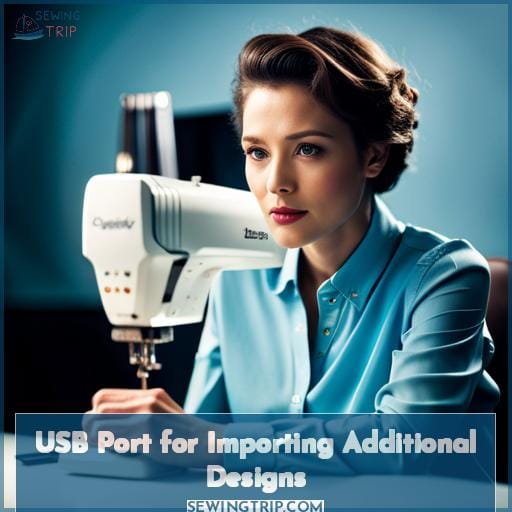 After diving into the PE770's built-in designs, you'll soon be eager to import your own. Luckily, the USB port makes adding custom embroidery a breeze. Simply save designs from your favorite digitizing software onto a USB stick in any popular format – PES, DST, or EXP.
Then plug it into the port on the machine to instantly access those files. With the ability to store and organize hundreds of imported designs, you'll never run out of creative projects.
Plus, this handy feature ensures your PE770 grows with you as you explore new genres of embroidery. Rather than limiting your options, Brother opens up a world of customization through easy USB transfers.
5×7 Work Area and LCD Touch Screen Display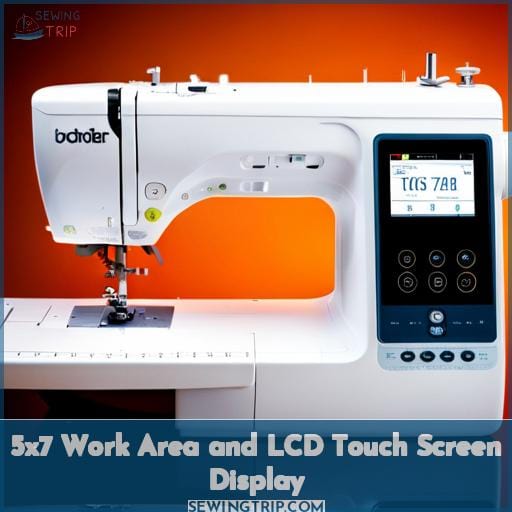 You can see your stitched designs come to life on the Pe770's backlit LCD touch screen display as you work in the generous 5×7 hoop area. The LCD screen provides multiple advantages for crafters, allowing you to preview designs, edit them, and watch them being sewn in vivid color and detail.
This touchscreen interface makes selecting, customizing, and stitching out designs incredibly intuitive.
With the Pe770's compatibility with a wide range of decorative stitch designs, you'll appreciate the sizable 5×7 workspace that gives you room to embroider larger patches, names, motifs, and more. Between the touchscreen conveniences, expanded hoop capacity, and real-time visualization, the Pe770's user interface empowers crafters with an immersive creative experience and greater control over each embroidery step.
Advanced Features and Capabilities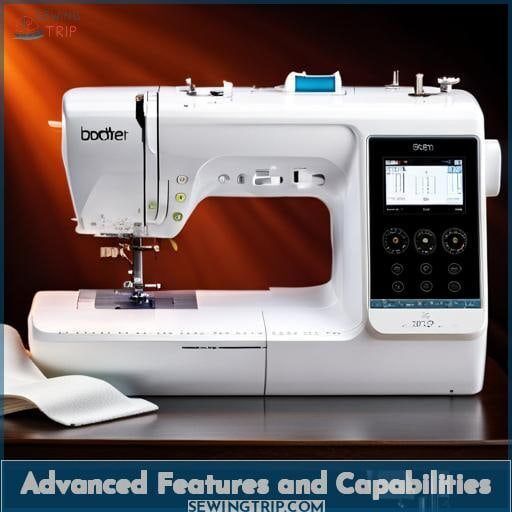 Ready to sew up some creative embroidery projects? With the Brother PE770's 5×7 inch work area and backlit LCD touch screen display, you'll have ample room for your ideas. This machine comes loaded with 136 built-in designs, an automatic thread cutter, and so much more to inspire your crafting.
Large embroidery area
Stitching large designs faster across the wide embroidery area will take some getting used to. With the Brother PE770's spacious 5×7 hoop size, your embroidery techniques will reach new heights. Place and preview designs with ease on the LCD screen, selecting perfect thread options for each area.
The extensive workspace empowers your creativity, offering ample space to produce quality stitches exactly where you envision them. This machine's expansive work area provides the room you need to master any and all embroidery endeavors.
Built-in designs
You'll find over 100 built-in embroidery designs included with the PE770.
The built-in designs allow for customization of stitch density, hoop size, color palette, and design editing.
You can rotate, increase/decrease size, mirror image, and combine designs.
The designs utilize multiple hoop sizes up to 5 x 7.
Adjustable stitch density settings allow you to customize designs.
Edit colors and preview edited designs on the LCD touch screen.
The PE770 comes loaded with a large variety of built-in embroidery designs to spark your creativity.
Auto thread cutter
My friend, an automatic thread cutter on your sewing machine saves you precious time like a pit stop mechanic changing tires during a race. With just the push of a button, the thread is trimmed and tension's released with no need to raise the presser foot or pull your work free.
Thread management's so efficient, you can move from seam to seam in seconds. Use the auto thread cutter gently and keep it free of lint for best performance. While some pricier machines include this handy feature, alternatives like small scissors or specialty cutters work too.
Savvy sewers know this option accelerates their progress and mastery of any project.
Conclusion
The Brother PE770 Embroidery Machine is a powerful workhorse, capable of producing up to 650 stitches per minute. This amazing machine is perfect for the experienced sewer and hobbyist alike, as it offers a large embroidery area, built-in designs, and an auto thread cutter.
The PE770's also equipped with a USB port, allowing you import additional designs, as well as a 5×7 work area and LCD touch screen display.
From the ease of use to its advanced features and capabilities, the Brother PE770 Embroidery Machine's a great choice for anyone looking to take their sewing and embroidery projects to the next level.