This site is supported by our readers. We may earn a commission, at no cost to you, if you purchase through links.
If you are passionate about getting started with embroidery and are looking for a standalone machine that supports and promotes your hobby, then the Brother PE770 Embroidery Machine could be the right choice for you.
It has a range of impressive features including a built-in library of 136 designs and a built-in USB port to import designs from a USB memory stick – so you'll never be short of new designs to add to your creations to add.
]
We will not lie, we love this machine — it's one of our top picks for the best embroidery machine — and others think so too: its even been awarded a "Consumers Digest Best Buy" seal from Consumers Digest.
Of course there are a few minor issues to consider before purchasing. To help you decide if it's right for you, here's a detailed breakdown of its best assets – and the areas where it can improve.
Let's get dive right in…
Brother PE770 Embroidery Machine: The Details
The Look
The Brother PE770 is a modern-looking machine that fits in any studio or hobby room.
The spacious embroidery field ensures you have enough space to work comfortably, and the blue panel adds an elegant look against the white of the machine – making it an aesthetic addition to your workspace.
Specs
Weight: 26.6 lbs
Dimensions: 21.2 x 16.9 x 17.3 inches
Stitches: 184 decorative stitches, 136 embroidery designs, 10 buttonholes and 6 embroidery fonts.
Speed: 650 bpm
Automated/Mechanical: Automated
Bobbin: Drop Sew Bobbin System–automatic bobbin thread take-up for faster threading
Warranty: 25 Year Limited Warranty
Accessories
With most embroidery machines, you for extra accessories.
The Brother PE770] ensures you have exactly what you need to make your embroidery adventures a flying to start. The machine comes with:
One 5″x7″

embroidery hoop

Embroidery arm
Dust cover
Accessory bag with seam ripper, needle set, cleaning brush, screwdrivers (2), bobbin caps (3), scissors, and bobbins (3)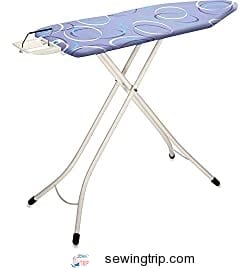 Brother: The Company
The Brother Company started out in Japan, Nagoya, as a sewing machine manufacturer about 120 years ago.
Since 1954, Brother International Corporation has been serving the needs of both the home and office and a US branch of Japan-based Brother Industries Ltd.
Brother's longstanding reputation for making quality sewing machines, backed by their standard 25-year minimum warranty, is a testament to their dedication to sewers.
0]
They even have a sewing blog,'Stitching Sewdial', to serve a community of seamstresses and share personal stories, tips and DIY project designs.
The Warranty
The Brother PE770 embroidery machine by their 25-year limited warranty, which is standard on most sewing machines. The warranty ensures that the machine and additional parts arrive in good condition.
During the first year after purchase, Brother will replace or repair parts. It is always best to contact the supplier for: full warranty details.
Brother PE770 Features
The Brother PE770 embroidery machine has several useful and intuitive features, all designed to enhance your overall sewing experience.
Here are the most important ones to look out for:
Large embroidery field of 5″ x 7
The extensive embroidery field of 5″ x 7″ gives you the space you need for larger sewing projects.
The large surface area allows you to work comfortably on a range of embroidery techniques for designs on the backs of jackets, tote bags and quilting squares.
This is definitely not the biggest field we've ever seen – check out the Singer Futura XL-400 if you want something really huge – but it's pretty good considering the price of the machine.
Automatic Needle Threader
One of the best features that makes the Brother PE770 so accessible to a variety of skills and experience Since levels is the automatic needle threader, which makes threading the eye of the needle a breeze.
There is a simple threading scheme to follow before the eye threads itself automatically.
Automatic Thread Cutter
This feature really saves you time! With the automatic thread cutter, you can cut your top and bobbin threads for you at the touch of a button.
It is straightforward to operate and can save you precious time when working on multiple projects.
Quick-Set Bobbin
Another timesaving feature is the quick -set flushing system. You simply drop your bobbin, pull the thread through the slot and start embroidering.
The I equipped bobbing system with snag-resistant technology and ensures reliable and even stitch quality. The clear bobbin and bobbin cover let you see when your thread is running low.
Many built-in designs
The Brother PE770 with 136 pre-programmed designs and 6 lettering fonts. There are also 10 frame shapes and 12 border styles to choose from.[1965950]Sometimes the built-in designs on embroidery machines are boring or old-fashioned, but we by the ones on this machine – there are really nice designs in there!
Built-in memory
This function allows you to import designs from a USB stick or import purchased designs from bread .com and other websites so you can save your favorite designs to your machine.
This is a really useful addition and gives you an extensive range of designs and patterns to play with. to work—brilliant!
Embroidery Card Slot
In addition to the built-in memory, you can also use the built-in embroidery card slot to designs from Brother embroidery cards.
iBroidery Compatible
All Brother Embroidery customers have access to thousands of fantastic and exclusive downloadable embroidery designs, which can at www.iBr oidery.com.
You can choose from their extensive collection, including licensed characters from Nickelodeon, Disney and Disney Pixar, plus limited edition designs age from the Brother design library.
LCD touch screen with backlight
The easy-to-read 1.4 x 2 LCD display, 7 inch allows you to select your chosen designs and editing functions.
This is a great modern feature and extremely useful. Also a blessing for those of us with tired eyes…
Extensive design editing
As it now expected us of Brother's computerized embroidery machines, there are some very extensive editing options that can via the LCD touchscreen.
You can do a lot: rotate, flip, resize and even a preview of your designs before sewing.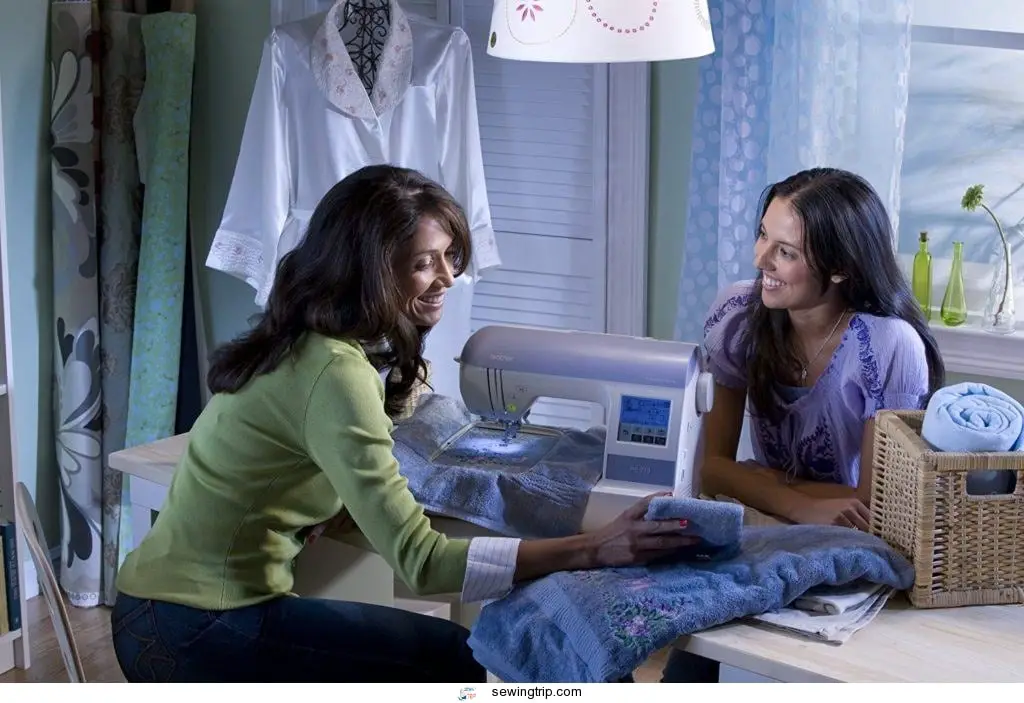 Brother PE770 Embroidery Machine Review
The Positives
Now that we have looked at all the important features, let's round up all the positives of this embroidery machine.
High quality stitches
Perhaps the most important characteristic for judging how good an embroidery machine is at sewing.
We to can report we have experienced nothing but high quality, consistent stitching with the Brother PE770, proving that be the perfect companion for our designs and creations.
Lots of creative freedom
There's no denying that this machine offers you an incredible amount of design choice.
The machine comes with 184 decorative utility stitches, including scallop, smocking, shell pleat, heirloom and drawn work. The machine has six built-in embroidery fonts and 136 decorative designs, including delicate scrollwork, intricate florals, classic quilting patterns and more.
When it comes time to add for the finishing touch, you can choose from 10 built-in frame shapes and 12 border styles.
Easy and easy to use
This machine is very Easy to use: The LCD screen is easy to navigate, so you can pick and select your chosen designs without hassle. The last thing you want to do is figure out how everything works, but the instructions are to the point, so you're ready as soon as you unpack your machine!
This ease of use, combined with the amount of creative possibilities on offer here, is why we think this is one of the best embroidery machines for beginners and more experienced users.
If you have any problems with the machine, or if you're looking for support and inspiration, don't forget to check out the dedicated Broth PE770 Users Facebook Group.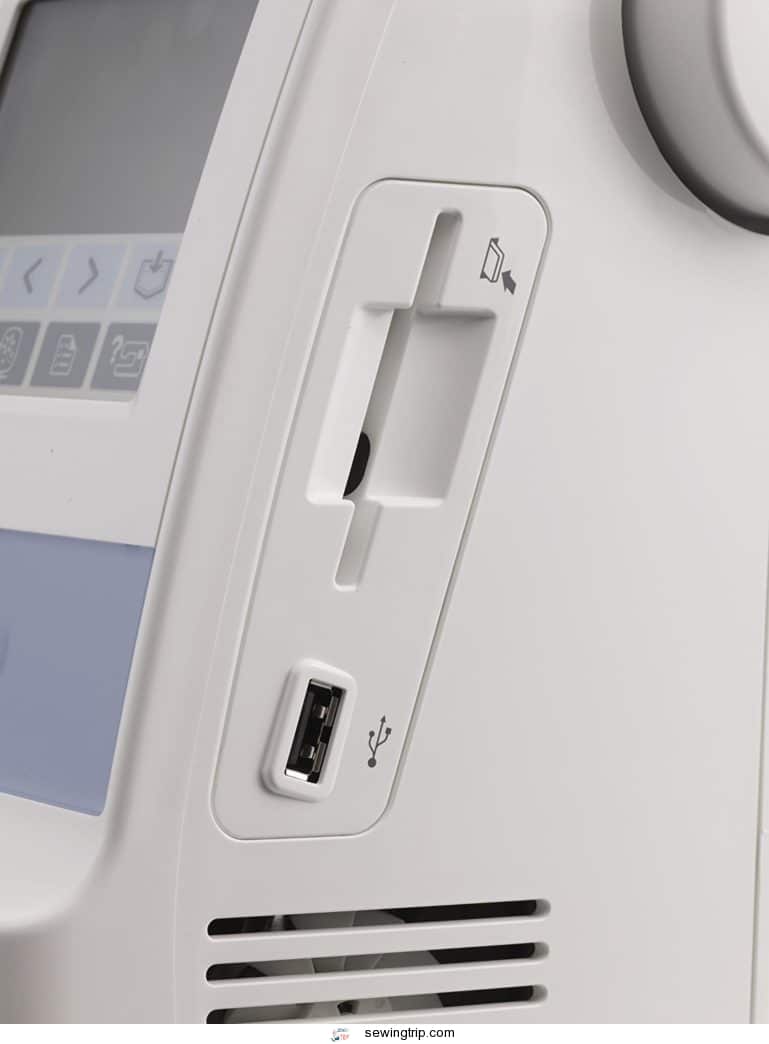 Additional memory
Perhaps our favorite aspect of this embroidery machine is the built-in memory.
]
It is rare for machines to offer you the option to download your own designs and this is very useful, especially if you are an experienced sewer worker working on several projects.
]
You can save your favorite designs to your machine and find more designs through Brother embroidery cards. It's safe to say you'll never be short of ideas!
The Negatives
Relatively limited embroidery area
]
Although 5″ x 7″ is certainly not the smallest embroidery field on offer – many beginner embroidery machines only offer 4″ x 4″ – it can still can be restrictive if you want to work mainly with larger designs.
Of course the machines with a larger field will be correspondingly more expensive. The Brother PE770 can be the perfect compromise between size and price.
]
Large and non-portable
Although this machine looks very chic, there's no escaping big – and can therefore be problematic for those with a small workspace. Don't forget to measure how much space you need to house it before you buy it!
In addition, at just over 26 lbs, this is not a lightweight machine. You probably won't be laying this around at embroidery fairs – unless you buy a carrying case for it.
Overall verdict
The Brother PE770 is without a doubt one of the best embroidery machines for beginners and intermediate users on the market.
It is a great product for experienced seamstresses who want to expand their existing skills and create professional and great looking items. In addition, it is easy enough for a beginner and grow their own skills. It offers good value for money and the amount of design choices is unbelievable for a single machine.
It's not perfect – some may find the PE770's 5″ x 7″ embroidery field maybe a little small for their purposes – and it's not really portable either, but overall we highly recommend it.
Where to buy the Brother PE770
Brother sewing machines are always popular and the PE770 embroidery machine is no exception.
Here are a few places can find him online:
]
And of course it's also available on Amazon.

---
Have you tried the Brother PE770 embroidery machine?
For more reviews, visit our complete archive et with machine reviews.