This site is supported by our readers. We may earn a commission, at no cost to you, if you purchase through links.
Looking for a machine that can do everything?
The Brother Project Runway PC420PRW as one of the best machines for versatile sewers.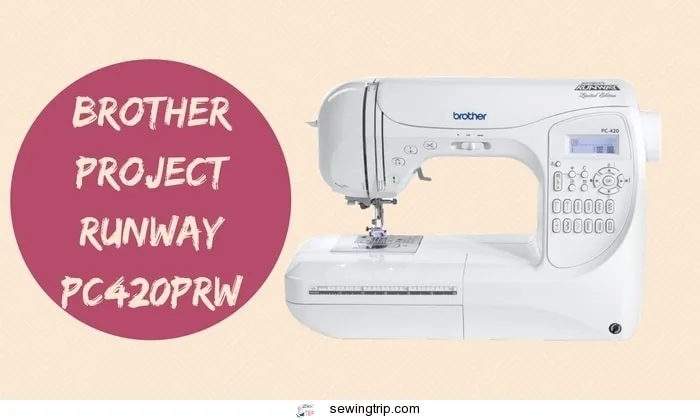 We *love* it.
With several accessories and built-in delights, the Brother PC420PRW offers sewers of all positions and the ability to create whatever their heart desires, whatever fabric they want.
With 294 built-in stitches, computing power and its range of capabilities, the Brother PC420PRW is one of Brother's superior sewing machines and more expensive.
It's not a perfect machine, but the capabilities the Brother PC420PRW offers its sewers seem more than enough to make up for it.
We'll let you decide, of course: let's find out more…
Brother Project Runway PC420PRW: The Details
The Look
We're sure you remember when you were a kid and wanted to press all the buttons on your parents'television remote. The Brother Project Runway PC420PRW offers that same merry opportunity.
The countless buttons linked to stitch selection punctuated white body, lighting and many other goodies, perfect for adding interest to your latest project.
The LED stitch selection screen is small compared to the body, but it is away from the work area and is easy to read even if you have tired eyes.
The machine itself weighs 26 pounds: not exactly light, but understandable when you consider all the included functions of the machine.
It also comes with a hard cover, making it easy to store between projects.
Let's go through the features…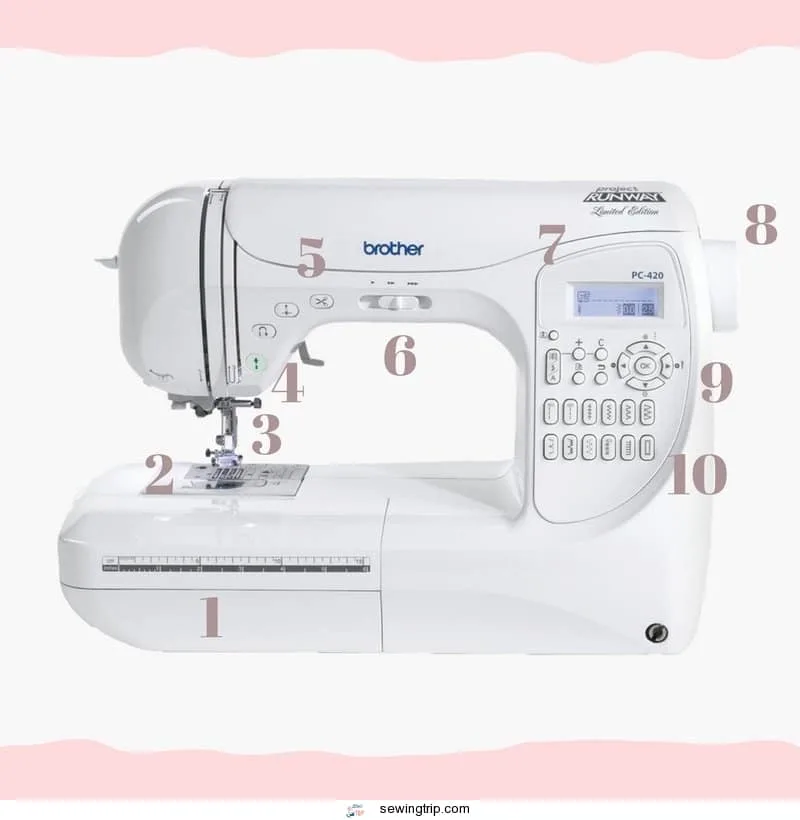 Storage Compartment
Super Easy Bobbin Winding System
Start button
Automatic thread cutter
Speed selection slider
Tension dial
Stitch size selector
]
Stitch selections
Specs
Weight: 26 pounds
Dimensions: 17.3 x 7.9 x 11.4
Stitches: 294 built-in stitches
Speed: 850 stitches per minute
Computerized/Mechanic: Automated
Spool: Jammed, quick set, top drop in
Warranty: 25 year limited warranty
Accessories
The Brother Project Runway PC420PRW sewing machine comes with the following accessories:
Overcasting foot
Monogram foot
Zipper foot
Adjustable zipper/piping foot
Blindstitch foot
Buttonhole foot
Quilt foot
Stitch guide foot
Non-stick foot
Open toe foot
3 bobbins
Needle setting
Twin Needle
Cleaning Brush
Hole Punch
2 screwdrivers
3 spool caps
Additional spool pin
Spool net
Isolated sheet setting
Pedal for Foot Pedal
Hard Protective Case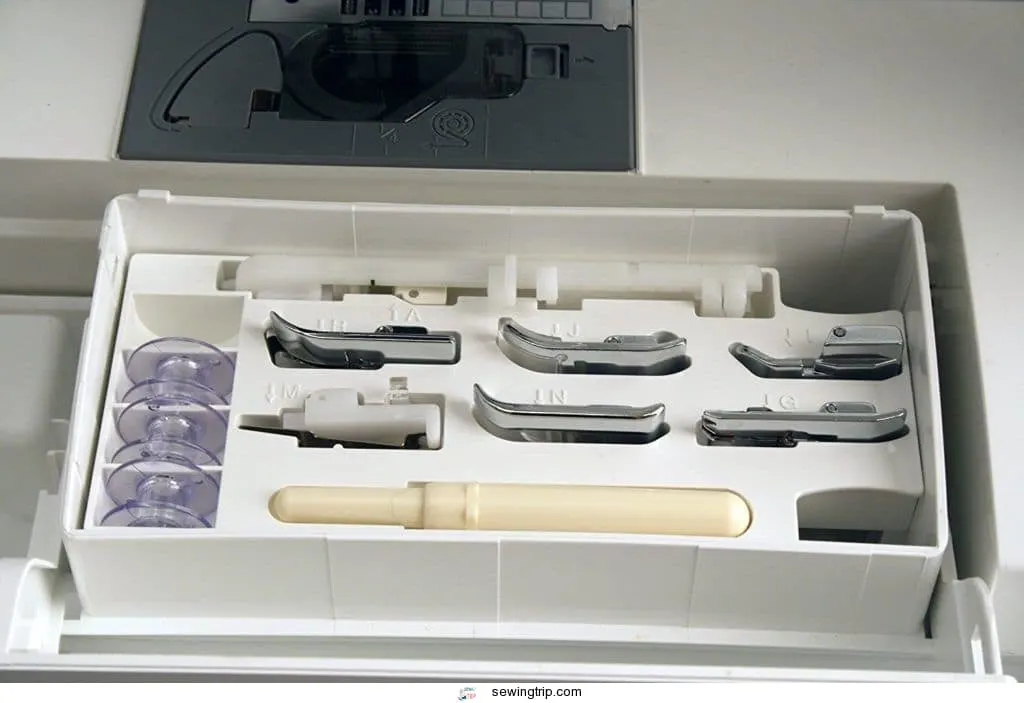 You're all set to get started when you use this machine take home.
No need to wait or buy add-ons elsewhere – the Brother PC420PRW has everything you need to get your projects done as quickly as possible.
Brother: The Company
Since 1954, Brother has operated as a US subsidiary of Japan-based Brother Industries Ltd meets the needs of the home and office.
Their We awarded sewing and embroidery machines "Consumer Digest Best Buy"" in 2013.
Brother's longstanding reputation for making quality sewing machines, backed by their standard 25-year limited warranty, is a symbol of their dedication to their sewerage system.
They even have a sewing blog,'Sewcial sewing,'community and provide personal stories, tips and DIY project design to sewers considering their products.
The Warranty
The above 25 year warranty for the
] Brother PC420PRW allows machine parts, labor and accessories to be replaced up to one year after purchase.
Electronics and printed circuit boards can up to two years after purchase, and the chassis casting can up to twenty-five years after purchase.
A more detailed explanation of the warranty by Brother and can in PDF format here.
Features
Well equipped with several accessories, the Brother PC420PRW sewing machine itself as a machine of interest. Brother advertises a variety of features that make it excellent for the ambitious sewer.
Stitch
The 294 built-in stitches offer a wide range of project options: they include the following:
67 utility stitches
31 decorative stitches
5 cross stitches
16 satin stitches
10 decorative satin stitches
It's no wonder the PC420PRW is so popular with tailors!
There's even a built-in My Custom Stitch feature that allows you to design and save your own stitches. Brilliant news for the creatives among us.
You can access all stitches from the machine's easy-to-read LCD display.
Automatic threading and cutting
The ease of use of the machine because we equip it with an automatic needle threader.
Just follow the numbered diagram on the machine for a perfectly threaded needle.
There is also an automatic thread cutter and the option to trimmer to cut the top and bobbin threads at the end of each section – this feature has proven popular with quilters.
FAST Bobbin System
]
The bobbin winding system is quick and easy: just move the bobbin to the right and press the start button. All set!
Ideal for learning beginners or tailors looking for extra precision, the Brother Project Runway PC420PRW has a sliding speed control that allows you to control how fast you want to sew.
]
Three speeds are available, with a maximum of 850 stitches per minute.
More useful functions
Ultra Clear Sewing Area
6 Point Feed Dog
Twin Needle Function
Built-in Knee Lift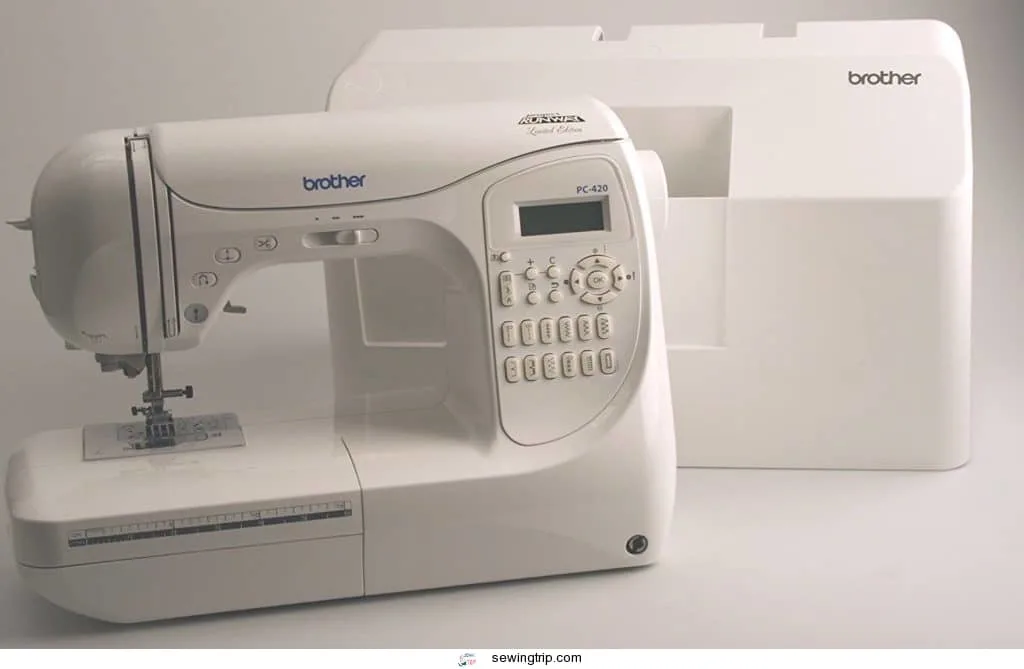 Brother PC420PRW Review
The Brother PC420PRW is an undeniably impressive machine, but is it really everything it's looking for?
Let's see.
The positives
High quality stitching
The most important thing to check before buying a pair hundred dollars for a sewing machine, how well can it sew?
Very good, actually. We with the sewing skills of the Brother PC420PRW — it reliably produces even and straight stitches in exactly the configuration you choose from the LCD settings menu.
It's part of the Project Runway line of sewing machines and this isn't just a great marketing ploy: tailors love the reliable stitching quality, scope for creative expression and general ease of use offered here.
Good for heavy sewing
The work that the Brother PC420PRW by your imagination. This baby is VERSATILE.
A workhorse, this machine can handle just about any fabric, either alone or in layers.
The wide variety of stitches and the collection of feet allow you to create any kind of complex project. If you spend several hours a day and several days a week in front of your sewing machine, the Brother PC420PRWnot only meet your needs, it will exceed them.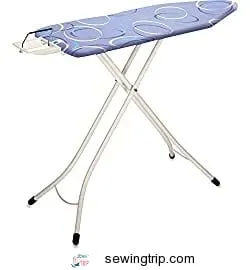 Easy to use and good for beginners
The adjustable speed of the Brother PC420PRW means you can run your complex projects as fast or slow as you want.
If you're just starting out and want to get an idea of a project, keep it at a steady pace. If you have more experience, you can increase the speed as you want. The Brother PC420PRW will keep up with whatever speed you want to work at.
Convenient features such as the automatic needle threader and cutter, and the super easy bobbin winding system all add to make this machine a breeze.
A sewing experience for the whole body
The built-in knee lifter is a gift when working on a project for a long time or on a large canvas such as a quilt.
The knee lifted allows you to take your hands off your project; it lowers your presser foot in front of you.
It may take some getting used to if you've never worked with a knee lifter before, but it's worth having one on your machine.
Super Bright Work Space
This feature in sewing machines, but we are Love the bright workspace of the Brother Project Runway PC420PRW.
The machine's LED light ensures that you don't tire your eyes while you work. By providing a well-lit area, the machine ensures I do not spend the hours you spend on your latest project in the dark.
See more: Brother Project Runway vs Singer Quantum Stylist
The Negatives
Additional trimming may be required
The automatic thread cutter is a very nice tool to have in your sewing machine, but there is occasionally some extra work to do when working with the Brother PC420PRW.
Although the thread cutter seems quite reliable, we occasionally find that we need to trim an inch of the thread it leaves behind.
Also be careful – some users have noted that excessive use can wear out the thread cutter.
Brother Bobbins only
Although the FAST coil system works wonders, you especially need Brother coils if you use this mac wine works.
27]Other They have reported similar bobbins to snag when working with the machine or not work at all. Boo.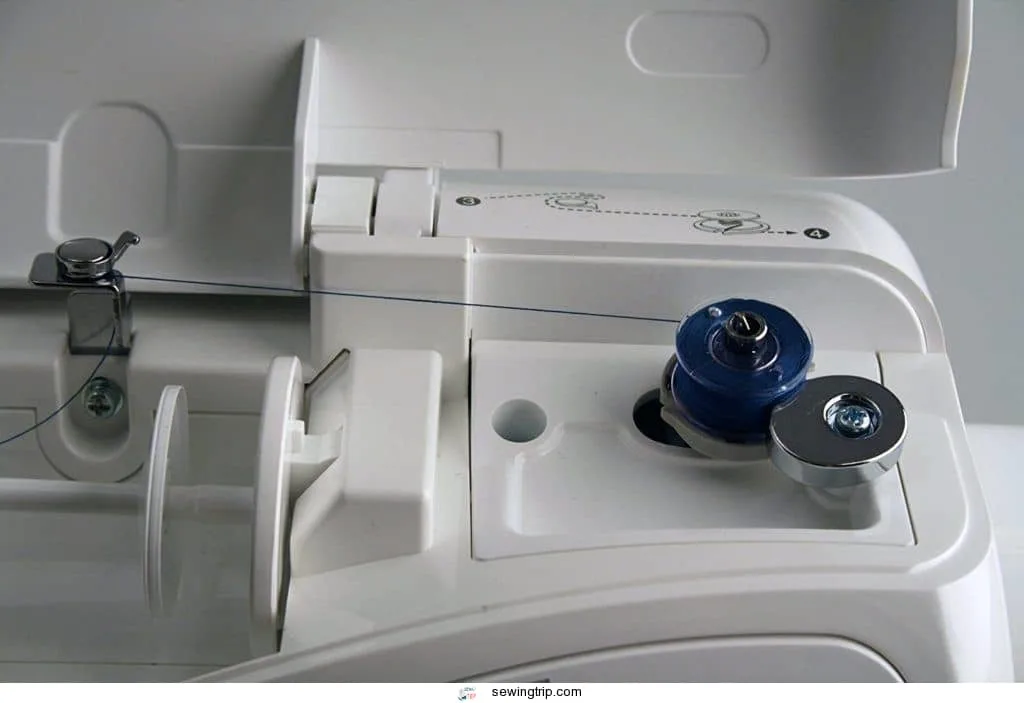 It's not cheap
The Brother PC420PRW for its quality – not a bad thing, exactly, but it means that the machine is not cheap.
You can think of this machine as an investment: if you want to improve your sewing, use the machine for all ways. creative projects and general sewing, you'll likely get a lot of miles with it.
With all its features and accessories, the Brother PC420PRW is worth the cost, but it's no machine you want to buy if you to pursuing your projects.
Overall verdict ]
While there are a few things to consider before using the Brother Project Runway PC420PRW, we can really can't recommend it enough.
It is incredibly versatile, easy to use and reliably produces excellent stitches.
This machine has certainly established itself as a workhorse among other sewing machines of this price tag. It's great for ambitious beginners and the more experienced creatives among us. General sewing? No problem. More specialist creative projects? You will wonder what you did without it.
Thehuge possibilities offered by the machines, along with the range of accessories, allow the adventurous sewer to pursue a myriad of ambitious projects. While it's not a perfect machine, it will certainly serve you well as you mark projects off your dream list.
See More: What's The Best Brother Project Runway machine?
Where to buy the Brother Project Runway PC420PRW
This is a damn popular machine and therefore you can find it in most home improvement stores, in person and online.
America loves the Brother PC420PRW!
And of course you can also find it on Amazon.

---
What do you think of the Brother PC420PRW sewing machine?
Would you like to see other models before you decide? Check out our latest expert reviews.