This site is supported by our readers. We may earn a commission, at no cost to you, if you purchase through links.
Are you ready to take your sewing projects up a notch? If so, the Janome 11000 Special Edition Sewing Machine is an ideal choice. This semi-professional machine is designed for serious sewists and crafters who need reliable performance and advanced crafting features, such as an extended throat space, knee lifter, decorative options, and embroidery designs.
Key Takeaways
Extended throat space
358 built-in stitches
3 fonts
AcuFil™ Quilting System
Janome Memory Craft Special Edition Sewing Machine
View On Amazon
You'll love the Janome Memory Craft Special Edition's smooth and quiet operation, extensive built-in stitches, and handy accessories that make it a versatile, feature-rich machine for intermediate to advanced sewists.
With 270 built-in stitches up to 9mm wide and 11 one-step buttonholes, you can embroider, quilt, construct garments, and more. The high-resolution LCD touchscreen provides effortless stitch selection and customization, while the extension table offers an expanded work surface.
Key features like the top-loading bobbin, automatic thread cutter, variable speed control, and knee lift maximize convenience.
While the Special Edition may require some initial learning, most find it intuitive enough for confident mastery in no time.
Smooth, quiet operation
Extensive built-in stitches
Convenient features like knee lift and auto thread cutter
LCD touchscreen for easy stitch selection
Bonus accessories included
May require an initial learning curve
Expensive relative to basic models
Singer Quantum Stylist Computerized Sewing Machine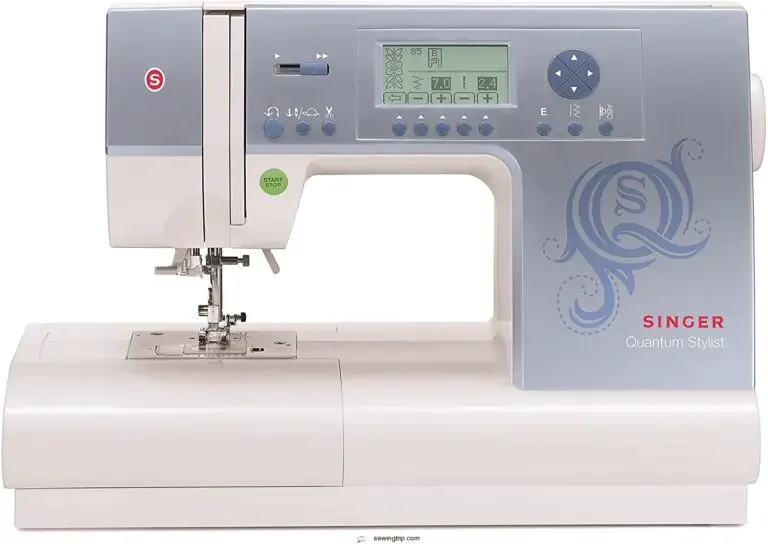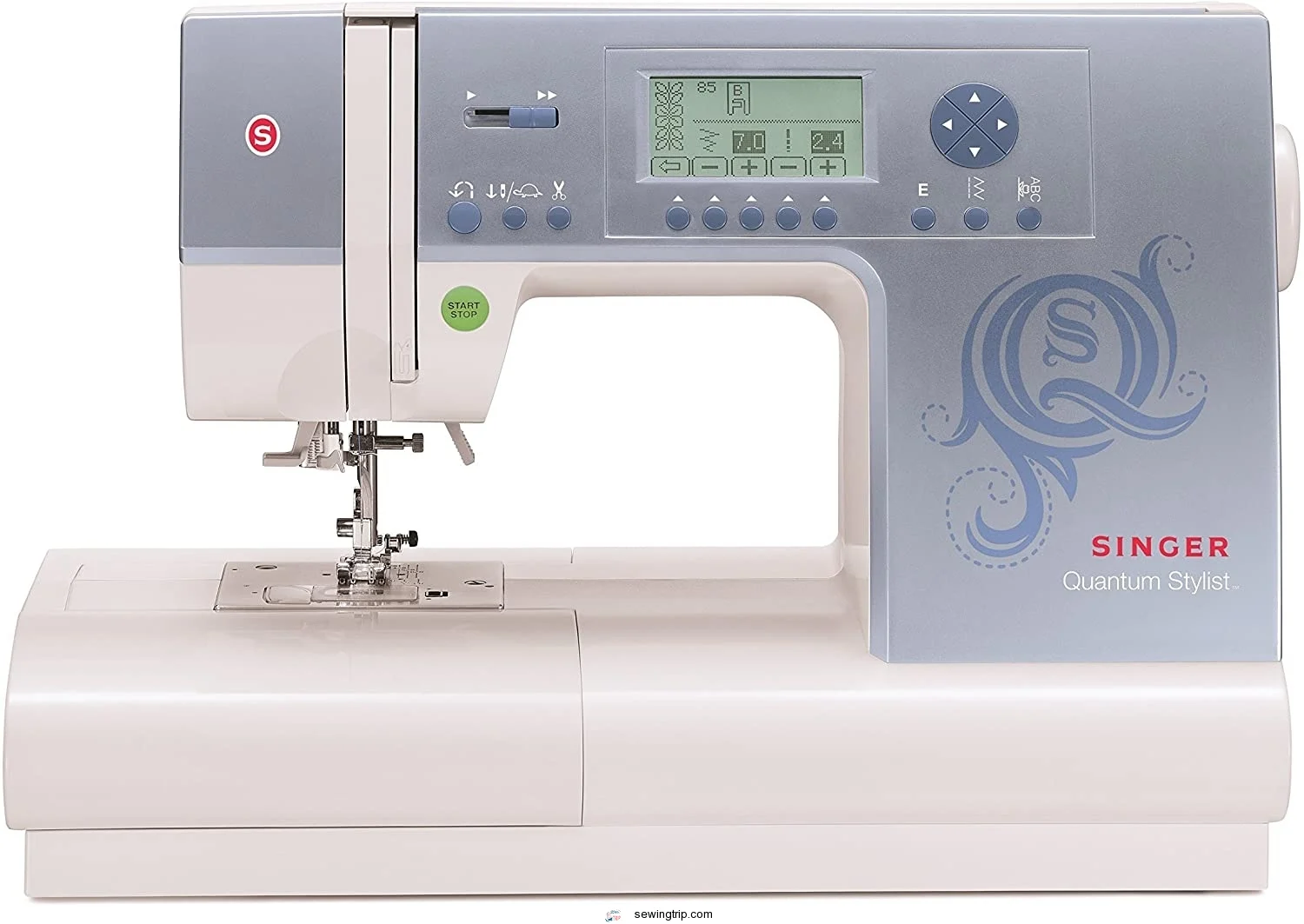 View On Amazon
Coming up is the Singer Quantum Stylist computerized sewing machine, packing a punch with its large selection of built-in stitches, fonts, and swift sewing speed to tackle any project you throw at it.
With 820 built-in stitches, 5 different fonts, and a maximum sewing speed of 850 stitches per minute, this feature-packed machine offers both utility and creativity.
Its high-resolution LCD screen provides optimal visibility and ease of use for selecting stitches, adjusting settings, and more.
While some users initially struggled with the automated needle threader, most found the Quantum Stylist's combination of speed, functionality, and embellishment options made it a versatile, user-friendly machine.
This SINGER can whip up both everyday repairs and decorative touches with equal finesse.
Large selection of utility and decorative stitches
Fast 850 SPM sewing speed
Convenient automatic needle threader
LCD screen for visibility and control
Useful accessories included
Some issues reported with the needle threader
Lacks French instruction manual
Pfaff Creative Three IDT Sewing Machine
View On Amazon
With so many computerized and innovative sewing machines on the market, it's worth taking a look at one of Pfaff's stalwart models – the Creative Three IDT. This feature-rich machine may not have hundreds of stitches, but it makes up for it with thoughtful design.
The Creative Three is centered around Pfaff's acclaimed IDT feed system, which ensures precise fabric handling and gives you total control.
The machine features a high-res touchscreen that simplifies selecting from 254 built-in stitches, modifying them, and even creating your own 9mm stitches. It also offers on-screen editing capabilities for the 157 built-in embroidery designs, making it a versatile and user-friendly machine.
For sewers, quilters, and embroiderers looking for more than just bells and whistles, the Creative Three IDT delivers both performance and possibilities.
Pfaff's integrated dual feed system ensures excellent fabric handling
On-screen editing capabilities
Three free motion modes
Smaller embroidery field compared to some competitors
Fewer built-in stitches than more computerized models
Limited customization features
Who is the Janome Horizon Memory Craft 8900QCP For?

The Janome 8900QCP is designed for intermediate and advanced sewists, offering sublime stitch quality and extensive capabilities. With a speed of 1000 stitches-per-minute, 270 built-in stitches, and 11 one-step buttonholes, this machine equips you to master intricate sewing and embroidery projects.
The easy-to-navigate touchscreen with stitch editing allows you to unleash your inner artist. Revolutionary features like the automatic thread cutter and Acﻭ layered fabric system optimize efficiency.
Whether you want to monogram a gift, construct a couture garment, or design a showstopping quilt, the Janome 8900QCP provides the performance and accessories to excel. This exceptional sewing machine delights your imagination and empowers your skills, with Janome's trusted engineering ensuring that the only limit is your vision.
What to Consider When Choosing a Semi-Professional Sewing Machine

You'll want to look for speed, precision, and intuitive controls when choosing a semi-professional sewing machine.
Stitching speed (850-1000 stitches per minute)
Built-in stitch options (100+)
User-friendly interface and screens
Presser foot pressure and fabric feeding capabilities
The performance capabilities and included accessories will determine how well the machine can handle thick fabrics like denim or delicate materials like silk. Comparing brands like Janome, Pfaff, and Bernina can help identify models with the right mix of power, versatility, and ease of use for your needs.
Test driving machines is recommended to get a feel for the responsiveness, stitch quality, and overall sewing experience.
Features and Benefits of the Janome 8900QCP Special Edition

You need versatile functionality and precision from your semi-professional sewing machine. The Janome 8900QCP Special Edition features touchscreen navigation for convenience, an Accu-feed system for precise stitching, and accessories optimized for semi-professional use.
Touchscreen navigation for convenience
Sounds like you'll breeze through projects with the touchscreen navigation on this machine! Up to 270 stitches are at your fingertips for effortless selection. The responsive touchscreen interface puts total control in your hands. Easily customize settings, select stitches, and edit designs right on the vivid display.
Reviews praise the screen's user-friendly operation and customization options. Touchscreen navigation combines modern convenience with creative possibilities on the Janome 8900QCP.
Accu-feed system for precise stitching
You have an advanced Acu-feed system that handles fabrics precisely for perfect stitch formation.
The advanced box feed dogs grip fabric layers from both sides for total control.
This system ensures consistent stitch quality on any fabric type or thickness.
It is great for sewing seams and quilting.
There will be no puckering, shifting, or slipping.
This Janome innovation guarantees professional results.
The 8900QCP's Acu-feed system is a game-changer for precise stitching, quilting efficiency, and flawless fabric handling.
Semi-professional use accessories
Accessories included with the Janome 8900QCP Special Edition highlight its semi-professional capabilities, making this heavy-duty machine ready to tackle your most ambitious projects while leaving you filled with existential dread about your menial sewing skills.
The extension table, walking foot, 1/4-inch seam foot, and other specialized attachments let you quilt large pieces, add piping, make buttonholes, and more with precision. This versatility can unlock your creativity or overwhelm you with pressure to live up to the machine's potential.
Conclusion
No matter what your sewing needs may be, the Janome Memory Craft 11000 Special Edition sewing machine can provide the perfect experience. It offers outstanding features and top-notch performance, including 358 built-in stitches, 3 fonts, the AcuFil™ Quilting System, and automatic thread tension.
The Singer Quantum Stylist 9980 and the Pfaff Creative Three IDT sewing machines are also excellent options, each with their own unique features and capabilities. All three machines provide a user-friendly experience with impressive stitch speed and quality.
For semi-professional use, the Janome Horizon Memory Craft 8900QCP Special Edition offers the most versatility. It features touchscreen navigation, the Accu-feed system, and various accessories.
Whether you're a beginner or an experienced sewer, the Janome 11000 Special Edition can provide the perfect solution for your sewing needs.