This site is supported by our readers. We may earn a commission, at no cost to you, if you purchase through links.
Can you find a computerized sewing machine that has all the functions you need and ? Almost impossible!
Fortunately, we're here to narrow down your search so you can get closer to that ideal purchase.
Today we evaluate the Janome Memory Craft 11000 SE.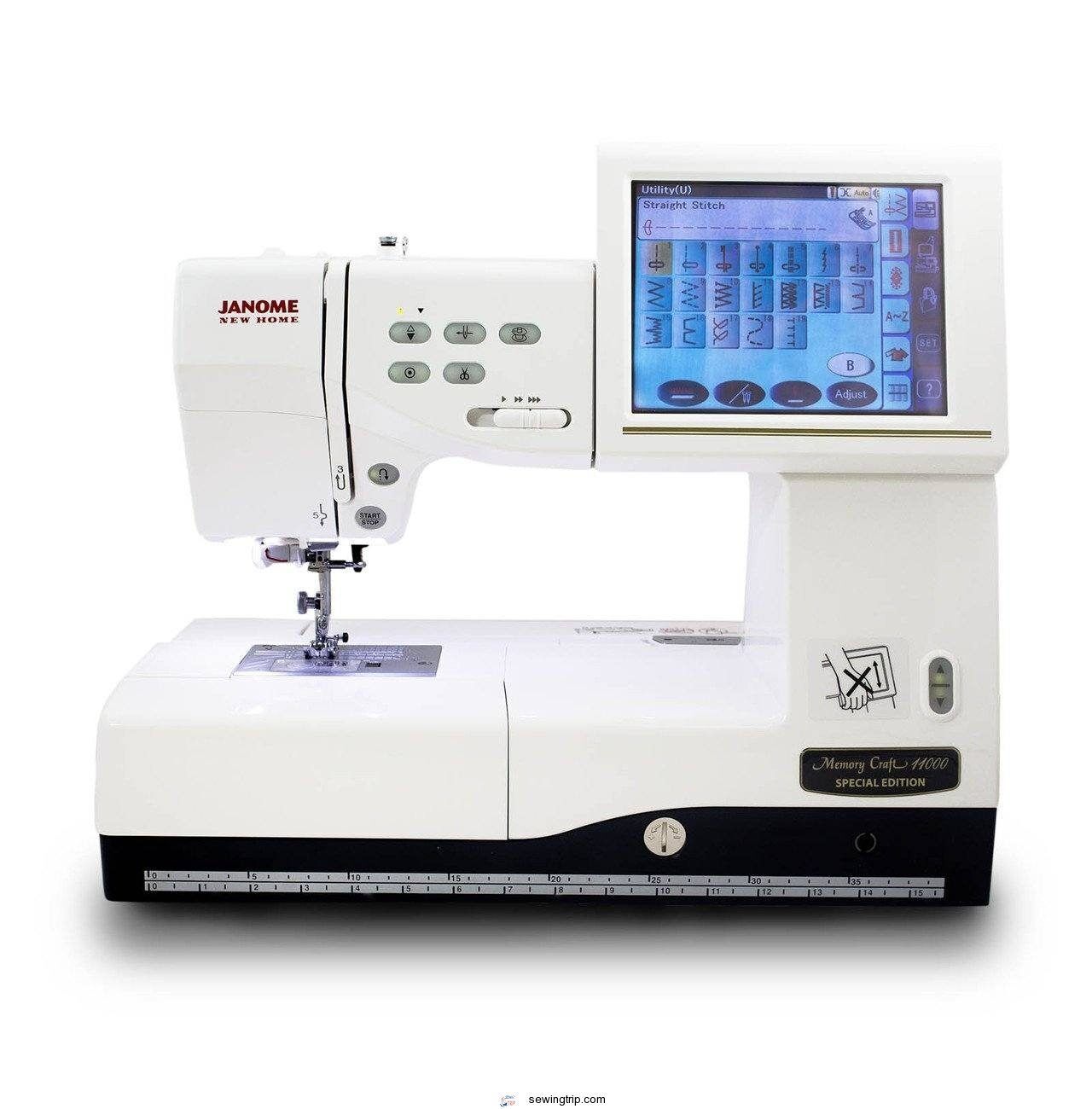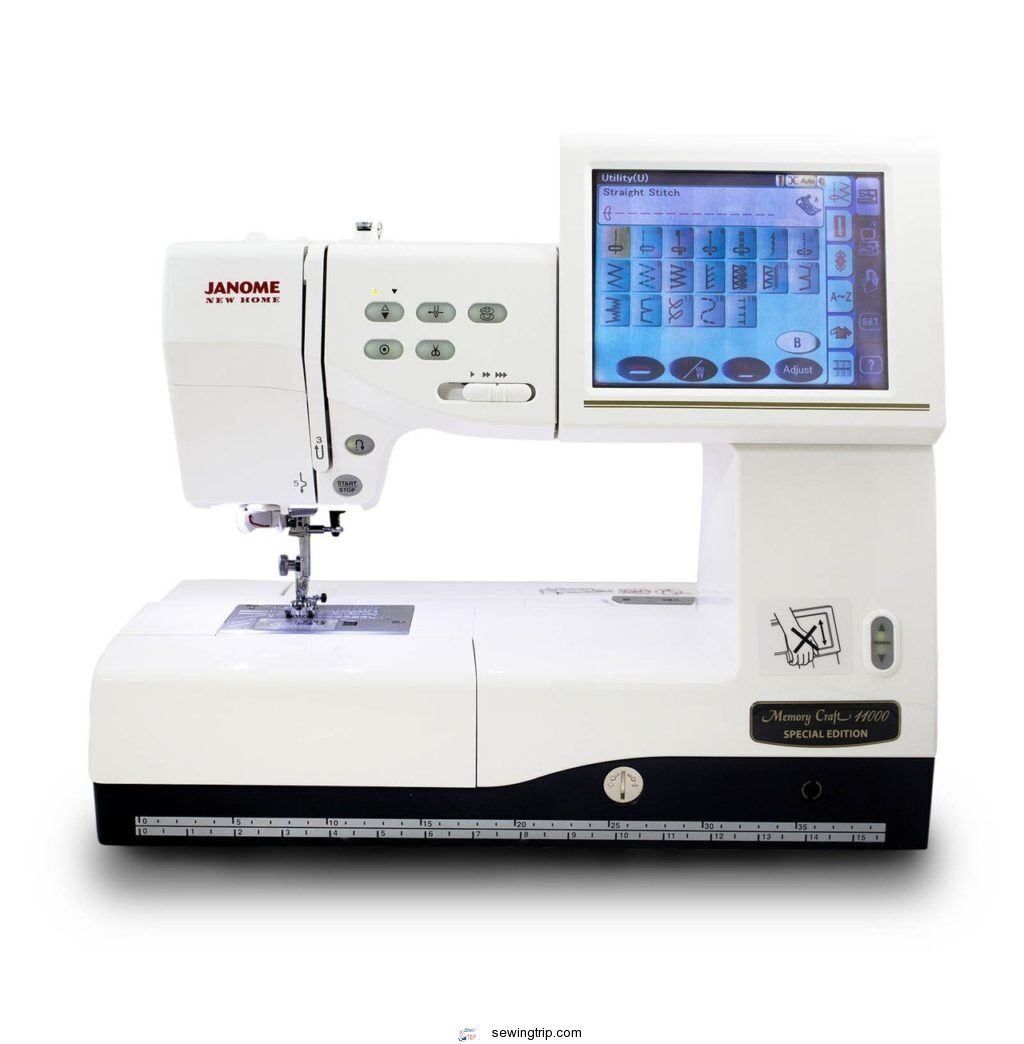 As one of Janome's special edition computerized sewing machines; it has a large LCD touchscreen, comes with hundreds of different stitches and has the coveted automatic needle threader.
Unfortunately, not everyone had such a significant experience. Some testers thought it was quite expensive, while others thought the touchscreen interface was too difficult to navigate.
Is this an overarching problem or a rare one? Let's inspect the Janome Memory Craft 11000 SE and find out how this machine compares to the best on the market.
Janome Memory Craft 11000: The Details
The Look
The Janome Memory Craft 11000 SE is a very modern-looking device. The centerpiece is the large LCD touch screen, which occupies a significant portion of the back of the machine.
There are a few buttons near the face that operate the individual functions, and they made the needle plate of stainless steel.
The I cover whole machine in white plastic with a few black accents. In terms of dimensions, it is not much bigger than a toaster oven.
Specifications
Weight: 31, 5 lbs.
Dimensions: 18.5 x 12.8 x 9 inches.
Stitches: 358 built-in stitches.
Automated / Mechanic: Automated.
Coil: Top-loading.
Warranty: 25 year warranty.
Accessories
Hoop ST (with template).
Hoop SQ (with template).
Foot pedal.
Power cord
Knee lift.
Set of needles with red tip.
Bobbin thread for embroidery.
Felt.
Stabilizers.
Template sheets for built-in embroidery designs.
1 USB cable.
Instruction Manual.
Reference Card Key Icon
Instruction Movie DVD.
Manual CD-ROM.
MC11K Tools CD-ROM (with instruction booklet).
Linen guide.
Embroidery Hoop-AQ (with template and clips).
Overhand Foot C.
Rolled Hem Fort d.
Zipper Foot E.
Satin Stitch Foot F.
Blind Hem Foot G.
Cord Foot H.
Over Seam Foot M.
1/4 ″ Seam Fort O.
Button-presser foot T.
Automatic buttonhole foot R.
Embroidery foot P.
Darning foot P-2.
Smooth Conveying Foot with Quilting Bar.
Quilting Guide.
Bobbin holder (large).
Spool holder (small).
Additional spool pin.
Rinse support.
Felt pad.
Bobbins.
Set of needles.
Screwdriver.
Screwdriver wrench.
Scissors.
Fluff brush.
Seam ripper (buttonhole opener).
Button shank plate.
Touch screen stylus.
Hardcase.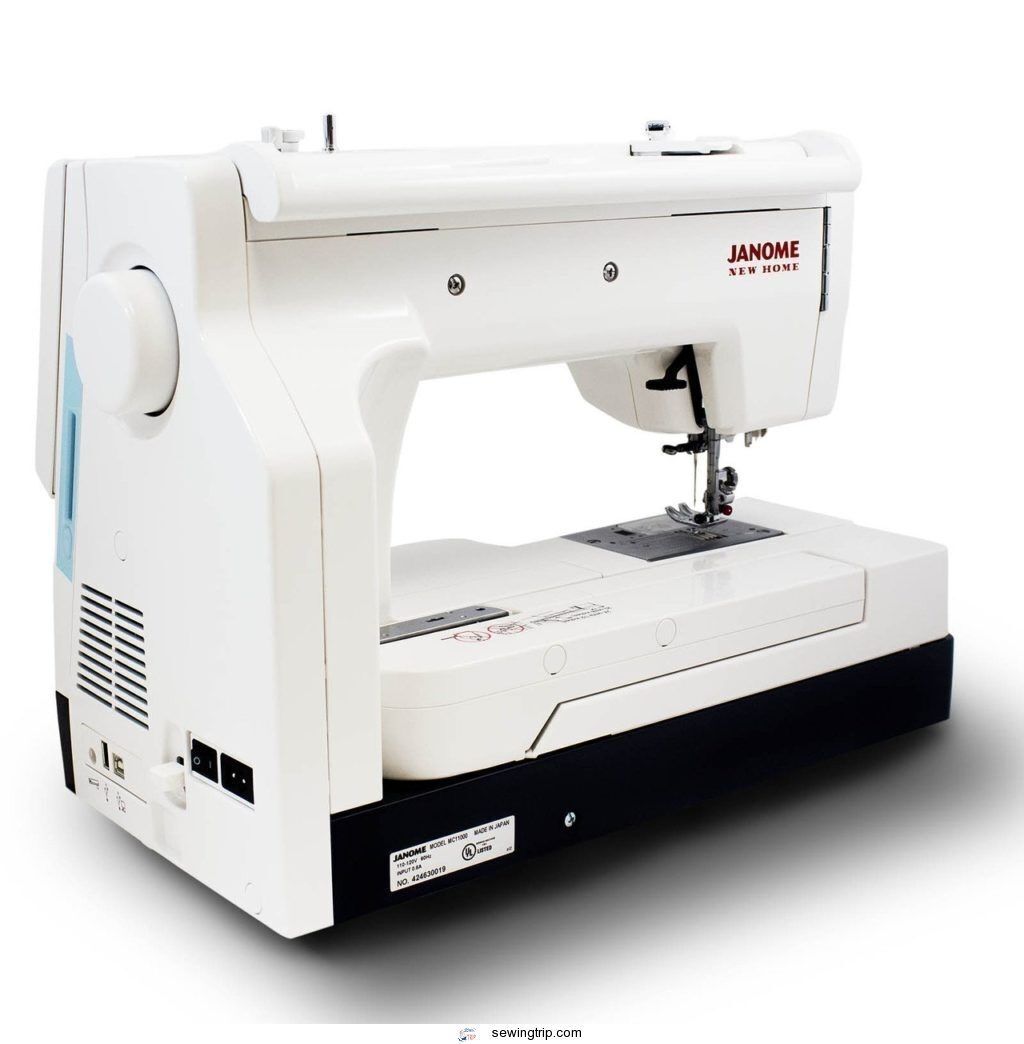 Janome: The Company
Founded in 1921 and first known as The Pine Sewing Machine Factory, Janome by Gosaku Osem and renamed Janome Sewing Co. in 1954
The company now has operations in the US, Canada, Mexico, Europe, Australia, and many more countries.
Janome's mission is to provide sewing machines and sewing machines that are easy to use, reliable and made of high quality materials. They want to ensure that the user " can get the most out of their creativity. "
The Warranty
The Janome Memory Craft 11000 SE comes with a 25 year limited warranty. This covers all problems with the materials " or workmanship, except for electrical / electronic equipment, which is warranted for two years from the original date of purchase. "
During the first year of ownership, you can receive free replacement parts for parts that fail, as well as labor. After the first year, we can replace defective parts for free, but you will have to pay for the labor required to repair your Janome.
The warranty covers nothing that happens. because you do not maintain or repair your machine, nor does it cover any damage caused by " normal wear and tear. "
Also, the warranty only applies to machines purchased through an allowed Janome dealer.
Features
358 built-in stitches
With With 358 built-in stitches, it is difficult to be left empty-handed when choosing stitches.
This Janome sewing machine includes basic, decorative, zigzag and stretch stitches, as well as thirteen different buttonholes in one step.
All directly into the device and can by pressing an icon on the touch screen.
Automatic needle threader
One of the best features of this sewing machine is the automatic needle threader. Threading a needle can frustrate, but this feature handles it in seconds.
To use the tool, start by holding the thread and pushing the automatic needle-threading button. The threader will automatically lower and a hook will come out of the eye of the needle.
Pull the thread over the thread guide, then pass it under the hook. Finally, pull the thread to the left and slide it into the thread holder.
Cut the thread with the thread cutter and press the thread button again. The machine pulls it through the needle.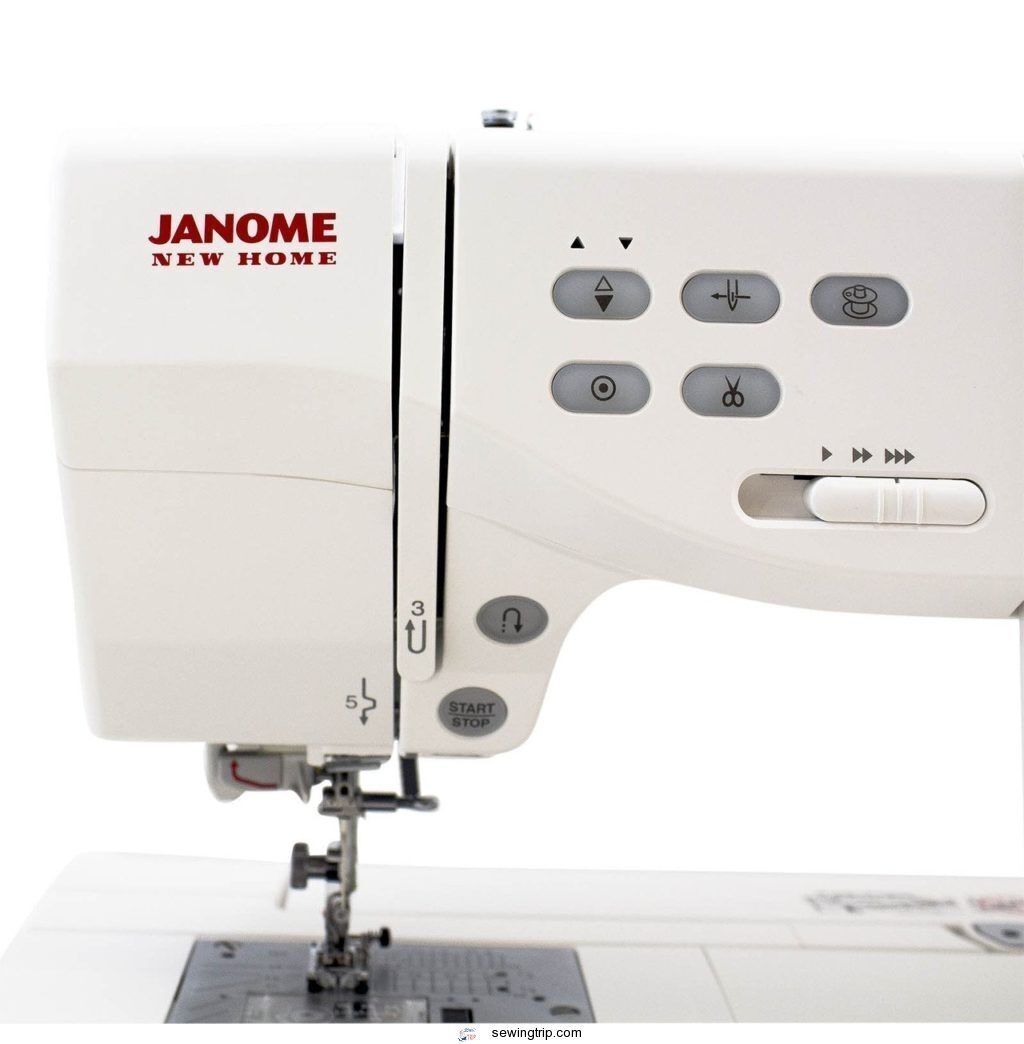 LCD Touch Screen
The Janome Memory Craft comes with an LCD touchscreen – and given the space it takes up, it's hard to miss.
This is the control center. You choose stitches, unique designs, fonts, stitch widths and stitch lengths all on this screen.
It's big enough to view your options effortlessly, and it organizes every detail into tabs, making the choices both easy to find and easy to use.
Top loader spool
Another user-friendly feature is the top loader. This means that the compartment where the bobbin rests is right next to the needle plate.
Not only does this make it easy to load the coil (it's not in a hidden compartment), but it also keeps the item within your line of sight.
If one problem is with the wire or if it gets tangled, you are more likely to notice it getting out of hand.
Automatic Thread Cutter
One of the unique features of this sewing machine is the thread cutter button. Me
Instead of using a knife on the side of the machine like most sewing machines With the Janome Memory Craft you can easily press a button to cut your thread to cut.
You do not need to use scissors or pull the thread to the thread cutter. It comes towards you. You hardly have to stop sewing!
Janome Memory Craft 11000 SE Review
The Positives
Versatile
With 358 stitches built into this sewing machine, it's no wonder testers found this Memory Craft to be so versatile.
You are unlikely to discover a stitch that this machine does not have. However, if you do, or if you're looking for a design that's not built-in, there's a USB port on the side.
Simply connect it to your computer, find designs online and transfer them directly to your sewing machine.
There is also the option to connect the sewing machine to your computer wirelessly. This makes it even easier to access an almost endless supply of stitches and embroidery designs.
Your imagination will be the limit for this sewing machine; perfect for helping sewers of all ages delve deeper into their craft.
Easy to set up
With all the technology included in the Memory Craft 11000 SE, it should take you just a few minutes to
The bobbin can using the spool pins on the top of the machine. To thread the needle, simply follow the numbered arrows on the front of the machine and, once you reach the needle, use the automatic needle threader.
From there you can choose unique designs, stitches and other options from the LCD touch screen. You won't get too confused or confused with setting up your new sewing machine. This means you can sew so much faster!
With all the included accessories, you have a world of sewing techniques at your fingertips with minimal effort.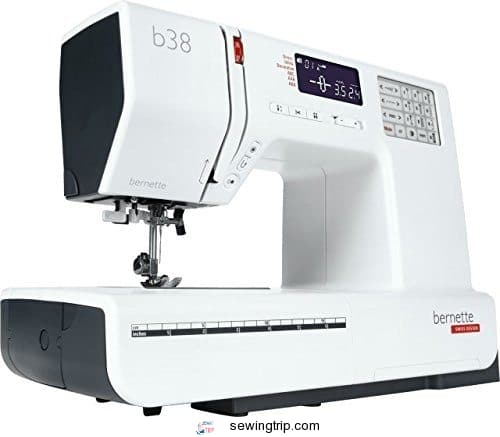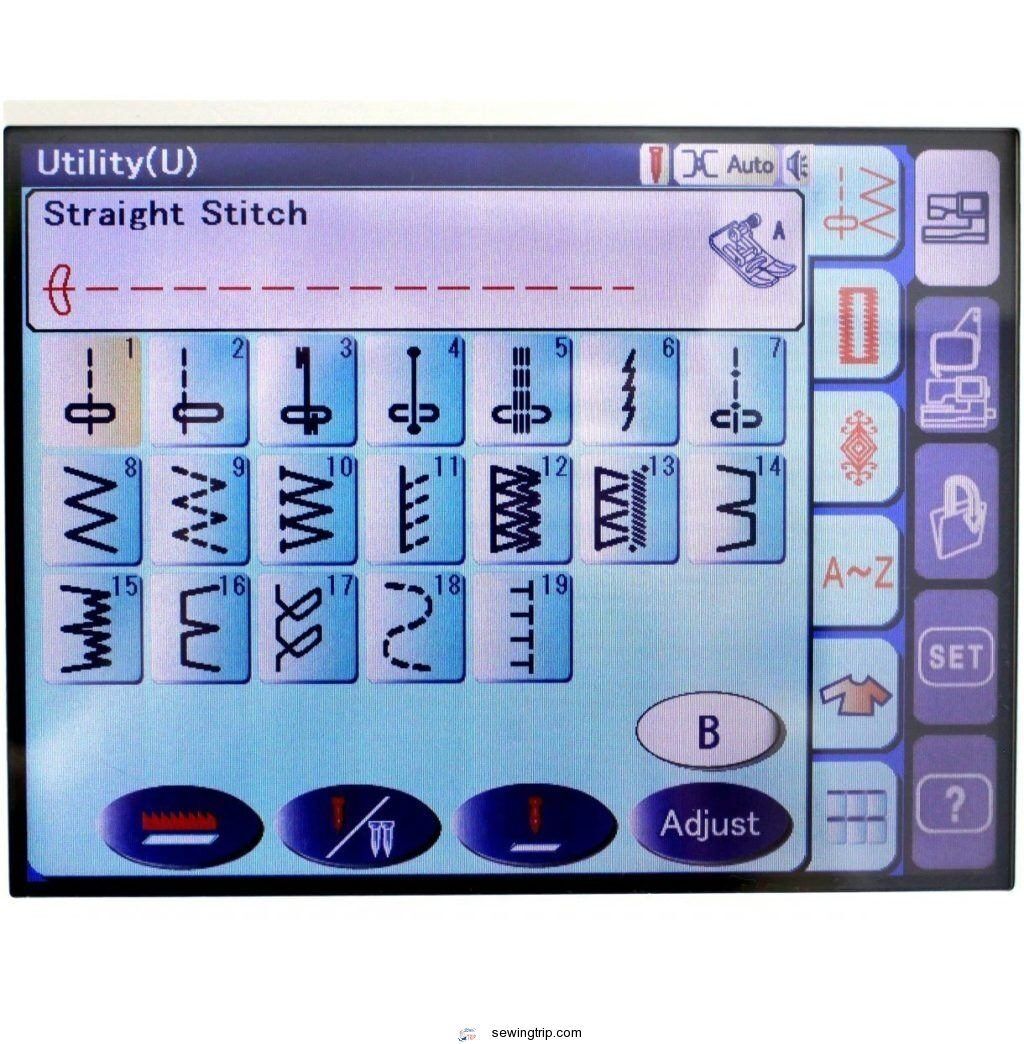 Convenient
With everything on board and / or included with the Memory Craft, no secondary purchases and no hassle choosing your options.
Everything is just a touch of a button, a touch of a switch or a touch of an icon. Testers found this machine to be useful because of all the features included.
The automatic functions take over much of the tricky tasks of sewing and will be of great help whether you are new to sewing or experienced.
The negatives
Duration
With almost At $ 4,000 on Amazon, this is not a cheap sewing machine.
Yes, you get a ton of features included and, if you're a regular sewer looking for a top-notch machine, the cost might be worth it.
Otherwise, there are many cheaper options on the market. If you are on a budget or just sewing, the price of this sewing machine may be unreachable.
Complex interface
A few testers had trouble figuring out the LCD touchscreen interface. It took some effort and time to learn the functions.
No doubt it's complicated. With all the features, it can take a while to understand where everything is and find what you're looking for.
The more you work with it, the sooner you will know where to look. And once you have sorted out all the bobs and bits, you find that this is a handy, airy sewing machine you don't have to worry about much.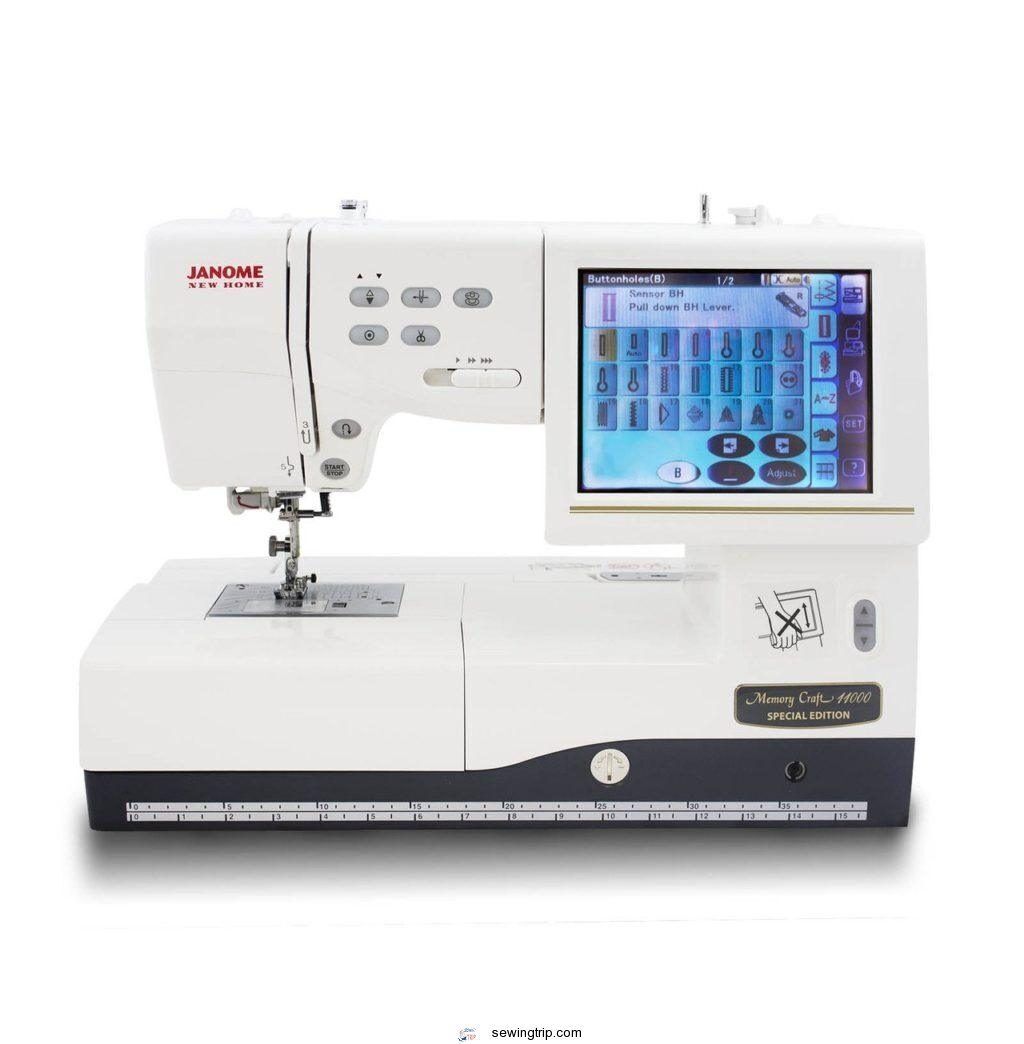 Overall Judgment
After searching all positive and negative points, we guess the Janome Memory Craft 11000 SE. It will be difficult to find another sewing machine with more features than this one.
This allows you to do simple things like hemming pants, as well as more challenging projects like quilting. However, pay the price for that level of versatility.
If the price is too expensive, there are still many options to choose from, but if this machine fits exactly, then you are on your way to sew a wide variety of projects with ease.
Where to buy the Janome Memory Craft 11000 SE
Janome is a well-known brand in the world of making and sewing, with years of experience and quality products under their belt. Their machines worldwide and by retailers around the world.
Thanks to the popularity and success of this company, it will not be difficult to find the Janome Memory Craft 11000 SE Sewing Machine both in-store and online.
Check Amazon for some of the best discounts on this model:

---
That's the end of our Janome Memory Craft 11000SE Review. Curious to give it a try?
Not sure if this is the model for you? Browse our latest reviews.