This site is supported by our readers. We may earn a commission, at no cost to you, if you purchase through links.
The sewing machine market with name brands, cheap counterfeits and debut models – all of which promise the moon. How do you know what suits you best, without exceeding your budget?
To help you with your decision, today we evaluate the Janome C30 sewing machine. With 30 built-in stitches, easy-to-use controls and an easily accessible top loader, it looks like a near-perfect machine.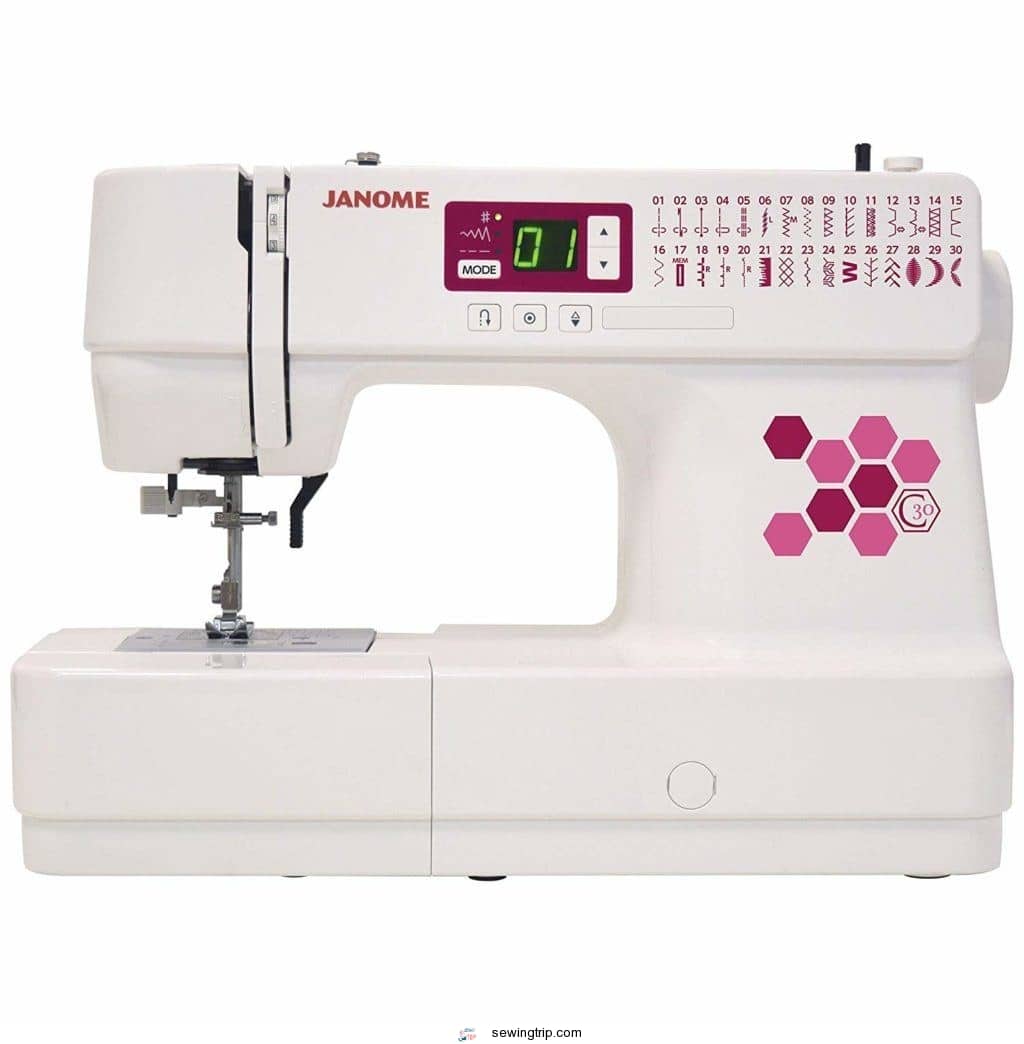 Unfortunately, not everyone is looking for the same features with sewing machines. Some will have problems with the bobbin thread setting and the needles may need a bit of reinforcement for heavy materials.
So is this sewing machine for you? Let's inspect the Janome C30 sewing machine and find out.
Janome C30 sewing machine: the details
The Look
The Janome C30 Sewing Machine provides a basic aesthetic. Most of the outer housing is white, with a few magenta accents around the LCD screen, on the index card and in the front design.
In addition, it has a full aluminum interior and needle plate. In total it is about the size of a small toaster oven.
Specs
Weight: 11 lbs.
Dimensions: 15 x 6.4 x 11 inches.
Stitches: 30 built-in stitches.
Speed: 820 bpm.
Automated/Mechanical:
Spool: Top loading bobbin.
Warranty: 25 year limited warranty.
Accessories
General foot.
Zipper foot.
Satin stitch foot.
Automatic buttonhole foot.
Spool holders (large and small).
Additional spool pin.
Spools (class 15).
Assortment of needle set.
Seam ripper.
Fluff brush.
Screwdriver wrench.
Instruction book.
Foot pedal.
Power cable.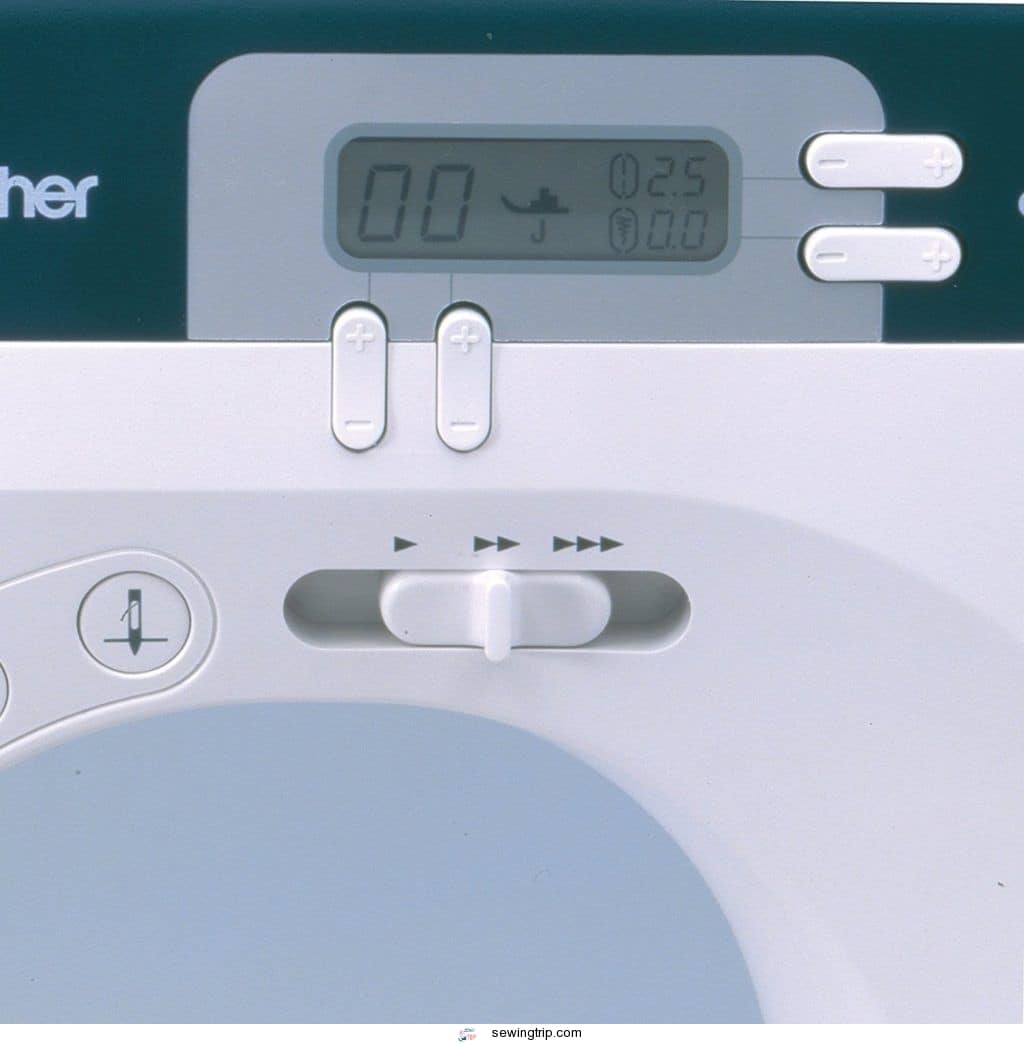 Janome: The Company
Janome became founded in 1921, first as The Pine Sewing Machine Factory by Dosaku Osem and then renamed Janome Sewing Co. in 1954.
Now Janome has branches in USA, Canada, Mexico, Europe, Australia and many more countries.
Their stated mission is to provide sewing and overlook machines that are easy to use, reliable and made from high quality materials. They want to ensure that the user " can get the most out of his creativity."
The Warranty
The Janome C30 sewing machine by a 25-year limited warranty.
The warranty protects all problems with the "materials or workmanship, except for of electrical/electronic equipment, which is guaranteed for two years from the original date of purchase."
During the first year you own the machine, you can receive free replacements for defective parts, as well as labor.
After the first year, defective parts can for free, but you need to pay the labor. The warranty covers nothing resulting from poor maintenance, nor does it cover damage caused by "normal wear and tear."
The warranty also only applies to machines purchased through allowed Janome dealer.
Features
30 built-in stitches
The Janome C30 sewing machines include 30 different built-in stitches, including everything from basic and fashion stitches to quilting and decorative stitches.
For most projects, that's all. what you need – and then some! The machine even has a memory buttonhole function, which remembers previous buttonhole size settings. No need to recalibrate it every time!
Top-Loading Bobbin
The Janome C30 also comes with a top loader. The bobbin compartment is near the needle plate rather than below it, as would be the case with a front loading bobbin.
A top loading bobbin ensures you can clearly see how much bobbing thread you have left and if there are any problems or malfunctions that need attention.
Needle threader
This sewing machine also includes an automatic needle threader – a stress- and timesaving feature during any project.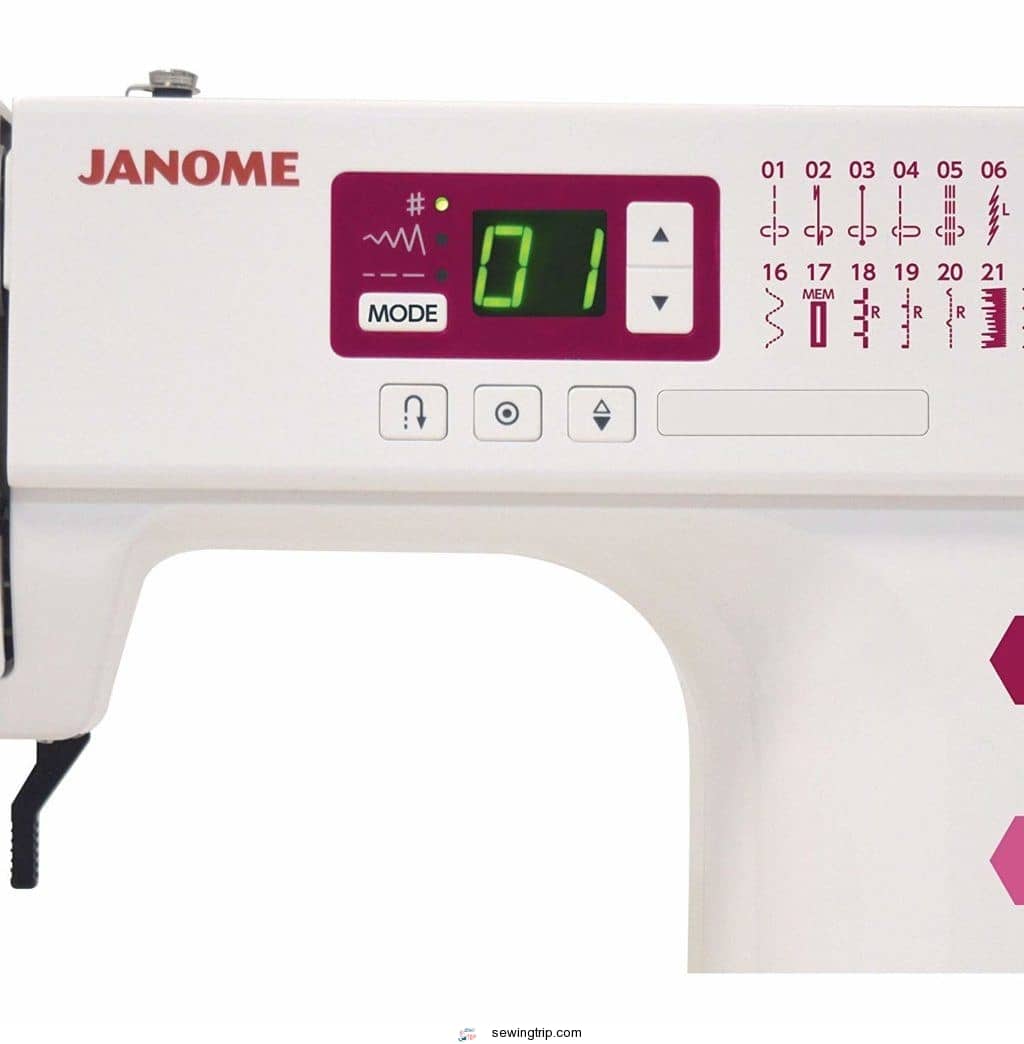 To use it, simply pull the thread through the loops and handles from the machine until you reach the needle. Then raise the needle to its highest position and turn off the power switch.
Pull the needle threader knob down as far as it will go, then turn the knob counterclockwise. Insert the thread into the hook in the needle's eye. Then pass the thread through the guide under the hook.
Turn the knob to the right and pull the thread loop through the eye of the needle.
LED display
The C30 also has a small LED display, which makes it easy to choose your settings. To choose a stitch, simply press the direction buttons next to the display.
The numbers correspond to the stitches on the supplied card. The display is clear and large, making it easy to navigate.
Light
A handy light supplied, placed right above the stitch plate. This way you always have an unrestricted view of your workspace, even if you are sewing in a dark room or working with dark fabric.
If something or repaired, you can see right away.
Janome C30 Sewing Machine Review
The Positives ]
Super easy to set up
Whether you're an experienced veteran or completely new to sewing, you'll have no trouble setting up the Janome C30 Sewing Machine.
The first step is plugging in, turning on and threading. There is a diagram on the machine showing how to loop the thread through the pulleys and handles.
From there, use the automatic needle threader and thread your bobbin. Then place the bobbin in the compartment near the stitch plate and let the end of the thread hang out.
Turn the control knob; the upper thread will catch and raise the bobbin thread. Et viola–your sewing machine is ready to use! It doesn't take a lot of fuss and hassle before you start your first creation.
Very easy to use
Although setup is super easy, it doesn't require too much skill and knowledge to get started.
Once the Janome C30 , you're ready to use it. Simply choose the stitch you want from the diagram on the front of the machine and the LCD screen.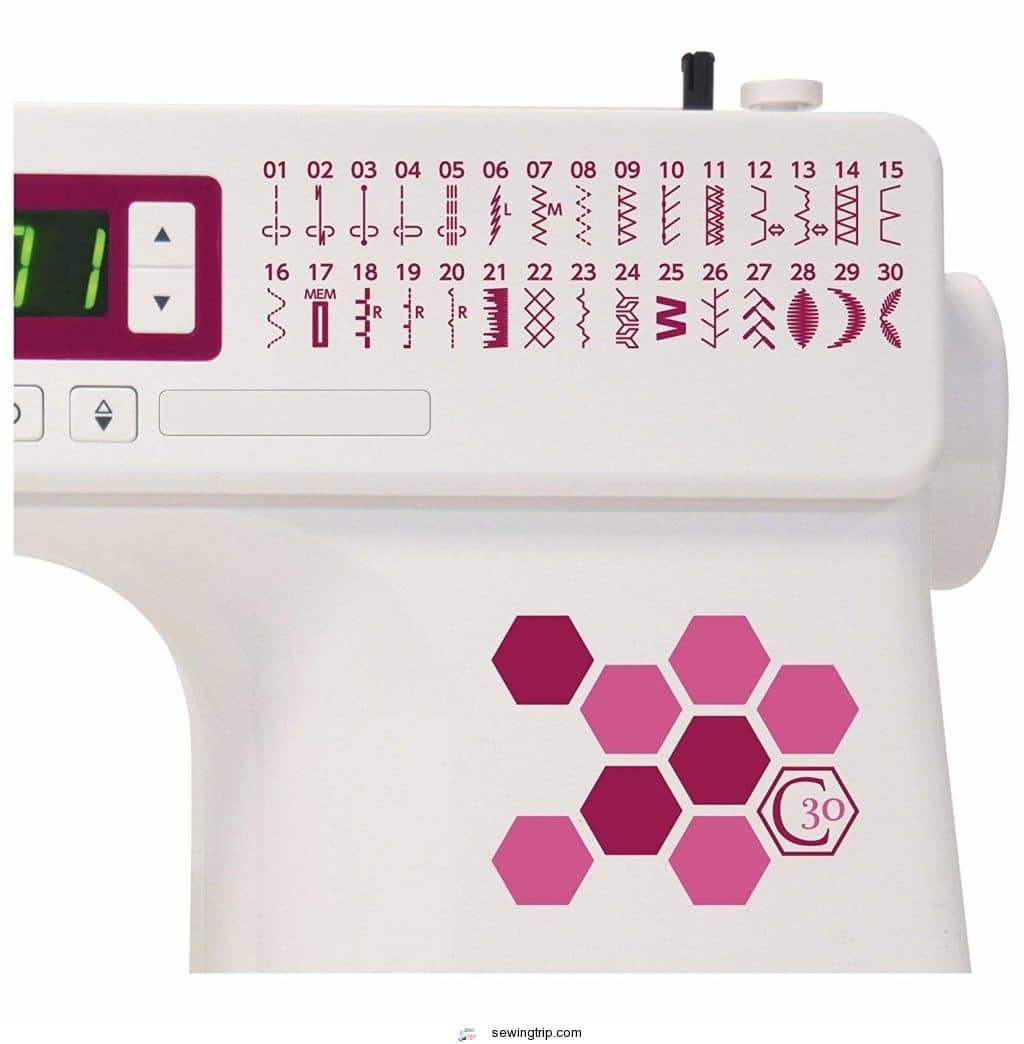 Once it's in place, set the tension and dive in! Press the foot control and the sewing machine will work.
This is great for beginner seamstresses who are not used to sewing machines. It won't be a frustrating process to complete your first project.
And if you're an experienced sewer worker, this machine's little learning curve will make it all the easier. to switch to.
Extremely convenient
Since it included all necessary items with the machine, you do not need not to do that. should go to buy additional accessories or parts. This saves sewers both time and money, and beginners don't have to worry about finding the right accessories.
As a plus, everything is on board the machine, since good. No hassle with threading the needle; the automatic needle threader is there.
Don't turn a dial to choose stitch options; just press the'up'and'down'arrows and you're all set. Handy features like the top-loading bobbin also make this sewing machine a breeze to use and adjust.
The built-in light ensures you can always see what you're doing, especially using the LED display. With all these features packed into one machine, we can see Janome has definitely placed an emphasis on convenience.
Remarkably versatile
While the Janome C30 doesn't have an enormous range of features, it offers all the elements – and then some. With 30 different stitches, most sewers will have a hard time using this machine
You can hem pants, sew a button, sew a bag, or make a quilt. The only limit is your own creativity.
Beginner seamstresses can easily improve their crafting skills without switching machines, and experienced seamstresses won't feel too limited with the functions and stitches supplied with the C30.
The C30 will easily inspire you to tackle a variety of creations and sewing skills without having to upgrade your sewing machine.
Easily portable
Luckily, the versatility of this machine extends to where you can put it. Thanks to its compact and lightweight construction, it won't steal all the attention and space in a room.
The They keep dimensions compact, so you can easily place this sewing machine. where you want! Weighing in at about fifteen pounds, it won't add much weight to your work table, nor will it be a pain to tuck it away until you need it.
Its size and weight make it easily portable, so if you plan on taking this to class (or wherever) don't worry about it becoming a hassle or slowing you down. 0]And the built-in carrying handle makes it all the easier to move it wherever and whenever you want.
The cons
Check Bobbin sand Needles
For some, the bobbin and needles that come with the C30 can be a problem. With this machine, there were some instances where the bobbin thread caught or the needle broke.
These problems were not consistent, but may result from using fabric that is too thick. (such as layers of leather or piles of denim). Also make sure it installed correctly the coil. If you need to work with thicker materials, visit our roundup of leather sewing machines here for some particularly sturdy choices.
Although this machine is mostly smooth and super easy to use, user error is not always inevitable.
This video shows what the Janome C30 looks like out of the box.
Overall verdict
After looking at all the positives and negatives, we recommend the Janome C30 on Sewing Machine.
With 30 different stitches, the automatic needle threader and the top loader, this has everything a beginner or intermediate skilled sewer.
Unless you're tackling large, complicated projects, this machine would not be missing. Definitely worth checking out!
Where to buy the Janome C30 sewing machine
Janome is a popular brand with decades of experience in the sewing market. They have been able to spread their brand around the world with machines available in stores around the world.
Thanks to their success and popularity, you can find items including the Janome C30 Sewing. Machine both in-store and online.
While it's usually best to check out sewing and craft stores, you can kick-start your search at the following online retailers.
And of course you can also find this sewing machine on Amazon.

---
That is the end of our Janome C30 Sewing Machine review. Were you tempted to give this machine a try?
See more of our reviews here.