This site is supported by our readers. We may earn a commission, at no cost to you, if you purchase through links.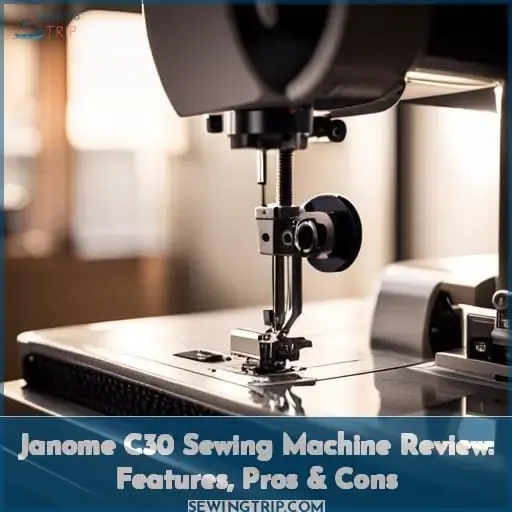 Discover the sewing revolution you've been waiting for with the Janome C30 Sewing Machine. Unleash your creative prowess as we delve into an intricate analysis of its features, advantages, and possible drawbacks, equipping you with the knowledge you need to make an empowered choice.
Seamlessly blending simplicity with innovation, the Janome C30 beckons both beginners and seasoned sewists alike to experience its 30 built-in stitches, offering the perfect canvas for your stitching aspirations.
In this comprehensive guide, we'll not only unravel the dimensions, warranty, and included accessories of the Janome C30, but also provide expert comparisons with other Janome models, setting the stage for an informed decision.
Whether you're captivated by the allure of the one-step buttonhole, enticed by the speed control, or yearning to explore its decorative stitches, we've got you covered.
Dive into the world of fabrics, as we navigate the Janome C30's compatibility with various materials, ensuring your creativity knows no bounds. Join us on a journey that transcends the ordinary, unlocking the true potential of your sewing endeavors with the Janome C30 Sewing Machine.
Key Takeaways
Janome C30 offers 30 built-in stitches and is suitable for beginners and experienced sewists.
It has an impressive sewing speed of up to 820 stitches per minute for efficient sewing.
The sewing machine has a user-friendly interface with an LCD screen for easy stitch selection.
It excels with delicate fabrics and denim but may face challenges with thicker materials.
Janome C30 Sewing Machine Review

Delve into the realm of sewing machine reviews, focusing on the Janome C30. Explore its intricate features and advantages, uncover its limitations, compare it to other models in the Janome lineup, and heed expert insights and recommendations to make an informed choice.
Overview
Delving into the details of its performance and specifications, the Janome C30 sewing machine, an entry-level computerized option, garners praise for its ease of setup, portability, and versatile features, including a one-handed needle threader, LED light, and 30 built-in stitches.
User feedback highlights its affordability and reliable performance across various fabrics. When compared to other models, its 30 built-in stitches surpass the competition, making it a valuable choice for those seeking an affordable sewing machine with quality features.
Features and Pros
Exploring the topic further, the Janome C30 sewing machine has gained appreciation for its array of features and user-friendly design. One intriguing statistic highlights its impressive speed, capable of reaching up to 820 stitches per minute.
User satisfaction is evident through its versatile 30 built-in stitches and convenient one-step memory buttonhole. The machine's portability benefits from its lightweight design and built-in handle. It is an ideal companion with its bright LED light, aiding visibility during sewing, and computerized stitch selection.
Cons and Feedback
Taking a closer look at user experiences, it's evident that while the Janome C30 has garnered commendable ratings, certain aspects have drawn constructive feedback from those who've used it.
Here are some insights from sewing machine user reviews:
Struggles with Thickness: Some users noted that the Janome C30 can struggle when working with thicker materials, causing stitching issues.
Improvement Suggestions: The soft cover provided with the machine is considered of lower quality, and users suggest upgrading it for better protection.
Limitations in Stitch Length: There's feedback about the limited stitch length, which can be a constraint for certain sewing projects.
Negative Aspects: Few users expressed concerns about occasional thread cutter malfunction and thread tangling.
Sewing Speed: While the machine's sewing speed is decent, some users would appreciate the option for even higher stitching rates.
Despite these limitations, the Janome C30's overall positive performance and versatility still make it an attractive option for both beginners and experienced sewers.
Comparison to Other Janome Models
Comparing it to other Janome models, the Janome C30 stands out with its impressive 30 built-in stitches, setting it apart from models like the Janome Blue Couture and Janome Mystical Mint, which have fewer stitch options.
The Janome C30's LCD screen and adjustable sewing speed foot control also give it an edge over the Janome 2212, which lacks these features. This makes the C30 a versatile choice, catering to both beginners and experienced sewers.
Expert Recommendations and Considerations
Embarking on your sewing journey is like navigating a tapestry of choices; let the expert recommendations weave a seamless path to your ideal sewing machine.
Expert Insights:
Prioritize Features: Identify your sewing needs; consider stitch variety, buttonhole styles, and ease of use.

Built to Last: Choose machines with durable frames and reliable needle threaders for long-term satisfaction.

Versatility Matters: Opt for machines compatible with different accessories, enhancing your creative potential.

User-Friendly Interface: Look for LCD screens and clear controls that simplify stitch selection and adjustments.
Incorporate these insights for a fulfilling sewing experience. Expert advice ensures your investment aligns with your aspirations. Whether you're drawn to the Janome 2222 for its user-friendly design or intrigued by its performance, make a choice that empowers your creativity.
Top 3 Best Sewing Machines

Delving into the realm of sewing machines, you'll find a trio of impressive contenders: the versatile Janome C30, the feature-rich Singer Making Cut Stitch Accessory Kit, and the robust Brother Computerized Sewing Machine CS5055.
Each machine brings its unique set of features to the table, catering to beginners and intermediate sewers alike. From the Janome C30's lightweight design and reliability to the Singer Making Cut's customizable stitches and the Brother CS5055's durability and versatility, there's a sewing companion for every skill level and project requirement.
Janome C30
Discover the Janome C30 – an entry-level computerized sewing machine renowned for its versatile features and user-friendly design. Its lightweight build and built-in handle ensure effortless portability, allowing you to sew wherever inspiration strikes.
With 30 stitch options, including decorative and utility stitches, your creative possibilities are expansive. The one-handed needle threader and jam-proof top drop-in bobbin streamline your sewing process.
Whether you're a beginner or an experienced sewer, the Janome C30 offers performance, convenience, and stitch variety.
Singer Making Cut Sewing Machine Stitch Accessory Kit
View On Amazon
Explore the innovative Singer Making Cut Sewing Machine Stitch Accessory Kit – a special edition sewing machine that offers 97 built-in stitches, adjustable stitch length and width, and a durable metal frame for versatile and reliable sewing experiences.
Whether you're a beginner venturing into the world of stitching or an experienced enthusiast seeking customization, this machine caters to a range of needs.
Diverse Stitch Applications: With 97 stitch applications at your disposal, including basic, stretch, and decorative stitches, you're equipped to tackle various fabric types and projects.
Customization at Your Fingertips: Adjust the stitch length and width to match your creative vision, giving you the power to craft unique designs.
Supportive Accessories: The kit comes complete with presser feet, needles, bobbins, and more, ensuring you have the tools needed to explore different sewing techniques.
User-Friendly Design: Compact, lightweight, and easy to move, this machine is designed to adapt to different workspaces and sewing needs.
Video Tutorials: Access to online video tutorials enhances your sewing journey, providing guidance and troubleshooting assistance whenever needed.
Threading Visibility: Some users have mentioned difficulties with needle threading due to limited visibility, which might require extra attention.
Limited Heavy Fabric Handling: While suitable for various projects, it might not be the best choice for heavyweight fabrics, as separate needles are recommended.
Occasional Noise: There are occasional reports of clunky sounds during operation, although they don't significantly affect the machine's functionality.
Brother Computerized Sewing Machine 60 Stitches 7 Feet White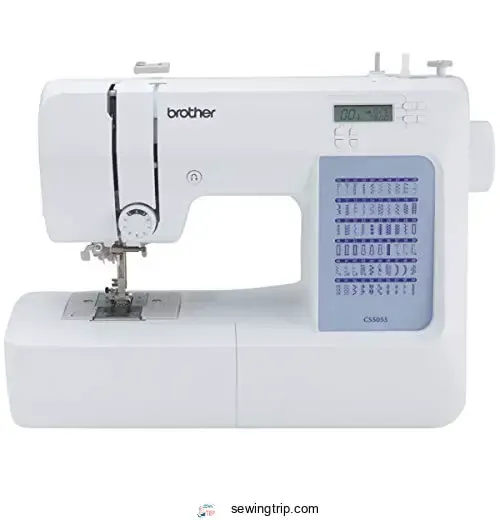 View On Amazon
Delve into the versatile features of the Brother CS5055 Computerized Sewing Machine, which offers a range of 60 unique built-in stitches, 7 one-step buttonhole styles, and an improved automatic needle threader for effortless threading, all housed within a durable metal frame.
This sewing machine provides a spacious workspace for handling larger projects. Its LCD display screen simplifies stitch selection and settings. The exceptional feed system ensures smooth sewing on various fabrics, and the LED-lit work area enhances visibility during stitching.
With a fast bobbin winding system and quick-set bobbin, you can focus more on your creative projects and less on setup time.
Pros:
Wide Stitch Variety: 60 built-in stitches cover a wide range of utility, decorative, and heirloom stitch functions, allowing for diverse creative options.

Effortless Threading: The improved automatic needle threader eliminates the hassle of manual threading, making setup quick and easy.

Durable Construction: The sturdy metal frame contributes to the machine's durability and clean stitching performance.

User-Friendly Interface: The LCD display screen offers clear stitch selection and settings, making it intuitive for beginners and advanced users.

Bright Workspace: The LED-lit work area ensures visibility even in low-light conditions, aiding precision during sewing.

Convenient Buttonholes: The 7 styles of one-step buttonholes streamline the process of adding closures to your garments.

Versatile Applications: Suited for alterations, mending, and embroidery work, making it a versatile choice for various sewing projects.
Cons:
Non-Backlit LCD Display: Some users found the lack of backlighting on the LCD display disappointing, especially in dimly lit environments.

Stitch Continuation Issue: A few users reported that the machine continues stitching a couple of stitches after the foot pedal is released, which might require extra attention.

Complex Fabrics: While suitable for basic sewing on cotton, flannel, and similar fabrics, there might be limitations when dealing with more complex or heavy materials.
Janome C30 Key Features

Delving into the specifics of the Janome C30 sewing machine, you'll find a range of key features that set it apart. This model boasts dimensions of 16 inches in width and 12 inches in height, with a manageable weight of 14 pounds, ensuring both versatility and portability.
Backed by a 25-year limited warranty, the Janome C30 arrives with an inclusive package featuring 4 presser feet, essential sewing tools, a dust cover, and a comprehensive manual. Its built-in features encompass 30 stitches, including utility and decorative options, alongside a top drop-in bobbin, speed control slider, and needle up/down button.
You can easily purchase the Janome C30 online, and its additional features contribute to its reliability and adaptability. Concluding this analysis, the Janome C30 emerges as a prime choice for sewing enthusiasts seeking a dependable and versatile companion.
Dimensions and Weight
Take a closer look at the dimensions and weight of the Janome C30 sewing machine, an entry-level computerized option that combines portability and performance seamlessly.
Compact Design: The Janome C30 boasts a compact build, measuring 16 inches in width and 12 inches in height. This makes it easy to fit into any sewing space.

Portability: Weighing merely 14 pounds, this machine is designed with transportation ease in mind. It has a built-in carrying handle that adds to its mobility, allowing you to move it effortlessly.

Space Requirements: The Janome C30's modest dimensions ensure it won't overwhelm your workspace. It gives you ample room to work on various sewing projects.
Warranty and Manual
Now, let's shift our focus to the warranty and manual. An interesting tidbit: the Janome C30 comes with a reassuring 25-year limited warranty, offering you long-term peace of mind as you explore your sewing skills.
This warranty ensures that you're covered against potential defects and issues that might arise. Alongside the warranty, the user manual provides clear instructions for utilizing the machine's features optimally, making your stitching endeavors even more gratifying.
Included Accessories
Let's discuss the accessories that come with the Janome C30 sewing machine. These included accessories are like a treasure trove for enhancing your creativity. You'll find practical additions such as the Janome Sewist 721, a reliable sewing machine feed dog system that ensures your fabric moves smoothly.
Plus, the thread tension is made effortless with bonus items like extra bobbins and a variety of presser feet. These value-added components empower you to explore decorative stitches with ease.
Built-in Features for This Model
Discover the array of convenient built-in features woven into this model, making your sewing experience not only smoother but also more creatively inspiring. The Janome C30 boasts an impressive variety of 30 built-in stitches, encompassing utility and decorative options, catering to diverse sewing needs.
The user-friendly interface allows for seamless stitch selection, and the one-handed needle threader eliminates frustration. Seamlessly adjust your sewing pace with the speed control slider, ensuring precision.
This machine's performance and versatility enhance your sewing journey, letting you unleash your creative potential.
Buy Janome C30 Online
To explore purchasing the Janome C30 online, simply navigate to e-commerce platforms or Janome's official website for a convenient shopping experience. Compare prices from different online retailers to find the best deals. Read customer reviews to gain insights into the machine's performance.
Consider available shipping options for timely delivery. The Janome C30's stitch designs, start/stop button, LCD display screen, sewing speed, and presser foot lift are key features to look for.
More Included Features
Explore more of the included features that enhance the versatility of the Janome C30 sewing machine. Discover its extensive Built-in Features Comparison, offering 30 stitches for a wide array of projects.
Seamlessly switch between Additional Functions like the needle threader for convenience and the free arm for intricate stitching. Unlock Creative Possibilities with Enhanced Stitch Selection via the user-friendly LCD screen.
Specialty Stitch Options open new horizons, while the locking stitch button ensures precision.
Janome C30 Review
If you're considering the Janome C30 sewing machine, let's delve into its performance and specifications in this review. The Janome C30 offers a user-friendly experience with its 30 built-in stitches, catering to both beginners and novices.
The stitch selection process is made simpler with the computerized interface, enhancing stitch customization. Its lightweight design ensures portability benefits, making it a versatile choice. The machine's seamless performance, especially in handling various fabrics, makes it an appealing option for sewing enthusiasts.
Working With the Janome C30

Delving into the realm of working with the Janome C30 sewing machine, you'll find its intuitive features designed to elevate your sewing experience. The one-step buttonhole function ensures precise and effortless buttonholes with a simple touch.
Engage the start/stop button for hands-free operation, while the speed control slider lets you manage stitching pace with finesse. As you embark on creative journeys, explore the array of decorative stitches that embellish your projects, making each piece uniquely exquisite.
Using the One-step Buttonhole
Discover how effortlessly you can create perfect buttonholes with the Janome C30 sewing machine's one-step buttonhole feature. This advanced function streamlines the process, requiring just a simple press of a button.
Unlike traditional multi-step buttonholes, the one-step buttonhole technique eliminates guesswork and guarantees consistent results. Whether you're a beginner or an experienced sewer, this feature ensures precision and ease.
While some other machines, like the Singer Making the Cut, offer similar functions, the Janome C30's user-friendly interface and stitch quality make it a standout choice.
Start/Stop Button
Hold onto your creative hats because with the Janome C30's Start/Stop button, it's like having a sewing wizard at your fingertips! Just a gentle push, and voila – you're in full control without even needing the foot pedal.
It's as if your sewing machine has become an extension of your creative energy, responding instantly to your every stitch whim. Get ready to redefine sewing convenience! This hands-free operation lets you dive into your projects with newfound intimacy as the Start/Stop functionality becomes your trusted companion, granting you ultimate stitch control.
Speed Control
Adjust the speed control on the Janome C30 with a simple slider to find the perfect sewing pace for your project.
Gentle Start: Initiate sewing smoothly by starting at a slower speed.
Accelerated Pace: Gradually increase speed for consistent stitching on longer seams.
Delicate Fabrics: Reduce speed for intricate work on delicate materials.
Controlled Curves: Slow down while navigating tight curves for precise sewing.
Efficient Straight Lines: Speed up for efficient straight-line stitching without compromising accuracy.
Exploring Decorative Stitches
Explore the world of decorative stitches on the Janome C30, unlocking a treasure trove of intricate designs that will elevate your sewing projects. With 30 stitch varieties, the machine offers limitless pattern possibilities. Selecting stitches is a breeze through its user-friendly interface.
Experiment with creative embellishments, adding a touch of flair to garments, quilts, and crafts. Discover how these decorative techniques empower your creations, infusing them with uniqueness and intimacy.
Fabrics and the Janome C30

Delving into the realm of fabric compatibility with the Janome C30 sewing machine, its versatility shines through. This lightweight powerhouse handles an array of fabrics with finesse, from delicate materials to denim.
However, when it comes to thicker fabrics, some users have noted that the machine might encounter a bit of struggle.
Suitable Fabrics
When sewing with the Janome C30, you'll find that it handles a wide range of fabrics, from lightweight materials to denim, making it a versatile choice for various sewing projects. Its fabric compatibility is impressive, allowing you to work with delicate textiles as well as sturdier materials like denim with ease.
The Janome C30's stitch options are well-suited for different textile options, ensuring that you can tackle a variety of sewing tasks with precision and reliability. Whether you're stitching fine fabrics or tackling tougher materials, this machine offers the versatility you need.
Handling Thicker Materials
To tackle thicker fabrics effectively, the Janome C30 sewing machine might require slightly slower stitching speeds. Some users have reported that the machine's default high speed (up to 820 stitches per minute) can sometimes pose challenges when working with denser materials.
When handling heavy textiles, consider the following techniques to enhance your sewing experience with the Janome C30:
Opt for a lower stitching speed to ensure smoother stitching on thicker fabrics.
Utilize appropriate presser feet designed for heavyweight materials to maintain consistent feeding.
Adjust the machine's tension settings to prevent puckering or uneven stitching.
Consider using a larger needle size to accommodate the thickness of the fabric and prevent breakage.
Mastering these thick textile techniques will empower you to confidently sew through a variety of materials, from denim to upholstery fabrics, using the Janome C30 sewing machine's capabilities.
Maintenance and Care for Janome C30

Taking good care of your Janome C30 sewing machine is essential to ensure its longevity and optimal performance. Regular maintenance will keep this versatile and lightweight machine running smoothly for all your sewing projects.
To maintain its functionality, start with simple cleaning tips. After each use, remove lint and debris from the bobbin area using the brush provided. Preventive maintenance includes changing needles regularly, as dull needles can lead to fabric snags and uneven stitches.
When storing the machine, use the dust cover to protect it from dust and sunlight. If you encounter any issues, consult the troubleshooting guide in the manual before seeking professional assistance. Additionally, follow the lubrication steps mentioned in the manual to keep the moving parts working smoothly.
By following these maintenance steps, you can ensure that your Janome C30 remains a reliable companion for your sewing endeavors.
Alternatives to Janome C30

Delving into the realm of alternatives to the Janome C30, let's explore a variety of Janome models that offer their unique features and capabilities. By exploring these alternatives, you'll gain a comprehensive understanding of the options at hand and be better equipped to make an informed sewing machine decision tailored to your preferences and sewing needs.
Other Janome Models
Considering other options within the Janome lineup, one model worth exploring is the Janome Blue Couture. This sewing machine, with its charming blue aesthetic, offers a selection of 15 stitches, making it an appealing choice for those who value simplicity in their sewing projects.
Imagine adding a touch of elegance to your creations with this stylish yet functional machine. If you're seeking a balance between functionality and aesthetics, the Janome Blue Couture could be a delightful alternative.
Exploring Janome Alternatives
Explore the realm of Janome alternatives and uncover sewing machines that offer a diverse range of features, ensuring you find the perfect match for your creative endeavors. Delve into the world of sewing possibilities with alternative picks such as the Singer Making Cut Sewing Machine Stitch Accessory Kit, boasting 97 built-in stitches and adjustable customization.
The Brother Computerized Sewing Machine CS5055 stands out with its 60 stitches, LCD screen, and exceptional feed system.
Singer Making Cut Sewing Machine Stitch Accessory Kit Review

Delving into the Singer Making Cut Sewing Machine Stitch Accessory Kit, you'll find a compact and lightweight sewing solution featured on the Amazon Prime show Making the Cut. Boasting 97 built-in stitches and adjustable stitch length and width, this special edition machine offers versatile customization options.
Working With the Singer Making Cut
To explore the performance of the Singer Making Cut sewing machine, it is intriguing to note that it offers a total of 97 built-in stitches, catering to a wide range of creative possibilities for both beginners and those seeking customization in their projects.
The machine's extensive stitch variety enables intricate designs and versatile applications. However, some users have encountered threading challenges, with occasional difficulties reported in the automatic needle threading process.
Despite this, the Singer Making Cut provides abundant customization possibilities, making it a compelling choice for sewing enthusiasts.
Customization Options
Delve into the Singer Making Cut sewing machine's impressive range of customization options that allow you to create unique and personalized stitches for your sewing projects.
Stitch Variability: The machine offers an array of 97 built-in stitches, empowering you to experiment with various designs and techniques.

Design Flexibility: Adjustable stitch length and width provide the freedom to tailor your stitches to match your creative vision.

Creative Embellishments: One-step buttonholes and decorative stitches offer opportunities for intricate detailing, enhancing your projects' visual appeal.
These customization capabilities ensure your sewing endeavors are as distinctive as you are, granting you the power to bring your creative ideas to life with a personalized touch.
Brother Computerized Sewing Machine 60 Stitches 7 Feet White Review

Delving into the realm of the Brother CS5055, you'll find a versatile companion for your sewing endeavors. This computerized sewing marvel offers 60 distinct stitches and 7 one-step buttonhole styles, effortlessly intertwining simplicity and functionality.
Its durable metal frame and exceptional feed system make it suitable for an array of basic sewing, alterations, mending, and even embroidery projects. The CS5055's prowess shines with fabrics like cotton and flannel, while its large workspace accommodates bigger ventures, all guided by an intuitive LCD screen for stitch selection.
Working With the Brother CS5055
Step into the world of sewing excellence with the Brother CS5055, where innovation and versatility blend seamlessly to empower your creative journey. The Brother CS5055 features 60 built-in stitches and 7 one-step buttonhole styles, catering to various sewing needs.
Seamlessly switch between stitches using the LCD screen and experience an exceptional feed system for precise results. Its sturdy metal frame ensures durability, while the large workspace accommodates larger projects.
Experiment with fabric compatibility, from cotton to flannel, and explore endless project ideas.
| Feature | Stitch Customization | Performance Tips | Fabric Compatibility |
| --- | --- | --- | --- |
| 60 Built-in Stitches | Adjust stitch length and width to suit designs. | Effortless thread changes with an improved needle threader. | Ideal for cotton, flannel, and similar fabrics. |
| 7 One-Step Buttonholes | Customize buttonholes for a perfect fit. | Ensure proper needle insertion for optimal performance. | Versatile for various sewing projects. |
| LCD Screen | Easily select desired stitches. | Keep the machine clean for smooth operation. | Accommodates different fabric weights. |
| Large Workspace | Maneuver larger projects with ease. | Maintain consistent tension for seamless stitching. | Suitable for quilting, alterations, and more. |
Discover liberation, power, and intimacy in your sewing endeavors through the precision and possibilities offered by the Brother CS5055.
Suitable Projects and Fabrics
Explore the creative realm with the Brother CS5055 as it opens doors to a multitude of projects and fabrics, igniting your passion for sewing and unleashing your artistic potential. This versatile machine handles an array of sewing ideas, from basic alterations to intricate embroidery.
Its exceptional feed system ensures smooth stitching on various materials, making cotton, flannel, and more your canvas.
Conclusion
To wrap up, it's fascinating to note that the Janome C30 sewing machine has gained popularity for its user-friendly design and versatile performance. The C30 strikes a balance between convenience and capability. Whether you're a beginner seeking reliability or an experienced sewer in need of a portable companion, the Janome C30 offers an array of stitches and efficient functions.
While other options like the Singer Making Cut and Brother CS5055 have their strengths, the Janome C30 shines in its own right. If you're in search of a sewing machine that marries practicality with creativity, the Janome C30 should certainly be on your radar.