This site is supported by our readers. We may earn a commission, at no cost to you, if you purchase through links.
If you are looking for an inexpensive sewing machine that can also help you with quilting, the Brother XR3774 sewing and quilting machine should be on your radar.
It is a reasonably priced, well – rounded model that comes with many accessories that make it a perfect starting point for sewing and quilting beginners.
We consider this one of the best cheap sewing machines on the market. On the market now, and we're pretty sure you'll love it too. While it won't satisfy those looking for a professional experience, it's hard to argue with as an entry-level machine.
Let's inspect …
Brother XR3774 sewing and quilting machine: the details
The Look
This is a beautiful little machine.
Tastefully decorated with a colorful bloom of feathery, vine-like designs around the stitch selection dial, the Brother also offers a touch of color a smart, compact design. Is this a trophy or a sewing machine? All we know is it looks great in our craft room!
Specs
Weight: 19.5 pounds
Dimensions: 17.5 x 7.6 x 14.6 inches
Stitches: 37 built-in stitches, plus a one-step auto-size buttonhole machine
]
Spool: Quick-Set top drop-in flushing system
Warranty: 25 years
Accessories
In addition to the machine itself, there is a plethora of accessories that you can quickly rely on with the Brother XR3774. If you're new to sewing and don't have a fully finished kit yet, this is a great deal.
The accessories include:
Eight Accessory Feet
Wide Table
Triple Needle Set
Twin needle
Screwdriver
Additional spool pin
Four bobbins
Stop plate
Quilt guide
Power cord
Machine cover
Foot controller
Instruction DVD
English/Spanish User's Guide
Warranty Papers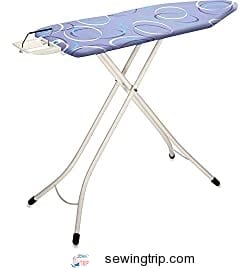 Brother: The Company
Brother is a renowned brand, with a long permanent presence on the market and in our homes. They've built a reputation as an innovator and supplier of state-of-the-art, high-quality and affordable machinery.
Brother has been supplying for over a century, so you know they make a wonderful product.
The Warranty
Brother is confident in the quality as their product, you will get a standard limited warranty of 25 years, plus access to free customer service.
Brother XR3774 Features
Here's a good video introduction for beginners:
37 built-in stitches
The Brother XR3774 comes with a fairly generous selection of pre-programmed stitches for its low price, and beginners should find more than enough to keep them busy.
Included are a blind hem, decorative and quilting stitches for you . There's also a one-step auto-size buttonhole, in case you want to experiment with making garments.
Stitch selector
And to make it easy for you to find those stitches, the large, easy-to-use stitch selection dial is on the front of the machine.
It fits comfortably in the hand and the text is clear and easy to read.
Automatic Needle Threader
The Easy Needle Threader is a real boon and gives the XR3774 a lot of points in terms of'ease of use'. All you have to do is touch the lever on the side of the machine and the needle threader will do the rest.
So both beginners and experts can get started. straight to their sewing, instead of spending precious minutes squinting in the needle!
However's eye, please note that some problems with people have as it's easier to just thread the needle by hand – we'll go into this in more detail below.
Wide quilting table
This was a machine designed for most quilting projects of all kinds, with a wonderfully wide table that gives you plenty of room to move.
As a standalone table quilting machine, it is one of many pleasant choices.
Quick-Set Drop-In Bobbin
Dat Don't grit your teeth frustrated when a coil runs dry, as I designed this machine to handle what is a tricky process, one is simple as ABC. Just stop, take the old bobbin off, put on a new one, thread the needle and you're ready.
This is a good idea for those who find struggle in changing bobbins, or who just enjoy the simpler things in life.
Brother XR3774 Review
The Positives
Super Versatile
Surprisingly considering the low price, the Brother XR3774 is a remarkable machine that can handle most of the jobs and materials you present it.
While tough leather and heavy layers may not be possible, this is a versatile little workhorse that can .
Low price
The Brother XR3774 is a very affordable model and quite impressive considering its potential.
This makes it a great buy for anyone trying to sew for the first time, or those on a tighter budget.
See more: the best cheap sewing machines.
Including presser feet
This machine comes with eight presser feet as accessories, including buttonhole, zipper, zigzag, blind stitch, sew on buttons, nard low hem, loop and quilt feet.
Not every sewing machine comes standard with extra feet; that the Brother XR3774 does is a definite plus.
Brightly lit
A well lit workplace is a happy workplace. I equipped the Brother with bright lights, so you can work late into the night without worrying about a headache.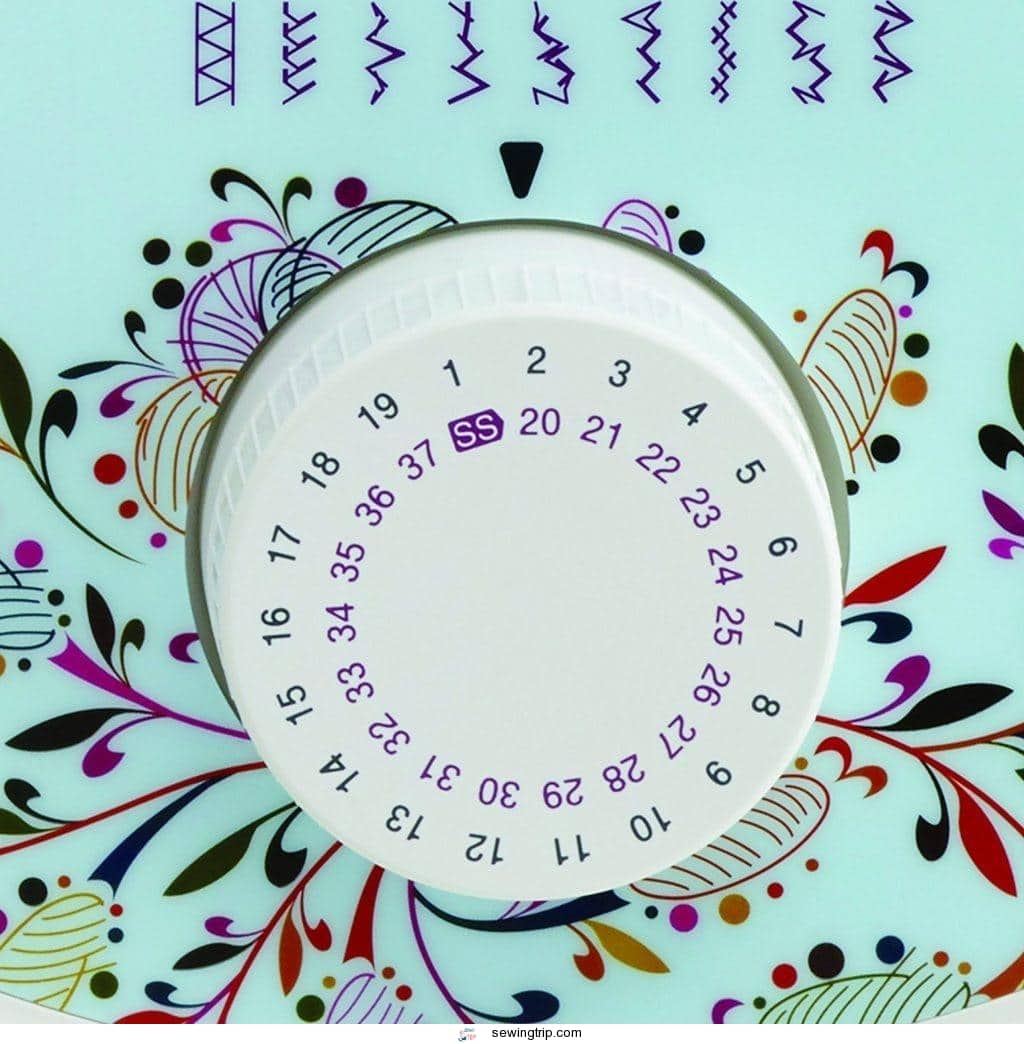 Easy to use and easy to maintain
]
Another great advantage of this sewing and quilting machine is that it is so easy to use.
Automatic threading of the needle, the automatic bobbin winding system and the apparent resistance to jamming are all welcome in a machine like this.
Although we know there are plenty of cheaper beginner sewing machines on the market, they come up with many problems that leave many people unable to sew for the rest of their lives.
With the Brother XR3774, however, everything works as it should and will make sewing accessible to even the smallest household person you can imagine!
A lot of support .
In the box with the machine itself is a robust instructional DVD that will help you set up set up your machine in record time and start sewing straight away – whether you are new or old. are into using sewing machines, or sewing.
There is also a user guide available in both English and Spanish.
You have access to free technical telephone support and Brother online support services for the life of your product.
]
Brother has a reputation for putting the customer first. If something goes wrong with your machine, help is not far away.
In addition, I supply this machine pre-oiled and requires no maintenance. A nice plus.
Beautiful Design
Actually this is a very stylish machine.
Apart from the plain white exterior favored by many sewing machines, Brother added a simple yet stunning blooming vine decal that turns this machine into a bit of beauty.
The Negatives
Small Throat
While there is a large quilting table, the actual throat of the machine is rather small which, depending on the type of projects you are working on, could be a dot in the negative column.
This means that if you working on large quilts, space may .
As we mentioned, this is really an entry-level machine. Try to upgrade to something bigger, better and probably more expensive than your need, something more specialized for your purposes.
Noisy
The amount of noise the Brother XR3774 Creating can be a bit much, especially in quieter households.
If you only sew during the day, or if a little noise doesn't bother you, this isn't too much of a problem, but keep this in mind if you're a nighttime quilter.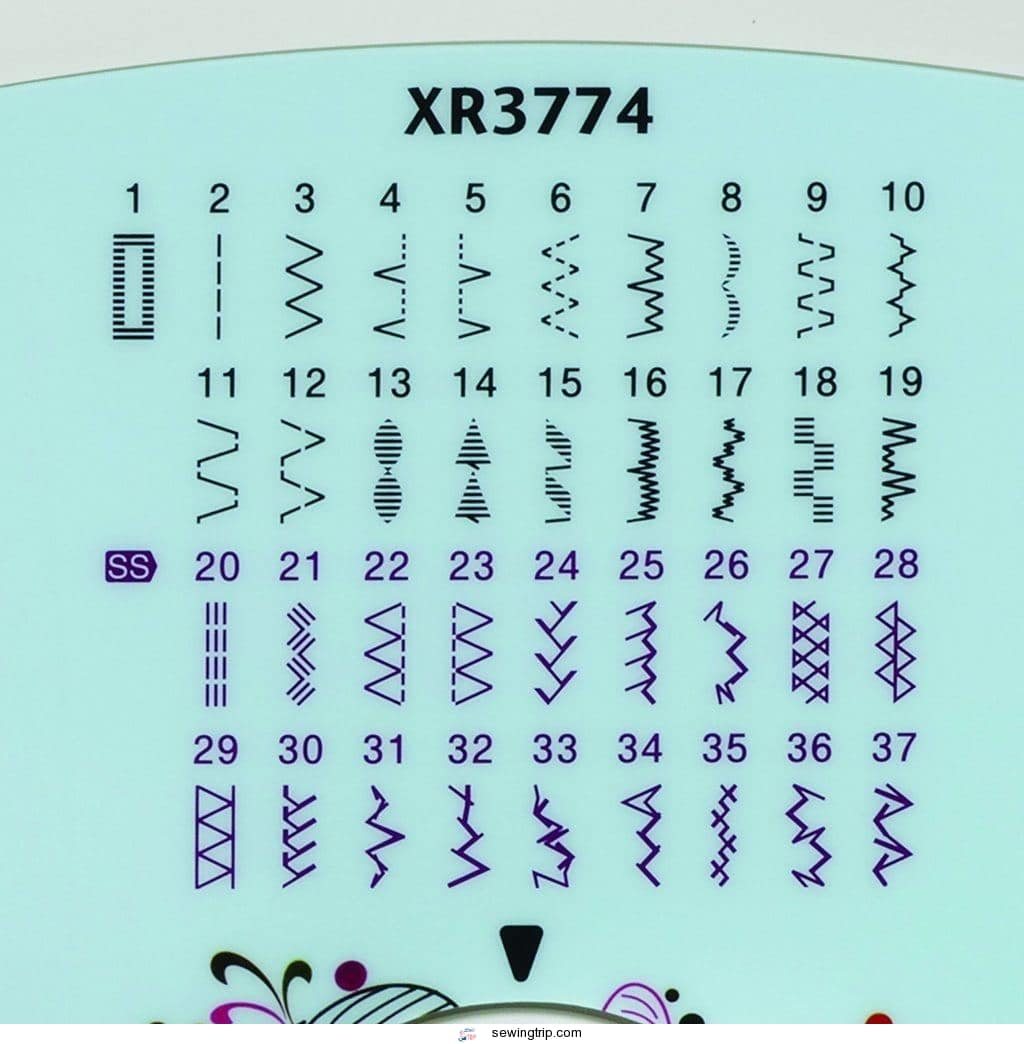 Problems with the automatic needle threader
The only area that does not work as smoothly as advertised is the automatic needle threader.
As nice as it is to have a sewing machine with an automatic needle threader, there have been cases where the threader is too slow or not working properly.
Some people have resorted to threading the needle by hand, which is not exactly difficult, but certainly annoying. Is it a deal breaker? We don't think so personally.
General opinion
While the Brother XR3774 Sewing and Quilting Machine is not perfect, we definitely think it is one of the best cheap beginner sewing machines on the market right now.
It can do a lot more than its competitors, and certainly easy to use. Yes, it can get noisy during the sewing process…
Overall, we recommend this as an entry-level sewing and quilting machine.
Where can you buy the Brother XR3774 machine?
As you would expect from a brand name like Brother, you will find the XR3774 fully equipped sewing and quilting machine far and wide.
Check out these online stores to get started:
And, of course, it's also available on Amazon.

---
Are you tempted by the Brother XR3774?
Want to read more of our machine reviews? Visit the rating portal for more rated machines!