This site is supported by our readers. We may earn a commission, at no cost to you, if you purchase through links.
Are you ready to learn the basics of sewing? Whether it's for a hobby or your career, having the right machine is essential. With so many options out there, finding the best sewing machine can be overwhelming – especially if you're a beginner.
Don't worry! This buyer's guide has all that and more covered to help select the perfect first sewing machine for you.
Here we'll discuss top 6 machines suitable for beginners as well as what features to keep in mind when shopping around.
So let's get started with our buyers guide and find your ideal first-time sewer companion!
Key Takeaways
Learning the basics of sewing is essential for beginners.
Choosing the right sewing machine is crucial for a successful sewing journey.
Factors to consider when choosing a sewing machine include sewing needs, skill level, and budget.
Prioritize quality and durability over extra features when choosing a sewing machine.
Top 6 Sewing Machines for Beginners
If you're just starting out on your sewing journey and need guidance in choosing your first machine, we've got you covered. After thorough research, we've selected the top six user-friendly sewing machines perfect for beginners, including the Singer Heavy Duty, Brother Lightweight, Janome Memory Craft Horizon, Husqvarna Viking Jade, JUKI Portable Thread Serger, and Bernette Swiss Computerized bundles.
Singer Heavy Duty Sewing Machine With Accessory Kit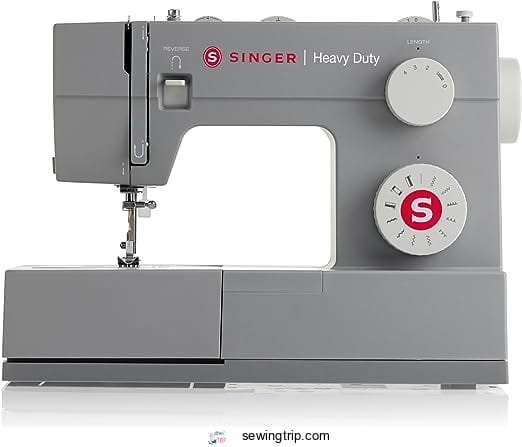 View On Amazon
If you're looking for a reliable sewing companion that effortlessly tackles heavy-duty tasks and leaves you impressed with its smooth stitching, look no further than the Singer Heavy Duty Sewing Machine with Accessory Kit.
This versatile mechanical workhorse features 11 built-in stitches, a heavy-duty metal frame, and a powerful 1,100 stitches per minute motor for handling everything from delicate fabrics to rugged denim and leather.
The adjustable presser foot pressure allows you to sew lightweight to heavy fabrics with ease. Users praise the machine's durability, seamless performance, and ability to master thick materials that often stump other entry-level machines.
With the inclusion of an accessory kit and 25-year limited warranty, this 120V sewing machine provides tremendous value.
Heavy-duty metal frame provides stability
Capable motor handles up to 1,100 stitches per minute
Sews lightweight and heavy fabrics with adjustable foot pressure
Smooth stitching even at high speeds
Accessory kit included
Limited built-in stitches (only 11)
Manual threading can be tricky for beginners
More detailed instruction manual would be helpful
Brother Lightweight Sewing Machine With 27 Stitches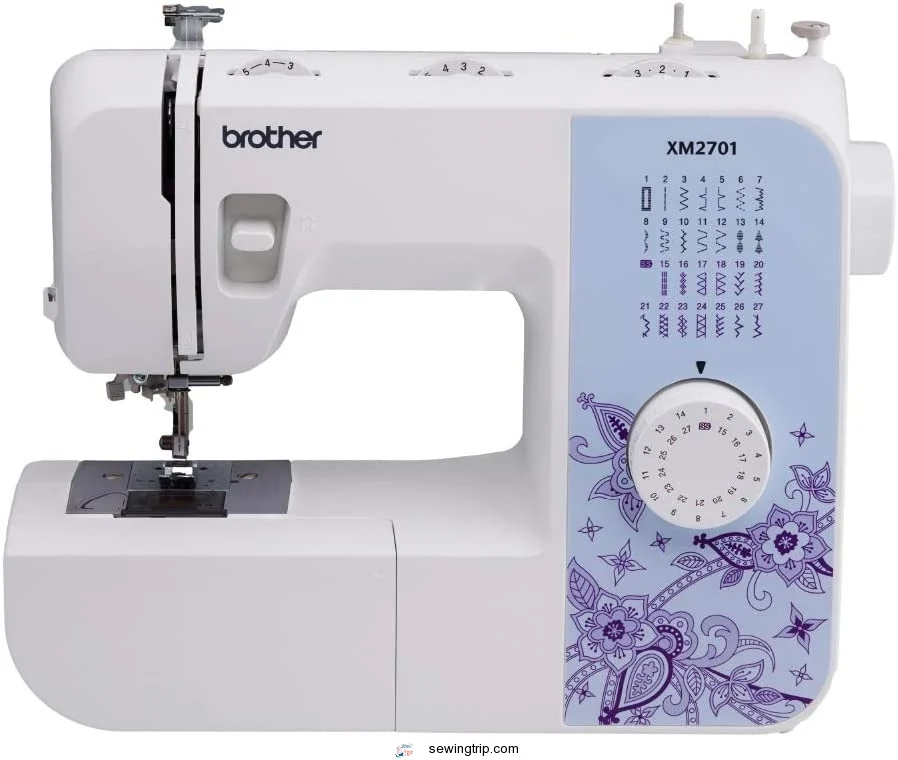 View On Amazon
You'll breeze through basic projects and explore creative possibilities with this versatile companion loaded with helpful features to guide your way. Whether you're a newbie just getting started or a seasoned pro looking for a portable, reliable machine, the intuitive Brother XM2701 delivers.
It comes equipped with 27 built-in stitches so you can embellish projects from clothing to crafts. The automatic needle threader saves time and hassle, while the drop-in top bobbin makes changing thread a cinch.
Accessories like a zipper foot, buttonhole foot, and blind hem foot expand your creative horizons. With simple controls, an instructional DVD, and online tutorials from Brother, you'll be stitching up creations in no time.
Let your inspiration flourish with this user-friendly sewing sidekick.
Versatile for many project types
Portable and lightweight
User-friendly operation
Good value for the price
Reliable performance
Limited workspace
Not ideal for heavy-duty projects
Fewer stitch options than computerized machines
Janome Memory Craft Horizon Computerized Sewing Machine
View On Amazon
The Janome Memory Craft Horizon's extensive built-in features and accessories provide advanced quilters and sewers with a high degree of precision, convenience, and creative possibilities. With features like the ACUFEED FLEX feed system for superior fabric handling, an automatic needle threader, a 9mm stitch width, a knee lifter, and adjustable sewing speed, you'll have the tools needed to bring your creative visions to life.
The LCD screen gives you control over stitch selection, length, and width at just a glance. Change presser feet effortlessly for techniques like quilting, zipper insertion, and buttonholes using the included 9mm specialized feet.
While this machine comes with a learning curve on some functions, the precision and capabilities allow limitless creativity once mastered. With the Janome Horizon by your side, you'll be able to quilt, craft, and sew garments with professional results.
Large number of built-in stitches and wide stitch width
Superior fabric feeding system
Useful accessories and feet included
Large workspace for big projects
Precise straight stitching
Heavy weight at 27 lbs
Steep learning curve on some functions
Pricier than basic sewing machines
Husqvarna Viking Jade Sewing Machine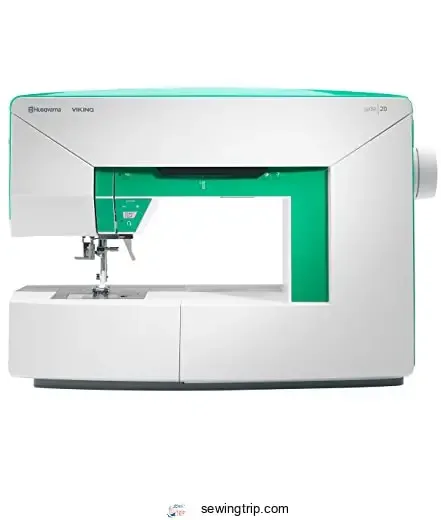 View On Amazon
Got an upgrade? Get more features from Husqvarna's reputable Viking Jade sewing machine, offering quality stitches and basic functions at an affordable price. The Jade's stylish black design conceals storage and provides an extra-large 8 work area.
Appreciate the bright LED lighting and simple stitch guide while sewing home decor, quilts, or garments.
Its 82 built-in stitches, needle threader, and adjustable presser foot impress for the price. Convenient hands-free start/stop capability suits sewers with limitations. While some initially found the auto thread system tricky, most loved the upgrade from their old Husqvarnas.
The mid-range Jade hits a sweet spot – more heavy-duty than flimsy cheaper brands yet budget-friendly for its features and performance.
Affordable price
Reputable brand
Extra-large work space
LED lighting
Numerous built-in stitches
Adjustable presser foot
Automatic thread system challenging initially
May lack advanced features needed by some
Mixed reviews on hands-free start/stop function
JUKI Portable Thread Serger Sewing Machine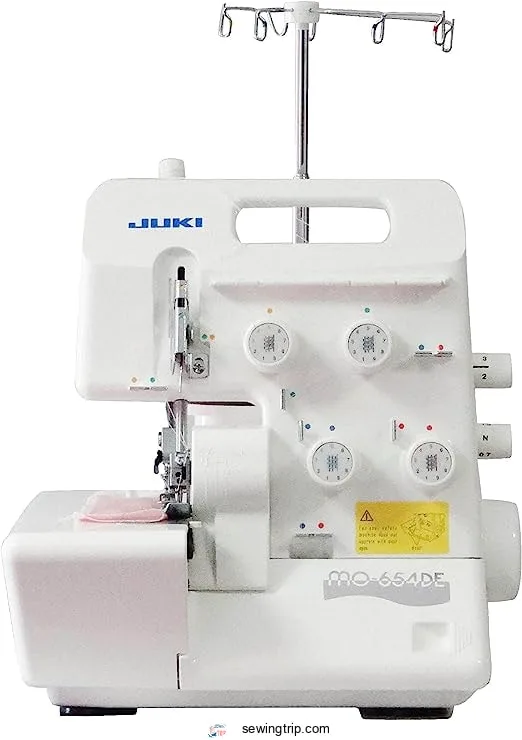 View On Amazon
Comparable to an industrial workhorse, this serger sews heavy fabrics like a hot knife through butter while remaining a compact companion. It has the versatility of 2, 3, or 4 threads and a maximum sewing speed of 1500 SPM.
This powerhouse can handle everything from delicate silk to rugged canvas. The color-coded threading and automatic rolled hem make setup a breeze. With an adjustable stitch length of up to 4mm, you have precision control. The breakaway looper prevents frustrating thread snarls, and the dedicated knife drive boosts cutting strength to slice through multiple layers with ease.
This portable, 15-pound machine conveniently stashes away, ready for heavy-duty action when your next project calls.
Powerful 1500 SPM max speed
Portable and easy storage
Sews light and heavy fabrics
Color-coded threading
Adjustable stitch length
Initial learning curve
Reported minor oil residue
No embroidery function
Bernette Swiss Computerized Sewing Machine Bonus Bundle
View On Amazon
Grab this affordable Bernette computerized sewing machine and bonus bundle for impressive stitch quality, ease of use, and versatility to tackle your sewing, crafting, quilting, and mending projects with 50 built-in stitches.
This compact white sewing machine boasts simple operation with robust construction. Utilize the start/stop function to sew without the foot pedal and adjust sewing speed for better control. An LCD display shows current stitch details while 2-step presser foot lift handles thick fabrics.
With over 50 stitches, slide speed control, and needle stop position options, this machine empowers you to unleash your creativity.
Affordable price with bonus accessories
Easy to use even for beginners
Provides good stitch quality
Suitable for most sewing projects
Some issues reported with accessories
May have limitations for advanced sewers
Not as feature-rich as higher-end models
How to Choose the Right Sewing Machine

When shopping for your first sewing machine, you need to carefully consider your sewing goals and needs, as well as your budget and the functionality. Do your research on features, brands, and types of machines, and take the time to test drive models before making a final purchase.
Consider Your Sewing Needs
You'll want to consider your skill level and budget when choosing the right sewing machine for your projects. As a beginner, start with a basic mechanical or electronic machine under $200 to learn sewing fundamentals.
Intermediate sewers will benefit from added features on electronic models up to $500. Advanced sewers can utilize the full functions of computerized machines starting around $800.
Research multiple machines in that range with helpful features for your desired projects, from clothing to crafts and quilting. Quality entry-level brands like Singer and Brother have models catering to all skill levels.
With practice and experience, you may upgrade machines over time as your skills progress.
Factors to Consider
You'd be crazy not to check for must-have features like workspace, extension table, free arm, and automatic needle threader when shopping for your dream sewing machine. Needle position adjustment ensures precision, while good lighting is crucial for clear stitching.
Don't forget to consider warranty and service options to safeguard your investment. If you're on a budget, explore the possibility of buying a used sewing machine – it's a smart move for sewing beginners looking for an inexpensive yet reliable option.
Research tips and sewing machine recommendations will guide you towards making the right choice.
Budget and Types of Machines
You're on the right track matching your sewing machine to your budget and sewing needs.
Consider inexpensive mechanical machines for basic sewing needs.
Used or refurbished machines offer value when on a budget.
Computerized machines have advanced features but cost more.
Think long-term if investing more in a higher-end sewing machine.
When purchasing your first sewing machine, research quality brands and models that fit your budget. Test drive different machines to find the best match for your projects and skills. An economical starter machine can help you gain experience before upgrading later on.
Features to Consider
Lean in closely and notice the power switch, speed control options, and the number and types of stitches available as you test drive your top choices. Test for ease of tension adjustment and how smoothly the machine sews at different speeds.
Assess workspace and lighting. Evaluate built-in stitch variety for your projects. Inspect needle position adjustment and presser feet options. Ask about warranty and servicing. Carefully consider must-have features versus wants. Quality and precision matter more than extra bells and whistles.
Leading Sewing Machine Brands
Popular sewing machine brands offer reliable options for crafters and clothing makers. Leading sewing machine brands provide quality and useful sewing features to suit various skill levels. Look for reputable companies like Singer, Brother, Janome, and Pfaff that continue driving sewing innovations.
Check sewing machine reviews before purchasing and consider factors like stitch selection, durability, accessories, and service. Getting a machine from established brands ensures quality parts and service if needed.
Preparing for Your Sewing Machine Purchase

Choosing the right sewing machine starts with considering the quality and features needed for your sewing projects and lifestyle. Focus on the types of sewing machines and must-have features before getting distracted by optional accessories and gadgets when shopping for your first or next sewing machine.
Choose Quality Over Features
Opt for dependable craftsmanship over flashy additions when purchasing your first sewing machine. Prioritize a solid, quality build over unnecessary features that may sound enticing yet often go unused.
Focus first on must-have capabilities based on the projects you plan to sew. Then determine your budget and assess extra functions against durability and long-term value. Aim for a dependable machine built to withstand years of dedicated use. With quality at the core, you can always add capabilities later as your skills progress.
Consider the Type of Sewing
You'll have better results by choosing a machine that is suitable for the fabric you are working with, rather than selecting one with unnecessary features. Matching your machine to your fabric will help prevent issues like skipped stitches and thread jams.
Mechanical machines are ideal for regular woven fabrics, while computerized machines are better for stretch fabrics and embroidery. Industrial machines are designed to handle tougher materials like leather and denim.
It's a good idea to test out different machines using your actual project fabrics. Sew thick seams and buttonholes to see how well the machine performs. Make sure the feed dogs grip the fabric firmly.
Then, choose a model that was able to sew those trials easily, rather than focusing on the machine with the most stitches or speeds.
Consider the Types of Sewing Machines
Your sewing needs will determine if a mechanical, electronic, or computerized machine suits you best.
Mechanical machines are straightforward, durable, and budget-friendly. They are easy for beginners and tailored tasks.
Electronic machines offer more functionality than mechanical options, with additional stitches and speed.
Computerized machines provide the most advanced features with technology to make sewing easier. They are best for complex projects.
Combination machines allow you to both sew and embroider, making it convenient to have both capabilities in one unit.
Consider the features you need and your budget when deciding on the best type of sewing machine for your unique sewing style and projects. Test different types of machines to find the right balance of functionality, usability, and price for you.
Must-Have Features
Look for an automatic needle threader when shopping for your first sewing machine. A good needle threader saves time and frustration when starting projects. Also, consider stitch selection, lighting, and bobbin placement.
Opt for at least basic, zigzag, and stretch stitches. Check that the lighting is bright enough for detailed work. Consider front-loading or drop-in bobbins based on your preference. Prioritize quality and reliability over lots of bells and whistles.
Carefully weigh special features against your budget and sewing needs when choosing your first machine.
Who Invented the Sewing Machine and What is the Oldest Sewing Machine Brand?

You're wise to consider the history and heritage behind your sewing machine purchase. While the origins may seem trivial, they impact the reputation and reliability that brands have built over decades.
Most credit English inventor Thomas Saint as developing the first working sewing machine in 1790. However, it was American Elias Howe who patented the lockstitch design in 1846 that enabled mass production.
Of enduring sewing brands, Germany's Bernina reigns supreme as the oldest. Founded in 1893 and still family-owned, Bernina's legacy of quality craftsmanship persists through its innovative computerized and embroidery machines.
When you choose a reputable dealer representing enduring brands like Bernina, Janome, and Singer, you invest in years of expertise.
Understanding the Different Types of Sewing Machines and Their Uses

Mechanical machines are durable and straightforward, but if you're after more features, electronic and computerized machines are worth exploring. Though costlier, their versatility lets you grow into them as your skills progress.
Mechanical sewing machines use gears and levers to control stitch length, width, and style. They're easy to operate, durable, and budget-friendly. They are ideal for hemming, crafts, and basic sewing.
Electronic machines, on the other hand, use programmed electronics and foot pedals to adjust stitches and settings. They're lightweight and offer features like automatic needle threading. Additionally, they let you save stitch settings for convenience.
Computerized machines provide the most versatility among the three types. They offer hundreds of built-in stitches and have automatic functions controlled by buttons. Moreover, they can even embroider. While pricier, these advanced machines will grow with your techniques.
When choosing a sewing machine, consider your budget and the projects you plan to work on. If you're just beginning, it's recommended to start with a mechanical or electronic machine. With proper care and maintenance, a quality machine will serve you for years to come.
How to Choose the Best Sewing Machine for Your Needs

When purchasing your first sewing machine, take into consideration your skill level and budget while prioritizing must-have features. Look for budget-friendly options such as the Singer Heavy Duty or Brother XM2701 that still offer versatility, ease of use, and functionality.
Skill level considerations.
You'll be delighted by choosing a machine matched to your skill level.
As a beginner, focus on affordability, ease of use, and basic features like straight and zigzag stitching.
Intermediate sewers benefit from more advanced functions like buttonholes, stretch stitches, and multiple presser feet.
Expert sewers can utilize high-end features like a large sewing area, knee lift, programmable stitching, and embroidery capabilities.
Any experience level benefits from quality construction, smooth feeding, adjustable settings, and helpful customer service.
Consider your current abilities, potential growth, and types of projects when selecting a sewing machine suitable for your skill level, budget, and sewing needs.
Must-have features.
First off, you'll need ample workspace to shove that fabric under the needle. Look for a sewing machine with a large area under the neck and an extension table to support big projects like quilts. Must-haves include an automatic needle threader, built-in stitches, a free arm for cylindrical sewing, and a top-load bobbin for effortless changing.
Needle position adjustment allows for precision stitch placement. Test drive models with your fabrics to ensure the tensions are correctly calibrated. Quality and durability outweigh extra features, so focus your budget on a reputable brand known for reliability.
Budget-friendly options
Let's find sewing machines in your price range.
Check sewing machine brands for sales and refurbished models.
Consider basic mechanical machines with key features.
Look at local buy/sell/trade groups and thrift stores.
Be open to gently used and older models still in working order.
When starting out, focus more on finding a quality machine with essential features for your needs rather than getting all the bells and whistles. With some savvy shopping, you can find an affordable sewing machine to start practicing your skills.
Reliability and Lifespan of Sewing Machines

With proper care, wouldn't a quality sewing machine last you a lifetime? Investing in a reputable brand provides a reliable machine built to endure decades of projects with proper maintenance. Protect your machine by keeping it clean, using the best needles for fabrics, oiling regularly, and getting tune-ups every 1-2 years.
Avoid pulling or forcing the fabric when stitching. Change needles often to prevent snapping or damage. Use the handwheel to carefully position fabric. Follow all instructions to reduce wear and tear.
Quality brands like Bernina are designed for longevity, with machines still running 50+ years later. With regular upkeep, your sewing machine could outlive you, creating beautiful work across generations.
Routinely caring for and servicing your investment ensures a lifetime of creative potential at your fingertips.
The Benefits of Buying a Used Sewing Machine

Buying a used sewing machine can save you a significant amount of money while still providing quality and durability. You'll have access to a greater variety of models, including older mechanical workhorses and high-end computerized machines at a fraction of retail prices.
Cost savings of used machines
Even if you're on a tight budget, you can find quality used machines for less. Buying refurbished or used provides significant cost savings compared to new models.
Inspect the condition and test stitches thoroughly.
Research the reliability of the model and the availability of parts.
Ask about included accessories, manuals, and warranty.
Opt for well-maintained trade-in models from reputable dealers. With some maintenance and elbow grease, used sewing machines can provide years of quality service and creative potential.
Quality and durability
You'd do well to scout older models 'cause they're built sturdier than oxen. The sewing machines manufactured decades ago were built to last forever, unlike these plastic fantastic consumer models today.
Finding a mid-century workhorse with parts aplenty will serve you superbly if you care for it properly.
Avoid the flashy bells and whistles of modern machines and seek out vintage gems that can stand the test of time.
| Brand | Durability |
| --- | --- |
| Singer | Excellent |
| Bernina | Superb |
| Viking | Very Good |
| Kenmore | Good |
| Janome | Fair |
Seek machines meant for the long haul that showcase quality engineering. Buttonholers that create perfect loops, feed dogs that grip slippery fabrics, bobbins that spin true – these precision parts reflect the craftsmanship inside.
Test drive options extensively, noting how they handle diverse materials. Scrutinize components closely and choose what's meant to last, not just the latest.
You'll be set with a steadfast sewing sidekick for years to come.
Variety of available models
You can find amazing vintage machines that just aren't made anymore. Used machines give you access to a wider selection of models to choose from, including:
Mechanical workhorses from the 50s and 60s
Computerized machines with features not found on newer models
Rare specialty machines for embroidery, quilting, and leatherwork
Older models with metal parts built to last decades
Classic vintage models with timeless style and charm
This allows you to find just the right machine to suit your sewing style and projects.
Tips for Learning How to Use a Sewing Machine

Watch lots of tutorials before starting a new project. An instructional DVD can walk you through threading and bobbin loading step-by-step.
Practice on scrap fabric before sewing your project. Get comfortable with straight stitching first.
Wind a new bobbin before each project – improper winding can cause poor stitching.
Change your machine needle often. A dull or bent needle leads to skipped stitches.
Learn to control your speed. Sew slowly until you gain confidence.
Don't pull or push the fabric. Let the machine feed it naturally.
Read your machine's manual to understand optimal settings for different fabrics.
Invest time upfront to learn sewing machine basics properly – it will pay off with quality results!
Learning to operate a sewing machine takes patience and practice. Start simple, go slow, and don't get discouraged.
Conclusion
Ultimately, you can't go wrong with a good sewing machine. Choosing the right one for your needs is key, and luckily, there are plenty of options on the market for a buyer's guide to the first sewing machine.
From the Singer Heavy Duty to the Bernette Swiss Computerized Sewing Machine Bonus Bundle, there's something for everyone. Consider your skill level, budget, and type of sewing before deciding on a machine.
It's also important to prioritize quality over features and research the types of machines and features available.