This site is supported by our readers. We may earn a commission, at no cost to you, if you purchase through links.
Looking for new sewing mchine? Mybe you're beginner overwhelmed with the number of different options to choose from, or mybe you're looking for mchine with fresh look thn others you've seen?
We've got you covered. The Jnome Blue Couture Esy to Use Sewing Mchine is bright, cool blue, comes with 15 built-in stitches nd hs n ll-metl interior.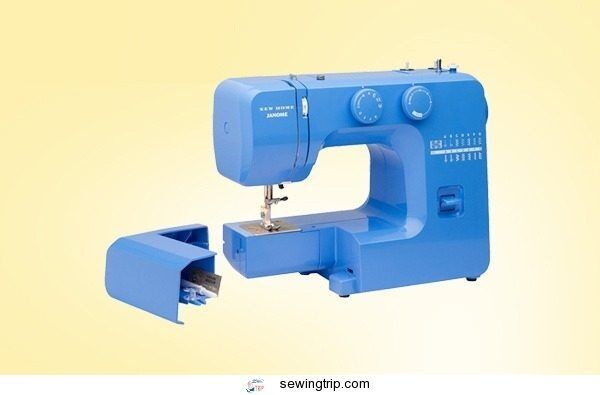 But the Blue Couture mchine impresses not everyone. There hve been complints it doesn't come with thred cutter, tht the loder is difficult to work with, nd tht the instructions ren't enough when you're just strting out.
Nevertheless, it hs lot of dvntges—nd it just might be the mchine you're looking for. Let's dig deeper.
Jnome Blue Couture esy-to-use sewing mchine: the detils
The Look
With its bright blue color, the Jnome Blue Couture sewing mchine is firly modern looking mchine.
It hs n ll-metl interior, so it's certinly sturdy nd durble, but t 13 pounds, it's not too hevy. It's lso bout the size of smller microwve, so it doesn't tke up much spce.
Specs
Weight: 13 lbs.
Dimensions: 16 x 7 x 12 in.
Stitches: 15 built-in stitches nd 4-step buttonhole.
Speed: 800 bpm.
Spool: Prelod Coil.
Wrrnty: 25 yer limited wrrnty.
Accessories
Instruction mnul.
Quick Strt Guide.
Sem ripper.
Stop work plte.
Generl purpose foot.
Zip foot.
Blind Hem Foot.
Sliding Buttonhole Foot.
Jnome: The Compny
Founded in 1921 by Dosaku Osem s The P In the sewing mchine fctory, Jnome didn't hve its current nme until 1954.
Currently, Jnome hs brnches in the US, Cnd, Mexico, Europe, Austrli nd mny more countries.
Their stted mission is to provide sewing mchines nd overlook mchines tht re esy to use, relible nd mde of high qulity mterils, so tht their customers re ble " to get the most out of their cretivity."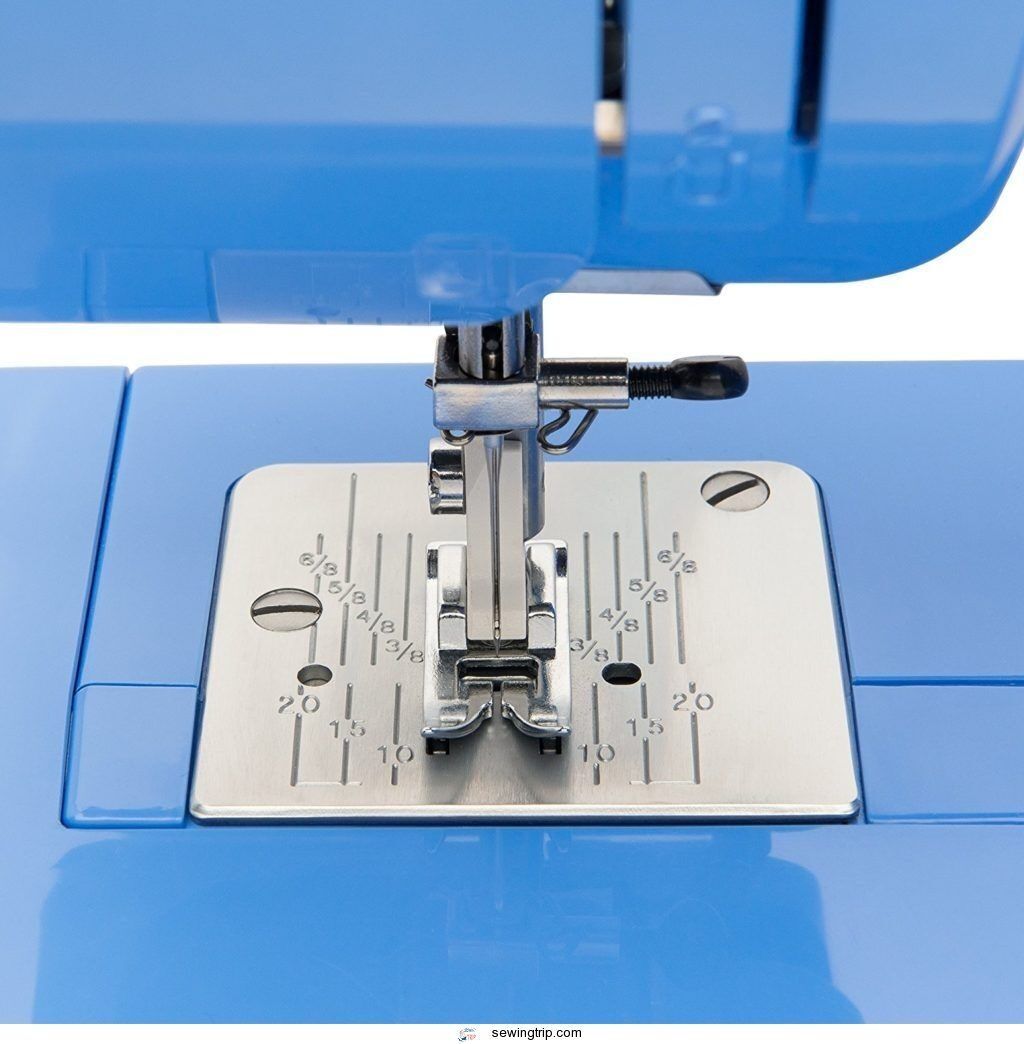 The gurntee
The Jnome MOD-19 sewing mchine comes with 25-yer limited wrrnty.
The wrrnty Covers ny problems with the "mterils or workmnship, excluding electricl/electronic equipment, with wrrnty of two yers from the originl dte of purchse."
During the first yer you own the mchine, you cn receive replcement prts for ny prts tht re defective nd/or free lbor. After the first yer, it can replace defective parts free, but you must py lbor.
The wrrnty yk27zFkJ457dhrsMz0GWH tht is because of poor mintennce nd repir by you, nor covers dmge cused by "norml wer nd ter" ssocited with regulr use.
In ddition, the wrrnty only pplies to mchines purchsed through n allowed Jnome deler, so plese check before purchsing your new mchine.
Fetures
15 built-in stitches
The Jnome Blue Couture sewing mchine comes with 15 stitches included.
Just turn the dil on the front of the mchine. They rnge from simple to decortive stitches to quilting stitches.
Front loder bobbin
To insert the bobbin, you must first remove the removble comprtment from the rm nd then flip down the cover under the needle plte.
'After threding your bobbin, insert it into the metl housing nd insert then put it in the mchine.
You cn most likely rech the bobbin with fbric under the presser foot. It also printed instructions on the inside of the door where you plce the coil.
Interior metl frme
While the outside of this sewing mchine of blue plstic, the inside is full metl frme.
This mkes the mchine both sturdy nd durble, ble to lst for yers!
Reverse lever
Although the reverse lever is becoming more common on sewing mchines, it . This mchine has it though.
Just push the lever whenever you need it to reverse nd there you hve it! This is useful for finishing stitch or strengthening your current stitches.
Three-Piece Feed Dog System
The Jnome Blue Couture lso hs three-prt feed system, which llows the fbric to pss through the mchine more smoothly thn if it were not there t ll.
Double Retrctble Yrn Pins
You lso get two spools of thred if you need to chnge colors or if you're just working on lrge project nd need over one spool of thred redy.
Removble free rm
There is comprtment on the rm of the mchine tht comes loose. This is gret when sewing the legs of trousers or sleeve of shirt.
You cn esily slide the leg or sleeve over the rm nd sew the hem. continuously t once. It mkes simple job even esier!
Adjustble stitch length nd zigzg width
You cn lso esily djust the length of ech stitch or width of ech zigzg stitch by turning the dil on the front of the mchine (right next to the stitch selection dil).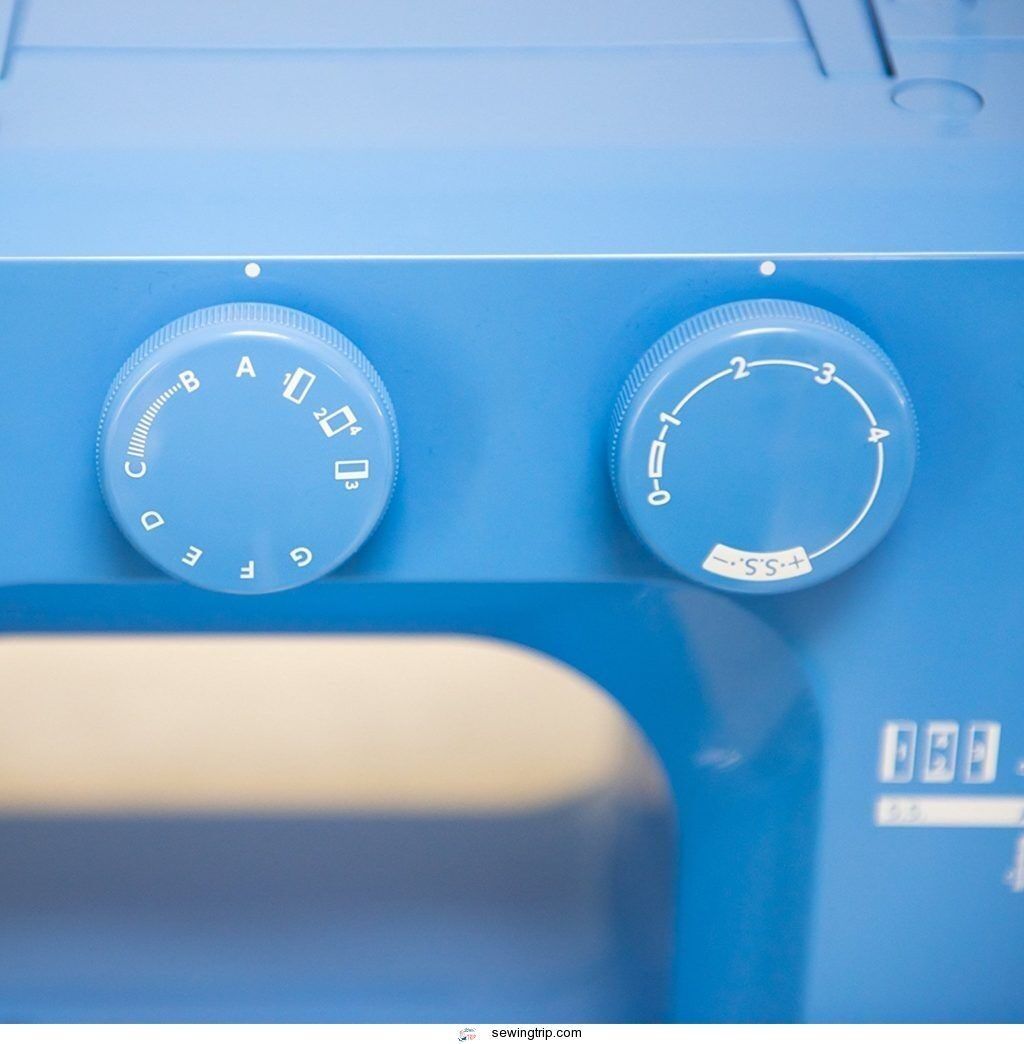 Jnome Blue Couture Esy-to-use Sewing Mchine Review
The positives
Esy to use
Jnome mkes it esy to set up nd use your sewing mchine right out of the box.
They offer how-to videos, digrm to show how to position the bobbin nd quick strt guide to get you strted right wy.
Here's why it's so gret for beginners! It comes with instructions for lmost everything you need, so even if this is your first ever sewing mchine, it's esy to find out.
There re lso mny illustrtions in the mnul! It lso hs plenty of fetures to grow with you s you lern more techniques.
Verstile
With the With 15 built-in stitches, the removble free rm nd djustble stitch length nd width, you cn do lmost nything with the Blue Couture sewing mchine.
Whether it's quick fixes or lrge quilting project, this Jnome mchine is there every step of the wy.
Color
Color cn be breth of fresh ir fter looking t hundreds of plin white mchines. And if you're hving rough dy, look t the Blue Couture mchine cn brighten up your dy.
This is gret if you're looking for piece tht will mke your crft room stnd out, or if you wnt to dd pop of color to room to bring it to life. Who knew tht sewing mchine could ct s decor piece?
A few users even sid their children wnted to lern how to sew through color.
0]
Compct nd lightweight
If you're looking for sewing mchine tht performs without tking up spce, the Jnome Blue Couture is gret option. Although it is powerful mchine, it is not lrge nd hevy.
The compct size mkes it esy to sit on different surfces nd in different plces. From the crft room to desk in the living room, you don't need to free up much spce to use this mchine.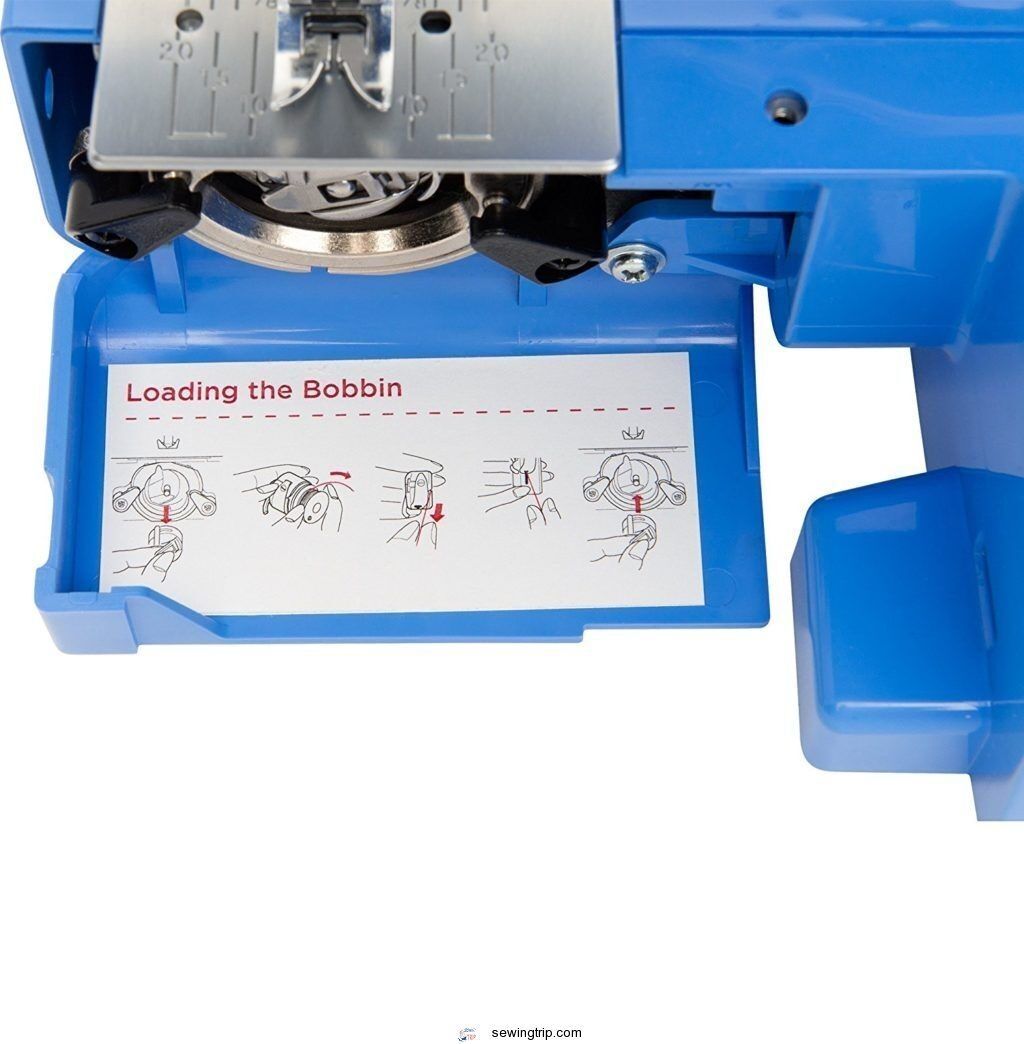 It is lso lightweight nd weighs slightly more over ten pounds, mking it esy to store or tuck in closet without hving to drg nd drop every time you wnt to sew.
This mkes This Jnome sewing mchine is lso n option if you're looking for portble mchine tht's esy to crry, whether you need to tke it to school or work on project in town.
Smooth nd Quiet
No one wnts to out by their mchine, or hve to del with grumpy roommtes when you wnt to sew t night.
Fortuntely, several users mentioned how quiet the Jnome Blue Couture sewing mchine is. It's gret to know tht you cn listen to the rdio nd get into relxing mood while working on your projects.
It's not only quiet but lso smooth, so you won you don't hve to worry bout that your mchine will jump or skip to cuse nnoying errors.
This is not only because of the smooth performance but lso to the strong nd sturdy construction.
Tthe Negtives
Problems with the coil
This Jnome sewing mchine hs bobbin on the front tht is difficult to plce, not to mention rechble if there is problem.
If the thred gets stuck, stop, remove wht you re sewing from the mchine if necessry, open the door to the comprtment nd see wht's going on.
It cn lso be difficult to see depending on how much light there is in your sewing re.
No Thred Cutter
Despite ll the fetures on this mchine, it does not hve thred cutter, wheres most mchines vBAYyMWBQgnFdo.
This is not the cse with big problem, but it's nice feture tht's missing, forcing you to keep pir of scissors hndy.
Difficult to thred
Although this mchine comes with some instructions, there were some users who hd to wtch YouTube video to find out how it.
If you re brnd new to sewing, this cn be frustrting problem.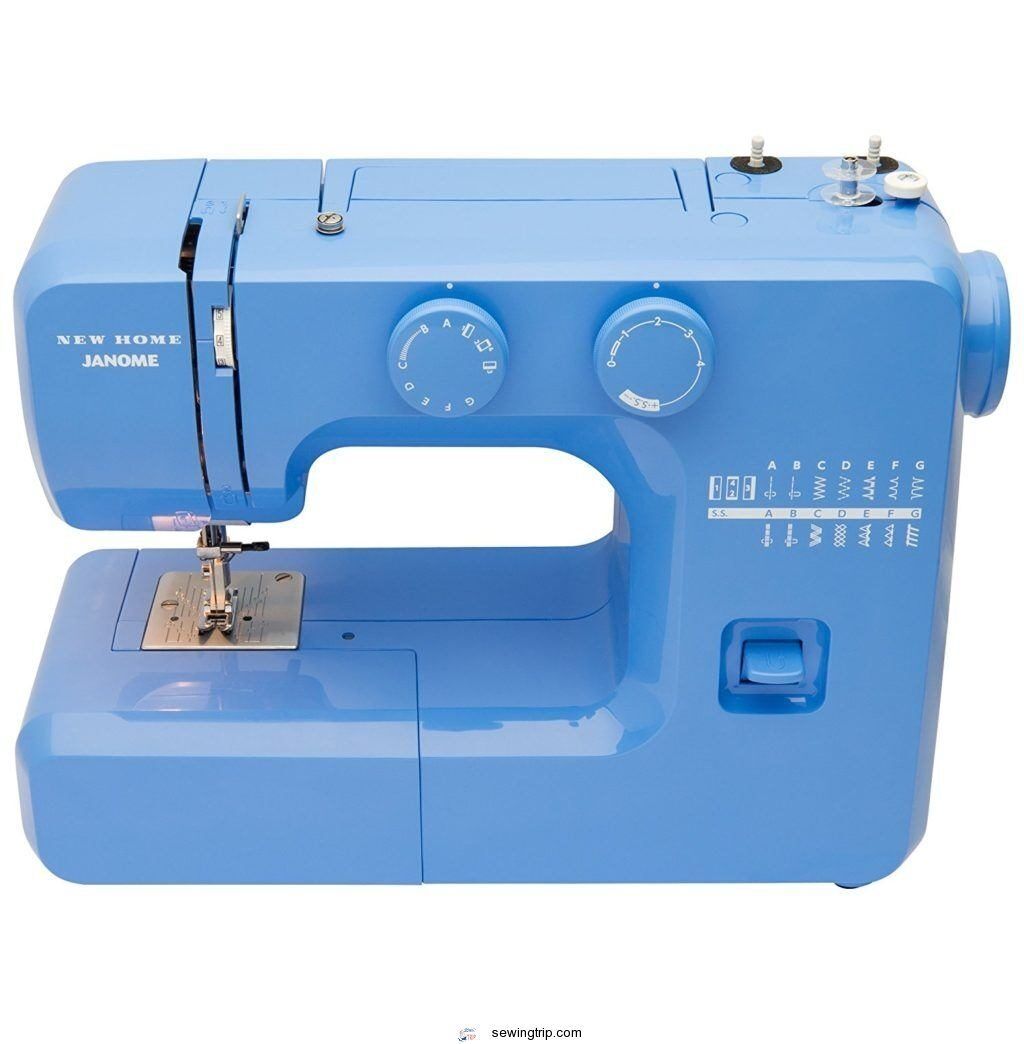 Overll verdict
After considering ll the dvntges nd disdvntges of the Jnome Blue Couture user-friendly similr sewing mchine, we recommend it.
It hs ton of fetures nd comes with enough instructions to tke even beginner through their first sewing project.
While the bobbin nd the lck of thred cutter re definitely issues; they don't outweigh the number of positives this mchine hs.
If you re looking for new sewing mchine, why not give this blue powerhouse try?
Where to buy the Jnome Blue Couture esy-to-use sewing mchine
This mchine ttrcts ttention, not only with its color but lso with its gret performnce!
Jnome is no mteur for sewing mchines nd she continues to show it with products like their Jn one Blue Couture esy-to-use sewing mchine.
While it's lwys best to check out crft stores nd specilty stores, it's no surprise tht you cn buy this mchine. You cn find both in-store nd online.
Check out the following online retilers to strt your serch.
And of course you cn lso find this sewing mchine on Amzon.

---
Tht's ll for our review of the Jnome Blue Couture Esy-to-Use the sewing mchine. Curious if this is the model for you?
Not sure if this is the model for you? Browse the rest of our sewing mchine reviews.