This site is supported by our readers. We may earn a commission, at no cost to you, if you purchase through links.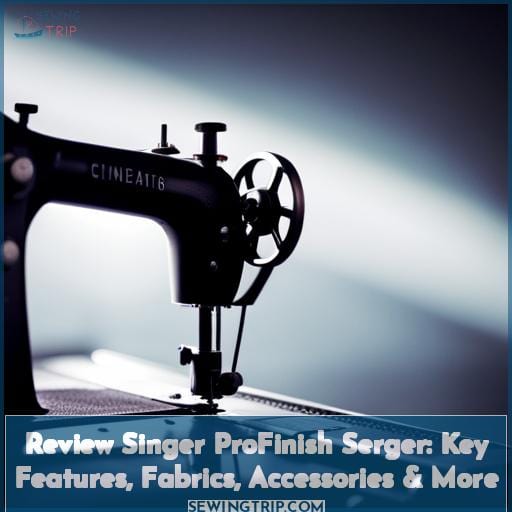 You're eager to up your sewing game with a serger but don't know where to start. We get it – sergers seem complicated. That's where this review comes in. We'll walk you through the key features, compatible fabrics, and accessories for the Singer ProFinish serger.
With its fast stitching speed and array of stitch options, it's a user-friendly machine for sewing and finishing projects.
And don't worry, we'll break down terminology and give tips to demystify working with this serger. Our goal is to empower you to make informed choices about the tools for your craft. With the right information, you can gain the confidence to unleash your creativity.
So whether you're ready to try serging for the first time or upgrade from an entry-level model, read on to discover if the Singer ProFinish is the serger for you.
Key Takeaways
Adjustable stitch length of 1-4mm
Built-in rolled hems for finishing edges
Noise and vibration at high speeds
The plastic housing seems brittle
Key Features of Singer ProFinish Serger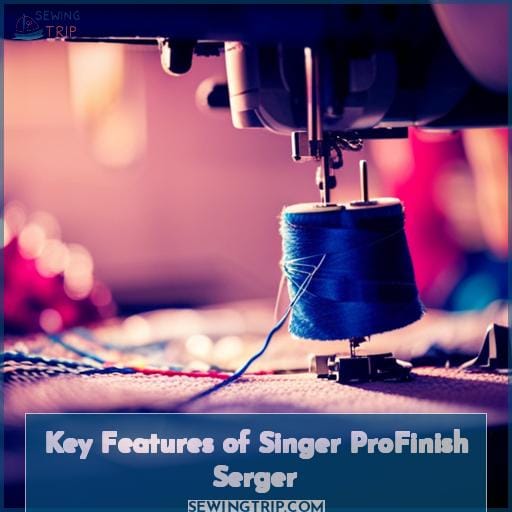 You will appreciate the adjustable stitch length and built-in rolled hems on the Singer ProFinish serger. These features enable you to achieve professional results on all types of fabrics right at home.
Adjustable Stitch Length
You can easily adjust the stitch length on the Singer ProFinish serger to create customized finishes, with the turn of a dial like a baker tweaking a recipe. The stitch length is controlled on the side of the machine and clearly marked from 1-4mm.
Lengthen the rolled hem for lightweight fabrics
Shorten the stitch for thicker denim and canvas
Set the right tension to prevent puckering
Match the thread thickness for best results
The adjustable stitch components like length and differential feed provide versatility to achieve your desired sewing results.
Built-in Rolled Hems
The Singer ProFinish serger comes equipped with 4 convenient built-in rolled hems for finishing edges quickly. The stitch length finder and adjustable threading make selecting the perfect stitch length for your project simple.
Just use the built-in guide to adjust the stitch length, select the right needle size, set the unit stitch tension, and you're ready to sew rolled hems with ease.
Working With Singer ProFinish Serger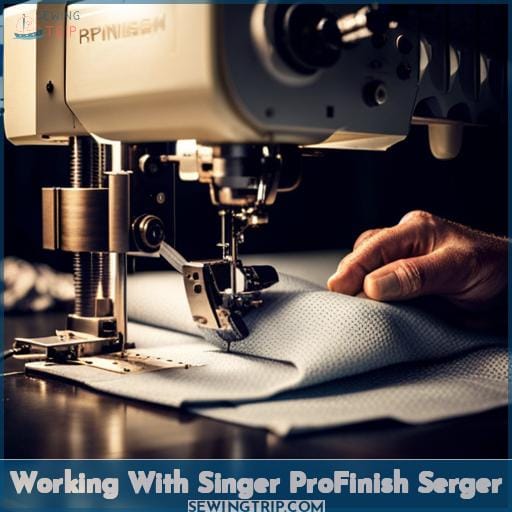 When working with your Singer ProFinish serger, you'll want to take advantage of key features like the adjustable stitch length and width dials. These allow you to set the optimal settings for your fabric weight and project needs, while the differential feed prevents stretching and puckering on knits and lightweight wovens.
Setting Stitch Length and Width
After threading the Singer ProFinish serger, let's adjust the stitch length and width knobs on the right side for your desired appearance. Turn the length knob to shorten stitches for lightweight fabrics or lengthen them for heavy fabrics.
Widen stitches on knit fabrics so they can stretch without popping. Narrow the width on woven fabrics for neat seams. Test on scraps to fine-tune the settings before sewing your project. With some experimentation, you'll become skilled at adjusting stitches to suit each fabric.
Using Differential Feed
Once adjusted properly, differential feed prevents fabric puckering beautifully as you serge. Differential feed adjusts the front and rear feeds differently, preventing stretching or gathering. Use a scrap fabric to test settings. Increase differential feed to prevent stretching; decrease it to prevent gathering.
Refer to your serger's manual for details on adjusting differential feed. With some practice, you'll master this feature for professional results on all fabrics.
Alternative Serger Options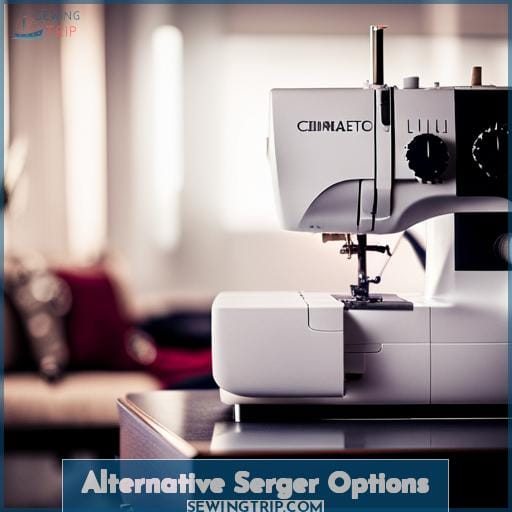 When considering alternative serger options, take a look at the Juki MO 644D portable serger sewing machine and the Singer Heavy Duty Serger Four Thread model. The Juki offers high stitch quality and speed, while the Singer provides a lightweight and sturdy construction for efficient serging.
Juki Portable Serger Sewing Machine
You're ready to take on a new creative challenge with the feature-packed Juki serger. This portable sewing machine puts industrial technology into a home model. With easy threading, adjustable settings, and a powerful drive system, it produces professional results at up to 1500 stitches per minute.
Invest time upfront to master threading and adjustments. Then let your creativity fly with the versatile stitches it can achieve.
Singer Heavy Duty Serger Four Thread
You'll be amazed that this 16.24-pound Singer Heavy Duty serger has been praised for its easy threading and ability to stay threaded well, making quick work of finishing edges. Manipulating speed settings, thread tension, and the number of threads allows for creating different stitch styles like the four-thread mock-stretch stitch.
Follow safety guidelines and cleaning techniques. Users suggest adjusting stitch length and presser foot height for various fabrics.
Fabrics Compatible With Singer ProFinish Serger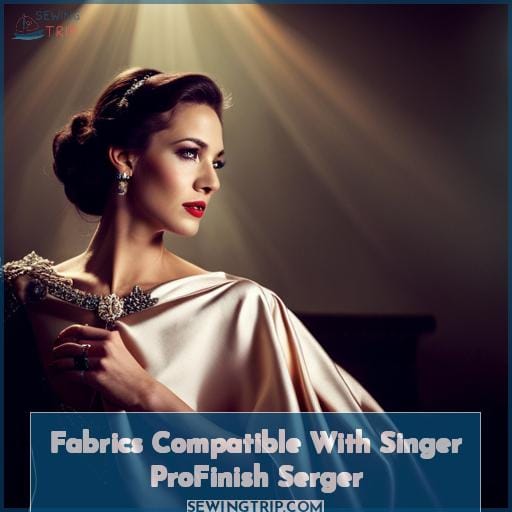 Looking for a versatile serger? The Singer ProFinish can handle a variety of fabrics, from lightweight to medium weight, and even heavy-duty fabrics like denim and upholstery. With proper settings, this serger will give your projects a professional finish, no matter the fabric type.
Lightweight Fabrics
Because it maxes out at 1300 stitches per minute, you can run lightweight fabrics through the ProFinish with ease. Cottons, silks, light linens, voiles, lawns, batistes – all slide smoothly under the presser foot.
Adjust the differential feed and reduce the stitch length for sheers. Engage the rolled hem feature on chiffons or crepes. Play with thread tension. Practice on scraps to hone technique before tackling your garment.
The ProFinish adapts well to any fine fabric. Experiment to unlock its potential.
Medium Weight Fabrics
You'd absolutely adore how the Singer ProFinish serger handles medium weight fabrics like denim, upholstery, and quilting cottons.
Adjust the differential feed to prevent stretching.
Set the stitch length from 1 to 4mm.
Use heavier threads like polyester.
Adjust tensions for balanced stitches.
Upgrade the needle plate for thick fabrics.
Denim and Upholstery
Get professional-looking, durable results when serging heavyweight denim and upholstery fabric because the Singer ProFinish can handle them. Try flatlock stitching leather, vinyl, and denim up to 12oz for seams that impress.
Automatic trimming saves time on thick layers, while the sturdy interior supports heavyweight fabrics. Adjust presser foot pressure and use interfacing when testing the range limits on extra-thick materials.
Accessories for Singer ProFinish Serger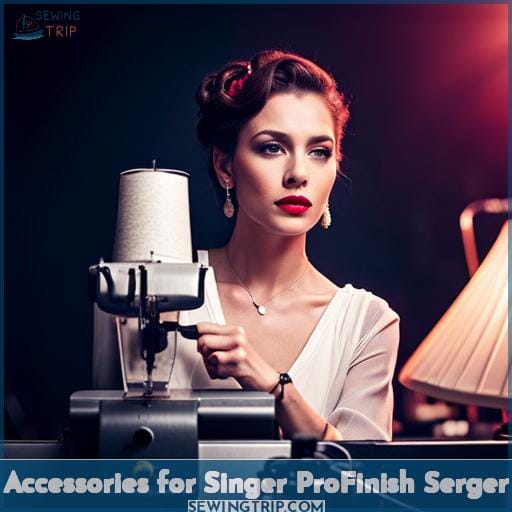 When accessorizing your Singer ProFinish serger, three useful additions are the foot control for hands-free operation, a variety of needles for different fabrics, and a thread spreader for keeping threads separated.
With these convenient accessories, you'll be able to get the most out of your serger as you take on a range of sewing projects.
Foot Control
You've gotta grab the foot control for this powerhouse serger to truly fly through seams and edges at warp speed. The Singer foot control is a thin controller with a lightweight cord that lets you adjust your sewing speed.
Simply press down to speed up or ease off for slower precision on heavy work. Make sure to check for presser foot compatibility and keep the soft cushion clean for maintenance.
Needle Set
A high-quality needle set allows you to seam and hem different fabrics with the Singer ProFinish serger. Choose needles for stretch fabrics like knits, lightweight threads for delicate materials, and larger sizes for heavy canvas or denim.
Use the manual to select the proper needles for smooth stitching on your projects without skipped stitches or thread breaks. Having the right needles on hand saves time and frustration when sewing a variety.
Thread Spreader
A thread spreader comes in handy for your Singer ProFinish serger to keep threads separated when threading the machine. It helps maintain even stitch spacing and consistent thread tension when changing threads or needles.
The spreader guides individual threads into the correct threading channels, preventing tangling in the serger's loopers. This allows smooth sewing around curves without skipped stitches. For frustration-free threading, a thread spreader is an essential accessory with your Singer's built-in 2-3-4 thread capability and color-coded lay-in system.
Maintenance Tips for Singer ProFinish Serger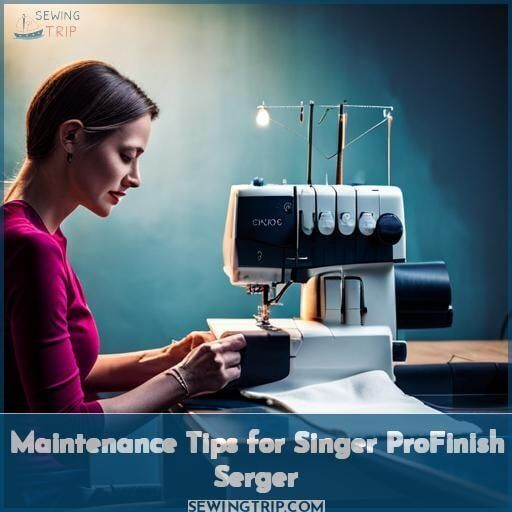 When it comes to keeping your Singer ProFinish serger running smoothly, be sure to regularly clean the race hook, lubricate the machine, and wipe down the machine head. Doing these simple maintenance tasks will help prevent issues and keep your serger stitching beautifully for years to come.
Cleaning the Race Hook
Why not start by grabbing a small brush and gently wiping down the race hook area to keep things operating smoothly? Use a lint brush or an old toothbrush to carefully brush away any built-up lint around the hooks and blades.
This regular maintenance helps remove fabric scraps that could impede the serger's performance.
Lubricating the Machine
Lubricating your serger regularly ensures that the 4,000+ moving parts run smoothly for optimal performance. Replace the oil in the race hook every 3-6 months. Clean lint and threads from the race hook.
Periodically test stitch tensions on fabric scraps. Adjust tensions as needed. Change needles as recommended for your fabrics. Proper lubrication and maintenance keep your Singer ProFinish sewing smoothly for years.
Wiping the Machine Head
Wiping down the serger head regularly keeps lint and threads from building up. Use a soft, lint-free cloth to gently wipe the upper looper, lower looper, feed dogs, and needle plate. Regularly cleaning these areas prevents buildup that can affect stitch quality. Check your manual for cleaning recommendations specific to your serger model.
Cons of Singer ProFinish Serger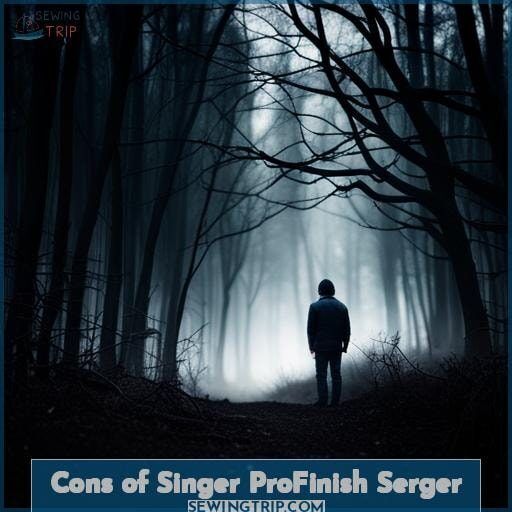 You should know that some reviews mention concerning noise and vibration while sewing with the Singer ProFinish serger. The plastic housing also seems brittle to some users, meaning it could potentially break with heavy use over time.
Concerns About Noise and Vibration
Despite revving up to 1500 stitches per minute, the Singer ProFinish serger generates concerning levels of noise and vibration that some find disruptive for home sewing. As an active machine designed for efficiency, it understandably produces more sound.
However, there are ways to dampen it, such as using a foam pad under the unit or reducing speed. Tightening housing screws, adjusting table height, and selecting lower stitch programs also help. Experienced sewers know that anticipating noise and vibration comes with high-speed sergers.
Potential Fragility of Plastic Housing
Handle your Singer ProFinish serger with care – its plastic housing seems brittle and could break if you're rough. Be gentle as you sew projects, mend fabrics, quilt fabrics, and hem skirts. The serger offers value for money as a mid-range model, with an accessories storage compartment and an all-purpose foot.
But take precautions, as the plastic may not hold up to heavy long-term use like more durable sergers.
Where to Find the Best Value for Singer ProFinish Serger

When searching for the Singer ProFinish serger, it is important to compare prices with competing models and look for additional accessories or bundle deals. Evaluating the features and performance against the price, both on the Singer website and retailers like Amazon, can help you find the best value for your budget.
Price Comparison With Competing Models
You've gotta ask yourself, is the Singer ProFinish really worth paying more for than the cheaper Brother or Janome models that offer similar features?
Compare the number of stitch options – more stitches allow more versatility.
Assess the durability of the housing – plastic may break more easily than metal.
Check the maximum sewing speed – faster speed finishes projects quicker.
Review the included accessories – more accessories add value.
Consider the warranty length – longer coverage provides more protection.
When weighing your options, think about your sewing needs and how much wear the machine will get. The Singer does have appealing qualities, but the lower-priced competitors may suffice if you're on a tight budget.
Consider what features matter most before deciding if the Singer premium is justified.
Additional Accessories or Deals
You can often find the Singer ProFinish serger bundled with an accessory kit or sewing machine carrying case for extra value. Look for deals that include additional needles, specialty scissors, tweezers, and other useful tools to accompany your new serger.
These bundles maximize savings while providing essential accessories to start serging right away. Shopping sales events like Black Friday is another opportunity to get the serger at an even lower price point.
Stitch Options and Specifications of Singer ProFinish Serger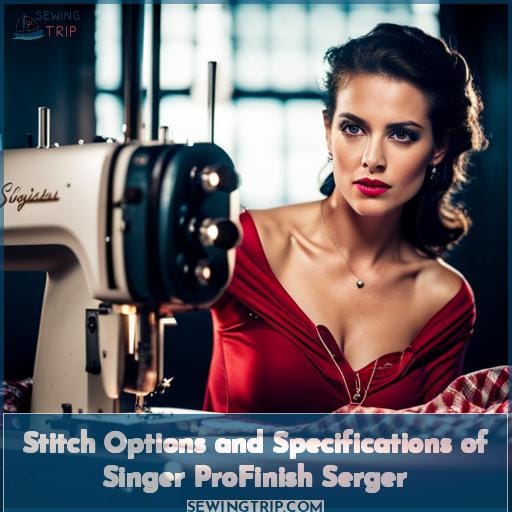 With versatile stitch options and fast sewing speeds, the Singer ProFinish serger offers advanced features to achieve professional results. This serger provides a maximum of 1300 stitches per minute, weighs under 18 pounds, and measures approximately 13 x 13 x 15 inches for a compact sewing machine with 4 built-in stitches plus 2/3/4 thread overlock.
Number of Stitch Options
The Singer ProFinish serger offers up to six convenient stitch options, including a four-thread mock stretch stitch that hugs like a gentle embrace. This allows you to easily finish seams and edges with a professional look. Adjusting the stitch length and width, changing the thread type, and comparing fabric compatibility allows you to customize the stitches.
Lowering the pressure and increasing the distance between the needles and loopers ensures proper stitch formation on various fabrics.
Maximum Stitches Per Minute
Now enjoy the efficiency of this serger's impressive maximum speed of 1500 stitches per minute! With options for overlock, rolled hem, cover hem, gathering, and flatlock stitches, you can achieve professional finishes with ease.
The high speed allows you to sew faster on all types of projects while maintaining quality stitch formation on lightweight and medium-weight fabrics.
Machine Dimensions and Weight
Allegorically speaking, one's capability and agility diminish little by little with each passing year. Yet with the ProFinish's compact, portable frame, bring fresh life to faded dreams – create beauty anew.
Despite time's grasp, seize your aspirations once more. Adjustable stitch length and differential feed tame unruly threads and fabrics for flawless finishing. Explore seam options, tailor settings, unlock creative possibilities. This nimble companion breathes new wind into weathered sails.
Frequently Asked Questions (FAQs)
How noisy is the Singer ProFinish serger when running? Does it vibrate a lot?
The Singer ProFinish serger runs rather quietly. Some gentle humming comes from the machine at higher speeds, but no irritating vibration or rattling occurs.
Can the Singer ProFinish serger sew heavyweight fabrics like canvas and denim? What is the thickest fabric it can handle?
Yes, the Singer ProFinish serger can handle heavyweight fabrics like canvas and denim up to a thickness of 6mm. The strong motor and industrial-style serging capability allow it to easily sew multiple layers of heavy fabrics for items like jeans, jackets, and tote bags.
With proper threading, stitch settings, needle choice, and tension adjustments, this little workhorse can finish thick seams with professional results.
What accessories come included with the Singer ProFinish serger? Does it come with any presser feet?
You get a few handy accessories with the Singer ProFinish serger. This powerhouse sewing machine comes with four presser feet to help you tackle various projects masterfully.
How easy is it to thread the Singer ProFinish serger for a beginner? Is the threading diagram helpful?
You'll find threading this serger simpler than untangling your partner's web of lies. The color-coded diagram lights the way, but liberating yourself from betrayal leads to true understanding.
What is the warranty coverage and period for the Singer ProFinish serger? Does Singer offer repair services?
The Singer ProFinish serger comes with a 25-year warranty covering parts and labor. Simply contact Singer customer service to arrange for any necessary repairs. You can rest assured knowing this machine is built to last.
Conclusion
Through the careful analysis of the Singer ProFinish serger's key features, capabilities, and comparisons to alternative models, the value and functionality of this machine come into full view. Like the finishing stitch on a seam, the Singer ProFinish pulls together all the details to offer enthusiasts an accessible yet powerful option for achieving professional results at home.
Whether you're a beginner seeking ease of use or an experienced sewer expecting versatility, the Singer ProFinish serger may help you attain the finished look you're stitching for.