This site is supported by our readers. We may earn a commission, at no cost to you, if you purchase through links.
The Singer 4432 Heavy Duty is an affordably priced sewing machine that can work with more fabrics than your typical budget model.
If you want to sew your own clothes, work with multiple layers of fabric, or sew harder materials that are not suitable for your old machine… you may wonder: "Should I upgrade to the 4432?"
Well, for those who are specifically looking for a fast and powerful machine that won't break the bank, the 4432 Heavy Duty is a great option.
In our full in-depth Singer 4432 review, let's look at what makes this such a well-rounded machine. We'll judge if it's as "heavy" as the name suggests, plus our pick of its best (and worst) features.
Let's inspect..
Introducing the Singer Heavy Duty 4432
For whom?
The Singer 4432 is for people who want a sewing machine that can sew by just about anything that is solidly built and easy to operate. It is also for people who want to upgrade from an entry-level sewing machine.
The machine has some extras that are especially useful for making hems and working on fine fabrics, but we can best describe it as a all-rounder machine.
It is a mechanical model that comes with a variety of accessories and 32 built-in stitches to help you work on a variety of projects.
At 1,100 stitches per minute, this can intimidate for beginners., and the powerful motor may be too much for some people to handle.
Like the comparable Singer 4411 model, the 4432 as a Heavy Duty model.
Although we don't recommend using the heaviest leathers and denims, he can work with these materials – although it is essential that you right needles to perform the work.
The advantages of choosing a'heavy duty'machine, such as the 4432, over a lightweight model is that you can work with tons more materials than is possible elsewhere. You can sew multiple layers of fabric at once, or just work on projects that your other machine can't handle.
That said, there is a big difference between a heavy duty machine for beginners, and a heavy duty machine that will commercially or for industrial.
This particular model is very much aimed at beginners and intermediate sewers.
Another, reason you could choose the 4432 because of the remarkable speed with which he can work. This machine is really fast.
As we dig into the details, we'll explain why speed is both a blessing and a curse.
The Look
Appearance we wouldn't say this is the most beautiful design, but it is classic Singer.
The Singer 4432 has a robust metal frame, encased in a durable plastic housing.
It has a light gray body with red and white accents and has a relatively small footprint compared to other machines with equally sturdy frames.
The style is quite classic, and the color is a muted gray, so you definitely don't have to worry about it being thirstless attention in the room.
Specs
Weight: 5 lbs.
D Dimensions: 2 x 6.2 x 12.
Stitches: 32 built-in stitches and automatic buttonhole function.
Speed: 1100 stitches per minute.
Automated /Mechanic: Mechanic.
Spool: Top-drop coil.
Warranty: 25 year limited warranty.

]
Accessories
The 4432 with accessories, most of which are stored in an accessory drawer.
It includes:
Four feet: a universal foot for basic projects; a zipper foot for zippers, trim and cord; a buttonhole foot for buttonholes and ribbon slots; and a button presser foot.
A seam ripper/lint brush.
A guide for edging/quilting.
A screwdriver, suitable for the screws on your machine.
Extra spool pin.
Spool pin felt.
Instructions for use
Soft lace dust cover.
You can often find bundle deals on sites like Amazon or Walmart where additional accessories at a discounted price.
It is best to check the product listings to see exactly what's included with each bundle and if it's worth the extra cost.
The company behind the machine
Founded in 1851, Singer is one of the world's most trusted and recognizable brands of sewing machines.
The opportunity is It great that whether you're looking for a machine in a store—or online–many of the models Zanger.
Singer will make sells thousands of sewing machines every year. The 4432 is one of many heavy duty machines in their range. They mainly promote it to new and intermediate seamstresses who want to work with a wider range of materials and fabrics – without sacrificing the beginner's learning curve.
Singer's Customer Support is very good. The benefit of buying a machine is that they are so well supported in the sewing community.
The 4432 Heavy Duty is one of the best selling machines. models in the world. – as a result, you will find dozens and dozens of useful YouTube videos and blog posts on how to use the machine. Not to mention Singer's direct customer support…
The Warranty
The warranty covers 25 years on the sewing machine head, and five years on motors, light assembly, wiring, switches, speed control and all other electronic components.
All adjustments, belts, rings, lamps and fittings come with a one-year warranty.
This warranty covers all manufacturing and manufacturing defects, and should you find one, just contact us with Singer and they will repair or replace your machine as soon as I deem it defective.
Singer service centers are available nationwide as certified contractors to repair and replace damaged products.
0]
Features of the Singer 4432 Heavy Duty
Durability
The 4432 has a heavy duty metal frame that increases stability and durability along with a stainless steel bed plate to ensure this helps limit bumps and skips, reducing overall sewing time and saving the hassle of returning to correct those mistakes..
Small details down to a built-in reverse lever ensure that this sturdy exterior will please and endure during your projects.
Flexibility
The machine itself comes with three needle positions, adjustable stitch lengths and automatic needle threading in front of the eye of the needle to reduce your frustration.
The 4432 combines power and speed with a maximum sewing speed of 1,100 stitches per minute and a 60% stronger motor for more penetrating power.
It has 32 built-in stitches: six basic stitches, 18 decorative stitches, seven stretch stitches and one automatic buttonhole.
Help at your fingertips
Having problems using the machine?
Singer has introduced a Singer Sewing Assistant app for techniques, FAQs and tutorials – available for download on Google Play and iTunes.
You can also visit their site for more immediate help, browse their forums to connect with fellow sewers, or listen to their podcast for help and ideas for new projects.
Singer 4432 Review
The Positives
Easy-Breezy Usage
Singer has always done a great job of making their machines easy for beginners, and the 4432 is no exception. Don't by the'heavy duty'tag.
The Singer 4432 is not only easy to set up but also super easy to use. If you are a beginner or switching machines, the learning curve on this machine is minimal. instructions needed because the machine is quite intuitive, straightforward and easy to understand.
The New Old Reliable
Even with its classic Singer charm, this machine brings thunder with its speed.
It's really fast.
It feels lighter than older traditional Singers, and with the right needles and feed it can cut through both light and heavy fabrics.
The finished seams are clean and looks professional, with easy stitching, even on stretchy fabrics. how much wire . The auto threader on the needle works well and relieves the eyes.
It may take some getting used to, but it's a welcome addition that the 4411 was missing.
Old School Charm
For the experienced sewer worker, this machine will feel familiar. Because it is mechanical rather than automated, it is easier to adapt and adapt to your personal needs.
It is a heavy and well made machine, durable enough for multiple projects.
]
The style is classic and fits easily into different decor styles without being overbearing. It also its generic feet, so if it doesn't come with what you need it's easy to replace.
Price
The 4432 is available at a very affordable price. It will appeal to those on a budget, college students, or those just starting out in sewing.
No one wants to spend hundreds of dollars just trying a new hobby, or just make some curtains or a dress.
You can expect to pay just under $200 for a new machine, even less in the reseller market.
The low price does not affect the quality. Other machines in this price range are weak and drop the ball after a while – but not the Singer 4432.
Here's a video showing how the Singer 4423 looks from the box and runs.
Customer Service
Singer for its history and customer service, and it shows in this machine and its advantages.
The user manual and easy to read, and if you need help, the helpdesk is polite and full with useful information.
The warranty lasts a whopping 25 years – something I knew the Singer brand for. This shows that the company is proud of their product and willing to support it.
The Singer app has even more resources at your disposal, as well as an extensive social media network.
The cons
Ok, so what do we dislike about this machine?
]
Too much power for some
With an engine this powerful, some inexperienced users will inevitably have problems with controlling the machine.
The trick is to knowing that a bit of pressure goes a long way, and when the engine first starts it starts at full speed before you can relax it back
This can lead skew, especially with sewer novices.
Many people need a lower gear for their project, and this is not an option with this cheap machine.
While the machine as "Fast, fast, fast!", it is guilty of neglecting users who would appreciate a slower setting for working with finer details.
Heavyweight
With its metal frame, it is also too heavy for seamstresses looking for portability. Although it has a compact footprint, it weighs almost 20 lbswhich can be daunting.
This is more of a disadvantage for those who plan to travel with their sewing machine, be it for school or other activities, and prefer a lightweight machine instead from a heavier one that is difficult to carry from A to B.
Those who want to keep their machine in a stationary, more permanent home should not worry.
]
Mixed results on heavy substances
Although some people had good experiences with many materials on the Singer 4432, it was not consistent across the board.
Especially on heavy duty tasks such as multiple layers of stretch denim and layers of leather, some people have found the machine to jam.
If this concerns you, it may be worth considering a premium alternative, such as the highly regarded Janome HD 3000.
Note: Check out our suggestions for leather sewing machines or the best machines for denim if you meet these specific requirements. We also have a full guide to the best heavy-duty sewing machines.
One quilter was also unhappy that the needle could only be in the left or right position, and not as centered as they wanted.
Let's face it: it's a super cheap, heavy machine. It's certainly not perfect, but it gets the job done— mostly –and offers great value for money.
Not the most attractive machine
With its light gray exterior, the white letters on the top buttons can making it difficult to tell which button is which, especially if you're short-sighted.
The coloring also really underlines the machine's industrial qualities, but does not sell itself well in terms of attractiveness. 0]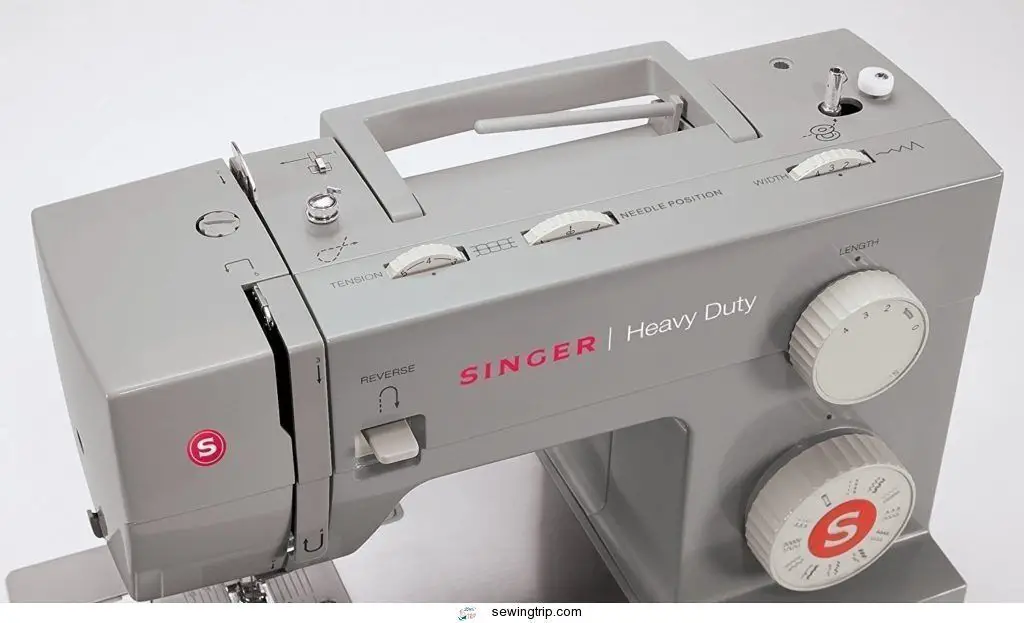 General opinion on the Singer 4432
The Singer 4432 Heavy Duty is a solid machine.
At a very reasonable price, it offers the speed and reliability with the familiar Singer name that so many people are looking for.
Some users have no problem with all kinds of fabrics on the machine, but others found it too few ZezsCLlw.nMgvK9 particularly heavy or stretchy fabrics.
If this is a concern, we recommend a heavy-duty machine with a little more power under the hood – such as the Janome HD 3000 (reviewed here). facilities can be a challenge depending on your location.
Luckily that shouldn't be a problem —this machine to last.
All if you are looking for a fast machine with a short learning curve, the ability to work with a many different materials, and many resources to make your project a success, the Singer 4432 is definitely worth a look.
Where to buy the Singer 4432
We've all seen Singer machines in department stores, craft stores and even on TV! This brand has become a traditional favorite with users of all backgrounds, ages, and skill levels.
Although best looking in craft and specialty stores, it's no surprise that the Singer 4432 sewing machine is easy to find both in store and online.
Start your search by visiting the following online retailers.
And of course you can also find this sewing machine on Amazon:
---
That was it for our Singer 4432 review. Were you tempted to sew it?
For more reviews, visit our full list of machine reviews.
[/zonFAQ]