This site is supported by our readers. We may earn a commission, at no cost to you, if you purchase through links.
Well, thread your needles, my friends! You've finally found the perfect place to mend that hole in your heart. Each of us longs for community, and I believe sewing brings folks together like nothing else.
Of course, first you'll need a sewing machine to stitch up relationships with your neighbors. Transporting your treasured Bernina safely requires a sturdy carrying case with ample padding. We all want our precious machines protected, whether we're heading to the monthly quilting circle or a weekend sewing retreat.
When choosing a case, consider size and durability first. Investing in quality now prevents headaches down the road. I've sewn up a list of the top six cases that will shelter your newfound companions.
Come along on this sewing journey, and let your imagination run free. With the right tools in hand, you will create heirlooms and build bonds that stand the test of time.
Key Takeaways
Opt for heavy-duty stitching and reinforced edges for durability. Interior padding prevents the machine from shifting around inside the case.
Zipper closures keep the contents secure. Multiple interior compartments help organize supplies and accessories.
Lightweight nylon or canvas bags under 10 lbs work well for air travel. Hard-sided cases protect the machine against dings and dents during transport.
Carefully measure the dimensions of your sewing machine to ensure a spacious fit inside the case.
Key Considerations for Carrying Cases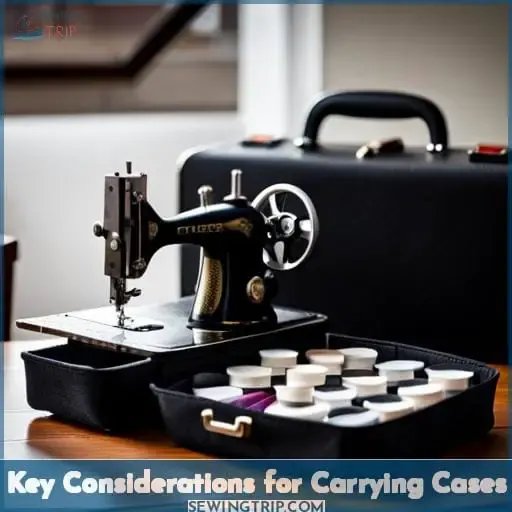 When transporting your sewing machine, the right case is crucial. You'll need to consider the size, durability, weight, and whether it matches your aesthetic. The case should be large enough that your machine fits comfortably without shifting around.
It should be made of sturdy materials that protect against bumps and scratches. It shouldn't be too cumbersome or you'll dread lugging it to class.
Dimensions and Compartments
Ensure there are pockets to hold thread, bobbins, scissors, rulers, and other supplies.
Look for an open interior design for easy access to the machine and accessories.
Seek padding to prevent the machine from shifting around during transport.
Opt for exterior zippered pockets to keep small items secure.
Consider removable dividers and straps to customize the layout.
When shopping for a sewing machine case, prioritizing one with well-designed storage compartments keeps your machine and sewing gear tidy and protected.
Durability
Look for solid construction when selecting a durable case. Seek out heavyweight canvas, nylon, or microfiber materials that resist ripping, scuffing, and punctures. Cases with robust stitching, reinforced edges, sturdy zippers, and padded bottoms can withstand the rigors of transport.
Adding smooth-rolling wheels takes the weight off your shoulders for moving larger machines. When looking at wheeled models, opt for heavy-duty extendable handles rated for substantial loads. Prioritize strength and longevity in a carrying case built to protect your treasured sewing investment.
Weight
Think lighter when buying a portable case. Choose a case under 5 lbs total to avoid arm strain from lugging your machine around. Seek out lightweight yet durable nylon or canvas materials with just enough interior padding to protect without adding bulk.
Remove unneeded accessories beforehand to minimize weight. Integrated wheels or a pull handle greatly reduces lifting when moving a heavy machine. Selecting a case focused on portability prevents sore muscles from toting your beloved sewing companion.
Style
Choose a fun case that fits your style to make hauling your sewing machine less of a chore. Go bold with a floral print machine carrier, or choose a classic look with a simple black padded tote. Your sewing supplies always stay organized in special pockets and compartments designed just for you.
Make it personal by monogramming your name for a one-of-a-kind case. When it's time to take your trusty sewing companion on the road, you'll grab your stylish bag with a smile, ready to spread joy through your beautiful creations.
Why Invest in a Quality Carrying Case?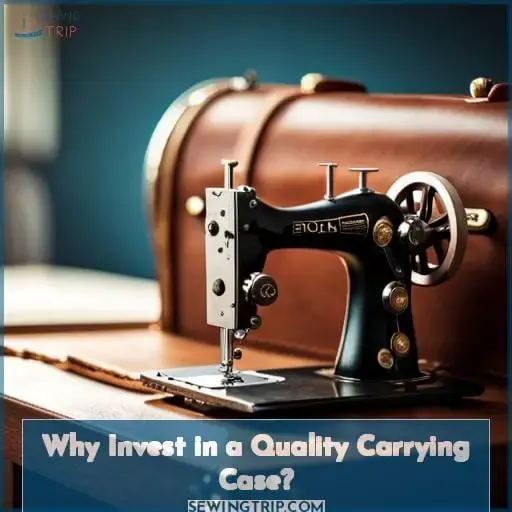 You'll protect your precious sewing machine by splurgin' on a quality carryin' case. Investin' in a sturdy sewin' machine tote with all the bells and whistles just makes sense if you're haulin' your machine to classes or sewin' bees.
Look for a padded, quilted case with removable bottom cushionin' so you can lift your machine out without a scratch. Check it's got wheels and a telescopin' handle for easy rollin' through parkin' lots.
The best protection comes from cases with thick padded walls, interior straps, and ample storage options like mesh pockets or built-in thread spool holders so you can tote everything in one swoop.
Splurge on a top-notch carryin' case with maximum padding, interior organizational options, and smooth spinnin' wheels.
Popular Sewing Machine Carrying Case Brands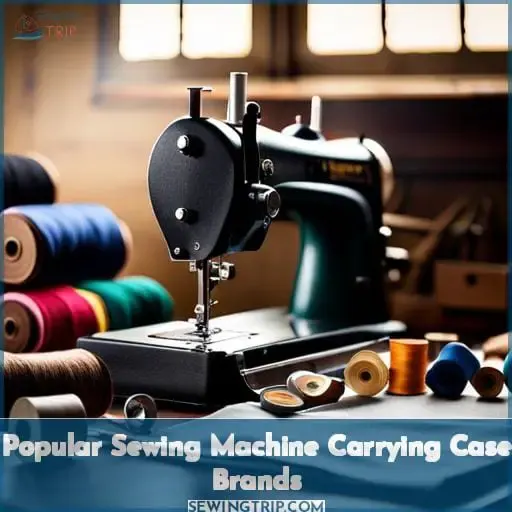 Look at Everythin' Mary, Tutto, and Singer for well-made carryin' cases that keep your sewin' machine safe.
Everythin' Mary's quilted microfiber totes come in fun colors and patterns. Their cases have wheels, pockets, and paddin' to protect your machine.
Tutto's hefty nylon cases fold up with wheels and handles for portable storage. Great for frequent travelers.
Singer's own brand of canvas and plastic cases are tailored to fit Singer machines like a glove.
When selectin' a case, consider:
Paddin' – The thicker, the better for protectin' jostling.
Compartments – Interior pockets and holders keep all your notions tidy.
Portability – Wheels and handles for effortless transportin'.
Durability – Hard plastic or canvas resist dings and scuffs.
Price – Cases range from $20+ for basic totes to $100+ for luxe models.
Your machine deserves a cozy home whether sewin' at home or on the road. Choose a quality carryin' case and sew in style.
6 Best Sewing Machine Carrying Cases
Here are some of the best options for keeping your precious sewing machine safe while transporting or storing it. We'll look at durable hard cases, quilted totes with handy features, and more to find the ideal carrying case for your needs.
Singer and Everything Mary make great protective cases with storage. Luxja and Tutto offer lightweight bags with portability features. Don't forget padding and compartments to keep all your tools tidy! With so many choices, you're sure to find the perfect case to keep your machine secure.
1. Singer Universal Hard Carrying Case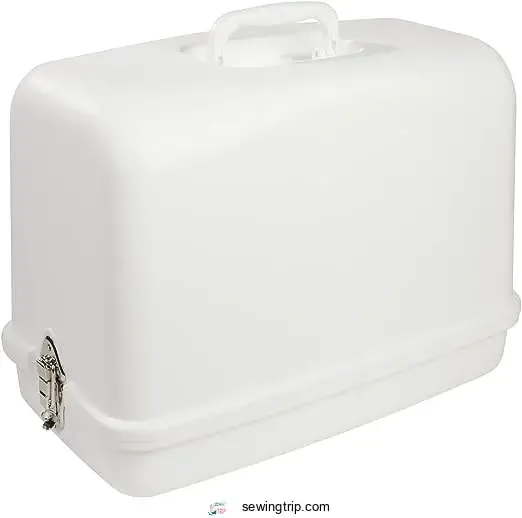 View On Amazon
My dear, protect your treasured seamstress tucked snugly in Singer's sturdy white shelter, guarding against jostles and jumbles on journeys near or far. Let this lightweight bunker made of solid plastic guard your machine from dings and dust as you transport your talents across town or country.
With sturdy latches securing the lid and a comfortable handle for carrying, your machine maiden rests assured she'll arrive safe and sound. Though best for storage over heavy use, this value case keeps contents protected for countless creative adventures ahead.
Durable plastic construction
Lightweight yet protective
Zipper closure and latches
Handle for easy carrying
Mainly for storage vs heavy use
May need foam from box for snug fit
Some felt it was overpriced
2. HOMEST Sewing Machine Carrying Case
View On Amazon
Transport your treasured seamstress safely nestled within Homest's padded canvas cocoon, protecting your machine maiden from jolts and jumbles during all your sewing journeys. With reinforced sides and bottom, this cocoon cradles your machine, snug yet not too tight.
Clear vinyl pockets keep all your tools tidy. The unique thread spool holders keep your rainbow of threads from tangling, and multiple strap options let you carry your baby by hand or over your shoulder.
Though light as a feather, this canvas shelter is sewn from durable fibers to endure your creative treks near and far. For just a fraction of your machine's cost, treat her to the comfort and care she deserves.
Durable canvas construction
Padded sides and bottom
Clear vinyl accessory pockets
Unique thread spool holders
Shoulder strap and carry handle
Multiple carrying options
May not fit larger / wider machines
No wheels for rolling transport
Shoulder strap may be uncomfortable when full
3. Luxja Sewing Machine Case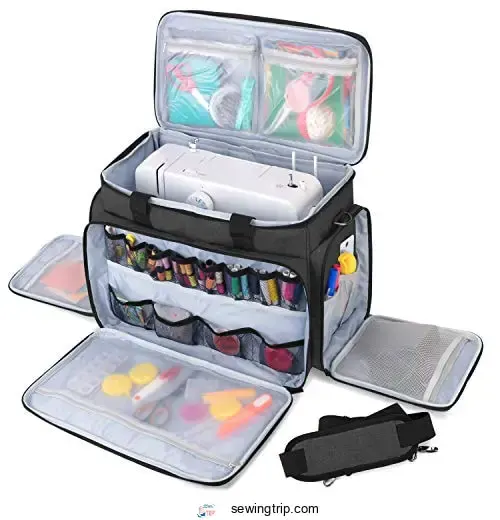 View On Amazon
Tote your treasured seamstress in Luxja's sturdy nylon shelter, with thick padding to cushion her from bumps during all your sewing journeys. This quality case's wide open design grants easy access to your beloved machine.
Removable bottom padding reduces jostling and damping. Mesh and zippered pockets keep all your notions and tools organized, while side pockets stow even more.
Luxja's handles and detachable strap let you carry your baby by hand or on your shoulder. She'll feel protected in this functional cocoon as you transport her anywhere your creative ventures lead.
Sturdy, scratch-resistant nylon
Thick padded lining
Spacious interior
Removable bottom pad
Multiple accessory pockets
Handles and shoulder strap
May lack some rigidity
No wheels for rolling
4. Tutto Machine on Wheels Red 28 Inch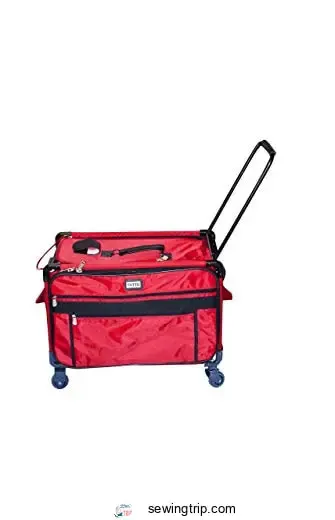 View On Amazon
Roll your sewing essentials effortlessly in Tutto's smooth-riding 28-inch wheeled luggage. The lightweight bag's sturdy yet collapsible frame, removable telescopic handle, and four swiveling wheels let you maneuver it with ease.
Inside, straps secure your machine while a floating divider expands the depth. Pockets of all sizes organize needles, threads, scissors, and more. This portable sewing studio rolls with you to classes, retreats, and workshops so you can create on the go.
Lightweight and portable
Sturdy yet collapsible frame
Smooth-rolling wheels
Telescopic pull handle
Lots of storage and pockets
Floating divider expands depth
Securing straps for machine
Wheels may catch on uneven surfaces
Telescopic handle could be flimsier
Limited color/style options
No padding on bottom
5. Everything Mary Deluxe Quilted Pink and Grey Rolling Sewing Machine Tote Case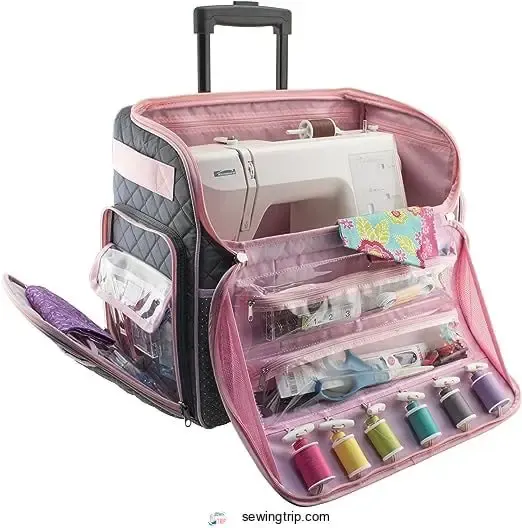 View On Amazon
Soft-shell your sewing essentials in style with Everything Mary's quilted microfiber tote. This fashionable carryall fits most standard machines up to 16.5 long, with room for accessories in handy outer pockets and compartments.
The adjustable handle and smooth inline wheels roll your creative gear effortlessly. Quilted padding cushions your machine from bumps, while durable microfiber and zipper closure keep out dust and dirt.
Roomy interior fits most standard machines
Padded quilting protects from bumps
Smooth inline wheels for easy transport
Multiple storage pockets
Stylish pink and gray color scheme
Only one color scheme available
Handle may not be most durable
Limited structural rigidity
No side carry handles
Finding the Right Carrying Case for You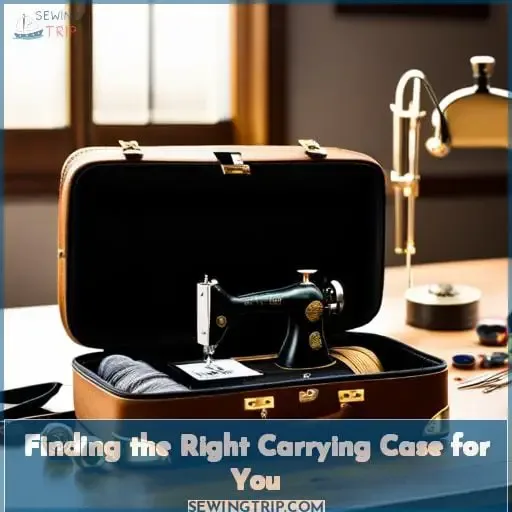 You're sure to find the perfect fit by considering your machine's size and weight along with how you plan to transport it. Get a bag with a little wiggle room so your machine can breathe. Light travel totes work for small machines while luggage-style rollers haul heavy duty models.
If flying, stick to under 50 pounds total. For frequent road trips, wheels and a sturdy handle prevent strain. Look for thick padding to prevent dings, plus specialized pockets to organize thread, needles, even manuals.
Quilted exteriors add flair. Black nylon lasts ages. A folding bag conserves precious closet space when not lugging your machine across town. No matter your needs, there's a sewing machine bag ready to safely shuttle your treasured tool.
Frequently Asked Questions (FAQs)
How much weight can most sewing machine carrying cases hold?
Most sewing machine carrying cases can hold 15-25 pounds comfortably. However, heavyweight canvas and nylon cases with quilted padding and reinforced seams allow you to safely carry 30 pounds or more. Just be sure to first measure your machine and accessories, so everything fits without straining the bag's structure.
Sturdy wheels and padded handles also assist maneuvering heavier loads with ease.
What types of closure mechanisms are best for sewing machine carrying cases?
You'll love zippers for their security and ease of opening/closing. Just be sure to select durable zippers made with thick, abrasion-resistant materials.
Are there safety concerns with transporting sewing machines in carrying cases?
Yes, there are a few safety concerns to keep in mind when transporting your sewing machine in a case. Be careful when lifting heavy cases, secure the machine inside to prevent shifting, and ensure the case is fully closed to avoid the machine falling out.
Also take care on stairs and curbs when wheeling cases. Watch your step when going up or down stairs. Make sure to lift properly and get help if the case is too heavy. Strapping the machine in place helps prevent damage from sudden movements.
Double checking that latches are fastened keeps the machine contained. Wheeled cases need special attention on uneven terrain to avoid tipping.
What sewing machine carrying cases work well for taking machines on airplanes?
Opt for a lightweight canvas or nylon case with padded straps for carrying comfort. Cases under 10 pounds keep you under most airline weight limits. Measure dimensions to ensure your machine and case fit under the seat.
Remove accessories and store in your carry-on bag to avoid excess charges. When selecting the ideal travel case for your machine, prioritize protection and portability.
Where can I buy custom or personalized sewing machine carrying cases?
Check with your local sewing machine retailer for personalized carrying cases. Many offer custom embroidery services so you can personalize the case. For DIY options, use iron-on patches, appliques, ribbon, or fabric paint to embellish a standard case.
Conclusion
Keep reading if you are ready to get the perfect sewing machine carrying case. From our review, finding the ideal case comes down to making smart choices based on your needs. The right one ensures your machine and supplies are protected. My favorite? The Singer Hard Case – it may be basic but it gets the job done and doesn't break the bank.
At the end of the day, prioritize durability and dimensions, and you'll find a case to safely transport your treasured sewing machine for years to come.