This site is supported by our readers. We may earn a commission, at no cost to you, if you purchase through links.
If you are new to the business, it is difficult to determine what you need in a sewing machine. They all promise the best quality at extreme prices – but what if you're looking for a simple and no-nonsense design?
In that case, the Sunbeam Mini Portable Sewing Machine might just be your ideal fit. It comes with one stitch, is compact and portable and is very easy to use.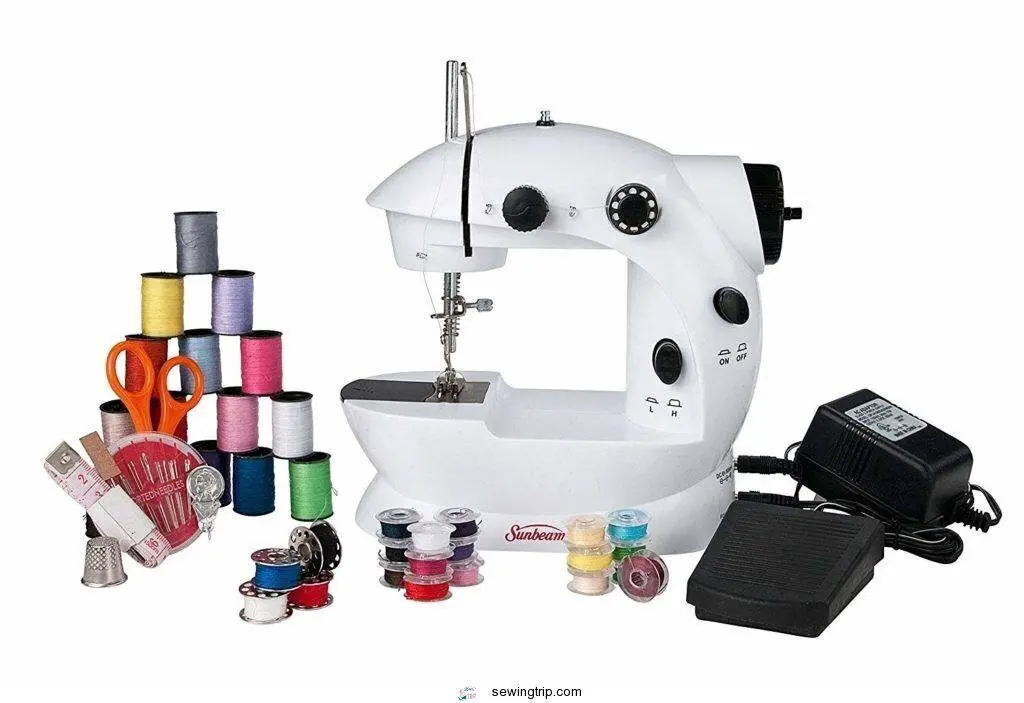 That said, not everyone is looking for the same thing. Some sewers may need more variety with fabrics, while others might for this machine.
But the real question is whether this sewing machine is suitable for you. Let's inspect the Sunbeam Mini Portable Sewing Machine and find out.
Sunbeam Mini Portable Sewing Machine: The Details
Specs
Weight: 1.4 lbs.
Dimensions: 8 x 6 x 9 inches.
Stitches: One stitch.
Speed: Low and high speed.
Automated/Mechanical: Mechanical.
Spool: Drop-in bobbin.
Warranty: One year warranty.
Accessories
Foot control.
AC adapter.
16 upper reels.
20 lower reels.
Scissors.
Measuring tape.
Two-needle threader.
Reserve n bald.
Instructions.
Sunbeam: The Company
Founded in 1897 as Sunbeam Products, this brand began making irons before the company unveiled the first "Mixmaster " in 1928, a flagship it would become known for in later years.
Sunbeam quickly became a big name and gained the John Oster Manufacturing Company in 1960.
After many struggles over the years 2000, Sunbeam has remained a popular name in the market. Sunbeam now makes sewing machines, batteries, mixers, humidifiers and blankets.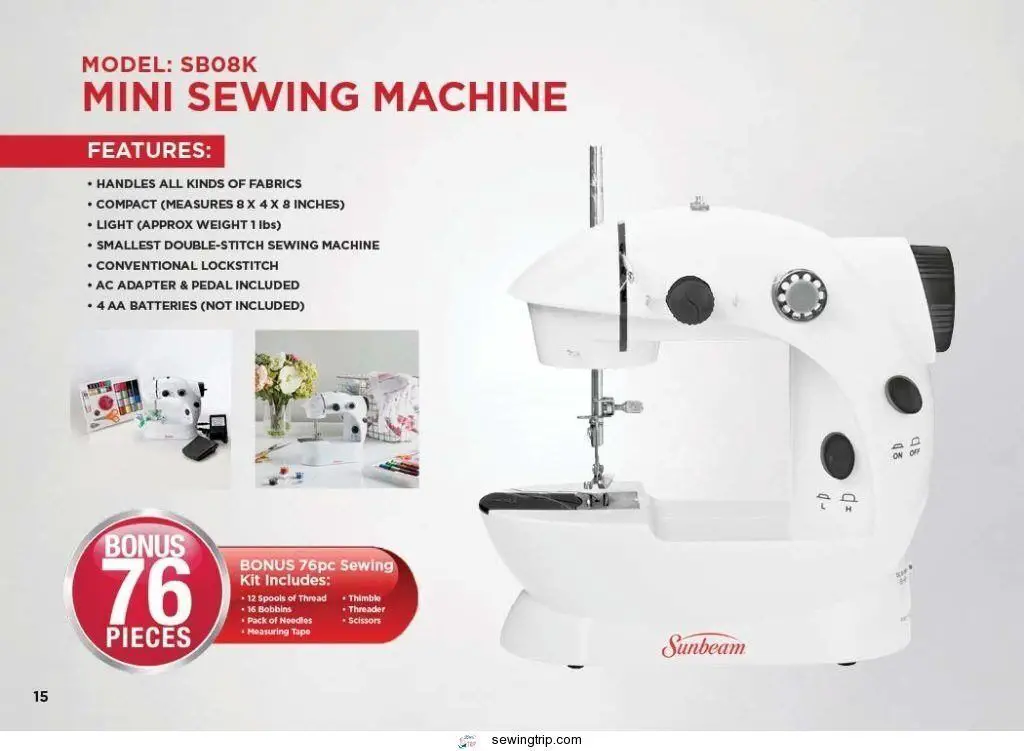 The Warranty
The one-year warranty on the Sunbeam Mini Portable Sewing Machine starts on the day of purchase. It ensures that the product is free from defects in materials or workmanship.
If not, Jarden Consumer Solutions, Customer Service will from Sunbeam, help. to repair or replace the product or any of its parts found to be defective.
The warranty does not cover normal wear and tear or anything else caused by misuse of the product. sewing machine.
Features
Stitch
The Sunbeam Mini Portable Sewing Machine comes with only one stitch (the straight stitch). Since that's what you'll be using for most projects, it's not as restrictive as you might think.
The stitches are also double stranded, meaning there are two strands.. in every stitch. This ensures that everything you sew together is strong and does not fall apart immediately.
Top-Loading Bobbin
This Sunbeam sewing machine also has a top loading bobbin. The bobbin case is near the needle plate, making it easily accessible and much easier to load.
If there is a problem, you can change the bobbin much faster than if it under the stitch plate, sows the standard for front loader designs.
Speeds
This portable mini sewing machine comes at two different speeds: low and high. This allows you to choose whatever speed you feel most comfortable with.
If you are a beginner, you can go at a gradual pace to build your confidence, and as the things progress, you can speed up.
Pre-thread
This I already supplied sunbeam sewing machine with thread. This way you dive directly into a project without delay. Once the thread runs out, the machine includes two needle threaders that allow you the needle.
Once you pass the thread through the pulleys and tension bars; the thread slides through the threader and pushes the threader through the needle. Hold the thread in place and pull out the threader. It's that simple!
Batteries
A unique feature of this Sunbeam sewing machine, it is battery operated. It does not tie you to a socket.
Insert the four AA batteries and you can sew. This makes it particularly easy to travel with.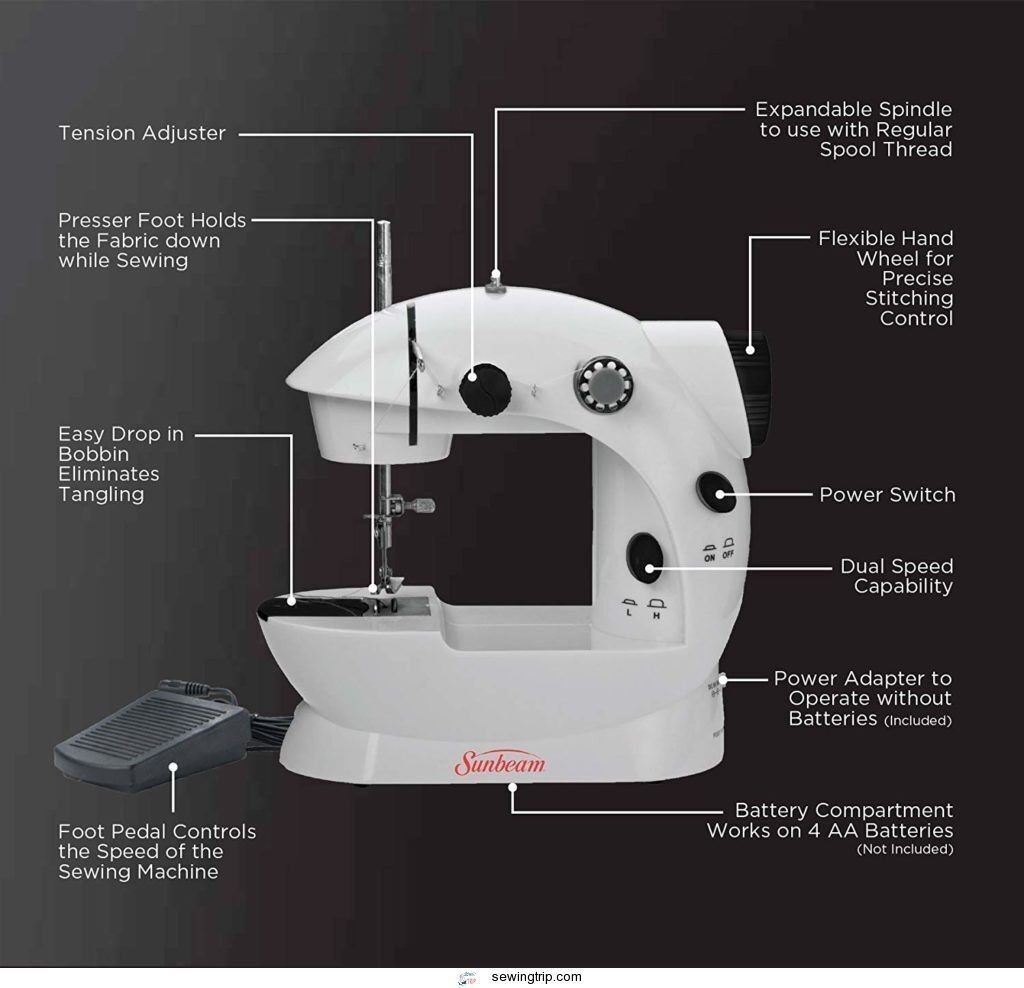 Sunbeam Mini Portable Sewing Machine Review
The Positives
Super easy to set up
The Sunbeam Mini Portable Sewing Machine couldn't be easier to set up. Since it arrives pre-threaded, we save even simple task when you get started.
You just need to insert the batteries, adjust the voltage and plug in. to dive. running out of thread, just thread the bobbin and place it in the compartment. Then pull the upper thread through the tension rods and pulleys until you reach the needle. bobbin thread up through the needle plate. Pull it slightly with the upper thread to create some slack. From there, place your fabric under the needle, press the foot lever and it's time to sew!
Incredibly easy to use
After we turned your machine on, its settings are just as easy to adjust. You can press the speed knob to change it from low to high, or adjust the tension with the tension knob.
There is also an "on" and "off" button, if you need to stop the machine immediately. Even complete beginners can handle it with no problem.
Complicated machines can Bi.6P0BOk178F, especially if you're just starting out. The learning curve of this sewing machine is small, which means you can tinker and improve your skills with no hassle.
An easy-to-use machine means just that. will also be easy to learn with! This Sunbeam mini sewing machine is also great for inspiring others to sew, including young hobbyists.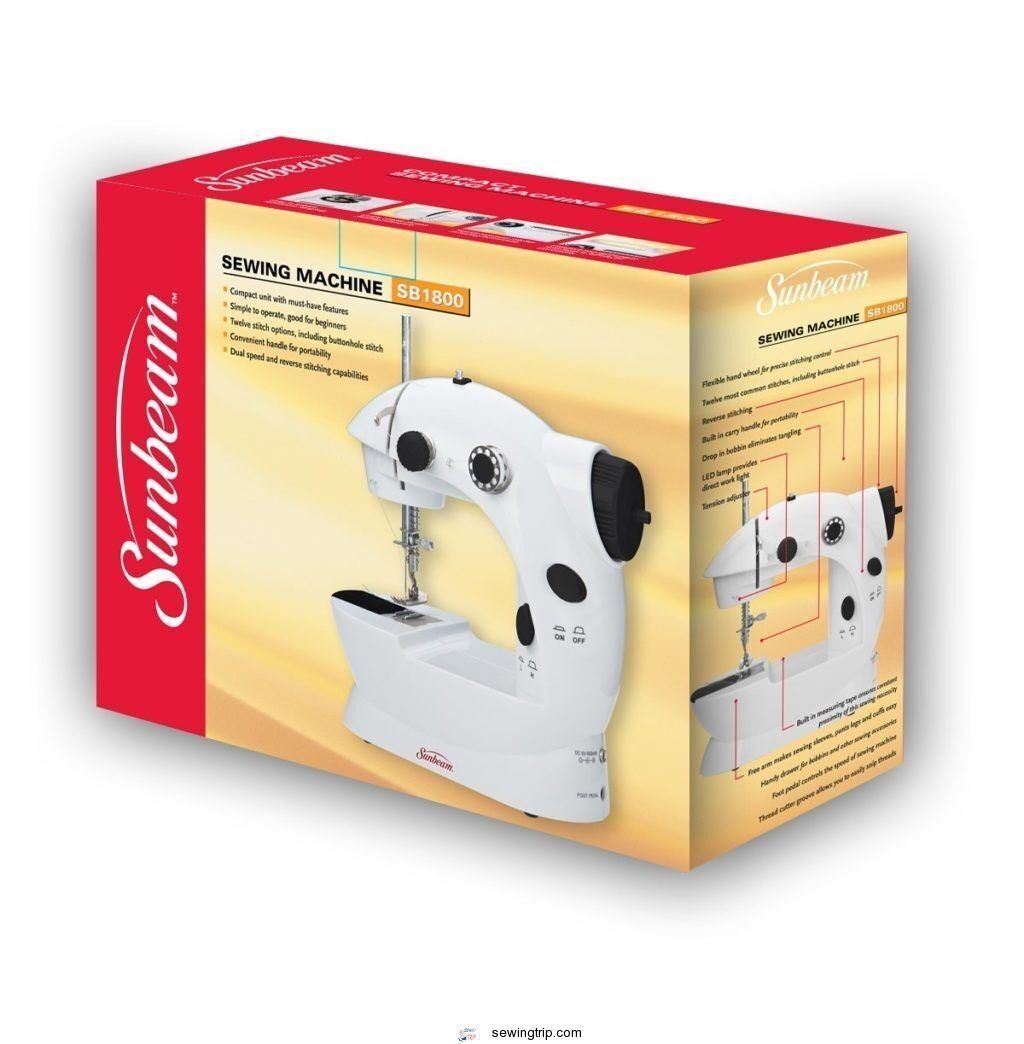 Amazingly compact and portable
This Sunbeam model weighs just over a pound and is no bigger than a small book. In portability and compact design, it doesn't get any better than this.
You can take it almost anywhere. It can even fit in your bag if it's big enough. If you're taking classes or traveling to a friend's house, this is an easy, no-fuss option.
The lightweight design means it won't weigh down your sewing bag, backpack. or even your arms when moving this. And if you're short on space, this is the perfect solution for sewing without sacrificing all your space.
The super compact size makes it easy to sew. find a place to store this when you're not using it either. This is definitely not the machine to get in the way.
Very useful
We loved the convenience and convenience of this model. You no longer need a gigantic machine to hem pants, tie a button or do a small project. You can simply grab this off the shelf, put it anywhere and start sewing.
If you live in a compact home or like to travel; you don't need a dedicated crafting area; it fits in the smallest of places. And since it also runs on batteries, you don't even have to look for a place to plug it in!
The foot pedal adds that bit of extra convenience that makes projects all the easier as well. If you're looking for a handy machine with all the right functions, you'll find it with the Sunbeam mini.
Insanely affordable
Whether you're a beginner, occasional sewer, or just on a budget, you'll love the price this sewing machine for. While sewing machines with similar features will cost you hundreds of dollars, that's far from the case here.
The Sunbeam Mini portable sewing machine costs less than $30 on Amazon, making this quite a bargain! Considering the included accessories and features, Sunbeam has certainly made this machine a competitive product in the market.
Along with the 1 year warranty, Sunbeam also offers a 6 month warranty, so customers don't have to worry. If it does not satisfy you with your machine, simply contact Sunbeam and they will promise to refund your item.
This is significant news if you are looking for a machine as a backup as well. You don't have to empty your wallet to finish your projects.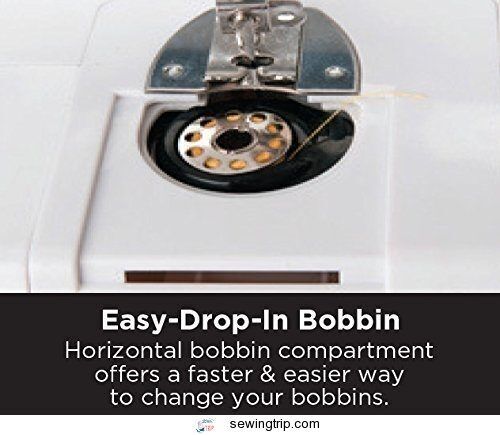 The cons
Not for advanced Sewers
Since the Sunbeam Mini portable sewing machine only comes with one stitch; it is really not for advanced sewers.
They will get bored quickly, because this machine for intricate sewing projects.
If you are a beginner. This is an excellent quick-fix machine or learning tool. However, if you are more experienced, and have high crafting goals, it is disappointing.
Stick with Thin Fabrics
You should definitely stick to thinner fabrics. I do not make this Sunbeam for sewing through thicker materials, such as wool, tweed, velvet or denim.
This will jam the machine and can cause irreparable damage. If you stick to cotton, light linen, or other lightweight fabrics, you should be fine.
Not professional grade
This is not the machine to buy if you want to start a professional career in sewing or commercial crafting.
It is a basic configuration and several advanced users with the overall quality. Attacking larger projects can to crash or slow down.
Some users about the overall longevity of this machine. It may not have a super long life, so we don't recommend it for frequent sewers.
Overall verdict
Na Having gone through all the positives and negatives, we recommend the Sunbeam Mini Portable Sewing Machine.
It has a lot of great features and is super easy to use with an affordable price tag.
Unfortunately, this sewing machine may for beginner and younger seamstresses as it to tackle heavy fabrics and large quantities. With crashing issues, it can be a frustrating machine for some hobbyists.
This machine is great if you're just starting out, but otherwise it can be disappointing. That said, for the price, it could be worth it.
Where to Buy Sunbeam Mini Portable Sewing Machine
Sunbeam is a well-known brand, known for their affordable and accessible products all over the world. They have a wide range of items, with decades on the market, making them increasingly popular worldwide.
Thanks to their success, it will not be difficult to find their products., including the Sunbeam Mini portable sewing machine available both in-store and online. the following online retailers.
And of course you can also find this portable sewing machine on Amazon.
---
That's the end of our Sunbeam Mini Sewing Machine review. Curious to give it a try?
Want to see other models before deciding? Check out our latest user reviews.