This site is supported by our readers. We may earn a commission, at no cost to you, if you purchase through links.
Starting out with sewing can seem like an overwhelming task, but it doesn't have to be! According to the Craft & Hobby Association, 68% of Americans are interested in crafting – and if you're one of them, why not start learning how to sew? Whether you want a new hobby or would love to add some custom fashion pieces into your wardrobe collection, understanding the basics is key.
To get started on your journey toward becoming a skilled seamstress or tailor, here's an essential guide for all the must-have tools when it comes to sewing essentials for beginners.
Key Takeaways
According to the Craft & Hobby Association, 68% of Americans are interested in crafting.
Recommended Sewing Machines for Beginners:

The Brother XM2701 offers 27 built-in stitches and a lightweight, portable design.
The Janome Arctic Crystal provides 15 built-in stitches with adjustable settings.
The Singer Start has 57 built-in stitches and is lightweight and portable.

Essential Cutting and Measuring Tools:

The inexpensive Dritz Blue Deluxe Seam Ripper is portable for on-the-go repairs.
A retractable measuring tape (1.5m) is portable, yet durable.
The versatile Clover 5-in-1 Sliding Gauge offers precise adjustable measurements for 5 tasks in 1 tool.

Pressing Essentials:
The powerful Sunbeam Steammaster Steam Iron has a large water tank and steam shot feature.
The sturdy, durable Homz Durabilt Premium Cotton Cover Ironing Board is built to last.
Essential Sewing Machines for Beginners

When you're just starting out with sewing, having the right beginner-friendly machine is crucial. The Brother XM2701 Lightweight Sewing Machine, Janome Arctic Crystal Sewing Machine, and Singer Start Sewing Machine are all great options to consider, as they each offer user-friendly features, built-in stitches, and accessories to help any novice get started.
The Brother is lightweight and portable yet feature-rich, making it easy for new sewists to learn. The Janome has a modern aesthetic and intuitive controls, while the Singer provides essential functions to handle basic sewing projects.
With simple dials and settings, built-in stitches, and useful accessories like presser feet included, these three machines have everything a beginner needs to begin their sewing journey with confidence.
Brother XM2701 Lightweight Sewing Machine
You'll love the reliable performance of the versatile Brother XM2701 lightweight sewing machine for all your easy and creative projects!
27 built-in stitches including decorative, blind hem, and buttonhole
Drop-in top bobbin for quick setup
Lightweight design at under 13 pounds
Free arm for sewing cuffs and sleeves
Instructional DVD and printed user's guide
This user-friendly sewing machine has the features and accessories beginners need to get started on simple clothing repairs, crafts, quilting, and more. Its lightweight portability and handy stitch selection allow hobbyists to unleash their creativity through sewing.
Janome Arctic Crystal Sewing Machine
View On Amazon
If you're a beginner who's craving to dive headfirst into sewing's endless creativity, the Janome Arctic Crystal is the ultimate machine to spark your passion with its incredibly rich features that'll have you churning out masterpieces in no time.
With 15 built-in stitches and 4 one-step buttonholes, you'll have professional-looking results on day one. The front-loading bobbin system and heavy duty metal interior frame allow for smooth, reliable sewing.
Fully customizable with adjustable stitch length and width, reverse sewing lever, and included darning plate, you can customize your projects exactly how you envision them. Convenience features like the 3-piece feed dog system, removable free arm, retractable spool pins, tutorial videos, and included quick start guide make learning a breeze.
With 4 presser feet, 25-year warranty, and beginner accessories, Janome sets you up for creative success.
Built-in stitches and buttonholes
Smooth, reliable sewing
Fully customizable stitch settings
Convenience features simplify learning
Manual quality could be improved
Plastic construction less durable than metal
Singer Start Sewing Machine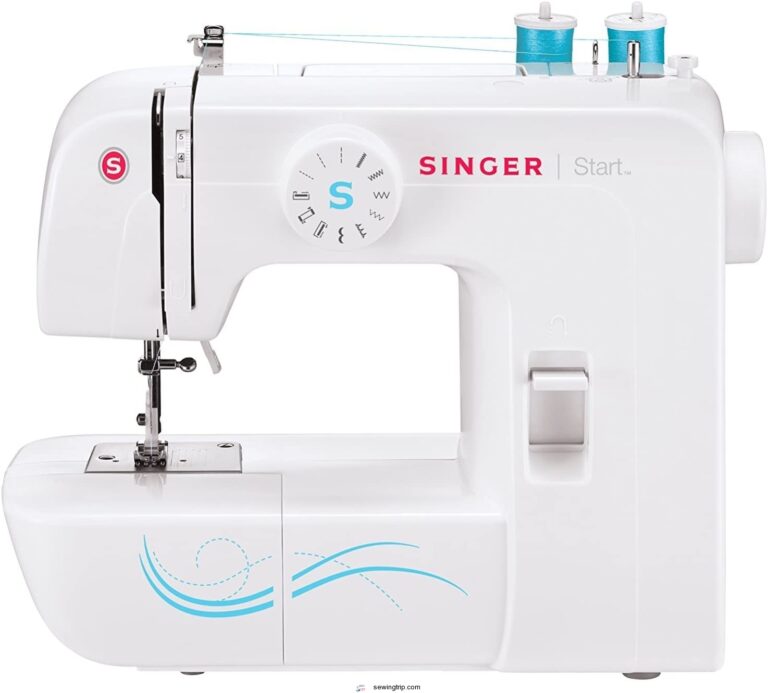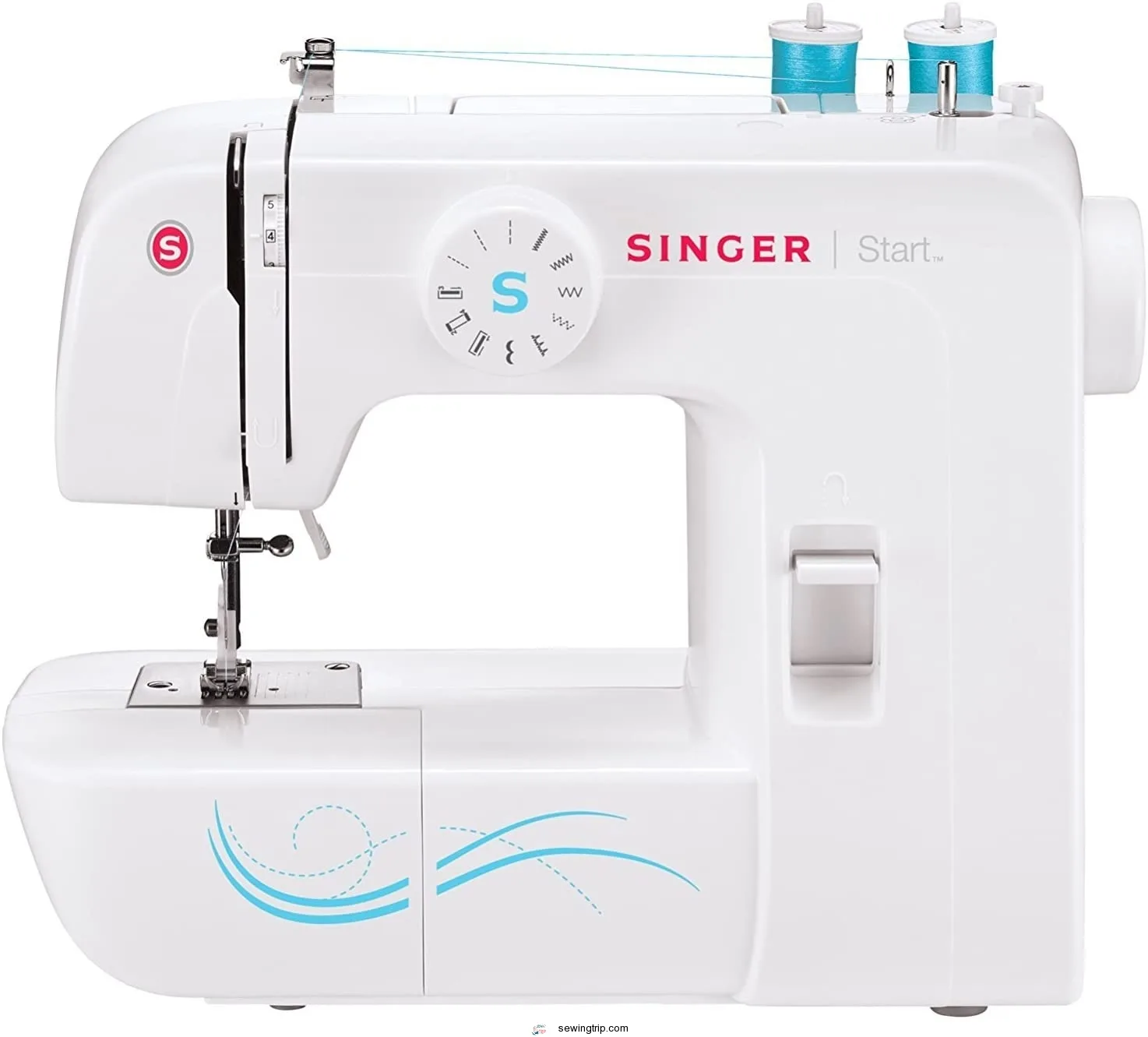 View On Amazon
Having a lightweight portable machine allows you to stitch projects anywhere. The Singer Start sewing machine is a great beginner option weighing just 7 pounds. With 57 built-in stitches, automatic bobbin winding, and included accessories like specialty feet and needles, you'll have versatility to create simple projects with ease.
This affordable machine operates at 110V, suitable for use in the US and Canada. Users mention a learning curve, so utilize online tutorials when needed. Be patient – with practice, you can become proficient.
Overall, the Singer Start provides an accessible introduction to sewing as you gain experience.
Lightweight and portable at 7 lbs
Automatic bobbin winding
Variety of 57 built-in stitches
Included accessories like specialty feet
Affordable price point
Manual quality issues noted
Some plastic construction
Learning curve mentioned
Minor issues like thread tangling
Useful Cutting and Measuring Tools
A seam ripper and accurate measuring tools are essential for any sewing kit. You'll want to have on hand the Dritz Blue Deluxe Seam Ripper for cleanly removing stitches and seams. Also useful is a retractable measuring tape, such as the 1.5 meter tape with inch and centimeter markings, which is ideal for clothing and crafts projects.
The versatile Clover 5-in-1 Sliding Gauge, with its multiple guides for measurements up to 5 inches, is extremely useful for sewing, quilting, and paper crafts projects of all kinds.
Dritz Blue Deluxe Seam Ripper

View On Amazon
Grab your trusty Dritz seam ripper to promptly dispatch those sewing mistakes. This handy little tool enables any sewer to confidently remove unwanted stitches. Just slide the small, curved blade under the threads and make a clean slice. The sturdy steel construction ensures durability through repeated use.
While some find the initial tip a bit dull, a little modification with sandpaper hones a sharp edge for precision cutting. This affordable seam ripper fits nicely in your toolkit for tackling sewing mishaps quickly.
With practice, you'll be adept at eradicating errors and creating space in your projects.
Inexpensive
Portable size
Useful for various sewing tasks
Tip may need sharpening
Not as precise as more expensive models
Retractable Measuring Tape
View On Amazon
Get an easy read of fabric lengths with this retractable measuring tape. Measuring fabric for clothes and craft projects often requires an accurate, portable tape. This dual-inch/centimeter tape will be your new best friend. Just press the button to extend or retract the 1.
Large, clearly marked numbers make quick work of getting precise lengths, no more twisting, dangling tapes! Keep it in your bag to have measurements close at hand for waists, baby stats, room size, and any space that needs a quick measure.
Portable, lightweight design
Durable fiberglass material
Easy one-hand retract function
Large, clear calibrations
Tape may crease if not gently retracted
Numbers may wear over time
Only measures up to 60 inches
Clover 5 in 1 Sliding Gauge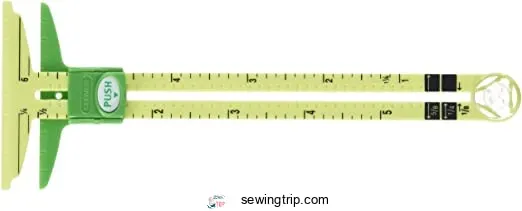 View On Amazon
Measure seam allowances precisely with the versatile Clover 5-in-1 gauge Nancy Zieman designed for every crafter. This handy accessory includes interchangeable guiding tools for various sewing, crafting, and paper projects.
Quickly mark buttonholes, seam allowances, hems, circles, and T-squares with the sliding components.
The range of 0 to 5 inches in 1⁄8-inch increments allows flexibility for any measurement. The seamless adjustability empowers crafters to customize projects with precision. This gauge eliminates guesswork so you can create consistent, accurate elements effortlessly.
Versatile 5-in-1 functionality
Precise adjustable measurements
Circle compass and T-square guides
Designed by sewing expert Nancy Zieman
Can feel flimsy/cheap
Limited to 5 inch measurements
Small parts could get lost
Pressing Essentials for Sewing
When sewing, having high quality pressing tools are essential to getting crisp creases and smooth seams. Investing in a powerful steam iron like the Sunbeam Steammaster with auto shut-off and considering a quality ironing board provide the best support and workspace.
Sunbeam Steammaster Steam Iron
Iron up your projects with the Sunbeam Steammaster's powerful steam shot feature and stainless steel soleplate. This dependable 1,400-watt steam iron makes quick work of wrinkles on fabric, eliminating the headaches of frustrating ironing sessions.
Just fill the extra-large 240ml water tank and utilize the horizontal or vertical steam shot button for a surge of steam that smoothes stubborn creases in no time. The durable stainless steel soleplate glides effortlessly over fabric, while the precision tip lets you tackle tricky areas like collars and buttons.
With conveniences like a retractable 8-foot cord, self-cleaning, and smart motion auto shut-off, this reasonably priced steam iron simplifies your sewing projects and everyday ironing. Feel free to unleash your creativity knowing the Sunbeam Steammaster can handle even the toughest wrinkles.
Powerful steam shot
Large water tank
Self-cleaning
Auto shut-off safety feature
Precision tip
Some plastic parts may feel less solid
Water filling can be tricky
May leak if not tightly closed
Ironing Board (optional)
Buy a foldable ironing board, like the Homz Durabilt Premium Cotton Cover Ironing Board, for easy storage when not sewing.
Foldable tabletop boards
Compact tabletop boards
Cutting mats
Laundry hampers
Towels
When selecting an ironing board to meet your sewing space and project needs, consider key factors such as size, adjustability, stability, and cover material.
Conclusion
Sewing essentials for beginners are important tools that can help make projects come to life. From a reliable sewing machine to cutting and measuring tools, having these basics on hand will open up a world of possibilities.
Investing in a quality iron and ironing board is a great addition for pressing projects. Finally, specialty tools such as quilting scissors, pinking shears, and seam rippers can help make even the most intricate projects easier.
References
bestsewingmachinereviewspot.com