This site is supported by our readers. We may earn a commission, at no cost to you, if you purchase through links.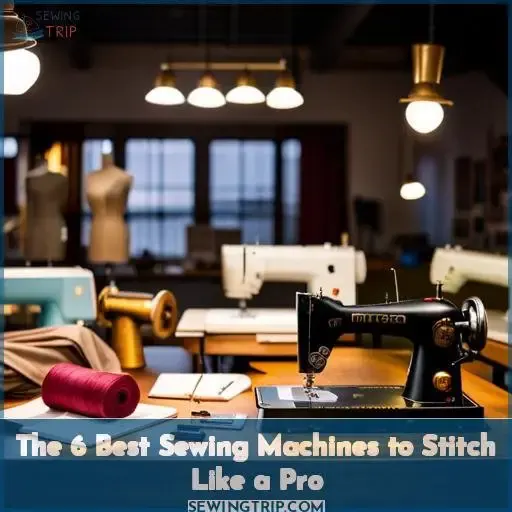 Oh sew, finding the perfect sewing machine for your crafty needs can feel like trying to thread a needle in the dark. But have no fear – we've got the inside stitch on the best sewing machines for every sewer, so you can create to your heart's content.
These days, computerized models make sewing a breeze with their fancy features. But mechanical models still have a place in the sewing room for their simplicity and durability.
Whether you're a pro looking for advanced options or just want something easy for simple projects, there's a sewing sidekick here for you.
As sewing whisperers, we'll guide you through the key factors in choosing a machine, from stitches to buttonholes and everything in between.
With our help, you'll be on your way to sewing success in a jiffy.
So grab those fabrics and let your imagination run free, knowing your new sewing machine will bring all your crafty visions to life.
Now let's get stitching!
Key Takeaways
Consider your projects, skill level, and budget when selecting a sewing machine. Compare features like stitch selection, ease of use, and included accessories.
Look for quality brands known for durability and reliability. Decide if you need a computerized or mechanical machine.
Maintain your sewing machine by getting it serviced annually. Invest in accessories like specialty feet to expand your machine's capabilities.
Develop essential skills like patience and precision. Quilting and leatherwork often require machines with special features and adjustments.
Best Sewing Machines
Here are some of the best sewing tools and gadgets to enhance your craft. The Brother CS6000i is a user-friendly, computerized sewing machine loaded with 60 built-in stitches to unleash your creativity.
A Clover seam ripper with a sharp tip and ergonomic handle makes quick work of fixing seams. Feeling overwhelmed by project pile-ups? A cordless mini fan from VersionTech clips on to provide a cooling breeze as you sew.
We've chosen the most useful equipment so you can take your sewing skills up a notch.
Brother CS6000i Sewing Machine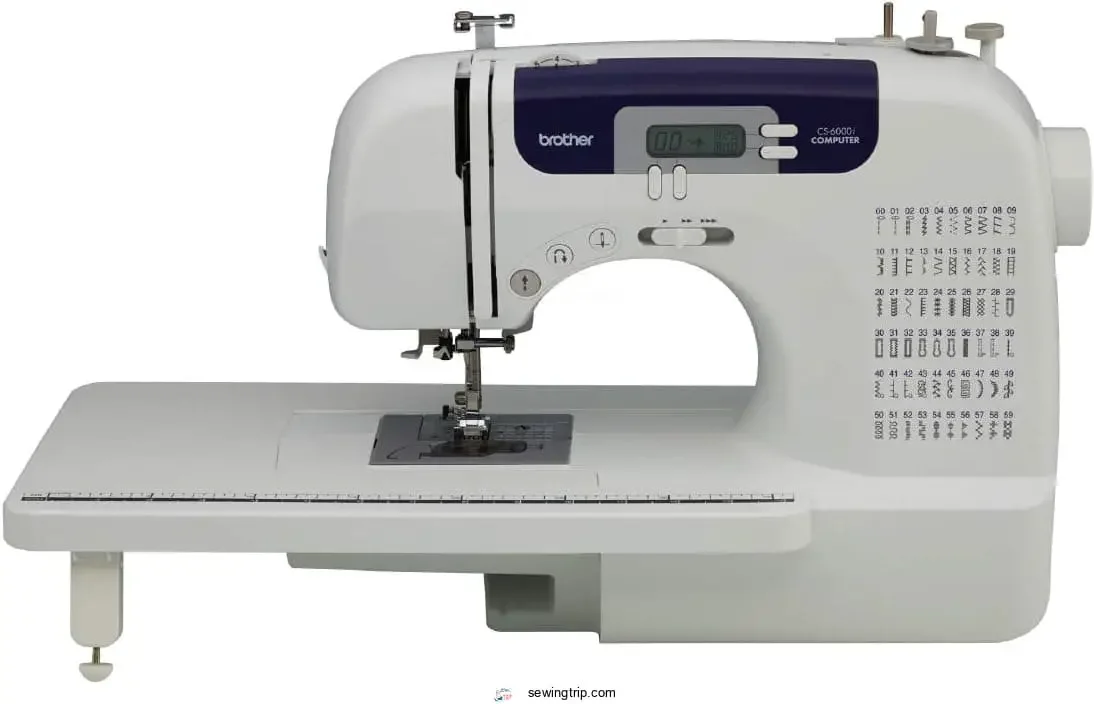 View On Amazon
With the Brother CS6000i under your fingertips, you're ready to start stitching up a storm in the creative comfort of home. From satin stitches and buttonholes to blind hems and appliqués, this machine can handle it all.
Its user-friendly LCD screen and automatic needle threader will have you sewing in minutes. Sixty built-in stitches give you versatility to decorate pillows, stitch kids' clothes, personalize gifts, or quilt beautiful blankets.
A hard case filled with accessories provides everything you need to get started. Just grab some fabric and thread, set the stitch length and width, and let your imagination run wild.
The CS6000i makes sewing an approachable, enjoyable hobby for all. This lightweight workhorse is built to last, backed by Brother's warranty. Now you can save money sewing and create unique, handmade items at home. Turn your creative visions into reality as you master this machine's capabilities stitch by stitch.
Wide range of built-in stitches
Automatic needle threader
Easy-to-use LCD screen
Threading can be tricky manually
Limited for heavy sewing
Clover Seam Ripper

View On Amazon
When ripping seams gone awry, a Clover seam ripper's sharp blade smoothly slashes each stitch as you gingerly pull the fabric taut.
The stainless steel precision tip effortlessly slices thread, while the contoured handle nestles into your palm for comfort through long unpicking sessions. This quality tool glides under stitches with ease, quickly undoing botched seams and mistakes.
The sleek satin finish even brings an elegant, professional feel to your sewing room.
Sharp, durable stainless steel blade
Slim, precise tip easily slips under stitches
Ergonomic handle prevents hand fatigue
Quality construction for longevity
Can dull if used improperly
Not ideal for cutting thick materials like leather
Higher price than cheaper plastic models
Panasonic Cordless Steam Iron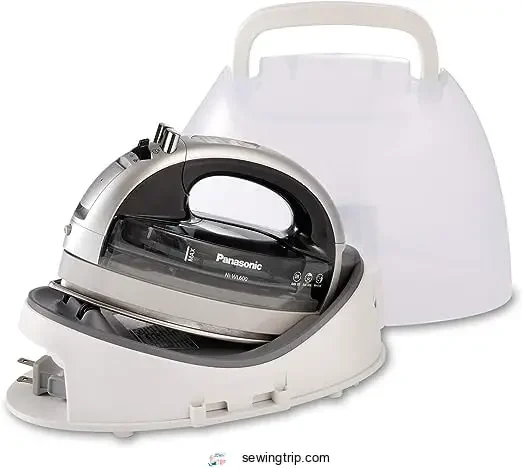 View On Amazon
You'll want this cordless Panasonic steam iron in your sewing room for its adjustable settings, 360° soleplate, and convenient portability. It gives you the freedom to iron anywhere, with no power cord restricting your movement or getting tangled up.
The powerful steam and precise temperature control let you tackle any fabric type, from silks to denim. And it's lighter than standard irons, making it perfect for toting to classes or retreats.
This little workhorse features handy vertical steaming, anti-drip technology, and auto shut-off for safety. The curved stainless steel soleplate maneuvers beautifully around buttons and seams. While not as blistering hot as some corded models, it still smooths wrinkles and shapes projects with ease.
The modest size and weight prevent fatigue, especially for marathon quilting or sewing days.
Cordless convenience
Lightweight and portable
Adjustable settings for all fabrics
Powerful steam
Smaller and not as hot as corded irons
May take some use for steam flow to open up
Confusion on how to stand it up
Jisulife Portable Neck Fan
View On Amazon
Stay cool wherever you go with the Portable Neck Fan's comfortable, low-noise design. Like a gentle breeze across your face on a summer's day, it provides hands-free airflow that keeps you feeling refreshed when temperatures climb.
The lightweight, headphone-style Neck Fan wraps around your neck with soft silicone, providing a cooling breeze from its 78 air outlets. With 3 speeds and up to 16 hours runtime, you can customize cooling while quilting, sewing, or doing any activity in the heat.
The 4000mAh battery, quiet 25dB design, and bladeless safety make it ideal for crafters young and old.
Whether making costumes for the school play or piecing a quilt outdoors, the portable Neck Fan gives you a personal breeze. Teaching summer classes? Your students will appreciate the hands-free airflow during demonstrations.
Attending festivals? Stay cool in crowds without waving a fan by hand. Wherever warm weather has you feeling wilted, this wearable Neck Fan lets you power through in comfort.
Hands-free operation
Soft, comfortable materials
Long battery life
Power button difficult to locate by feel
Airflow weaker than expected
Some units arrive defective
VersionTech Mini Handheld Fan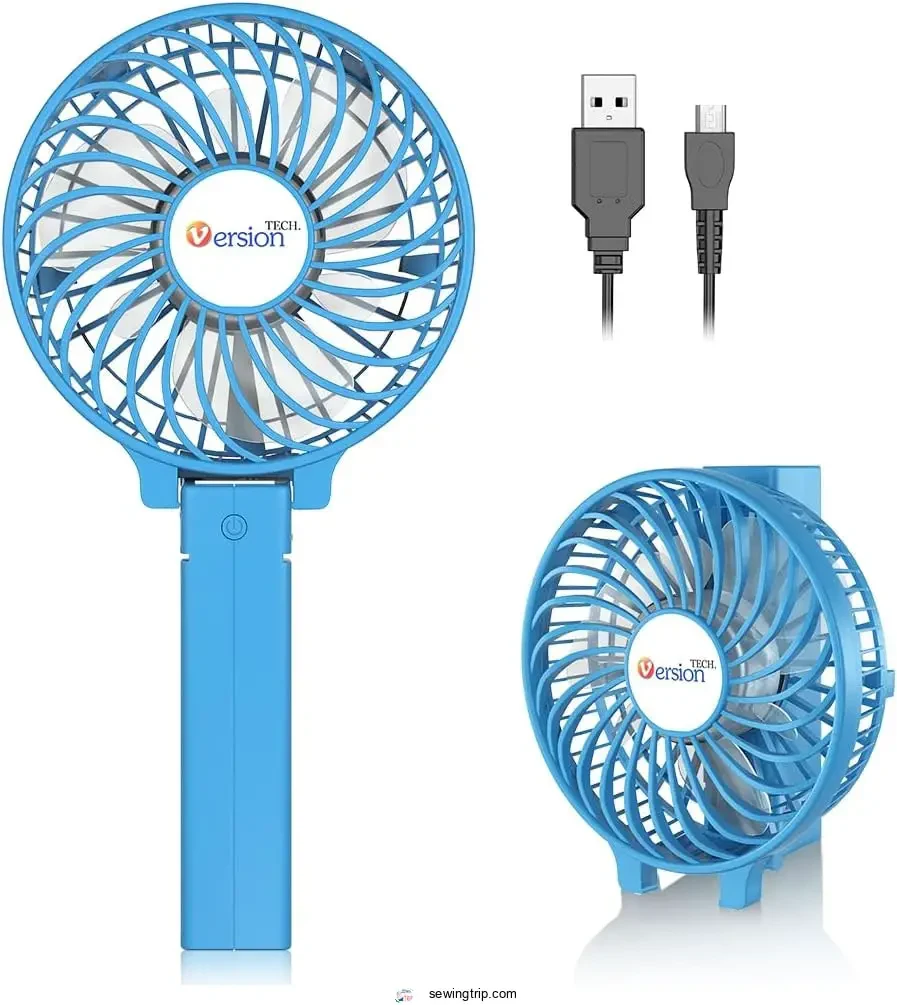 View On Amazon
You've got a handy option in the VersionTech Mini Handheld Fan when you need cooling on the go. With a lightweight hanging design and metal clip, this mini fan provides three speeds of breeze wherever you roam.
Simply clip it to your worktable or machine. Adjust the elbow to aim the airflow up towards your face as you sew, or tilt downwards when demo'ing stitches.
The rechargeable battery means no cords to tangle, and the quiet motor lets you focus on the project at hand. Six blades generate a surprisingly strong wind up to 3 meters away. Toggle through low, medium and high speeds for just the right amount of cooling airflow.
Stay comfortable in your sewing room, even on the hottest days. With adjustable direction and multiple speeds, get the personalized cooling you need to keep your creativity flowing.
Portable and cordless
Adjustable direction
Multiple speed settings
Short battery life
Noisy on highest setting
Cheap plastic body prone to cracks
Shark Cordless Handheld Vacuum
View On Amazon
The Shark Ultracyclone offers a portable cleaning solution for tackling quick messes on bare floors, above floor surfaces, and in tight spaces, overcoming its lack of motorized carpet cleaning. With the detachable hand vac, crevice tool, and versatile floor nozzle, you can clean hard floors, carpets, furniture, cars, and tight spaces in a snap.
The bagless, brushless design and cyclonic technology ensure strong suction for small cleanups. While the battery life could be better and it may struggle with deep carpet cleaning, the Ultracyclone lets you swiftly tidy up messes for smooth sewing and crafting.
Having a portable vac on hand saves the day when stray threads, snippets, and spills happen. Tackle little messes without lugging out the big upright or getting distracted from your creative flow. With quick cleanups, you can keep your space pristine and focus on the joy of crafting.
Lightweight and portable
Good suction power
Easy debris disposal
Short battery life
Struggles on carpets
No motorized brush roll
Key Sewing Machine Features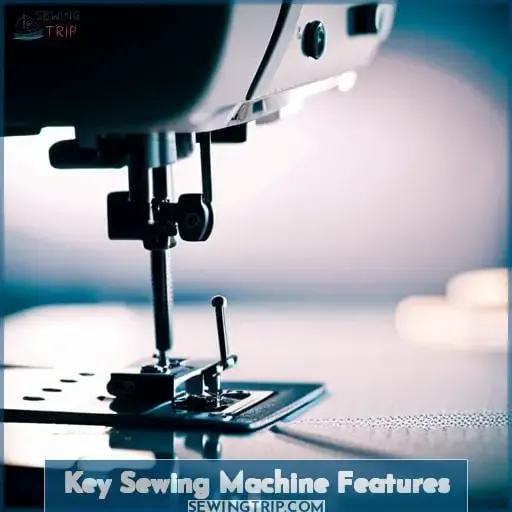 Here are some of the key differences between computerized and mechanical sewing machine models to consider. Both have their advantages and disadvantages when it comes to the fundamentals of stitching. Let's look at some of the main features so you can decide which type might suit your creative needs and abilities best.
Computerized sewing machines offer a wide variety of built-in stitches, automatic functions, and user-friendly features. Many computerized models have an LCD screen and push-button controls that allow you to easily select your desired stitch and adjust settings.
Computerized machines handle more of the stitch work for you automatically, like threading the needle, trimming threads, and adjusting stitch length and width. This makes them very beginner-friendly. However, computerized sewing machines are generally more expensive and complex to repair if something goes wrong.
Mechanical sewing machines use manual dials and levers to control stitch length, width, and other adjustable settings. Choosing stitches is done by changing out the presser foot and machine foot plate.
Mechanical models give you more direct hands-on control and are ideal for learning the fundamentals of sewing. However, they have a steeper learning curve compared to computerized machines. Mechanical machines also limit your creative capabilities to only the built-in stitches available with each machine model.
The simplicity of mechanical sewing machines makes them extremely durable and easier to maintain or repair as needed.
Whether computerized or mechanical, key factors to compare are stitch selection, ease of use, price point, and longevity. Consider what stitches and functions you need access to for your projects and skill level.
Hands-on crafters often prefer mechanical for the flexibility and control. Beginners tend to appreciate the automatic functions and versatility of computerized models. Your creative goals and budget can help determine if high-tech computerization or classic mechanical design is the best fit.
Computerized Vs Mechanical
You're deciding between computerized or mechanical sewing machines. As your trusty sewing mentor, I always recommend starting with a quality mechanical model. The simplicity allows you to focus on fundamental techniques like adjusting feed dogs for smooth stitching or attaching a buttonhole foot to sew professional-looking buttonholes.
Once you've mastered straight and zigzag stitches, experimented with walking feet, and used handy storage compartments, you'll feel confident graduating to computerized conveniences.
Sewing Machine Basics
Let's unpack this sewing machine together, friend. Did you know over half of US households own a sewing machine? The core components are the motor that powers everything, needle for stitching, spool of thread up top, and bobbin below.
Key parts like the presser foot, feed dogs, throat plate hold and move fabric while the needle sews stitches. From straight and zigzag to buttonholes, each stitch achieves something special. With the right accessories like a zipper foot or walking foot, and understanding of features like feed dog height adjustment, you'll create pieces to treasure.
Why Trust Our Reviews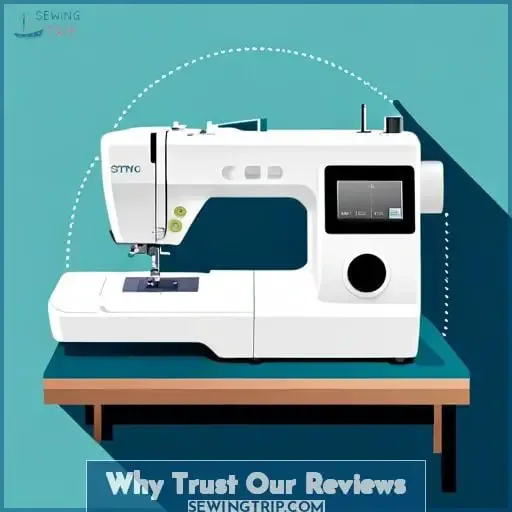 Our dedicated team thoroughly researches all the top options to help you confidently choose the right machine for your creative needs. As an experienced sewing teacher, I want you to feel empowered to select the perfect versatile sewing machine.
My goal is to provide trusted insight so you can tackle any sewing project or task with ease. Whether computerized or mechanical, know that certain models excel for apparel, home decor, quilting, embroidery, and more.
Focus on finding a machine that feels intuitive and liberating yet allows precision and control. With practice and patience, the possibilities are endless once you've chosen your ideal sewing companion.
I'm devoted to guiding you to that transformative match, shaping the fabric of your creativity through understanding. You deserve to feel that sense of belonging with your sewing machine, trusting its functions like a friend.
My advice stems from a sincere hope that the art of sewing helps you discover your own beautiful pattern of freedom and purpose.
Why trust our reviews? With over a decade of experience teaching and mentoring sewers, I want to empower you to confidently choose the right machine to unleash your creative potential. My goal is to provide trusted insight so you can complete any sewing project with ease and joy.
Whether computerized or mechanical, certain models excel at apparel, home decor, quilting, embroidery and beyond. Focus on finding an intuitive machine allowing both precision and freedom. With practice, the possibilities are endless once you've found your ideal sewing companion.
I'm devoted to guiding you toward that transformative match, shaping the fabric of your creativity with insight. You deserve to feel at home with your sewing machine, trusting its functions like a friend.
My advice comes from a sincere belief that sewing can help you discover your own beautiful pattern of purpose.
Other Handy Sewing Tools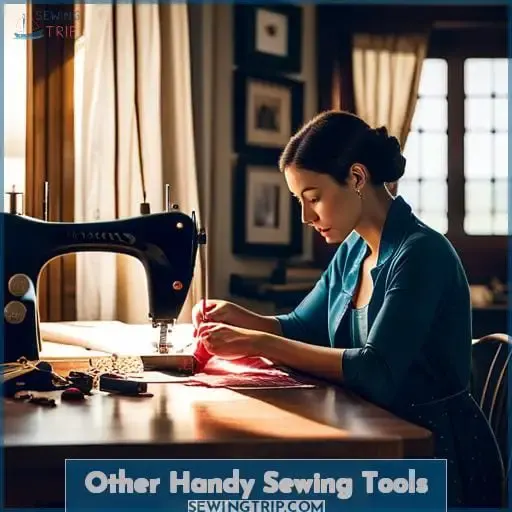 Stitches may form the backbone of your creative vision, but handy sewing tools empower you to bring it to life. Like a sculptor recognizes their chisel's importance, value your sewing needle for piecing fabric intricacies.
The zipper foot squeezes stitches flush to avoid puckering, while the bobbin thread interlocks with the upper thread to bind your materials together. Consider the foot pedal an extension of your body, controlling stitch speed and starting/stopping the needle precisely.
Treat buttonholes as delicate opportunities for grace rather than frustration; adjust the buttonhole function until it feels natural as signing your name. As your skills progress, maintain humility and patience with both your tools and yourself.
Mastering any craft deserves compassionate persistence. Let sewing sustain you during trying times and inspire joy during triumphs.
How to Choose the Right Sewing Machine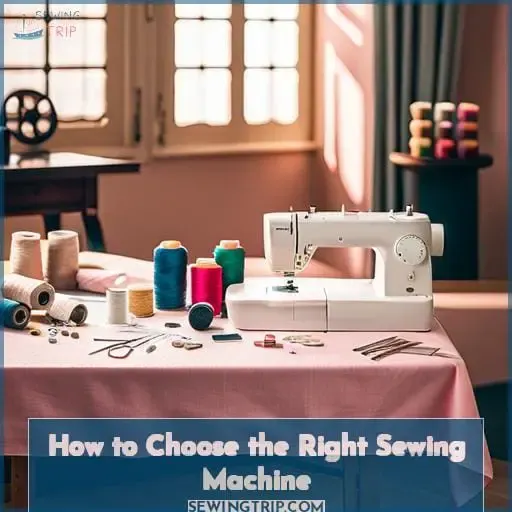 Selecting the right sewing machine for your needs requires thoughtful evaluation of stitch options, accessories, and features.
To help pick the perfect sewing machine for your creative goals, consider these key factors:
Determine which stitches you need. A basic straight stitch and zigzag are essentials, while decorative stitches provide fun flair. Buttonhole capability offers convenience. Consider stretching stitches for knits.
Weigh computerized vs mechanical. Computerized allows easy selection of stitches but mechanical is simpler to operate.
Compare accessories included. Look for presser feet for tasks like zippers or buttonholes and an extension table for larger projects.
Evaluate size, weight, noise. Machines under 16 lbs work for most. Lighting illuminates work.
The optimal machine matches your skill level, budget and projects. With research and testing, you can find the versatile creative partner of your sewing dreams.
Frequently Asked Questions (FAQs)
What sewing machine brand is the most reliable?
You, passionate stitcher, can rest assured knowing the reliable Brother sewing machine brand keeps harmony humming. Their quality construction continuously crafts cozy quilts and couture creations. Consistently championed by classes and communities, Brother machines bring belonging through beauty, bonding people together through the brilliance of balanced bobbins and bodacious buttonholes.
How much does it cost to get a sewing machine serviced annually?
As a quilter, I laugh at those trying to skimp by with a $20 home-job! If you don't stop into our shop at least once a year for a tune-up, your machine will turn into a bird's nest factory.
Can you sew leather and vinyl fabrics on a standard sewing machine?
You can sew leather and vinyl on a standard machine. Just use the right needle to pierce those fabrics, such as a sharp denim needle. And employ a Teflon foot so the material glides smoothly. Adjust the tension, stitch length, and pressure for best results.
What sewing machine features are most important for sewing quilts?
You need a machine with a generous work area and throat space to easily maneuver large quilts. Look for at least a 6 x 10 throat space. An extension table expands your workspace. Key features like a walking foot, needle up/down function, and drop feed simplify intricate quilting stitches on thick fabrics.
Is it better to buy a used or refurbished sewing machine versus a new model?
When buying a sewing machine, consider opting for a refurbished or used model over a brand new one. You can often find quality machines at significant discounts, allowing for more features within your budget.
Just be sure to test it thoroughly and get a written guarantee on any repairs needed.
Conclusion
Stitching like a pro is easier than ever with the crafting tools showcased here. These magnificent machines and handy helpers offer something for every level of sewing enthusiast, no matter your style or skill.
From computerized wonders to classic mechanicals, innovative accessories to timeless must-haves, our comprehensive coverage provides the perfect pointer for your project pursuits. With this splendid summary as your trusty guide, you can confidently conquer creative sewing challenges and master material magic to fashion fantastic finished pieces.