This site is supported by our readers. We may earn a commission, at no cost to you, if you purchase through links.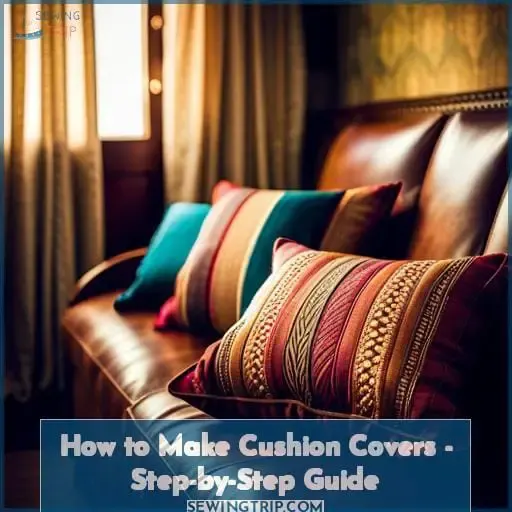 Roughly a fifth of plastic waste in landfills comes from packaging, so make your sewing as eco-friendly as possible! Stitching cute cushion covers gives you a chance to upcycle fabrics from old clothes, sheets, or even thrifted curtains.
Whether you're using cotton florals or sturdy canvas, envelope-style covers skip tricky zippers. Simply overlap the back flap and voilà – swap out inserts or covers whenever a change of scenery calls.
Master this basic skill, then improvise straps, trims, and more for creative cushions to suit your style.
Key Takeaways
Upcycling through sewing eco-friendly cushion covers is promoted.
Essential tools include quality fabric scissors, durable straight pins, and the versatile Little Foot Purple Thang.
Accurate measurement of the cushion insert is crucial for a snug fit.
Diverse pillow tutorials are available, covering embroidery, no-sew appliqué, and quilting.
Top 3 Essential Materials for Making Cushion Covers

Greetings creative crafter! When making cushion covers, having the right tools on hand will make your project easier. Start with quality fabric scissors like the titanium Fiskars for precise cutting, durable straight pins with glass heads to keep your fabric layers aligned, and the versatile Little Foot Purple Thang for poking, pulling, and pushing without causing damage.
With these essentials, you'll be ready to sew stunning cushion covers in no time.
Fabric Scissors
Glide through fabric like butter with Fiskars' spring-loaded titanium scissors, recommended by YouTube's favorite crafter for their ergonomic ease on arthritic hands. Their precision cutting and spring action reduce hand strain for effortless gliding.
You'll be equipped to cut any fabric and sew stunning cushion covers with ease.
Glass Head Straight Pins
Drape your fabric layers with these sturdy glass head straight pins for effortless precision. Pinning techniques, organization, and materials are essential for fabric cutting and sewing. These high-quality, German-made glass head straight pins have firmly attached heads, polished shafts, and sharp ends, making them ideal for quilting and crafting projects.
While costly, their thin, strong shafts firmly hold multiple layers without leaving holes. Their glass heads withstand hot irons without snagging, bending, or dulling. Alternatives exist, but if pin quality matters, invest in quality tools like these pins.
Little Foot Purple Thang Teether Toy
Hang on to the Little Foot Purple Thang Teether Toy for all your poking, prodding, and pulling needs while making cushion covers. Crafters favor this plastic Purple Thang for its versatile poking and prodding abilities.
Tuck elastic, iron sharp edges, pull fabric through feed dogs – this tool does it all. Teether Toy enthusiasts praise Little Foot's innovation, transforming a child's plaything into an adult crafter's ultimate aid.
Whether quilling, knitting, or stitching envelope pillows, this plastic nub liberates crafters to easily prod fabric yo-yos or guide tricky curved seams.
Step-by-Step Guide: How to Make Cushion Covers

Gather your supplies and let's dive right into making envelope-style cushion covers! First, precisely measure your existing cushion insert or purchase a new one according to the desired dimensions. Then, use width and height formulas to cut your sturdy fabric accordingly, adding inches for seams and overlap.
Finally, pin the fabric pieces with right sides together, machine stitch the edges, flip right-side out, and insert the cushion – voila! With some creative measurements and basic sewing, you'll have fresh new cushion covers in no time.
Measuring the Insert
Ensuring your measurements are precise allows you to craft a snug fit.
Use a flexible tape measure for inserts with rounded edges or corners.
Note the width, length, and depth in inches.
Account for insert thickness when planning fabric dimensions.
Dimensional accuracy results in a custom fit. Consider the pillow form's dimensions when planning fabric size. Precise measuring techniques prevent overlap. With the proper insert measurements, your sewing creates perfectly fitted cushion covers.
Cutting the Fabric
Now, take your fabric measurements and carefully cut the pieces. Use your ruler to mark the dimensions with tailor's chalk. For straight lines, align the edge of the ruler and firmly run your rotary cutter along it, cutting through all layers.
Use dressmaker shears for curves. To prevent fraying, hem the ends by pressing over 1/4 inch and then 3/4 inch; backstitch or run stitch the hems. For decorative accents, cut the fabric into yarn or trim it with pinking shears.
Sewing Instructions
You'll stitch the edges with a 1/2-inch seam allowance next. Carefully pin the fabric's overlapping hems prior to running stitches along the edges. Consider a zigzag stitch for stretchier fabrics; straight stitching suffices for most.
Complete any desired embellishments like piping or texture with crochet before sewing the envelope closure. T-shirt yarns lend whimsy; limit fabric choices to the project's purpose. Hand sewing produces subtle charm if lacking a machine.
Design Ideas to Enhance Your Cushion Covers

Express yourself by accenting your cushion covers with fun details like pom poms, fabric yo-yos, or even your kids' artwork.
Embroidery Accents: Hand or machine embroider names, phrases, or designs for a personalized touch.
Piping Techniques: Frame the edges with colorful piping using a piping foot.
Tassel Embellishments: Sew on tassels made from yarn, ribbons, or fabric strips.
Sequin Embroidery: Add sparkle with iron-on sequin motifs.
Texture Play: Fray fabric edges for a frayed look or use fabrics with different textures.
The options are endless when it comes to making your cushion covers speak to your personality and style. Play with different fabrics, textures, and embellishments to create cushion covers that make you smile.
How to Choose the Best Fabrics for Cushion Covers

When creating cushion covers, choosing the right fabrics is key for both form and function. While sturdy fabrics like canvas ensure durability, decorative options like velvet provide visual appeal but require more care.
Inserts for Cushion Covers
Your cushion insert choice impacts the durability and comfort of the covers. Reusing old inserts or finding inexpensive ones can save money. When inserting, compare size, shape, and thickness. Quality outweighs cost for long-term use.
| Insert Type | Attributes |
| --- | --- |
| Polyester fiberfill | Affordable, lightweight |
| Foam | Firm support |
| Feather/down | Luxurious, compressible |
| Beads | Stylish, retain shape |
Shape and density determine the cushion's purpose. Splurge on your favorite spot for daily use. Supplement with budget options elsewhere. The choice of insert brings the covers to life.
Factors to Consider
While choosing fabrics, consider durability and appearance. Pick patterns and color schemes to match your decor. Opt for machine-washable fabrics if stains are a concern. Add decorative embellishments like embroidery for visual interest.
Contrast fabric textures such as linen and velvet for depth. Pair with cushion inserts that complement your fabric's texture and thickness. Experiment with fabric combinations until you find the perfect balance of form and function.
Sturdy Fabrics Vs. Decorative Fabrics
When selecting fabrics for your cushion covers, choose sturdy options like canvas or upholstery fabric if durability is a priority, or opt for velvet or linen if you desire a more decorative appearance.
If the covers will be subjected to heavy use, prioritize functionality over fashion. However, if they are purely decorative, select based on appearance. Sturdy fabrics such as canvas can withstand wear but offer limited style, while more delicate options like velvet or linen enhance aesthetic appeal but require gentle care.
Strike a balance between durability and decorative considerations when choosing fabrics for your cushion covers.
Additional Pillow Tutorials for Your Creative Exploration

After making countless cushion covers, you're craving new pillowcase patterns to unleash your creative madness! Seek pillowcase embroidery inspiration through free patterns with flowers, monograms, and other decorative stitches.
Try making DIY round cushions in various sizes using the circle template method.
Explore quilted pillow variations like crazy patchwork, strip piecing, and fabric collages.
Design personalized photo pillows featuring your favorite snapshots printed on fabric.
Discover no-sew appliqué techniques with fun shapes and textures using fusible webbing.
The options are endless when you dive into the world of pillow tutorials and explore adding trims like tassels, sequins, and pom poms.
Let your imagination run wild with cushion possibilities!
Conclusion
You can breathe new life into any space with beautifully handcrafted cushion covers. As you confidently sew each seam, let your imagination soar, dreaming up ways to infuse your personal style. Follow your inner calling, whether it whispers of bold colors, soft textures, or intricate details.
When you lovingly craft something with your own two hands, that positive energy radiates outward. Your cushion covers will not just adorn your home, but fill it with joy. So go ahead, gather your supplies, and make something beautiful today.
With each new project, you'll gain knowledge and hone your skills. The possibilities for self-expression through sewing are endless – where will your creativity lead you next? Let your cushion covers become canvases of the heart.