This site is supported by our readers. We may earn a commission, at no cost to you, if you purchase through links.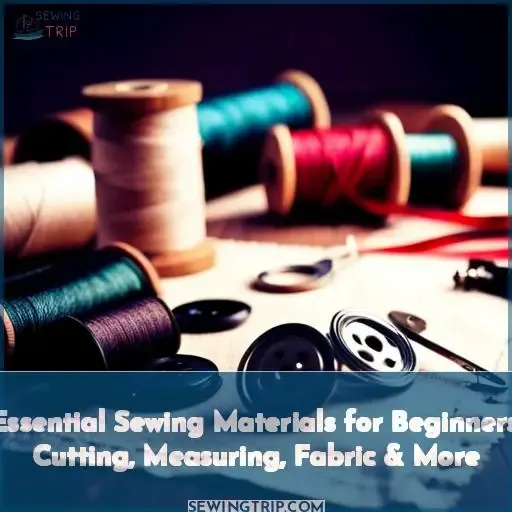 Have you ever wanted to try your hand at sewing but don't know where to start? I've got you covered! Let's dive into the essential tools and materials to get you up and running.
We'll be discussing everything you need for cutting, measuring, marking and fabric preparation so you can start creating beautiful garments and accessories.
Sewing brings such joy and is a great creative outlet – I can't wait for you to experience it!
With just a few key supplies, you'll be ready to make your first project.
I'll walk you through it every step of the way.
Key Takeaways
Quality cutting tools like fabric shears and rotary cutters are essential for precise, clean cuts.
Measuring tools such as tape measures and rulers are vital for accurately cutting fabric.
Needles and pins should be selected based on fabric type for optimum results.
Pre-treating fabric according to fiber content prepares it for cutting and sewing.
Cutting Tools for Sewing
Let's get started with the essential cutting tools for your sewing projects. You'll need a good pair of fabric scissors for accurate cuts, rotary cutters and self-healing mats for fabric strips and blocks, plus rulers to ensure straight lines when cutting.
We'll cover the specifics shortly, so keep reading to learn more about these sewing material staples.
To begin, invest in a quality pair of scissors specifically designed for cutting fabric. Look for sharp blades that glide smoothly and cleanly through material. A good pair of shears, like Gingher or Kai scissors, will make precise cuts without fraying or crushing fabric.
Rotary cutters and self-healing mats are perfect for cutting long strips or large sections of fabric when making quilts or other projects with geometric shapes. The circular blades easily slice through layers of material. Lay your fabric on the mat to prevent damaging your work surface and dulling the blades.
Finally, keep some clear plastic rulers on hand. You'll need them for measuring seam allowances and cutting straight lines or squares. Many quilters use specialty acrylic quilting rulers with diagonal lines for piecing quilt blocks.
A small see-through ruler also helps position pattern pieces correctly before cutting.
With quality fabric scissors, rotary cutters, self-healing mats, and clear rulers, you'll have the essential tools for precise cutting as you sew.
Scissors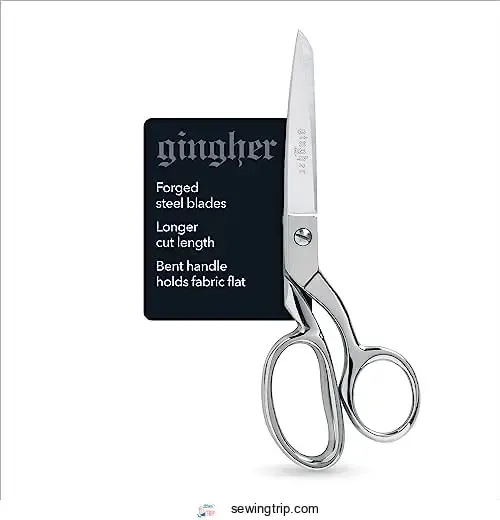 View On Amazon
When you're ready for quality fabric shears, snag those Gingher dressmaker shears and see your sewing projects shape up. Sharpness, precision, and comfort – you'll get it all with these top-tier shears.
Silky smooth cuts allow for flawless patterning and seam finishes. Forged steel means they'll stand the test of time. The bent handles cradle your hand, so you can snip away for hours without tiring. From delicate chiffon to heavy denim, these durable shears have the strength and grip to tackle anything.
For dressmaking divas and quilting queens who want only the best, these chrome-beauties make the cut. Treat yourself to shears worthy of your skills and treat those fabrics right. Say goodbye to jagged edges and uneven snips.
When creativity calls, answer with the gold standard of sewing shears by your side.
Super sharp precision-ground blades
Durable forged stainless steel
Comfortable bent handles
Suitable for all fabric types
Lifetime warranty
Higher price point
Can be difficult to open and close when new
Rotary Cutters
You'll get laser-straight cuts using a rotary cutter and a self-healing mat, with over 70% of quilters relying on this dynamic duo for precision.
60mm rotary cutters are commonly used.
Smaller 28mm cutters for cutting curves and intricate patterns.
Self-healing cutting mats protect your work surface.
Use a straightedge as a guide for straight cuts.
Change blades regularly for clean cuts.
A rotary cutter set provides the essential tools for precise fabric cutting as you embark on your sewing journey. With practice, you'll gain skill and confidence using these cutting and measuring tools.
Rulers
The lip edge on the Rolipse ruler grips the cutting mat, keeping it steady as you slice fabric with your rotary cutter. Rulers come in a range of sizes and materials for different sewing tasks. Look for large, gridded acrylic rulers for cutting yardage.
Smaller transparent ones work well for marking seam allowances. Quilting rulers have special markings and non-slip edges. Always use a straightedge with rotary cutters. Wipe rulers clean after use and store flat to prevent warping.
Choosing the right rulers for cutting and measuring brings accuracy to your sewing projects.
Measuring and Marking Tools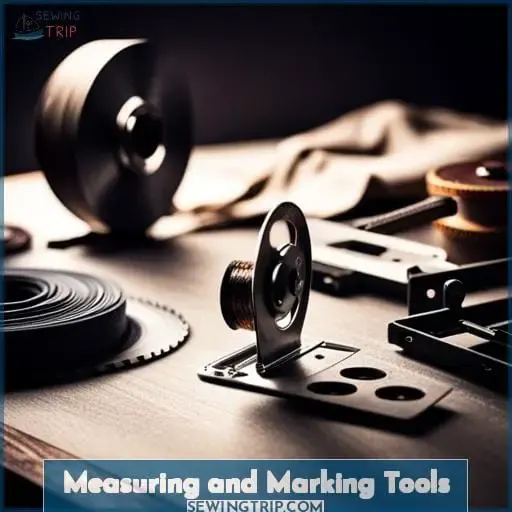 Let's talk about measuring and marking tools, shall we? Now that you've sharpened up your cutting equipment, it's time to size things up and get your markings in place with tape measures, seam rippers, rulers, and chalk.
Once you have the right measuring and marking tools at your fingertips, you'll be ready to cut your fabric pieces accurately and start stitching your next project.
Tape Measures
You've got flexible tape measures for curved areas. Metal ones retract for portability. Check if the markings match your project's needs. Compare inexpensive ones to professional brands for longevity. Test the pull-out length. Ensure accuracy over time with care. Replace if stretched or damaged.
Choose features like metric and inch markings, finger holds, printing clarity. Precision is vital for good garment fit.
Marking Tools
You'll need tailor's chalk for marking darts and construction lines on your sewing patterns. Transfer those seam allowances and notches as well. Trace your patterns onto fabric with chalk or marking pens, testing first in case the ink bleeds.
Use pins and needles sparingly. A sewing gauge keeps your seams straight. In your sewing kit, quality marking tools help bring your creations to life.
Needles and Pins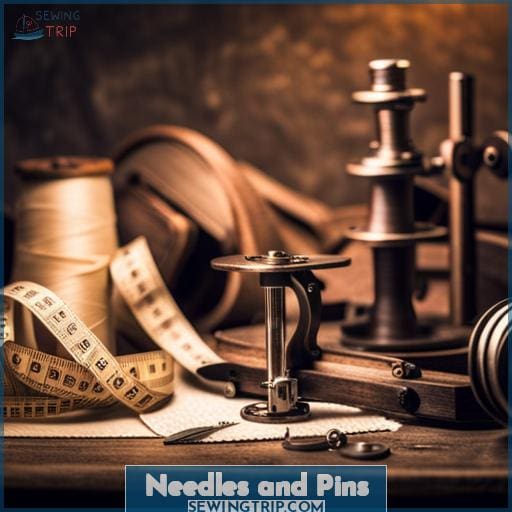 Though your sewing machine can handle most tasks, hand sewing still has its place in many projects. Sharp, quality needles and pins make quick work of basting, hemming, repairs, and decorative touches.
Hand sewing allows more control and finesse for tricky areas like corners. Stock up on a range of needle types and sizes for different fabrics and threads. Longer needles may be needed for thicker layers. Select sharp pins that smoothly slide through fabric without snagging.
Ball head and glass head pins glide especially smoothly. Keep an array of thimble styles on hand too for pushing needles without poking fingers. Whether tackling a simple hem or elaborate embroidery, quality needles and pins are essential tools for neat, durable hand sewing.
Hand Sewing Needles
You all have 45 different hand needles for projects as assorted needle sets are imported with various sizes and types like sharps, betweens, darners, embroidery, chenille, and tapestry needles made of nickel-plated steel.
Needle sizes from extra-fine to large allow selecting the right needle for your fabric. Organize needles by type and store in old thread spools or spice jars. Needle threaders make threading easier when vision is tricky.
Quality hand needles give precision and avoid frustrating fabric tears. Having the proper needle for hand sewing prevents headaches down the line.
Pins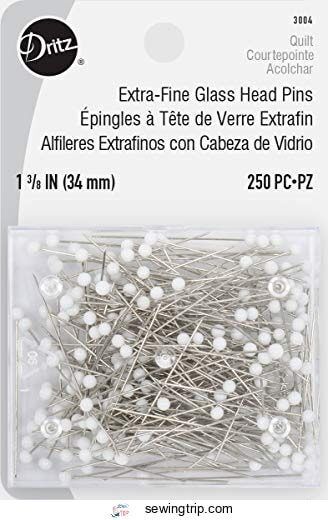 View On Amazon
These glass head pins would be appropriate for your delicate fabric projects. Their thin, fine points will slide smoothly through lightweight woven fabrics without damaging the weave. The glass heads provide a smooth surface that won't snag threads. Go ahead and use them for silks, cotton lawn, batiste, voile, and other sheer or loosely woven materials.
You'll find the glass heads strong yet lightweight, so the pins stay anchored in fabric instead of bending or falling out. While the pins work beautifully in gossamer fabrics, they lack the sturdiness for heavy interfacing or thicker knits.
Overall, these heat-resistant glass head pins offer a quality option for your airy, delicate projects.
Slide smoothly through lightweight fabrics
Glass heads minimize snagging
Ideal for loosely woven and sheer fabrics
Strong yet lightweight
Not suitable for heavy knits or interfacing
Prone to bending
Lack durability of steel pins
Fabric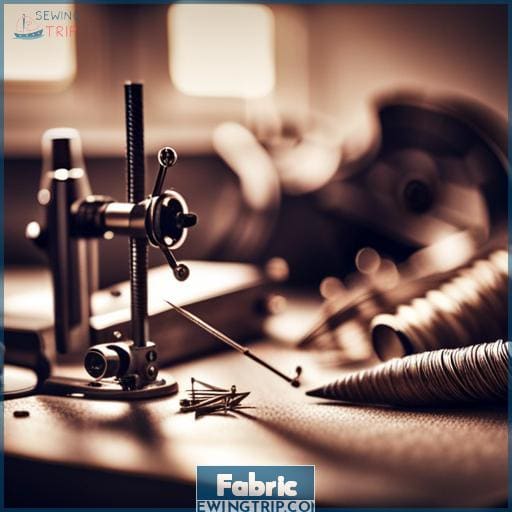 Fabrics are the foundation of any sewing project, so selecting the right type for your needs and preparing it properly before cutting are critical first steps. From wovens like cotton and linen to specialty fabrics like velvet or vinyl, understanding fabric types, their uses, and how to wash and press them will lead to sewing success.
Types of Fabric
You'll find cotton broadcloth and linen ideal fabrics for sewing blouses and dresses.
When selecting fabric for sewing apparel, consider these factors:
Fiber content
Fabric weight
Drape and hand
Care requirements
Design and pattern
Choosing the right fabrics will ensure your sewing projects turn out beautifully and withstand repeated wearings. Picking quality materials like pure cottons and linens for garments closest to your skin is recommended.
Preparing Fabric
Don't forget to preshrink your fabric before cuttin' it – some natural fibers like cotton and linen'll shrink up quite a bit after gettin' washed.
Here's a handy table for preppin' fabrics before startin' your project:
| Fabric Type | Preparation Tips |
| --- | --- |
| Cotton | Wash, dry, and press to preshrink |
| Wool | Steam or hand wash in cold water to preshrink |
| Silk | Dry clean or hand wash gently in cold water |
| Linen | Machine wash in cold water to preshrink |
| Polyester | Wash or dry clean to remove manufacturin' oils |
Now you're ready to start cuttin' and sewin'! Careful prep means your finished project'll hold its shape and last.
Conclusion
You've taken the first step toward a fulfilling hobby by gathering some essential sewing supplies. As any experienced sewer will tell you, quality tools like fabric shears, a tape measure, and hand needles will make your projects easier and the results more polished.
When paired with fabric you love—like a soft cotton or sturdy linen—you'll have everything you need to get stitching.
The key is starting simple, being patient with yourself, and enjoying the creative process. Sewing can be meditative and rewarding when you treat yourself with kindness through the learning curves.
Keep at it, and you'll be amazed at what you can create with just some basic sewing materials and your imagination!