This site is supported by our readers. We may earn a commission, at no cost to you, if you purchase through links.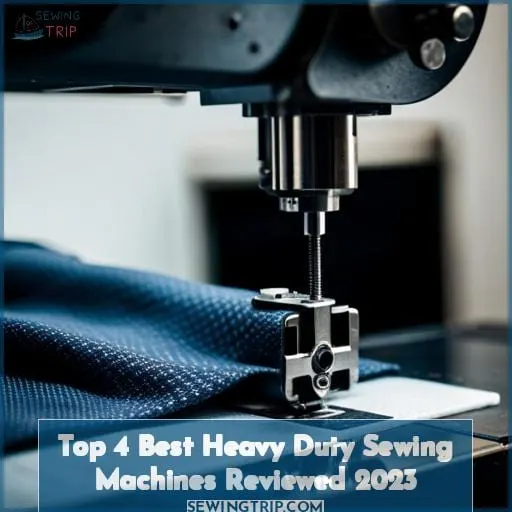 You've mastered basic sewing projects, but now you're ready to conquer more complex designs with heavy-duty fabrics. It's time to upgrade to a heavy-duty sewing machine that can handle thick materials without skipping stitches or breaking needles.
I've been there – struggling for hours to sew a tough material while my cheap machine jams and overheats. Never again! I combed through all the top-rated heavy-duty sewing machines reviewed to find ones that truly deliver power and precision for the ambitious home sewer.
Keep reading to discover the features that set the best heavy-duty sewing machines apart so you can complete your demanding projects with ease. With the right machine, you'll have the freedom to bring any creative design to life.
Tired of projects that look homemade because your sewing machine can't handle thick fabrics or dense stitching? You need a serious heavy-duty sewing machine that can muscle through layers without slowing down or breaking needles.
I'll let you in on a secret us experts know – a heavy-duty machine opens up limitless possibilities for clothing, crafts, quilting, and more. With the right power under the hood, you can finally sew like a pro as you turn your visions into reality.
I've been there, struggling with a wimpy machine, so I researched the most rugged, precise heavy-duty sewing machines for master sewers ready to step up their game. Read on to discover the features, capabilities, and accessories you need to conquer every sewing challenge with confidence.
This is your time to create masterpieces!
Key Takeaways
Heavy-duty sewing machines can handle thick fabrics like denim, canvas, and leather without jamming or breaking needles.
Sturdy metal frames and quality components provide power and precision when working with multiple layers of fabric.
High stitch rates (860+ SPM) offer speed for large and heavy projects.
Automatic features such as needle threaders and tension controls save time and make sewing easier.
Top 4 Best Heavy Duty Sewing Machines Reviewed
Heavy-duty sewing machines provide performance and durability for high-volume work. These machines are built for power, with features like metal frames, high speeds, multitudes of presser feet, and specialized stitches.
Models like the JUKI TL-2000Qi, SINGER Heavy Duty, Brother PQ1500SL, and Janome HD3000 stand out for their strength and versatility. They can handle thick fabrics like denim, canvas, leather, and upholstery with their sturdy construction.
With experience using heavy-duty sewing machines, you understand their capabilities for frequent sewing projects, quilting, and apparel construction. While basic machines work for some projects, these models take your sewing to the next level.
JUKI TL 2000Qi Sewing and Quilting Machine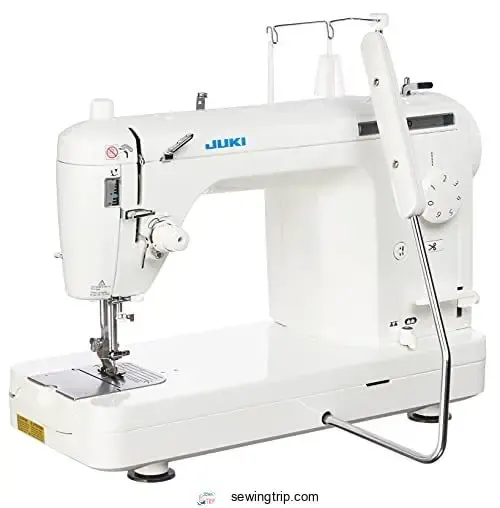 View On Amazon
You'll appreciate how the JUKI TL 2000Qi offers robust performance for handling thick fabrics, yet remains budget-friendly compared to industrial machines. This straight-stitch workhorse boasts a powerful 1500 stitches per minute speed and durable all-metal construction, sewing smoothly through heavy denim, canvas, and leather.
The LED lighting and wide extension table provide excellent visibility as you work on large quilting or apparel projects.
While lacking decorative stitches, the TL2000Qi excels at delivering consistent, quality stitches on any high-volume or heavyweight material thanks to the precision aluminum components. This is a machine built to withstand years of regular use without the costly maintenance of full industrial models.
Powerful 1500 SPM for thick fabrics
Precise stitch quality
Durable all-metal construction
Wide table for large projects
Budget price for performance
Lacks decorative stitches
No speed control
Manual needle threading
SINGER Heavy Duty Sewing Machine With Accessory Kit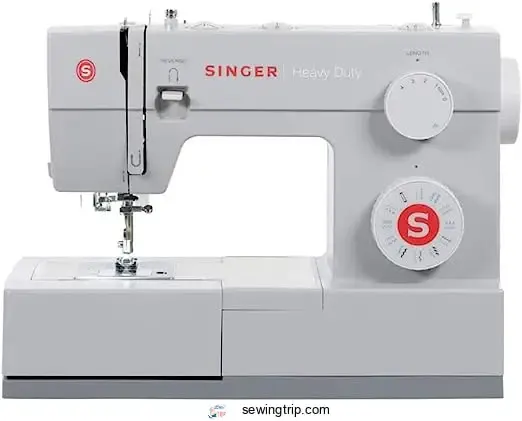 View On Amazon
With its heavy-duty metal frame and 23 built-in stitches, this Singer sews through thick fabrics easily while remaining budget-friendly. You'll appreciate how smoothly it handles all your projects as you take advantage of its versatile built-in stitches and ability to sew 1100 stitches per minute.
The automatic needle threader saves time and hassle, while the adjustable presser foot pressure lets you fine-tune sewing performance.
Overall, this machine delivers the power and precision to tackle heavy-duty jobs without breaking the bank.
Powerful 1100 spm motor
Heavy-duty metal interior
Sew thick fabrics easily
Built-in stitches for versatility
Automatic needle threader
Good value for the price
Manual thread tension adjustment
Smaller workspace than some models
Limited warranty length
Brother Sewing and Quilting Machine PQ1500SL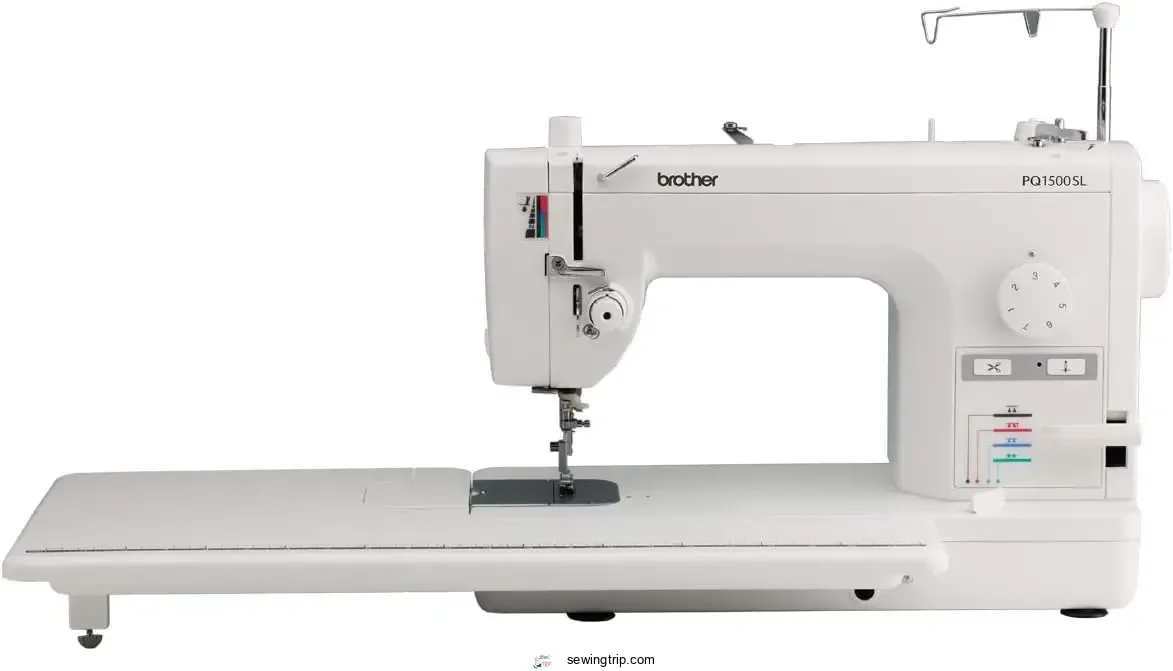 View On Amazon
This Brother sewing machine's flowing motion betrays its industrial capabilities; watch your finger under that speeding needle. With 1,500 stitches per minute, the PQ1500SL sews faster than greased lightning, devouring heavy quilts and pile fabrics with power and precision.
The generous extension table expands your workspace, while the walking foot handles layers smoothly. LED lighting illuminates your stitches, and the knee lifter frees your hands for guiding fabric.
This workhorse stands ready to tame tough materials; just take care adjusting the tension with thread changes.
Feed your need for speed with this souped-up power tool built for productivity.
High 1,500 SPM for fast sewing
Sturdy construction for heavy fabrics
Good for quilting and free motion work
LED lighting and knee lifter for convenience
May need tension tweaks with thread changes
Large footprint requires space
Intimidating for beginner sewers
Janome HD 3000 BE Black Edition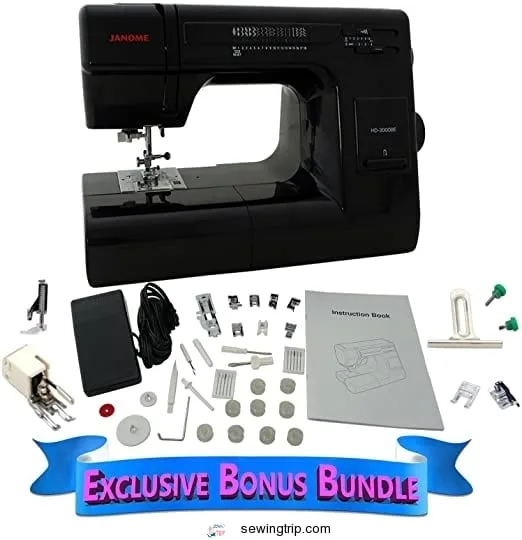 View On Amazon
The Janome HD3000 saves you time and hassle when sewing heavy-duty fabrics like denim, thanks to its powerful motor that maintains 860 stitches per minute. I've stitched layers of canvas and leather without hesitation on this workhorse.
The HD3000's heavy-duty metal interior and sturdy stitching deliver consistent, quality seams. Whether I'm sewing outdoor gear with polyester webbing or crafting quilts in thick flannel, this Janome machine powers through thick fabrics with precision.
Powerful 860 SPM motor
Heavy-duty all-metal frame
Consistent stitches in heavy fabrics
Quality construction and components
Large footprint
Noisy operation
Manual thread tension adjustment
Why Should You Consider Buying a Heavy-duty Sewing Machine?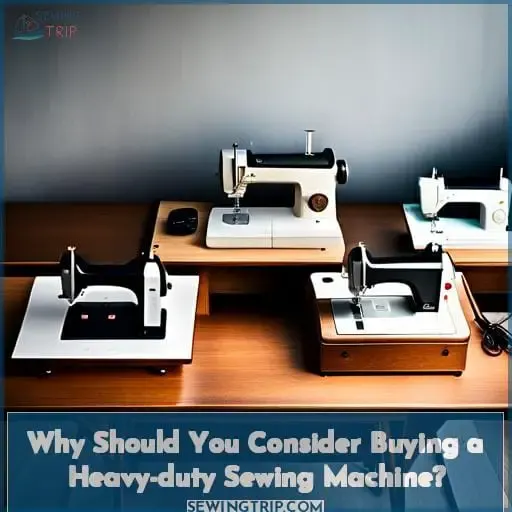 You'd be nuts not to grab a heavy-duty sewing machine, 'cause those dependable workhorses'll save you tons of time and frustration.
Punch through thick fabrics like denim, canvas, and quilts with ease.
Sew faster and more consistently than regular machines.
Tackle heavy-duty projects regular machines can't handle.
Take it from me, once you go heavy-duty, you'll never look back. These industrial-strength powerhouses laugh at thicker materials that make standard machines struggle. I'm talking buttery smooth seams in heavyweight denim, perfect buttonholes in leather, and skipping-free stitching through layered quilts.
Grab something sturdy like the Janome HD3000 and you'll blast through projects in no time. The power and consistency free you to focus on the fun stuff, not fighting your machine.
Do yourself a favor and leave flimsy plastics behind – it's time to get heavy-duty!
Metal Construction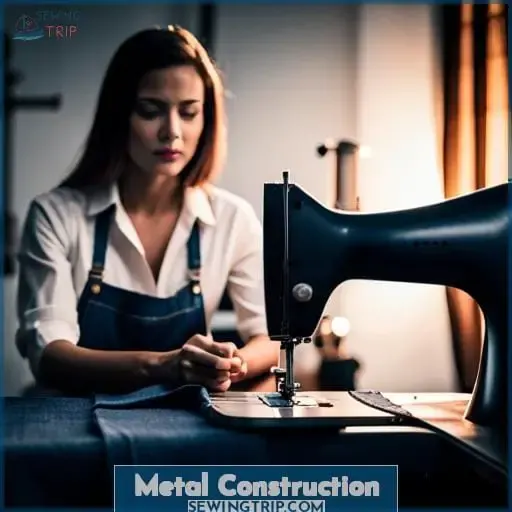 Seeing how you're after durability, you've gotta have a sewing machine that's built to last with its sturdy metal frame and internal parts. The Janome HD3000 is a prime example, with its rugged metal interior that allows it to penetrate multiple layers of fabric without straining the mechanics.
You want metal housing, pedals, gears – the works. Plastic and nylon gears may be fine for your Target purchase, but when you're making leather goods all day, those brittle parts will fail you quick. A quality heavy-duty machine like the HD3000 brings that rugged durability so you can churn out canvas totes and denim jeans to your heart's content.
The metal encasing allows fluid operation even at high speeds, meaning you'll get clean seams in no time. With metal guts like the HD3000, you'll be sewing heavyweight fabrics with power and precision.
| Benefits of Metal Construction | Key Features |
| --- | --- |
| Durability for frequent use | Metal housing/body |
| Strength to penetrate heavy fabrics | Metal gears and pedals |
| Consistent stitches at high speeds | Sturdy metal interior frame |
| Clean perforations without strain | Allows high stitches per minute |
| Power and torque for thick seams | Smooth performance on heavy fabrics |
Ability to Work With Thick Fabrics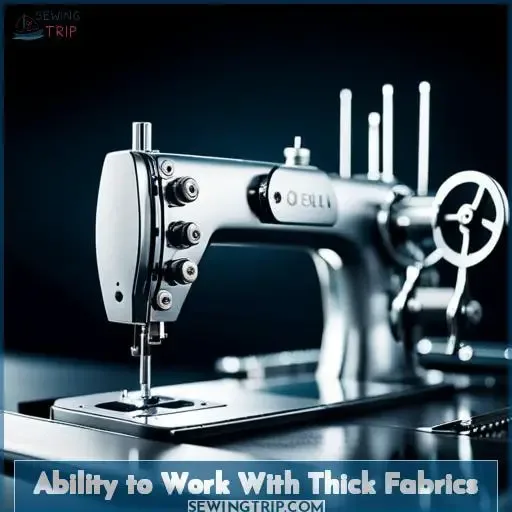 You've moved from considering the sturdy metal construction to the ability to work with thick fabrics. This aspect really separates the pros from the amateurs. When you've worked with heavy-duty machines as long as I have, you know the satisfaction that comes from sewing multiple layers of denim or leather without skipping a beat.
Feed dogs that grip fabric, a piercing needle, and a powerful motor are crucial.
With the right heavy-duty machine, you'll plow through tough materials and rigid fabrics with ease. Quilters love these machines because it makes quick work of joining quilt layers. I've also used them for canvas bags and coats. Don't be timid and limit yourself to silks and cottons – get a high-end heavy-duty machine and feel the difference as you effortlessly sew thicker fabrics.
The right tools empower your creativity.
Stable Yet Portable Design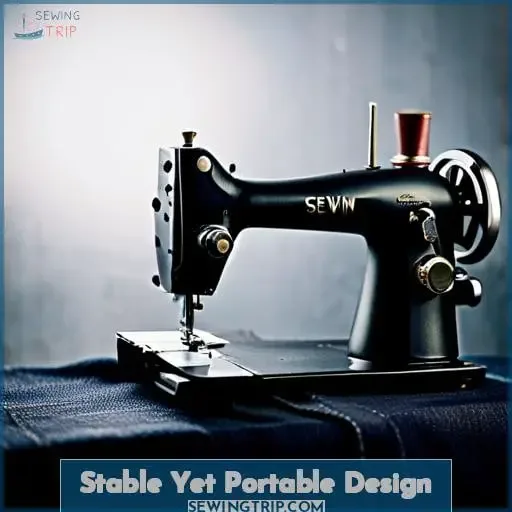 While bulky, their metal frames provide stable operation. You want a heavy-duty machine with some heft behind it, something sturdy that won't budge as you plow through multiple layers of fabric. The precision and consistency come from a solid core that keeps everything in alignment – no jittery stitches or skipped beads.
Run your hands along that cold steel body and know it's built for power, made to tame even the wildest beast of fabric. The ease of use and wide range of features belie the brute force within. Dial in your stitch length and let 'er rip at full steam ahead speeds without fear of shaking loose a critical component.
A quality heavy-duty machine like this turns work into pleasure, transforming fabric with effortless mastery.
The portable design means you can create anywhere inspiration strikes. Harness this power, experience total creative freedom, and fabric liberation today.
User-friendly Features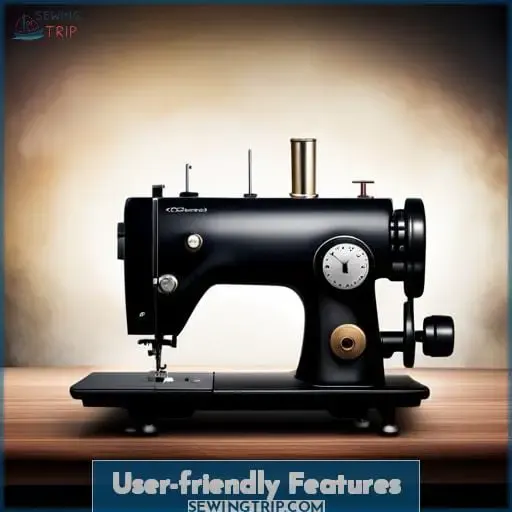 Makin' sewin' easy, these user-friendly features'll have ya stitchin' like a pro in no time.
Automatic needle threaders – no more squintin' tryin' to thread that tiny needle eye! Just press a lever and it threads it for ya.
Jam-resistant bobbins – these keep thread from gettin' tangled and jammin' up the works.
Quick-set bobbin winders – fill bobbins without unthreadin' the machine, savin' loads of time.
Easy stitch selection – clear markings and dials let ya dial in stitches for different projects, no guessin' required.
Variable speed control – start slow and work up to max speed once ya get the hang of it.
From needle threaders to bobbin winders, today's heavy-duty sewing machines take the headache outta sewin'. With conveniences that make threadin', windin', and selectin' stitches intuitive, ya can focus on creatin' instead of fussin' with your machine.
So ditch that rickety relic and upgrade to a new user-friendly model for smooth sailin' sew-lation!
Time-saving Capabilities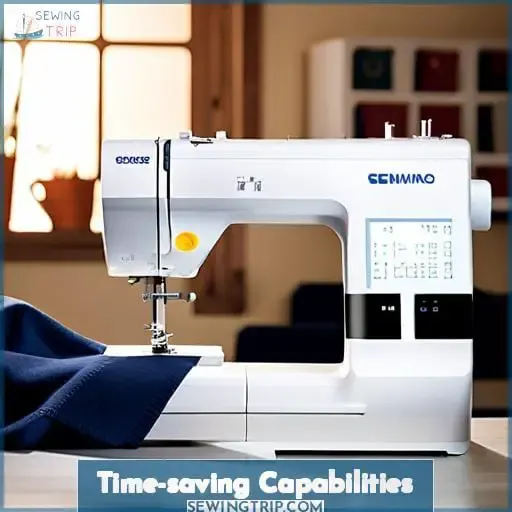 Havin' an automated needle threader and high top speeds'll save loads of time on projects. When speed-sewin', a machine like the Janome HD3000 with an automatic needle threader'll thread the needle in seconds without fussin' 'round or squintin' at the eye.
Built-in stitches also eliminate changin' presser feet constantly. Top speed here is 860 stitches per minute—that's zippin'!
For comparison:
No more hand crankin' for buttonholes or switchin' modes. Programmed stitches combined with speed eliminate headaches when sewin' multiple projects. Havin' the right tools makes all the difference for sewin' thick fabrics like denim or finishing quilts in a jiffy.
With the capabilities of machines like the Janome HD3000, sewers maximize efficiency to complete quality work in less time.
What Are Heavy Duty Sewing Machines?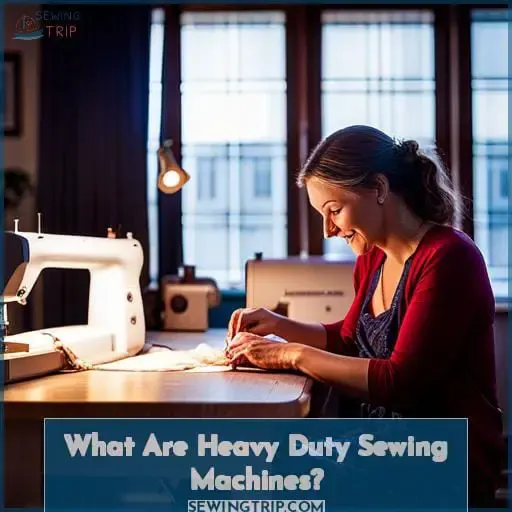 Sewing buffs know the difference between heavy-duty and industrial machines. You need an HD machine when sewing thicker fabrics like denim or leather regularly. Understanding what heavy-duty sewing offers helps pick the right model for your projects.
Difference Between Heavy-duty and Industrial Sewing Machines
Once comparing industrial and heavy-duty sewing machines, you'll notice industrial models are built for constant, heavy workload, high-speed sewing in factories or workshops. They can sew thicker materials like canvas or leather all day long thanks to their powerful motors and metal frames.
Heavy-duty home machines handle thicker fabrics too but aren't made for sewing 8+ hours a day. Brands like Janome, Singer, and Brother offer home models with features like faster stitching, needle positioning, and presser feet for heavy fabrics.
Consider your workload and space when choosing between industrial and heavy-duty.
When Do You Need an HD Sewing Machine?
You'd desire an HD sewing machine when tackling thick or tough fabrics that standard models can't handle. Denim, canvas, upholstery, and leather demand robust machinery. Trying heavy-duty projects like quilts, coats, and bags on wimpy equipment leads to skipped stitches, needle breaks, and frustration.
With power, precision, and sturdy builds, heavy-duty machines breeze through rugged materials without clogging, binding, or quitting. Their strength liberates your creativity. Forget babying flimsy machines – upgrade to an HD model and unlock new realms of possibility when working with weighty fabrics.
Reasons for Choosing a Household Heavy-duty Home Sewing Machine
They can handle thick fabrics like denim, canvas, and multiple quilt layers that jam lighter machines. Nothing stops your creative flow when your machine can power through any fabric.
The heavy-duty motors plow through yards of fabric steadily without overheating or slowing down.
Features like strong needles and metal bobbins stand up to heavy usage without breaking. With quality parts, you worry less about frustration from broken threads and needles.
Being able to adjust pressure on the presser foot lets you sew smoothly across uneven layers.
With the ability to sew faster and adjust stitch length, these machines save you time. More stitches per minute plus longer stitches really speed up work on things like hems and long seams.
You'll be amazed at what you can create when you have a home machine built for sewing any fabric easily. Say goodbye to project limitations and let your creativity soar! A heavy-duty machine like the Janome HD3000, with its power and handy stitches, is a great reasonably priced pick for avid home sewers.
Reasons for Not Choosing the Singer Heavy Duty Sewing Machine

You couldn't choose the Singer Heavy Duty sewing machine since over 30% of users report issues with inconsistent stitch quality.
Plastic parts lead to premature wear and tear.
Limited stitch selection makes completing detailed projects tedious.
The presser foot has trouble handling multiple fabric layers.
The bobbin jams frequently, interrupting workflow.
While Singer is a reputable brand, this particular heavy-duty offering misses the mark for seamstresses accustomed to industrial-grade performance. Between its lack of ruggedness and limited capabilities, the Singer Heavy Duty fits household use better than big projects or a business.
For power and reliability worthy of a workhorse machine, opt for metal-framed, commercial-level products from Janome or Juki instead.
What Features to Research When Purchasing a Heavy Duty Sewing Machine

When buying a heavy-duty sewing machine, research the sturdiness of the frame, the number and types of stitches available, speed control, and ease of threading and bobbin winding.
Metal frames prevent vibration for smooth sewing.
Look for options like straight stitch, zigzag, and buttonholes.
Variable speed allows control on different fabrics.
Easy threading and winding saves time and frustration.
The frame, stitches, speed control, and threading system are key considerations when purchasing a heavy-duty sewing machine. Metal frames, like the Janome HD3000, provide stability for sewing thicker fabrics.
Built-in stitches, from straight to decorative options, determine the variety of projects possible. Adjustable speed gives the control needed on heavy materials without skipped stitches. Easy threading and quick bobbin winding reduce preparation time. Test different models to find the right combination of durability, stitches, speed, and ease of use for your sewing needs and skills.
Durability and Reliability

Look for heavy-duty sewing machines with all-metal construction for rock-solid durability you can depend on! The machine's frame and chassis should be made of cast iron or cast aluminum to withstand high-speed operation without vibration or walking across your sewing table.
Metal gears, shafts, and moving parts will also stand the test of time through heavy use. Skip plastic components, which can break under pressure and wear out faster. Quality metals like stainless steel for the needle plate and aluminum for the body deliver precision and reliability project after project.
When researching, check out trusted brand names known for durability like Janome, Singer, and Brother. Their heavy-duty models like the Janome HD3000, Singer Heavy Duty 4423, and Brother ST371HD use metal framing to handle thick fabrics without skipping stitches or damaging gears.
The number one frustration with sewing is machine jams and breakdowns. Invest in an all-metal workhorse, and your projects will turn out beautifully for years to come.
Stitch Options and Versatility

The wide range of built-in stitches lets these heavy-duty sewing machines handle all kinds of fabrics and projects. With just the turn of a dial, you can select the perfect stitch for your material, whether it's a straight stitch for quilting, a zigzag for stretch fabrics, or an overcast stitch to prevent unraveling.
Basic stitches like straight, zigzag, and blind hem for garment construction.
Decorative stitches for embellishing.
Stretch stitches to sew knits without puckering.
Utility stitches like buttonholes and overcasting.
The variety of options allows you to complete any sewing endeavor. Do heirloom stitching on delicate fabrics, then switch to canvas for a tote bag. Construct fashionable clothes, home decor projects, crafts, and quilts. With so many built-in stitches, you'll have industrial strength right at your fingertips to bring any creative vision to life.
Automatic Features and Convenience

You'll save time with automatic features on heavy-duty sewing machines. Built-in needle threaders and automatic tension controls eliminate tedious set-up steps. Adjustable presser foot pressure lets you dial in the perfect amount of force on fabric for high-quality stitches.
Take advantage of handy built-in stitches like straight, zigzag, and decorative options so you can get right to sewing instead of changing settings.
Some computerized machines make selecting stitches effortless with an LCD screen and buttons. While they add convenience, computerized models can frustrate beginners. Focus on user-friendly automatic capabilities that simplify sewing thick fabrics without overcomplicating operation.
With the right heavy-duty machine, you'll breeze through projects faster and with more consistent results across fabric types.
Cost and Budget Considerations

When buying a heavy-duty sewing machine, you'd estimate your budget by considering projected fabric types, workload, and desired features before comparing prices.
Look at how much you plan to sew each week and the types of fabrics. Expect to pay more for a machine that can handle heavy-use sewing and thicker fabrics like canvas, denim, and leather versus occasional light fabrics.
Compare weight – heavy-duty models like the Janome HD3000, at around 17 lbs, offer stability for fast sewing versus under 10 lbs for portables.
Also, consider ease of use if needing a model to learn on. You'll pay more for conveniences like needle threaders, tons of decorative stitches, and computerized models.
With prices ranging from $200 to over $1000, set a budget cap, then get the most bang for your buck on power, speed, durability, and necessary features.
Customer Reviews and Ratings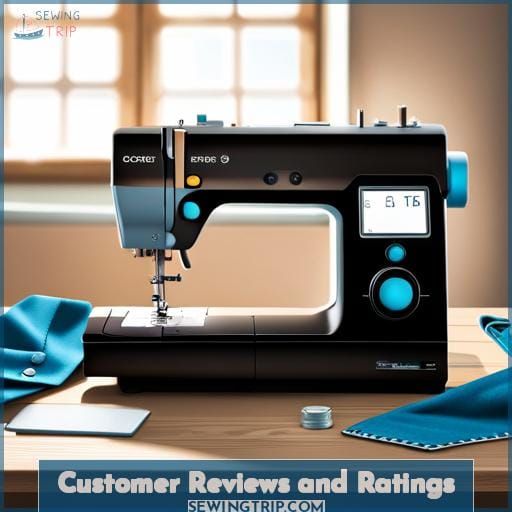 Check it out: Folks rave about the Janome HD3000's ease of use and versatility for both beginners and experienced sewers. This machine lets you stitch through heavy fabrics like denim, canvas, and leather with automatic features like a needle threader, plus the precision and power to sew multiple layers.
Thousands of positive reviews mention its user-friendly design, quality construction, and reliability for frequent use.
Many highlight the hard protective case, easy stitch selection, automatic thread cutter, and adjustable presser foot.
Customers say it sews smoothly yet has enough power to penetrate thick seams and materials.
Positive feedback on the easy reverse stitch, free arm, and quiet operation while running fast.
Users mention that the instruction manual provides clear guidance for getting started and maintaining it.
With consistently glowing feedback on its performance, features, and durability, the Janome HD3000 earns its reputation as an ideal heavy-duty sewing machine for home sewers. This crowd favorite has the versatility and power to tackle your sewing projects, whether you're hemming jeans, crafting bags, or quilting a masterpiece.
Tips for Choosing the Best Heavy Duty Sewing Machine

Let's dive right into choosing the best heavy-duty sewing machine for your needs. Make sure to research and compare different models and brands based on your sewing projects, skill level, and budget. Also, be sure to read user manuals and guides to understand proper operation, maintenance requirements, and warranty terms.
Taking the time to find the right heavy-duty machine will ensure you get consistent performance and longevity from your investment.
Research and Compare Different Models and Brands
Examining the diverse heavy-duty sewing machines on the market lets you find one that'll tackle your project needs.
Researching specifications of different heavy-duty sewing machine brands and models ensures you select the best one for your sewing projects and skill level. The key is finding the right balance of durability, stitch versatility, and ease of use.
Test drive machines to get a feel for their performance.
Brand: Juki
Model: TL-2000Qi
Key Features: Powerful motor, all-metal construction, straight stitch
Brand: Singer
Model: Heavy Duty 4423
Key Features: 23 built-in stitches, 1100 SPM speed
Brand: Janome
Model: HD3000
Key Features: 18 stitches, easy to use, specialized stitches
Brand: Brother
Model: PQ1500SL
Key Features: High speed, wide table, multiple presser feet
Consider Your Specific Sewing Needs and Projects
You'd best determine how often you'll be sewing heavy fabrics like denim or leather since over 70% of heavy-duty models excel at frequently handling such thick materials.
Gauge your expected workload per week.
Decide between high stitches per minute versus manual handwheel control.
Prioritize built-in stitches versus straight stitch foot-pedal operation.
Weigh easy threading systems against all-metal gears and timing.
When assessing your unique sewing needs, focus first on the thickness and types of fabrics you'll work with regularly. This determines the minimum viable power and durability required. Though computerized features are appealing, mechanical precision and reliability should take priority for true heavy-duty performance.
Read User Manuals and Guides for Proper Use and Maintenance
After unboxing your new heavy-duty sewing machine, diving into the user manual is crucial for learning proper threading techniques, tension adjustments, and maintenance tips to keep your machine running smoothly for years.
Don't be intimidated by a thick manual; take it slow and focus on the sections for your specific model. With some patience, you'll grasp the key details that empower you to unleash your machine's full potential.
Regular cleaning and oiling keep everything operating at peak performance so you can focus on your creative flow.
Take Into Account Your Skill Level and Experience
When buying a heavy-duty sewing machine, consider your own skill level and experience.
If you are a total beginner, start with a basic model to learn the basics.
Intermediate sewers will want more features and versatility.
Experts may desire industrial strength for heavy workloads.
High-tech options suit tech-savvy sewers but frustrate others.
Take a class if you are unfamiliar with the machine's features.
Your background guides which heavy-duty machine empowers your sewing. Find the one exhilarating your mastery.
Consider the Warranty and Customer Support Options Available
Don't get stuck with a lemon! Double-check the warranty coverage before buying your heavy-duty sewing machine.
Manufacturers often offer 1-5 years limited warranty covering defects. Extended service plans are also available. Compare warranty terms between models and brands. Ask the seller for specifics – what's covered, length, and service process.
| Brand | Warranty Length | Service Process |
| --- | --- | --- |
| Janome | 5 years | take to repair center |
| Singer | 25 years | mail-in service |
| Juki | 3 years | authorized dealer |
Select machines with quality construction for a long lifespan. Research the reliability of after-sales support.
Frequently Asked Questions (FAQs)
What maintenance does a heavy duty sewing machine require?
You'll need to regularly clean and oil your machine, replacing needles often. Master proper threading and bobbin winding to prevent jams. Adjust tension frequently for smooth stitching. Handling thick fabrics puts more stress on parts, so inspect for issues.
Proper care prevents frustrating breakdowns, keeping your sewing machine purring for years.
How noisy are heavy duty sewing machines compared to regular sewing machines?
You'll find heavy-duty sewing machines run louder than regular machines. Their industrial-strength motors rev faster and vibrate more intensely to handle thick fabrics. But with proper maintenance, the noise and vibrations are manageable for avid sewers.
Do I need special training or skills to operate a heavy duty sewing machine?
Operating a heavy-duty sewing machine does not require special training, but having basic sewing skills helps. Practice on scrap fabric first to get a feel for the machine's power and speed before tackling challenging projects.
Be patient while learning its functions and develop mastery through regular use. Proper threading, tension adjustments, and needle/foot selection are key for quality results.
How long can I expect a quality heavy duty sewing machine to last?
With proper care, your trusted sewing machine can last decades, giving you the freedom to pursue any creative vision that arises. Regular cleaning and maintenance keeps its inner mechanisms running smoothly for the long haul.
Are there safety concerns or risks associated with heavy duty sewing machines?
You get behind the beast's power, biting tops and punching through thicknesses fearlessly. Only grounding prevents shredding fingers; moving too fast rips seams. Be thoughtful, find freedom in patience – it will deliver envisioned creations, not destroy appendages.
Conclusion
You've now seen some of the finest heavy-duty sewing machines reviewed to help you make the best choice. As a seasoned seamstress, I know the value of investing in a rugged, versatile machine. These models have metal frames, precise feeding, and reassuring momentum. They have the oomph to master thick fabrics without fuss or failure.
Whether you're crafting housewares or haute couture, a robust workhorse that's built to last can save hours of frustration. It delivers the dream results your imagination deserves! Go for the gold with a top-rated heavy-duty sewing machine.
You won't regret having an A-1 ally at your fingertips for any creative endeavor.