This site is supported by our readers. We may earn a commission, at no cost to you, if you purchase through links.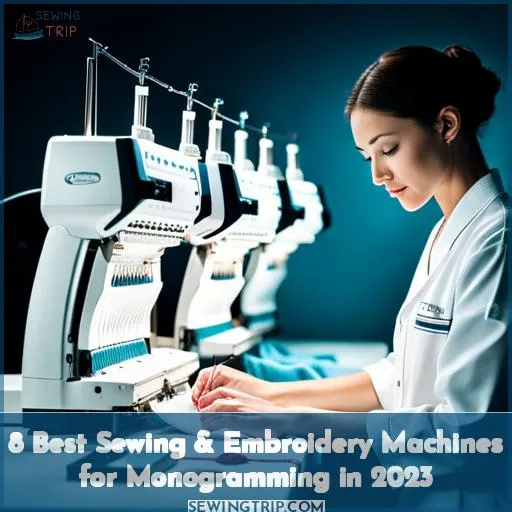 Hello friend – get ready to monogram and add your personal touch to all things fabric! Let's review the need-to-know info for choosing the best sewing and embroidery machine for all your monogramming needs.
Though hand embroidery's got nostalgic appeal, today's tech-savvy home sewers are wise to utilize modern automation.
But hold up – with countless models on the market, how discern the ideal monogramming machine? FOCUS KEYWORD ahead – we'll highlight key considerations like machine type, size, features and more.
I aim to serve up impartial recommendations so you can find your customization companion.
Key Takeaways
Choose a machine with a hoop size of at least 5×7 inches to accommodate most monograms and lettering.
For high volume embroidery, opt for a commercial multi-needle machine. For hobbyists, a single-needle home model will suffice.
Ideal machines have built-in lettering features and the ability to upload external fonts and designs.
Use quality tear-away stabilizer behind the fabric when monogramming. The stabilizer prevents distortion and provides support for the stitches.
What is Monogramming?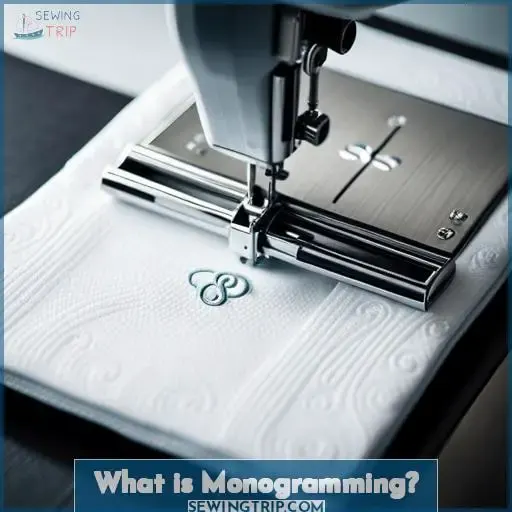 You'd personalize gifts and apparel with embroidered names or initials using a designated embroidery machine. The process starts by choosing a quality model like the Brother SE1900 with 240 built-in stitches or the commercial SWF E-T1501 with 1,000 designs and multiple needles for a business owner.
Consider the power source, whether 120V standard outlet or 220V heavy-duty plug, along with maximum embroidery size and any included fonts or designs. While a compact 3 x 4 hoop may suffice for monograms, purchase a multi-needle machine for tackling large batches efficiently.
With the right preparation like proper stabilizing and thread, these automated tools embroider crisp lettering to personalize almost anything.
Why Get a Monogramming Machine?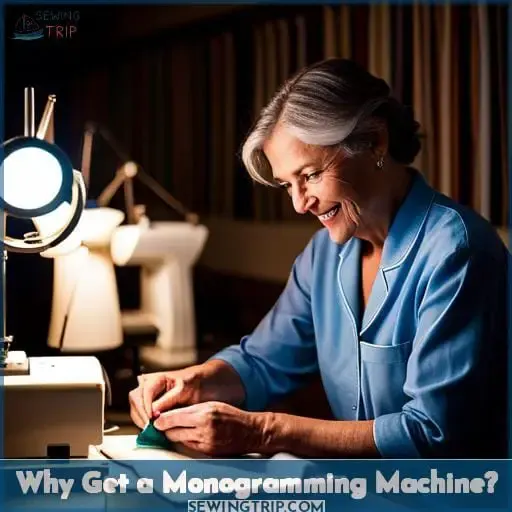 Transitioning from understanding monogramming, let's explore why a dedicated embroidery machine is worth the investment for your monogramming endeavors. With computerized lettering and design capabilities, these specialized tools expertly sew crisp, consistent monograms onto garments, gifts, and more in a fraction of the time hand embroidery takes.
Their efficient multi-needle operation allows for bulk personalization for a business owner, while user-friendly interfaces give hobbyists the precision they need. Feed your passion for creating sentimental, customized keepsakes and elevate your gifts with the unmatched convenience of monogramming machines.
Embrace the satisfaction of seeing loved ones treasure your personalized creations.
How to Choose the Best Monogramming Machine

When selecting the ideal embroidery machine for monogramming, first determine if you'll use it for personal projects or for a business. A multi-needle commercial machine allows high-volume embroidery, while a feature-packed home model suits crafters.
Also consider the hoop size – larger is better for big items like blankets. Ensure your pick has built-in fonts and designs, so you can easily monogram names, initials, and phrases. Optimize efficiency with automated thread cutting and needle positioning. Vibrant thread in polyester or rayon makes monograms pop.
With the right machine, you can unleash your creativity embellishing gifts and clothing with sentimental, customized touches.
Type
Hark, seamstress! In your quest for personalization's zenith, beware the siren song of clever gadgets. True mastery lies not in cold mechanics, but in the patient, gifted hands that guide them. Let quality reign over quantity. Practice diligently on scraps before stitching priceless heirlooms.
Mastering any multi-needle or flatbed machine comes through time and care more than features.
Use
Customizing everyday items like shirts, hats, or totes with embroidery personalizes them and makes thoughtful gifts. Handcraft names, inspirational quotes, or floral motifs on apparel, then watch loved ones beam receiving your homemade treasures.
For large projects, utilize extended worktables and built-in designs. Connect to endless fonts online using the LCD touchscreen on advanced models. Embellish your business's aprons or display embroidered artwork thanks to generous hoop sizes and needles working in harmony.
With practice, you'll delight in these machines that channel creativity through thread.
Size
You'll want a machine with a hoop large enough for your projects. Choose a model with at least a 5×7 hoop to embroider most monograms and lettering. Larger hoops like 6×10 or 8×12 provide more space for names, motivational quotes, or large block letter fonts.
Measure your designs to make sure all the letters are uniformly sized and fit inside the hoop dimensions.
Features
An embroidery head with at least 1 needle
Ability to upload designs and fonts
Good hoop size of at least 5×7
Rather than limiting yourself to built-in options, focus on a machine's capacity to import new fonts and designs. This gives you unlimited creative flexibility when monogramming gifts, clothing, and décor.
With the right features, you can customize truly one-of-a-kind monograms for any occasion.
8 Best Monogramming Machines
Here are eight excellent embroidery machine choices for monogramming. The feature-rich Singer 9960 Quantum Stylist, user-friendly Brother HC1850, versatile EverSewn Sparrow 30, and Janome Automatic Zigzag offer premium stitching and built-in designs to elevate your projects.
Support flawless embroidery with New brothread stabilizer backing and Simthread's vibrant thread kit. Finish strong with Ultima's superb thread nippers for smooth snipping. Now go craft extraordinary monograms and motivational messages with your new embroidery mate.
1. Singer 9960 Sewing and Quilting Machine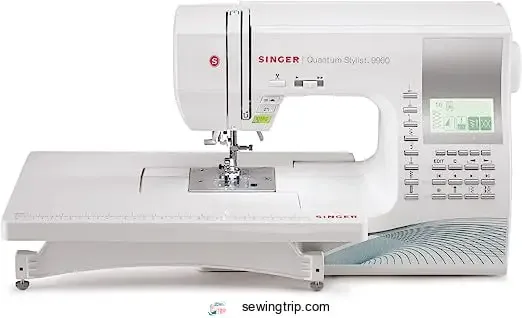 View On Amazon
Embellish your gifts and clothing with meaningful touches using this featured sewing and quilting machine. With 600 built-in stitches, 850 stitches per minute, and an automatic needle threader, the Singer 9960 enables you to easily personalize projects with monograms, names, and phrases.
Its walking foot, thread cutter, and large LCD screen further simplify quilting and fashion sewing so you can craft customized creations for loved ones.
600 built-in stitches including 5 fonts
Fast stitching speed up to 850 stitches/minute
Automatic thread cutter and needle threader
Large LCD screen and extension table
Wide range of included presser feet
Quiet operation
Heavy at 18 pounds
Plastic construction may feel cheaper
Limited compatibility with only 120V power in US
2. Brother Sewing Machine HC1850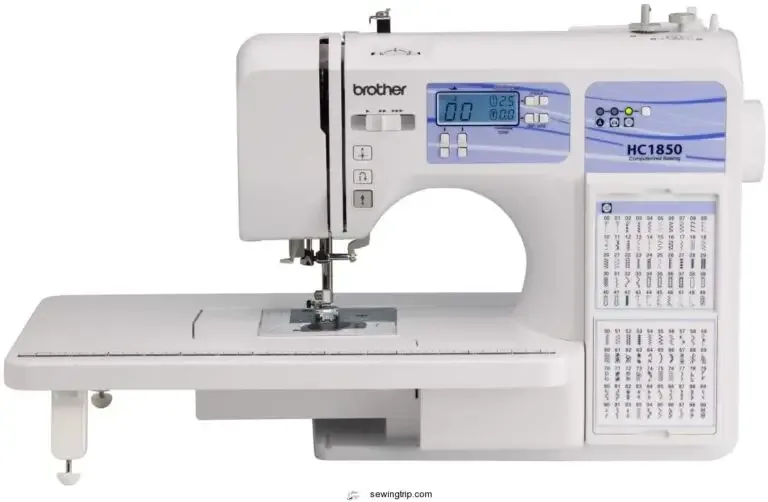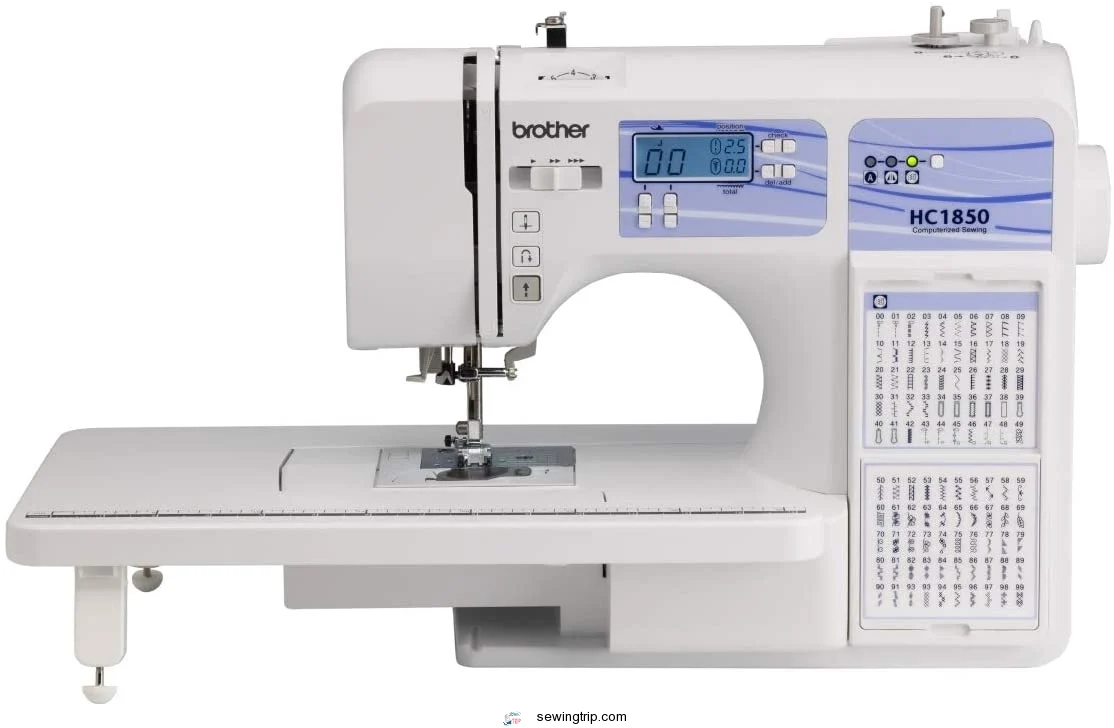 View On Amazon
Break out the mini sewing machine from Brother and get those personalized gifts stitched up in a jiffy. With 55 built-in alphanumeric stitches, you'll have monogram capabilities right at your fingertips.
This lightweight model offers ease of use with an intuitive control panel and advanced needle threader. Quickly add names, initials, and phrases to clothing, accessories, quilts, and home decor. Enjoy portability thanks to the plastic housing and smaller footprint that packs up neatly when craft time is over.
55 alphanumeric stitches for monogramming
User-friendly controls and threading
Lightweight and portable
Affordable price point
Mostly plastic construction
Only for occasional use
Compatible with 120V power in US only
3. Janome 4120QDC Computerized Sewing Machine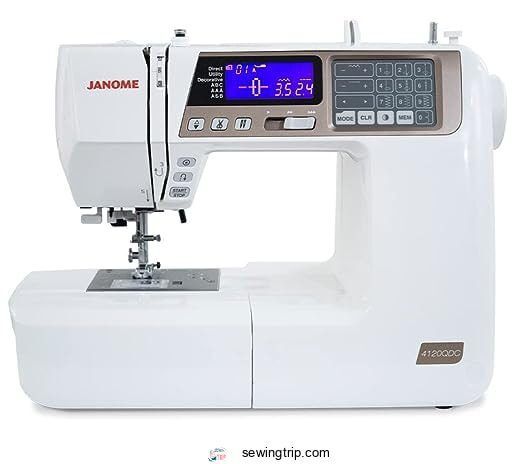 View On Amazon
Tackle personalized projects with ease using the Janome 4120QDC's built-in letter embroidery and smooth stitching. This computerized sewing machine comes equipped with 120 stitches, including 7 one-step buttonholes for finishing touches.
The intuitive LCD screen and automatic needle threader simplify setup, while the included hard cover keeps it protected. Enjoy versatility with the extension table for larger projects, assorted presser feet, and up to 820 stitches per minute.
Follow the instruction manual and DVD tutorials to understand the functions. Though noisy and with a flimsy extension table, it reliably produces beautiful stitches for clothing, quilting, and decor.
120 built-in stitches including letter embroidery
LCD screen and automatic needle threader
Comes with hard cover, DVD, accessories
820 stitches per minute speed
Produces smooth stitches
Noisy operation
Cheap extension table
Small 1/4 size letter embroidery
4. EverSewn Sparrow 30 Sewing Machine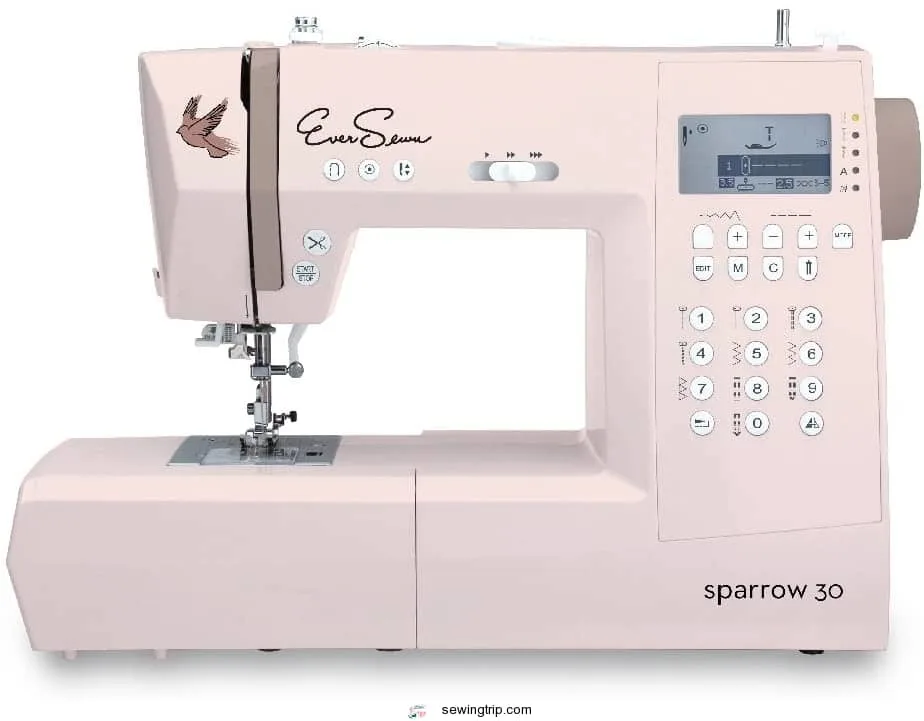 View On Amazon
You can unlock your creativity with the EverSewn Sparrow 30's versatile stitch options while keeping costs down with its budget-friendly price. This basic, imported pink metal sewing machine delivers essential features for clothing construction and home decor at an affordable price.
With 310 stitches like utility, decorative, and alphanumeric options, you can personalize projects.
Convenient functions include needle up/down, speed control, thread cutter, and a memory to save stitch combinations. The extension table provides extra workspace, while 7 presser feet tackle projects like hemming, zippers, and buttonholes.
Weighing only 17 pounds, the corded electric machine is portable for classes or groups.
Some fine-tuning may be needed, like tightening the bobbin housing. For seamstresses seeking fundamental functionality without advanced computerization, this sewing machine delivers excellent value.
310 built-in stitches
Needle up/down and thread cutter
Lightweight and portable
Quality metal construction
Budget-friendly price
May require adjustments
Basic functionality only
Slow delivery time
5. New Brothread Tear Away Machine Embroidery Stabilizer Backing
View On Amazon
The new Brothread tear away stabilizer will keep your fabric taut and prevent distortion so your monogrammed design looks sharp. As you start your next embroidery project, this medium weight stabilizer will provide just the right amount of support on lightweight or stretchy materials.
Simply hoop it with your project fabric, and it'll hold designs perfectly in place as the needle glides overtop.
With quality construction and easy handling, this stabilizer takes the guesswork out of machine embroidery so you can personalize gifts and clothes with confidence.
Holds embroidery without puckering
Tears away cleanly
Good for light/medium density designs
Multiple layers can support dense designs
Decent quality and value
Only for temporary support
Not for heavy stabilizing needs
Can't reuse pieces
6. Simthread 63 Brother Colors Polyester Embroidery Machine Thread Kit
View On Amazon
With a full spectrum of 63 brilliant polyester threads, your embroidery machine will delight in stitching any creation with vibrant color and sheen. Embrace a rainbow of hues for monograms, applique accents, home decor personalization, clothing embellishments, and any project calling for a pop of color.
Wide range of vivid, colorfast thread hues
Strong, smooth polyester embroidery thread
Resists fading and washing out
Bonus items sometimes included
Matching Brother color numbers
Good value for the quality
Some similar yellow/gold shades
Only one light blue option
Small 550 yard spools
7. Set of 2 Huge Bobbin Thread Black and White
View On Amazon
Load up your embroidery machine with these hefty black and white bobbin threads. They'll keep it chuggin' along on monogram masterpieces. These large 5500-yard spools provide excellent value and eliminate constantly refilling your bobbin.
The 90-weight polyester is compatible with popular brands like Brother, Babylock, and Bernina. You'll need an external thread stand to hold the oversized spool. While not the smoothest or shiniest thread, it gets the job done at a budget-friendly price.
Good value for the quantity
Compatible with major embroidery machines
Large spool size means less changing
Mediocre quality and texture
Too big to fit inside some machines
Prone to breaking
8. Ultima Thread Nippers
View On Amazon
Get these premium thread nippers for cutting away those stabilizer scraps around designs. The Ultima Thread Nippers provide smooth, precise cuts every time thanks to their durable, hot-forged nickel-plated blades aligned for optimal shearing.
Their lightweight alloy steel construction with a memory steel spring ensures comfort during repeated use without hand strain.
Professionals love these Italian-made nippers for production work because the sharp blades stay corrosion resistant, allowing clean snips on lightweight fabrics and threads. For tackling tricky cleanup of stabilizers on finished embroidery, these nippers make the job easy.
Hot forged nickel-plated alloy steel
Precise cutting up to 1.25 depth
Durable and corrosion resistant
Lightweight at 2.39 oz
Memory steel spring for smooth operation
Expensive
May need oiling if sticky when new
Not suitable for heavy fabrics
Tips for Successful Monogramming

With your new embroidery machine selected, let's dive into the techniques that'll take your monogramming skills to the next level.
While machine embroidery makes monogramming easier, a bit of know-how helps ensure flawless results.
Use a stabilizer like tear-away to support stitches and prevent distortion.
Apply basting spray or pins to secure fabric to stabilizer.
Check bobbin and needle condition to avoid jams.
Match bobbin thread color closely to top thread.
Hoop fabric taut but avoid overstretching.
When digitizing your design, leverage built-in lettering features and adjust size appropriately. Take time to preview the design before sewing to catch any issues early. Finally, carefully remove stabilizer without disturbing stitches when the monogram's complete.
With practice, you'll be personalizing elegant monograms in no time. Embrace the joy of creating meaningful mementos for loved ones with your trusted embroidery machine.
Frequently Asked Questions (FAQs)
How long does it take to learn monogramming? Learning basic monogramming skills on an embroidery machine takes time and practice. Expect a learning curve as you get comfortable with hooping fabric, choosing stabilizers, and mastering your machine's settings. With regular practice, most people can master simple monogramming in 2-4 weeks.
You'll get the hang of monogramming in a few weeks with regular practice. Hooping fabric smoothly, choosing stabilizers, and adjusting machine settings take time to master. Be patient, try different techniques, and don't get discouraged; monogramming skills will steadily improve as you gain experience.
Can you monogram clothes after purchasing? Yes, you can add monograms to clothes and fabrics after purchasing them. Make sure to test on scraps first. Tightly woven fabrics like denim may require stabilizer. Lightweight knits are trickier but can be done. Consider placement carefully for existing seams or pockets.
You can add monograms anywhere after buying clothes. Just test on scraps first for tricky fabrics like denim or lightweight knits. Consider placement around seams and pockets. Use stabilizers for the cleanest results.
How do I digitize an image for embroidery? To prepare custom graphics for embroidery, you'll need digitizing software to convert the image into a embroidery file your machine can read. Digitizing transforms graphic elements into stitch instructions. Some software options are Embird, Stitch Era Universal, and Wilcom.
You'll need software to turn images into stitches. Try Embird, Stitch Era, or Wilcom to digitize designs. Upload graphics, set parameters, output editable files. Experiment on scraps first. Your machine reads these files to embroider custom motifs just as you envisioned.
Can you monogram leather and vinyl? Leather and vinyl materials can be tricky to monogram depending on thickness. Very thin leathers may require adhesive stabilizer. Test on scraps first. Use sharp needles; adjust presser foot pressure. Vinyl may deflect needle, so go slow with single layer.
You can monogram leather and vinyl using the right techniques. Use sharp needles and adjust presser foot pressure. Stabilizer helps with thin leathers. Go slowly, especially on vinyl which can deflect needles.
Test on scraps first to perfect tension and stitch length before embroidering your project.
How do I get rid of stabilizer after stitching? Most stabilizers can be gently torn away after embroidery is complete. Avoid pulling too much on stitches. Water soluble stabilizer washes away with water; heat soluble disappears with heat. Some may require soaking to fully dissolve stabilizer.
Simply soak the embroidery in lukewarm water until the stabilizer dissolves. For heat soluble stabilizer, hold an iron or heat tool near the back without touching. Avoid pulling on stitches as that may distort the design. Let the stabilizer fully dissolve before removing the embroidery from water or heat.
Conclusion
You've gained valuable insight on finding the ideal monogramming machine for your needs. From compact models for beginners to multi-needle powerhouses for professionals, there's a match for every crafter's skills and projects.
Armed with tips for stabilizers, threads, accessories, and techniques, you're ready to create personalized masterpieces.
Simply choose a user-friendly machine with enough hoop size, built-in designs, and convenient features to suit your goals. Then utilize quality materials and smart settings to churn out professional-looking monograms on clothing, gifts, and decor.
With practice and passion, you'll delight in making customized creations that make meaningful memories.
So grab your machine, threads, backing, and nippers then get ready to put that personal touch on everything!
References
bestsewingmachinereviewspot.com