This site is supported by our readers. We may earn a commission, at no cost to you, if you purchase through links.
Finding the right sewing machine can be difficult enough with the range of options on the market. It's even harder to find an embroidery machine that's easy to use and that fits your skills.
That's where the Brother PE535 Embroidery Machine . There are 80 different embroideries built in, it's compact and portable, and it's even easy to use.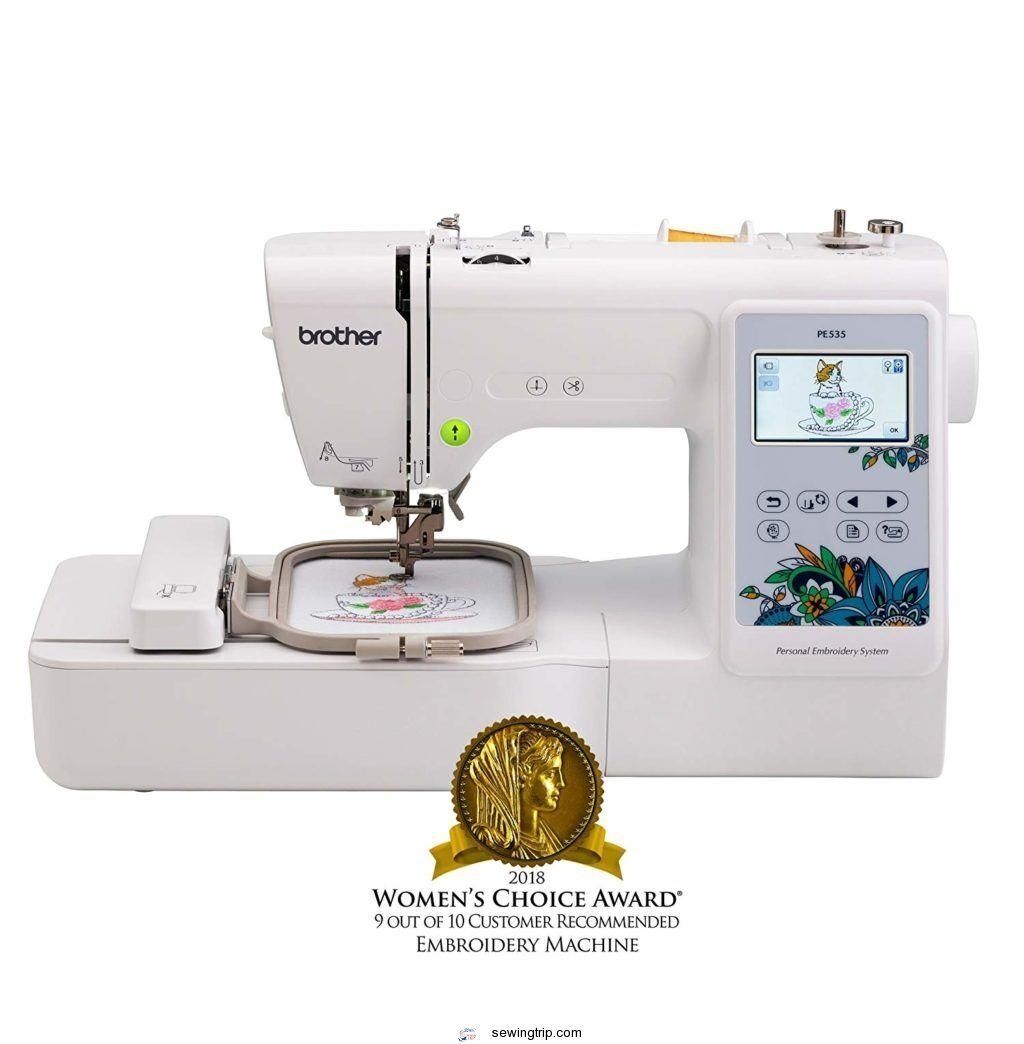 That said, not everyone had an enjoyable experience with this machine. Some users did not like that we could only use it for embroidery, while others warned it was only for novice embroiderers. look at the Brother PE535 Embroidery Machine.
Brother PE535 Embroidery Machine: The Details
The Look
The Brother PE535 embroidery machine would look pretty plain if it weren't for the LCD touchscreen.
It's primarily white, with the sole exception of the touchscreen panel – which is light gray and has a floral and leaf design in blue, green and yellow surrounding it.
There are a few buttons scattered throughout the machine, but overall it is sleek and about the size of a small microwave oven.
Specs
Weight: 10.82 lbs.
Dimensions: 16.5 x 7.8 x 12 in.
Stitching: 80 built-in designs.
Automated /Mechanic: Automated.
Spool: Dro p-in coil.
Warranty: 25 year warranty.
Accessories
Embroidery frame set.
Instruction manual.
Spools.
Needles.
Scissors.
Screwdriver.
Embroidery foot.
Spool clip.
Cleaning brush.
Driving knife.
Spool caps.
Dust cover.
Thread bobbin insert.
Spool net.
Brother: The Company
Founded in Japan in 1908 by . anemichi Yasui Brother is an electronics company that develops much more than just embroidery and sewing machines.
This company makes everything from printers to computers to fax machines. Their stated mission is to " anticipate future needs to deliver technological expertise and innovation through superior, technically user-friendly product solutions."
The Warranty
The warranty for the Brother PE 535 Embroidery Machine Sewing Machine is a limited warranty of 25 years.
This means that for one year the whole machine ; I cover the printed circuit board for five years; and they cover the chassis unit for 25 years.
Within these times, Brother will repair or replace parts to ensure that your embroidery machine works properly again. If your machine needs to be shipped, you pay that fee.
The warranty does not cover misuse or abuse of the machine, nor does it cover any of its accessories.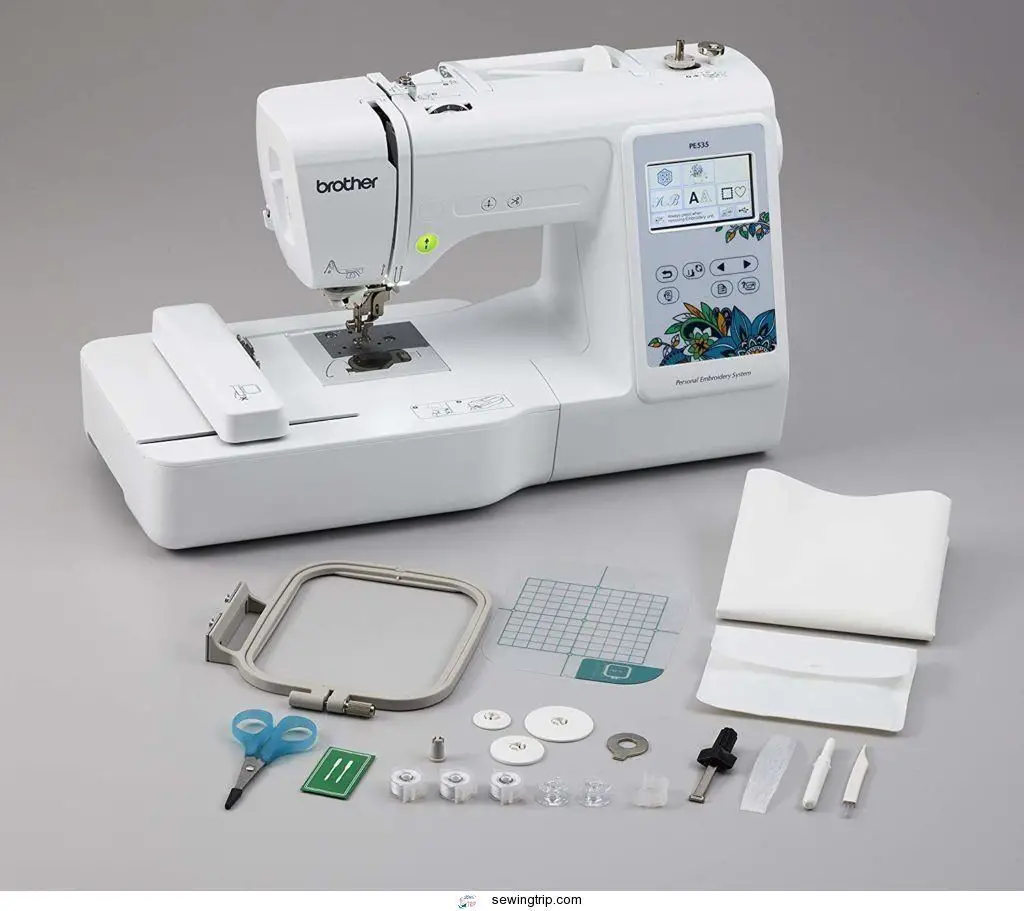 Features
80 Designs
Although the Brother PE535 embroidery machine does not have stitches, it has 80 different embroidery designs for you to choose from.
Some of the designs include different fonts, borders, flowers and Christmas motifs.
In addition, Brother provides access to iBroidery.com, so you can create almost any design you want. find. From your favorite Disney characters to Marvel heroes to specific types of letters, you can select a wide range to suit your needs.
LCD screen
This Brother embroidery machine also has an easy-to-use LCD display. screen, which allows you to see which design you have chosen.
Because it is a touchscreen, selecting the options is effortless. You can change the colors of different parts of the design, change which design the machine should create or the function you want to use.
Since the LCD touchscreen is in full colour, you can see and edit every detail of your design before sending it to the machine.
Memory
Because you have access to broad and the ability to connect a USB drive directly to the machine, Brother has also provided this device with memory for all those designs.
So, if you find a pattern online that you want to put on a shirt or pillowcase, just download it to a USB stick, connect it to your Brother and save it to memory.
This means you don't have to plug in the USB every time you want to use that design!
Needle Threader
An automatic needle threader saves time and effort. Luckily, this embroidery machine has one.
To use it, simply raise the presser foot via the lever and then raise the needle. Pass the thread through the thread guides until it reaches the needle and slides the thread behind the needle bar.
Pull the end of the thread to the left and then pass it through the notch of the threading guide. Then pull the thread from the front and insert it into the slot of the threader guide disc.
Now you can lower the presser foot and the needle and slowly turn the needle threader lever. Pull the thread through the needle and you're done! This takes much less time and effort.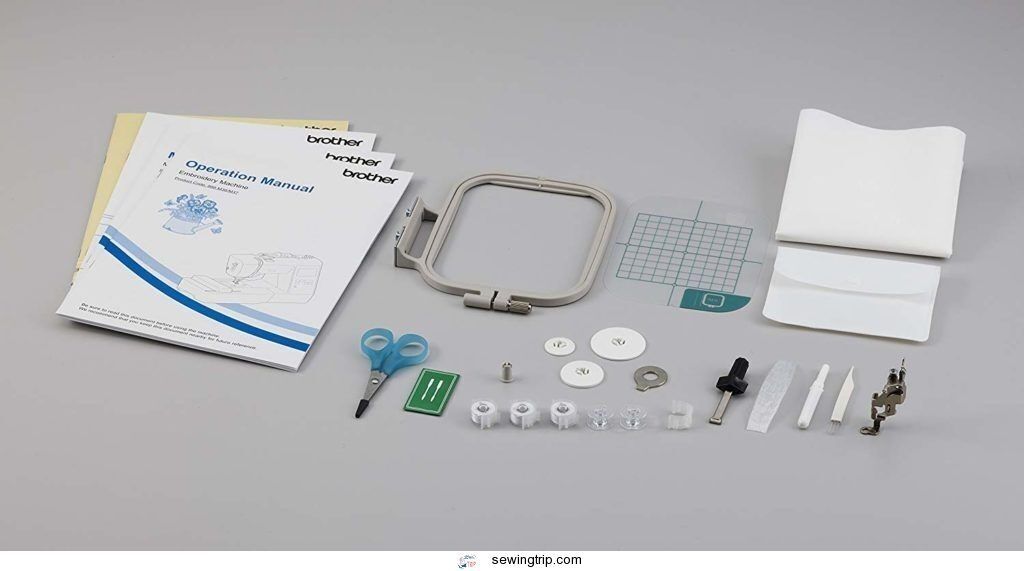 Tutorials
Although the Brother PE535 may seem difficult to use, especially Don't worry if you've never owned an embroidery machine, let alone a computerized machine!
This machine comes with built-in tutorials. You can choose the one you need and let the machine guide you through the steps. You don't even have to go to YouTube for useful tips! You'll be sewing like a pro in no time.
Brother PE535 Embroidery Machine Review
The Positives
Versatile
While 80 built-in designs don't cover everything you want to create with this Brother embroidery machine, access to the border.com website that qg. 1h5. dNnMIo a multitude of options to choose from. You are not alone with 80 designs.
In addition, you can use this machine on almost any fabric. Your imagination will not with this machine. Of course you can't just sew, but you can embroider almost anything as long as it's not super thick.
If you really want to grow and expand your skills, designs and projects out in the embroidery world. This is definitely the machine to help you do that!
Easy to use
Despite As technical as this embroidery machine may seem, it is quite easy to use.
Once you've threaded the machine, you can edit the design – of the 80 built-in designs, of the bridge.com website, or something you found yourself.
Since there is a USB port on this machine. You have complete freedom to enhance your design range, even change the colors with the touchscreen. Then the machine takes over and does all the work for you!
If you are a beginner embroidering, don't worry about a big learning curve. Brother makes this machine user-friendly, so you can get used to it quickly. And if you are already used to embroidery, switching to this machine is no problem.
Easy to set up
Before using the machine, set it up–and luckily it's pretty easy too.
The I thread bobbin like any other machine: through the bobbins and the motor to twist the thread onto the bobbin.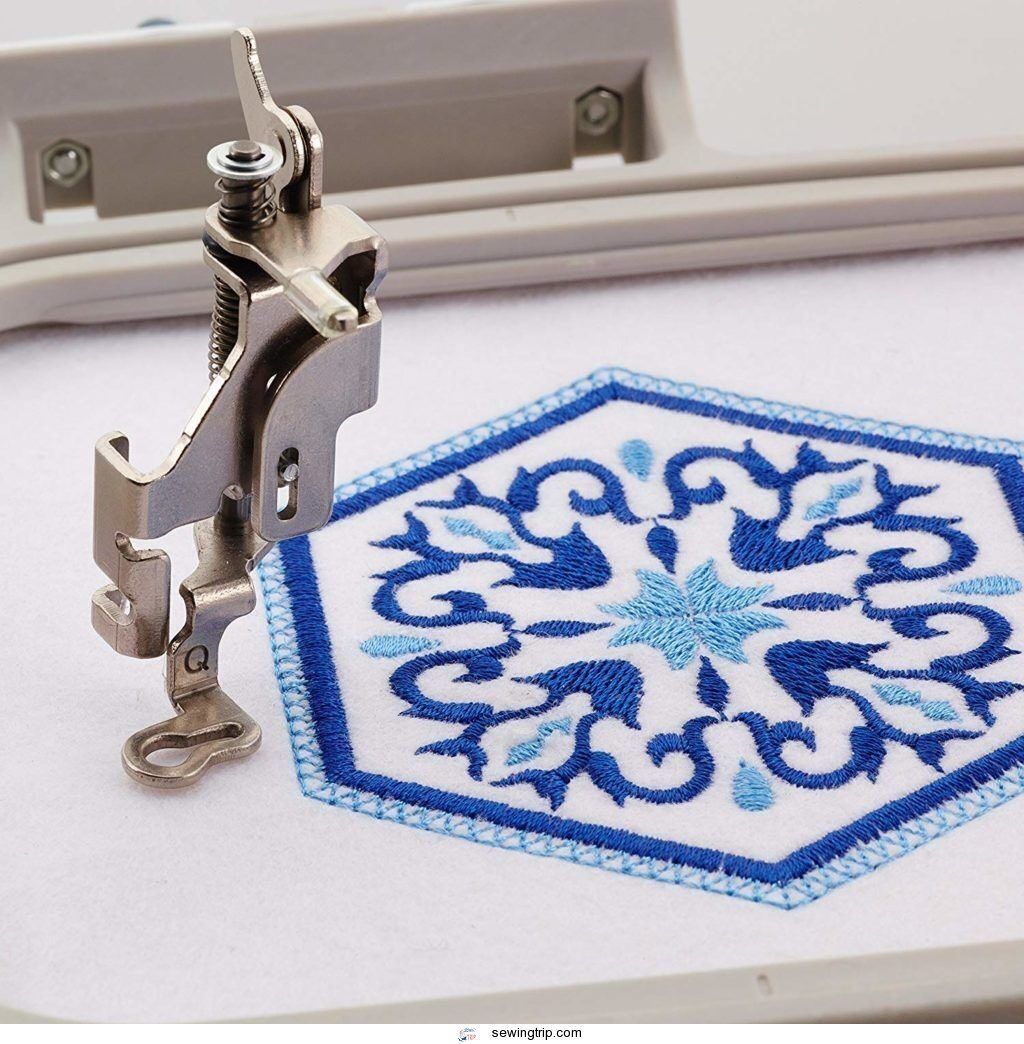 Then place the bobbin in the compartment near the stitch plate. Then all you have to do is feed the upper thread through the machine and use the automatic needle threader to thread it through the eye of the needle.
It doesn't get much easier. than that! There's not much to fiddle with and Brother makes getting started almost effortless.
Useful
With all the unique features of the Brother PE535 Embroidery Machine, what you need is at your fingertips.
With the automatic needle threader, you do not have to thread the needle yourself. the thread cutter straight on machine, you don't have to look for scissors. And with the designs and other features right on the touchscreen, it's easy to select what you want.
You hardly need to buy any extras. Brother has given you exactly what it takes to give you a great experience – right out of the box. This will save you both time and money, making the overall investment a pretty solid deal!
Portable
Also dcMuBr6LO0. taaNUoyB that this machine was so compact and portable. At just over 10 pounds, it's not very heavy and small enough to take to class, another room, or even store it neatly.
It's a compact machine, so you don't have to worry about it taking up all the space on a table or in a study if you plan on using this machine to add to your crafting tool.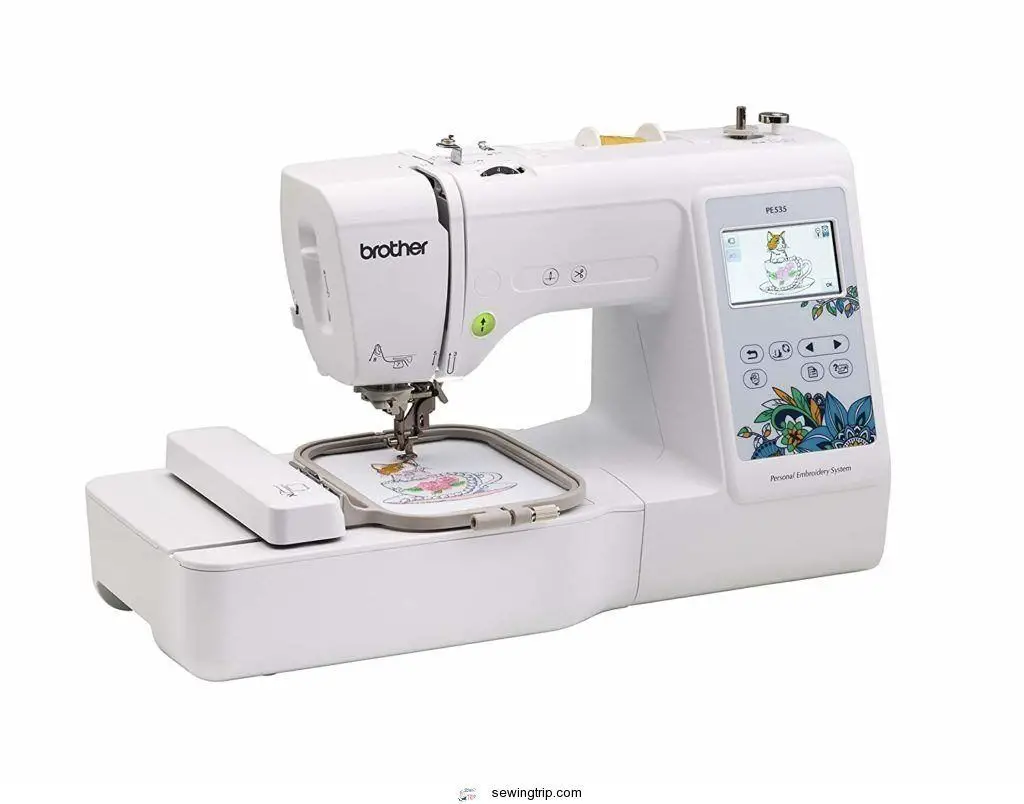 The negatives
Embroidery only
Although labeled as an embroidery machine, some users about its limited nature. It's purely for embroidering.
If you're looking for something that can also sew a hem or sew a quilt. This isn't the machine for you. However, if you just want to embroider, or already have a sewing machine, this could be the perfect option.
Not for advanced sewer
Many testers noted this machine is not suitable for those with advanced skills or needs. The embroidery area is quite small and cannot .
While you can create a range of designs. If you want to tackle those larger than a 4 x 4 square, this machine is not suitable.
The They make pE535 for beginner and advanced seamstresses who want to embroider without too much effort. This machine makes it easy to learn, but if you've been embroidering for years, you'll find that it's a limitation.
Here's a video showing what the Brother PE535 Embroidery machine looks out of the box and in action.
Overall verdict
After all positive and negative points, we recommend the Brother PE535 Embroidery Machine.
It comes with many designs and gives you the resources to find more. It is also portable and easy to set up and use. What more could you want?
Although a few people had problems, the positives far outweigh the drawbacks in this case. As long as you are not an advanced embroidery machine, this machine is perfect for you.
Where to buy the Brother PE535 embroidery machine
Brother is a brand well known in the sewing world and has been one of the top names in the market for decades.
This We know brand all over the world, with items like the Brother PE535 available both in store and online. -start your search with the following online retailers.
And of course you can also find this embroidery machine on Amazon.
]

---
That's the end of this Brother PE535 Embroidery Machine review. Fancy giving it a try?
Find more of our latest reviews here!