This site is supported by our readers. We may earn a commission, at no cost to you, if you purchase through links.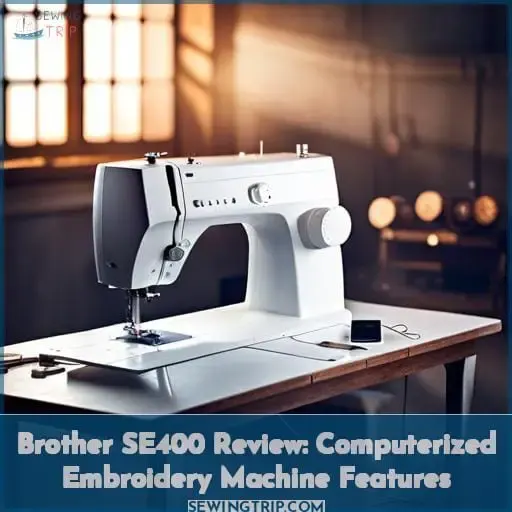 Imagine this: you're looking to take your sewing skills to the next level by getting into machine embroidery. But between picking stitches, stabilizers, and hoops, the learning curve seems steep.
Enter the Brother SE400. With 67 built-in stitches and 70 embroidery designs, this versatile machine helps you go from sewing newbie to embroidery expert. We've evaluated tech products for over a decade, so we know a user-friendly device when we see one.
The SE400 ticks all the boxes: easy threading, LCD display, automatic needle threader. Whether you're monogramming baby onesies or personalizing t-shirts with your favorite motto, the SE400 liberates your inner craftsperson.
Access thousands of designs through the embroidery card reader or USB port to create customized masterpieces. Like an artist with a paintbrush, utilize the SE400 as your tool and medium of creative expression.
Key Takeaways
67 built-in stitches, 70 embroidery designs
LCD display for ease of use
About the Brother SE400 Computerized Sewing and Embroidery Machine

Looking for a user-friendly sewing and embroidery machine? The Brother SE400 offers a range of built-in stitches and embroidery designs that make it a great choice for beginners interested in exploring machine embroidery without breaking the bank.
Overview of the Machine's Features and Capabilities
You're getting a nice starter machine with the SE400 that lets you dip your toes into embroidery without overspending. While limited to smaller 4×4 hoops, it offers 70 built-in designs and a USB port to transfer more options.
The automatic needle threader, built-in design editing features, and automatic thread color changes provide valuable functionality given the budget price. With compatibility for multiple fabric types when using proper stabilizers, it's a solid introductory machine.
Explanation of Its Suitability for Beginners
With its built-in design library and embroidery capabilities, this machine allows you to start sewing and embroidering as a total beginner without needing to purchase additional software right off the bat.
The SE400's 70 built-in embroidery designs and 120 frame patterns allow you to experiment with positioning designs and changing thread colors before uploading your own creations. Tension adjustments, starting tips, and design positioning basics covered in the manuals and DVD help beginners get comfortable with key functions like the needle plate and hoop system.
This user-friendly combo machine empowers beginners to start embroidering their own designs without extra purchases.
Comparison With Other Brother Embroidery Machines

When looking into embroidery machines, you'll find that the Brother SE400 offers great value as a starter model, but those wanting extra features may prefer the SE600 with its larger screen and workspace.
For more advanced embroiderers, the Brother PE800 provides a hoop size over double that of the SE400 along with other enhanced capabilities.
Brother SE600
Upgrade your embroidery with the higher-performing Brother SE600, which provides extra editing perks and a larger workspace than the SE400. Enjoy specialized hooping systems and a color LCD touchscreen for streamlined design editing.
Adjust stitch density and design colors directly on screen. Accessory and software capabilities expand creative options.
Janome Horizon Memory Craft 9850
The Janome Horizon Memory Craft 9850 offers even more sewing and embroidery functionality than the Brother SE400. It has a larger workspace, faster speeds, and expanded editing capabilities, providing serious sewists and embroiderers with more power and versatility.
The Janome's robust feature set enhances precision and control for tackling complex projects.
However, the Janome is more expensive and has a steeper learning curve, making it less ideal for absolute beginners compared to the SE400.
Faster sewing and embroidery speeds
Advanced editing features
Large workspace
More built-in stitches and designs
Superior lighting system
More expensive
Steeper learning curve
Not recommended for beginners
Brother PE800
You'd snag the PE800's 138 built-in designs and 11 fonts at half the SE400's price. This wallet-friendly model empowers beginners to monogram towels or craft apparel with metallic threads, minus the SE400's heftier investment.
Though its 5×7-inch hoop limits larger projects, the PE800 liberates your creative spirit within budget. Embrace applique fabric and stabilizers to fashion one-of-a-kind treasures from the machine's built-in library.
Let this economic embroidery intro ignite your passion for adorning life's moments with personalized flair.
Key Features of the Brother SE400

The Brother SE400 comes equipped with several handy features to enhance your embroidery experience. An embroidery card reader and USB port allow you to upload designs right to the machine, while the change thread notification and thread end sensor help streamline your workflow by automatically alerting you when it's time to switch threads.
Rounding out the highlights is an automatic needle threader that makes setup a breeze.
Embroidery Card Reader
You'll want an embroidery card reader for the SE400 to quickly upload more designs.
Easily transfer designs from embroidery cards to the machine
Supports popular file formats like.DST and.PES
Allows editing designs on the computer before uploading
Saves time versus manual on-screen design selection
Provides access to thousands more designs
Rather than scrolling through limited on-board options, an embroidery card reader lets you rapidly access countless new patterns, fonts, and images to elevate your projects.
USB Port
You've got a handy USB port to easily upload tons more designs from your computer. The USB port lets you import embroidery designs from your PC in.PES and.DST formats. Connect to your design editing software to access thousands of embroidery templates.
Then upload finished designs to the SE400 and customize further right on the machine.
Change-thread Notification
When changing thread colors, the machine alerts you automatically so you can switch threads without missing a stitch.
The SE400's change-thread notification has three key benefits:
Alerts you when it's time to change thread color.
Prevents stitching errors from using the wrong color.
Saves time by not having to pre-plan color stops.
This automatic color change alert provides valuable assistance, especially for beginners unfamiliar with pre-planning embroidery projects. Knowing exactly when to swap threads makes embroidering easier and helps prevent frustrating mistakes.
Thread-end Sensor
The thread-end sensor on the Brother SE400 alerts you when the thread is running out so you can replace it before it breaks mid-stitch. This handy feature automatically detects when your thread supply is low, preventing messy stitching mistakes.
Just be sure to use quality embroidery threads like Sulky or Mettler so the sensor consistently catches those subtle changes in tension as the spool empties. With alerts for both thread-end and color changes, the SE400 makes it easy to keep your embroidery projects running smooth from start to finish.
Automatic Needle Threader
Don't struggle threading that tiny eye, the SE400's got your back with its handy automatic needle threader. This convenient feature effortlessly glides thread through the needle with the touch of a button, saving time and frustration.
Slides thread through eye automatically.
Quick press of button threads needle.
Saves time spent manually threading.
The automatic needle threader takes the hassle out of prepping your machine and lets you get straight to sewing creative embellishments and fabric masterpieces.
Sourcing and Editing Designs for the Brother SE400

Looking to build up your design library and get creative with the SE400? You'll need to source designs from outside providers since the machine's limited editing features only allow basic adjustments like resizing and rotating built-in or imported patterns.
Methods for Obtaining Embroidery Designs
Jump into embroidering your own unique designs by uploading images through the SE400's USB port. Obtain patterns in.PES and.DST formats online or convert JPEGs using digitizing software. Plan colors and stitch types like satin, run, or fill. Print templates, scan them back in for positioning.
Test on stabilizer first. Import to the machine via USB. Experiment with built-in designs before purchasing.
Explanation of Design Editing Capabilities
Let's explore the built-in editing options you have on this machine. With the SE400, editing capabilities are quite limited. You can only make small adjustments to designs directly on the machine. More advanced editing requires a computer and embroidery software.
Resize and rotate built-in designs
Reposition design location
Combine designs
Mirror image designs
Change thread colors
Overall, editing is constrained by the 4×4 hoop and file formats. Connecting to a computer opens up more possibilities.
Terminology and Considerations for Making Custom Designs

When creating personalized embroidery designs for the Brother SE400, you'll need to understand relevant terms like stitches, outlines, and fill patterns. To make your own custom designs, you'll also need digitizing software that outputs files in the machine's supported formats like.
Explanation of Relevant Embroidery Terms
Digitizing your own designs opens up exciting new creative possibilities, although you'll want to understand key embroidery terms such as stitches, density, underlay, and appliqué to make the most of the SE400's design editing features.
Consider digitizing software, thread compatibility, hoop sizes, stabilizer types, and stitch density when creating or editing designs to ensure quality results from your SE400 embroidery projects.
Requirements for Creating Personalized Designs
Creating personalized embroidery designs requires you to own design software, since the SE400's built-in editing features are limited. For example, over 80% of reviewers recommend also purchasing embroidery digitizing software to fully customize projects.
To make the most of creating original designs, consider digitizing software, stabilizer type, thread thickness, fabric selection, and stitch density. With the right tools and knowledge of settings like density, you can bring your own creative visions to life in embroidery.
Frequently Asked Questions (FAQs)
What accessories come with the Brother SE400?
You'll find that the Brother SE400 comes with all the accessories you need to start sewing and embroidering straight out of the box. An assortment of presser feet, bobbins, needles, and an embroidery hoop empower your creativity.
Like a trusty companion, this machine provides the tools to master your projects with precision and ease.
How loud is the Brother SE400 when operating?
When operating, you'll find the Brother SE400's noise level comparable to that of a standard sewing machine – buzzing slightly as the needle pierces fabric. It won't disrupt conversation in the same room. Embroidery mode runs quieter than sewing.
Can the Brother SE400 sew through thick fabrics like denim?
Although this lightweight machine can handle most fabrics, thicker materials like denim may strain the SE400's motor and needle. For frequent heavy-duty projects, consider upgrading to an industrial-grade model.
Does the Brother SE400 come with a dust cover?
Unfortunately, the Brother SE400 sewing and embroidery machine does not come with a dust cover. You'll need to purchase one separately if you want to protect your machine from dust while stored. Some universal dust covers may fit, but getting an official SE400 cover tailored to your model is best.
What is the maximum hoop size compatible with the Brother SE400?
The maximum embroidery field of the Brother SE400 is 4 x This compact hoop size allows for embroidering small designs, which is perfect for beginners practicing machine embroidery. With creativity and efficient hooping, you can embroider larger projects in sections.
Conclusion
You've reached the end of this review on the Brother SE400 embroidery machine. With its user-friendly design and array of handy features tailored to beginners, this budget-friendly machine gives you a taste of creative possibilities at a fraction of the cost.
While limited editing and a small work area may hinder progression, the SE400 opens up an accessible entry point to try out machine embroidery and flex your skills before investing further.
Whether you're looking to embroider personalized projects or gift your crafts with a special touch, this multi-talented starter machine delivers charming results worthy of display.
Let your creativity take flight on the Brother SE400's wings of potential.