This site is supported by our readers. We may earn a commission, at no cost to you, if you purchase through links.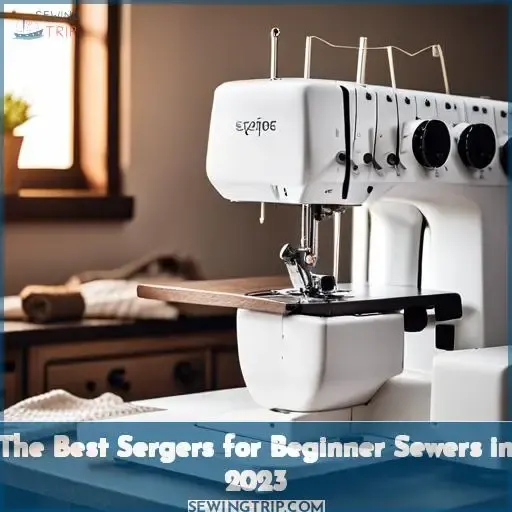 You're exhausted. Another late night trying to decipher those cryptic IKEA instructions and cursing as you desperately try to assemble what might pass for a bookshelf. If only there was an easier way to get professionally finished edges on your DIY projects.
Enter the serger – your new sewing sidekick. This nimble little machine will save you hours of frustration with its lightning-fast stitches, slicing away fabric edges as it sews for flawlessly smooth finishes.
Forget struggling with loose threads and unraveling seams. The serger is here to rescue your sewing game.
But choosing your first serger can be daunting. Let an experienced seamstress guide you. Here's what to look for in picking the best serger for beginners, along with my top-rated recommendations.
Key Takeaways
Sergers provide professionally finished edges with lightning-fast stitches and fabric edge slicing.
Choosing a serger can be daunting for beginners, but understanding basics like stitch length and thread tension is important.
Look for easy threading, diagrams, and guides for beginners when choosing a serger.
Affordable beginner models include Brother 1034D, Singer 14CG754, Juki MO644D, Janome 8002D, and Bernina 1230.
Understanding the Basics of Sergers

I know it can seem daunting at first, but don't let that stop you from diving in and learning all about sergers. Getting familiar with the basics like stitch length, thread tension, and stitch width will help you get comfortable handling different fabrics and playing with the needle positions.
It just takes some practice adjusting those settings to get the results you want.
The more time you spend getting to know your machine, the easier it will be to achieve the professional seams, edges, and hems that sergers are known for. Soon you'll look back and wonder why you ever found it intimidating. With a bit of know-how, you'll be serging with confidence in no time.
Top Features to Look for in a Beginner-Friendly Serger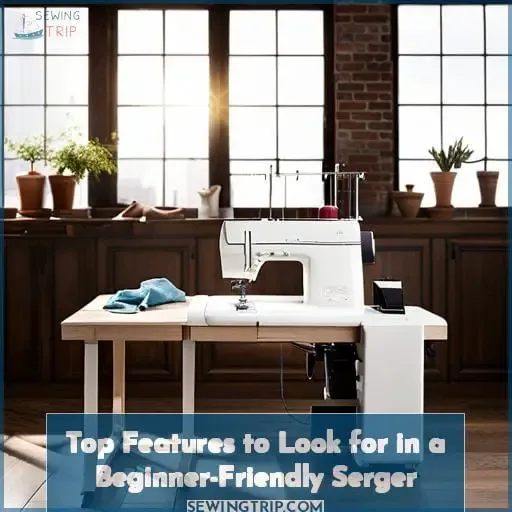 You're gonna want a serger with an easy threading system as a beginner. Look for models with color-coded threading diagrams and guides to make the process frustration-free. Dual needle capabilities allow you to seam and overcast in one pass, saving time.
Aim for at least 4 built-in stitch options like a 4-thread overlock and rolled hem for versatility. Adjustable tension dials give you control over stitch tightness. Make sure the machine comes with standard presser feet plus specialty feet for tasks like blind hemming.
Multiple presser feet expand your serging possibilities. With features like easy threading, stitch options, adjustable tension, and multiple feet, you'll find a serger that grows your skills without the struggle.
Affordable Options for Beginners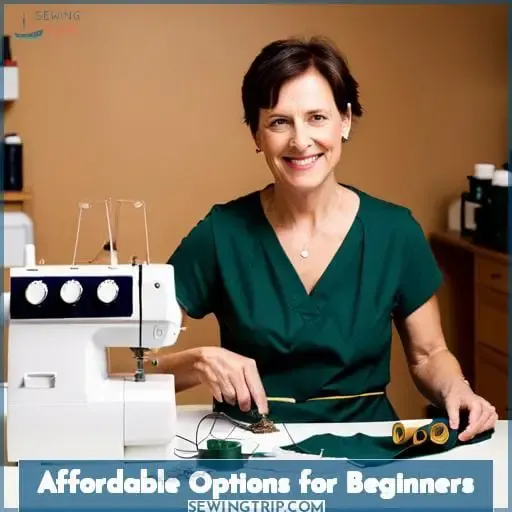 Well now, my dear, those pricey sergers are certainly plumb out of your budget! When you're just starting out, it's best to begin with a more affordable model that still offers decent quality without too many bells and whistles.
Here are five great budget options for beginner sewists:
Brother 1034D Serger – A simple 3/4 thread serger with basic features to help you get your feet wet.
Singer ProFinish 14CG754 – A 2/3/4 thread serger with adjustable settings for under $200 bucks.
Juki MO644D – Japanese engineering offers great performance if you can live without rolled hems and a coverstitch.
Janome 8002D – A basic 3/4 thread model with easy threading and dial tension control.
Bernina 1230 – Swiss precision with fewer frills but excellent stitch quality.
Now don't fret if you miss some fancier features for now. Focus on learning the basics, and you can always upgrade later once you improve your skills and want to expand your serging horizons!
Serger Recommendations for Garment Construction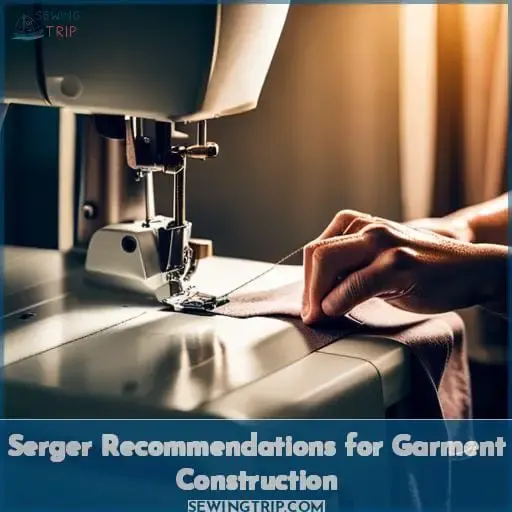 Sewing seams and hems faster makes garment construction a breeze when you've got a starter serger that handles lightweight fabrics. Look for a model with easy-to-adjust thread tensions, built-in rolled hems, and options for changing stitch width and length.
You'll zip through projects once you find the optimum settings for your fabric type – whether it's a basic cotton, stretchy knit, or slippery satin.
With the right presser feet, the possibilities open up even more. Swap in a narrow foot for navigating plackets and sleeves or a blind hem foot to conceal edges. Getting the perfect seams on your garments is satisfying and will keep you coming back to your handy serger again and again.
Serger Recommendations for Quilting and Finishing Touches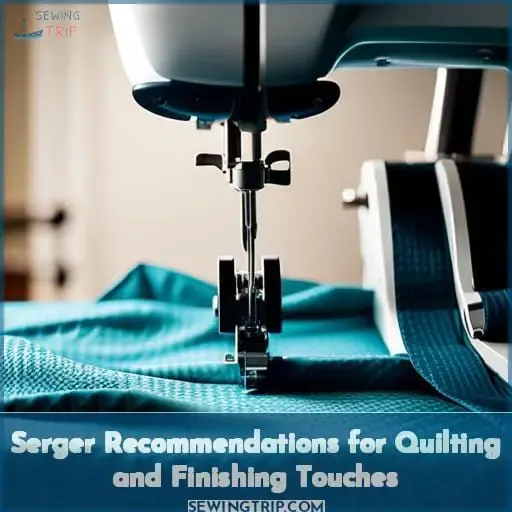 Lighting up your quilting space, a serger helps finish seams and edges for neatness. As an experienced quilter, I know the benefits a serger brings to finishing touches. Gliding fabric through, you'll conquer design challenges and tension troubleshooting with specialty presser feet.
Mechanical issues won't stop your creative flow. Just keep stitch optimization top of mind as you experiment with settings for different materials. Soon, it's second nature to deliver professional results in a fraction of the time.
With practice, you'll handle any project with ease, creating quilts worthy of an award-winning master quilter.
Frequently Asked Questions (FAQs)
How difficult is it to thread a serger for the first time?
You'll find threading a serger tricky at first. Don't be discouraged! With practice, you'll get the hang of following the color-coded paths and grabbing the tiny looper threads. Soon, it'll be second nature to wind thread through the guides, tension discs, and loop it around the needles.
Stick with it through the frustration – that satisfying whirr when all threads engage will make the effort so worthwhile.
What accessories do I need for my serger other than standard threading tools?
You'll want a set of specialty serger tweezers to grip threads when threading loops. Quality scissors tailored for sergers help precisely trim thread tails. A seam gauge ensures accurate seam allowances.
Adhesive tape secures fabric edges when overlocking. Finally, get serger needles specifically designed to avoid skipped stitches at high speeds.
How do I clean and maintain my serger properly?
Clean lint buildup regularly. Oil the machine monthly. Replace needles when they become dull. Follow the manual threading instructions carefully. Test stitch settings on scrap fabric beforehand. Adjust tensions if necessary. Wipe down the exterior after each use. Store the serger covered when not in use.
What tips do you have for managing serger waste?
Save all the fabric scraps. Sort them by fiber content and stash them for stuffing or scrap projects. Tie threads tightly before cutting to avoid tangles. Keep a dedicated trash can close by for quick cleanup as you sew.
I'm left-handed – are there any special considerations when using a serger?
Adjust the needle position for easier threading. Keep extra lighting on the left to illuminate your work area. Use your right hand to guide fabric, and your left hand to operate the machine. Angle the work surface to the left for the best ergonomics.
Practice basic stitches before tackling complex projects. Don't hesitate to customize the setup for your comfort.
Conclusion
As a beginner sewer, investing in a quality serger may seem daunting, but it doesn't have to be. Focus on finding an affordable model with essential features like adjustable stitch length and width, a color-coded threading system, and differential feed.
This allows you to practice serging seam finishes, rolled hems, and overlocks as you gain experience. With the right beginner serger, you'll be creating professional-looking garments and quilts in no time.
The satisfaction of finishing projects with a serger is well worth the initial investment.