This site is supported by our readers. We may earn a commission, at no cost to you, if you purchase through links.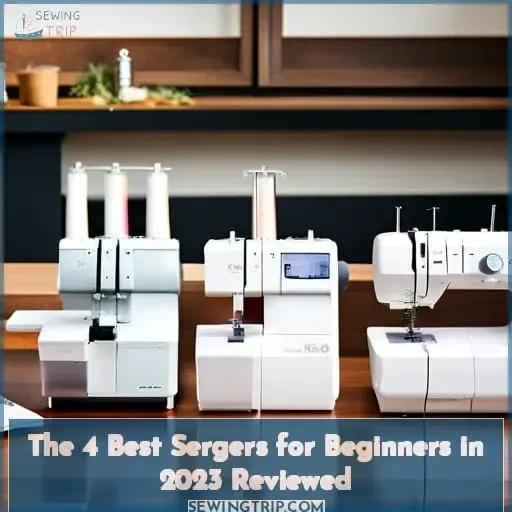 makes sewing motion Well, well, look who's finally interested in joining the expert serger club. Here I stand with a trusty serger in hand, ready to initiate you into our elite sewing sorority. But first, a test – can you handle the truth about these convoluted contraptions? Hold onto your needles, the steep learning curve on sergers is real. However, fear not! With this definitive guide detailing the best sergers for beginners, you'll be finishing seams and hems in style. Let's cut to the chase and dive right into demystifying sergers. You're just stitches away from sewing success.
Key Takeaways
Sergers excel at finishing edges and preventing unraveling but cannot replace a sewing machine for construction, buttonholes, quilting, etc.
Beginner sergers should have features like a retractable upper knife for sewing without cutting, easy threading, and specialty feet.
When selecting a serger, consider adjustability in terms of tension discs/dials, stitch length/width knobs, and differential feed for different fabrics.
Regular maintenance such as cleaning, oiling, and replacing needles and feet is necessary to keep the serger in good condition.
Top 4 Best Sergers for Beginners Reviewed
Let's cover some of the best serger machines for beginners. We'll look at the Singer ProFinish 14CG754 Serger Sewing Machine, Brother 1034DX Overlock Machine, Juki MO 1000 Serger with Jet Air Looper Threader, and Janome 8002D Serger with accessories.
These models provide quality construction and user-friendly features to help you get started serging.
Singer ProFinish 14CG754 Serger Sewing Machine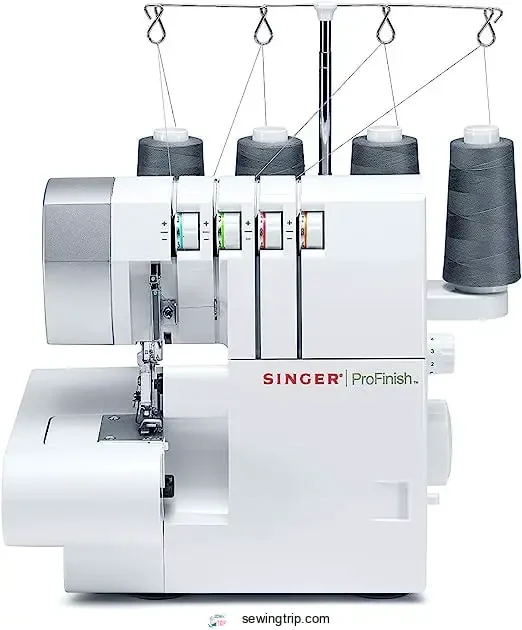 View On Amazon
You'll love how the Singer ProFinish serger adds professional finishing touches to your sewing projects with its fast speed, easy threading guides, and adjustable stitch settings.
The ProFinish can sew up to an impressive 1300 stitches per minute to help you finish seams and edges quickly.
The color-coded threading system walks you through how to thread the loopers and needles for simple setup. Once threaded, you can easily customize your stitches with controls for adjusting the length and width.
Whether hemming knits or finishing woven seams, the differential feed will prevent stretching and puckering.
The free arm lets you serge cuffs and sleeve hems with ease.
This feature-packed serger provides the convenience and stitch quality needed to elevate your sewing.
Fast 1300 stitches per minute
Color-coded threading guides
Adjustable stitch length and width
Differential feed for knits
Free arm for sleeves and cuffs
Tricky needle threading
Vibrates during use
Minimal interior lighting
Brother Serger Overlock Machine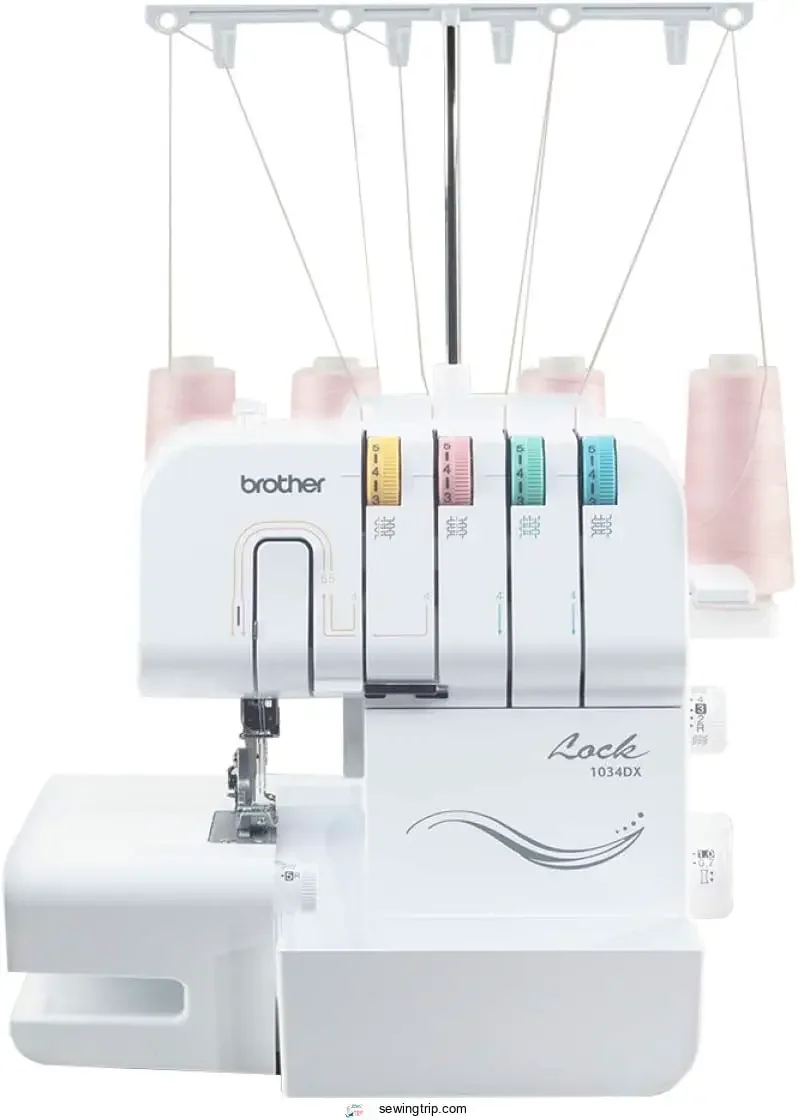 View On Amazon
The Brother 1034DX serger incorporates a metal frame and can handle multiple fabric layers, juxtaposing sturdy construction with sewability. As a high-performance 3/4 thread serger, the 1034DX offers color-coded threading guides and numbered loopers to simplify setup.
It has a sewing speed of 1300 stitches per minute, making it efficient for consistent finishing even on heavy projects. The included accessories, like specialty feet, expand your creative options. However, some users have reported oil leakage.
Despite this, the metal body and accessories make the 1034DX an excellent value. It is a reliable upgrade if you feel limited by basic models or need to replace an older machine.
Sturdy metal frame
Good value for the price
Easy-to-use guides
Reliable performance
Some oil leakage reported
Needle threading can be tricky
Juki Serger Push Button Jet Air Looper Threader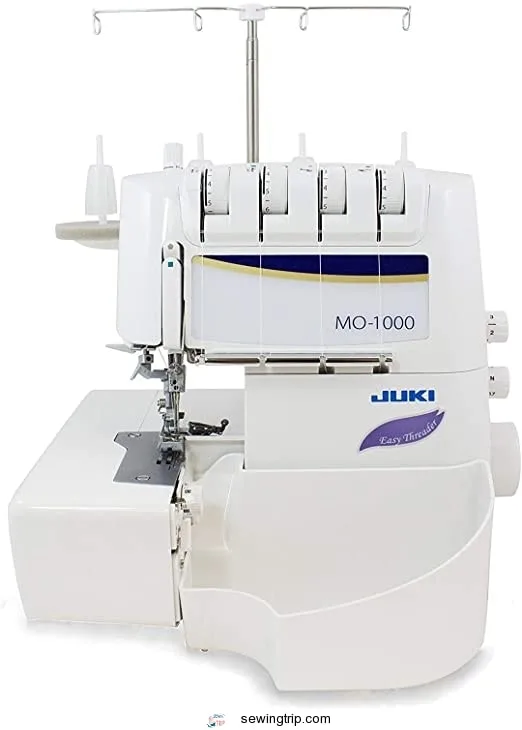 View On Amazon
With its push-button jet air looper threading, you can effortlessly experience high-quality seams from this Juki serger. Give yourself the gift of precision with this innovative model's ample 72.4 mm work space.
Let the LED light guide your fabric as the quiet operation soothes your spirit. Your vision will become reality with the adjustable differential feed, which conforms woven and stretch fabrics to your creative will.
This serger is compatible with various weights and textures through the 4 versatile threads, nourishing the process and product.
Though more cumbersome to initially set up, a little patience brings great rewards. With practice, you can master the art of perfectly interlacing the threads into one harmonious union. Some users report oil leakage and tricky needle threading, but solutions exist through tutorials and customer support.
Invest in yourself by investing in a machine built to bring ease and excellence in executing your sewing dreams.
Air threading system for loopers
Adjustable differential feed
Ample 72.4 mm throat height
Needle threading not as easy
Some oil leakage reported
Lower looper may not self-thread
Janome 8002D Serger Bonus Accessories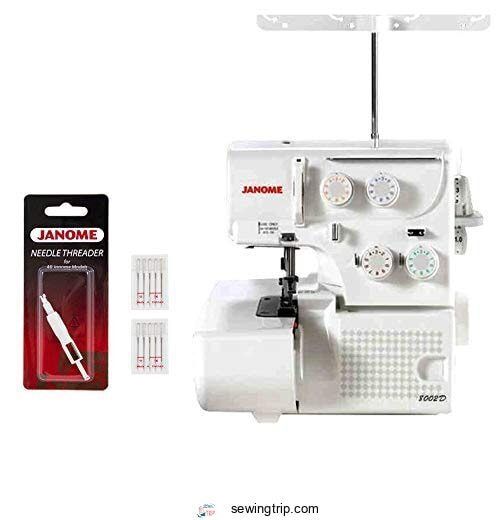 View On Amazon
Let's break this down step-by-step:
Sew yourself a straight seam by getting the Janome 8002D serger with handy tools as a kickstart for hemming fabrics quickly. The Janome 8002D serger comes pre-threaded, so you can start sewing right away. Practice with some scrap material first to get comfortable with threading the loopers.
While it may be tricky at first, threading the lower looper will get easier as you gain experience. This affordable serger provides nice finished edges to elevate your sewing projects.
Comes pre-threaded and ready to sew out of the box
Good value starter serger for beginners
Provides professional edge finishing
The lower looper thread path is hard to see initially
Some customers have reported issues with pre-threading on delivery
Not the most budget-friendly model
What is a Serger and Why Do You Need One?

You'll be amazed at the professional touch a serger adds to your projects. A serger trims and finishes the raw edges of fabric as you sew for a clean result.
Here are 3 key benefits a serger provides:
Prevent fraying – Sergers trim and encase fabric's cut edge while stitching so it doesn't fray.
Save time – Sergers stitch and finish seams in one step, compared to a sewing machine's two steps.
Professional finish – The stitched seams from a serger look store-bought, unlike home sewn.
Investing in a serger helps maximize your sewing skills for advanced garments and crafts. With the right needles, threads, and settings, you can troubleshoot issues like puckering. Adjustable tension and differential feed allow you to serge all types of fabrics.
While the learning curve takes practice, a serger adds finesse and durability to projects.
What Can and Can't a Serger Do?

Create a masterpiece as a serger liberates your creativity. A serger excels at finishing edges and prevents fabric from unraveling with its looping stitches. Its specialized feed system creates flat, durable seams for knits that surpass a sewing machine's capabilities.
Experiment with decorative threads in the loopers to add edge embellishments. Adjust the differential feed and stitch length to sew smooth curves without stretching or puckering the fabric.
Easily sew sleeves, cuffs, collars, and other cylindrical pieces using the free arm. While a serger opens new possibilities, it can't replace a sewing machine for construction. You'll still need your trusty machine for topstitching, buttonholes, zippers, hemming, quilting, and mending.
Embrace your serger's strengths and accept its limitations to maximize your sewing potential.
What Features to Look for in the Best Serger for Beginners

As you evaluate sergers for the first time, focus on a few key features that impact ease of use. Start by checking the number of threads, which determines the types of stitches available. Look at the needle system and threading design to gauge how tricky it will be to thread.
Examine the tension system and test that you can adjust it well. See how easy it is to change the stitch width and length.
Number of Threads
When deciding on the best serger for beginners, you'll want to start by considering the number of threads. Most entry-level sergers offer 2-4 threads. Two threads are good for seaming lightweight fabrics, while three threads create decorative rolled hems.
Four threads offer flexibility and durability for high-stress seams. Assessing your projects and fabrics will guide your choice here. More threads allow more stitch formation options but require more tension adjustments.
Needle System
Consider a serger's needle system when selecting the best model for beginners. Retractable upper knives allow you to sew without cutting – perfect while getting acclimated! Quality needle systems feature tension controls and fabric guides for smooth fabric feeding.
Look for easy threading, a removable stitch finger, and specialty presser feet. Models with automatic needle threaders simplify setup. Prioritize ease of use and flexibility to gain confidence as you progress from sewing machines to serging.
Tension System
Check the serger's tension discs and dials to ensure proper thread tightness for balanced stitches. The tension system controls how the threads interact for quality stitch formation. Examine tension guides, noting any color coding. Test different fabrics, adjusting the tension settings until achieving a balanced stitch.
Ease of Stitch Width and Length Adjustment
You'll want a serger with easily adjustable stitch width and length dials to fine-tune settings on the fly.
Control knobs should be sensitive for micro-tuning.
Check if adjusting one dial affects the other to balance tension.
Test knobs on display models for smooth turning and clear markings.
Prefer dials with firm clicks between settings versus loose spinning.
Ideal models allow quick adjustments without tools for custom stitches.
In your search for the perfect beginner serger, pay close attention to the stitch length and width adjustment controls. You'll be tweaking these settings often to achieve balanced tension. High-quality sergers will give you the precision to customize settings for different fabric types and sewing techniques.
Retractable Knife
A retractable knife allows you to practice sewing seams without cutting the fabric. As a beginner, having the ability to disengage the cutting blade provides a sense of safety and control. You can focus on learning proper thread tension and stitch formation first. Then, when you're ready, engage the cutting width lever to trim fabric edges for polished, professional seams.
Serger Brands and Models to Consider When Choosing the Best Serger for Beginners

Here are some popular serger brands and models worth looking at when selecting your first serger.
Singer – The Singer ProFinish and Singer 14T968DC sergers are excellent choices for beginners thanks to their ease of use, threading guides, and flexibility.
Brother – Brother sergers like the 1034DX are known for consistent stitch quality and reliability even at high speeds.
Janome – The Janome MOD-8933 is user-friendly with great features. The brand is known for quality construction.
Juki – The Juki MO654DE is popular for its quiet operation and its ability to make rolled hems effortlessly.
Baby Lock – Baby Lock sergers like the Evolution offer superior stitch formation on knits and stretch fabrics.
When deciding on your first serger, consider adjustment abilities, multiple threads, and gathering ability. Reputable brands like Singer, Brother, and Janome offer quality entry-level models to learn on.
Investing in a durable machine will allow you to grow your serging skills over time.
Is a Serger Machine Hard to Use?

Many find mastering a serger takes patience and practice. The benefits are undeniable, yet threading multiple loopers and managing numerous settings can feel daunting. Start by ensuring you select a model with an easy threading path like the Singer 14J250 Stylist II Serger.
Next, practice on fabric scraps to grasp adjusting settings like thread feed, stitch type selection, and line tension.
The complexity of the looper system and managing differential feed will likely require consulting your machine's manual repeatedly. With models like the Janome MOD-8933 and Singer 14T968DCE, persistence through the learning curve brings mastery of overlock machines and professional results.
Though serging proficiency takes time, keep going. The versatility and finesse sergers offer sewers is worth the effort.
What Things Should I Consider Before Buying a Serger Machine?

When purchasing your first serger machine, there are several important factors to consider before making this investment. Start by thinking about your sewing plans and how often you'll use the serger. Then, look for an entry-level model with essential features like differential feed, multiple threads, and easy threading.
Key things to evaluate are the stitch quality, ease of use, and warranty. An adjustable differential feed prevents stretching or puckering. Finding the best serger for your needs and skill level takes some research, but it's worth the effort to add finesse to your projects.
How Do You Plan to Use It?
Consider what projects or techniques you want to use the serger for before deciding on a model.
Decorative edges
Rolled hemming
Knit fabrics
Stretch sewability
When making a serger purchase, evaluate your experience level and how much you plan to use the machine. Selecting the right features and price range depends on your goals. A basic model can suit beginning sewers focused on finishing woven seams occasionally.
More advanced options help frequently serge knits or create decorative edges. Focus on capabilities that align with your needs and skills.
Selecting the Best Serger for Beginners
When choosing a starter serger, look at models like the Singer ProFinish or Janome 8002D that have easy threading paths and come ready to use out of the box. They help beginners achieve clean stitching on the edges of fabric to prevent fraying.
Look for sergers with retractable blades, guides, and specialty feet to handle lightweight fabrics. Quality sergers add finesse but require practice like a sewing machine. Follow manuals, tutorials, and maintenance tips as you build skills.
What to Look for in a Good Serger Machine
Double-check that it has the top speed and threading system you need as a beginner. Opt for a reputable brand known for quality and ease of use. Look for helpful accessories like specialty presser feet included.
Evaluate how hard the threading seems and the way the machine operates before you buy. Focus on models with features that make learning to serge simpler for a beginner like you. The best sergers for beginners have intuitive controls, step-by-step guides, and the versatility to grow your skills.
Adjustable Differential Feed
You'd want a model with adjustable differential feed to prevent stretching and puckering on knits. When serging knits and stretch fabrics, the feed dogs can stretch the fabric as it's fed through. Adjustable differential feed compensates for this. One set of feed dogs moves faster or slower to match the stretchiness of the material.
This prevents the seams from stretching out or puckering. It's an essential feature for cleanly finishing stitches on knits without distortion.
Frequently Asked Questions (FAQs)
What are the benefits of buying a used or refurbished serger vs a new model?
Save your pennies, hon. You'll improve your skills without pressure and feel ready to invest in the advantages of a dream machine when the time is right.
Where can I find serger sewing classes or lessons for beginners in my area?
Check your local fabric stores, community colleges, and parks & recreation departments for in-person serger classes. Online retailers like Craftsy also offer video lessons to learn at home. Hands-on practice with an instructor helps beginners properly thread and operate sergers.
How do I clean and maintain my serger to keep it running smoothly?
Like servicing your car, routine maintenance keeps your serger humming. Clean lint daily, oil bi-monthly, and replace needles and feet as needed to maximize performance and avoid skipped stitches or breaks.
What creative techniques can I use my serger for besides just finishing seam edges?
You silly sewist! Of course, you can do more with your serger than just finish seams. Try some decorative stitches, rolled hems, lettuce edging – the possibilities are endless.
How do I troubleshoot common problems like skipped stitches, needle breakage or thread jams on my serger?
When skipped stitches or jams occur, remain calm and consult your manual. Double-check that you are using the correct needle size and high-quality thread. Remove lint from moving parts and rethread the machine with care. Often, adjusting tension dials or pressure feet resolves these issues.
With practice, you will become proficient in troubleshooting common serger problems.
Conclusion
Embrace the joy of sewing and let your creativity soar with your very own serger. As you glide this magical machine along fabric edges, you'll beam with pride at the professional finishes it lends to your projects.
Though the learning curve is steep, with a quality beginner's serger that suits your needs, ample patience, and a dash of whimsy, you'll be #sergerobsessed in no time.