This site is supported by our readers. We may earn a commission, at no cost to you, if you purchase through links.
Calling all crafty folks! Are you ready to take your sewing and embroidery skills up a notch? With the best sewing and embroidery machines, you can get creative with quilting, fashion design, and home decorating projects – the possibilities are endless.
To give you a head start on achieving your crafting dreams in 2023, we've compiled reviews of some of our favorite models currently available.
Key Takeaways
Brother Embroidery Hoops and Brother Embroidery Sewing Machine are top choices with their durable construction, adjustable features, and extensive built-in designs and stitches.
The Bernette Model 79 Sewing Machine and the EverSewn Sparrow X offer versatility for quilting, embellishing, and embroidery with their wide range of stitches and user-friendly features.
The Singer Legacy SE300 Embroidery Machine and the Janome Horizon Memory Craft 9850 provide high-speed stitching and embroidery capabilities, along with large embroidery areas and advanced touchscreen interfaces.
When buying an embroidery machine, consider factors such as embroidery hoop size, budget range, and feature prioritization to find the right machine for your creative projects.
Best Sewing and Embroidery Machines
Welcome to our evaluation of the six leading sewing and embroidery machines for bringing your creative projects to life. We'll detail key features of the Brother Embroidery Hoops, Brother embroidery sewing machine, Bernette Model 79, EverSewn Sparrow X, Singer Legacy SE300, and Janome Horizon Memory Craft 9850, so you can determine which machine best fits your sewing and embroidery needs.
Brother Embroidery Hoops
View On Amazon
You'll find these Brother Embroidery Hoops made of durable plastic with adjustable screw clamps invaluable for speeding up your projects on your PE800 or other compatible Brother machine.
The hoops allow for easy fabric clamping and come marked with measurement grids for guidance during the embroidery process.
Users report that the 4-pack offers quality and versatility at a reasonable price point compared to Brother's original hoops.
While most praise the fit and construction, some note that the 5×7 hoop may not snap perfectly in place.
There's mixed feedback on the grid markings too, with some customers finding them too small or off-center.
Overall, these replacement and expansion hoops are a budget-friendly way to enhance your embroidery projects if you own a compatible Brother embroidery machine.
Durable plastic construction
Adjustable screw clamps for fabric
Fit for various Brother models
Grids for measurement guidance
Affordable 4-pack pricing
Possible issue with 5×7 hoop snapping in
Grid markings may be too small or off-center
Lacks clamping mechanism of original hoops
Brother Embroidery Sewing Machine
View On Amazon
Talking 'bout the Brother SE600, it's a versatile combo machine with ample embroidery capabilities, though the touchscreen may take some gettin' used to.
This machine comes equipped with 80 built-in embroidery designs, 6 fonts for letterin', and 103 built-in stitches for sewin', givin' you options galore.
With embroidery speeds up to 400 stitches per minute, you can knock out them fancy designs in no time.
The LCD touchscreen makes selections easy but can have a learnin' curve. Some folks find it lacks certain sewin' features but praise its embroidery prowess.
A few hiccups reported with missin' parts and support, but overall it's a solid mid-range choice for creatives wantin' quality embroidery without breakin' the bank.
Fast embroidery speeds up to 400 spm
Large color touchscreen
80 built-in embroidery designs included
Touchscreen has a learnin' curve
Lacks some helpful sewin' features
Issues reported with missin' parts
Bernette Sewing Machine Model 79
View On Amazon
Imagining the creative possibilities with this feature-packed Bernette will make your heart race. Combining user-friendly operation with extensive sewing and embroidery capabilities, it opens up a world of potential for both novices and experts.
The versatile functionality allows you to quilt, embellish, customize, and create to your heart's content.
With 500 stitches and endless design options, the offers a large range of creative options. It also comes with built-in software and an embroidery module, further expanding its capabilities.
Combines sewing, embroidery, and creative capabilities
User-friendly for beginners but enough features for experts
Offers a large range of stitches and creative options
Comes with an embroidery module and software
Expensive initial investment
Can have a learning curve to master all features
Heavy and bulky for some users
EverSewn Sparrow Next Generation Sewing Embroidery Machine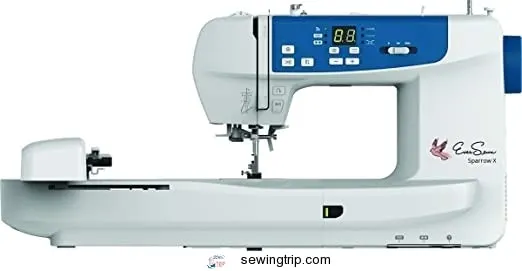 View On Amazon
With versatile sewing and embroidery capabilities, the EverSewn Sparrow X empowers creative sewers to personalize projects. This feature-rich machine allows embroidery up to 4.75 x 7 inches with its included hoops.
Intermediate to advanced sewers will appreciate the ample stitching and embroidery features, reliability, and user-friendly design app. While not for beginners, its 850 stitches per minute, built-in thread cutter, and speed control provide ample functionality at a reasonable price point.
Great sewing and embroidery features
Reliable performance
User-friendly app
Not beginner-friendly
Manual unclear on downloaded designs
Some frustration reported
Singer Legacy SE300 Embroidery Machine
View On Amazon
You'll uncover a variety of stitches and embroidery design options from this computerized sewing and embroidery machine. The Singer Legacy SE300 boasts 250 built-in stitches and 200 embroidery designs, along with six alphabet options.
An automatic needle threader and the ability to keep embroidering while winding bobbins increase convenience.
With stitching speeds up to 800 stitches-per-minute and embroidery speeds around 700, projects progress rapidly. A generous embroidery area accepts large designs. Users frequently praise the array of decorative stitch choices and quality of the machine embroidery results.
Some downsides occasionally surface with the memory stick function or threading components. There are mixed experiences regarding motor sounds and quality consistency. While rewarding overall for sewing and embroidery enthusiasts, attentive operation and caution with noises is encouraged to maximize satisfaction.
Large embroidery area and hoop choices
Built-in stitch and design variety
Fast stitching and embroidery speeds
Automatic threader and winding capabilities
Potential memory stick issues
Threading difficulties for some
Inconsistent motor and quality feedback
Lacking aspects of instructions noted
Janome Horizon Memory Craft 9850 Sewing Embroidery Machine
View On Amazon
Don't miss out on the Janome's versatile sewing and embroidery talents. The Janome Horizon Memory Craft 9850 is a computerized sewing and embroidery machine featuring 200 built-in stitches, 175 embroidery designs, a full-color LCD touchscreen display, and several convenient functions for easier sewing.
With a maximum stitch length of 5mm and stitch width of 9mm, it can handle a variety of fabric types and sewing projects. For embroidery, it has a maximum speed of 800 stitches per minute and comes with multiple included hoops.
Weighing 38 pounds, this versatile machine is suitable for beginners and intermediate sewers looking for an all-in-one sewing and embroidery unit.
Full-color LCD touchscreen
200 built-in stitches
175 embroidery designs
Maximum stitch width of 9mm
Threading mechanism may not work well
Not ideal for absolute beginners
Some challenges with filling bobbin
Choosing the Right Sewing Machine for Embroidering

If you're looking to take your crafting to the next level, a sewing machine that embroiders may be the perfect tool. Carefully consider key sewing features like built-in stitches, automatic functions, and presser feet.
Also, look at critical embroidery features including the maximum hoop size, built-in designs, and ease of importing new patterns. With the right combination of sewing and embroidery machine, you'll be ready to bring any creative vision to life.
Sewing Features
Sewing Features
Seek machines with diverse stitches, presser feet, auto functions, and knee lifters to elevate your projects.
50+ built-in stitch options
Buttonhole styles
Specialized presser feet (walking, piping, quilting, etc.)
Needle threaders and cutters
Adjustable stitch length and width
Knee lifter for hands-free presser foot control
Key sewing features empower you to unlock your creativity and tackle any project imaginable.
Embroidery Features
For embroidery capabilities, focus on the embroidery hoop size, built-in designs and fonts, design import options, and ease of switching between features. Consider multiple hoop size options to accommodate small and large projects. Look for built-in designs, fonts, and editing features.
Seek user-friendly design transfer methods like USB, wireless, and app connectivity. Choose machines with a streamlined transition between sewing and embroidery modes. Regular cleaning and maintenance preserves functionality. Opt for machines with strong product support, tutorials, and troubleshooting resources to ensure embroidery success.
How Can an Embroidery Machine Benefit Quilters?

Quilters can expand their creativity and enhance their quilts using the unique capabilities of an embroidery machine. Embroidery machines allow quilters to piece quilt blocks in the hoop, personalize labels, add embroidered accents, and mimic longarm quilting motions right on a home machine.
In-the-Hoop Quilt Block Piecing
You'll amaze yourself by whipping up intricate quilt blocks with easy in-the-hoop piecing on your embroidery machine. Combining piecing and embroidery in the hoop streamlines your quilt block assembly and offers creative design options.
| Block | Piecing Method | Design Tips |
| --- | --- | --- |
| Log Cabin | Add fabric squares in concentric rows | Use stabilizer |
| Lone Star | Piece diamond shapes | Adjust design size |
| Nine Patch | Add squares in a 3×3 grid | Use quality fabrics |
Incorporating in-the-hoop techniques will open up new quilting possibilities with your embroidery machine.
Personalized Quilt Labels
You can easily create personalized quilt labels with your embroidery machine, as over 90% of quilters believe customized labels add meaning and value to their quilts. Embroider unique labels to make your quilts truly one-of-a-kind. Choose complementary fabrics and select or design custom embroidery patterns.
With the right stabilization, threads, and hooping technique, you'll have professional-looking labels to proudly display on your quilted works of art. Personalized labels showcase your creativity and make your quilts special keepsakes.
Embroidered Blocks
Being able to embroider quilt blocks beforehand unlocks limitless creative potential for intricate details. Embroidery machines empower you to pre-make personalized blocks featuring your favorite motifs before assembling the full quilt.
With the right hoop size, thread choices, machine maintenance, and creative vision, you can craft stunning embroidered blocks in any shape and style. The options for custom, creative details are endless when you integrate embroidery capabilities into your quilting process.
Replicating Long-Arm Machine Quilting
By using an embroidery machine, you'll be piecing together quilts faster than a jackrabbit on a hot, greasy griddle. With an embroidery machine, you can replicate long-arm machine quilting techniques to create unique sewing projects, such as embroidered quilts with custom labels and quilting designs.
Essential Features for Quilting and Embroidery Machines

Quilters who also want embroidery capabilities need certain features in their machines. Throat space, dropped feed dogs, an extendable table, knee lifter, and specialized stitches allow you to quilt and embroider with one device.
Throat Space
Embrace ample throat space for easily maneuvering bulky quilts under the needle.
| Machine | Throat Space |
| --- | --- |
| Janome MC8000 | 12 inches |
| Singer 9960 | 12 inches |
| Juki TL-2000Qi | 9 inches |
| Brother XR3774 | 8.3 inches |
| Janome DC2015 | 6.5 inches |
Ample throat space is essential for quilting and embroidery, allowing easy handling of fabric. Carefully compare machines to find one with maximum throat space for your projects.
Dropping Feed Dogs
Allow the feed dogs to recede for free-motion quilting and intricate stitching. Lower the machine's feed dogs to create smooth, even stitching on fabric not gripped by the rollers. This free-motion capacity empowers you to maneuver the material manually for more control.
Quilt freehand or use embroidery software to import digital patterns. Select quality thread and familiarize yourself with hooping techniques. Experimenting with specialty threads like metallics calls for adjusted tension. Mastering free-motion options unlocks unlimited potential in your quilting projects.
Extendable Table
Y'all would have an easier time managing large quilting projects with an extendable table on your sewing and embroidery machine. This table extension increases your sewing workspace, enabling smoother material handling.
The expanded surface area gives ample room for fabric layouts and quilt block assembly. Choose a model with this handy feature to boost your quilting capabilities. Prioritize sufficient sewing space when evaluating sewing and embroidery machines for quilting.
Knee Lifter
You'll appreciate a knee lifter for convenient hands-free presser foot control when tackling embroidery and quilting on your combo machine.
Hands-free control while guiding fabric
Consistent pressure for intricate designs
Foot lift without stopping to reposition hands
With practice, the knee lifter empowers flowing, precise stitchwork on your quilting and embroidery projects.
Stitches on a Quilting Machine
You would benefit from stitches designed to enhance quilting. Look for machines that offer utility stitches such as straight, zigzag, and decorative stitches that mimic hand quilting. Extras like stitch elongation and mirror imaging allow for more creativity. Focus on models with ample stitch options, which will allow you to quilt and embroider to your machine's full potential.
Considerations When Choosing an Embroidery Machine

Looking to purchase an embroidery machine? Important considerations include the number of built-in stitches and buttonholes, embroidery hoop size, and your budget and desired features. Compare your needs and expectations to machine specifications to find the perfect match for your creative projects.
Built-in stitches and buttonholes
You desire a diverse array of stitches and buttonholes to enhance your creative capabilities. A range of built-in stitches and various buttonhole styles liberate your sewing opportunities. From delicate heirloom details to sturdy construction techniques, specialized stitches empower any project.
An embroidery machine with abundant built-in stitches unlocks limitless potential. Experiment freely with varied stitches to customize unique projects. Express yourself through diverse, creative stitching unlocked by the perfect embroidery machine.
Embroidery hoop size
Dangling that puny hoop like a fool before selecting an embroidery machine makes you seem smaller than a pipsqueak's pinky toe. The hoop dimensions dictate your design size. Consider the scale of your project.
Expanding hoop options enables more creativity. Invest in quality hoops that grip tightly. Vary hoop sizes – small for hats, large for quilts. The hoop must suit the machine.
Budget and desired features
Additionally, your financial priorities and dream functionality can steer you to the worthwhile embroidery machine for your creative aspirations. To help you make an informed decision, consider the table below, which outlines budget ranges and corresponding feature priorities for embroidery machines.
This will help you strike the perfect balance between affordability and high-quality features, ensuring a satisfying embroidery experience.
| Budget Range | Feature Prioritization |
| --- | --- |
| Under $500 | Basic embroidery for beginners |
| $500 – $1,000 | Intermediate features |
| $1,000 – $2,000 | Advanced capabilities |
| Over $2,000 | Specialized software, high-end |
Conclusion
When it comes to finding the best sewing and embroidery machine, there are many factors to consider. You'll want a machine with a variety of built-in stitches and buttonholes, the right embroidery hoop size, and a budget that meets your needs.
Quilters will benefit from features like in-the-hoop quilt block piecing, personalized quilt labels, and replicating long-arm machine quilting. Additionally, look for throat space, dropping feed dogs, an extendable table, knee lifter, and stitches on a quilting machine.
With the right machine, you can bring your creative projects to life with ease. So, if you're looking for the best sewing and embroidery machine for 2023, take the time to find the right fit for you.
References
bestsewingmachinereviewspot.com