This site is supported by our readers. We may earn a commission, at no cost to you, if you purchase through links.
For more than a century, Janome has continuously produced revolutionary sewing machines.
You may want to know that Janome pioneered the first computerized sewing machine, long arm quilting machine and first embroidery machine.
The philosophy behind Janome sewing machines has always been affordability and ease of use.
That's why we want to help you find the best Janome sewing machine that will allow your creative juice to flow and get the best out of you.
We compared, tested and researched the top 5 Janome sewing machines. Choosing the perfect one has never been easier with so many options, features and benefits of each machine.
So here are our 5 best Janome sewing machines to buy:
1, Janome 2212 Sewing Machine
You may only pitch your tenth with this sewing machine if you enjoy sewing and require a top performing workhorse. I loved Janome 2212 for being a reliable sewing machine all year round.
Here's the Kicker!
Moves at about 860 stitches per minute, a pretty good speed for a mechanical sewing machine. For a machine of this caliber, 12 built-in stitches fall short of expectations.
There is also a 4-step buttonhole and many functions that use the convenience of it.
What Else?
You can't go wrong with stitch selection using the stitch guide. Simply turn the stitch selection dial and you are ready to sew. Sometimes you can help yourself in low light, but that doesn't mean you stop working, all thanks to the bright work area LE.
There are over 12 built-in stitches for you to try, all thanks to the adjustable stitch length and width.
The Bad!!
The bobbing and threading seem to be the weakness of this machine. There are also reports of snags and cut wires.
It may take a steep learning curve, but once you get on top of it, you'll discover just how great Janome 2212 can be. When you have to sew through layers of fabric, it becomes a breeze.
Characteristic summary:
860 stitches per minute
12 built-in stitches
Convertible Free Arm / Flat Bed
4-Step Buttonhole
4mm stitch length / 5mm stitch width
Built-in needle threader
16 pounds
Janome 2212 Sewing Machine
Buy Janome 2212 from Amazon
2, Janome H3000 Sewing Machine
If you could describe something so good and so easy to handle, the Janome H3000 would be it.
This is a tough sewing machine, priced at an entry level with loads of features that will please just about any user. It is easy to operate even when loaded with complex and complicated functions.
Here's the point!
If there is one feature that sets it apart from the Janome H3000, it should be the 7-piece feeder. However, the fabric feed system on this machine takes full control of the feed once you start it. What's more is all that follows.
There are 19 stitch designs to choose from. It also comes with a one-step buttonhole. The dimensions of the designs can by turning a dial. This is a feature that makes sewing with this machine a lot easier.
The machine actually has a sewing option for bags, as it has a triple sewing variant that has the tightest result of all.
The defects!!
Although touted as a heavy-duty sewing machine, Janome H3000 reportedly performs below expectations on leather and other thick fabrics.
This is a machine that produces only the best results with little effort. However, the number of features may be too much for a beginner. Therefore, this machine should by moderately experienced seamstresses and can by professionals.]19 built-in stitches
860 stitches per minute
1-step buttonhole
Free arm
Variant with 3-step stitching
Metal housing
5 ″ wide x 4.6 ″ workspace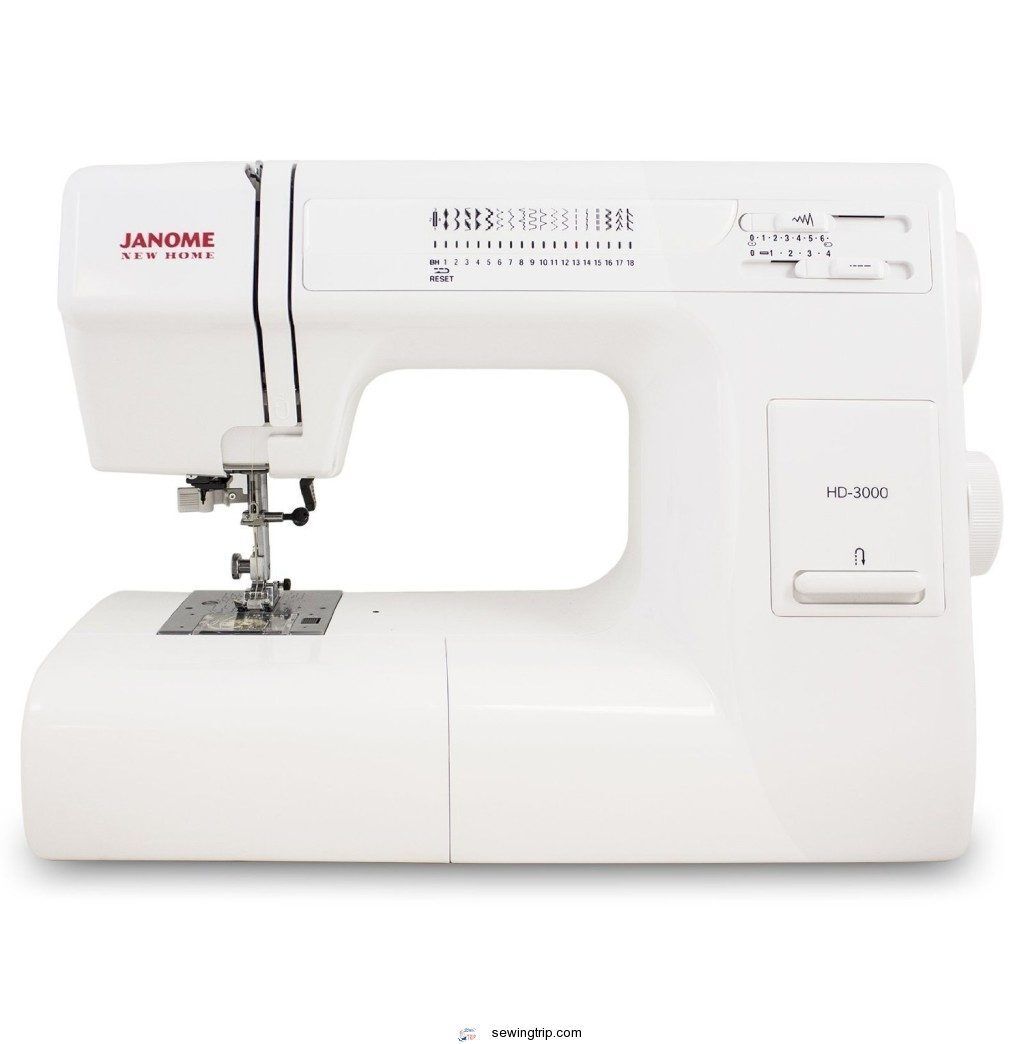 Janome H3000 – Janome Sewing Machine
3, Janome Magnolia 7318 Sewing Machine
The whole sewing industry probably knows that Janome sewing machines are among the best in the world. No, perhaps with that and Janome Magnolia 7318 is no exception.
The brand owes its reputation to the performance and quality of its long line of Janome sewing machines.
What's unique:
This machine offers design stitches with 17 patterns, including a four-step buttonhole. It comes with a dial that can for a particular design stitch. Another wheel should determine the length of the stitching, while uEtH4meyWvmeUpbPAPuZ8sEf to control the tension of the thread. I will please you to know that this sewing machine comes with a stitch lock system that is operated with a lever.
What else?
There are other features that make the Janome Magnolia 7318 stand out, one of which is the clear plastic cover of the wire. This allows you to check the remaining wire without removing the cover. The winding of the bobbin thread can .
Janome Magnolia 7318 has a high presser foot lift that makes handling thicker fabrics easy. We can create overlapping stitches resulting in clean edges.
The defects!!
The machine could be on the top side in terms of the sound it produces. The machine looks basic because of the lack of an adjustable presser foot and needle position.
This is a machine that offers a lot of features that are all very easy to use. What makes it a lot easier is the substantial information on the manual that is easy to apply or understand.
Summary of features:
18 built-in stitches
830 stitches per minute
7-Piece Conveyor
Top Loading Jam Proof Bobbin System
4-Step Buttonhole
Free arm / storage compartment
Reverse lever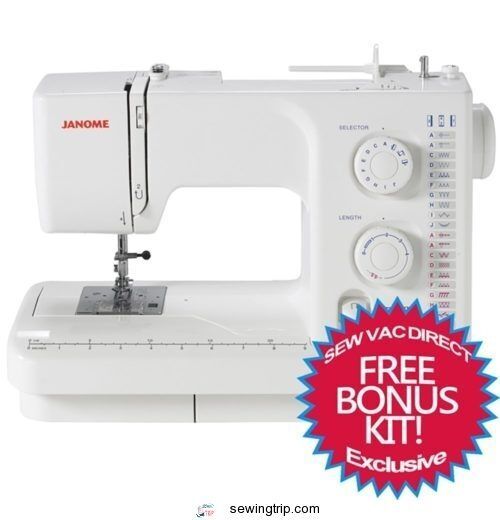 Janome Magnolia 7318 – Janome Sewing Machine
Buy Janome Magnolia 7318 from Amazon
4, Janome 7330 Sewing Machine
This is one of the most reliable Janome sewing machines out there. For a low-priced machine, they pack it with features. It produces top quality stitches consistently. This is certainly a wise investment for any seamstress at heart.
The Main Story:
The Janome 7330 is a chewy biscuit. The motor has enough raw power to drive the needle through any thickness of fabric. It even can handle upholstery without losing a beat and still achieve the desired results.
It does not come with a foot pedal. Some may think this is a bad thing, but not for this machine. It controls sewing cXIZcojQUR a'start and stop'button for straightforward operation of the needle.
How it works:
Place the fabric under the presser foot, pull down the needle, pull the foot down and press start. Then you left!
It offers stitches in various decorative designs. This means you can play wild with your imagination to come up with the best stitching, from hems to curtains and whatever you want. The pleasant thing is that most of the designs look like embroidery.
The Cons!!
Need a steady hand and eyes to navigate the machine threading as the needle threader is semi automatic.
Beginners and those with a little experience in sewing will certainly enjoy this machine. This is a machine that will certainly help you develop your skills further.
Summary of functions:
Built on Stitches
Speed controller
7-part conveyor
LE display with backlight
Built-in needle threader
Free arm
Snap-on presser feet

]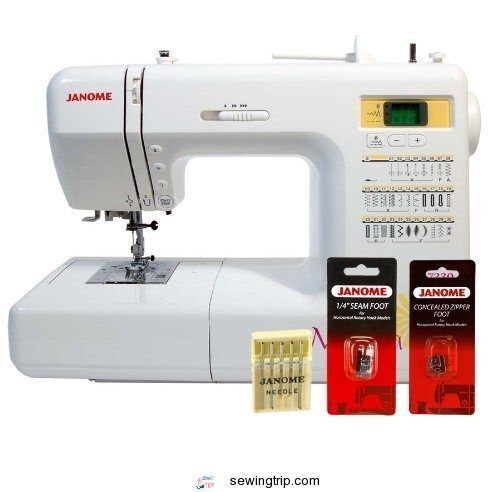 Janome Magnolia 7330 – Janome Sewing Machine
5, Janome JW8100 Computerized Sewing Machine
Let's assume you are loyal to Janome sewing products and you are looking for an advanced sewing machine, Janome JW8100 tJxm3jVpil0W5k5c to handle all your to fulfill desires.
What's Unique:
From your first contact with Janome JW8100, you know that the sewing machine for everyone is. The range of features it possesses is suitable for both experts and beginners.
Being a computerized sewing machine, there is an LC touch screen that allows you to do everything essential to show off your creativity.
There's more!
Let's hope you need a good quilting machine, it will fit well thanks to the extension table it came with.
espite being made with a heavy metal frame, the machine has a good design. In combination with high durability and stability.
The isadvantages!!
You shouldn't think much about the soft cover that comes as accessories, it fares poorly as a hard carrying case.
You have to give it to Janome for making such a lightweight sewing machine fully packed with the best features available. There is rarely another Janome machine comes close to this in terms of ease of use.
Characteristic summary:
100 built-in stitches
850 Stitches per minute
7-Piece Conveyor System
Adjustable Thread Tension
Metal inner frame
LC touchscreen
Saved needle position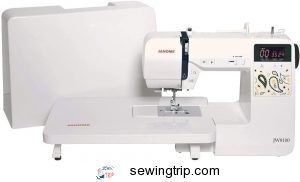 Janome JW8100 Sewing Machine
Buy Janome JW8100 from Amazon
Judgment 0]
All said and done, these 5 best Janome sewing machines have many similarities and a few differences in them. Choosing the best machine for you is a subjective matter that depends on your skill level. However, dkPBd0SQQ3Z3mOe9Sn0509l9P21Xxth6wUELAONKGTYiXu59L1vfqsRMlt0zo2bXsl to professional users, we recommend you choose Janome H3000
For a beginner looking for a Janome sewing machine, please select Janome Magnolia 7318. If you are a beginner and ever think you will grow out of this quickly, choose Janome 2212 Sewing Machine
We hope this small summary and guide has been useful to you
Goodluck
---
References
bestsewingmachinereviewspot.com