This site is supported by our readers. We may earn a commission, at no cost to you, if you purchase through links.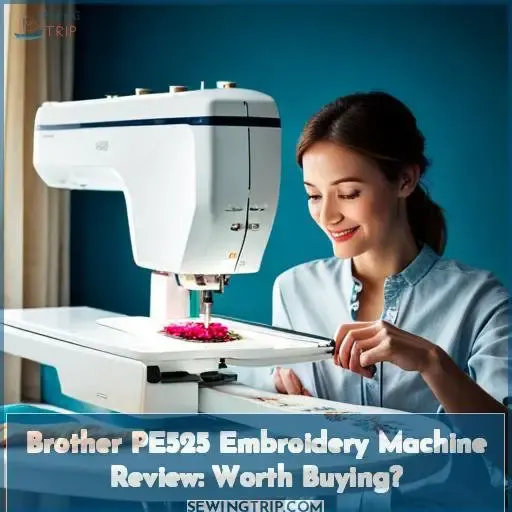 When you want to add embroidery to your crafting skills, the Brother PE525 is an embroidery machine worth considering. Despite being discontinued, it's still available for purchase and loaded with useful features to help perfect your embroidery projects.
You'll get built-in designs to choose from and a display screen that lets you edit designs right on the machine. The PE525 makes embroidery accessible for beginners while still offering advanced capabilities like lettering and monogramming.
With some quick tips and the included accessories, you can be up and running in no time.
Though it's not a multi-purpose sewing and embroidery machine, the PE525 focuses on embroidery and performs well for the price. Give this Brother PE525 embroidery machine a look if you want reliable quality without breaking the bank.
Other machines may beat it on features, but it delivers on ease of use and value.
Key Takeaways
The PE525 has 70 built-in designs and intuitive controls that are ideal for beginners starting embroidery.
Its backlit LCD screen and USB connectivity make it easy to view and import designs.
Features like automatic threading help reduce frustration for first-time users.
Advanced capabilities such as design editing allow skills progression as embroiderers gain experience.
Brother PE525 Overview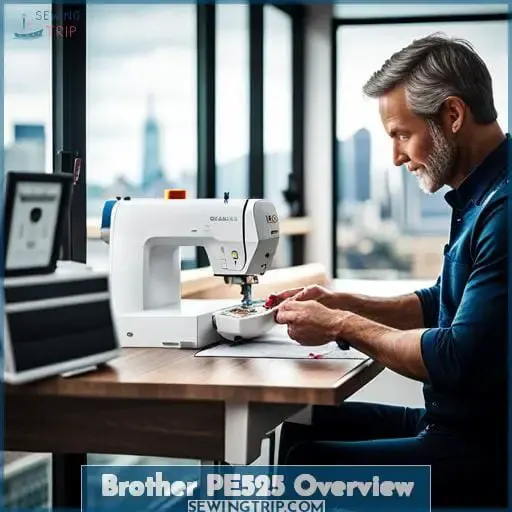 With the PE525's jam-resistant bobbin and backlit LCD touchscreen, you'll be embroidering personalized pieces lickety-split. The built-in tutorials have you embellishing fabric like a pro from the get-go. Simply let the easy thread guide lead you through setup before choosing one of 70 built-in designs.
With the 4×4 hoop limitation, keep your fabric pieces small to medium. While the compact hoop may restrict elaborate designs, it ensures quality stitchwork that won't pucker or distort your fabric. Carefully select stabilizers to support each fabric's texture and weight. Edit designs right on the intuitive touchscreen, rotating or resizing motifs before they stitch out perfectly.
In just minutes, you'll have professional-looking custom pieces thanks to the PE525's user-friendly features tailored for beginners.
Key Features and Benefits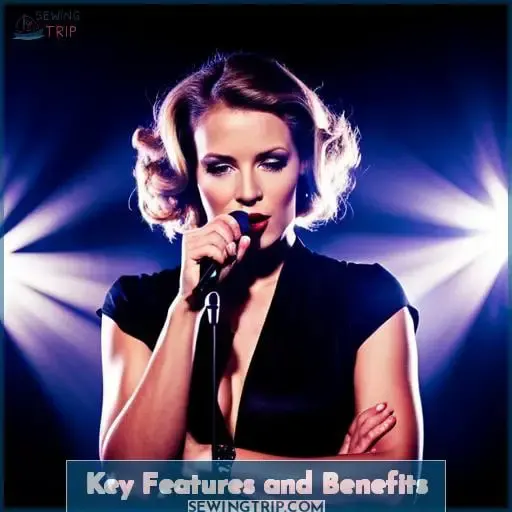 Equipped with 70 built-in designs, a backlit LCD touchscreen display, and USB connectivity, the PE525 provides you with the essential tools to start embroidering customized pieces right away. The intuitive display allows you to easily edit your creations – rotating, resizing, or rearranging designs before they stitch out perfectly.
With user-friendly editing capabilities, this beginner-friendly machine helps you embellish fabric like a professional seamlessly. The PE525's backlit LCD touchscreen and built-in designs make it simple to create personalized embroidered pieces.
USB connectivity adds convenience. Overall, the machine's intuitive editing features help even first-time embroiderers craft impressive custom designs with ease.
Built-in Designs
You'll be embroidering personalized pieces quickly with the 70 built-in designs on the PE525's easy to navigate touchscreen. The simplicity and convenience of the built-in designs provide flexibility while allowing you to develop skills.
The backlit LCD, needle threader, auto thread trimmer and 4×4 embroidery area offer an excellent starter embroidery machine.
Display and Connectivity
The backlit LCD screen shows your designs while the USB connectivity imports thousands more to the PE525's jam-resistant bobbin. Easy screen readability and intuitive touch controls let you view designs. The backlit LCD screen and USB port offer computer connectivity for importing embroidery files, stitch previews, and utilizing the 4×4 embroidery area.
This user-friendly display and connectivity enhances an excellent starter embroidery machine.
Editing Capabilities
Resize, resize your designs using the easy-to-use controls right on the machine's editing screen. Adjust the dimensions and layout to customize projects. Combine fonts, designs, and adjust stitches for high-quality embroidery.
The PE525 makes on-machine editing of imported embroidery a breeze for beginners.
Ease of Use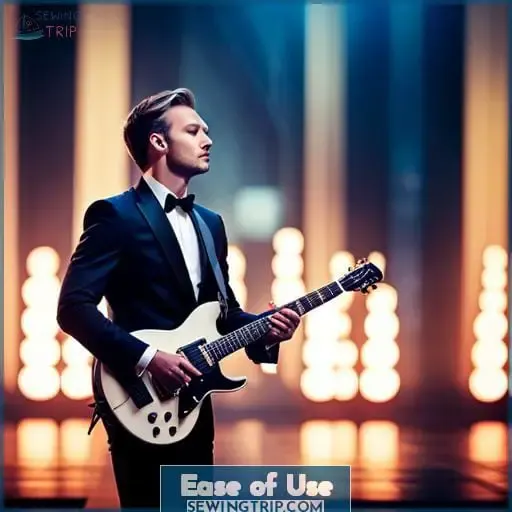 Effortless embroidering awaits with this user-friendly machine. The intuitive interface allows even beginners to easily view and edit designs on the backlit LCD screen before stitching. Helpful built-in tutorials guide you through operating the machine. Responsive customer service assists with troubleshooting.
Simplified automatic threading and an auto thread trimmer reduce frustration. With 70 built-in designs and 120 frame pattern combinations, you can start embroidering instantly. Importing additional easy embroidery designs via USB connectivity expands your creative possibilities.
The PE525 makes it simple for anyone to craft impressive customized embroidered pieces.
Beginner Friendliness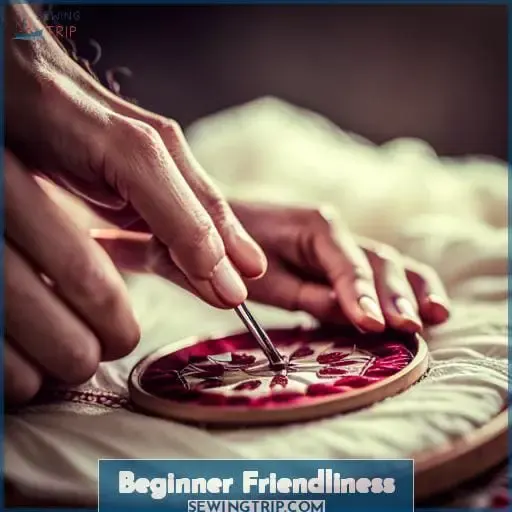 You'll breeze through embroidering like a seasoned pro thanks to the intuitive controls and built-in tutorials this user-friendly machine provides. With just a few touches on the screen, the needle threads itself, the bobbin winds in seconds, and you can view tutorials to guide you.
As you gain confidence, you'll utilize stabilizers for tricky fabrics and navigate the touchscreen to combine designs. With 70 preloaded designs ready for embroidery and easy importing of additional patterns via USB, even beginners can craft impressive customized pieces in no time.
This simplicity allows anyone to enjoy the creativity of embroidery from day one.
Advanced Capabilities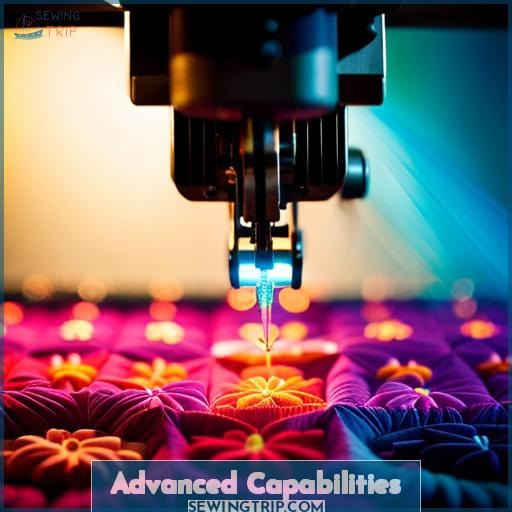 You can import tons of designs and combine them to maximize the 4×4 hoop area with this machine's advanced capabilities. With practice, you'll become adept at packing multiple designs into the hoop for efficient use of thread and fabric.
Carefully aligning shapes and previewing layouts prevents overlapping. You can set custom machine settings like thread tension and stitch speed for each element. Manage thread changes to minimize stops. Digitize original works or import quality embroidery designs to make the most of the ample embroidery area.
As your skills progress, you'll find this capable embroidery machine keeps pace with your creative vision.
Troubleshooting Tips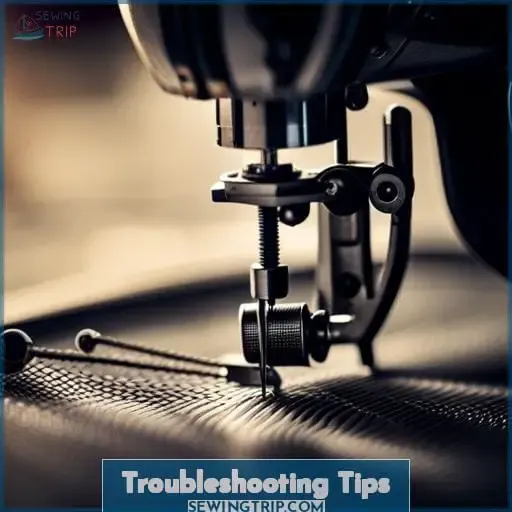 Helped along by stabilizers, your embroidery machine can glide through fields of fabric like a graceful swan across tranquil waters, but when skipped stitches or tangled threads arise, be an attentive gardener who inspects each flower and makes the adjustments needed so your garden blooms in beauty again.
Adjust thread tension if you notice nesting, looping, or bunching. Start with the top thread tension first.
Check for hoop slippage if the design is misaligned or distorted. Rehoop fabric tautly.
Slow down stitch speed if thread breaks or fabric puckers repeatedly.
With some thoughtful adjustments to tension, hooping, and speed settings, you can get your machine singing smoothly again in no time. The intuitive LCD screen makes it easy to tweak settings for optimal results across various fabrics and designs.
Remember to clean lint buildup and lubricate parts regularly too. With a bit of care and attention, your embroidery machine will continue delighting you with beautiful creations.
Included Accessories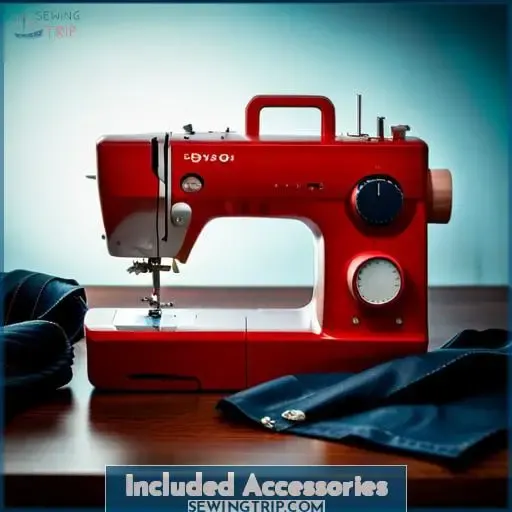 With basic embroidery skills in hand, you're ready to thread your machine and start stitching. The PE525 comes with all the trimmings to start creating right away. Inside the box, you'll find handy embroidery extras like thread, bobbins, hoops, and stabilizers.
The quick start guide provides clear set up instructions to have you embroidering your first project in no time. Refer to the reference chart for built-in designs and suggested thread colors. With framing options, storage solutions, and template tracing tools, this machine truly provides everything needed to begin embellishing projects beautifully.
The PE525 includes must-have embroidery accessories to start stitching right away:
| Accessory | Description |
| --- | --- |
| 4×4 Hoop | Ideal size for most designs |
| 3 Bobbins | Prewound polyester bobbins |
| Needle Set | Assorted sizes for fabrics |
| Thread | Rayon embroidery thread set |
| Embroidery Card | 70 built-in designs |
Disclosure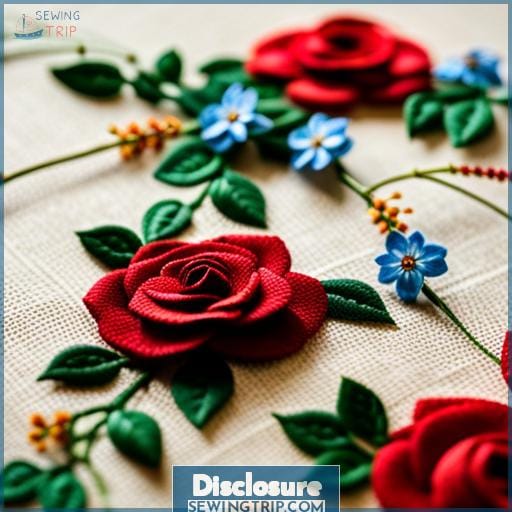 The blog presents affiliate links transparently, aiming to help readers make informed decisions when purchasing. As an independent site, we carefully research products and only promote those we believe offer value.
However, we participate in affiliate programs, earning small fees via links. This allows us to maintain operations without charging fees or showing ads. We take legal liability and your financial risks seriously. Affiliate codes are provided for transparency, not as endorsement for purchases.
With built-in designs and easy embroidery features, this machine enables creatives. The generous 4×4 embroidery area accommodates most designs. For beginners, this user-friendly embroidery machine offers convenience.
Alternatives to Consider

You'll find other embroidery models worth comparing before deciding. Focus on key criteria like:
Hoop Size – A larger hoop accommodates bigger designs. The Brother PE800 offers a 5×7 inch hoop.
Built-In Designs – More built-in designs provide inspiration and convenience. The PE800 has 138 built-in designs.
Editing Capabilities – Functions like rotate, resize, combine let you customize. The LB6800PRW has good editing features.
User Interface – An intuitive, user-friendly interface is beginner-friendly. The SE600 has a large color LCD touchscreen.
Advanced Features – Built-in tutorials, free designs and software extend capabilities.
Evaluate critical factors against your needs and budget. An informed purchase decision empowers your creativity through the joy of embroidery.
Frequently Asked Questions (FAQs)
What maintenance does the PE525 need? Does it require regular oiling, cleaning, etc?
Don't sweat oiling or intensive cleaning – just be sure to keep fuzz and lint brushed away and give it a quick wipe down monthly. Beyond that, just change the needle regularly and it will hum along smoothly for years.
How loud is the PE525 when embroidering? Can you have a conversation next to it while it's running?
The PE525 hums along quietly as you stitch. You'll have no trouble chatting with friends while embroidering. An occasional squeak or vibrating sound may arise if maintenance is needed, but overall, the machine operates at a mellow volume suitable for most settings.
Does the PE525 have a maximum embroidery speed that's faster than 400 stitches per minute?
What's the maximum embroidery field size the PE525 can handle with special hoops or attachments?
Unfortunately, the Brother PE525 has a maximum embroidery field size of 4×4 inches. This machine does not support using larger hoops or attachments to expand the embroidery area. With its compact build focused on beginners, the PE525's embroidery capabilities are limited to smaller projects that fit within the included 4×4 hoop.
To embroider larger designs, you'll need to look at other Brother models that support bigger hoops and have larger embroidery fields.
Does the PE525 come with any embroidery editing software, or do you have to purchase it separately?
You get built-in editing software with the PE This allows basic editing like combining designs, rotating, and resizing. For more advanced editing, purchase optional software. But the included software covers the basics to start embroidering.
Conclusion
At the end of the day, the Brother PE525 is a top-tier beginner embroidery machine that delivers tremendous value for the money. With 70 built-in designs, 120 pattern combinations, and user-friendly editing features packed into a lightweight design, it empowers novices to explore their creativity.
While more advanced users may eventually outgrow it, the PE525's jam-resistant system and trouble-free operation make it an ideal first machine for the majority of home embroiderers. Focusing on the core essentials, Brother simplifies embroidery so beginners can embroider confidently.
References
bestsewingmachinereviewspot.com