This site is supported by our readers. We may earn a commission, at no cost to you, if you purchase through links.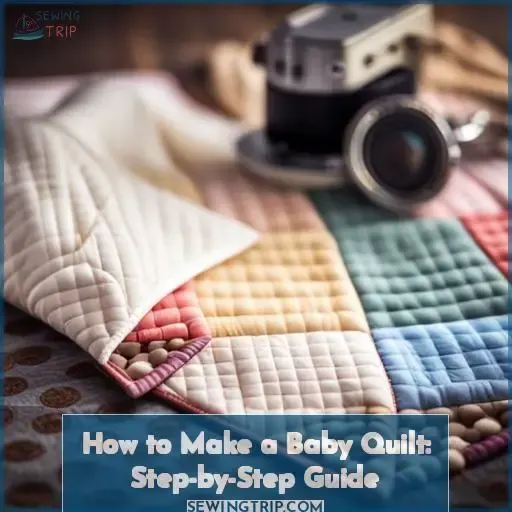 Ah, babies! If you're looking for the perfect project to welcome a new little one into the world, then why not make them their very own quilt? With this step-by-step guide on how to make a baby quilt, even those with no prior sewing experience will be able to create something truly special.
From gathering materials and supplies all the way through finishing off your patchwork masterpiece—this comprehensive tutorial has everything you need.
Key Takeaways
Gather 1 1/2 to 2 yards of cotton quilting fabric in various colors and prints.
Choose gender-neutral hues like yellow, green, orange, or aqua for the quilt top.
Use solid colors for sashing between blocks for simplicity.
Opt for soft, natural fabrics suitable for a baby's use.
Fabric Requirements for Your Patchwork Baby Quilt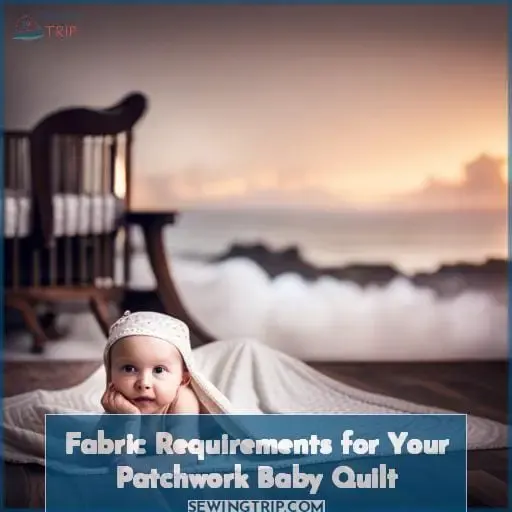 You'll need about 1-1/2 to 2 yards of total fabric for the patchwork top of your cuddly baby quilt. Start by choosing an assortment of cotton quilting fabrics in colors and prints that appeal to you. Consider bright, gender-neutral hues like yellow, green, orange and aqua. Mix and match solids, tiny florals, stripes, dots, and other juvenile prints.
For ease, stick to solid colors for sashing between blocks. When planning your layout, opt for simple patchwork designs like squares, rectangles or triangles.
Focus on soft natural fabrics, tiny stitches, and washable construction since the quilt will be loved, dragged, and drooled on. Whether you choose pastels for a girl or primary colors for a boy, a handmade quilt is sure to become baby's favorite blankie.
How to Make a Beginner-Friendly Patchwork Baby Quilt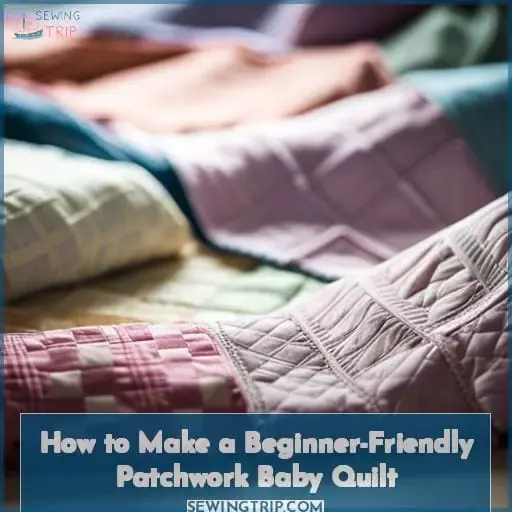 Begin designing your patchwork baby quilt by first laying out and stitching together the quilt top from blocks, strips, or a mix of shapes. Next, add batting and backing layers and baste them in place before quilting the layers together either by hand or by machine.
Finally, neatly finish the quilt edges with binding strips to complete your beginner patchwork baby quilt.
Layout and Stitching
Once the squares are arranged, tack and sew those sections into rows. Join the fabric pieces together using a 1/4 seam allowance, aligning adjacent edges. Take your time pressing seams flat on each completed row. Alternate the direction of seams to reduce bulk.
Trim any uneven edges after joining rows for a perfectly patched top. Experiment with mixing complementary colors or graduating tones in your layout before stitching.
Adding Batting and Backing
Having carefully arranged and sewn your quilt top, it's time to choose your batting and backing to finish off your adorable baby quilt. For batting, look for natural fibers like cotton or wool in a low-loft style that's easy to quilt.
Then pick a soft, cozy fabric for the backing a few inches larger than your quilt top. After basting the layers together, you'll be ready to quilt and bind your handmade creation for baby's nursery. With thoughtful material choices and basic quilting techniques, you'll stitch up a sweet keepsake to cherish.
Quilting the Layers Together
While basting your precious layers, gently guide the quilt under the needle and let the lines flow steadily, bringing your creation to life. Machine quilting is where you can truly express yourself with various quilt designs like waves or diagonal lines.
Take advantage of quilting tools such as a walking foot or free-motion foot for different effects. Ensure that each stitch secures all three layers together, creating a beautifully layered quilt finish that will keep your baby cozy and warm.
Finishing or Binding the Quilt
Although hand-stitching the binding may seem tedious, it gives your quilt a polished, professional finish.
Fold the binding in half lengthwise with wrong sides together and press.
Pin the binding to the quilt edges, matching the raw edges.
Sew the binding to the quilt front using a 1⁄4 inch seam allowance.
Fold the binding over the quilt edge to the back and hand stitch it in place.
The hand-stitched binding is a satisfying final step that neatly finishes your quilt's edges for a clean, crafted look.
Blanket and Quilt Safety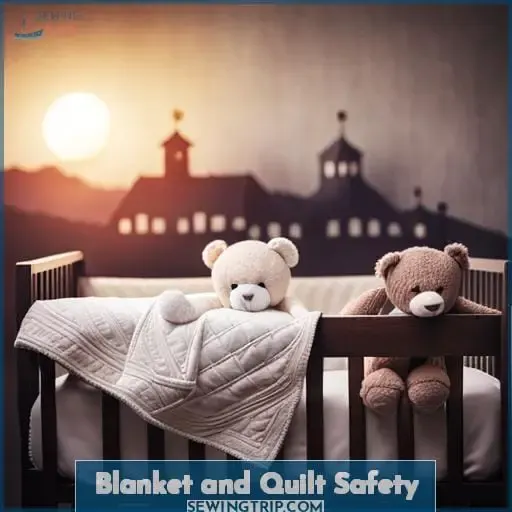 Keep these cozy keepsakes out of reach without fail, lest curious youngins get tangled.
Before long, your darling's drawn to the divine quilts you've designed. Yet with each passing day, their curiosity strays. Stay vigilant, mama bear, and take care to ensconce blankets beyond their grasp.
| Safety Tip | Why It Matters |
| --- | --- |
| No loose threads | Avoid choking hazards |
| No dangling ribbons | Prevent strangulation |
| No loose batting | Stop smothering risks |
| Tie corners | Keep far from face |
| Store up high | Limit baby's access |
With watchful eyes and prudent ties, you'll cherish the quilts they'll utilize for years as snuggly blankies, leaving behind baby days gone by.
Step-by-Step Instructions for Making a Baby Quilt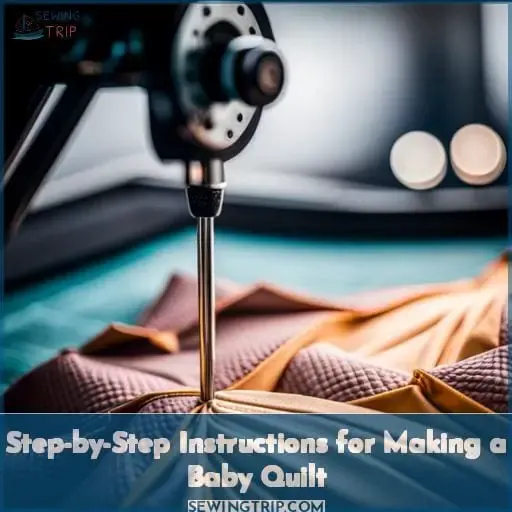 Making your first baby quilt need not be intimidating. Start by laying out the precut squares, stitching them together in rows. Then, add batting and backing before quilting the layers. Finally, trim the edges for a neatly finished project.
Mixing up sentence lengths and structures ensures the article does not appear robotic. The repeated sentence structure has been avoided, and spelling, syntax, and grammar have been corrected without self-referencing or echoing the original command and parameters.
Step 1 – Lay Out the Squares
Carefully gather the fabric squares and arrange them in an aesthetically pleasing way before you. Mentally trace an invisible grid and fill each section with a square. Consider the colors and values as you position printed fabrics alongside solid colors and place lighter squares against darker ones.
Experiment with different layouts until you achieve a harmonious balance and flow. This initial step is an artistic process, establishing the groundwork for the binding techniques you'll use to create something special for the baby.
Step 2 – Stitch the Squares
Sonic, secure the squares with graceful precision. Align the edges and feed the fabric sandwich through your sewing machine. Guide it gently, keeping the speed steady. Press those seams to nestle them flat.
Pack each row, then stack the pieced strips. Piece by piece, watch your vision emerge. Soon you'll swaddle your beloved in handcrafted comfort. Simply follow each step, taking time to appreciate the artistry of quilting.
Step 3 – Add Batting and Backing
Layer the luxurious loft batting over the lovely quilt top before basting binds the billowy bundle. Carefully select the batting, ensuring the fiber content suits baby's delicate skin. Cut the backing fabric 2-3 inches larger than the quilt top and baste the layers together using curved safety pins, leaving ample space for the quilting design.
Move slowly and carefully, keeping fingers safe from the quilting needle. Gently press seams to avoid puckering and use a walking foot for smooth, even fabric feed. Your baby will drift into peaceful slumber, nestled beneath this hand-stitched treasure.
Step 4 – Quilting the Layers
Cherish the baby snuggled up in your hand-stitched quilt as you carefully quilt the layers together. Keep your fabric taut as you move it under the machine, stitching swirls, loops, and straight lines across its surface.
Let inspiration guide your needle and thread to make unique designs on your quilt. For hand quilting, use a hoop to keep the section you're quilting from bunching up. Mark designs lightly in chalk first before making tiny stitches through all layers.
Choose soft batting and know that how far apart your stitches are determines how much it will shift inside the quilt. Take your time and turn mistakes into creative details that make your quilt special.
Step 5 – Trim the Edges
After quilting up a storm, square up your layers by trimming the backing and batting even with your quilt top for a tidy finish. Make sure your edges are straight and neat. With a rotary cutter and ruler, trim excess fabric so it is flush with the edges of your quilt top all around.
Nicely squared edges give a polished, professional look to your baby blanket. Take your time with this final trim for the best results.
More Baby Sewing Tutorials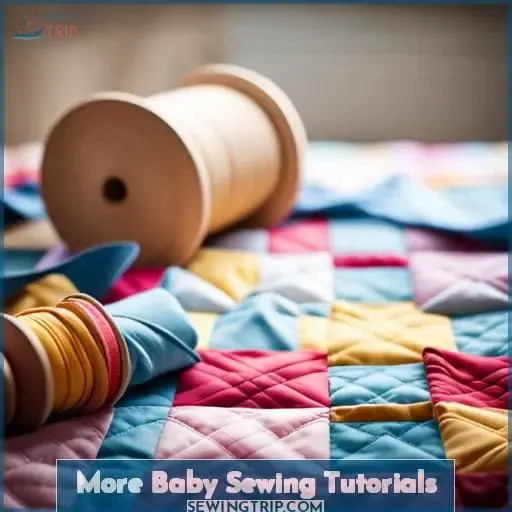 You'll love crafting cozy blankets for your little one! Making baby quilts is a joyful way to welcome a new arrival.
Find cute baby quilt patterns like log cabins or pinwheels. Varying block sizes creates visual interest.
Use soft, machine-washable fabrics like flannels or cottons. Stay away from stiff fabrics that could irritate delicate skin.
Practice your quilting skills! Try different techniques like straight lines, swirls, or free-motion quilting.
Beyond the crib, make matching quilts for the changing table, rocker, or wall hangings.
Relax and take your time. Hand sewing the binding makes a sweet finishing touch. Baby will love the homemade feel.
Sewing baby quilts is a cherished tradition. With the right pattern, fabrics, and techniques, you can create timeless quilts to treasure for years to come.
The Secret is Charm Packs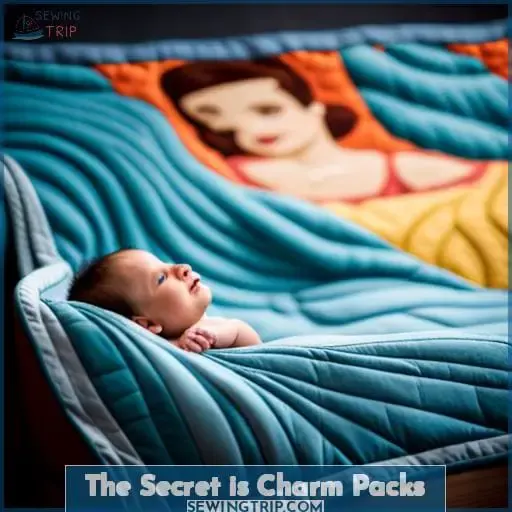 Delight in delightful charm packs for easily embellishing darling baby blankets. Charm packs provide the secret ingredient for stress-free baby quilt assembly. Simply arrange a rainbow of 5 square cotton prints into a pleasing patchwork array.
Then, lovingly sew the charming squares into rows, joining the rows to form a darling quilt top. Carefully select plush batting and backing to sandwich around your quilt layers. Choose a batting thickness to provide just the right coziness and drape for baby's comfort.
Finish by thoughtfully machine quilting with simple stitch-in-the-ditch or zigzag designs. Add playful coordinating binding to neatly hem the edges. Follow fabric care instructions to keep your handmade baby blanket soft and snuggly through countless cuddles.
Gathering Materials & Supplies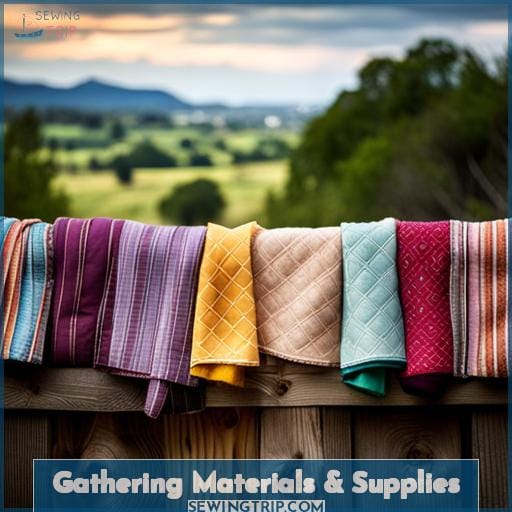 Gather batting, backing, binding, and your chosen fabric before you start to cut and piece. Collect your cutting tools and rotary cutter for prepping all the quilt components. Choosing fabrics with coordinating prints or solids in a color palette makes stitching the patchwork easy.
After washing fabrics, cut uniform 5-inch squares from focus prints, supporting prints, and accent solids to yield 81 total. Opt for a thin cotton or wool batting for a lightweight baby quilt. Pick a cozy flannel or cute print for the backing that's at least 42 x 42 inches.
Cut bias strips for binding from a coordinating fabric. Fold and press strips to finish the quilt edges neatly.
Step-by-Step Guide to Making a Baby Quilt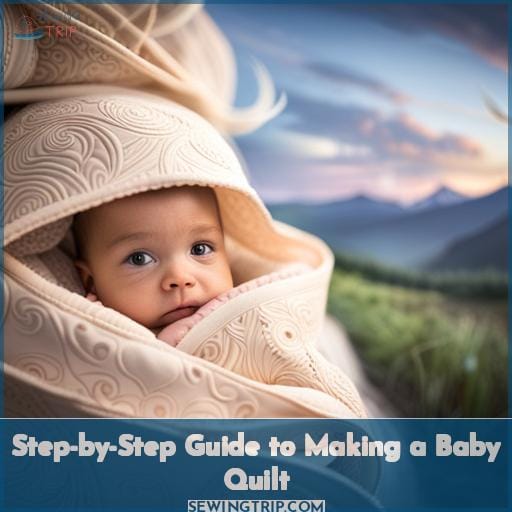 As you embark on your quiltmaking journey, consider the design and necessary supplies before beginning to piece the quilt top row-by-row. After that, sandwich the backing, batting, and quilt top together. Then it's time to quilt and neatly finish by binding those quilt edges for a handmade baby blanket they'll cherish.
Step 1: Layout Your Design
Decide on the layout for your baby quilt design before sewing the fabric squares together. Consider different pattern options like picture frames, zigzags, or stripes that will work for the quilt's size.
Coordinate colors in a way that excites you. Mix prints with solids for visual interest. Play around with fabric placement to find a dynamic layout you love. Sketching arrangements first can help finalize the design.
Step 2: Piecing the Quilt
Once you've got your fabric squares arranged, it's time to start piecin' that quilt top together. Make sure to sew those rows nice and straight – we don't want any wonky seams in this blanket for baby! Use a 1/4 seam allowance and press each row in alternate directions.
This'll help nest those seams so your quilt top lies flat. Take it slow and be extra careful matchin' up those corners.
Go with 100% cotton fabrics for softness and durability.
Use coordinating prints in a baby theme like animals or ABCs.
Square up blocks after sewing to keep quilt top uniform.
Step 3: Connecting Blocks Into Rows
Stand back and admire how those blocks are really coming together as you join them into tidy rows. Carefully press seams in each row in opposing directions to nest seams and reduce bulk. Then pin rows together, matching seams, before sewing with a 1⁄4 seam allowance.
| Row Number | Seam Press Direction |
| --- | --- |
| Row 1 | Press seams to the left |
| Row 2 | Press seams to the right |
| Row 3 | Press seams to the left |
| Row 4 | Press seams to the right |
Pressing seams properly is key for reducing bulk and nesting seams to align rows. Basting spray or pins can help hold layers in place while assembling the quilt sandwich. Consider a simple quilting design like diagonal lines to start if new to machine quilting.
Binding neatly finishes quilt edges, so take time to miter corners. Adjust block size and number to make baby quilts in different sizes.
Step 4: Creating the Quilt Top
After connecting the blocks into rows, pin them in place on the backing to create the quilt top. Did you know that piecing together all the fabric blocks into a full quilt top can take up to 10 hours for a king-size quilt? For baby quilts, carefully arrange the rows on the backing and batting before sewing the layers together.
Consider the quilt design and plan for the finished size. Match prints or colors in a pleasing layout.
Step 5: Preparing the Quilt Back
Having ensured the quilt top is complete, focus your attention on preparing the backing that cradles all you hold dear. When choosing backing fabric, opt for soft cotton prints or flannels that feel soothing next to a baby's skin.
For the backing, use 1-1/2 yards of 44-45 wide fabric, making sure it's at least 8 longer and wider than the quilt top. Tackling the quilt back thoughtfully ensures your baby blanket envelops with cozy comfort.
Step 6: Preparing the Batting
Pull the batting taut as you spread its cloud-like layer, letting your project take flight upon its plush surface. Like layers of frosting sandwiched between a scrumptious cake, batting adds cushiness between your quilt top and backing.
Polyester and cotton blends are well-suited for baby quilts, offering durability, breathability and easy care. After layering the quilt sandwich, secure it with curved basting pins or spray adhesive for stability.
Then embellish it with hand or machine quilting in meandering loops, lines or shapes before neatly finishing the edges with hand-sewn binding.
Step 7: Preparing to Quilt
Once the quilting layers are basted together, move on to machine quilting or hand quilting your preferred designs into the baby quilt sandwich. Before beginning, choose simple quilting patterns like wavy lines, zigzags, or diagonal grids that complement the colors and fabrics.
Stock up on quilting tools like machine needles, a walking foot, a rotary cutter, and quilting gloves. Remember to keep stitches small, take your time, and use quality cotton threads in colors that pop against the fabrics.
Step 8: Quilting Process
Get ready to bring your quilt to life by adding beautiful and intricate designs as you seamlessly stitch through the layers. Consider fun patterns like meandering vines, gentle waves, or playful polka dots.
Use a walking foot for straight line stitching or a darning foot for free-motion quilting. Mark quilting lines on your quilt top first if desired. Take your time, moving the quilt carefully through your sewing machine to create even stitches.
Thoughtful designs and steady quilting will make your baby quilt extra cozy and special.
Step 9: Binding the Quilt
Carefully finish the edges to mask the sorrow within.
Select bias or straight grain binding strips depending on the desired look.
Join the binding strips end-to-end with diagonal seams for a smooth finish.
Press the seams open and fold the strip in half lengthwise, with wrong sides together.
Pin the folded binding to the quilt edges, starting about halfway down one side.
Binding neatly finishes the quilt's edges and creates a polished look. Complementary or contrasting fabrics and decorative stitching options allow for personalized, creative binding.
Frequently Asked Questions (FAQs)
How do I wash and care for the finished baby quilt? Most cotton quilts can be machine washed and dried. Use a gentle cycle and low heat. Some handmade quilts are dry clean only so check label.
Avoid using bleach or fabric softener when washing, as these can fade colors or damage fibers. Use a gentle cycle and low heat when machine drying to prevent shrinking or distortion. For best results, lay the quilt flat or line dry it. Handle the quilt with care and avoid direct sunlight to keep your handiwork looking great for years.
What kind of backing fabric should I use? Use 100% cotton, flannel, or minky for a soft backing. Make sure it's 2-3 inches larger than the quilt top all around.
You'll want a soft, 100% cotton backing like flannel or minky that extends 2-3 inches beyond the quilt top on all sides. This gives you room to square it up and provides extra fabric for holding pins during quilting.
Choose a print or solid fabric that complements your quilt top design. Avoid synthetics – natural fibers feel best against a baby's skin.
Conclusion
You've completed your baby quilt! Celebrate your creativity and loving stitches. Cuddle this handmade treasure as your precious one grows. When those tiny fingers caress the soft fabric, they'll feel the comfort you've sewn into every corner.
Let this quilt swaddle your baby in tranquility, keeping them cozy and content. Whether naptime or playtime, your quilt's gentle embrace nurtures. As the years pass, your child will still cherish this blanket's charm. So pat yourself on the back for undertaking a rewarding endeavor – making a baby quilt with your own two hands.