This site is supported by our readers. We may earn a commission, at no cost to you, if you purchase through links.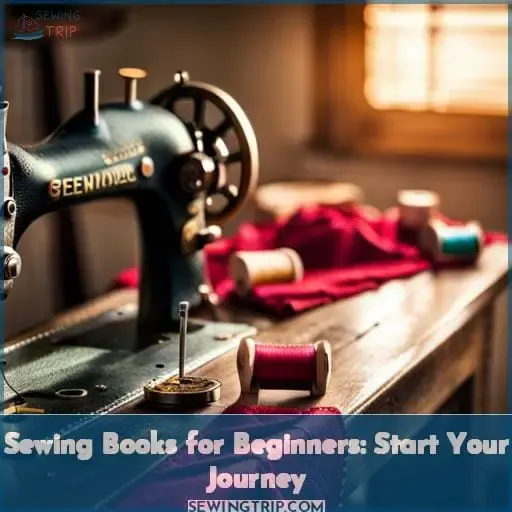 A stitch in time saves nine. So they say, and this certainly applies to learning the craft of sewing.
Here we'll cover some great options for those just starting out on their how-to-sewing adventure.
Key Takeaways
Sewing books for beginners: S.E.W. Sew Everything Workshop, Love at First Stitch, Bend the Rules Sewing, First Time Sewing: The Absolute Beginner's Guide
Comprehensive sewing guides: Vogue Sewing, The Ultimate Illustrated Guide to Sewing Clothes, The Sewing Book, Singer Complete Photo Guide to Sewing
Hand sewing and repair: Basic Hand Sewing Guide
Fabric-related books: Fabric Savvy, Tilly and the Buttons Stretch!, Fabric-by-Fabric One Yard Wonders, The Fabric Stylist
Sewing Books for Beginners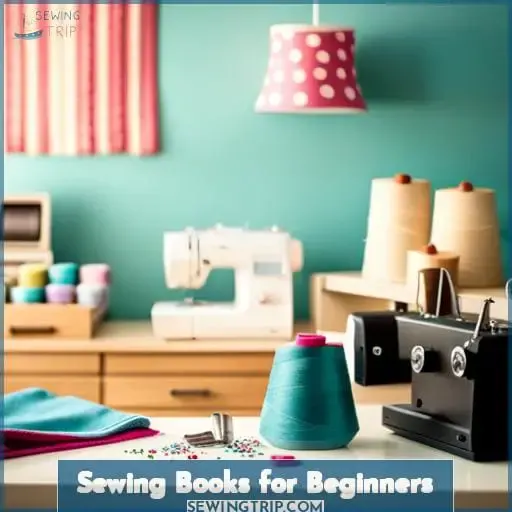 Start sewing with confidence! S.E.W. Sew Everything Workshop provides user-friendly guidance, while Love at First Stitch inspires vintage style. Make your first A-line skirt by learning fundamentals in Bend the Rules Sewing before exploring garment sewing with creative flair in Love at First Stitch.
S.E.W. Sew Everything Workshop
You'll learn how to sew like a pro with S.E.W. Sew Everything Workshop, focusing on a user-friendly approach that allows you to upgrade your wardrobe through simple techniques. Diana Rupp's visual guide demystifies sewing for beginners with step-by-step instructions on machine basics, fabrics, patterns, and garment construction.
Practical exercises build confidence to make skirts, tops, dresses, and more with this modern, project-based book. Sewing mastery awaits those who take the time to learn these fundamental skills and apply them through practice.
This workshop removes the intimidation factor from sewing and shows that anyone can create custom, high-quality pieces to express their personal style. With the proper guidance and commitment, sewing can be an accessible, rewarding hobby that unlocks unlimited creative potential.
Love at First Stitch
You're going to absolutely love Love at First Stitch with its fabulous vintage flair for garment sewing! The book oozes vintage style and creativity on every page. Tilly Walnes shares her passion for stitching gorgeous garments in a fun and inspiring way.
Her book sparks inspiration and unleashes creativity for sewing beautiful vintage-inspired clothes. Love at First Stitch is a delight for sewists wanting to craft stylish garments with vintage flair.
Bend the Rules Sewing
You can unleash your creative spirit with Bend the Rules Sewing by Amy Karol. Discover how to make one-of-a-kind projects by playing with patterns and fabrics. Amy inspires you to have fun, be bold, and think outside the box. Turn the ordinary into the extraordinary through her imaginative ideas.
Learn techniques for transforming store-bought patterns into unique DIY fashions.
Make Your First A-Line Skirt
I've got to get moving on making my first A-line skirt to master the fundamental sewing skills for constructing this classic style.
Choose a medium or heavyweight fabric with some body.
Cut your pattern precisely and mark it well.
Reinforce the seams at the waist for added structure.
Try a contoured waistband for comfort.
Hem it neatly by hand or machine for a clean finish.
With clear illustrations and step-by-step guidance, this how-to sewing book delivers the essential techniques for sewing and finishing a versatile A-line skirt.
First Time Sewing: the Absolute Beginner's Guide
First Time Sewing: the Absolute Beginner's Guide
Folks, First Time Sewing guides total beginners through key introductory sewing projects to build essential skills. This book offers practical tips for planning your first projects, choosing beginner-friendly fabrics, gathering must-have basic tools, trying creative pattern hacking ideas, building your sewing library, and more.
Though focused on adult learners, its emphasis on fundamental techniques makes it a helpful resource for sewing teachers introducing children and tweens to sewing as well.
Sewing Books for Kids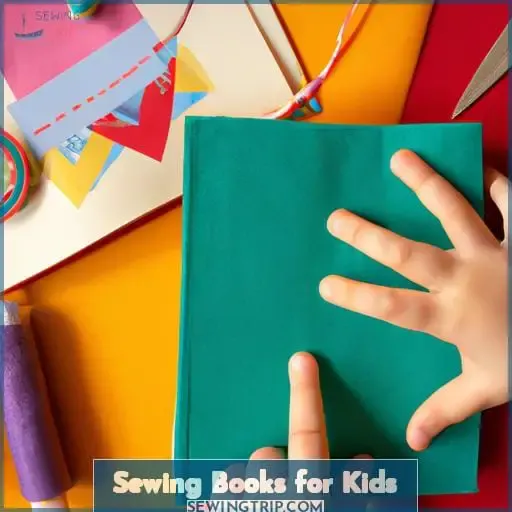 Greetings, young seamstresses! Learning to sew can be an exciting adventure. Let's explore some fantastic sewing books for tweens and kids that will have you stitching up fun projects in no time. These books will teach you sewing basics like how to thread a needle and operate a sewing machine.
They'll also provide easy beginner patterns so you can sew everything from tote bags to doll clothes. The best sewing books for kids use a simple, visual format with photos, illustrations, and easy-to-follow instructions.
Look for books that teach hand sewing and machine sewing skills. Consider classic series like Klutz's Sew Mini Treats, as well as new releases like Sewing School 2 and The Sewing Book for Kids. With inspiring titles like these, you'll be motivated to get sewing and build your skills.
Sewing 4 Kids: 30 Fun Projects to Hand and Machine Sew by Alexa Ward
Having fun with wardrobe whimsy, Sewing 4 Kids inspires creativity through doll-making and wearable art. Hey kids, unleash your inner fashionista! Learn hand and machine sewing through Alexa Ward's playful patterns.
Make cute plushies, stylish scarves, fun fingerless gloves. Thirty friendly projects help you craft with confidence, expanding your sewing skills one stitch at a time. Sew spectacular clothes and nifty gifts. Express yourself with fabric and thread.
Aranzi Aronzo Fun Dolls (Let's Make Cute Stuff)
You'll adore the imaginative plushie projects in Aranzi Aronzo's Fun Dolls book. This cute Japanese crafter provides doll-making techniques and fun sewing projects to spark your creativity.
Adorable plushie patterns
Fabric and tool recommendations
Clear sewing instructions
Tips for customizing designs
Inspiration for fabric combinations
Embrace your inner child and get crafting with this charming doll-making guide!
My First Sewing Machine Book: 35 Fun and Easy Projects for Children Aged 7 Years +
You can master sewing machine basics with My First Sewing Machine Book, which guides kids through 35 fun and easy projects like a cuddly st■ bear that sews up quicker than a hiccup. With age-appropriate patterns like zippered pouches, skirts, and tote bags, creative young minds can let imagination run wild.
Child-friendly tools and parental involvement ensure safety. From project ideas to sewing machine troubleshooting, this book empowers the next generation of sewing superstars.
Sewing Books for Beginners With a Fabric Emphasis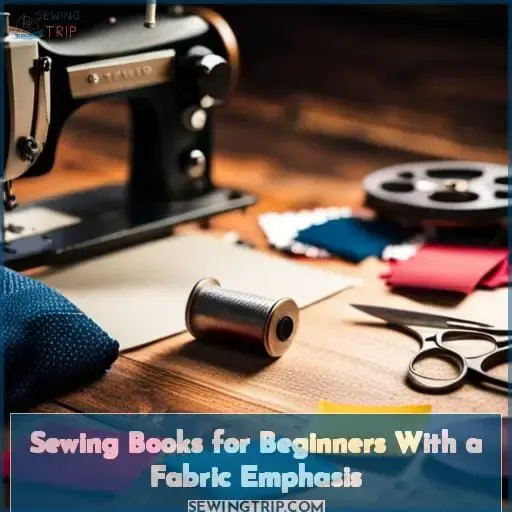 Let's jump right into fabric! When sewing garments, understanding how to select, prepare, and work with different fabric types is essential. In this post, we'll discuss must-have sewing books focused on fabric, including Fabric Savvy for comprehensive fabric knowledge, Tilly and the Buttons Stretch! for sewing knits, and Fabric-by-Fabric One Yard Wonders to make the most of small pieces.
The books provide invaluable advice on working with different fabrics like knits, wool, silk, and more. They offer tips on washing, pressing, layout, cutting, and sewing various fabric types. Whether you're sewing with delicate silks or stable cottons, stretchy knits or slippery satins, the right reference books will set you up for success.
With swatches to feel and images to see fabric hand and drape, they build fabric knowledge that transfers to projects.
More Fabric Savvy
It looks like fabric savvy is the key for learning sewing! Sandra Betzina's Fabric Savvy focuses entirely on fabric knowledge for success with any project. Unlock the secrets behind fabric selection and sewing techniques. Learn about material types, tools, and care.
Master knits and woven fabrics. Keep machines humming. With mastery of fabric, your sewing confidence and skills will soar.
Tilly and the Buttons Stretch!
Feel the freedom of flexibility as Tilly and the Buttons Stretch! guides you through sewing with knits. Say goodbye to seams that pop and garments that feel rigid. Learn the nuances of working with stretch fabrics like knits.
Absorb Tilly's tips on selecting knit-friendly patterns, pinning, cutting, and sewing techniques. Master garment construction for t-shirts, dresses, and loungewear. This book unlocks the potential of your closet, so you can create wearable pieces that move with your body.
Shape your wardrobe with the confidence, comfort, and style that comes from sewing knits.
Fabric-by-fabric One Yard Wonders
Master fabrics with Fabric-by-Fabric One Yard Wonders. Quickly craft DIY gifts and creative sewing projects using its guide to choosing fabrics and one yard projects. Make your own idealized creative look through fabric-focused sewing skills for bags, home decor, accessories, and clothing with Fabric-by-Fabric One Yard Wonders.
General Purpose Catch All Sewing Books for Beginners You Want in Your Sewing Library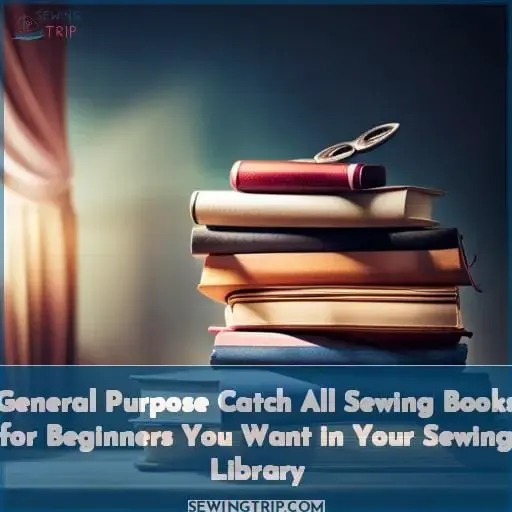 Hey there! You'll absolutely want Vogue Sewing on your sewing book shelf for an incredible look at the complete world of sewing. This quintessential stitching guide dives deep into the details, with over 700 techniques, 400 stitches, and endless sewing inspiration to have on hand anytime you're ready to dive into a new project or brush up on the basics.
The expansive pages offer guidance on everything from sewing basics and altering patterns, to couture techniques, tailoring, and working with specialty fabrics like leather and lace.
Vogue Sewing
You'll find Vogue Sewing's clear photos and diagrams indispensable for learning fundamental sewing skills and techniques.
This comprehensive sewing guide offers all of the essential skills and current trends you need to craft beautiful, custom-fit garments with confidence.
Ultimate Illustrated Guide to Sewing Clothes
You can bet the Ultimate Illustrated Guide to Sewing Clothes is like having your own personal sewing mentor, with its incredibly detailed tutorials that walk you through each step of making clothes from start to finish.
With over 1,000 full-color photos and illustrations, this comprehensive reference covers all the garment construction techniques, sewing tips, fabric know-how, and project ideas you need to sew like a pro.
Each chapter focuses on making a specific garment, guiding you through every step from choosing patterns and fabrics to sewing seams and hems. An essential illustrated encyclopedia for building fundamental sewing skills and confidence.
Basic Hand Sewing Guide: 1 Hour Repair Guide
Freshen your hand sewing skills with the Basic Hand Sewing Guide's 1 Hour Repair Guide. This essential reference teaches you how to quickly mend tears or replace buttons with basic hand stitches. The guide covers essential supplies, threads, needles, and fabrics for fast garment repairs.
Follow clear instructions and diagrams to master key hand sewing techniques in no time. The guide demonstrates how to make quick fixes like sewing on a button securely, mending a small tear, patching a hole, fixing a hem, and more.
With just a needle, thread, scissors, and basic sewing kit, you can make minor repairs in about an hour that will restore your favorite clothes.
Sewing Books Are Awesome, but What if I Want a Beginning Sewing Class?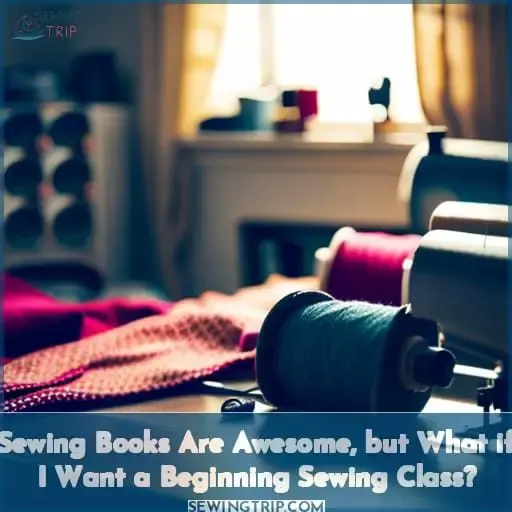 Learning to sew from books is wonderful, but nothing beats hands-on practice with an experienced teacher guiding you. Stitch by Stitch and The Sewing Machine Classroom offer comprehensive beginner sewing classes that will have you mastering essential skills and sewing your own projects in no time.
Stitch by Stitch: Learning to Sew, One Project at a Time
Stitch by stitch, learning to sew allows you to savor sewing's nuances while nurturing your inner fashionista. Mastering stitching requires commitment, but each project incrementally builds skills. As you progress through patterns, absorb techniques, then get creative. Sewing novices should take it slow and be patient with themselves.
Join sewing circles to find inspiration and community while overcoming beginner challenges.
The Sewing Machine Classroom
Taking The Sewing Machine Classroom guides you comprehensively from sewing machine basics to mastery with detailed lessons, troubleshooting tips, and exercises.
Learn threading, winding bobbins, adjusting tension.
Master specialty techniques like zippers, buttonholes, applique.
Practice with stitching exercises and sampler quilts.
The Sewing Machine Classroom empowers you with the skills and knowledge for sewing machine techniques and mastery. This essential guide teaches you sewing machine essentials from start to finish.
Singer Complete Photo Guide to Sewing
Offering extensive step-by-step visual instructions, Singer's Complete Photo Guide to Sewing provides a modern resource for developing fundamental and advanced stitching skills. This 1100-photo reference offers detailed guides for mastering sewing techniques and completing creative projects.
Basics – Tools, fabrics, patterns, layouts, cutting, markings
Construction – Seams, darts, pockets, collars, sleeves, hems, zips, buttonholes
Embellishment – Applique, embroidery, quilting, beading, trims
Garments – Shirts, pants, skirts, dresses, lingerie, outerwear
Home Decor – Pillows, cushions, drapes, slipcovers, table linens
Special Techniques – Alterations, repairs, upcycling, toys, accessories
This extensive visual guide offers a thorough and engaging education in modern sewing skills for both beginners and experienced stitchers. With detailed images and clear instructions, the Singer Complete Photo Guide unlocks creative sewing potential.
Idiot's Guide: Sewing
You'll unravel the mystery of sewing with the Idiot's Guide: Sewing and its simple, illustrated instructions.
Step-by-step techniques for hand and machine sewing
Tips for selecting fabric, patterns, and supplies
Instructions for essential stitches and seams
Guides to alterations and repairs
Easy introductory sewing projects
The Idiot's Guide: Sewing empowers beginners with illustrated, easy-to-follow instructions for learning fundamental sewing skills and completing simple projects.
The Sewing Book: an Encyclopedic Resource of Step-by-Step Techniques
You would appreciate The Sewing Book as an encyclopedic resource with step-by-step techniques. It is a showcase of comprehensive sewing skills and insightful methods. This sewing reference provides step-by-step guidance to master techniques for a skills showcase.
Use it to gain thorough understanding of stitching approaches. The book offers comprehensive insights into sewing methods through its step-by-step explanations of techniques. It can help build mastery of stitching skills. The Sewing Book serves as an in-depth reference for gaining expertise on sewing methods.
Its detailed, step-by-step techniques make it a valuable resource for comprehensive sewing knowledge.
Sewing Books for Kids or Tweens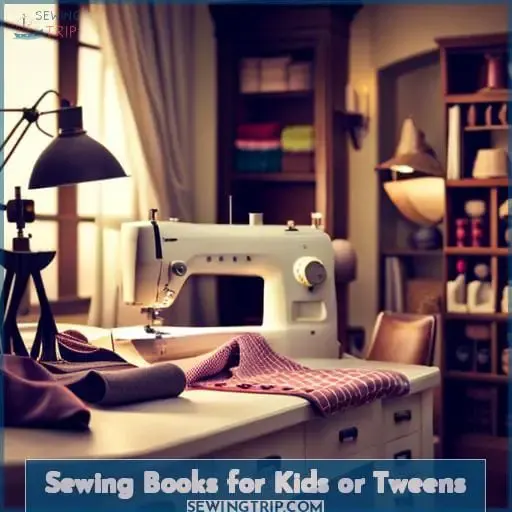 Let's sew! As a sewing enthusiast, I'll recommend four great books to get kids or tweens started with sewing. How to Sew a Button by Erin Bried is a classic picture book that uses rhyming text to teach hand-sewing basics.
Sewing School 2 offers projects and lessons for ages 7 and up to develop creative confidence. My First Sewing Machine: Fashion School is perfect for learning machine sewing, and My Handmade Closet by Alison McNicol shows tweens how to make their own stylish clothes.
A Kid's Guide to Sewing: Learn to Sew With Sophie and Her Friends
You've got to check out A Kid's Guide to Sewing if you're looking to learn sewing with tweens. This how-to sewing book for kids will have your little one stitching up fun projects in no time.
With cute illustrations and easy patterns, it's a fun way to get tweens hooked on sewing skills for life!
Sewing School 2: Lessons in Machine Sewing
Since the last sewing book for kids focused on hand sewing, you would now dive into Sewing School 2 for lessons using a machine. Offering a modern approach, this book guides you through machine sewing techniques so you can make clothes, accessories, décor, and more.
With step-by-step tutorials, sewing tool tips, and projects that build confidence, it unlocks your creativity. Master straight stitches, zippers, hems, fasteners, and bias tape to expand your skills.
My First Sewing Machine: Fashion School
Before slipping needles into fabrics, focus on understanding your machine's anatomy.
Learn bobbin winding. Insert thread through guide, around tension disc and clockwise onto empty bobbin placed on the spindle.
The presser foot holds fabric flat as the feed dogs below move fabric along under the needle.
A manual machine uses a hand wheel to raise/lower needle. An electric foot pedal controls speed.
The throat plate opening allows the needle to pass into the bobbin area making stitches.
Adopt a playful mindset as you familiarize yourself with your fashion school. Mastering machine basics unlocks creative potential for youth to express themselves through stitching skills.
See and Sew: a Sewing Book for Children
Check out See and Sew for teaching sewing basics and fun projects to kids. This child-friendly book offers creative patterns tailored for young seamstresses to master beginner stitching. With simple, illustrated instructions for kids' sewing, See and Sew empowers the next generation of designers through imaginative, skill-building projects.
Let your child unleash their inner fashionista and develop a lifelong passion through this playful, yet educational, sewing resource.
Other Books I Love for Specific Sewing Tasks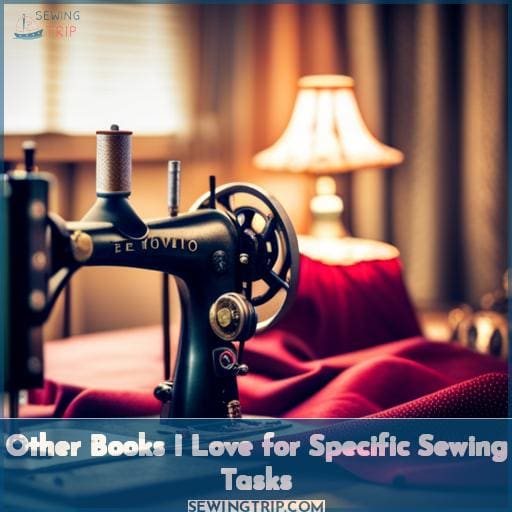 Starting with complex sewing projects can be daunting. Getting comfortable with your sewing machine by sewing small, useful items that don't require much fabric is a great way to build skills. Little One-Yard Wonders offers fun sewing projects using minimal yardage, helping you gain confidence at the machine before tackling more advanced makes.
This allows you to get to know your machine while creating practical items, setting you up for success on bigger projects down the road.
You and Your Sewing Machine
You become one with your sewing machine by reading the manual and learning its unique nuances. Follow the factory guidelines for troubleshooting issues with skipped stitches, frayed threads, and uneven tension.
Get familiar with the mechanical workings. Experiment with needle types, thread weights, and stitch options. Fine-tune tension controls, altering upper and lower levels for balanced straight and zigzag stitching.
Presser foot pressure adjustment maximizes fabric handling. Lubricate moving parts regularly and keep everything dust-free.
Little One-Yard Wonders
You'll absolutely adore Little One-Yard Wonders for whipping up oodles of delightful mini sewing projects quickly. This inspiring book overflows with clever ways to transform small fabric bits into impressive little gifts and goodies.
From clutches to coasters, it'll spark your creative juices with fun sewing techniques and endless possibilities. Let these imaginative ideas free your inner sewing maven and empower you to fashionably fill your world with handmade marvels.
More Fabric Savvy and Fabric Sewing Guide
There is tons more about working with different fabrics in The Fabric Stylist, which tells you how to match techniques to materials. As your sewing progresses, you will want to expand your fabric knowledge. This guide offers expert advice on fiber content, drape, stretch, and more to select the right fabrics.
It explains how stitch type, needle choice, thread, and pressing affect each material. With this knowledge, you can confidently tackle creative projects and achieve professional results by matching sewing techniques to your fabrics.
The Complete Photo Guide to Perfect Fitting
Checking your fit is easy with The Complete Photo Guide to Perfect Fitting. This visual sewing book uses over 1,100 photos to clearly demonstrate how to evaluate and alter patterns for a custom fit on your body.
Assess fit issues like drag lines and gaping
Make adjustments for broad shoulders or full bust
Shorten or lengthen bodices, sleeves, and skirts
Tweak waistlines, side seams, armholes and more
This comprehensive reference provides the fitting knowledge to help you achieve a flattering, personalized fit on any sewing project.
Conclusion
With over 200 million sewing machines in use around the world, sewing is a skill enjoyed by millions. If you're looking to start your own journey, then sewing books for beginners can be an invaluable resource.
From classic favorites like S.E.W.'s Sew Everything Workshop and Love at First Stitch to more creative titles like Bend the Rules Sewing and Make Your First A-Line Skirt, there are how-to sewing books out there for everyone.
With these resources, you'll be able to master the basics and expand your skill set to make clothes, accessories, and more with ease.