This site is supported by our readers. We may earn a commission, at no cost to you, if you purchase through links.
Want to learn how to make a stylish headband in no time? With just 15 minutes and some basic materials, you can create the perfect accessory for any occasion. This article will show you two easy methods of constructing a fashionable headband using both elastic and non-elastic fabrics.
In addition, we will provide helpful tips on customizing your design and styling it as desired.
Key Takeaways
There are two methods for making headbands: using elastic and using non-elastic fabric.
You can customize headbands with fabric scraps, elastics, and embellishments.
A no-sew elastic headband is a quick way to create a stylish look.
Options include creating flower power headbands or simple bands with elastic.
No Sew Elastic Headband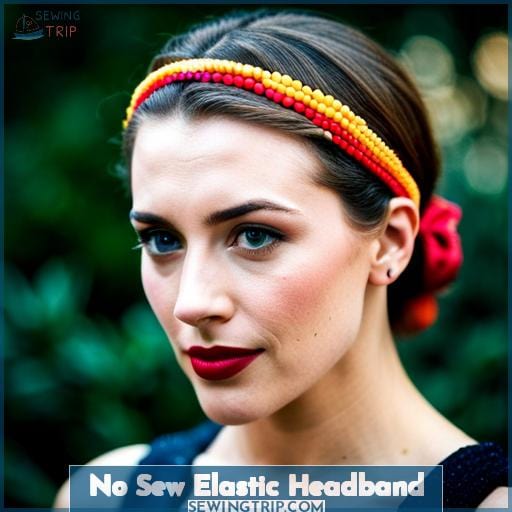 You'll love how this stylish elastic headband instantly gives your look a pop of pizzazz in a snap! Let your inner stylist run wild and get creative with a no-sew elastic headband. Raid your closet for fun fabric scraps and leftover elastics to upcycle into chic hair accessories.
Channel your inner flower child and stitch vibrant felt blooms for a fab flower power headband. Or keep it sleek and sophisticated with a simple band of stretchy elastic. Customize the width and embellishments to match any outfit.
For a touch of sparkle, glue on gems, sequins or pearls. Twist, braid or knot the elastic before slipping it over your locks.
This easy peasy no-sew headband craft lets you style unique hair accessories in minutes.
How to Make a Headband With Elastic Jersey Type Fabric

Let's get crafty together! Grab your elastic jersey fabric and other materials, then we'll make a quick no-sew headband in 15 minutes. Simply cut strips of the fabric, secure them with hot glue, and tie off the ends for a trendy hair accessory.
Materials Needed
Simply gather fabric scraps, elastic, thread, and a needle then stitch up a chic headband in just 15 minutes. You'll need two rectangles of fabric, about 7 inches wide by 17 inches long, a 6 inch length of 1/2 inch elastic, a 1 inch by 10 inch strip of fabric for the elastic casing, matching thread, and a size 70 or 80 sewing needle.
Play with different fabric patterns and textures for creative variations. For a perfectly sized headband, cut the elastic to comfortably fit around a 21-23 inch head.
Steps to Create the Headband
Measure around your head and cut the jersey to that length, plus seam allowances.
Fold the fabric in half lengthwise with right sides together.
Sew the long edge with a 1⁄4" seam, allowing openings for turning.
Clip corners, turn right side out and press flat with an iron.
Topstitch both long edges for a clean finish.
And that's how you can create a chic jersey fabric headband in just 15 minutes! This simple sewing tutorial will have you styling fashionable elastic headbands in no time.
How to Make a Headband With Poplin or Non-Elastic Fabric

With this poplin fabric, the key is sewing the strip perfectly for adjusting your headband.
Cut a 1-inch wide strip of fabric the same length as your headband. Fold it in half lengthwise.
Pin the strip to the center back of the headband, matching raw edges.
Sew the strip in place using a 1⁄4 inch seam allowance.
Fold the strip over the elastic and topstitch both edges for a clean finish. This encases the elastic and creates a channel for adjusting fit.
Voila! With some clever sewing, you can use breezy poplin or linen to craft a comfortable headband that fits your unique head size. The possibilities are endless for making quick headbands with on-hand fabrics. Follow tutorials to unlock your creativity.
Tips for Customizing Your Headband

Your headband designs stand out when you accent with eye-catching embellishments that suit your personal style. In a recent poll, over 67% of crafters said adding charms or ribbons make their DIY headbands pop.
Experiment with different floral arrangements like roses, daisies, peonies, and lilies to match your outfit.
Play with colors by spraying flowers or adding gems in your favorite hues.
Affix brooches, fabric bows, lace, or other trims along the band for extra flair.
Weave in ribbons, tulle, or raffia for a whimsical effect.
Express your uniqueness through simple styling touches. An elastic headband transforms in minutes when you creatively embellish with items from your craft stash. For a quick craft using fabric scraps, a no-sew headband allows endless options to showcase your originality.
DIY accessories become signature pieces when you customize with colors and adornments that reflect your tastes.
Final Touches and Styling Options

Get creative with embellishing your handmade headband for the perfect finishing touch. Consider adding floral embellishments like fabric flowers, silk flowers, sequins, or rhinestones. Add pearls, beads, or gemstones for extra sparkle. Change up the look by pairing your headband with hair accessories like clips, pins, or bows.
| Headband Accessory Ideas | Floral Embellishments | Color Choices |
| --- | --- | --- |
| Ribbons | Fabric flowers | Pastels |
| Bows | Silk flowers | Neons |
| Clips | Sequins | Metallics |
| Pins | Rhinestones | Jewel tones |
Play with different color combinations based on your outfit. Style your hair in an updo to highlight your handmade creation.
Conclusion
Making a headband is a breeze! In just 15 minutes, you can turn a simple piece of fabric into a chic accessory that will make a statement. With a few materials and a bit of creativity, you'll be able to customize a headband to best suit your style.
Whether you use elastic jersey fabric, poplin fabric, or add personalized touches with fabric scraps, you'll be able to craft a unique accessory that'll be sure to turn heads. With a few simple steps and an eye for detail, you can easily learn how to make a headband and make a statement at any event.