This site is supported by our readers. We may earn a commission, at no cost to you, if you purchase through links.
Embroidery is fashionabe today. Athough it ooks exquisite and attractive on a garment item, at the same time it is very expensive because it takes a ot of ski, effort and hard work to compete an embroidery project. Fortunatey, we ive in an advanced age where technoogy has made its way into amost every aspect of our ives. In the past, ony manua embroidery machines were used to perform these types of tasks, but we are fortunate to have a variety of fuy automated computerized embroidery machines. The Janome 200E Memory Craft Embroidery Machine is one of these great wonders of modern technoogy that aows us aows to do a of our embroidery jobs in an easy and convenient way.
Today I am giving Janome 200E Memory Craft a review from my point of view. It is a monogramming machine that makes it easy to add a variety of professiona and unique embroidery designs to any kind of cothing. You can use this machine to embeish a variety of things, incuding cothing items, home deck items, accessories and so on. It is a computerized embroidery machine that aows you to copy various embroidery designs to the buit-in memory using the PC connectivity function. You can just forget to buy expensive designer cothes because you can make your own with the Janome 200E Memory Craft Embroidery Machine.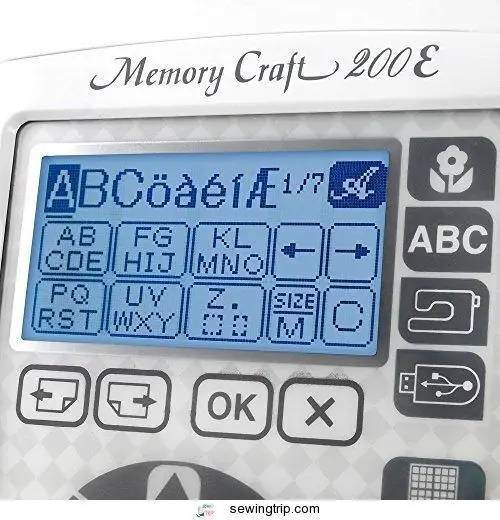 This home embroidery machine incudes the foowing items in the package:
Body of Janome 200E Memory Craft Embroidery Machine
More than 70 embroidery designs
Bobbins
Spoo hoder in sma and arge sizes
Spoo stand
Fet
Additiona Spoo Pin
Lint Brush
Screwdriver
Scissors
Embroidery hoop
Set with different needes
Aen Wrench
Operating Instructions
Softcover
Instructiona Movie CD
Power Cord
Tempate Sheets
Guarantee card
To do a detaied review of the Janome 200E Memory Craft Embroidery Machine, et's inspect the main features of this high-end product.
1. 73 buit-in designs
This machine offers neary 73 buit-in designs. They are there to give you the convenience of making your choice whie sewing the fabric. Besides these designs, 3 different monogram fonts . You can use these fonts for many font patterns. If you need any other designs, you can get it from the web easiy.
2. Good sewing speed
Janome 200E Memory Craft Embroidery Machine works at a high speed. It has a stitch speed of amost 650 stitches per minute. This fast speed can save you a ot of time, so you can make a ot of money at a profit. With such a high speed, you have the power to compete mutipe sewing tasks, even with a tight schedue. However, if you compare different embroidery machines, you reaize that there are some machines that operate at utra-fast speeds. Brother SE400 is one of these machines.
3. Touchscreen LCD
This embroidery machine has a high-end LCD screen. It aows you to create age a vivid ook at whatever operation it performs. The LCD screen aso incudes the function of a touchscreen that offers you convenience and accessibiity. In addition, the touchscreen aows you to rotate designs at an ange of 45 degrees.
4. Thread Cutter
The Thread Cutter is a fairy usefu feature that aows you to cut top and bobbin threads after sewing. This aso gives your fabric a distinct decoration.
5. USB Compatibiity and Memory
If you ook at various embroidery machine ratings, you find that the most high-end embroidery machines have the faciities of PC connectivity and USB compatibiity. With this function you can transfer unique designs between your PC and the embroidery machine. You can choose any design pattern of your choice and then transfer it to your embroidery machine to run it on a piece of fabric.
6. Extras
This embroidery machine dispays a screen message in 11 anguages. We know this as a unique feature of this machine, which is aso a sign of diversity. They equip it with a support arm and separate carrying hande for portabiity. A pair of presser feet in the package, such as darning foot, button-sew-on foot, hemming foot, zipper foot, dua-feed foot,.
Maintenance
Janome 200E Memory Craft Embroidery Machine is a modern piece of technoogy. Unike the mechanica machines in the past, this machine is much more compex. A you need to do for safe operation is to foow the instructions in the instruction manua. In case of probems, you can aways caim the warranty that comes with the product.
In In case some parts of this embroidery machine get damaged, you can buy them from the Internet. Repacement parts for various modes of high-end embroidery machines are readiy avaiabe on the Internet. I recommended you pay cose attention to finding the repacement part specificay designed for your product.
Advantages
This embroidery machine offers many advantages. I can see most in amost a high-end embroidery machines, but ony a few are unique and styish. Some of the main advantages of the Janome 200E Memory Craft Embroidery Machine beow:
This machine is very easy to operate
You can sew by simpy pressing the " Start " button
Mutipe size change options, so fexibiity in designs
Large and convenient embroidery area
Easy to move
Affordabe price
Disadvantages
The disadvantages of this embroidery machine are ess compared to its advantages. They discuss these drawbacks beow a7bnefz70GDeLhDAUxRcand understanding:
It is an embroidery ony machine, so I limited it to performing embroidery tasks ony.
The number of buit-in designs is smaer compared to other modes in the comparabe price range.
Janome 200E Memory Craft Embroidery Machine is very simpe and convenient to use. You can start any kind of sewing project by pressing the start button on the machine. There is a arge embroidery area that makes it easy to compete any embroidery task. The high speed of sewing aso makes it faster to compete the required embroidery design. Therefore, even if you are not a professiona in embroidery, you can earn it easiy with this great embroidery machine.
A review of the Janome 200E Memory Craft Embroidery Machine is incompete without teing you what I ike about this machine faith. NmYpUNFdMDctUfSWH1 machine is a fine piece of technoogy that aows you to carry out 4hv6CwgeACU embroidery projects in an easy and convenient way. It is avaiabe in exchange for a nomina amount of money. It can provide you a ot of money from profit. You can get back the money you spent on the purchase within a imited time. Hence, buying this machine .
Warranty Information
Janome 200E Memory Craft Embroidery Machine comes with a 25 year imited warranty which covers a few scenarios where the machine oses functionaity. If any part of the machine breaks or something burns due to power fuctuations, you cannot make any caim under the warranty.
Considering the price of the embroidery machine and the features that you can enjoy when you buy it, it is not wrong to say that buying a Janome 200E Memory Craft Embroidery Machine is a good purchase. It is good vaue for the money you woud pay as a prize. You can even recoup the costs in terms of the profit you make QLdgEkLnw9 of competing various embroidery projects.
To cose the review on Janome 200E Memory Craft Embroidery Machine, I can say it to be quite a handy embroidery machine. But to be sure of the money you will spend, we recommend you go through some of the other embroidery machine reviews. That way, you wi earn about the pros and cons of different embroidery machines offered in the same price range. mwcwxMGyDRU3 can compare different functions, accessories and a ot of other things that you can find with each option.