This site is supported by our readers. We may earn a commission, at no cost to you, if you purchase through links.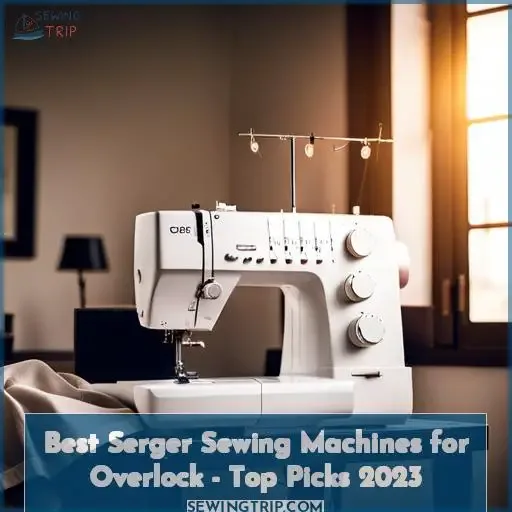 Ready to take your sewing game to the next level? Sergers, also referred to as overlock machines, are great investments for those looking for a device that will last and give professional results with a minimum of effort.
We'll be covering some top-of-the-line models from well-known brands like Janome, Brother, and Singer. Plus, we'll cover less common but still quality options like Babylock sergers and Juki's impressive range.
No matter what your budget is or skill level may be, there's sure to be an ideal model out there just waiting for you – so let's get started finding it!
Key Takeaways
Sergers, also known as overlock machines, are valuable for enhancing sewing results.
Top serger brands include Janome, Brother, Singer, and Juki.
Sergers offer 2, 3, or 4-thread options for different sewing needs.
Threading tips and regular maintenance are essential for optimal performance.
Top 4 Best Serger Sewing Machines for Overlock
Serger sewing machines offer convenient finishes through seam wrapping and edge trimming. Janome, Brother, Singer, and Juki provide reliable options for experienced sewers. These options include the Janome Six Two Three Four Plus with adjustable stitch settings, the heavy-duty Singer with a 60% larger cutting knife, the feature-rich JUKI MO654DE for versatile projects, and the Brother 2340CV coverstitch model ideal for stretchy fabrics like knits.
1. Janome Six Two Three Four Plus Sewing Machine
View On Amazon
With the Janome Six Two Three Four Plus' robust metal construction, wide array of accessories, and variable 2/3/4 stitch capabilities, you're getting a versatile, high-powered overlocker to handle rolled hems and other finishing touches on your garments and home decor projects.
Equipped with color-coded threading guides and a differential feed ratio, this serger enables you to effortlessly achieve professional-looking results on diverse fabrics.
The self-threading lower looper saves time, while the heavy-duty metal interior ensures this machine will hold up to frequent use. Change stitch types and widths on the fly for neat trims or bold edging effects.
Minor frustrations threading shouldn't outweigh the Six Two Three Four Plus' ability to bring your sewing skills to the next level with its advanced functionality.
Smooth, fast performance
Variable 2/3/4 stitch options
Rolled hem capability
Wide accessory kit included
Substantial weight
Lower looper tricky to thread initially
Some fiddly aspects to threading
2. Brother Coverstitch Serger 2340CV Metal Frame Stitches Per Minute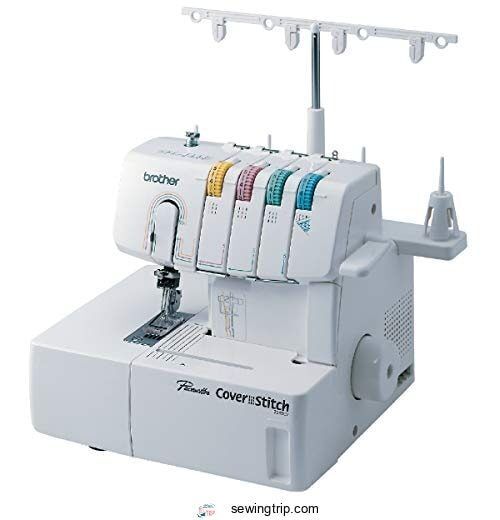 View On Amazon
You'll achieve professional-looking knit finishes by using the Brother 2340CV metal-frame coverstitch serger, which lets you seamlessly sew a narrow rolled hem on a child's knit sweater sleeve. The 2-needle, 2-3-4 coverstitch function allows for both wide and narrow hems. The color-coded threading system and adjustment dials make setup intuitive.
Ideal for stretch fabrics, this machine's 1,100 stitches per minute, 0.7-2.0 differential feed, and included accessories equip home sewers to complete projects quickly with tidy, durable seams and hems.
Metal frame provides durability
Color-coded threading guides
Good for stretchy fabrics like knits
Wide and narrow coverstitch options
Fast sewing speed
Possible issues with thread breaking
Light may stop working
Plastic presser foot less durable
Learning curve for threading
3. Singer Heavy Duty Serger Sewing Machine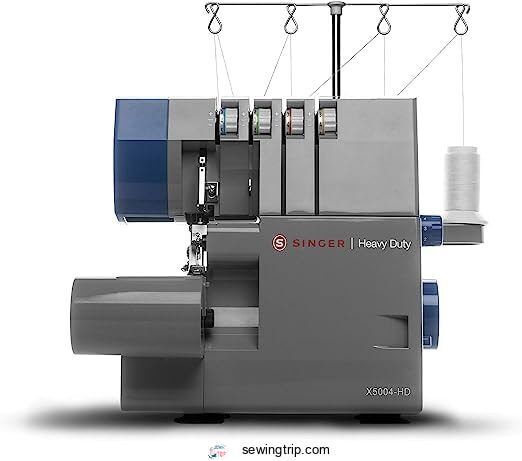 View On Amazon
Those powerful motors whip you through heavy fabrics fast with Singer's heavy-duty serger. This rugged metal-framed workhorse powers through multiple layers with ease, thanks to its 60% larger cutting knife.
The serger's 2/3/4 thread capacity and 8 built-in stitches expand your creative options.
Experience illumination courtesy of dual LED lights that brighten your sewing surface. Hem edges like a pro using the convenient built-in rolled hem plate. Thick denim and canvas are no match for this industrial-strength sewing machine.
Some users mention an initial learning curve, particularly for threading. But with practice, you'll be finishing hems and edges with finesse. This heavy-duty serger delivers unmatched durability and performance for the price.
Heavy-duty metal frame
Powerful 60% larger cutting knife
Versatile 2/3/4 thread capacity
8 built-in stitches
Fast 1300 stitches per minute
Bright LED illumination
Built-in rolled hem plate
Some learning curve, especially for threading
Can struggle with very thick fabrics
No automatic threader
4. JUKI MO654DE Portable Thread Serger Sewing Machine White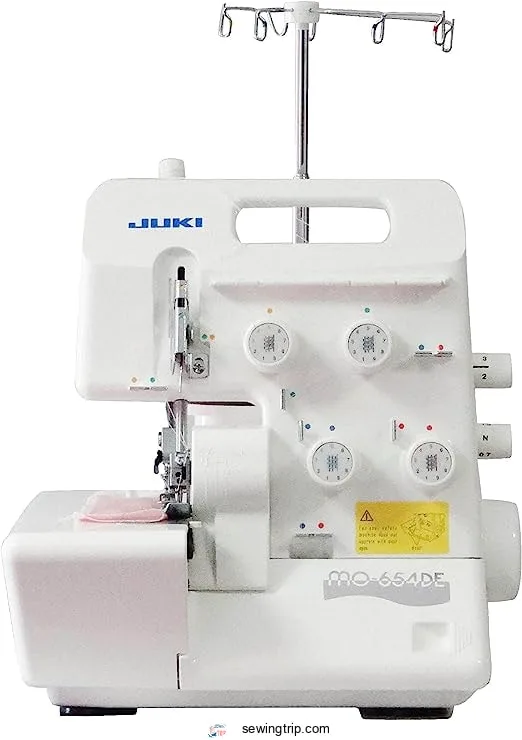 View On Amazon
You've struck machine gold, grabbing an industrial-strength workhorse that rockets speeds of 1500 stitches per minute on garden hose canvas or silken organza dancer tutus. This portable serger's breakaway looper, safety switch, and differential feed mean you'll sail through rolled hems and varied fabrics with ease.
Threaded in a jiffy thanks to color-coded guides, the JUKI MO654DE packs power in its 15-pound frame. Adjust stitch length up to 4mm for creative flair on any material weight. Users praise this machine's quality construction for quilting, crafts, and apparel sewing alike.
Fast sewing speed of 1500 SPM
Suitable for light and heavy fabrics
Portable and easy to store
Color-coded threading system
Adjustable stitch length and differential feed
Initial learning curve for threading
Some oil leakage reported
No automatic threader
Babylock Sergers

Babylock sergers are a fantastic addition for the home sewer seeking professional-grade finishing. They offer ease-of-use features like Jet Air Threading and multiple stitch options, which speed up your projects while delivering high-end results.
With automatic threading, you won't have to worry about fishing loops through tiny eyes. Just touch a lever, and air jets will thread your needles and loopers in seconds.
Babylock's sergers have fully adjustable stitch length, width, and differential feed, making them perfect for handling various fabrics like knits, denim, and silks. You can also choose from multiple thread options to create both basic overcast seams and decorative stitch effects.
While the price tag may be higher than entry-level brands, investing in a Babylock serger pays off in time-savings and exquisite finishes.
Consider buying from an authorized dealer who can provide product expertise, sewing classes, and service support.
Juki Sergers

Juki's durability and affordability have made them a long-time favorite among sewers. Their serger machines offer a perfect blend of reliability and cost-effectiveness, catering to both beginners and seasoned enthusiasts.
Juki serger models come equipped with a range of features that enhance your sewing experience. The semi-automatic threading for needles and air threading for loopers simplify the often-tricky threading process.
This threading convenience is further complemented by color-coded guides, ensuring a hassle-free setup. Juki sergers also allow you to thread in any order, adding to their user-friendly design.
One of the standout benefits of Juki sergers is their durability. These machines are built to last, with robust construction that can handle long hours of sewing without compromising on performance. The tension adjustment on Juki sergers is another noteworthy feature, allowing you to fine-tune your stitches to perfection.
Whether you're working on delicate fabrics or tackling heavy-duty projects, Juki sergers deliver consistent results. When it comes to choosing the best serger sewing machine overlock, Juki certainly holds its own with a reputation for dependable performance and affordability.
Brother Sergers

Explore Brother's line of sergers, which offer a range of features and options for your sewing projects, including the affordable Brother M343D with its user-friendly color-coded threading.
Here's what you can expect from Brother sergers:
Automatic Threading: Brother sergers are known for their ease of use, and the M343D is no exception. Its automatic threading feature saves you time and frustration, ensuring smooth setup.

Versatile Stitch Options: Brother sergers come with various stitch options, allowing you to create professional finishes on your garments and home decor projects. Whether you need a rolled hem, overcast stitch, or other decorative stitches, these machines have you covered.

Attachments and Accessories: Brother provides a range of attachments and accessories with their sergers, enhancing their versatility. From multiple presser feet to specialized tools, you'll have everything you need to tackle different sewing tasks.
When comparing serger brands, Brother stands out for its affordability without compromising on essential features. Whether you're a beginner or an experienced sewer, Brother sergers offer a reliable and cost-effective option for achieving professional results.
Brother M2104D Overlocker

When considering your options for a reliable and budget-friendly choice, the Brother M2104D Overlocker stands out. It offers easy threading and versatile stitch settings. Whether you're a seasoned seamstress or just starting your sewing journey, this serger is designed to make your projects smoother and more professional.
With the Brother M2104D, you can explore a variety of serger stitch types to enhance your sewing experience. It offers basic overlock stitches, rolled hems, and decorative edges. Threading this machine is a breeze thanks to its color-coded guides, making it accessible even for beginners.
One of the key advantages of using an overlocker like the Brother M2104D is its ability to finish raw fabric edges neatly and efficiently. This gives your projects a polished and durable look. Plus, with the right serger accessories, you can expand your creative possibilities and achieve exceptional results in your sewing projects.
So, whether you're stitching garments, home decor, or other creative endeavors, the Brother M2104D Overlocker is a valuable tool to have in your sewing arsenal.
What is an Overlocker?

Curious about overlockers? An overlocker, also known as a serger sewing machine, is a powerful addition to your sewing toolkit.
First, it excels at finishing raw fabric edges, preventing fraying, and providing a professional touch to your garments and home decor projects.
Moreover, an overlocker is a time-saving marvel, capable of sewing at high speeds with precision.
When delving into overlocker sewing techniques, you'll find it offers multiple thread options, including 2, 3, or 4 threads, allowing for versatile stitching styles.
Threading tips are essential to master, but once you do, the efficiency is unparalleled. Plus, selecting the right threads and needles is crucial for achieving perfect results.
Whether you're crafting clothing, home textiles, or other creative projects, an overlocker's speed, multi-thread stitches, and automatic fabric trimming will empower you to elevate your sewing game.
Don't be deterred by their size and weight; these machines are compact and manageable, fitting well in your sewing space.
Unlock the potential of your sewing with an overlocker.
What Does an Overlocker Do?

To truly appreciate the magic an overlocker can perform, just imagine effortlessly transforming frayed, unruly fabric edges into perfectly polished and impeccably neat seams with a single swift pass. It's like having a secret weapon in your sewing arsenal that unlocks a world of possibilities.
Here are five key functions and benefits of what an overlocker can do for your sewing projects:
Professional Finishing: An overlocker excels at finishing raw fabric edges, preventing fraying and ensuring a clean, polished look.

Time-Saving: With its high-speed stitching capability, an overlocker can significantly reduce the time it takes to complete your projects.

Multi-Thread Stitches: Overlockers offer a variety of stitch types, including overcast and rolled hem stitches, enhancing the versatility of your creations.

Automatic Thread Tension: Say goodbye to manual tension adjustments. Many serger brands offer automatic thread tension, ensuring consistent and balanced stitches.

Stronger Seams: Overlockers create strong, durable seams that can withstand wear and tear, making them ideal for garments and home decor.
Incorporating an overlocker into your sewing toolkit empowers you with the ability to achieve professional-level finishes, save time, and elevate your sewing projects to a whole new level of mastery.
How to Use an Overlocker

To utilize an overlocker effectively, make sure you start by carefully following the color-coded threading instructions provided in the user manual. Overlocker threading is a crucial step in achieving flawless stitches and professional finishes.
Here are some key tips for using your overlock sewing machine:
Thread securely: Make sure the threads are properly secured in their respective tension discs and guides to avoid loose stitches.
Adjust presser foot lift: Depending on the thickness of your fabric, adjust the presser foot lift to ensure smooth feeding and even stitches.
Experiment with overlocker stitches: Explore the variety of stitches your machine offers, including overcast stitches and rolled hems, to enhance your sewing projects.
Perform regular maintenance: Keep your overlocker in top shape by cleaning the machine, changing needles, and oiling as recommended in the manual.
By following these tips and practicing with different fabrics, you'll master the art of using an overlocker and unlock its full potential for your sewing projects.
Make the Most of Your Overlocker Sewing Machine

Transitioning from learning how to use your overlocker to making the most of this versatile sewing machine is an exciting step in your sewing journey. Overlockers, also known as sergers, have the power to transform your sewing projects and elevate your craftsmanship.
Here are some invaluable overlocker tips and serger techniques that will empower you to tackle a wide range of sewing projects with confidence.
First and foremost, thread selection is key. Make sure you have a variety of overlocker threads in your sewing arsenal, as different projects require specific thread types. Don't forget about the importance of serger accessories, such as foot attachments tailored to your project needs.
Adjusting tension and differential feed settings can also make a world of difference in how your stitches turn out.
With these tools and techniques at your disposal, your best serger sewing machine overlock will become your trusty companion for crafting beautifully finished garments and home decor items. So, dive into your sewing equipment, experiment, and watch your skills flourish.
Discover Some Beautiful Patterns to Make With Your Overlocker!

Explore some stunning patterns to unleash your creativity with your new overlocker! With the best serger sewing machine overlock at your disposal, the possibilities for your sewing projects are endless.
Whether you're a seasoned seamstress or just starting, these overlocker patterns offer a chance to elevate your skills and achieve professional results. Dive into Overlocker Patterns and discover a world of creative projects waiting to be explored.
From delicate lacework to sturdy seams on garments, your serger creations will stand out. Try your hand at stitching inspirations like decorative edges, ruffles, and perfectly finished hems. The best sergers provide the precision and speed required to bring your ideas to life.
Transform ordinary fabrics into extraordinary pieces with these overlock sewing ideas. Craft elegant home decor, stylish clothing, and accessories that showcase your craftsmanship. The best serger sewing machine overlock empowers you to take your sewing to the next level, ensuring your projects are not only beautiful but also durable.
Unleash your creative potential with these overlocker patterns and make the most of your serger's capabilities. Your sewing journey has just taken a thrilling turn towards mastery and innovation.
Conclusion
Choosing the best serger sewing machine for overlock can be daunting, but with the right information, it doesn't have to be. We've put together our top picks for 2023 to help you find the perfect machine for your needs.
The Janome Six Two Three Four Plus, Brother Coverstitch Serger 2340CV, Singer Heavy Duty Serger, and JUKI MO654DE all offer outstanding performance and value. Each of these sergers has a range of features that make them great for professionally-finished hems, edges, and seams.
For the very best in overlock sewing, Babylock, Juki, and Brother all offer top-of-the-line models that will provide reliable performance for years to come.
References
bestsewingmachinereviewspot.com