This site is supported by our readers. We may earn a commission, at no cost to you, if you purchase through links.
With thousands, if not millions, of different sewing machines on the market, it's difficult to choose one that exactly fits your needs, especially at the right price.
Let's look at the Janome 3128 Sewing Machine. This machine can sew 650 stitches per minute, is lightweight and fairly quiet.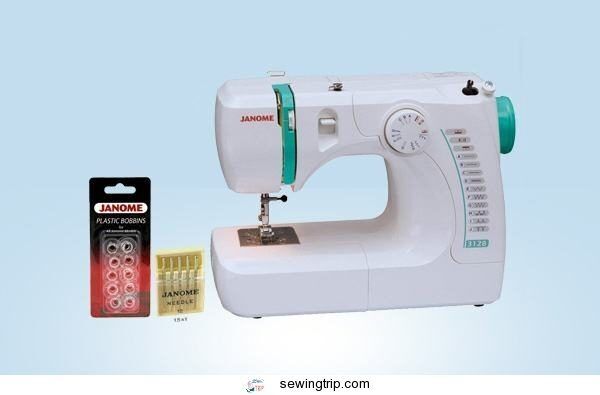 Unfortunately not everyone talks about having an enjoyable experience with it. Some users didn't like the lack of features and wished it would include a thread cutter or an automatic needle threader. the Janome 3128 sewing machine.
Janome 3128 sewing machine: the details
The look
The Janome 3128 Sewing Machine is a fairly basic-looking machine. It is white on the outside with teal highlights on the handwheel and tension control bar.
The different stitch types the machine offers in gray on the front. The entire outer housing, as well as the inner gears, are all made of durable plastic.
Specs
Weight: 11 lbs.
Dimensions: 8 x 10.1 x 5.6 in.
Stitches: 8 stitches and a 4-step built- buttonhole.
Speed: 650 stitches per minute.
Automated/Mechanical: Mechanical.
Spool: Preload :il.
Warranty: 25 year warranty.
Accessories
10 bobbins.
Seam ripper.
Felt cushion.
Needle set (Blue Tip, size 11).
Sliding Buttonhole Foot.
¼ inch seamer foot.
Janome: The :mpany
Janome in 1921, first as Gosaku Osem's Pine Sewing Machine Factory and renamed Janome Sewing :. in 1954.
Janome now has branches in the US, Canada, Mexico and Europe, Australia and many more countries.
Janome's mission is to make sewing machines and supplying over-lock machines that are user-friendly, reliable and made of high-quality materials. They want to ensure that the user " can get the most out of his creativity."
The Warranty
The Janome 3128 sewing machine comes with a 25 year limited warranty. This warranty protects all problems with "materials or workmanship, except for electrical/electronic equipment, which is warranted for two years from the original date of purchase."
In the first year you own the machine, you will receive free replacement parts for defective parts, as well as labor.
After the first year, defective parts can for free, but you will have to pay for labor to repair your Janome.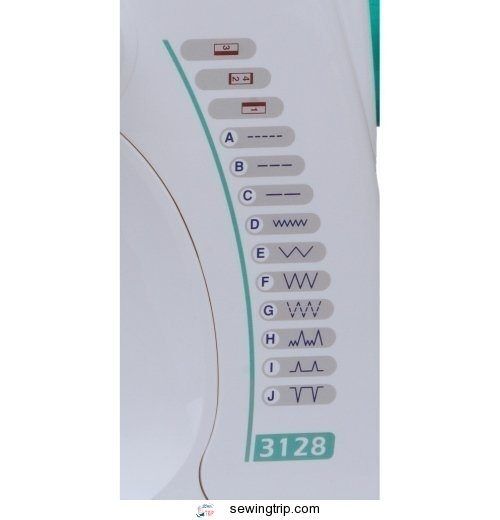 The warranty does not cover everything happens because you do not maintain or repair your machine, nor does it cover damage caused by "normal wear and tear."
The warranty also only applies to machines that purchased through an authorized Janome dealer.
Features
8 built-in stitches
The Janome 3128 Sewing Machine offers eight built-in stitches, meaning that once you've plugged it in, you're ready. All you need to do is select the desired stitch!
The options included are the zigzag stitch, straight stitch, stretch stitch, some basic utility stitches and a four-step buttonhole.
Any this Janome machine covered basic sewing you want to do.
Spool Winder
The Janome 3128 also includes an auto-detachable bobbin winder. What does that mean? The needle does not go up and down when you thread the bobbin winder.
To thread a bobbin, first place your desired thread on the spool pin and pull. from the handwheel at the rear of the machine, pull some thread from the bobbin through the thread guide and onto the bobbin, then place the bobbin on the bobbin spindle and push the bobbin to the right.
Then simply press the foot control while holding the thread in the bobbin (start slowly if you are unsure) and stop when your bobbin is full of thread. Pretty easy!
When you press the foot pedal, you notice the needle does not move. That is the automatic disconnection.. Turn the dial to your chosen stitch and make sure it rotated the image you choose until it touches the small mark above the dial.
This is probably the easiest aspect of the machine. All you have to do is turn a knob and you've selected one of eight stitches.
Reverse Stitch Lever
To make sure you have a strong stitch, or if you missed a stitch and need to go back, the reverse stitch lever will become your new best friend.
All that to push the lever down and the machine will sew in reverse. When you're done, release the lever and the machine will work normally again.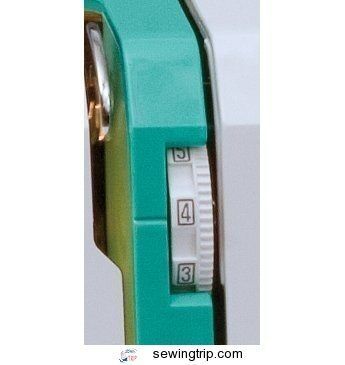 Including light
Whether you're sewing in a dark corner or have low vision, a light on a sewing machine is a substantial addition.
It helps you see if I thread your needle, how straight your stitch is, and makes the whole sewing process so much easier.
Front Loader Bobbin
The Janome 3128 sewing machine also comes with a front loader bobbin. This means that the bobbin is not in a tube under the needle, but in a compartment behind the storage tube on the arm of the machine.
All it takes is to remove the storage case, open the door, take out the bobbin holder, insert the bobbin and put the bobbing holder back into the machine before closing the door.
Handle
This Janome sewing machine also has a handle.
If you take your machine to a class or just to a friend's house, it will be so much easier to wear.
Janome 3128 Sewing Machine Review
The positives
:mpact and lightweight
Many users were enthusiastic about how light this machine is. At just 11 pounds, it's much more portable than other sewing machines on the market.
A tester said they bought this Janome to avoid having to use their 50-pound machine. carry. So if you want your craft to another room or store the machine easily, this is an ideal buy.
If you choose to tuck it away in a cupboard or cabinet until you need it; the weight means you don't have to mess with it. However, if you choose to keep it outside, it won't take up much space on your work table either.
The size and weight of this machine make it ideal for those who are short on space as it won't take up much of the space wherever you decide to keep it.
Good for beginners[19659066/]This is not an advanced machine, which makes it ideal for beginners.
It contains the basic stitches, so if you are after a simple machine to mend hems and work on a few projects this is a great buy. Anything more would be too much to handle.
Beginners will master the basics without being intimidated by more advanced options. This also makes it a perfect machine for occasional sewers looking to repair rips or hems of clothing.
Easy to install
A number of users commented on how effortless the Janome 3128 is to set up, which is great for those who are just starting out as a complicated montage.[ do not put them off0]
The instructions are quite simple and if you run into any problems, there are several YouTube videos that you can help you. However, there are plenty of pictures and diagrams in the instruction manual that should be fine. levels will kick in quickly.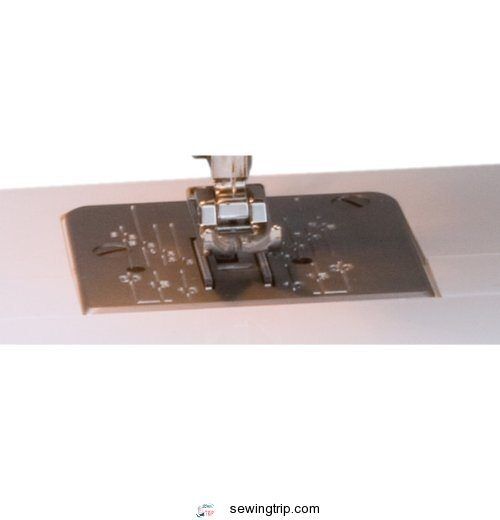 Quiet
Many users commented on how quiet I compared this machine to others from his kind. If you have roommates and like to sew in the morning before waking up, this is a significant feature.
No one wants to get excited by the buzzing gears while trying to sew a pair of pants together. Fortunately, this machine spins unobtrusively.
The Negatives
Not for Tough Fabrics
]
Although this machine is quite sturdy, it to sew through multiple layers of thick fabric. You should not buy it for denim, flannel or wool.[196590too]If you make a quilt from lighter, thinner fabrics, you will enjoy the possibilities, but thicker materials will be a challenge. Hemming pants, making napkins or creating a simple outfit is more what it made the 3128 for.
No Thread Cutter
Unfortunately, this machine does not have a thread cutter. Such a feature is a great convenience, eliminating the need to reach for scissors every few moments.
Although unnecessary, it can be a lot of fun too and for the price it is something you would expect from the machine.
No automatic needle threader
The Janome 3128 also does not have an automatic needle threader. This is more of a luxury than the thread cutter, but it is still something good to have. modern sewing machines are standard.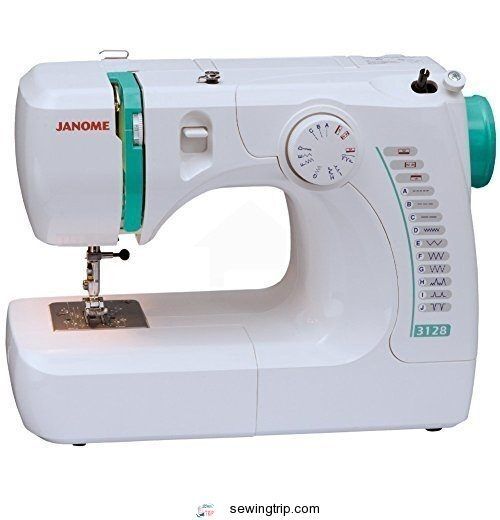 Overall verdict
After going through all the positives and negatives, we recommend the Janome 3128 Sewing Machine.
Although it's a basic machine, if you're a beginner or just want to sew a quick hem, this machine is exactly what you need.
Sure, it doesn't have the conveniences you might want, but it does a great job on quick projects and stays quiet while it works. That is certainly nothing to sneeze at.
Where to buy the Janome 3128 sewing machine
Janome has years of sew engineering expertise under their belt, with a range of products ranging from expert-level multifunction machines to affordable entry-level models.
The Janome brand is popular, sought after by sewers around the world thanks to the quality and excellent design behind their items.
Hobbyists have been enthusiastic about Janome machines for years, and their popularity allows them to become displayed on the shelves of various retailers around the world. and online.
Although your best bet is to look in craft, sewing and specialty stores, you can boost your search at the following online retailers.
And of course you can also find this sewing machine on Amazon.
]

---
That's all for our Janome 3128 review. Are you tempted to give this machine a'sew'?
For more of our reviews, check out the SFH Reviews section!