This site is supported by our readers. We may earn a commission, at no cost to you, if you purchase through links.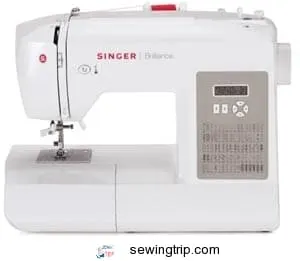 Singer 6180 Brilliance Sewing Machine
This Singer 6180 reviews would carefully introduce the features, advantages and disadvantages of the sewing machine. hat else could make a sewing machine exceptional, especially one with all the right features?
–
As its name implies, it with brilliant features that make it the right machine for every level of expertise.
hether you settle for the gray or white color, the signature Singer design is still visible all over the Singer 6180 Brilliance sewing machine.
hy Choose the Singer 6180 Brilliance Sewing Machine?
You at the simplicity of the Singer 6180, its cost or perhaps the fact that it is even a Singer sewing machine. The point remains, there is always something nice about this inexpensive, small but versatile sewing machine.
The conclusion will be about the reliability of the sewing machine. A machine that you can always rely on with sewing.
Singer 6180 is just the right sewing machine that delivers more than its monetary value.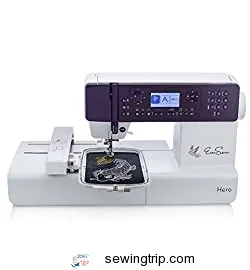 Description of Singer 6180 Brilliance
Usually we market this sewing machine with the affordable price as a factor. However, it has a lot more to offer than just price. For a value that won't break the bank, you get an 80-stitch built-in sewing machine. It doesn't stop there, every built-in stitch has a custom and customizable setting.
That should take us to the free-arm convertible. You never need another sewing machine to do your collars, cuffs and hems. Just attach and remove the free arm, more like a breeze.
Threading makes this sewing machine a classic. I thread the entire machine in just six seconds. This is no exaggeration, you will just have to confirm.
You never need to use the same buttonhole style for every stitch. Just choose between half a dozen buttonhole styles and get the job done creatively.
Although you can sew as much as 750 stitches per minute, you can sew slower if you can't handle the speed.
hy?
There is a speed control prompt that only requires a push of a button. a button.
Singer knows you want the ability to attach slightly thick materials, so you have a heavy metal frame to give you the stability you need.
ho Should Buy Singer 6180
Everyone Should Buy Singer 6180 Brilliance Sewing Machine. Yep, that's not a joke. However, if we have to be specific, this sewing machine will be more suitable for novice users who are still learning the tricks of the trade.
Know that the killer speed of 750 SPM of Singer 6180 Brilliance sewing machine can and deployed. Not to mention the bundle of features that experts will find useful. Indeed, the machine for more than just a category of users.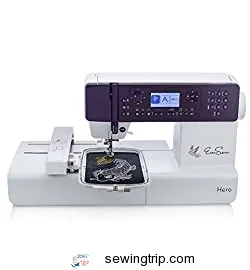 Brief summary of functions
80 built-in stitches
750 stitches per minute
Start / stop speed control button
6 styles of buttonhole
Heavy Metal Frame
Convertible Free Arm
LED display screen
Variable needle position
Automatic tension
Automatic change of stitch length and width
Advantages
Easy to use
Perfect for learning
Helpful Instruction Manual
Disadvantages
Difficulty in reverse sewing
Cannot handle very thick layers of fabric
hat's in the package?
Singer 6180 Brilliance Sewing Machine
Machine Intro DVD
Power cord
ire bobbing cap
Stop plate
Foot Pedal
0
Soft Dust Cover
Universal Foot
Pack of needles
Spools of class 15
Instruction manual in three languages
Top Image Credit: Singer
References
bestsewingmachinereviewspot.com